"I don't want autism awareness.
In fact, I don't want autism acceptance either.
Here's why:
Awareness by definition means 'knowledge of a situation or fact.'
You can have knowledge of autism and do absolutely nothing about it.
Awareness doesn't equal action.
And acceptance?
Acceptance can be done begrudgingly.
There are a lot of things I passively accept.
I accept that Monday rolls around after every weekend.
I accept that the forecast called for rain on my wedding day.
We can accept that things exist without ever having to embrace them (like people with disabilities).
So I guess this month of April, I'd like you to consider ditching autism awareness or acceptance and move toward autism inclusion.
Because that definition means 'a sense of belonging.'
To bring in.
To understand and embrace.
Let's put it this way: I'm raising two children with autism.
As their mom, I know them and accept them more than any other person on this planet.
And yet, I still spend thousands of hours and thousands of dollars every single year learning how I can better support them.
What if the world did the same?
Don't just tell your kids to be kind, get online and order books on neurodiversity.
Employ people with autism—then have a coffee with them.
We aren't some subgroup to be studied from afar.
Real change can't just be the responsibility of the disabled.
It starts with radical 'inclusion' by everyone else too."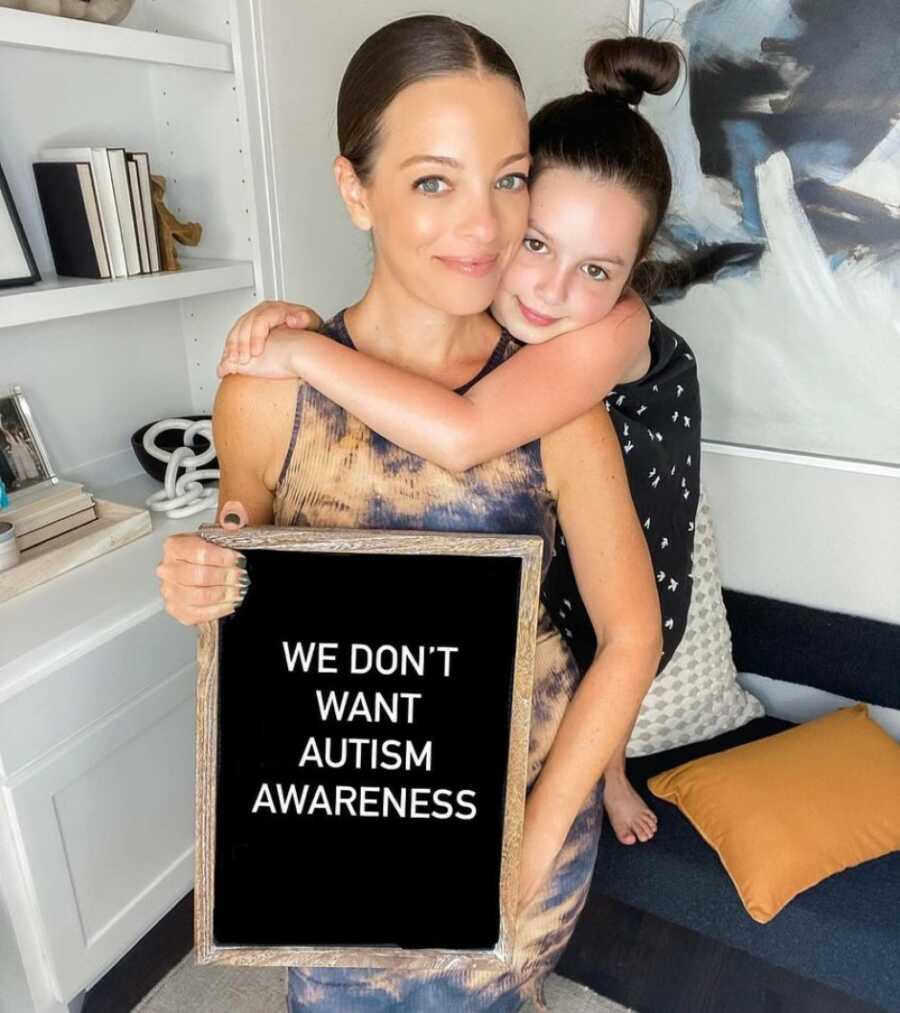 This story was submitted to Love What Matters by Stephanie Hanrahan. Follow Stephanie on Facebook here, Instagram here, and visit her website here. Submit your own story here, and subscribe to our best stories in our free newsletter here.
Read more from Stephanie here: 
'My Son's teacher recently friended me on social media. I came upon a picture of her holding a chalkboard sign that read, 'I said YES!' She's already married, so it struck me as odd.'
'I lost my capacity to bathe. Drowning, my depression took a dark, deep turn. And then came the muffins.': Trauma survivor touched by friend's kindness long after 'world moved on'
'I wrote a stranger. 'Help me. I'm scared. Please. I need to understand my daughter.' I begged her to give me the secret. 'Will we be okay?' Real-life 'princess' helps ease mother's fears over daughter's autism diagnosis
'You have the perfect family.' That's what they saw. A life tied up in a pretty little bow. No one could've known what was happening behind closed doors.'
Do you know someone who could benefit from reading this? SHARE this story on Facebook with your friends and family.