"The story of Josh and I goes back to when we were both 10 and 11 years old. Josh used to play travel hockey with my brother, so our families were around each other every weekend and traveled out of town together. At this time, we went to middle school with one another during our sixth and seventh grade. I developed a crush on Josh in seventh grade, but unfortunately to me, he had a girlfriend at the time. When eighth grade year began, Josh was no longer going to my middle school. I would see him passing in the halls when my brother would have a hockey game, but never talked to one another more than a simple 'hello' with bashful, flirty giggles. This always left me smiling and thinking of Josh in the back of my mind.
Freshman year of high school came around and I quickly became friends with this sweet girl who ended up being Josh's cousin. She gave me Josh's phone number. I eagerly sent him a text message with my heart racing, waiting for him to message me back. This is where Josh and I's dating story all began. He messaged me back quicker than I thought he would. We instantly reconnected; my heart was filled with joy and my stomach felt like little butterflies flying all around each time I talked to him. We would talk for hours on the phone after school, texting one another throughout the day, trying to hide our phones so we didn't get caught. Josh and I did not go to the same high school, so we didn't see each other in the hallways or at all by any means.
Finally, Christmas break rolled around. I was at the movies with my best friend. We were hanging out in the hallway playing on our phones while we waited for our movie to start. I look up and see Josh walking in the hall coming my way. I instantly became overwhelmed with emotion. I am a shy person, so it took all I had to say, 'Hi Josh!' He came over to me and asked if I would like to go watch King Kong with him. Oh, was I on cloud nine! Ever since that night, we began dating. One of the next holidays was Valentine's Day. Josh showed how much he cared for me by always surprising me with the most thoughtful gifts. He came over on Valentine's Day with my favorite converse shoes, a super fluffy bathrobe, and some candy. Little gestures like this occurred often throughout our relationship, making me fall in love with him quick and hard. We were quick to say 'I love you' to one another.
The Christmas before, my parents had gotten me a camera that had its own photograph printer if you connected the camera to it. So, when I knew I would be going to watch Josh at his hockey game on a Wednesday night, I would take selfies, print them, and spray the picture with my perfume. When I would see Josh in the hallway heading to the locker room before his game, I would give them to him. There were times where I would get to the ice rink and he would already be in the locker room, so if one of his teammates passed by me I knew, then I would ask them to give it Josh and tell him I said good luck. Thinking back, I am sure his teammates gave him so much flack for me doing this.
As the school year was coming to an end and summer was approaching, he and I were looking forward to spending more time with one another. During the summer we would swim at his grandparent's pool, play ping pong ball, and watch movies together all snuggled up, leaving us infatuated with each other. As teenagers, our minds and hearts were always racing with being 'in love' with one another. We took our relationship to the next level that summer going into sophomore year. We were both fifteen at the time, thinking we knew it all, and this was the summer we both lost our virginity.
As the months went on, the more serious Josh and I became. I know both of our families could see how much we loved one another, but as parents I am sure they were quickly becoming concerned with how fast and serious our relationship was growing. Right after Josh and I celebrated our 1-year anniversary together, Josh broke up with me. I was completely distraught. Josh did not tell me why he was ending our relationship. My best friend tried to take my mind off the breakup and we went to go see a chick flick together. While at the movies, Josh was there with a group of his friends. I was instantly frantic. I was not sure how to handle my emotions. I wanted him back so badly, but I wasn't sure if he wanted to see my face at the time. I worked up the courage and asked him to please come talk to me alone without his friends around. By the end of our conversation, he finally told me his parents were concerned with how serious our relationship was and it was time to give it a break. It felt good to know the truth as to why he ended our relationship, however, after we talked, he said he still wanted to be together. So, we rekindled our relationship and dated the rest of high school.
We went to each other semi-formals at both schools; I loved being able to dress up and feel like a princess around him. When prom came around, we attended both school's proms, danced the night away, and when the dancing came to an end we'd leave and have more teenage fun. In my eyes, I was living the fairytale dream. He was the prince I had fantasized about who swept me off my feet. We were always with each other, going to holiday dinners on both sides of our families, spending the night with each other our junior and senior year of high school, and laying around watching him play his video games just because I wanted to be near. I cheered him on at every hockey game and he would cheer me on with my dance recitals and cheer competitions. We would go out to dinner and the movies, walk around the mall and go to parks. In my eyes, our relationship was pure magic. However, the only time we had problems would be when I would receive a text message or Myspace message that Josh was talking to another girl at school or flirting with this girl at hockey when he was out of town and I wasn't able to go. We would sit in his car and argue about what was really happening and why it was going on.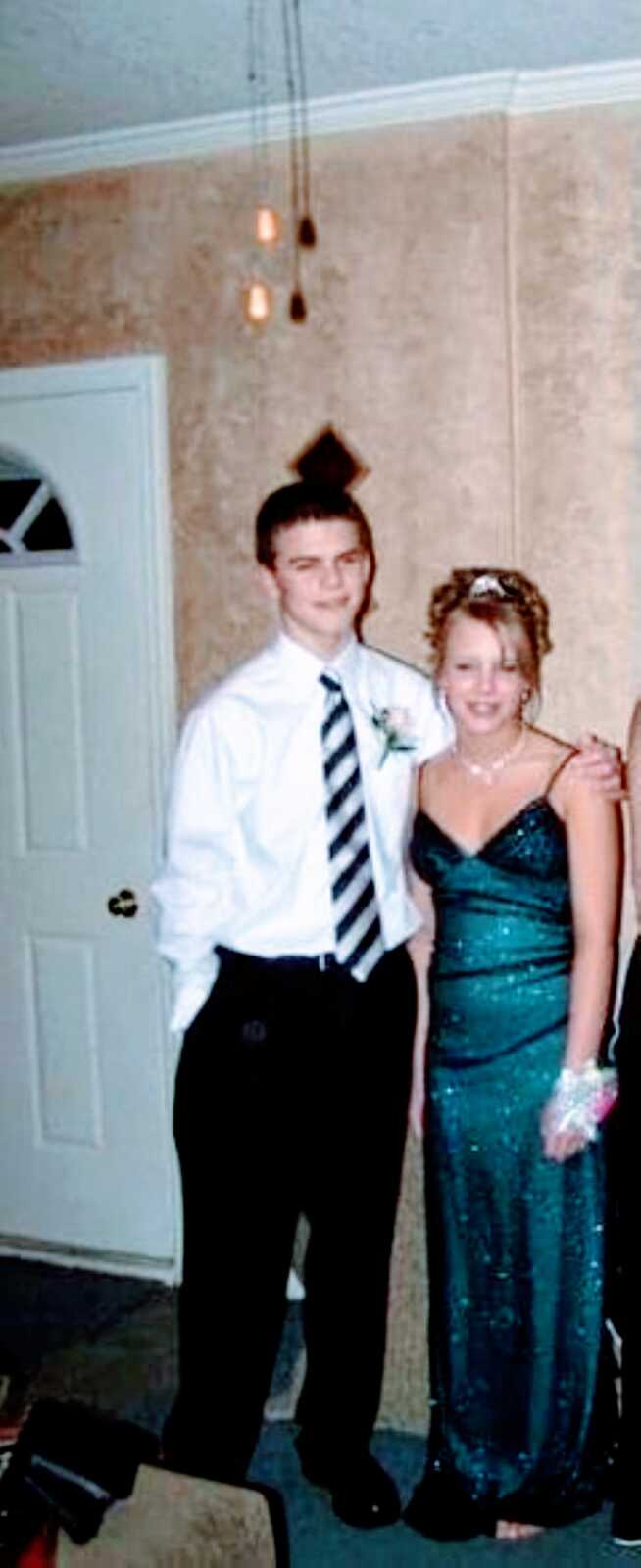 Senior year between November 2008 and June 2009, our relationship started becoming strange. I was noticing little things here and there that didn't make much sense to me, but I ignored the signs and looked the other way. I wanted what I wanted – which was Josh – so I had a blind eye and ignored what was going on right in front of me. Christmas 2008, Josh had given me a promise ring. This was everything I always wanted! So, it was easy for me to live in a cloud and fantasize where our relationship would be after high school. While I was living in a cloud, he was catching feelings for another girl and I was not noticing.
Our relationship ended in June 2009. I moved two and a half hours away and he was preparing to go away to college in another city. We were both being pulled different directions. He quickly began seeing Alexis, who was the other girl we would fight about early on in our relationship. It crushed me. Josh and I would still talk almost daily. I felt if I could keep his attention, then we still had a chance of being together. Months went by and it was Christmas break for the both of us, bringing us back to our hometown for a few weeks. Josh had asked to see me the day after Christmas and I eagerly agreed. Anytime he showed me attention I was there to give it back to him. This is when Riley was created. Although I knew he was seeing Alexis on and off, all that mattered was he was still potentially loving me. After Christmas break was over and Josh was now ignoring me telling me he was in a serious dating relationship with Alexis now, it crushed my soul. I was so angry. I decided, 'Okay, this is it! I am moving on!' I transformed myself, cutting my long blonde hair to a pixie cut, dying it brown, getting two new piercings and a tattoo. I felt like a different person and I was ready to leave Josh in my past.
A few weeks went by and it was the end of January 2010. I was starting to get severe headaches and became extremely fatigued, I was missing classes at school and sleeping all day long. This was not like me. Finally, I realized I missed my period. I took a pregnancy test in my friends' boyfriend's apartment and there the word appeared – 'PREGNANT.' Instantly, I felt so alone; I didn't know what to do next. I kept this to myself for a few weeks until I worked up the courage to tell my parents and Josh. I was just getting over him and suddenly he was in my life forever. The news was not what everyone was expecting; there were a lot of tears and anger for each person involved. Josh and I were both very hurtful with our words towards one another. He no longer wanted to be with me and had moved on. However, I wanted to have a relationship with him once again and try to bring our baby into a loving family. I was practically begging Josh to be with me and I would only push him further away. The pregnancy was rough and full of emotion. The day of my baby shower, Josh was moving forward in his relationship with Alexis by moving in with her in a new apartment of their very own.
A month and a half later, our son Riley was born. Josh drove 2 and a half hours down to the hospital I was at once he learned I was in labor. In my eyes, once I gave birth Josh would see his son and remember the love he had for me. This is a thought I held onto for many months to get me through my lonely journey as a young 19-year-old who was pregnant and felt so unloved despite my parents and family around me showing me nothing but warm, open hearts and unconditional love. It wasn't enough for me; all I wanted was a beautiful family to raise our son in. Josh had no where to go other than stay at the hospital, which I am sure was uncomfortable for him due to all my family being around and the emotions that were high in the room. So, towards the evening since it was a late drive for Josh to get back to Fort Wayne, he left the hospital the day Riley was born at 6 p.m. and it completely ripped my heart out. This was confirmation that the family I had always pictured was not going to happen.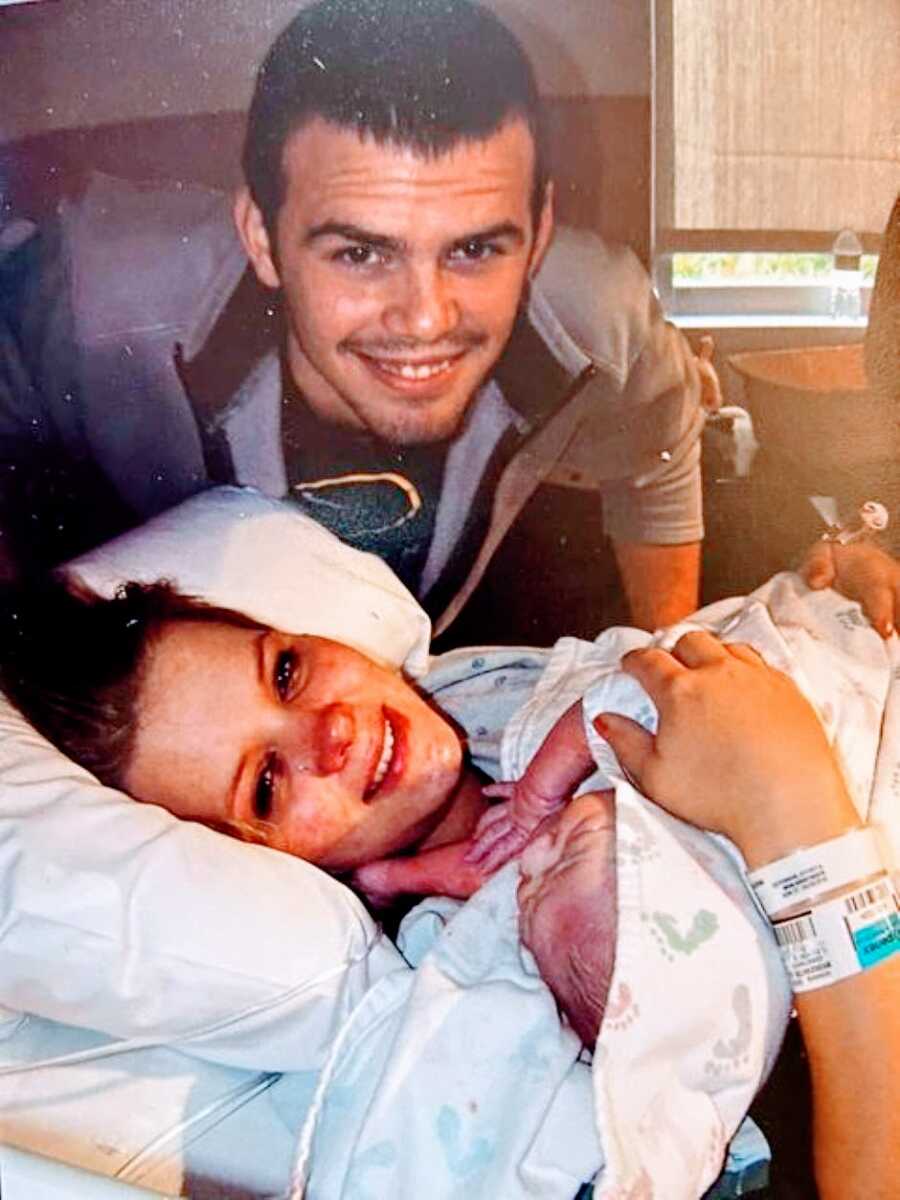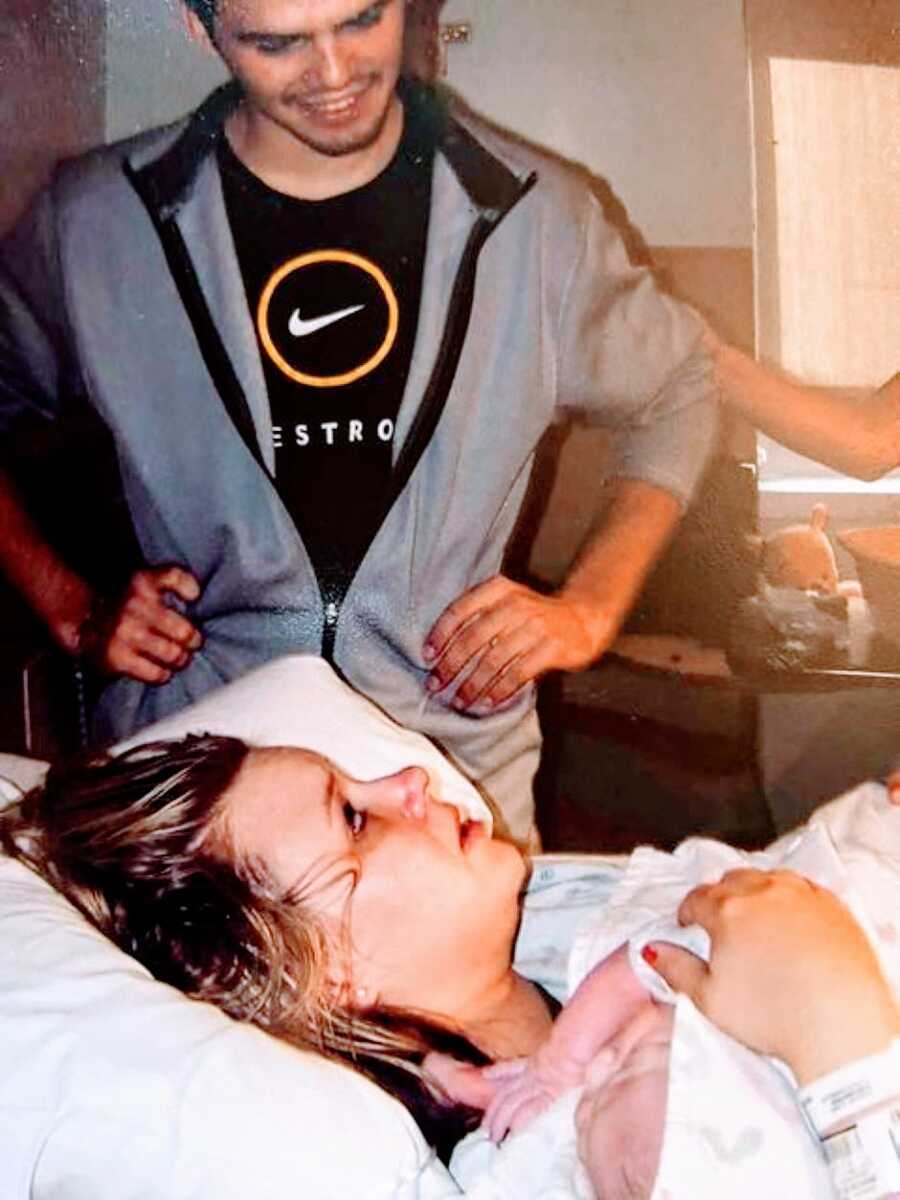 The first time Alexis was able to meet Riley was when he was 2 weeks old. I came into town for my cousin's wedding. This is the first time I would be without Riley and my stomach was in my throat the whole time. I brought Riley over to Josh and Alexis's apartment, and as much hate as I had for her in my heart because I couldn't have what I wanted, I never questioned the safety or amount of love Riley would receive being with her and Josh. Alexis has younger siblings and I knew wholeheartedly she was a very nurturing, responsible, loving individual. The moment I walked in and saw how warm and inviting their home was, I knew I would be okay leaving Riley.
A few months had passed, Josh was still involved with the both of us when him and Alexis were not on good terms. Her and I would post on social media little tidbits to get to one another to cause drama. One day Alexis had called me and asked me if there was something going on between Josh and I. We decided to meet up and tell each other the truth, in detail, no matter how bad it hurt to hear. Alexis and I became wonderful friends for a quick few months. Josh and Alexis were no longer together, so I thought, and this made me so happy that he didn't win either of us. Around July/August of 2011, I learned they were together again. This caused a rift in Alexis and I's friendship. I moved back to Fort Wayne so Riley could be closer to his dad and see him more often. In this time, I started to date again.
November of 2011, I finally settled down into a serious relationship with Kyle. Kyle welcomed Riley with open arms. He didn't want to replace Josh in any means. There was drama to be had at the beginning of it all. Adding in a fourth person to our already messy mix caused a lot of tension. In summer 2012, Riley became severely ill, later diagnosed with a mega ureter that was connected backward to his kidney and bladder. He had to had reconstructive surgery with 3 hospitalizations. During this time, Alexis was pregnant with her first daughter. By the time Riley had his major surgery, Alexis had given birth which had made me somewhat jealous yet excited for her. In the middle of all this I found out I ,too, was pregnant with Kyle's daughter. This helped Alexis and I to start bonding with one another again.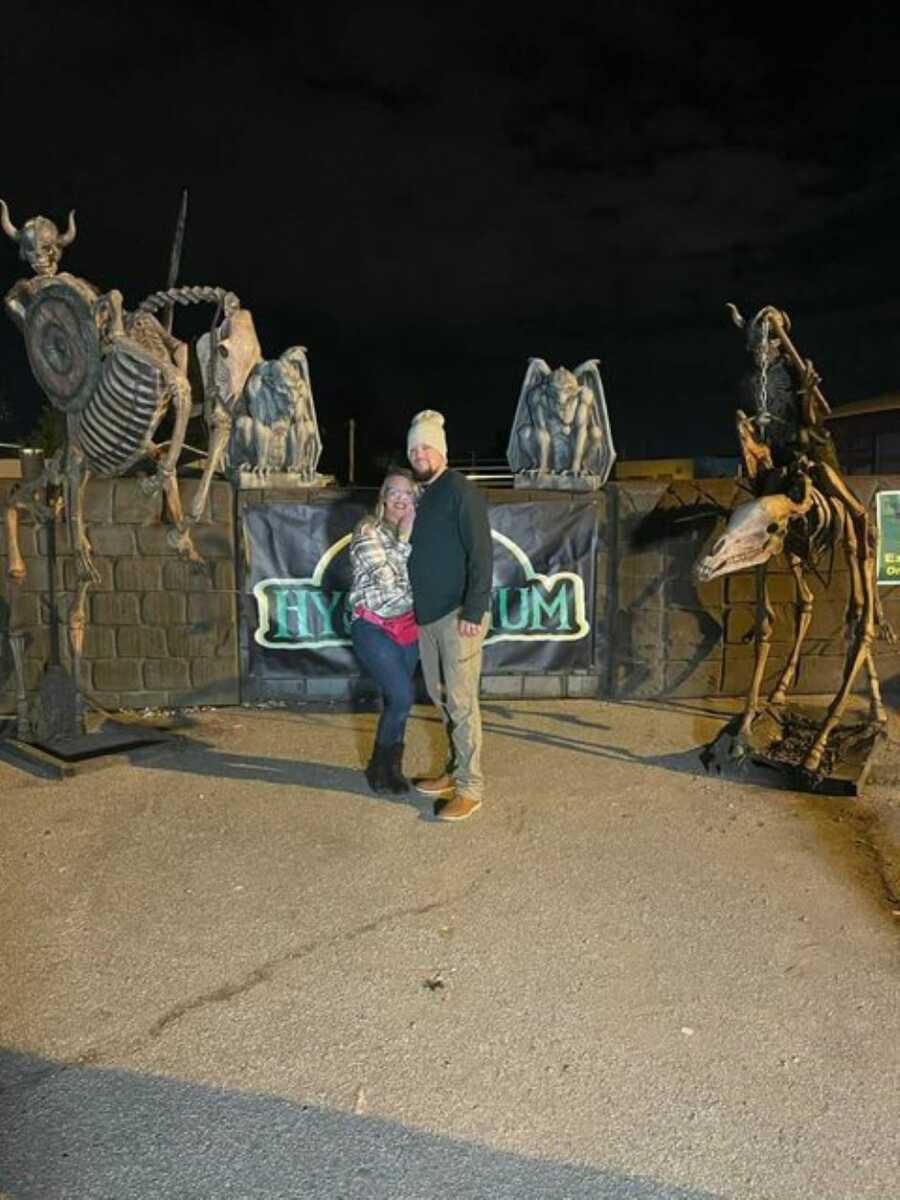 Around Thanksgiving in 2012, Alexis reached out to me, asking if I would like to go to our mall and get Christmas pictures with Santa Claus with her daughter, who was around 5 months old at the time, and Riley. I eagerly said yes to her, so excited to become friends again. This is where her and I's friendship started to blossom. Once I had my daughter in March 2013, we went every where together – the zoo, the park, each other's houses. I went back to work in January 2014, and Alexis offered to babysit Kyle and I's daughter while we both worked. So, for years she would raise Riley and my first daughter until Kindergarten came around for her. At the time, Alexis and I were both pregnant at the same time with our now 3-year-old's. My workload became less and I was able to have more days home than at work. This allowed our relationship to grow even further. We often had girl nights every Thursday at Applebee's to grab drink, food, and desserts. We would often have plans to go shopping around stores with our little babies, go on play dates, out to eat, and simply just be us around one another. We went from having a friendship to having a sistership.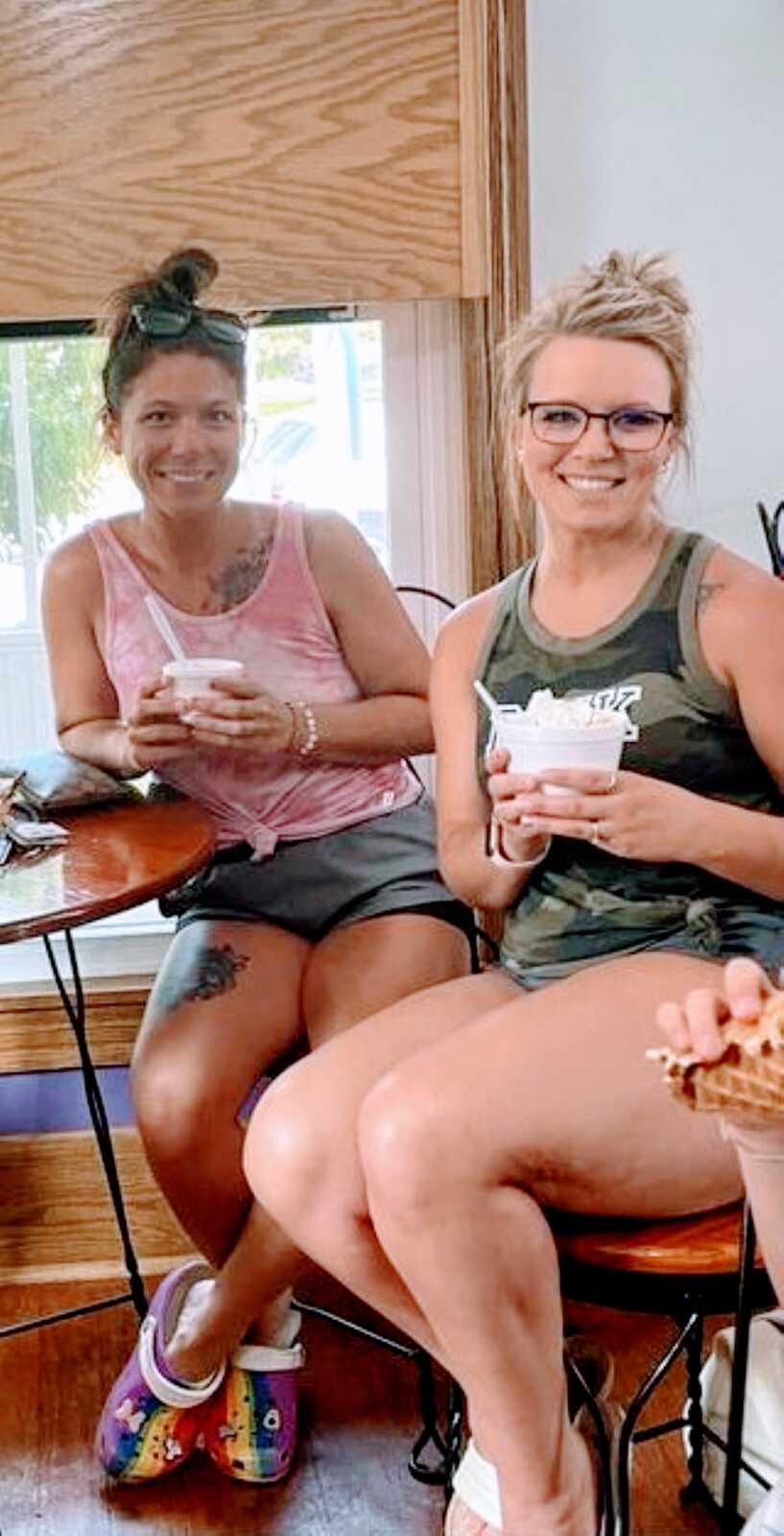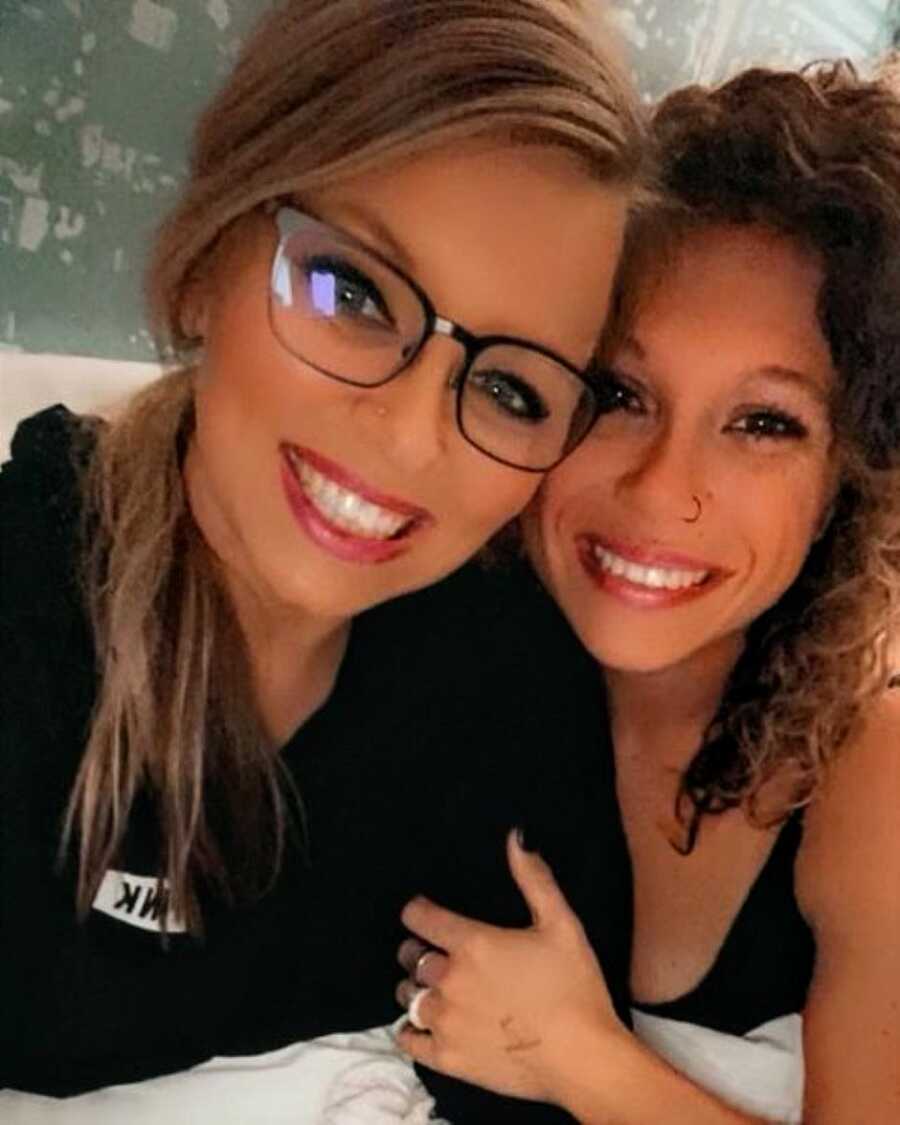 When the Covid pandemic hit in 2020, we had no choice other than to lean on one another. Riley's schedule changed and we decided on a week-to-week schedule with Riley given the approval, of course. With the holidays becoming strange and families no longer gathering in a bigger setting, we decided to do holidays as a blended family. All seven of our children see each other as brother and sister. They view each of us adults as mother and father. Our children get to grow up in a very loving family-united home that doesn't have boundaries when it comes to love.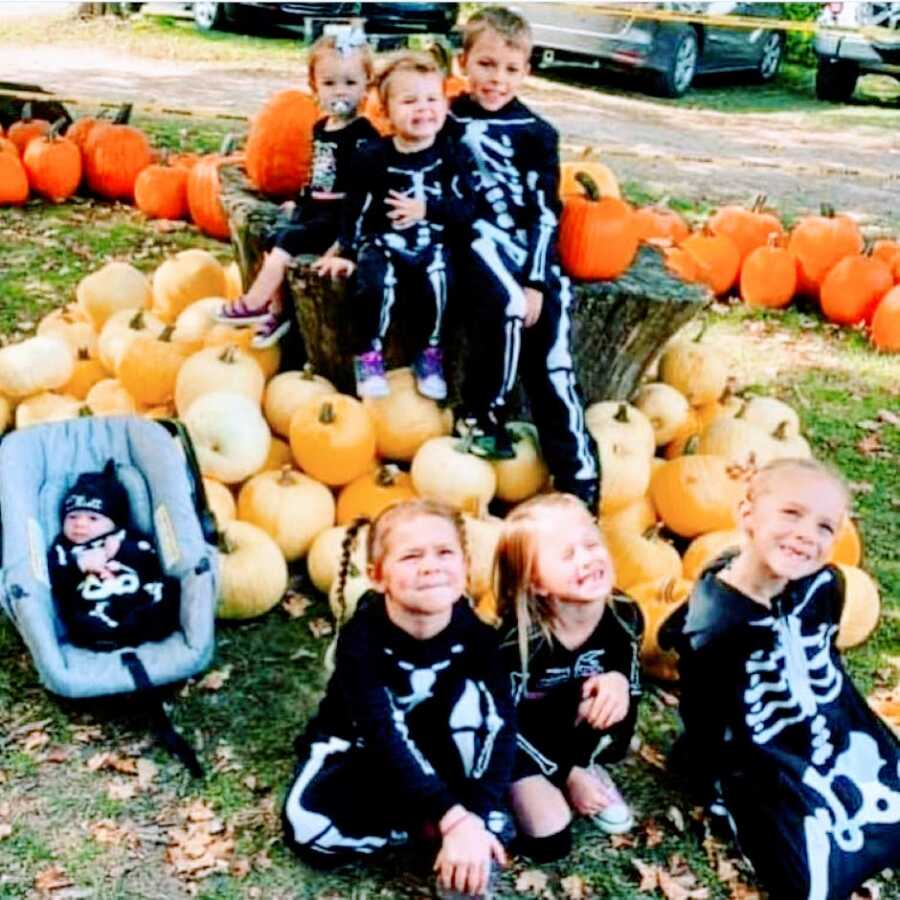 Our closeness had allowed us to travel together by taking mom and children trips and even most recently taking a blended family vacation to Florida. Things are not always rainbows and butterflies; these events do come with tension, navigating everyone's feelings, and knowing where to take a step back or a step forward can be tricky. One thing we do to keep our relationships healthy and happy is stay open with communication, think before you talk, understand where the person is coming from before you react, and always be honest – even if you think you may hurt someone's feelings.
Recently, our friendship has allowed us to spread our message and be an inspiration to others who are going through or have gone through what we have. We are a shoulder to lean on for those who need it. If we could have had someone on our side during the beginning to see we are not alone, it would have helped in navigating parts of our lives. We are here to spread the message it's okay to not be normal, it's okay to be broken. Most all we want others to know no matter what they are going through, eventually there will be a light at the end of the tunnel, but how quickly you get there is completely up to you. Alexis and I use our podcast as an outsource for others to feel heard, to feel welcomed, and to feel normal by not being normal. We have dreams of continuing to travel and meet families, individuals, and couples just like us. This is just the beginning to our journey of sisterhood.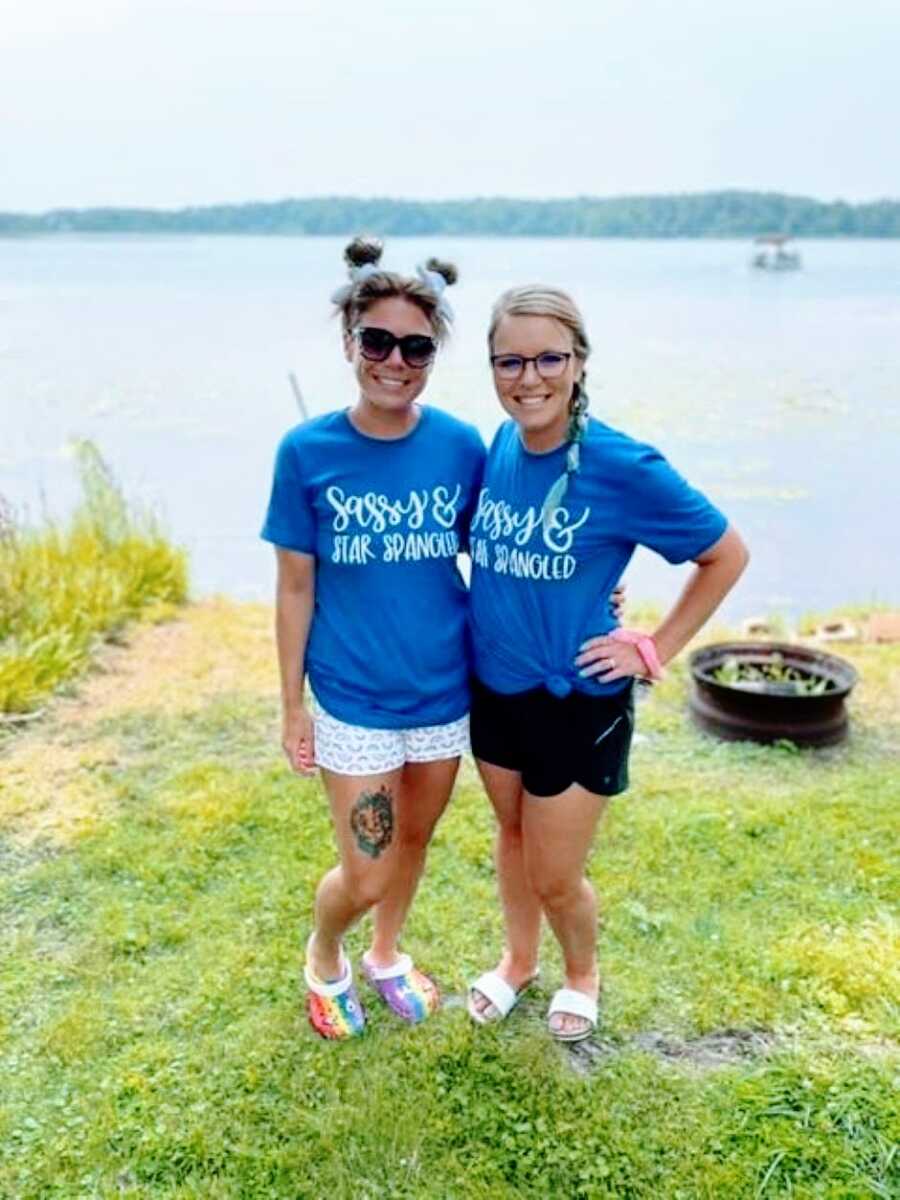 From 2010 till now, we have grown substantially, and I would have never thought this was the journey the road would have led me to that day the pregnancy test said 'POSITIVE.' If I were to give advice to others going through what we have been through, I would say take it all with a grain of salt. The parenting time guidelines are not there to take your child from you. It is there to give you child a routine. If you can talk with the other parent and come up with guidelines of your own in a healthy manner, then do so. The child deserves both parents' love. There is more to the picture than just feelings. You have the control to make the dark come to light and to endure a positive future if you can just open your heart, mind, and soul. Love is limitless and at the end of the day, if you can't do it for you, do it for the children involved and they will show you how to grow from it all."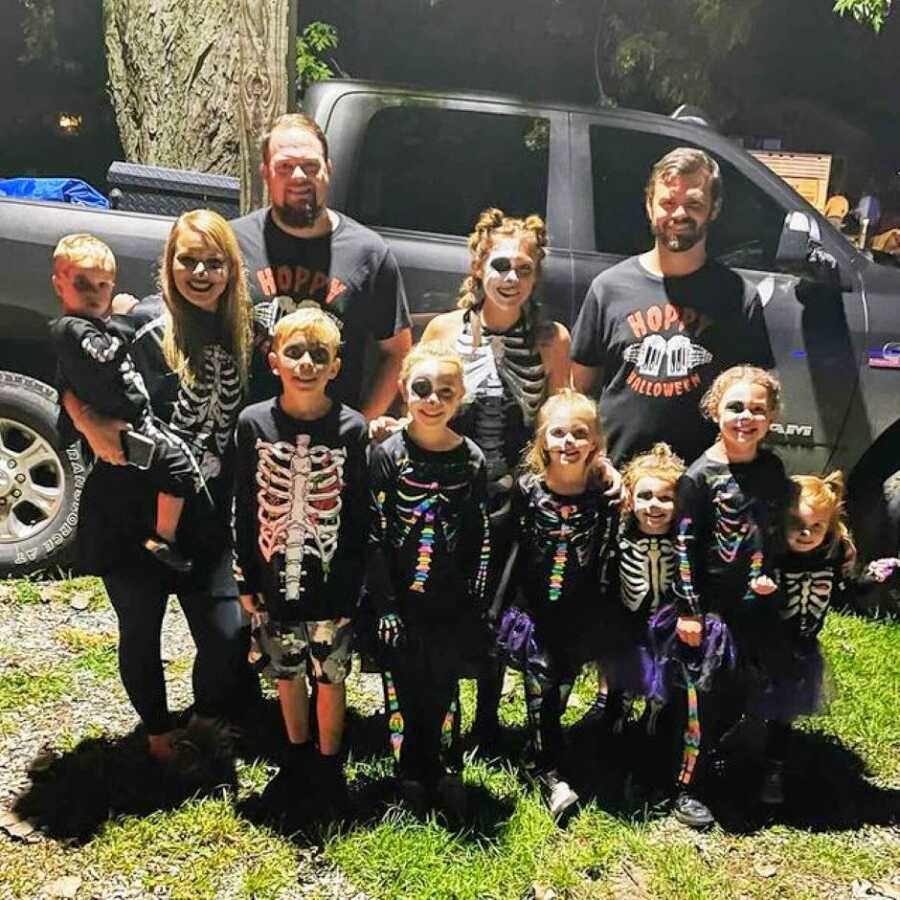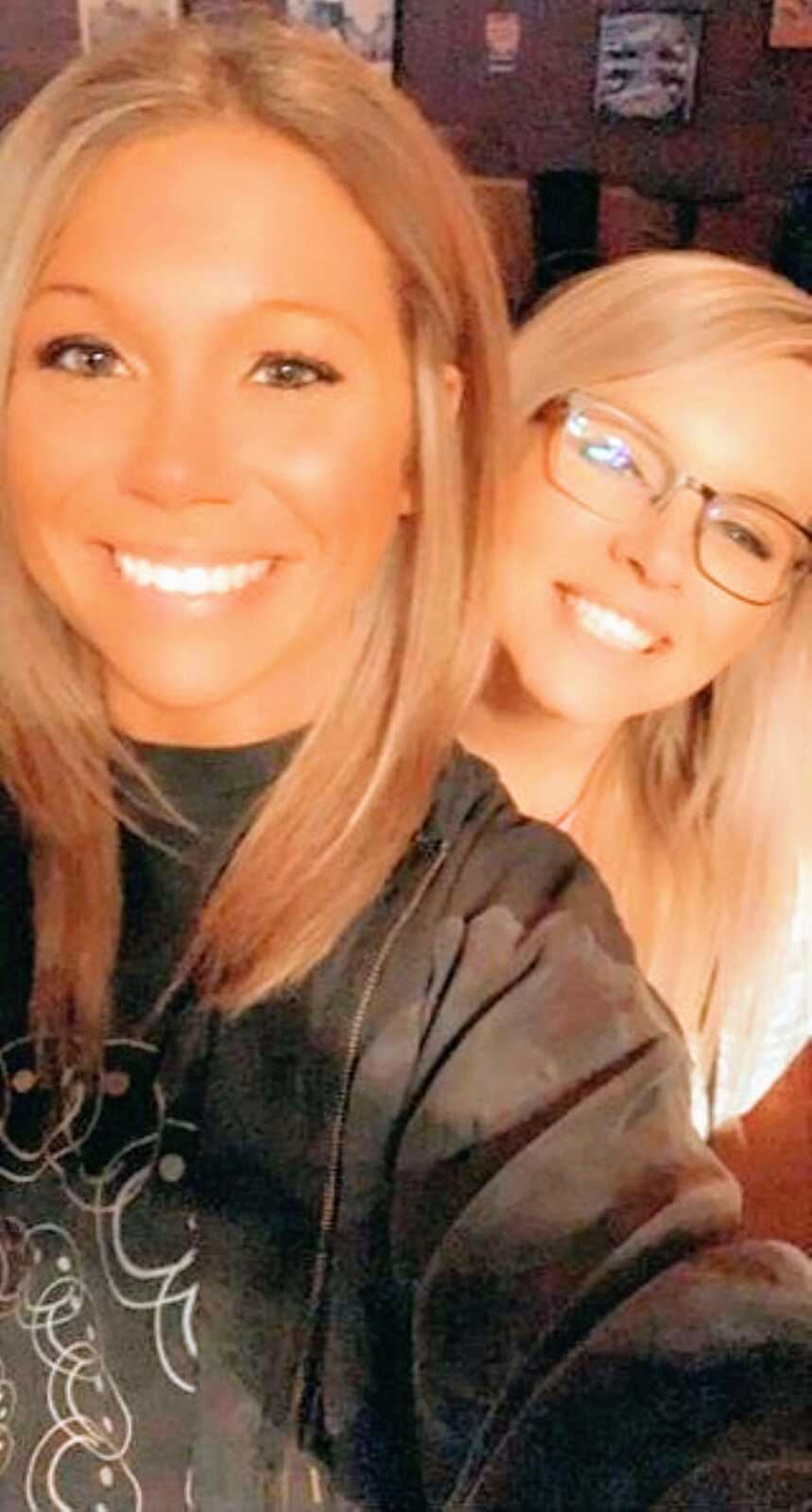 This story was submitted to Love What Matters by Alesha Stratton of Fort Wayne, IN. You can follow their journey on Instagram, TikTok, and their podcast, "I'm Best Friends With My Husband's Ex," available on all streaming services. Submit your own story here, and be sure to subscribe to our free email newsletter for our best stories, and YouTube for our best videos.

Read Alexis' story here.
Read more stories like this here:
'My daughter said, 'When you were married, you always fought. I'm happy now.' Don't think staying together for the kids will help.': Mom shares co-parenting journey, 'It won't be this hard forever'
'Your boyfriend and his ex are traveling together? You're okay with this?!' I laughed to myself, thinking about Corey driving Robin nuts the entire trip.': Bonus mom shares co-parenting bond, 'She makes me feel like part of the family'
'We like to have girls' nights. Who understands the struggles of parenting better than Beckham's OTHER mom?!': Mom and stepmom detail journey to cooperative co-parenting
'Oh! Is this your sister?' We have learned to answer, 'We are friends' because it's true! We are friends, family, and co-parents.': Mom navigates co-parenting with bonus parents during holidays, 'We work together for a common goal'
Do you know someone who could benefit from this story? Please SHARE on Facebook or Twitter.