"'Congratulations, you have a beautiful baby boy!' the doctors and nurses exclaimed after my emergency C-Section. I heard him cry as I continued to sideways vomit into a plastic bin held by my amazing anesthesiologist.
My 2nd son entered this world fast and furious. He spent the first 4 hours of his life in the NICU because right after he was born, his breathing wasn't right. He was eventually sent back to me while I had visitors. Then he was able to stay with me full-time after I rested from a 24-hour magnesium drip (thanks to severe pre-eclampsia). Then, less than 24 hours later, he was back in the NICU.
His breathing and heart rate weren't ideal for a 2-day old baby. In addition to having irregular breathing, he developed an infection. Nothing broke my heart more than seeing my sweet boy hooked up to multiple monitors, fed through a feeding tube, and pumped antibiotics through an IV. My heart was shattered the day I was released from the hospital and left without a ride on a wheelchair holding my sweet baby in his car seat.
My son stayed in the NICU for 12 days before he was able to come home and finally meet his big brother. Those days of going back and forth to visit my newborn in the NICU and then go back home to spend time with my 5-year-old were the longest and most exhausting days of my life.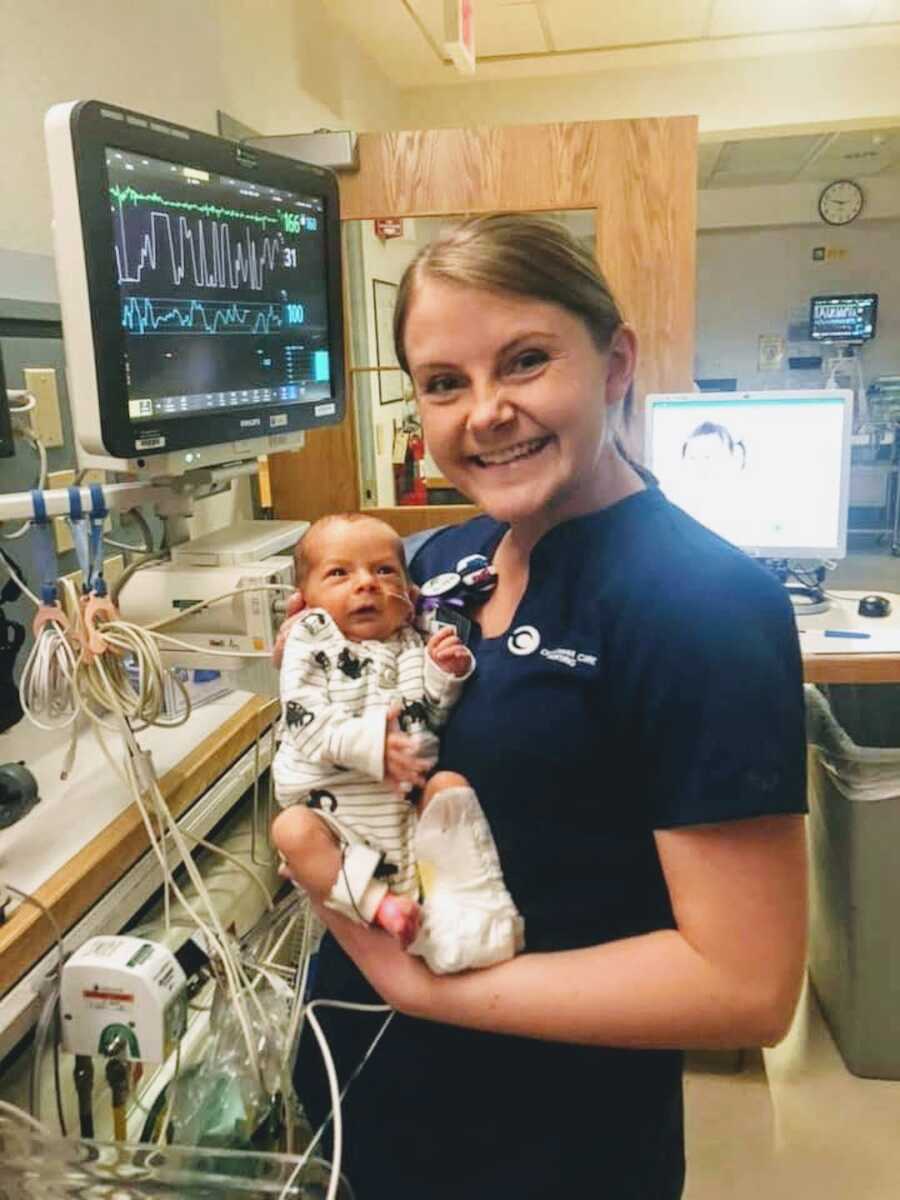 My body was mentally and physically exhausted. I had been through major surgery, recovered from a serious pregnancy complication, developed postpartum preeclampsia, and left my baby in the care of NICU nurses.
Those nurses were sent from Heaven above. Seriously, they were so patient, loving, and calm. There was one nurse in particular who cared for my son Hunter for most of his NICU stay. She was my favorite nurse. She was caring, kind, and explained everything in detail. She had this way about her demeanor that just made me feel like everything was going to be OK. In fact, I felt like I knew her my whole life. I found out my son would be the last patient in her care, as she was moving and going to be working in a different hospital.
After getting to know her and remembering that my mother's first cousin told me on Facebook her granddaughter was a NICU nurse in the hospital Hunter was in, I asked her what her last name was. Then I asked her if her grandmother's name was Joanne. Her mouth dropped, and she was extremely curious as to how I knew this information.
I looked at her and said, 'You're my 4th cousin, and you've been caring for your 5th cousin this whole time!' We hugged and chatted about our family tree.
It was almost like divine intervention. God knew I needed to know my baby boy was safe and cared for when I wasn't there with him. I prayed my sweet boy would be in caring hands, and God sent a member of my family to care for my baby boy.
It's been 2.5 years since my son spent his first 12 days of life in the NICU. It felt like decades when he was in there, but now it feels like so far in the past. He is thriving, so smart, and overall very healthy. I'm so thankful he was cared for by such loving NICU nurses; especially the one who not only felt like family but was family."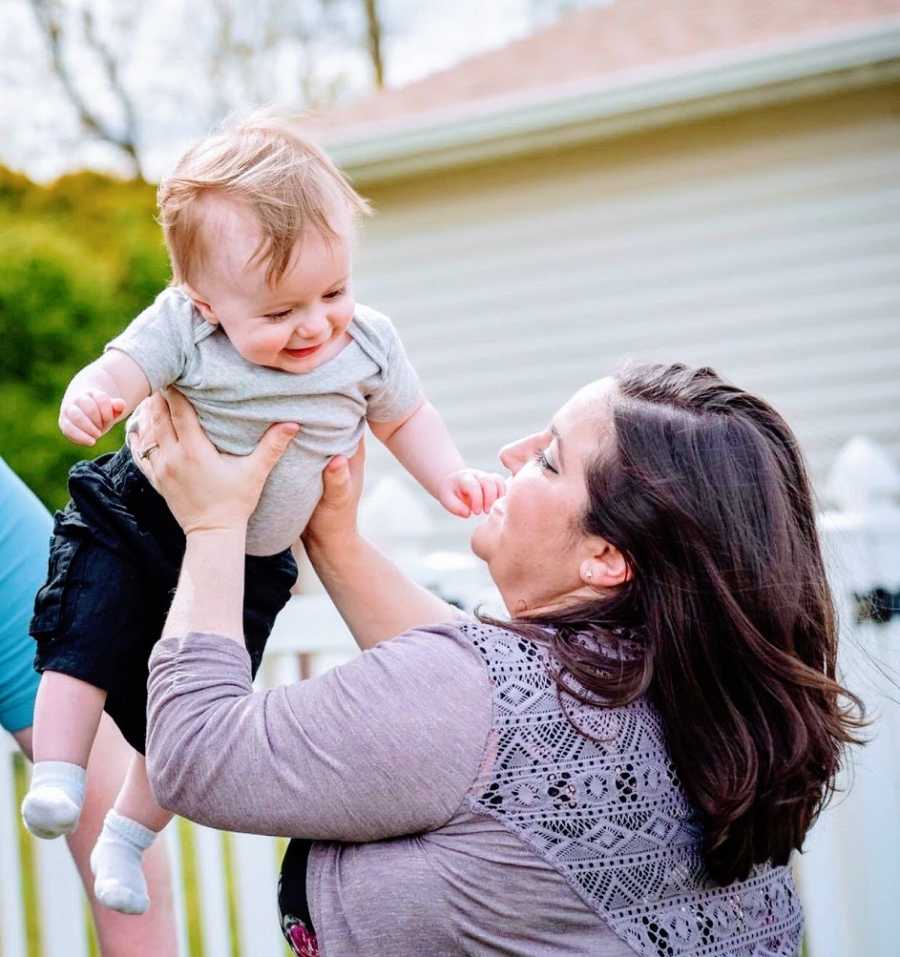 This story was submitted to Love What Matters by Holly Dignen. You can follow her journey on Instagram and Facebook.  Submit your own story here, and be sure to subscribe to our free email newsletter for our best stories, and YouTube for our best videos.
Read more stories from Holly here:
Anxiety Can Look Like a Sink Full of Dishes
This Is What It Takes For Moms To Go ANYWHERE With Young Kids
'My kids and dog eat first. My kids get a bath every night, I don't. I spend a good portion of my night getting both children to bed before I get 'me' time.': Mom says 'you have the right to do less'
'My husband washed and dried the clothes. Then, he put them all away. He didn't do it because I asked him to. I didn't ask at all.': Mom urges 'you deserve an equal partner'
Provide strength and encouragement for other moms. SHARE this story on Facebook with your friends and family.