Trigger Warning: This story contains mention of suicidal thoughts that may be triggering to some.
"I never thought my breast implants would make me want to take my own life. At 29, I felt like every breath I took was more than my body could bear. 
I was 19, too young and naive, when I walked into the surgeon's office in 2010 to inquire about getting breast implants. No one had ever mentioned anything about my breasts to make me insecure, but I had a slight size asymmetry (which is completely normal) and I amplified this in my head, making me feel that implants would solve this, or at least mask it.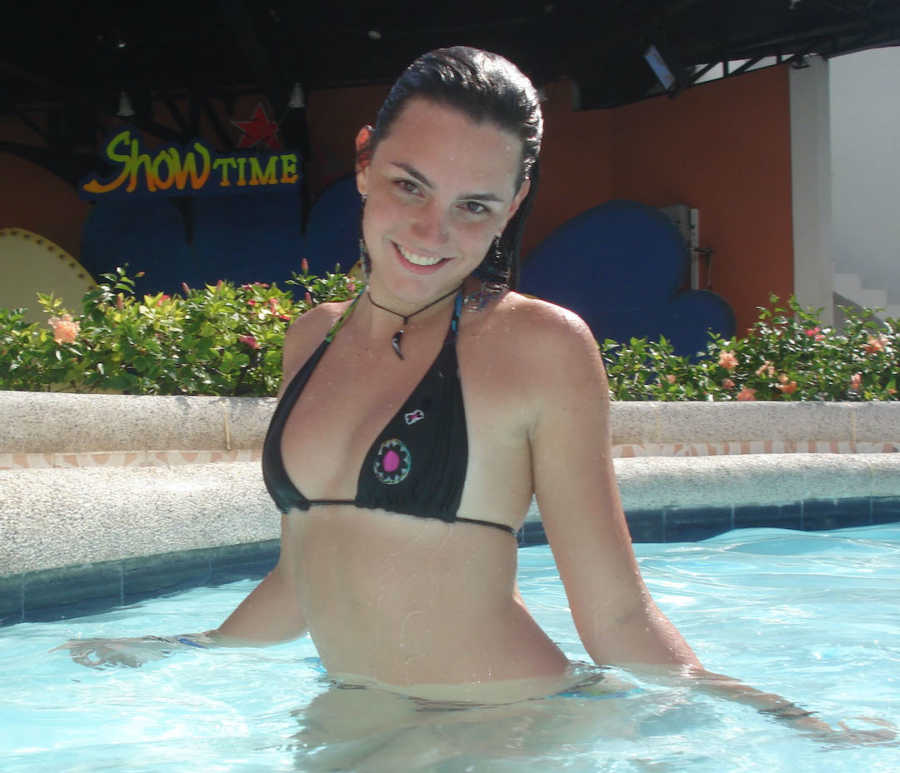 The implants looked so innocent and beautiful on the surgeon's desk. The surgeon, who was a trusted family friend, had explained the risks of surgery which included infection, scars, complications from the surgery itself. However, I was assured, 'Implants are perfectly safe and will last decades.' I had my consultation on a Monday, and on the Wednesday I was having my surgery. 
I woke up from surgery and immediately my confidence was boosted. I looked down and saw the asymmetry was no longer noticeable. The pain from surgery and the newly added weight from the implants were a small price to pay for how good I felt in my body. Thankfully, I healed quickly and without incident from surgery. However, my health issues began shortly after.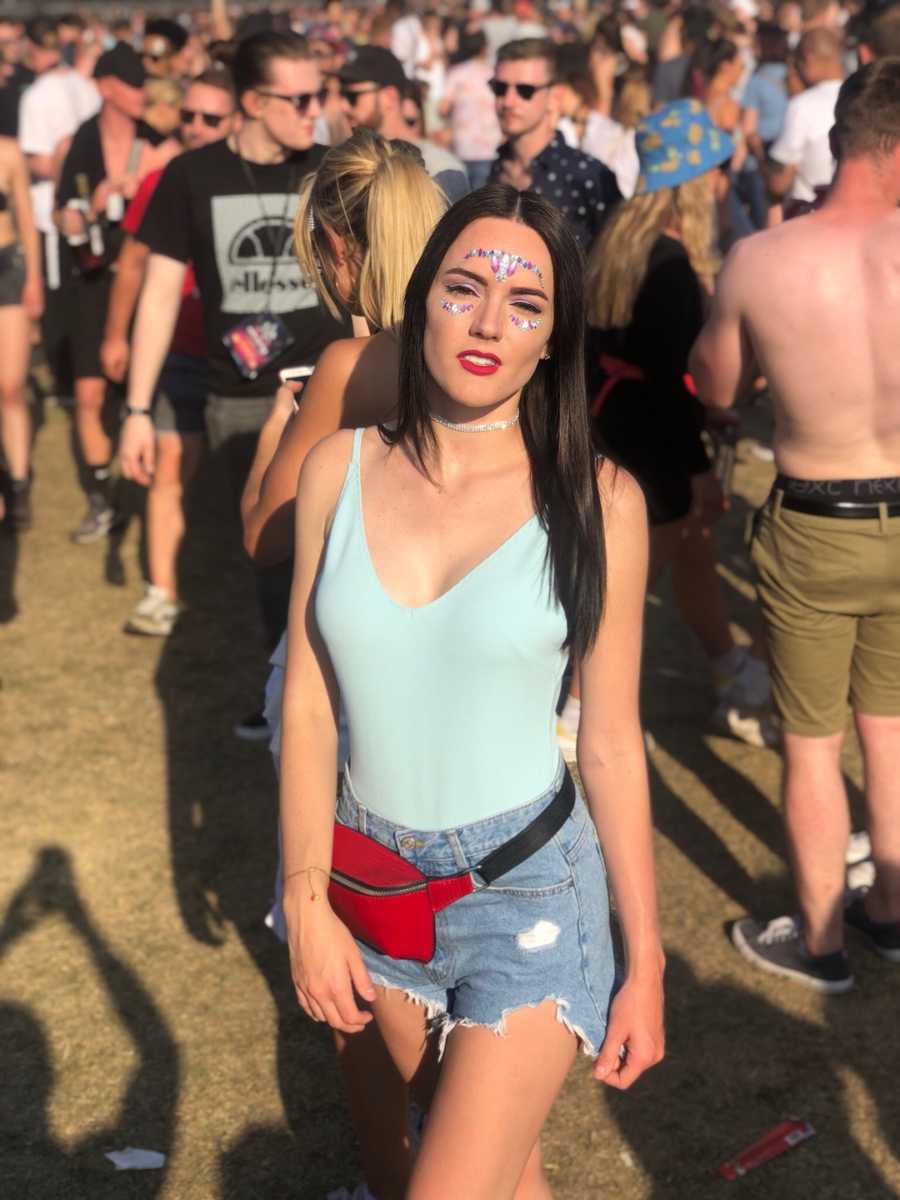 I had been a perfectly healthy young woman before surgery. I had a harmless kidney stone, and at 17, I had an appendectomy but never had as much as a cold up to that point. Then, a few months after surgery, I started having panic attacks. I remember the first one vividly and it was terrifying. 
I was alone reading in my studio flat at night when suddenly, my heart started racing. My extremities went cold and numb, I could not feel the tip of my fingers or my lips, and I felt I was going to faint. I had a scarf around my neck and in an effort to remove it to be able to breathe better, I ended up making it tighter by accident, as I could not fully control my body. I managed to call an ambulance and by the time they took me to the hospital, the episode had passed so they were not able to give me an answer as to why this happened to me.
Similar episodes repeated again and again for years to come. One episode was so bad I blacked out while driving and my dad had to come to get me and take me to the hospital where the ER doctor recommended, 'You should see a psychiatrist.' By the end of 2010, only 8 months after surgery, I started getting clinically depressed. I had no reason to be depressed at the time, so I was confused as to why this was happening to me. I saw a psychiatrist who prescribed me antidepressants and they worked to help reduce the frequency of the panic attacks. I would take them on and off for years, but then more random and seemingly unrelated symptoms started appearing.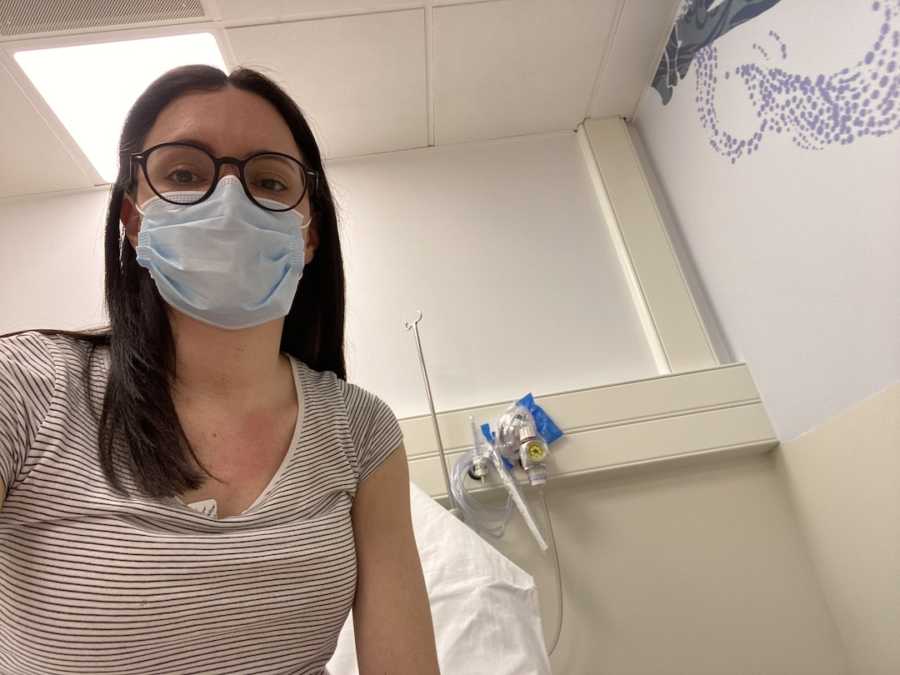 In 2012, I started experiencing vertigo and hair loss. A few years later, I started experiencing joint pain without any history of injuries or strains. I went to more specialists than I can remember, having all these symptoms extensively studied, but with no answers as to why I was experiencing them. 
Fast forward to January of 2019, I started noticing rippling when I touched my left implant and pain around my ribs right beneath the implants. This prompted me to go online and search for 'breast implant complications,' thinking perhaps I had a capsular contracture or it was time to change the implants for a new set. Instead, I had the shock of my life, and what I believed to be an explanation for the strange symptoms I had been experiencing for the last 9 years…
Breast Implant Illness (or BII for short). Those three words were the first that popped up on my search. I could not believe the articles I was reading and all the support groups I found of women suffering from identical symptoms as I had. I found the vast majority of women had three things in common: 1) They all had breast implants, 2) Doctors could not find what was wrong with them despite extensive testing, and 3) Almost ALL of them recovered from their symptoms once they had their implants removed. I thought, 'How could this be? Was this real?'
 I immediately contacted my GP and specialists who I had seen to inquire if this could be the cause of my symptoms, but to my surprise, none of them had a clue of what I was talking about. A few months passed and I made an appointment with a plastic surgeon who told me, 'It is all in your head. You probably have an auto-immune disease that hadn't been diagnosed.' I felt like I was going crazy, second-guessing myself having all these doctors tell me I was imagining things.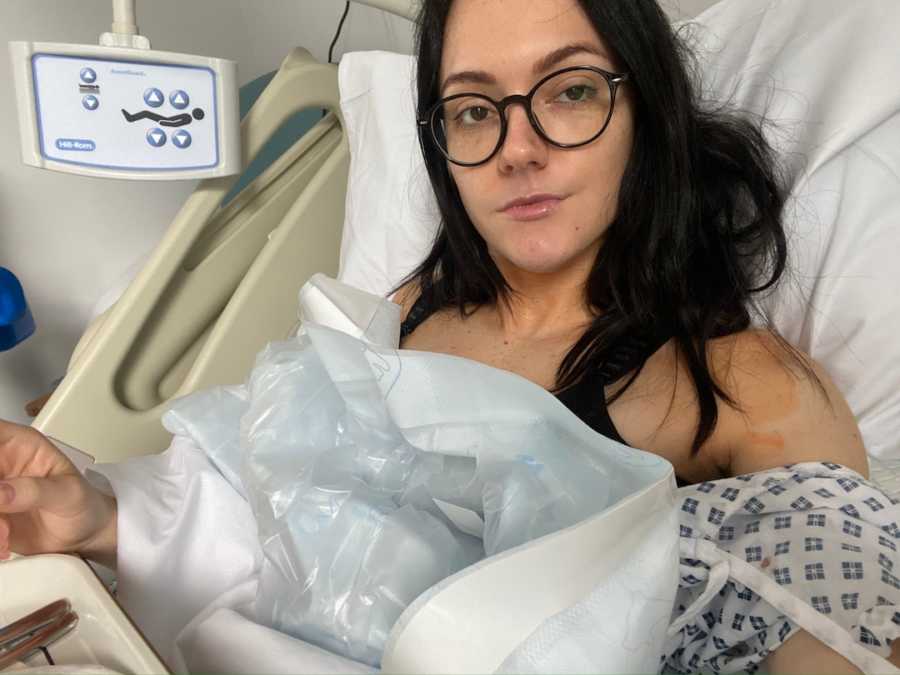 I had an MRI of my breasts and the implants were not ruptured, so my husband and I decided to try for a baby and once I breastfed, I would get the implants removed. At this point, my symptoms were not crippling. But then came December of last year. Out of nowhere while having dinner one night, I had a panic attack like the very first one I ever had, but this one was different. This time, I could not feel the entire right side of my face, I could not swallow, I could not lift my right arm or speak properly. I thought I was having a stroke and I was going to die. 
My husband called the ambulance and when I saw his face looking back at me, I knew it was bad. My husband carried me in his arms downstairs while the ambulance arrived. I struggled drifting in and out of consciousness waiting, but the cold weather of winter managed to wake me up completely. At the hospital, they said, 'You have a hemiplegic migraine.' This can mimic a stroke, but I knew it was the implants. I just knew my body was shouting at me to get those things out of my body.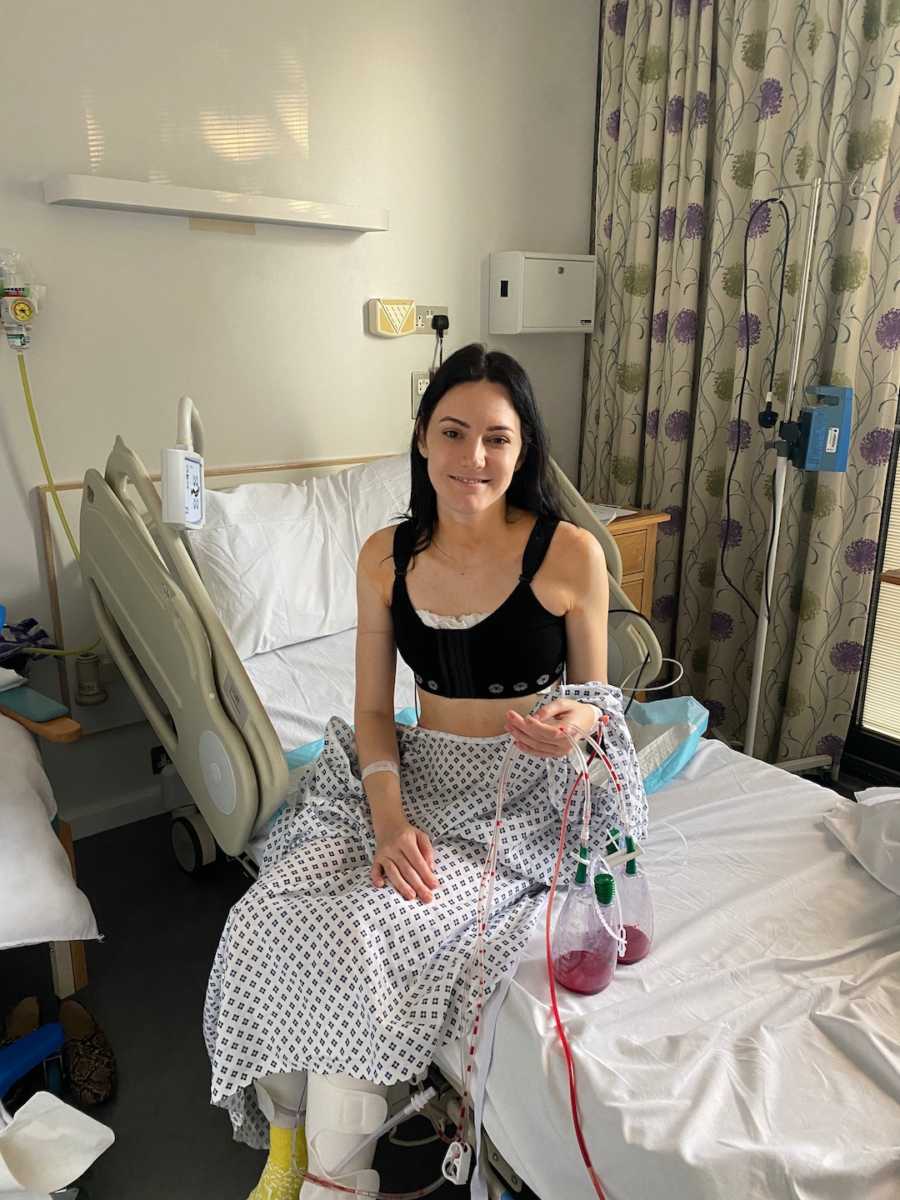 In January, I made an appointment with the best private plastic surgeon I could find, Dr. David Floyd. But a few days before my appointment, the COVID-19 pandemic hit. The consultation was postponed indefinitely and surgery to remove the implants was nowhere in sight. Traveling abroad for surgery was not an option, as my body felt more and more chronically fatigued as the months progressed. I really did not see a light at the end of the tunnel.
I started having palpitations nearly every day and had to be rushed to the hospital several times, thinking I would die. On two occasions, I sent messages to my parents and my husband telling them, 'I'm in the ambulance. If I don't make it past today, I love you and I am sorry for bringing this pain upon you.' My husband did not leave me alone for months, as he wanted to be with me in case I needed help. Even though my husband never complained and loved me more than ever, the guilt was consuming me. I could not stop thinking I was not the young lively woman he had married years before, and I inflicted this upon us at such a young age, because of a bad decision I made when I was 19. 
My mental health was in severe distress. I tried my best to put up a front for my friends and family for a couple of hours a month I would see them, but I thought of suicide constantly, to the point where I hid the kitchen knives just to remove the thought from my head. I was in total despair when in July, I got an email from Dr. Floyd saying he was resuming surgery and mine was on the first of August of this year… MY SALVATION.
The 2 weeks prior to surgery were the hardest, as my symptoms were at their worst. I woke up on the day of surgery and left my husband with what was practically a goodbye letter, in case I didn't survive the surgery, but thankfully it went perfectly. I opened my eyes after surgery and finally, I could take a deep breath without pain. The scars I now bear and the pain I felt were nothing compared to no longer feeling the sensation someone was stomping on my chest or choking me. It was surreal. I made a chart to follow the symptoms that left after explant surgery, and to date out of nearly 33 symptoms I felt before removing the implants, 18 are completely gone, with the remainder improving. I finally had the energy to smile and enjoy life again. The sudden food allergies were gone, and I was not in constant fear of dying anymore.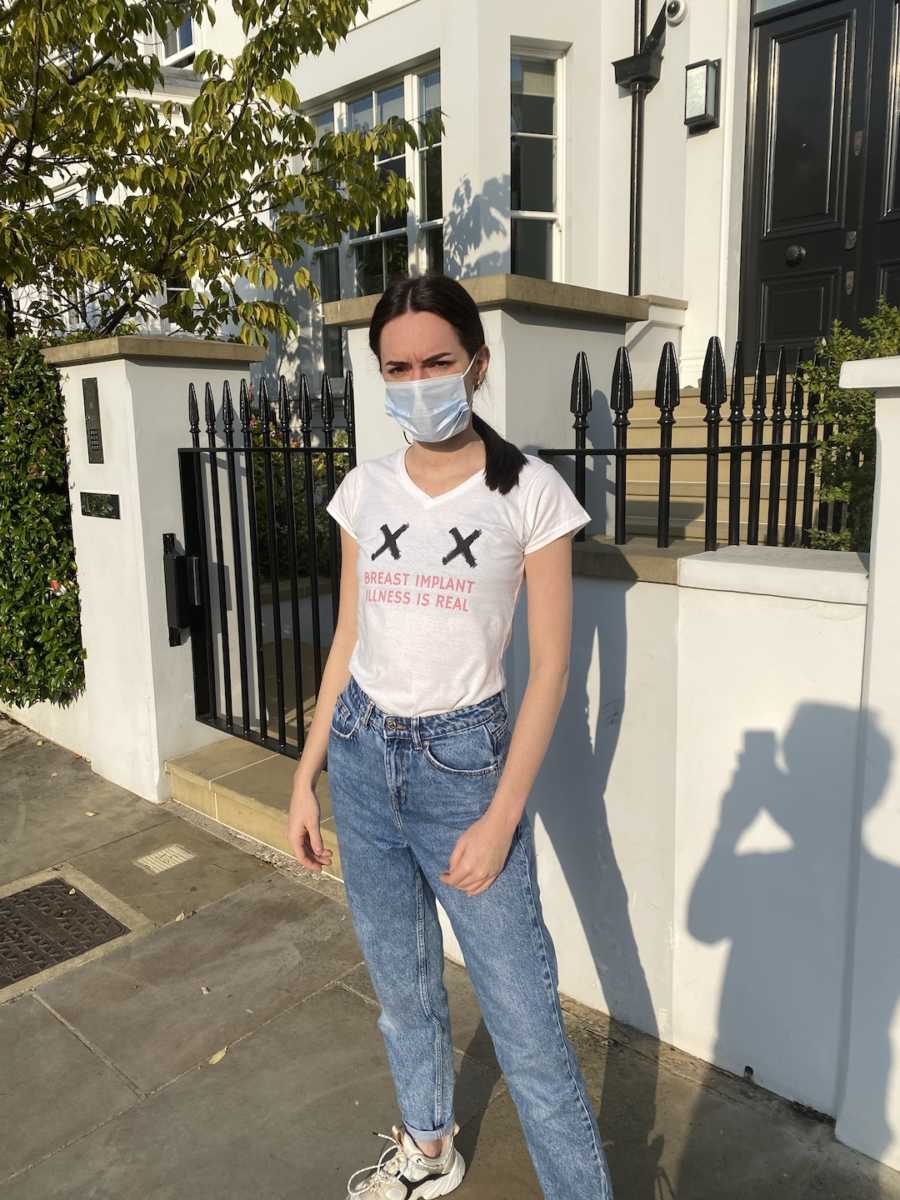 Unfortunately, I got COVID-19 only 6 weeks after surgery, which has caused me to feel fatigued again but even so, I feel like a completely different person compared to how I felt before removing the implants. I cannot in good conscience recommend implants to anyone, at the most basic level they are a foreign object made of toxic chemicals the body will never stop attacking, not to mention their link to the deadly BIA-ALCL cancer. They are a ticking time bomb that can make you sick within days from getting them or 20 years down the line. 
Please warn other women. You never know whose life you could be saving, like the amazing communities of women saved mine."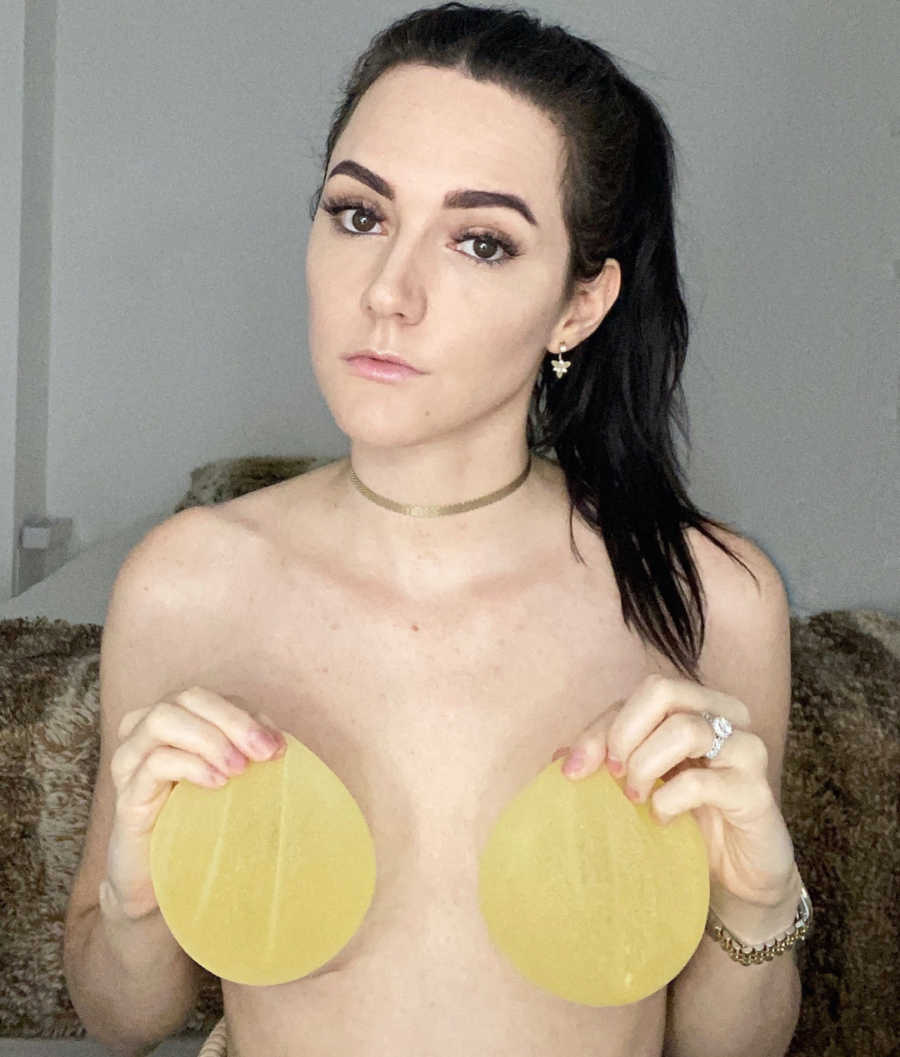 This story was submitted to Love What Matters by Miss K. from London, UK. You can follow her journey on Instagram and Facebook. Submit your own story here and be sure to subscribe to our free email newsletter for our best stories.
Read more stories about Breast Implant Illness:
'I was 22 and wanted to feel feminine. My husband said breast implants would help 'spice things up.': Woman removes implants after plagued by Breast Implant Illness, 'removing them gave me the confidence I lacked for years'
'You're not getting breast implants for me? After all I've done?!' Just like that, my marriage was dead.': Woman divorces husband after pressure for plastic surgery, 'never alter yourself for a man'
'I was self-conscious after having a baby, so I got breast implants. I got the 'healthier' option. When I woke up from surgery, it felt like the air got knocked out of my lungs.'
'You're not getting breast implants for me? After all I've done?!' Just like that, my marriage was dead.': Woman divorces husband after pressure for plastic surgery, 'never alter yourself for a man'
Please SHARE this article with your friends and family to raise awareness about Breast Implant Illness!