"When people first meet me and see I am a bald woman, most are surprised to hear that while I lost all my hair in first grade, it did not truly impact me until high school. When I lost my hair in elementary school, I started speaking out at our school's Locks Of Love assembly (by the encouragement of one of my favorite teachers I have ever had) where students donate their hair.
People saw a bubbly carefree girl who was owning her hair loss. I still hear from adults how impressed they were with my speeches. I am even impressed with myself for giving speeches at that age, but at that time, I had never fully grieved the loss of my hair. The saying 'fake it until you make it' definitely applies to the beginning of my hair journey, but before I 'made it,' I had some other obstacles to face.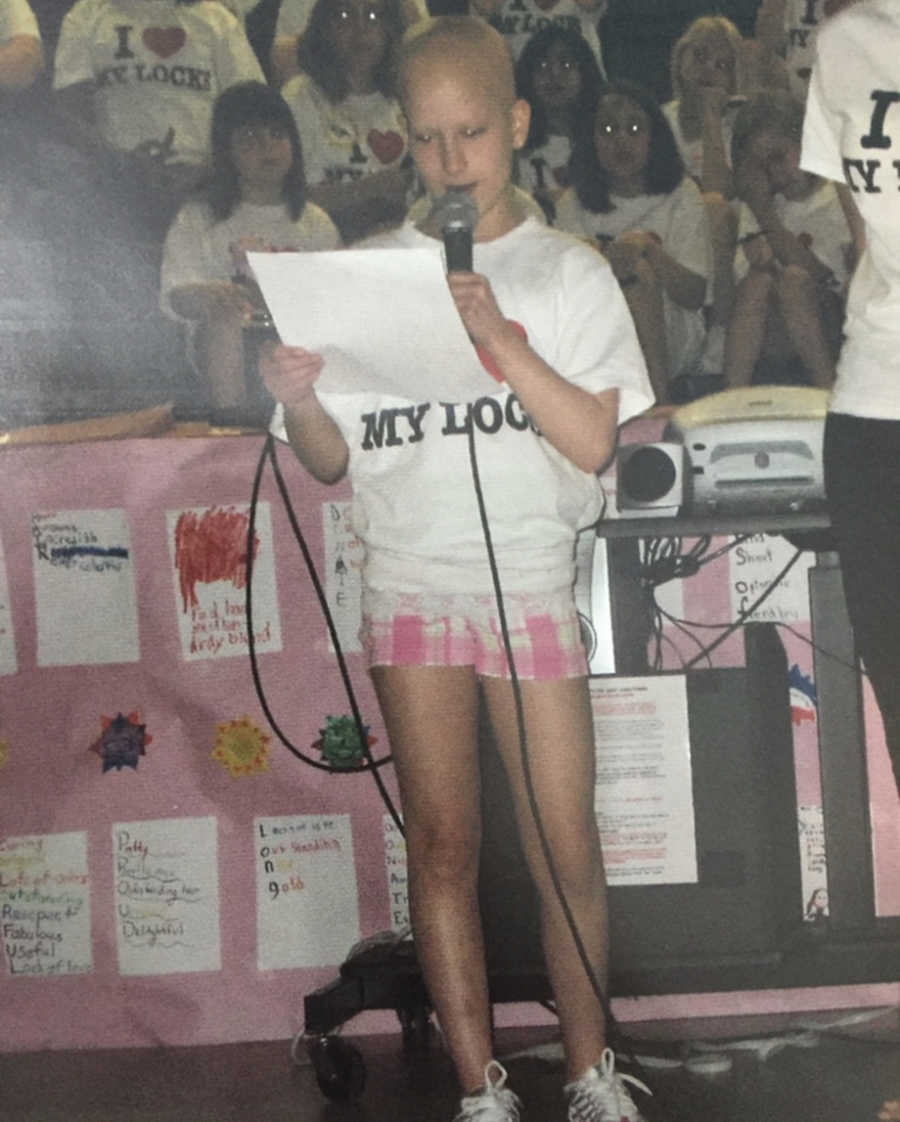 Before I lost my hair, I was already participating in competitive gymnastics and rapidly increasing my
training hours. By the end of elementary school, I would sometimes train in the morning at 6 a.m. before school and again after school. Gymnastics is a sport where our bodies are heavily monitored and scrutinized by coaches if we are not skinny enough or muscular enough. While obviously, this is a lot of pressure to put on young girls, it honestly guarded me from fully processing my hair loss because all of my focus was on how my body looked from the shoulders down instead. Although, during the sport, I did have constant reminders of my hair loss such as not being able to wear the matching scrunchies that came with the leotards or not being able to wear the matching ribbons in my hair with my teammates, nonetheless, those feelings were always quickly pushed down because I was focused on the sport in every aspect.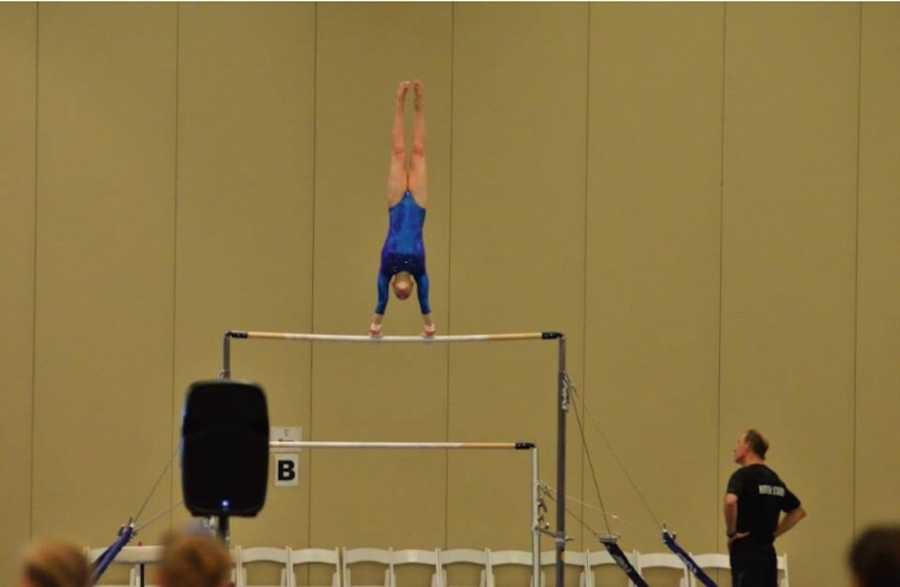 As I moved up the levels, eventually I started homeschooling in middle school in order to train more hours. Actually, it was more like 'gym-schooling' as I like to call it because we trained our first session 8 a.m.-12:15 p.m., followed by lunch 12:15-12:30, then we did school inside the gym upstairs 12:30-3:15, 'play time' 3:15-3:3-30, and the second training session from 3:30-5:30. Overall, you can see how my ENTIRE life was at the gym, and there was not much of being home. The sport consumed every aspect of me. After graduating middle school at the gym, I decided I wanted to go back to normal public school for high school which was a decision my parents also wanted for me. By this point in my gymnastics career, I had been to multiple gyms, had many coaches, and had already started losing any joy I had for the sport over the past few years.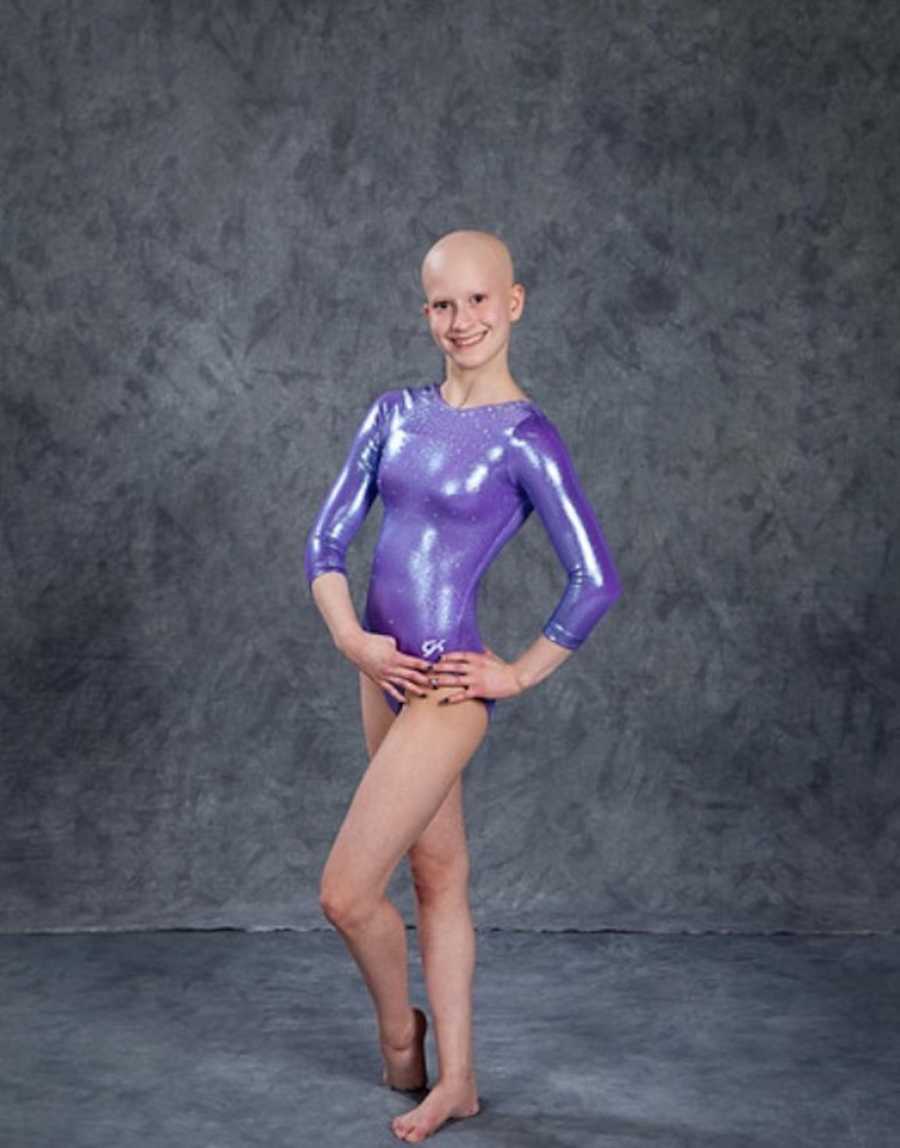 Since I want this story to focus on my Alopecia, I will not dive into the toxic world of gymnastic coaching but that is certainly what led to my exit and loss of love for the sport. How could I ever quit though? I had already dedicated my entire life to gymnastics and everyone expected me to do the sport through college. I vividly remember driving to practice towards the end of freshman year of high school, eating dinner in the car as I always had to do, and hoping I would get sick before getting to practice so I would not have to go in. Suddenly, these feelings became more overwhelming than other days and I started sobbing as I told my mom in the car, 'I need to quit gymnastics.'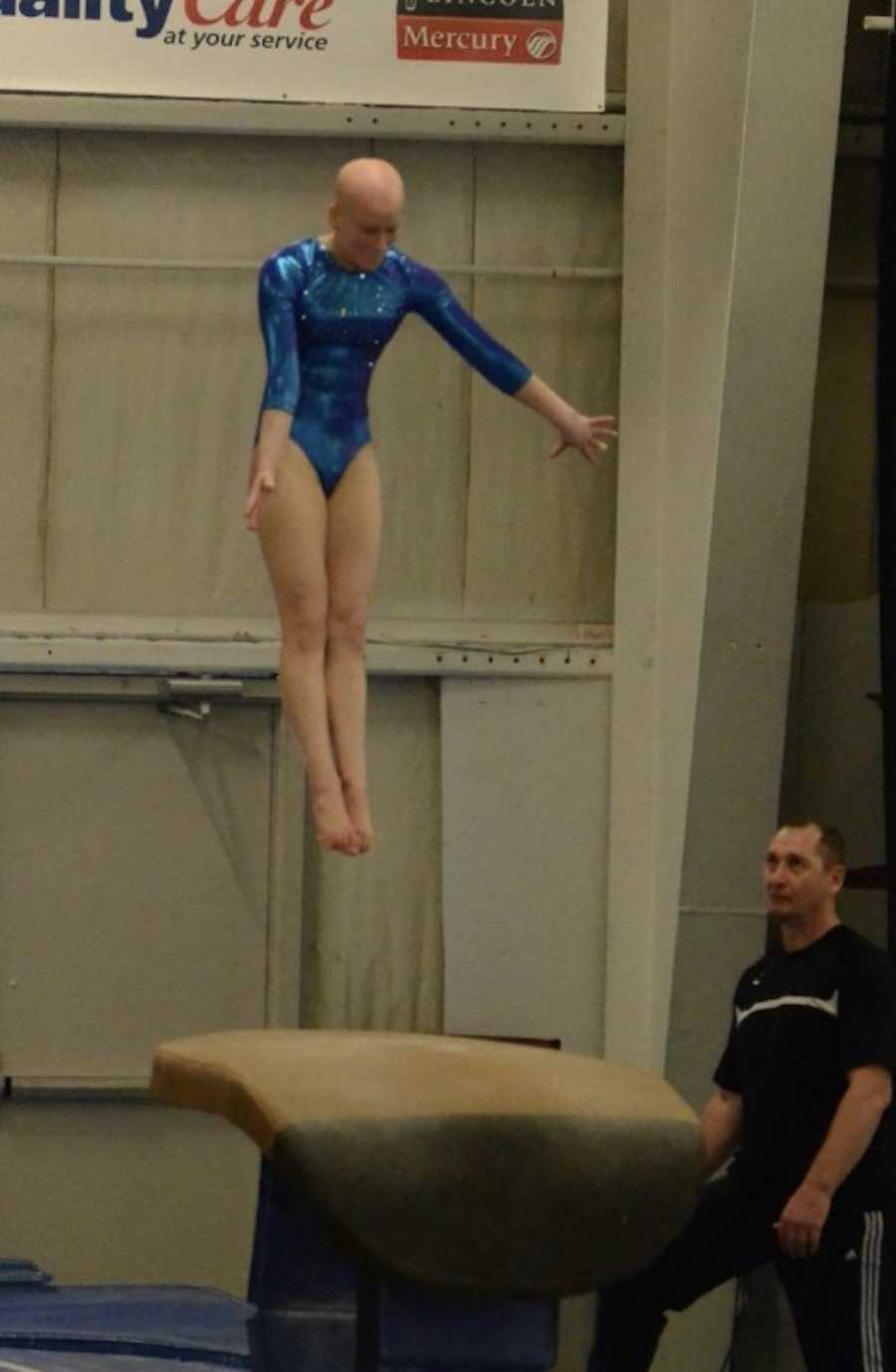 My mom, clearly shocked, wanted me to do what was best for myself and told me if that's what I wanted, then that's what I should do. I knew this would be a disappointment to everyone in my life because I was known as the gymnast. I was known for being the girl at school rumored to be training for the Olympics (which was never true). I was known for dedicating my whole life to the sport and on track to get a scholarship from a D1 school. No one ever saw this coming, not even myself, but I knew it had to be done unless I wanted to be miserable for the next 8 years.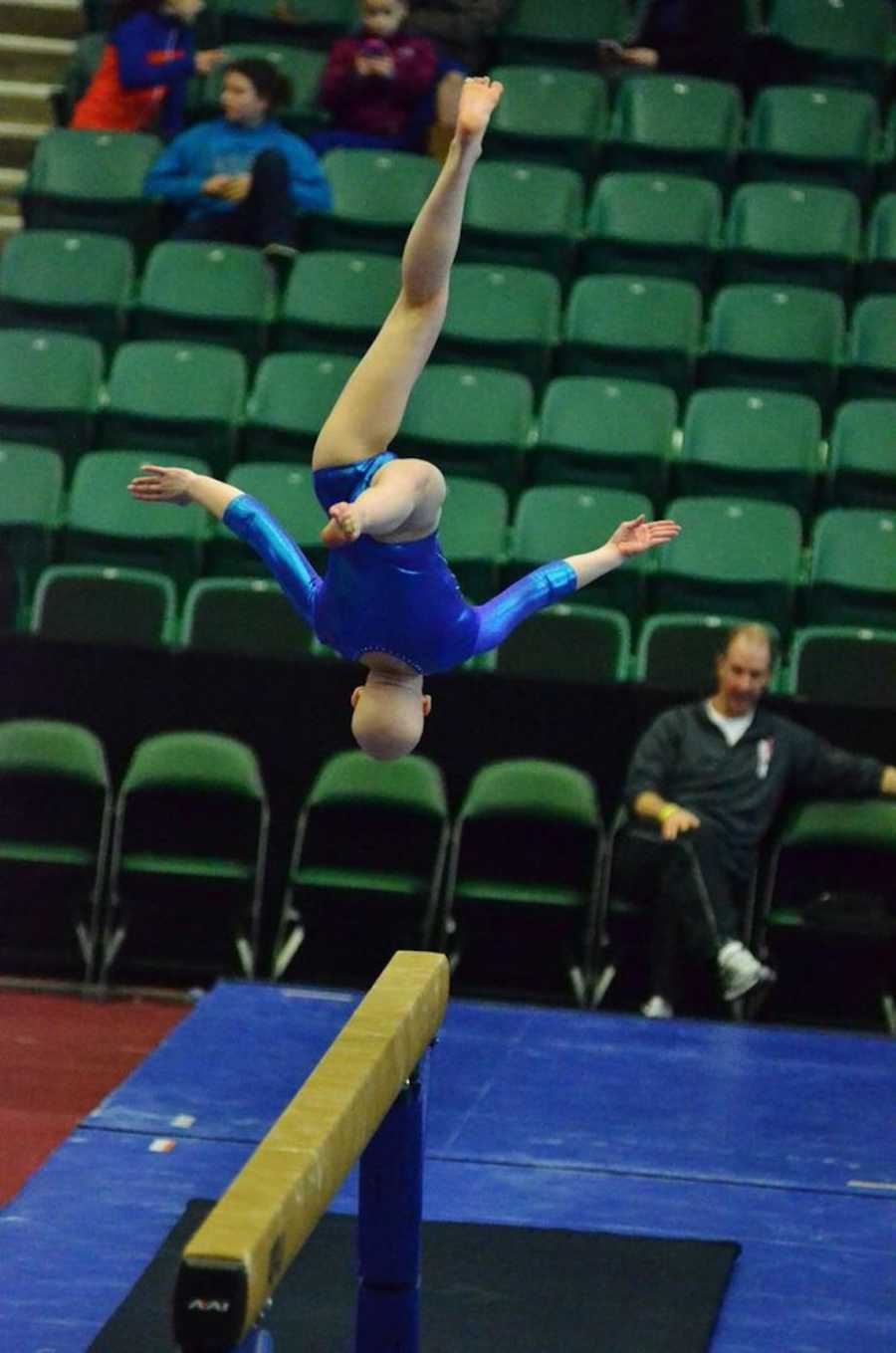 As expected, once I quit gymnastics, my entire world fell apart. My parents were disappointed, but at the same time, they did not want me to be unhappy. I lost friends at school, who I suppose thought I was no longer cool if I did not have my gymnast title. One of the most vivid things that stuck with me immediately following my exit from the sport was a 'friend' at a pool party saying to me, 'Why would you ever quit something that you are good at?' Those friends never invited me to another hangout again. I was also disappointed in myself because I wished so badly I could stay in the sport and be happy, but I had given it so many chances and struggled behind closed doors for too long.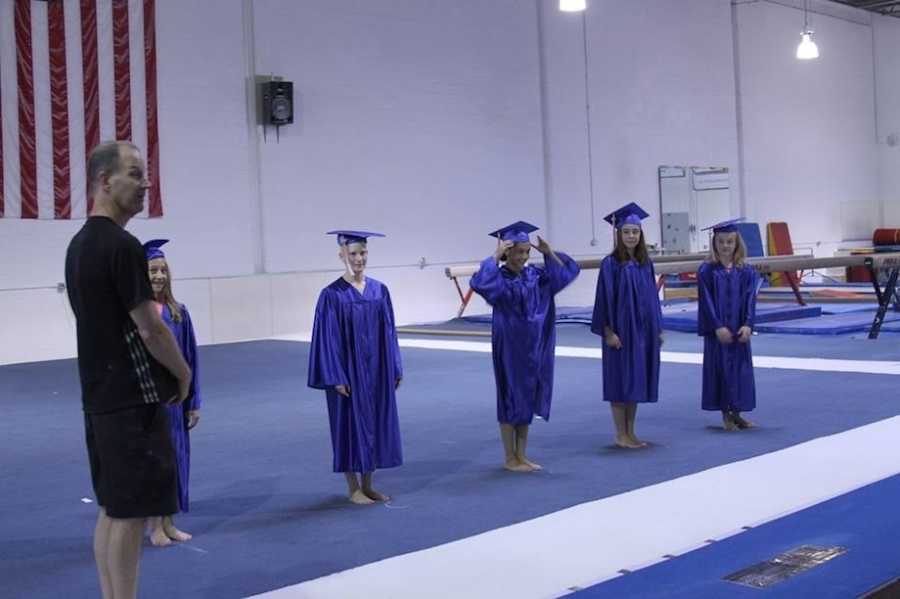 Starting my sophomore year of high school was one of the toughest times of my life. I felt like I had no identity without gymnastics other than being the weird bald girl. I had a limited amount of friends and felt like no one truly wanted to be my friend. I felt so misunderstood, but at the same time, I knew I must have some bigger purpose in life. That purpose was clearly no longer gymnastics and I spent countless hours trying to figure out what else it could be.
During one of these thought sessions, it finally hit me I wanted to share my story with others. I knew I could not be the only one struggling with Alopecia. Constantly feeling like I would never be pretty enough for people to want to be my friend, I would never find someone to be in a romantic relationship with, or just the endless anxious thoughts from people staring and pointing at me in public. Now that gymnastics was gone, these were the thoughts that consumed my brain every day. I finally had no other choice than to face my hair loss. Not to mention, my body was finally starting to grow into itself after I stopped training 30+ hours per week and I had to manage that physical transition at the same time.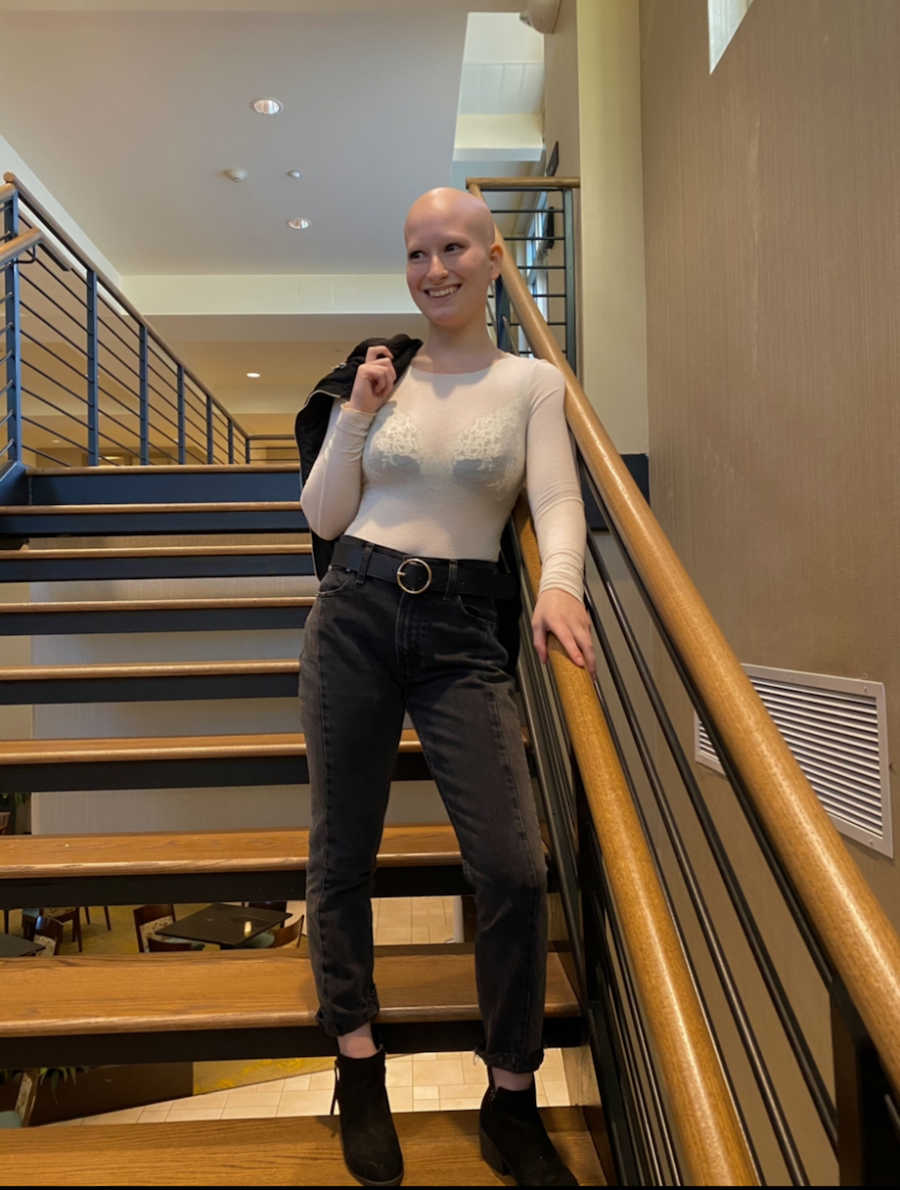 Every time I looked in the mirror, I was disappointed, from head to toe, with what I saw, and I needed an outlet to express these struggles. This is when I decided I was going to make a YouTube channel and discuss my experiences with Alopecia. However, I was horrified at being bullied for making videos so I only told about three people and I made it very clear to them they could NOT tell anyone about my channel. After a few videos, the fear of people at my high school finding my channel outgrew my desire to want to become a figure for other Alopecians to relate to. I stopped for many years, and then finally by the time I hit my sophomore year of college I had another moment. I guess sophomore year is always a pivotal time for me.
At this point, I had already considered starting my YouTube channel again now I felt free from people in high school that may bully me. However, this time I knew I wanted to feel confident enough to post on my other accounts and proudly let everyone know about my videos in hopes to reach and empower more people. Just like the first time, my inspiration to start back with my videos came from another emotional event: my first breakup. As many people do in their early relationships, I lost myself and believed being in a relationship was the best thing I could have in life (especially being bald and previously feeling like I would never have a relationship). So when that ended badly, I once again felt a sense of lacking identity.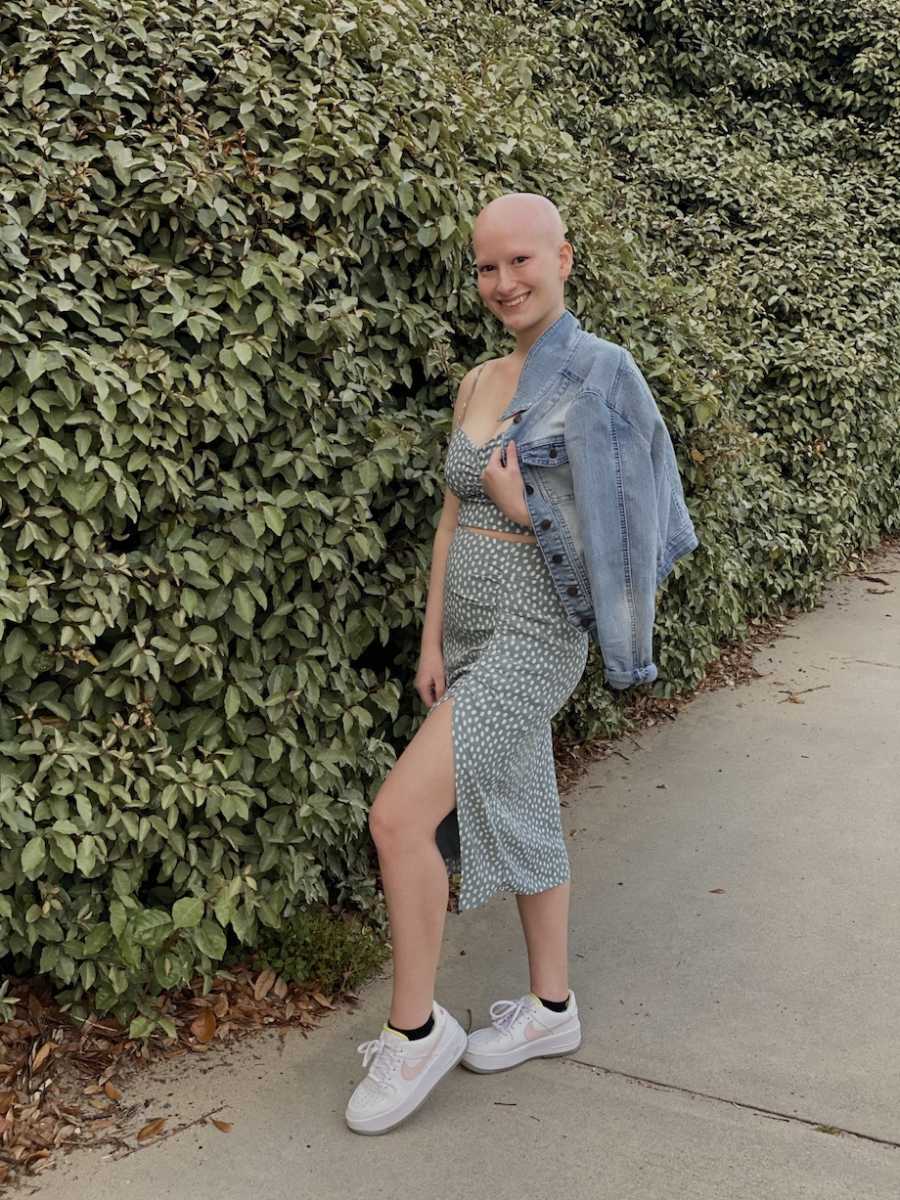 I found myself in deep thought many nights of what I could do to feel like myself again and build a sense of purpose I could carry for the rest of my life. I instantly remembered what I told myself when I saw I had my first subscriber back in high school, which was now I have one person watching, I at least can not let that one person down. That one person could have been my mom for all I knew, but it was enough to light a fire under me that has remained ever since. I knew my channel was something I needed to start again for myself and for others.
I became overwhelmed with intense emotion at this realization because I finally felt free from being worried about what others might think of my videos or any other type of judgment I might receive. I knew I could make a difference and that is all that mattered. I started becoming more consistent on my YouTube channel and now freely talk about it to anyone. I have found confidence through making these videos and I could not imagine my life without Alopecia anymore. While I still have moments of insecurity with my hair loss, it has truly given me a sense of purpose and passion I am forever thankful for.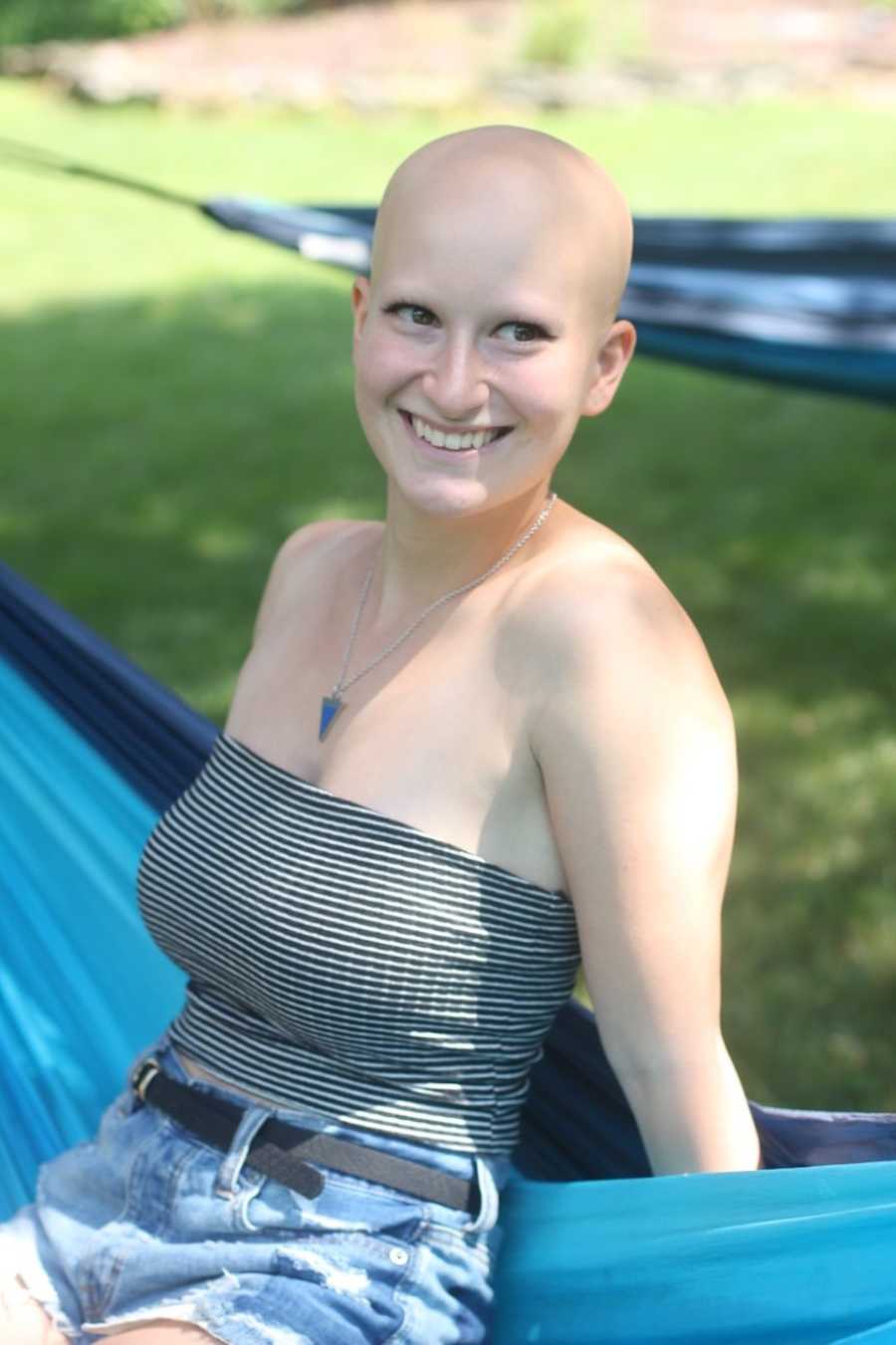 While I present myself on my social media as a girl who is confident about being bald, I always like to make it clear there is a struggle behind every confident person. I was not always secure in my own skin, and there are still many days I still feel insecure. When I am out in public being stared at and pointed at, I can't help but feel down sometimes. Confidence is not one destination, but rather a constant work in progress. Through my online content, I hope to portray this message and to show others real beauty comes from our uniqueness. Helping to shatter beauty standards and reshape how society views bald women has proved to be a large task, but I plan on doing this work for the rest of my life and I am grateful Alopecia has given me a voice to speak about this issue.
If I have learned anything about myself through all of this it is I know I am capable of turning what may appear as negative events into positive opportunities. While sometimes it is hard to see the positives during the height of the storm, there is always something better waiting on the other side. I urge everyone to have enough courage to believe in themselves and dream as big as they possibly can. I have noticed the more I believe in myself, the more opportunities come my way."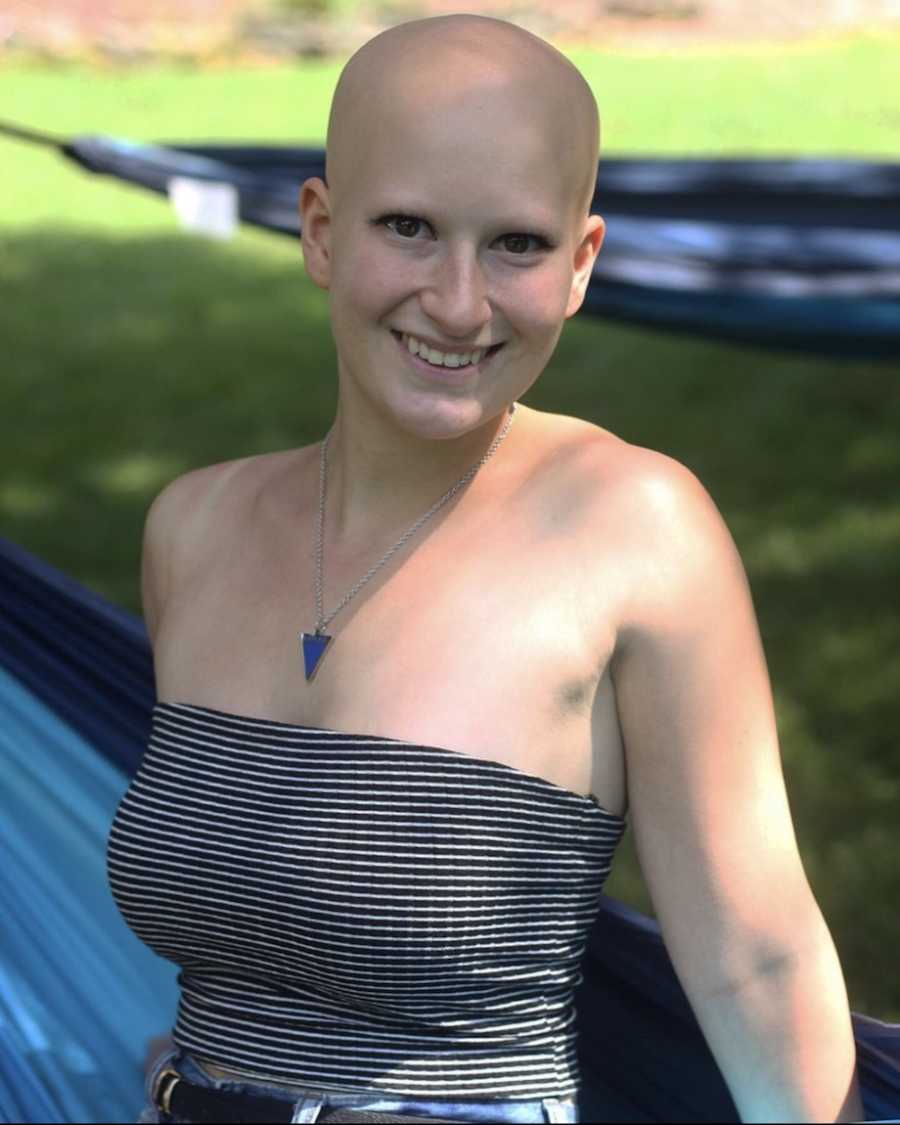 This story was submitted to Love What Matters by Alison Mann from Hillsborough, NJ. You can follow their journey on Instagram and YouTube. Do you have a similar experience? We'd like to hear your important journey. Submit your own story here. Be sure to subscribe to our free email newsletter for our best stories, and YouTube for our best videos.
Read more touching stories like this:
'My life was out of control. I drank as much as possible to escape. 'Why is this happening to me?' I only had half of my hair left, but I couldn't give up.': Woman with alopecia takes back her life, 'I made myself a priority'
'You look like you've got a cancer patient. Who is going to pick YOU?': Mom adopts daughter with alopecia and baby boy, 'I'm in awe of my family'
'I gathered the courage to ask, 'Would you let me paint your head?' She'd hidden her baldness under a wig most of her life.': Artist befriends woman with alopecia to show 'baldness is beautiful' 
'I'll only play if you take your wig off.' I was shocked and hurt. I let her bully me in my own house.': Woman advocates for girls with alopecia, 'Bald is beautiful'
SHARE this story on Facebook to help celebrate unique and beautiful differences!