"Two years ago, I moved to a new neighborhood. When I walked on the streets, I would sometimes see Julia passing by or having a coffee. Like every other neighbor in a big city, we did not speak to one another. The very few times we exchanged words was when I would pet her puppy, Andromeda. Truth be told, I only knew the dog's name, not hers. Back then, I thought Julia had cancer just because she was bald. But she was always smiling so I was confused…Oh! Was I so mistaken! I am a professional face painter, so every time I saw her…I just wanted to create art on her head! But I didn't dare say anything; I wasn't sure if it would be offensive.
Then, the lockdown was declared, and people started to go out on the balconies at 8 p.m. to cheer and applaud the health care workers. If I am being honest, I hadn't gone out on my balcony since I moved in, because it faces the inner side of many other buildings. But, like many of my neighbors, those days I would go on my terrace every night. At some point, someone played the trumpet. The next day, he was cheered into doing it again…Later, someone else played the guitar, then another neighbor the piano… and one day, Julia played the accordion! Within days, we had a full show that lasted for an hour with new songs every night.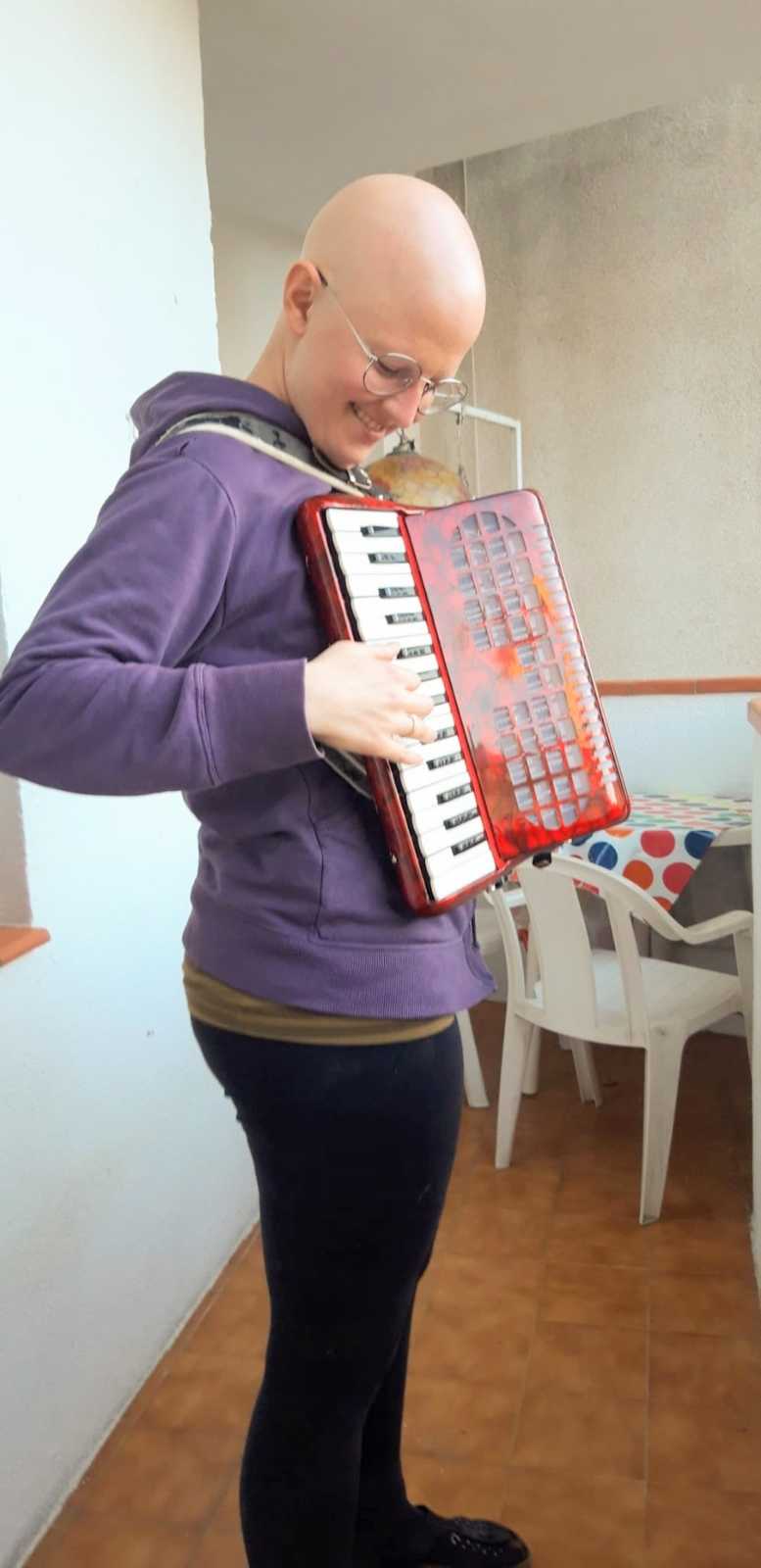 Looking back, I understand now that we coped with the uncertainty by sharing our music, our smiles… I saw my neighbors dance every day and it became such an important moment, yet I didn't even know their names. But our little community was filled with light during such dark times. We even created an Instagram account to share information and themed balcony parties. Lockdown had brought us something really beautiful yet seldom in a big city: friends in the neighborhood.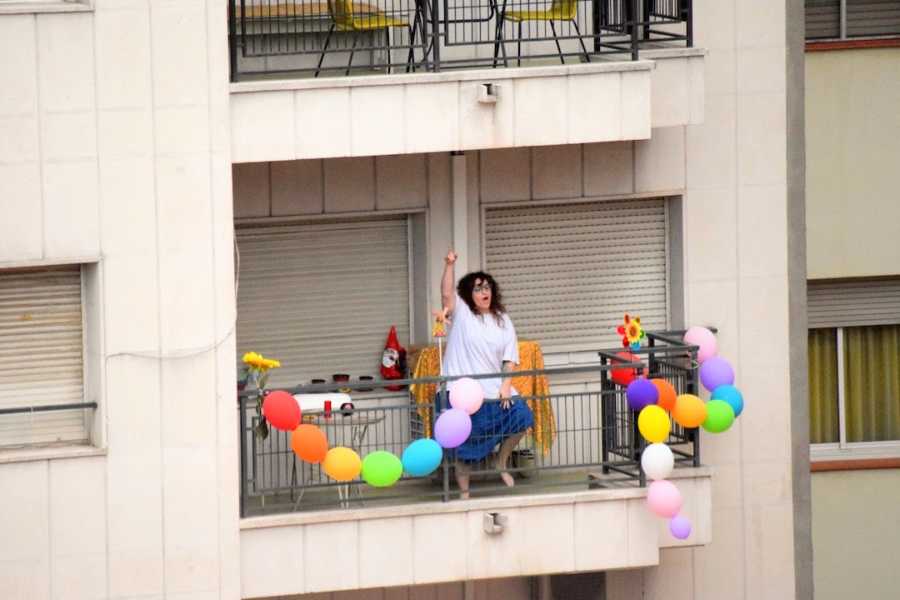 When going out was allowed again, I met Julia and the rest of the neighbors face to face. In person, she was just as bright as in the distance. She had an energy that made her glow. I had never met a bald woman before and she taught me about her alopecia. She lost her hair when she was seven and suffered from it a lot. She hid her baldness and used a wig for most of her adult life. But three years ago, she decided to stop hiding and 'come out.' Alopecia Areata affects 2% of the population: children, teenagers, adults, the elderly, both men and women, and all races. I thought, 'How is it possible I had never met a bald woman before?'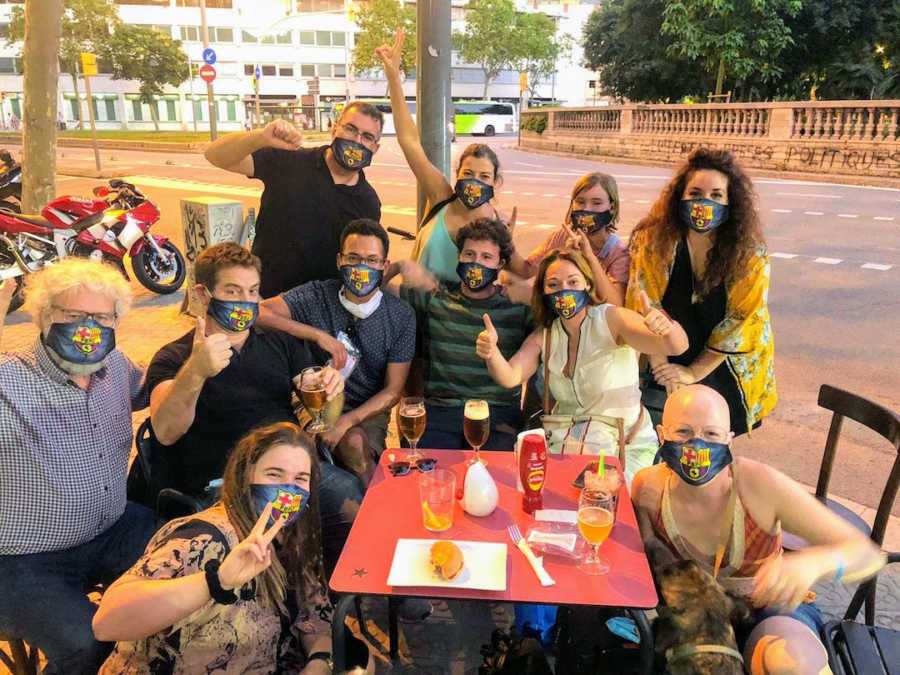 Finally, I gathered the courage to ask her if she would let me paint her head… She was so excited!!! She confessed the first time she left her house without a wig, she had worn a henna floral design on her head to empower herself. This time, though, I wanted the drawing to be all about beauty. Because baldness is beauty. And seeing her move around, my own beliefs about good looks were shattered.
The second time Julia and I met, we had another moment of great connection. We were in a bar with other neighbors and found out we both loved musicals. No need to say that we 'delighted' our neighbors with our rendition of full shows like Moulin Rouge, Wicked, Hair, etc. It felt like we were on a stage! From that day on, our friendship was sealed. And we kept meeting every week, sharing fun moments, confessions, and deep conversations. She had become essential in my life.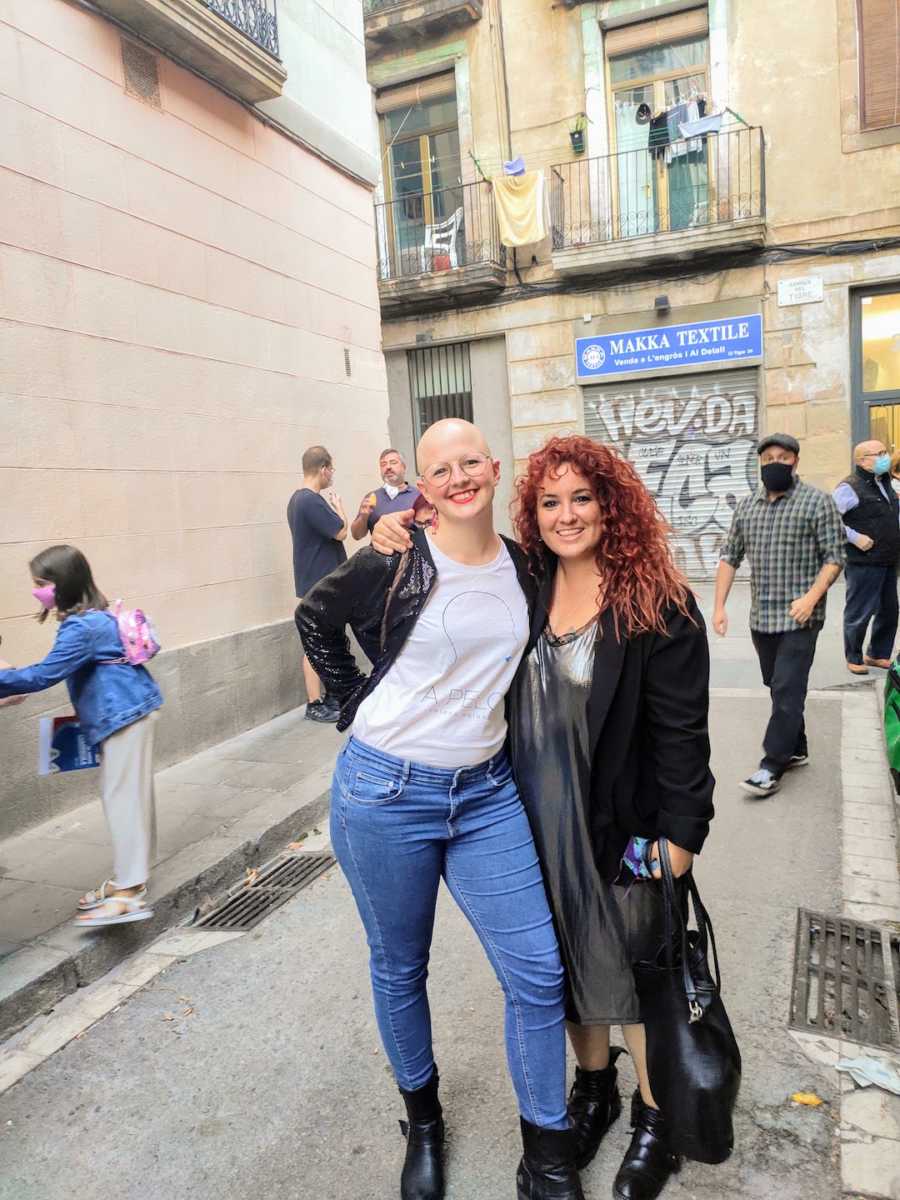 The day finally arrived, it was time to paint her head and I had planned what I wanted to draw. So, we went out on her balcony, put on some music, and sang. It was time to start, and I was doubtful at first, but once I started to see the colors on the skin I felt at peace, as I usually feel when I am creating. My drawing was coming along, but I had never had such a wide blank canvas: I was used to painting children's faces…and a bald adult head was a lot wider! In the end, following my instincts and improvising a little, I finished. Julia would not stop looking at her head in the mirror. I was amazed to learn that her, like many alopecians, had feared the mirror for years.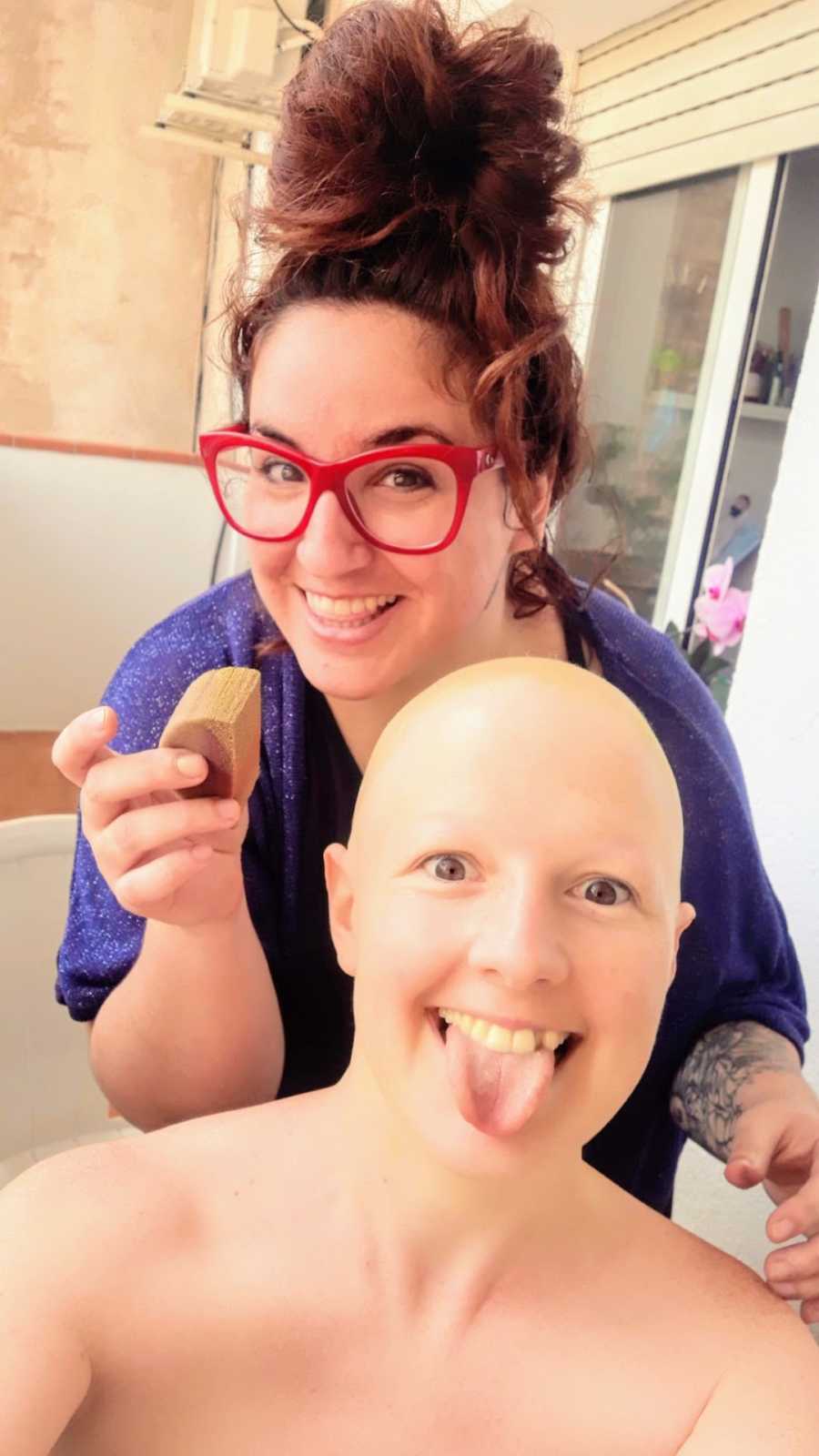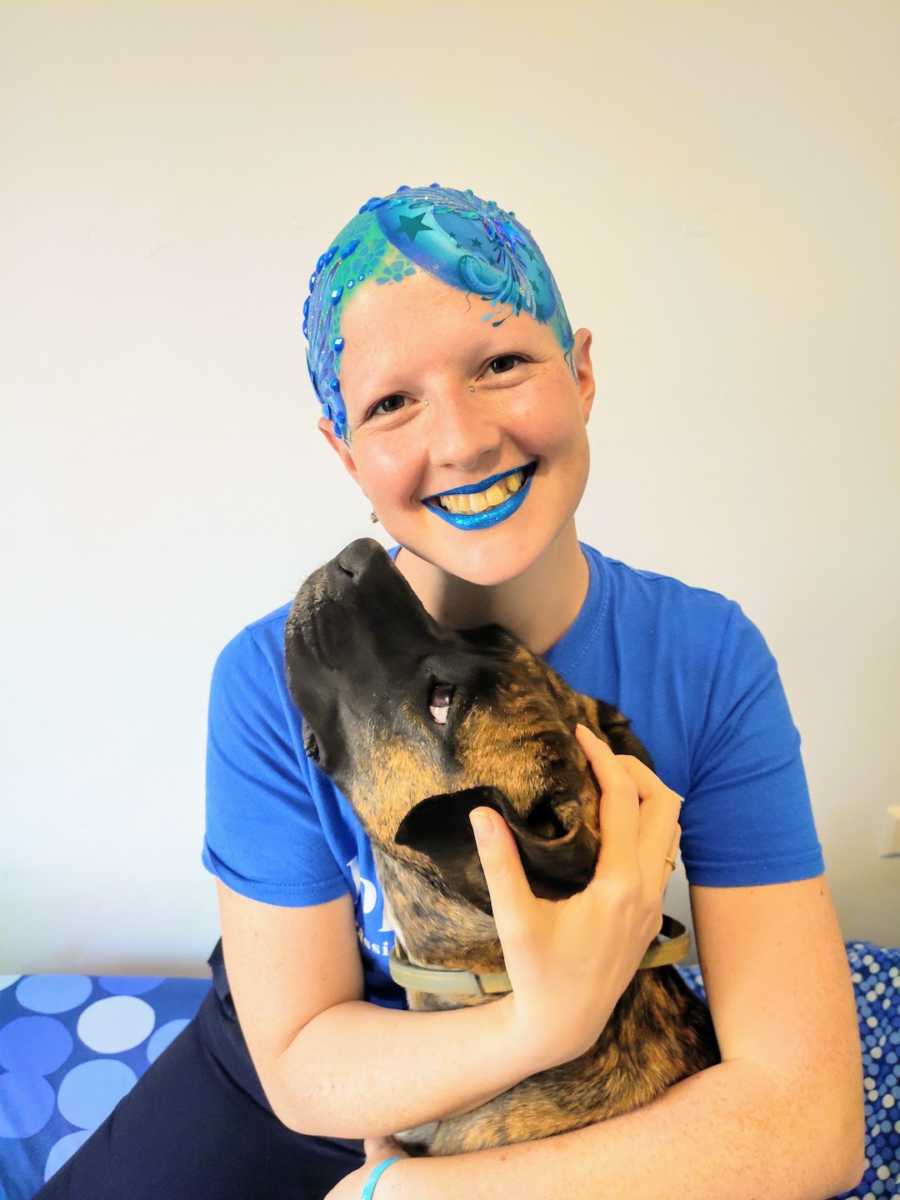 Then, we went out to take pictures. Leaving her house felt like I was accompanying a Hollywood celebrity to a shooting, umbrella and all, to protect my art from the sun. We also had a blast on the photo shoot: Julia is used to being on stage and, between us, she is kind of crazy. She gave life to my creation. 'It's like I am someone else, I feel like a star,' she told me.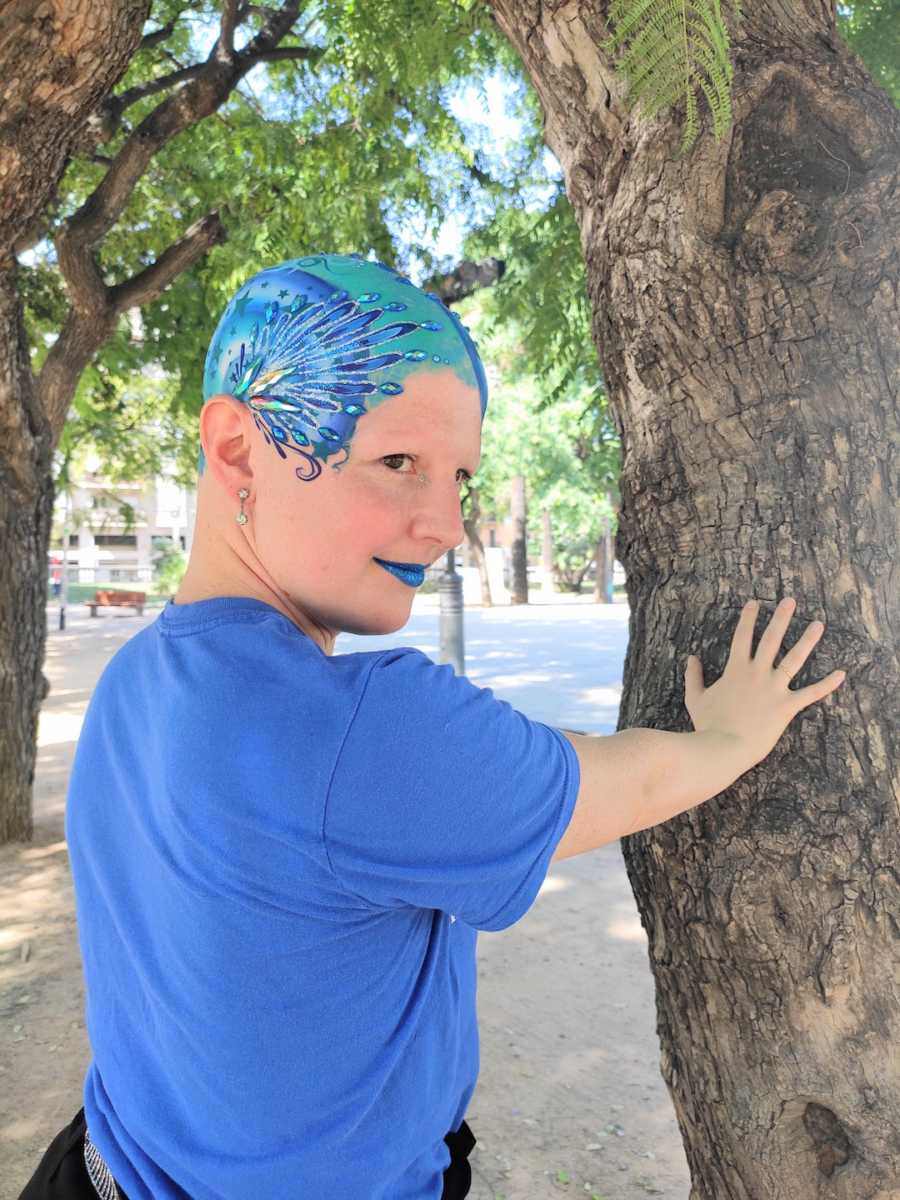 That day changed me, I understood my makeup creations had the power to change people into loving themselves more. I still work painting children's faces on birthdays, but my canvas has broadened. Now, I also work on people whose bodies have been shamed into believing they are not beautiful. Our society forces us all to feel inadequate. But I have learned beauty is not a canon, beauty is diversity.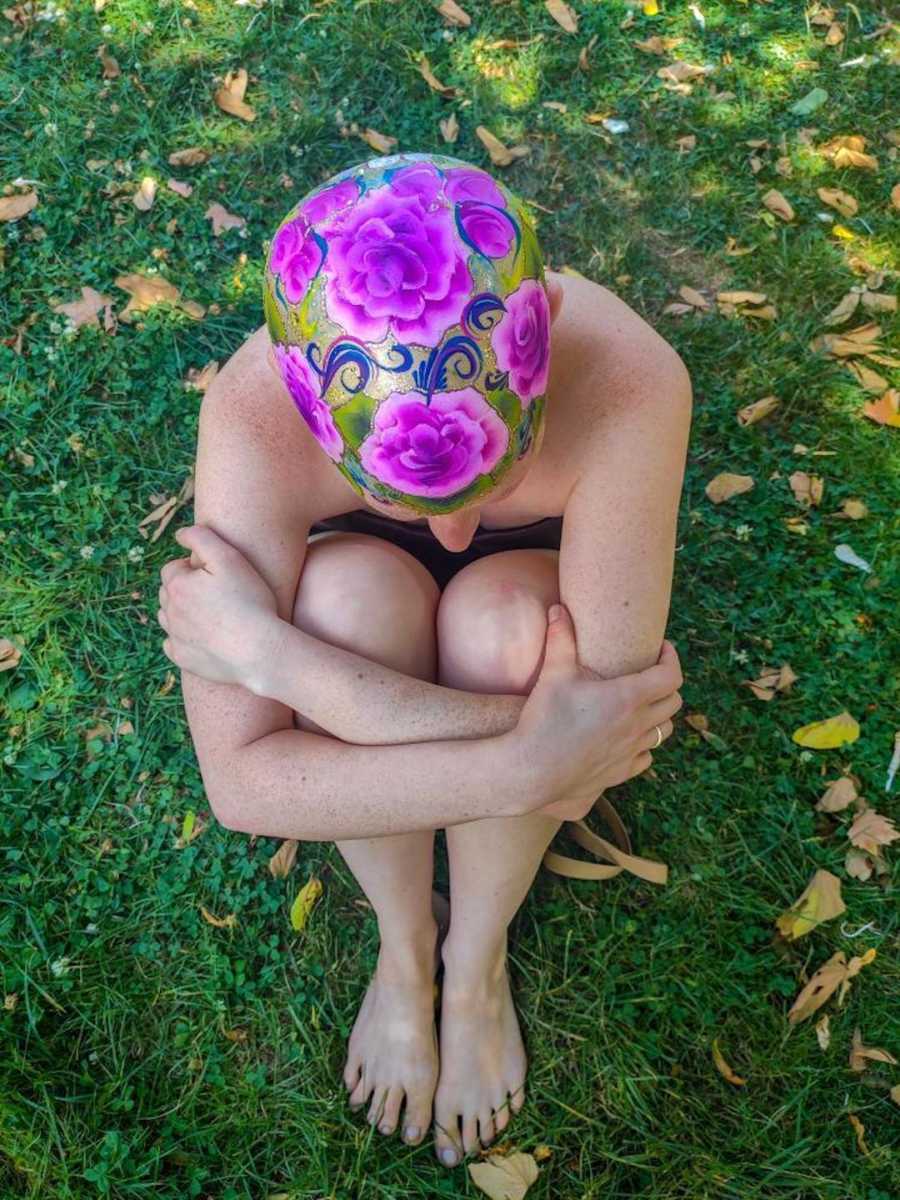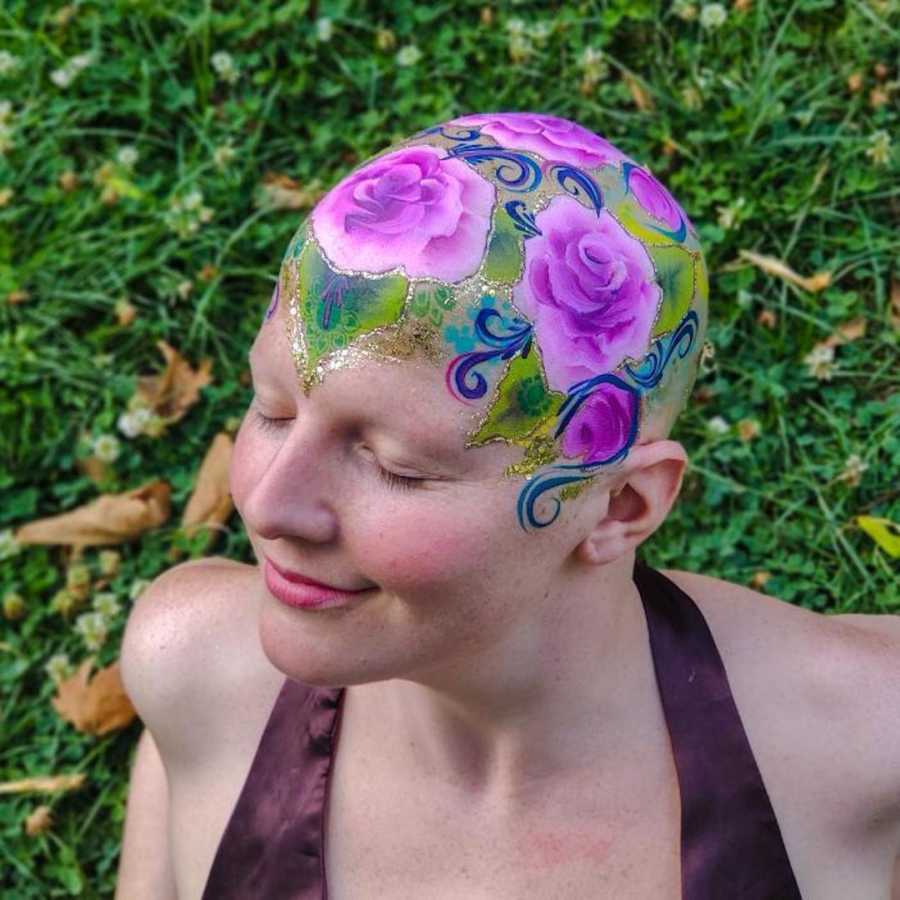 In my eyes, Julia is not a hairless woman but a heartfelt one. Her beauty and energy are captivating. Her fight to be happy with alopecia has also taught me to be kinder to myself. September is International Alopecia Awareness Month and I want to show you how baldness is beautiful, feminine, and powerful."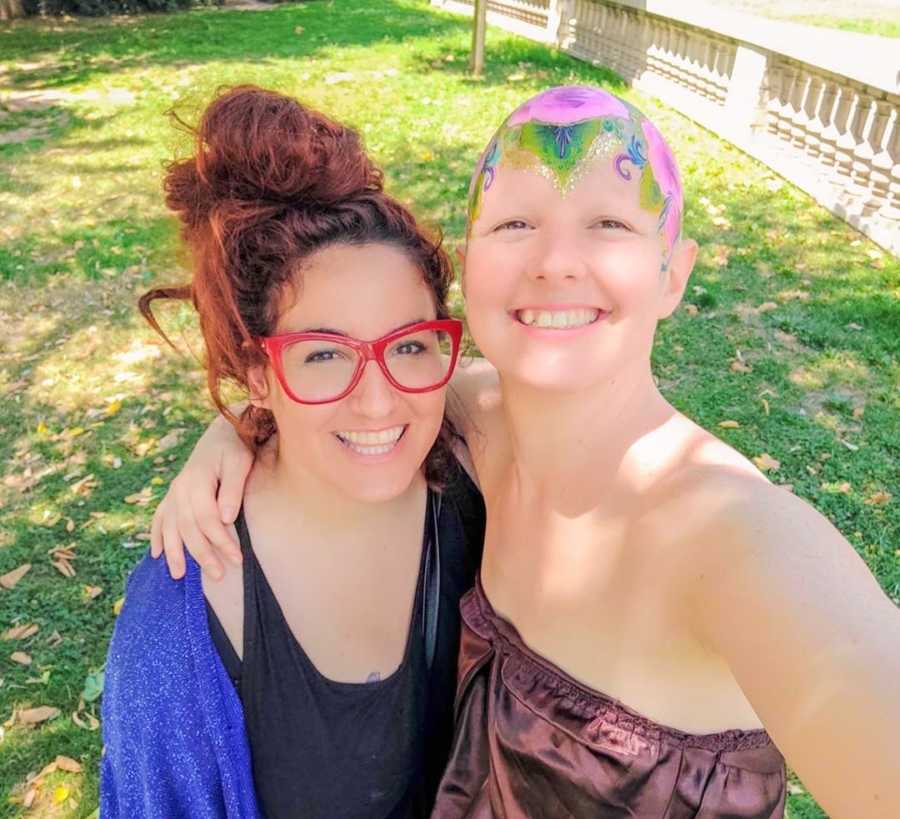 This story was submitted to Love What Matters by Marina Purpurina. You can follow their journey on Instagram and Facebook.  Submit your own story here, and be sure to subscribe to our free email newsletter for our best stories, and YouTube for our best videos.
Read more about alopecia beauty:
'Her hair loss isn't from stress.' The pleasant chit-chat stopped. 'There's no cure for this.': Little girl diagnosed with Alopecia starts head scarf company to 'help all of the bald kids'
'I'll only play if you take your wig off.' I was shocked and hurt. I let her bully me in my own house.': Woman advocates for girls with alopecia, 'Bald is beautiful'
'I'll never forget the comment she made: 'You're not you without your long, beautiful hair!' I was deeply embarrassed.': Bride with alopecia embraces baldness, 'Hair does not define beauty'
SHARE this story on Facebook to help celebrate unique and beautiful differences!