"I'm not close with any of my bridesmaids from when I got married back in 2015. Not a one. Not even my maid of honor. I want to put this disclaimer out there first, before I get into the story:
1. This is my side of the story.
2. This all took place almost 3 years ago. Everyone involved is over it; I'm just telling a story.
3. I got married at 20; we were all young.
So here's the story…I will start with my maid of honor. She and I had been friends since the 3rd grade, so about 12 years at the time I got married. She and I had been off and on again over the last 2 years leading up to my engagement. We were literally making up from a fight when I told her I was getting married and asked her to be my M.O.H. (Again, my side of things.) Her boyfriend and I did not like each other whatsoever! My opinion is that when she was mad at him, she would tell me, and when she was mad at me, she would tell him; thus making us only see the bad side of each other…And he was a jerk to me every chance he got.
He even told my photographer, AT MY WEDDING, 'Yeah, I don't really like Harley.' I knew he didn't like me, but don't talk like that at my wedding! She and I just stopped talking after the wedding because of her boyfriend's opinions.
Second, now this happened between two of the girls. I was getting SUPER close with one girl (she was one of Stephen's friends' girlfriends) and there was some private information I knew about her which we bonded over. Myself, Stephen, her boyfriend, and her were a little foursome for about a year. Well, another bridesmaid was at my house, and we were just having a normal conversation when I let a small tid-bit of the private info slip. TOTAL ACCIDENT! She asked about it, and I explained what happened and tried to apologize. But that bridesmaid, who was also beginning to get close to the other, took what I said and ran with it. This wasn't the first time I had heard about this girl doing something like that. But the girl I was starting to get close to was upset, nonetheless, and pretty much called me everything but a human being and told me to kick rocks (not in those words).
So now we are three down. One to go. This last girl stuck around for another year and a half. This time around, I actually ended the friendship with her. See, she and I were friends in high school. We all have that friend who is cool because they are able to do things our parents wouldn't let us. She was my 'party friend.' Not that she was a bad person, but I was very mild in comparison to her. We balanced each other out. Well, she was getting married and had asked me to be in her wedding (over text). I was working full-time and in school Saturday and Sunday. I had explained that to her, and that I wouldn't be available for a lot of pre-wedding things until I was out of class. Well, she had asked me to come to a few things, and I was unable to attend. Eventually she got upset (naturally) and blew up at me.
*Disclaimer: My husband didn't really like me spending time with her, because there was always drama and drinking involved, and something bad always happened* Like one night she got us shot at… yeah, you read that right. Different story for a different night. But anyway, I wasn't as invested in the 'friendship' anymore and told her I was sorry I was not able to attend things. I re-explained the whole school thing and told her maybe I shouldn't be in the wedding. She 'told me off' and I told her I was sorry she felt that way and maybe we shouldn't be friends. We haven't spoken since.
So that's it. If I'm being honest, I really only miss one of these girls, and that is the third I mentioned. We still see each other. We're nice. It is what it is. What happened was almost three years ago at this point, and I speak for the both of us when I say it's in the past. Will we be friends again one day? Maybe, I don't know. I wouldn't turn her away if she showed up and needed something, but a lot was said and done. Stephen is still friends with her fiance and that's nice. Life is long, and a lot happens. Who am I to try to tell the future?
People are in our lives for a reason. It may be because we need them or they need us. Either way, they are there as long as necessary. Some people are lifelong friends, and some are temporary. But when a friendship ends, it's important to remember it happened because it needed to."
Read part two of Harley's story.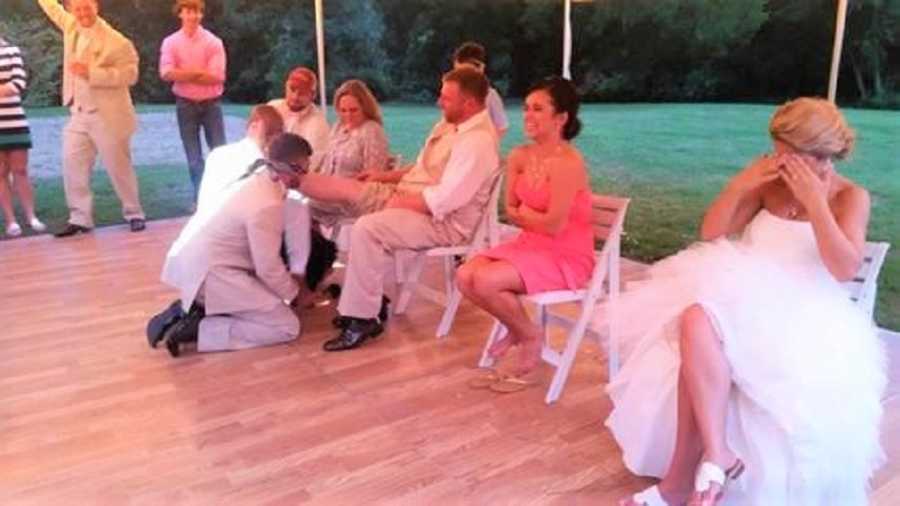 This story was submitted to Love What Matters by Harley Murphy. You can follow her journey on Instagram and her blog. Submit your own story here and be sure to subscribe to our free email newsletter for our best stories, and YouTube for our best videos.