"This relationship was never supposed to happen. I met Scott at the gym during a separation from my ex-husband. Have you ever met someone and instantly felt like you knew them? That's how this started.
During the time we met I was in no way, shape, or form, in the market for someone significant in my life. I was beginning a very slow process of separation, and eventually divorce, from a man whom I married because we were expecting. I quickly found out that that man and I had almost nothing in common besides wanting to raise a beautiful little girl. We just weren't meant to do it under the same roof.
Scott had just moved back to my area from a few years of traveling and wasn't looking for anything serious either. Especially something serious with someone who had an almost 1-year-old baby. However, after a few short months, he knew before I did that he was willing to do whatever it took to make us both happy.
I was in extreme denial… I went through every version of what I pictured my life to look like and compared myself irrationally against everything a relationship should look like for a family. I didn't want to believe I was SUPPOSED to be a divorced mother of a new baby and find the man I'm destined to be with simultaneously. NONE of it was easy to swallow. None of what we went through was 'normal.'
Call it divine intervention or universal knowledge or whatever your faith calls this type of blessing. This man was led to our hearts. He cares for, provides for, and loves both me and my daughter despite all that he had to go through to be in our presence.
On date night, This man… I'm upstairs doing my hair and he comes to the bottom of the stairs and says 'BABE! Someone is at the door for you!' Of course I roll my eyes because I inconveniently had to pause curling my hair… and then I came down to this.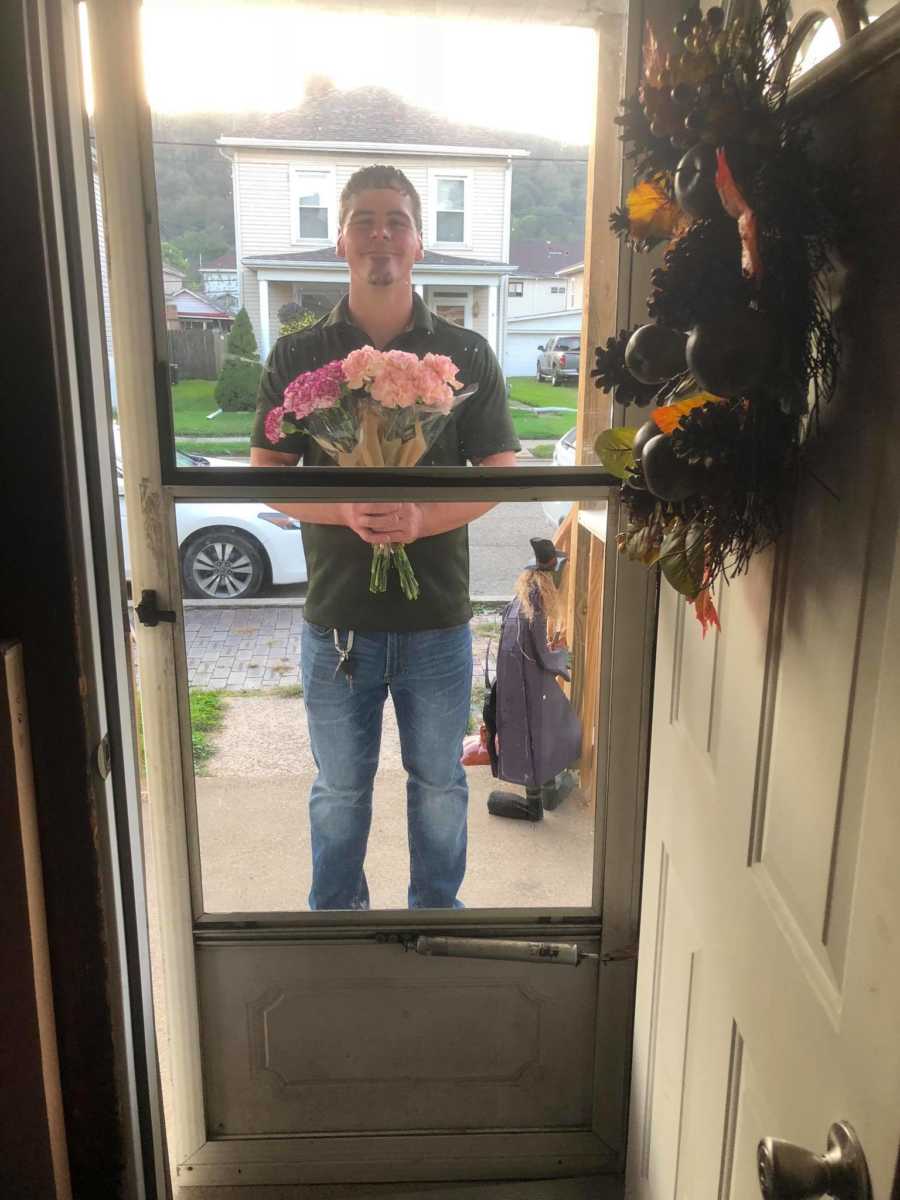 We now live in the same house and he still 'picked me up' for our date! I don't know who's looking out for my heart but they sent me a perfect fit.
Divorce is NOT always the answer. Running away and starting over because things are hard is not always right for every situation. That's not the point of this story. The truth is the hardest season of my life, thus far, brought me an opportunity to make a choice. I had to choose to stay in a devastating marriage where both parties were toxic to one another… or choose to show my daughter strength, courage, and what love looks like. I chose to show her how to thrive. And Scott chose to love us through each and every step forward.
Life calls us to make many choices. I hope you always choose the ones full of purpose, passion, and love."
This story was submitted to Love What Matters by Amanda Gill of Ohio. Submit your story here, and subscribe to our best stories in our free newsletter here.
Please SHARE this story on Facebook to encourage others to cherish every moment and love what matters most.