"I am an artist of baby ultrasound scans, but my background is not in art at all. I'm an attorney, qualified in Ireland and New York. I'm also a wife and a mom of three kids under 6 years old. My family is my everything.
Since I was a child I've always loved art and crafts, yet at the age of 18 I began a joint business and law degree in University College Dublin because naturally, as a teenager, I was undecided about what exactly I wanted to do with my life. I didn't have the self-awareness at the time to really ask myself whether I was pursuing a living, or a life.
After a decade as a lawyer, I think I've found my purpose in motherhood and creating these paintings for people. I've recently handed in my resignation, quit law and look forward to staying home with my children and painting these baby ultrasounds for clients. It's the right time for me to look outside of the career box and pursue a dream of being more present with my family and painting. It's certainly a daunting decision to make, but I believe regret would be far more frightening if I didn't go for it. Life is just too short to not live fully and be innovative with your creativity, time and ideas.
How the ultrasound art started…
I began by painting my own daughter's scans after several reduced-movement scares. I was 30 weeks pregnant and should have been feeling regular movements of my baby in the womb, and thought I may not have noticed movements throughout the day as work was busy. However, after food, sugar and warm tea, I felt nothing. I tried an ice cold drink of water and moving about… still, I only felt the slight weight of a buoyant baby rolling about in my belly — There were no kicks. After calling the midwives, I went straight to my national maternity hospital for assessment.
Those few seconds after they apply the cold gel to my tummy seemed to last a lifetime and I was petrified with fear that something had happened to my baby. Within seconds, a smile emerged across the sonographer's face and she turned up the volume on the machine so I could hear the galloping thud of my baby's heartbeat. All was ok. This happened several more times before my daughter was induced at 38 weeks. Each scan showed she was doing just fine despite the lack of kicks. To celebrate this moment, all I had until my baby arrived into the world safely were the tiny scan pictures I received to take home. The black and white blurry images just didn't do her precious self justice.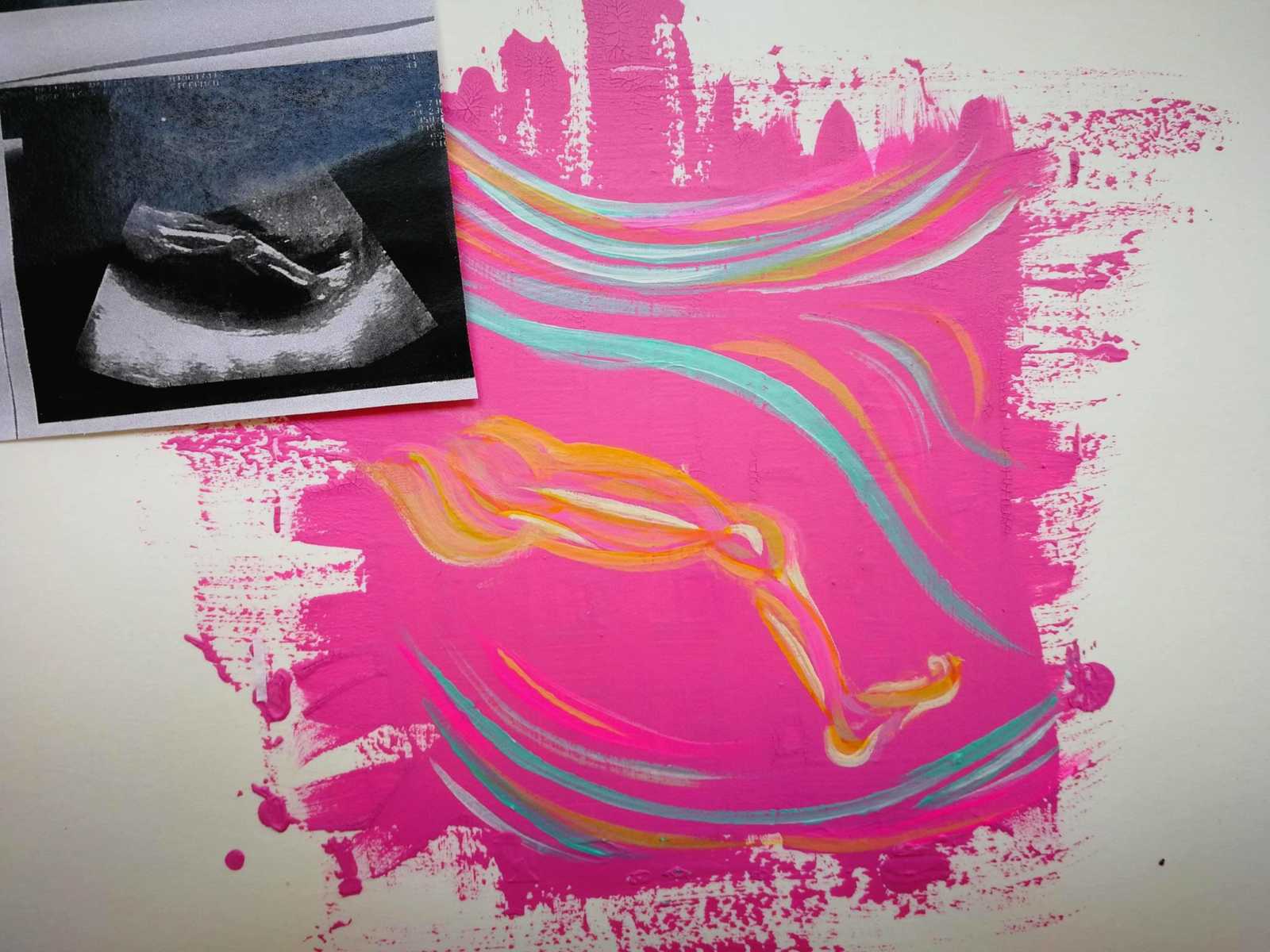 Like many times in my life after an emotional, happy, sad or difficult experience, I found myself drawn to creativity, arts and crafts. It felt natural to take out my paints at my kitchen table at home and start painting to soothe my soul. Friends started to ask for paintings and then their friends did.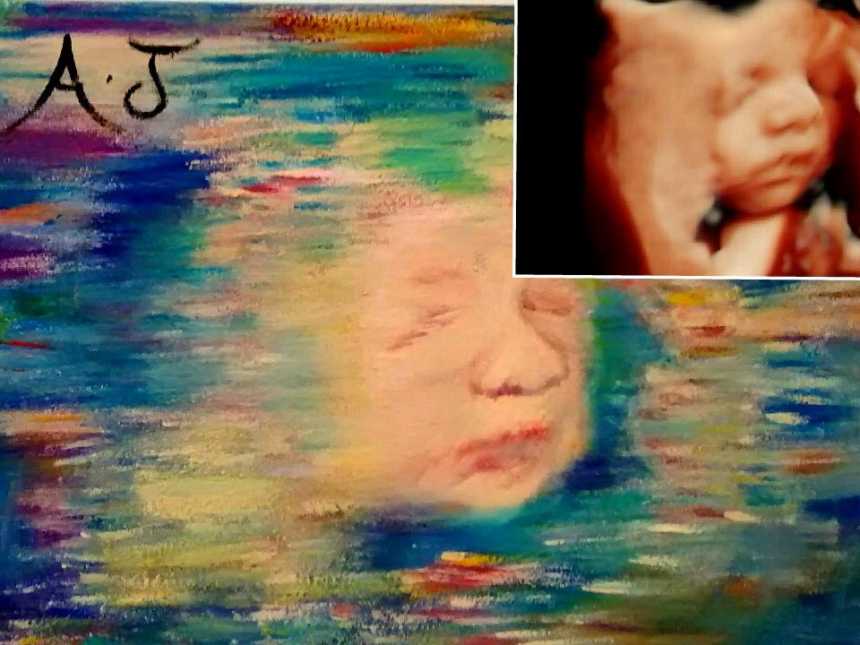 Before long, it became evident to me that working as an attorney was relatively devoid of any such meaning to me, and I was becoming unhappy. Certainly, being an attorney paid the bills, but doing these baby ultrasound paintings feeds the soul.
People's reactions are unbelievable — ranging from joy, tears and gasps of surprise (in a good way!). I share all of this with them, often finding myself crying as I paint an angel baby thinking that their mom never had the good news I did on one of those scans. It reminds me that I am so entirely in love with my children and full of gratitude that they are here with me today.
Clients always enjoy seeing their experience and vision for their baby come to life on canvas. It's storytelling and capturing memories, emotions, personalities, pregnancy and parenthood in a painting. It's their baby and their masterpiece — that's what makes the paintings so special.
Baby Avery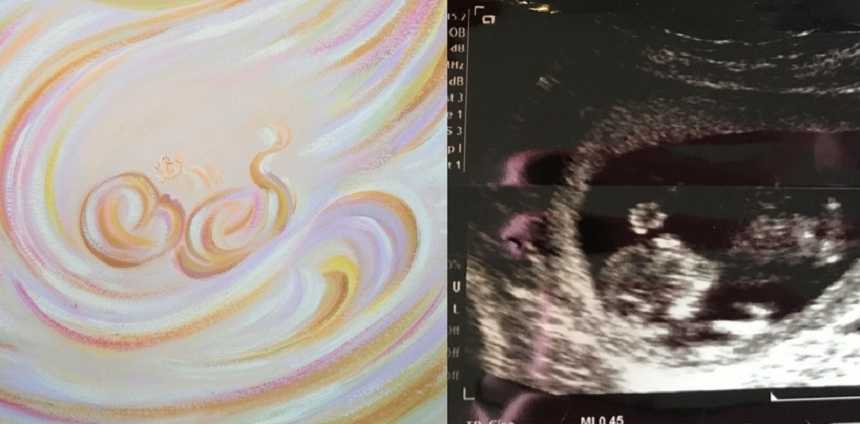 Baby Avery is a beautifully serene little lady who sadly passed away at 20 weeks in October 2016. Her painting was commissioned as something special to honor her with, and designed to sit perfectly with her sibling's hand and foot castings on the family's hallway wall. It's particularly poignant that baby Avery is waving in her scan photo — I personally love the idea that her family can wave 'hello' to her as they pass her each morning, throughout the day, and also 'goodnight' to her each evening on their way up to bed.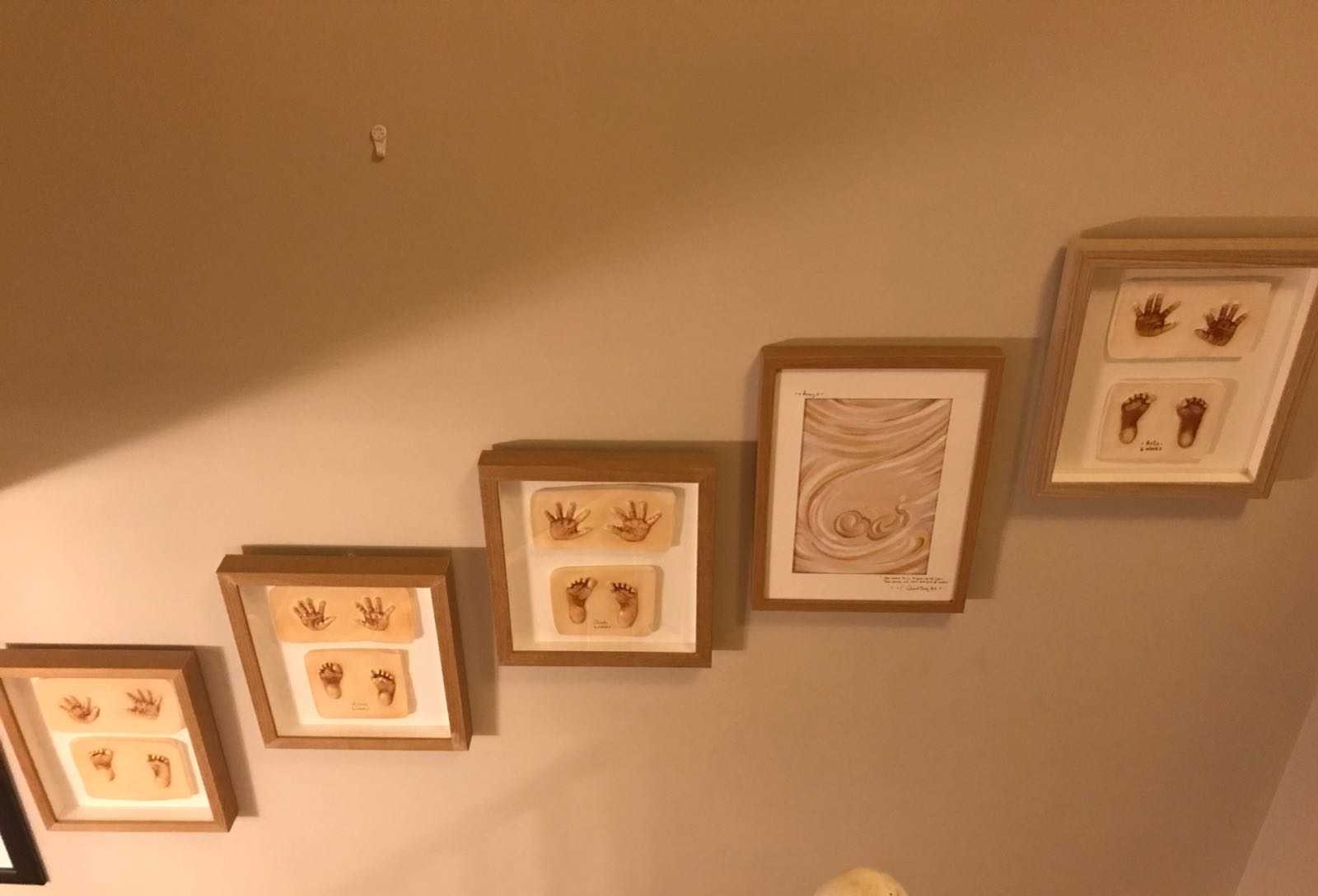 Avery's mum sent me the most lovely thank you message when they received her painting.
'It's unbelievably special to us. This beautiful painting will definitely ease some of the heartache that we feel for Avery and it will really include her in our family so that she will never be forgotten when we see it every day.'
I think we all shed some tears during baby Avery's commission.
Twins Muireann and Liam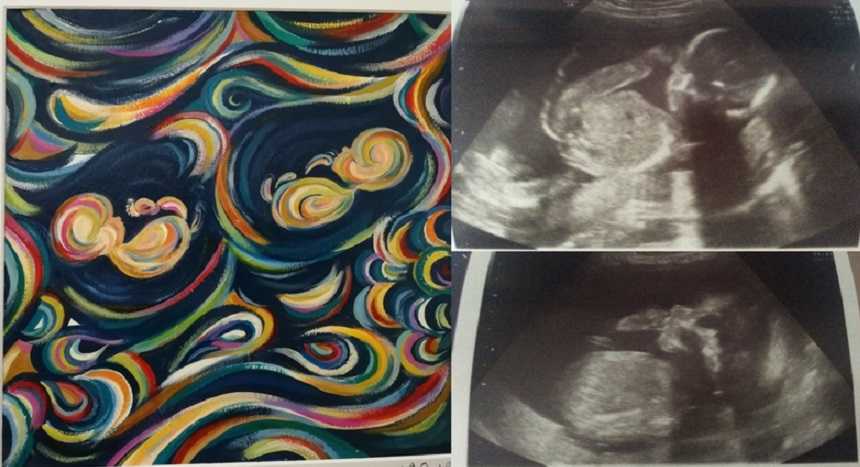 Twins Muireann and Liam arrived at 28 weeks gestation and thankfully are now happy thriving toddlers that I had the pleasure of meeting to give them their painting. Their parents commissioned the painting to commemorate a pregnancy that was all too short, but so special a time. We picked two separate scans that captured them perfectly and combined them with mum's description of their positions in her tummy. The bursts of color and movement reflect favorite colors, the twins' individual personalities, music, movement and vitality.
Baby Quinn
Baby Quinn is now a bubbly bouncy healthy 3-month-old baby who is adored by her mum and dad. Dad built and decorated a beautiful nursery in anticipation of her arrival and when mum's best friend won a QuaintBaby Ultrasound voucher in a competition recently, she asked me to incorporate her nursery colors into Quinn's painting.
Eimear's Baby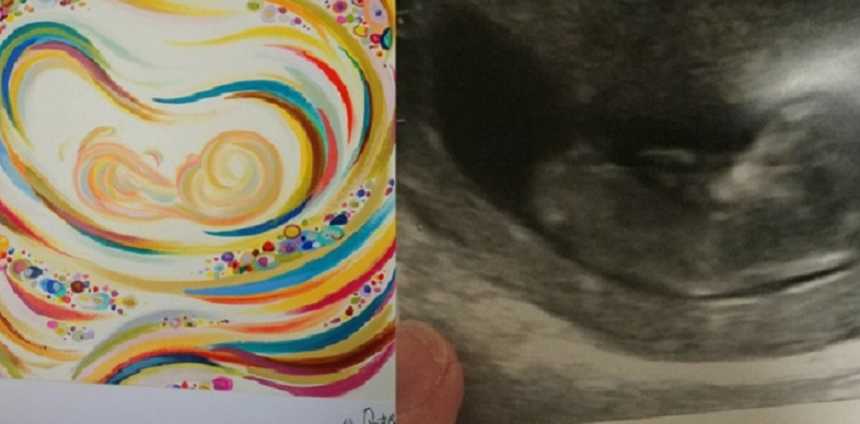 Eimear is a well-known Irish blogger over at thetwodarlings.com. A bit like myself, she has a strong academic background yet loves being a mum, wife, DIY enthusiast, blogger, dreamer. Blogging about style, beauty, creativity, kids and life — she inspires me so it was a pleasure to then use the inspiration from her blog and Instagram photos to paint her baby's ultrasound scan."
This story was submitted to Love What Matters by Laura Steerman of QuaintBaby Ultrasound Art in Dublin, Ireland. Submit your story here, and be sure to subscribe to our best love stories here.
Read more stories like this here:
'You can't have these symptoms because they do not match your appearance. You must imagine them.': Woman with Ehlers-Danlos syndrome shares journey to diagnosis, reclaiming her life
'I sobbed, 'What have we done?' We unpacked the U-Haul, no friends in our new town.': Daughter chases dreams with help from father's last words before suicide
'I wrote a book only 31 people bought.': Woman shares powerful reminder 'you get one life, please your damn self'
28 Habits That Block Your Happiness And How To Let Them Go
SHARE this story on Facebook if you believe pregnancy is a masterpiece that should be cherished.