"Recently I was waiting to preboard a plane with my two young children when another passenger grabbed my shoulder. She told me I needed to wait for family boarding, to which I responded it was indeed our turn to go.
'How'd you manage that?' she asked.
'We have different circumstances.'
'Lucky you,' she replied with an eye roll.
Yes, lucky me. My children have autism and the one time it's envied is when we get to enter an airplane first.
It wasn't the time to teach someone about invisible disabilities—I'm sure she just thought we were cheating the system—but this small moment reminded me that the outside world often can't identify my children as autistic, and sometimes that's a downfall.
Because we do in fact have 'different circumstances.' And when that's known, we're met with understanding—as in the case of the airline. All it took was me mentioning my children had special needs and we were chauffeured into front row seats, no questions asked.
But when it's not known—when my children look 'normal' but have brutal breakdowns, or blurt out words that make no sense, or ignore a peer trying to play with them—they're considered weird, rude even. Which is exactly why it's so important to share.
I'd rather them be known and loved for who they are rather than hidden and misunderstood.
I got this wrong for many years. When my oldest was diagnosed, I went into hiding. The world had convinced me that being different meant being less than, and that if I shared her truth it would automatically equal judgment. So, I would explain her quirks to teachers, and classmates, and friends, but never use the actual word autism.
What a shame that I let my beautiful girl only be halfway seen.
Because the truth is, when I finally spoke up and stopped being small, I was met with an overwhelming amount of acceptance. Autism is just one of the many amazing facets of my children, and if I want them to be accepted—truly accepted—people needed to know every crevice of them.
It is my job as their mother to teach the world of their incredible worth. Gone are the days of cookie-cutter kids and white picket fence perfection. If we want to be loved, we have to be real.
That woman who questioned us wasn't at fault. There's no scarlet A burned on my children's foreheads. They fall pretty high on the spectrum, so if you don't know what you're looking for, it's often easy to just assume the worst. So that is why we must always keep in mind that behind a picture—or a person—is often a battle we cannot see.
Everyone has an invisible disability—anxiety, depression, binge eating, low self-esteem, people-pleasing, shame, addiction, comparison, doubt—so the best I can suggest is that we always err on the side of kindness and be honest about our 'different circumstances.'
When you crack open the window to your real self, you won't even imagine how high you'll fly."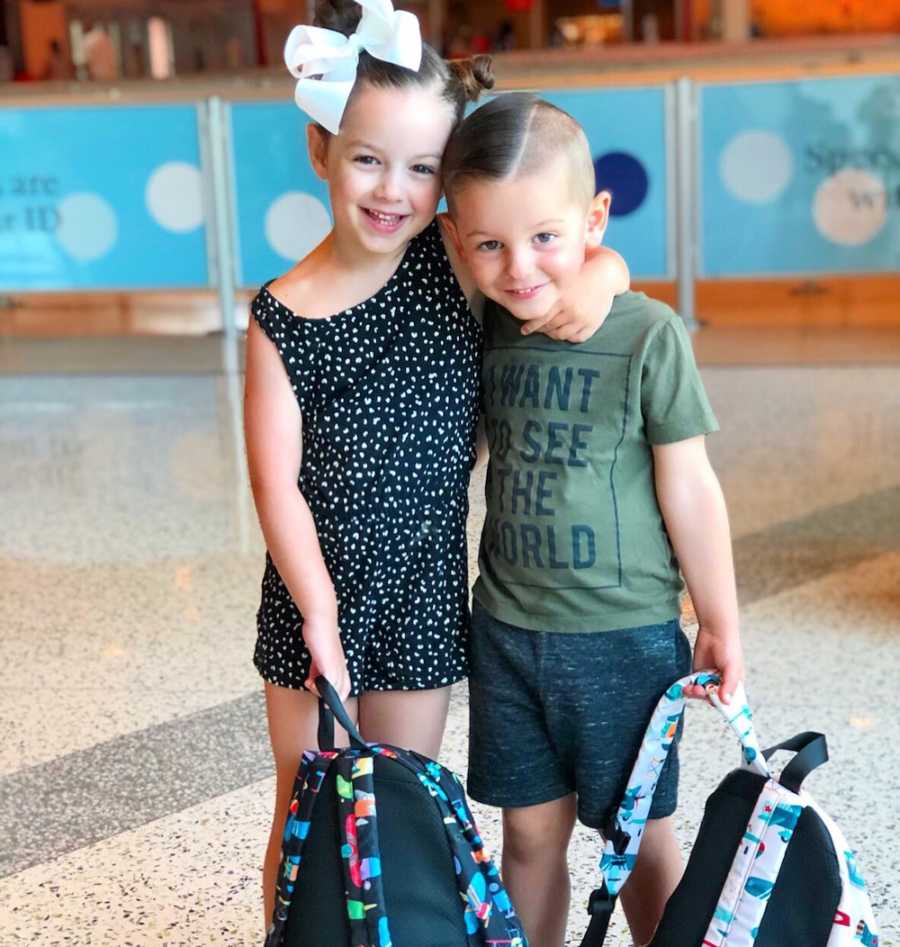 This story was submitted to Love What Matters by Stephanie Hanrahan. Follow Stephanie on Facebook here, Instagram here and visit her website here. Submit your own story here, and subscribe to our best stories in our free newsletter here.
Read more from Stephanie here: 
'My Son's teacher recently friended me on social media. I came upon a picture of her holding a chalkboard sign that read, 'I said YES!' She's already married, so it struck me as odd.'
'That's when I heard the thud. The sound of a two-hundred-plus pound body hitting the nightstand next to our bed. A healthy, thirty-one-year old, former athlete doesn't just drop.'
'We need to pray for Stephanie. I heard her marriage is on the rocks.' : New mom deceived by 'cunning, smart' women who leaked her husband's heart condition to public in 'gossipy' way
'You have the perfect family.' That's what they saw. A life tied up in a pretty little bow. No one could've known what was happening behind closed doors.'
Provide beauty and strength for others. SHARE this story on Facebook with your friends and family.