"It was the Fourth of July and we were celebrating in style: food, firecrackers—fierce Texas heat. We swam, and drank, and roasted s'mores on the fire pit. The kids ate popsicles. The men smoked cigars and tended to the bar-b-que. I hid my six-week postpartum body behind a Mumu, making my husband the designated pool parent. It was your typical holiday weekend, your typical holiday day. No one saw the storm coming, nor should we have.
Then, that Saturday morning, the tsunami hit. The day our world stopped and decided to rotate in a totally different direction.
I was still in that newborn, post-delivery haze: night feedings, peri-pads, staples sore in my stomach. I had a rough go since my son's birth. An allergic reaction to the cleansing agent used for my c-section caused my entire body to break out in hives. I was on multiple medications and steroids to help calm my symptoms.
It was the best of times—it was about to be the worst of times.
My husband's an early bird, but that morning he slept in until an impressive six AM. That's when I heard the thud. The sound of a two-hundred-plus pound body hitting the nightstand next to our bed, which shattered his spine. When I saw his body on the floor, I screamed. But I was the only one making a sound. My husband was silent—and unresponsive.
His consciousness came back shortly, but he still wasn't sensical. I eventually succeeded in hoisting his body back into the comfort of our bed, but from there things are a bit blurred. He wanted ice for his back; I wanted to get him to a hospital. Immediately. This isn't my area of expertise, but as a nurse I knew enough to be concerned. A healthy, thirty-one-year old, former athlete doesn't just drop.
After some coaxing, and securing childcare for our two babies, we went to a free-standing ER. I left with nothing but my purse and wouldn't return for weeks.
It would be a handful of hospital transfers later before we learned that my husband's heart was three times as thick as it should be. It was an over-worked, tired, prone to stopping heart—and that is exactly what happened—it said it was done. Doctors told us the shock of breaking his back on that fortuitous piece of furniture saved his life. If he would've fallen gracefully to the carpet instead, I'd be a widow right now.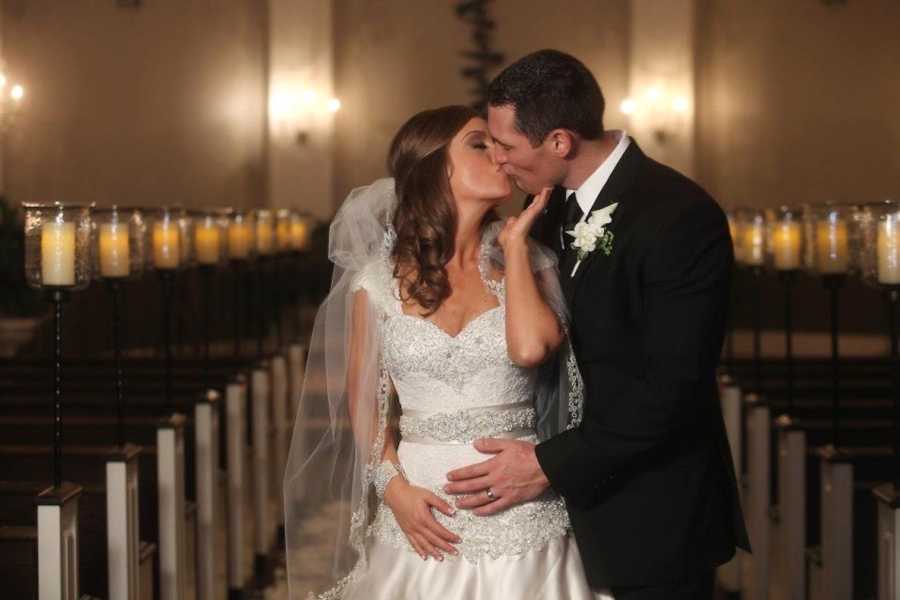 The condition was called: hypertrophic cardiomyopathy, and although rare, my husband had an ever-rarer version of it, something you only see in textbooks. Doctors flocked in from all over the state to lay eyes on the man with the never-before-seen heart. They couldn't believe it and didn't want to miss a chance to study him in real life.
None of us could believe it.
My husband was diagnosed through too many details to recount. Let's just say: his body was opened, and explored, and put back together again. Injected, and implanted with an internal cardiac device. There were physicians, and nurses, and physical therapists. Occupational therapists for his broken (yes, broken) back. He was taught to walk again, and how to put on his socks with a metal instrument my two-year-old coined, 'The Picker.' We had to order specialty toilets, bedside commodes, and bathing equipment. I fed him, and cleaned him, and tried to learn my way around heart disease. I pocked too many physician's cards to count, forgetting all their names and their complicated titles. I laid on a tiny bedside couch for weeks, dosing myself with Benadryl to sleep through the nightly nurse rotations and vital sign checks. I ate if someone brought me something, and if they didn't, I didn't. I wouldn't leave because I thought I'd miss something pertinent, and I needed all the information I could gather to try and save my husband.
I remember his co-workers coming to visit, trying to crack jokes, and my friend meeting me in the lobby, suggesting I sit in the front seat of her SUV for a change of scenery. So, I did, and I bawled. I missed my babies and my old life—even though I knew that life was gone now. One nurse picked up on my panic, the circling idea that if my husband never left this hospital, he may never really know his son, so she let me sneak him in through the back door of the ICU one afternoon. My husband was too weak to hold the baby, so we just placed him on his chest, amongst all the wires and cords.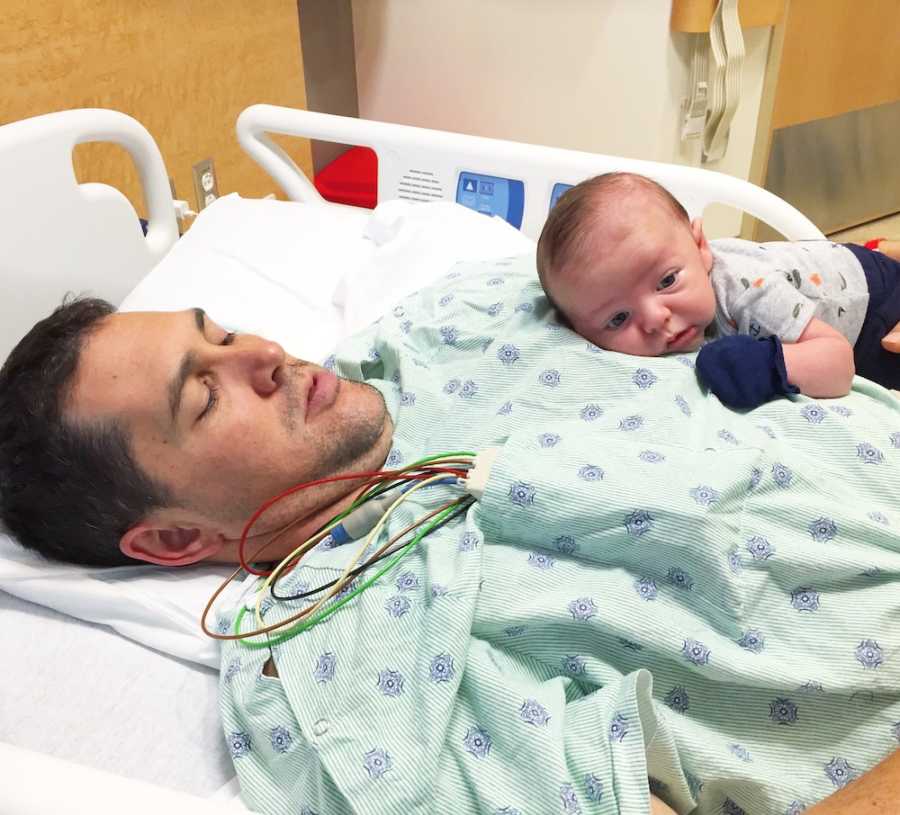 We now belong to a select group of people who can say, 'My entire life changed in an instant.' But I didn't want to belong to those people. I wanted the safety and security my husband offered me when I offered him my hand in marriage. It was one of the traits that attracted me to him the most: predictability. After a life of chaos and turmoil, I could rest at ease with this man. What you saw was what you got—and I got a lot with him. But now? Now my future was one big question mark and relying on a piece of machinery to keep him alive until a heart transplant could be had.
And then there was the other kicker. The one that would rob me of every joy I had fought for and earned in this lifetime: his condition was genetic. My children had a 50% chance of having it as well.
Nothing prepares you for this—the dismantling of your family. I had a two-year-old and a newborn. I should've been at home breastfeeding and bonding, not in an ICU bathing my husband. But, in sickness and in health.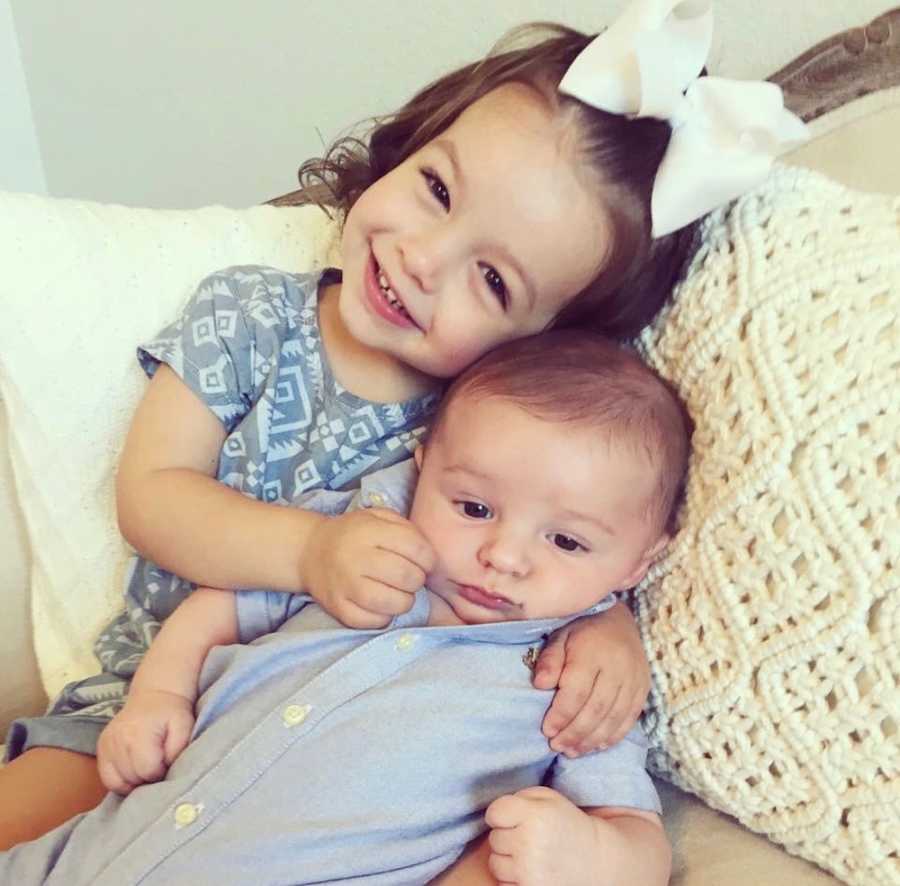 And in the upcoming year I was going to learn exactly what it meant to honor that vow as we faced the complete demolition of our faith and family—and my husband flat-lined for the second time.
I wish this story had a happy ending, or really any ending at all. We are still living through the struggles of a sick spouse daily. Simple tasks that were once his are now mine, and that puts a strain on any marriage, even the most steady ones. He can't drive our children, or stay alone with them, which is difficult to stomach when he used to be such an actively involved father.
But perhaps the happy ending is this: perspective. For today, we are all still alive, and mostly still well. My family is intact—even if the edges of my sanity fringe a little at times. I've discovered that the consistency my husband offered me never really left, it just took a different shape. And as with any marriage, the person you committed to in that chapel may morph over the years. They may become a pale comparison of the man or woman you once knew and thank goodness for that. Life gives you opportunities to let the old fall away and the good to stay. We have new roles now, but the same steadfast love.
And as long as my heart beats, I'll continue to honor that."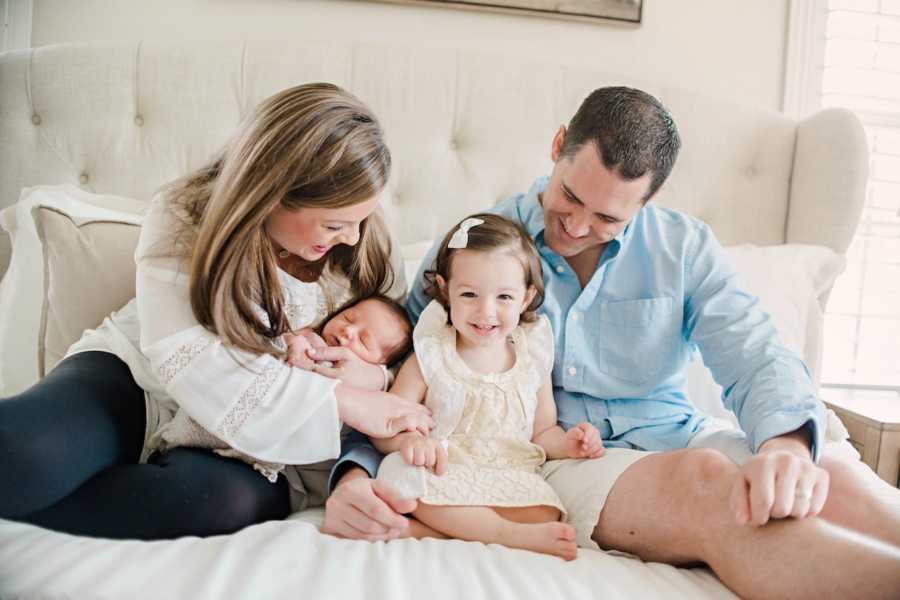 This story was submitted to Love What Matters by Stephanie Hanrahan. Follow Stephanie on Facebook here, Instagram here and visit her website here. Submit your own story here, and subscribe to our best stories in our free newsletter here.
Read more from Stephanie here: 
'My Son's teacher recently friended me on social media. I came upon a picture of her holding a chalkboard sign that read, 'I said YES!' She's already married, so it struck me as odd.'
'We need to pray for Stephanie. I heard her marriage is on the rocks.' : New mom deceived by 'cunning, smart' women who leaked her husband's heart condition to public in 'gossipy' way
'You have the perfect family.' That's what they saw. A life tied up in a pretty little bow. No one could've known what was happening behind closed doors.'
Provide beauty and strength for others. SHARE this story on Facebook with your friends and family.