One year ago, Kellie Stanley and her boyfriend, Sean Matthews, purchased their dream home in Fuquay-Varina, North Carolina.
The couple recently went out to dinner to celebrate their one-year anniversary of moving in. But while they were enjoying their evening out, their home security system sent a notification to Kellie's phone. What she saw made her blood run cold.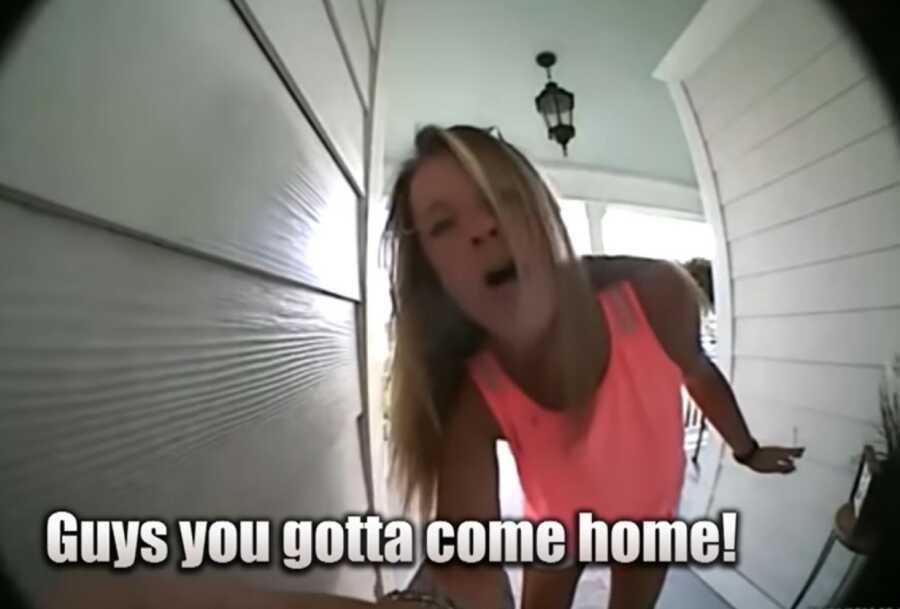 A video showed their neighbor on their front porch frantically telling them the back of their house was on fire. "Guys, you gotta come home!" she yelled into the doorbell camera.
Kellie and Sean immediately thought of their dog Memphis, who was still inside. Thankfully, their neighbor was able to let the sweet pup out through the garage door and get him to safety. Meanwhile, Kellie and Sean raced back home and found pandemonium awaiting them. The entire building was in flames.
"From there, it was just chaos," Kellie said. "Nothing puts your life in perspective like driving out of your driveway with just the clothes on your back and your dog."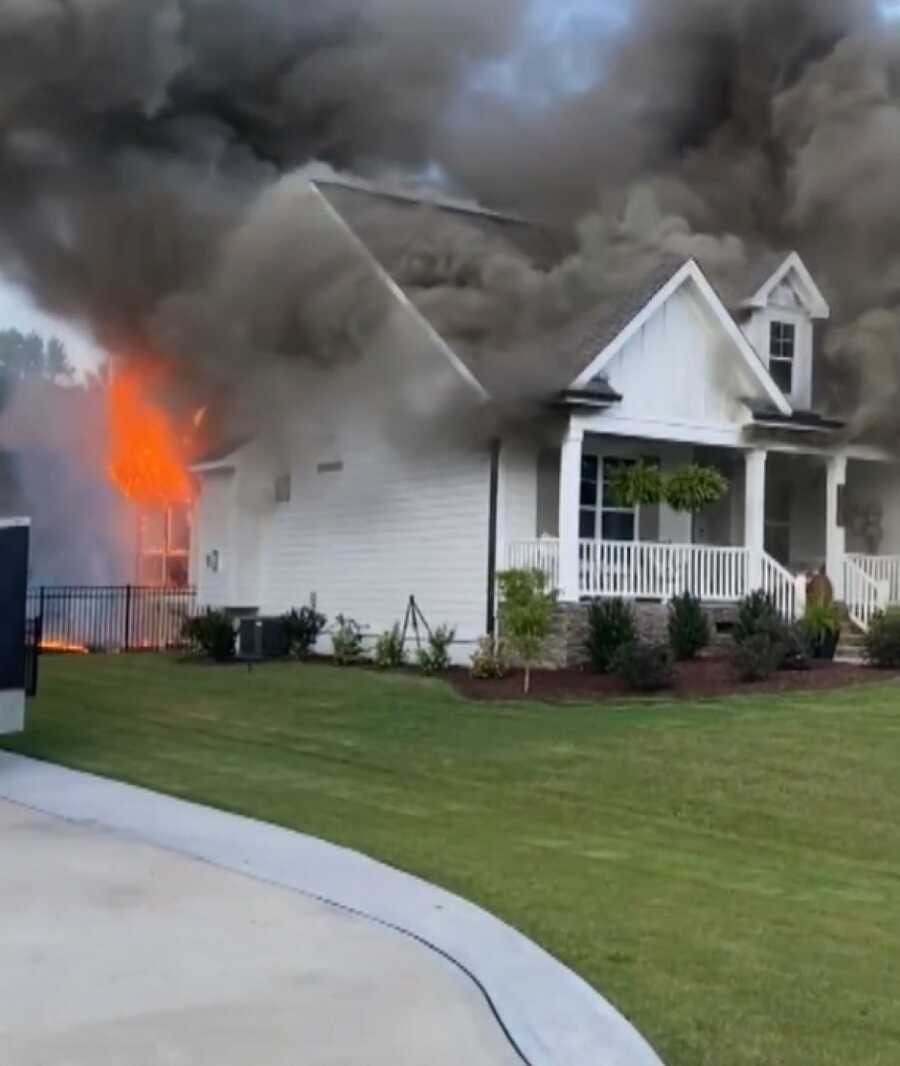 The next morning, the couple returned to their destroyed home in search of whatever possessions they could salvage. There was only one thing on Sean's mind: the engagement ring he'd secretly purchased and placed inside a fireproof box.
Once firefighters gave them the green light, he dug through the debris and found the box. Inside, the ring was totally unscathed!
Sean had planned to pop the question at just the right time. As he looked around at the blackened remains of their house, he decided this was it! They would face these difficult moments in life together as husband and wife.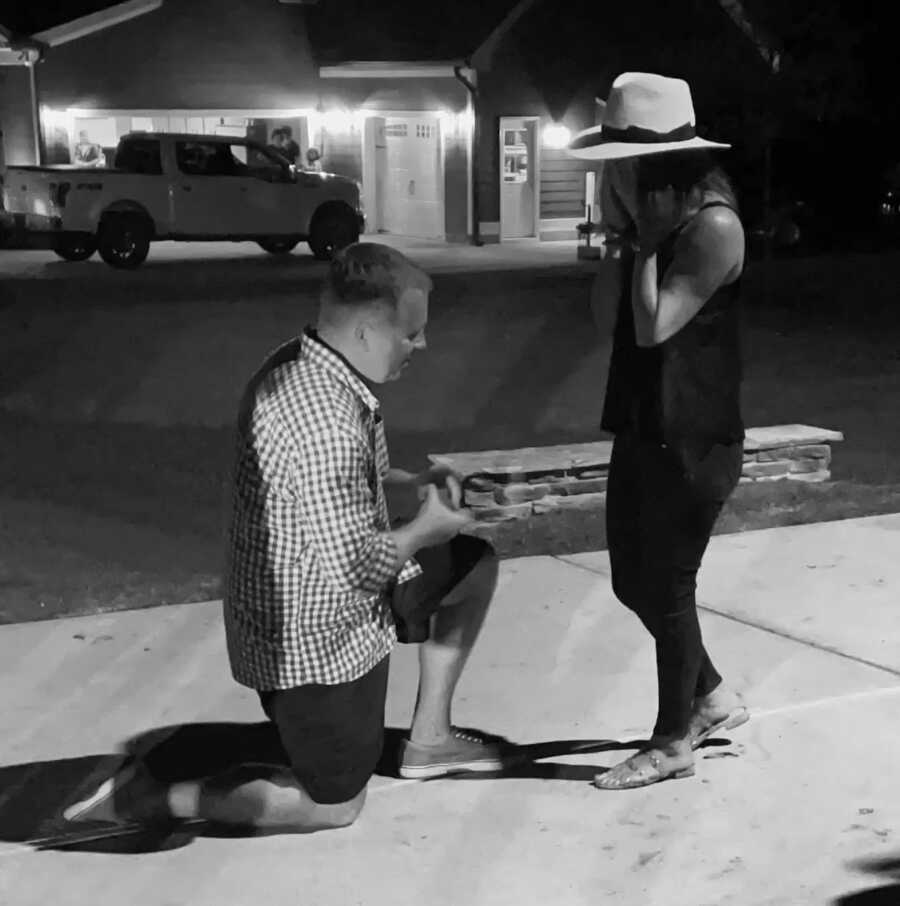 "I felt very strongly that I wanted to leave with her as my fiancee," he said.
After clearing the decision with Kellie's mom, Sean gathered a few family members and surprised Kellie on the sidewalk in front of their destroyed home. "We're going to get through this as fiances or more," he told her. "This was our house, but we'll have another one."
Obviously, she said yes! Now engaged, Kellie and Sean are working to rebuild. A GoFundMe has already raised more than $13,000 to help with the expenses.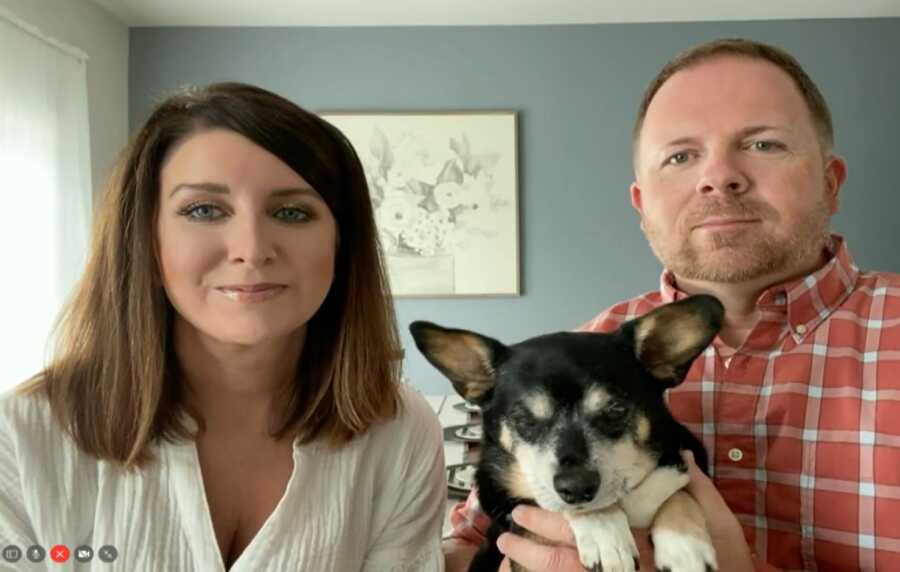 In spite of the whirlwind 24 hours that changed their lives, the couple believes their relationship is stronger than ever. When faced with losing everything, they realized all that really matters is each other (and Memphis, of course!).
Check out the emotional proposal in the video below.
This story originally appeared on InspireMore. Submit your own story  to Love What Matters here, and be sure to subscribe to our free email newsletter for our best stories, and YouTube for our best videos.
Read more stories here:
House Fires — 5 Things To Know If Your Home Ever Goes Up In Flames
'Is this actually happening?' We watched our beloved home go up in flames as we stood in disbelief. All our possessions were gone.': Mom details losing home to fire, 'We're looking for silver linings through the grief'
'I held your little body in my hands, doing CPR with my thumbs. 'God, please take my life and let her live.' The fire engulfed the house. I held back tears.': Firefighter pens emotional ode to victims, 'You were more than just a call'
'Stay calm, keep moving. You're getting out of here.' The firefighter lifted me up. The lights faded, water filling at my feet. Panic set in.': 9/11 survivor thanks firefighter for saving her life, 'I will live each day to its fullest, never in vain of his heroism'
Do you know someone who could benefit from reading this? SHARE this story on Facebook with family and friends.