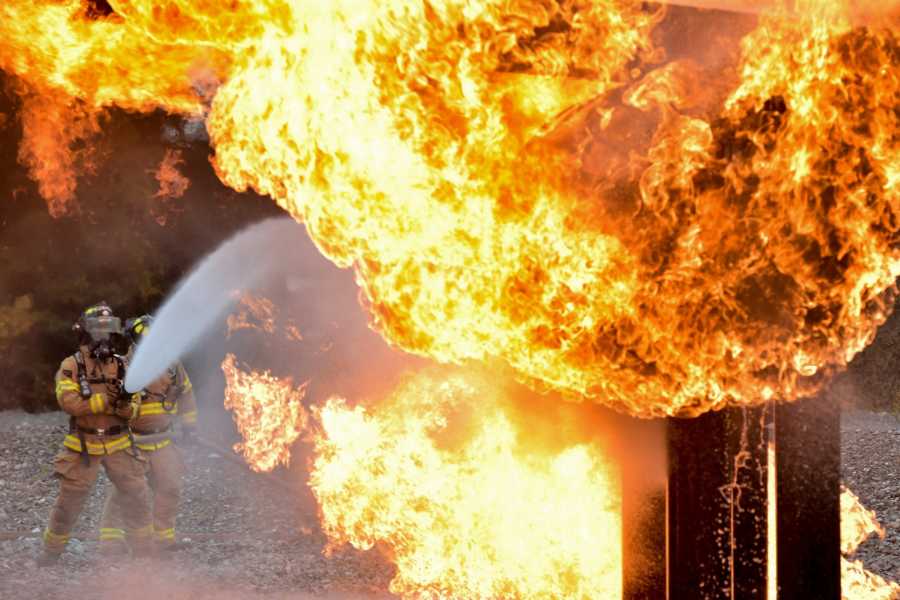 As the firefighters attempted to extinguish the fire that had taken over our home, we sat in our vehicles in disbelief. We had no idea what to do next, it felt so surreal. Who do we call? How bad is it? We were stunned. We never imagined something like this would happen to us. Emotionally, there was so much to process and the physical damage was incomprehensible. It's now been three months since we lost our home to a fire, and in that time I have learned so much. Here are 5 things to know after losing your home to a fire.
1. Take a minute, slow down, breathe – and call your insurance company
Watching your home go up in flames is shocking. It sends a wave of panic up your spine, an adrenaline rush that can only come from such a life altering event. The question of what to do next is simple: take a minute, slow down, and breathe. I know it sounds simple but in the chaos of the moment it's hard to take a minute to slow your thoughts and think rationally about what you physically need to do next. Once you take a minute it's important to call your insurance company right away. This is something that wasn't immediately on our radar but what we were advised to do by an experienced family member, before the fire was even completely out.
This simple call made a huge difference in how quickly the ball got rolling with the insurance company. Things like assessing the damage, finding an alternative place to live, and even purchasing essential items are all things your insurance company should be able to help you with.
2. People are going to want to help… let them
I was raised to believe that if someone needed help, you showed up, no matter what. But I never imagined I would find myself in a situation where I would be on the other end of that help. My initial feelings were that I didn't want to be a burden to anyone, I didn't want to be the family that needed help. But the truth is we belong to a network of friends, family, and an entire community who wouldn't think twice about showing up, and for that I will forever be grateful. From clothes, toys, and food to the phone calls and messages of support. People wanted to help, and I needed to let them.
I will always remember the feeling of when I arrived at my parent's house, the evening after the fire, and saw two big bags of clothes that my best friend had dropped off for the girls. I wasn't even thinking about something as simple as pajamas, but she had, and it made a world of difference knowing I could put the girls down to bed in a fresh pair of jammies. She also made sure the girls had enough outfits for a few days, so I didn't even have to think about it.
In another instance, a few days after the fire, I had a neighbor call and ask if on the weekend they could bring us dinner. I felt bad saying yes, because I had this notion that I didn't want to be a burden, but she insisted. After spending the first week at my parent's house, we returned to the cottage next door, and that night our neighbor brought us dinner. After such a long and emotionally exhausting week, it was so nice to sit down with the girls to a delicious homemade meal. There are so many more examples of the acts of kindness we have experienced since the fire. When one day Mackenzie, my four-year-old, asked me why our family, friends, and neighbors were doing so much for us I told her, with tears in my eyes, "Because they love us, and that's what you do when you love somebody." Sometimes it's hard to accept help, but sometimes it's the help you need to carry you through the hardest of days.
3. It's okay to grieve the loss of your things
It is truly the most surreal feeling to wake up one morning and realize everything you own is gone. It's hard to actually put into words what that feels like. As an adult, part of me felt ashamed at the unbearable grief I felt towards the loss of my 'things.' My brain knew that 'things' can be replaced, but my heart ached for the comfort of home. People would say "all that matters is that you are safe," and I knew with all my heart that it was true, but still I was in pain. I quickly realized that I needed to grieve this unimaginable loss and hold space for how I was feeling. I wanted my girls to know that it was okay to feel sad and that there was no shame in crying over the loss of our things. Even now, we have moments of sadness. I think about the little handprint flower pot Mackenzie made for me when she was two or the picture of my other daughter Paige in her little Santa hat when she was one. There are some things we will never be able to replace, and I know now that there is no shame in grieving the loss of 'things.'
4. You will be okay, you will be able to move on
The first few days after the fire, once the initial shock ended, I really didn't know if I was going to be okay. On the outside I was handling it, putting on a brave face for the girls. But on the inside I felt like I was crumbling. It just felt impossible to wrap my head around the fact that everything was gone. I really wasn't sure if I was going to be able to move on. As the weeks went by though, we started to turn a corner. We were surrounded by our amazing family, friends, and community. The insurance company made things fairly easy, and slowly we were able to start sorting out our lives. We were so fortunate to have expert advice from my uncle, who works in the insurance field, and he was able to walk us through some of the decision making process. My uncle also put us in touch with an amazing contractor, Rebuild Response, who has truly walked with us every step of the way. Once the demolition took place, we were able to gain closure and it started to feel like we had a blank slate; it started to feel like we were ready to move on.
5. Look for a silver lining
It took about four weeks after the fire to really feel like we were gaining closure and starting to move on. We had almost completed the content list with our insurance company, the cottage had been demolished, we were beyond grateful to be living in our neighbors cottage, and we started having early conversations about rebuilding possibilities. We still had difficult moments but it really felt like we had a handle on things. We then started talking about our plans come May, when we will no longer be renting our neighbor's cottage. This is where we found a big silver lining. One night we were talking about how difficult it was going to be to find a rental in the little town we live in. We started talking about the option of buying a trailer and spending the remaining 6 months camping, while we wait for our home to be completed. It was at this point that we really started to feel excited. We never imagined we would be planning to camp for an entire six months but the excitement around this new adventure became one of the most unexpected silver linings.
As we move forward and share our journey I hope to pass on the knowledge that I have gained from going through such a devastating loss. I hope if you ever find yourself in a similar situation, there will be someone to reach out to who gets it. As a parent, I hope my children have gained a true sense of gratitude for a community that rallied behind them, making them feel so loved and never alone. I hope they learned that it is okay to feel sad and let emotion show, even if it is over the loss of their materialistic things. And finally I hope they gained the ability to always look for the silver lining, no matter how hard or small it may seem at the time.
This story was submitted to Love What Matters by Elyse Brady. You can follow her journey on her Instagram and blog. Submit your own story here, and be sure to subscribe to our free email newsletter for our best stories, and YouTube for our best videos.
Read part one of Elyse's story:
'Is this actually happening?' We watched our beloved home go up in flames as we stood in disbelief. All our possessions were gone.': Mom details losing home to fire, 'We're looking for silver linings through the grief'
Do you know someone who could benefit from reading this? SHARE this story on Facebook with family and friends.