"I never imagined we would have ended up here, but then again isn't that how life goes. The truth is we hear about tragic events happening every day, yet we never imagine something terrible happening to ourselves or our family. As we watched our beloved home go up in flames we stood in disbelief. Thoughts of 'it's not that bad' ran through
my head; my brain and heart not believing what my eyes were seeing. I knew from the minute we left our home, stepping into the crisp November air, we were lucky.
5:00 a.m. – As a parent, we all know that feeling. The sound of little feet coming down the hall. The thoughts of hope…'Will they go back to sleep…please go back to sleep.' As I returned my two-year-old, Paige, back to her bed, there was a strange feeling in the air. A stillness. The air felt chilly and I wondered if maybe this was why she had woken up so early. While attempting to get Paige back to sleep, with little success, my four-year-old, Mackenzie, began to wake. 'Great,' I thought, 'This is going to be a long day.' Little did I know, five minutes later I would be scooping these tiny humans up in my arms and rushing out the front door. My only thoughts were we were all safe. We were all okay.
5:15 a.m. – As the house filled with smoke, starting with our daughter's room, and spreading to the entire main floor, I went into full mom mode. It's true what they say, the only thing that matters in the whole world is the people you love. I don't remember thinking about anything other than getting my children to safety, followed by making
sure my husband and parents were safe. Ingrained in my mind will forever be the look on everyone's faces. The look of confusion on my children's faces as I put them in their car seats. The intensity in my father's face as he ran to the side of the house, fire extinguisher in hand. My Mom, as she called for the dogs, with a look of worry on her face. And my husband, in full on fix-it mode, his eyes saying 'everything will be okay.' We were all safe. We were all okay.
5:20 a.m. – 'How is this happening?' 'Is this actually happening?' With the children safe in the car, I ran back to the front door of the house, calling for my husband. With him not in sight I began to feel panicked. Knowing we were all safe, my husband Derick had run into the house to grab his keys and wallet. Even now he admits at the time he didn't think the fire was going to be as bad as it was. At the same time it looked like my dad maybe had the fire under control. Okay, I thought, it's going to be okay. But just as quickly as the fire was out, it popped back up again. With the fire extinguisher empty, my dad dropped to the ground. There was nothing to be done but wait for the firefighters to arrive.
We stood in disbelief; can this really be happening to us? It's in this moment of stillness we first witnessed the type of community we live in. The sound of a boat heading towards us. The calls up the embankment were from a nearby neighbor who saw the smoke from across the lake and wanted to make sure we were awake and okay. The simple kindness of this act is just the first of many moments we experienced over the next few weeks. When the firemen arrived, they sprang into action. They worked tirelessly to extinguish the fire.
7:00 a.m. – The fire is finally out and somehow I feel as if I have lost an entire day in time. I find myself standing with a group of firefighters, apologizing for the mess of our home. Looking back now, I realize how in denial I truly was. I explained we were in the middle of a kitchen renovation, leaving the main floor of our home in chaos. Their eyes say it all – the renovation mess was replaced with an incomprehensible disaster.
Nothing could have prepared me for the aftermath of the fire. The images, the smell, the complete feeling of loss will stay with me forever. As the firemen started to bring personal items out of the house, I quickly realized there was not much left to salvage. When you think of a fire, you imagine the flames, but nothing could have prepared me for the smoke damage. Every item – the clothes in drawers, the seemingly untouched toy basket, the toothbrushes on the bathroom counter – were coated in a thick black smoke with a scent that can never be extinguished. Even to this day, I find it difficult to believe all of our personal possessions are gone. I never considered myself a materialistic person, however I have always considered myself to be sentimental, and it is in this sentimentality I found myself starting to crumble.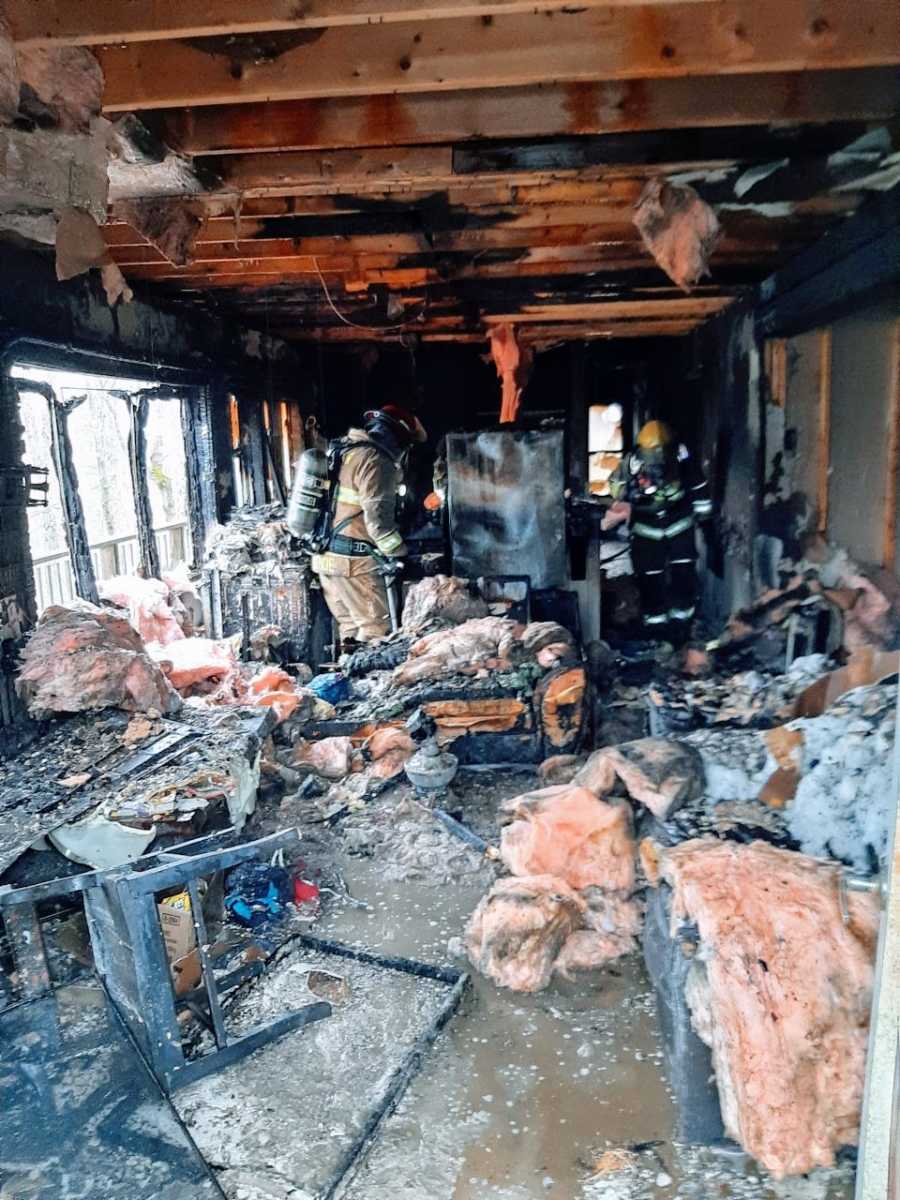 My immediate thoughts went to the irreplaceable items. The tiny handprint flower pot my oldest daughter made me for Mother's Day two years ago, the 'first Christmas' ornaments I had pulled out of storage a few days before, and my wedding rings I had stored in my jewelry box for safe keeping. It was in this moment, as I stood heartbroken, I witnessed one of the most personal moments of kindness. When the firefighters heard about my wedding rings, they immediately sprung into action. Using a ladder to climb through the upstairs bathroom window, they managed to retrieve my jewelry box from the bedroom. Somehow, my rings survived the fire.
When the fire was finally out and we sat to catch our breath, it was time to come up with a plan. Our neighbors, so generously, offered for us to stay next door in their cottage. My husband and I decided I would go to my parent's house for the week with the girls. My husband and I each set out with our own set of tasks. I needed to replace the
things we needed to get us through the first few weeks. My husband took on the role of working with the insurance company. So many people came to our side during this week and made an unbearable situation bearable. Our neighbors, who so generously offered for us to stay at their cottage; my best friend, who spent an entire day shopping
with me and made me laugh; my sister, who gave the girls the best week and made things feel normal for them; to the community who brought food and toys for the girls. And finally to my sweet baby niece, who was born the morning of the fire. Having her come into our lives on the same day of the fire felt like divine intervention. She came on one of our darkest days, shining a bright lasting light.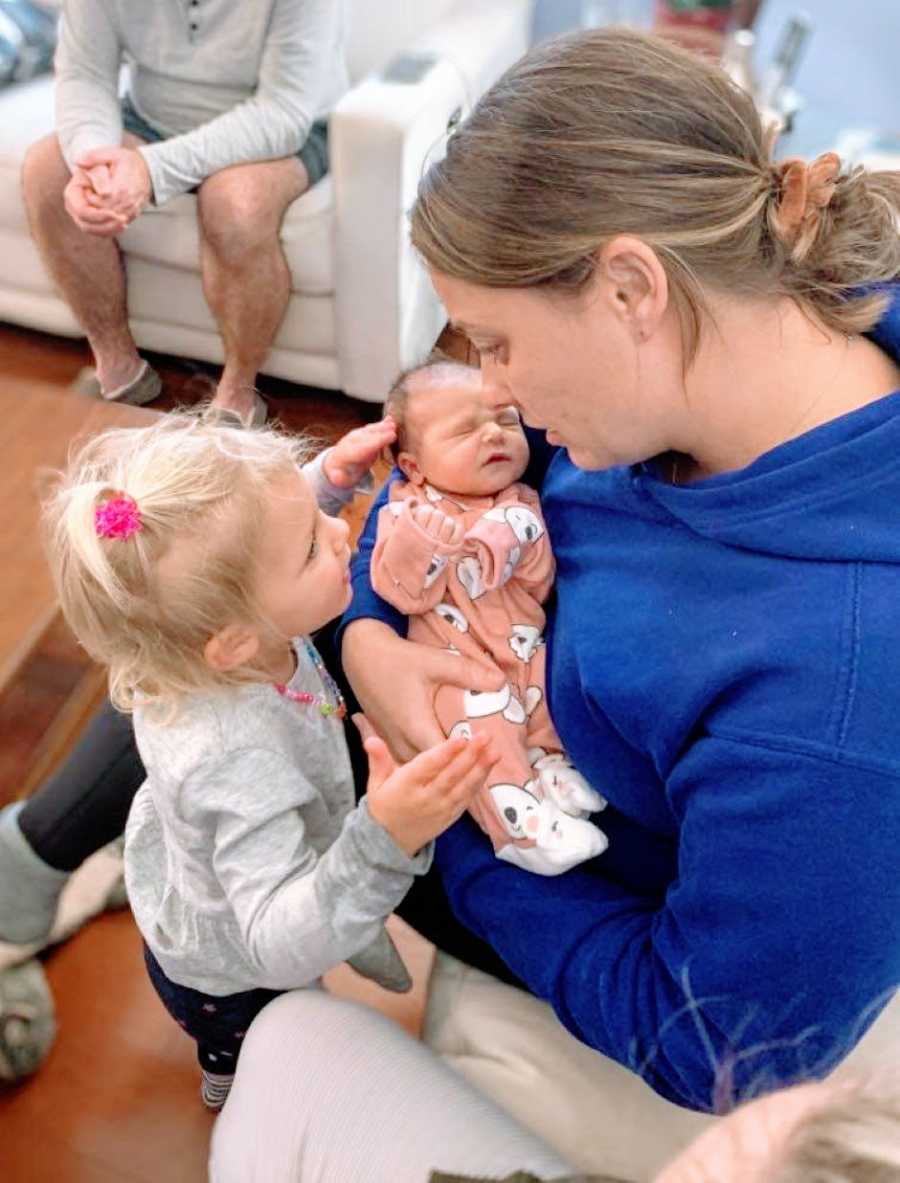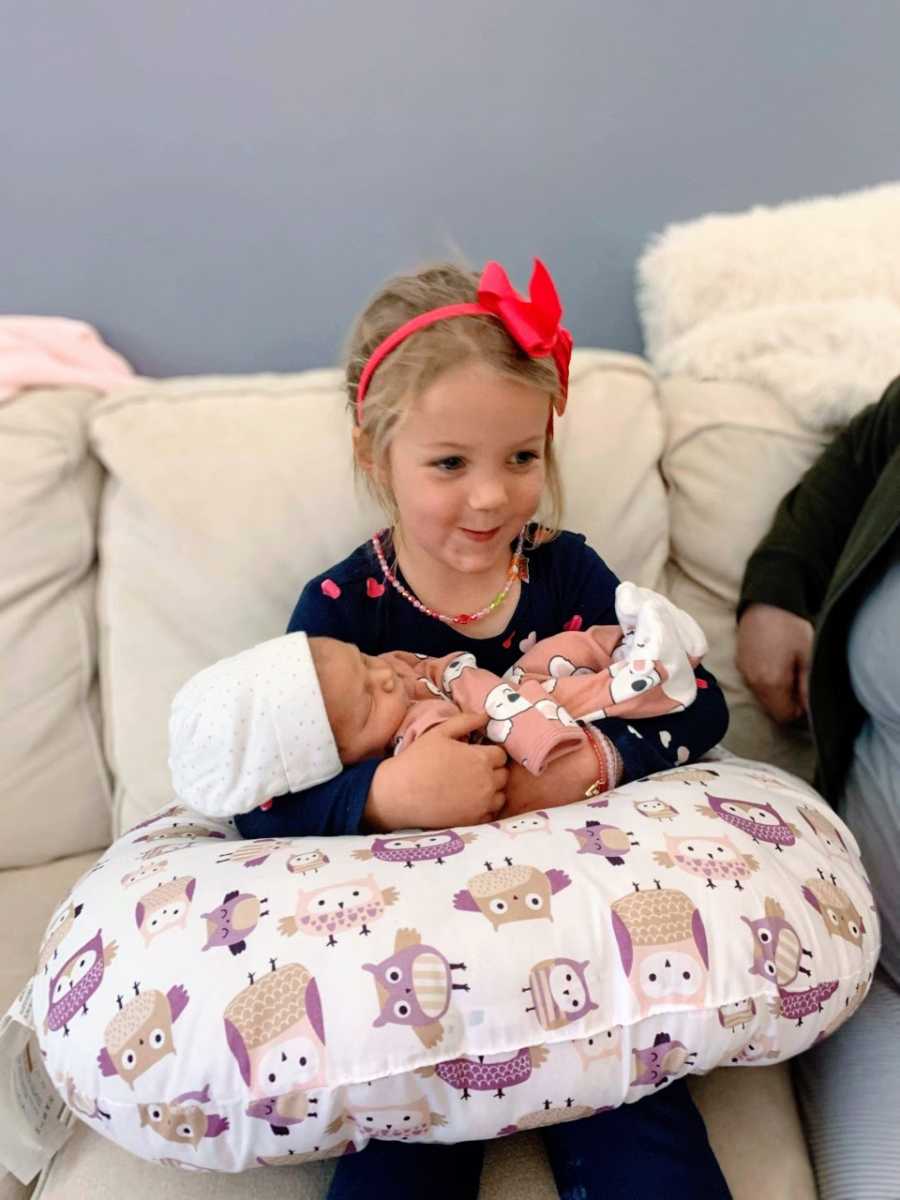 As the first week went by, the questions of 'what if' ran through my mind on a constant loop. What if Paige hadn't woken up when she did? What if we didn't get out in time? What if I had just grabbed one little keepsake, as I ran out the door? My heart ached with the feeling of knowing we could have lost so much more, while also coming to grips
with the fact all of our life possessions were gone. The fact we were lucky, that those 'things' didn't matter wasn't lost on me. I knew how lucky we were. I knew us being safe was all that mattered. Yet, I still needed the space to grieve what was lost. All our memories wrapped around the cottage; Christmas around the tree, the girls giggling as they hid in the curtains in the front hall, Mackenzie dancing with her dolly across the living room floor, and Paige taking her first tiny steps. It was hard not to scroll through all the pictures, holding on tightly to the memories of our home.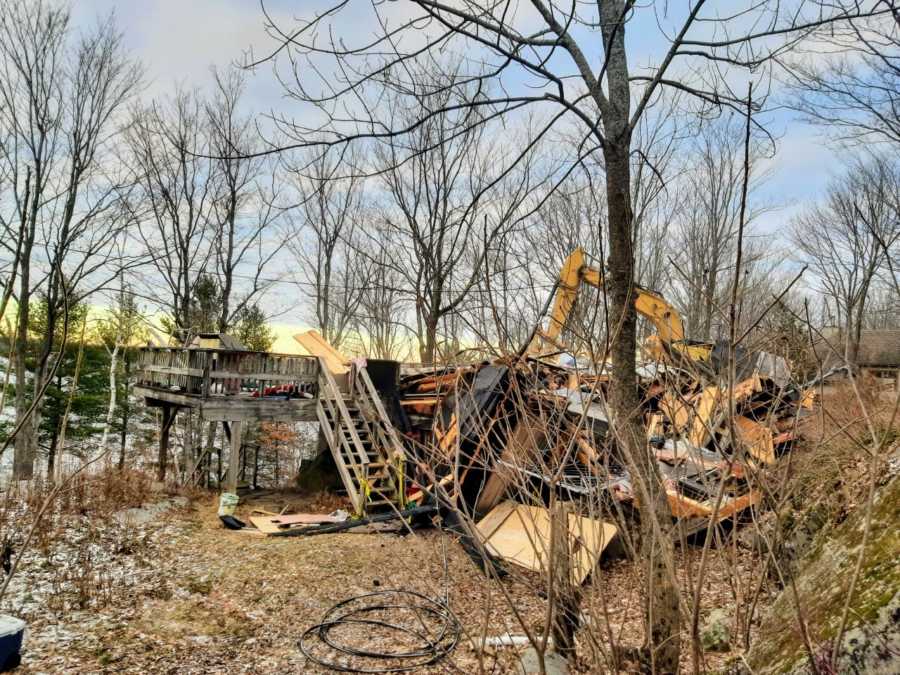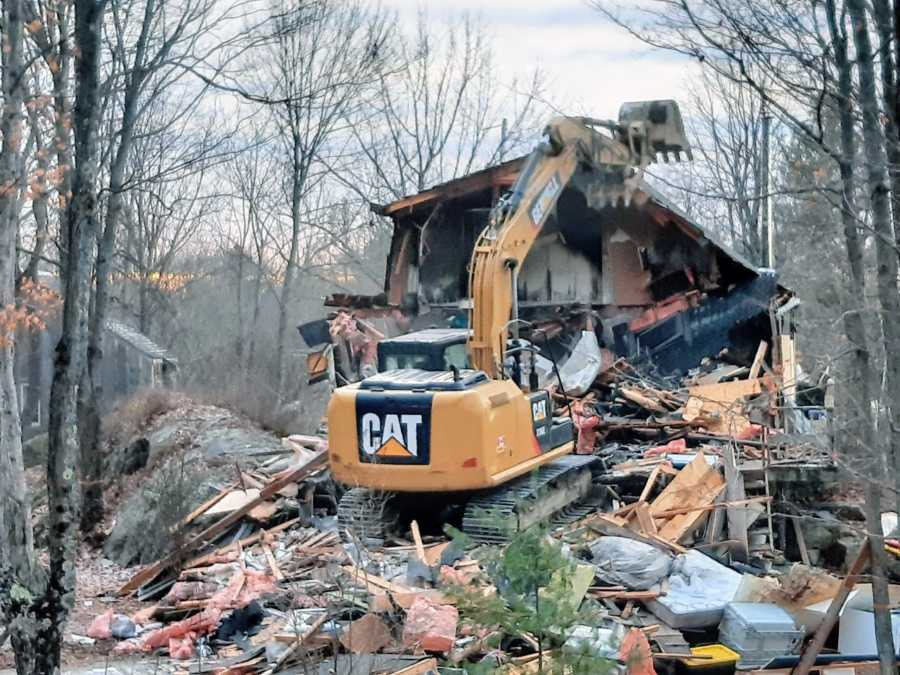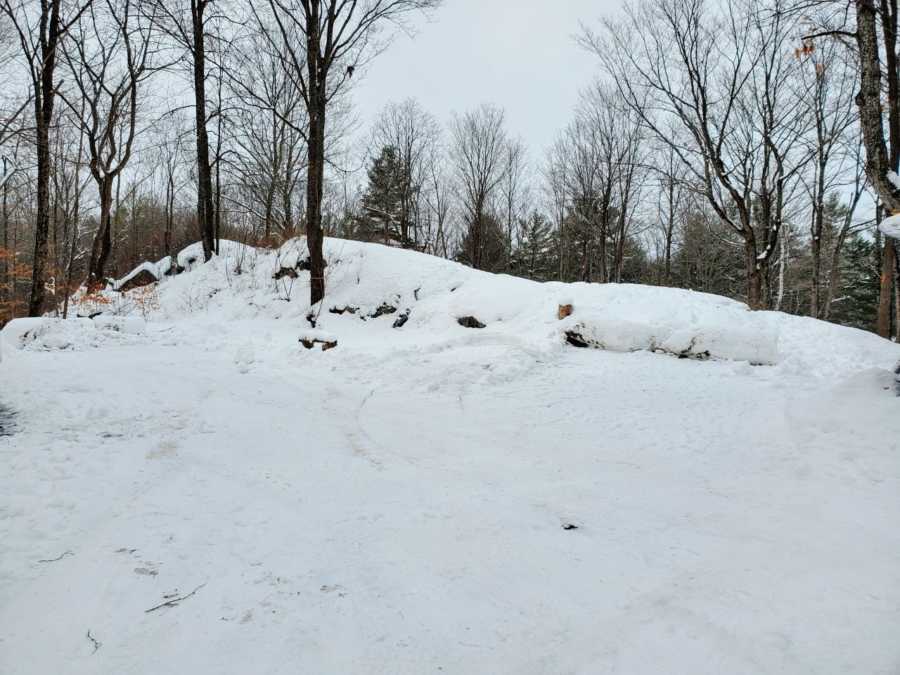 As we go forward, we continue to grieve while also looking for the silver lining, always knowing the most important thing is we are all safe. We know the only way to move forward is to focus on what we can control. Growing up, I had a swim coach who would say, 'Control what you can, cope with the rest,' and this has been a life lesson I have carried through as a parent. We had no control over the fire and what it took from us, but we do have control over what we do next and how we move forward. Allowing ourselves to feel those moments of sadness while also looking for the opportunity to have a positive experience. We have decided to use this time for a new kind of adventure, one we never imagined we would have with a two and four-year-old. We have made plans to live in an RV and travel for the spring and summer months. We know it won't always be easy, but we also know if we push through the difficult moments, the opportunity for an incredible memory is waiting on the other side."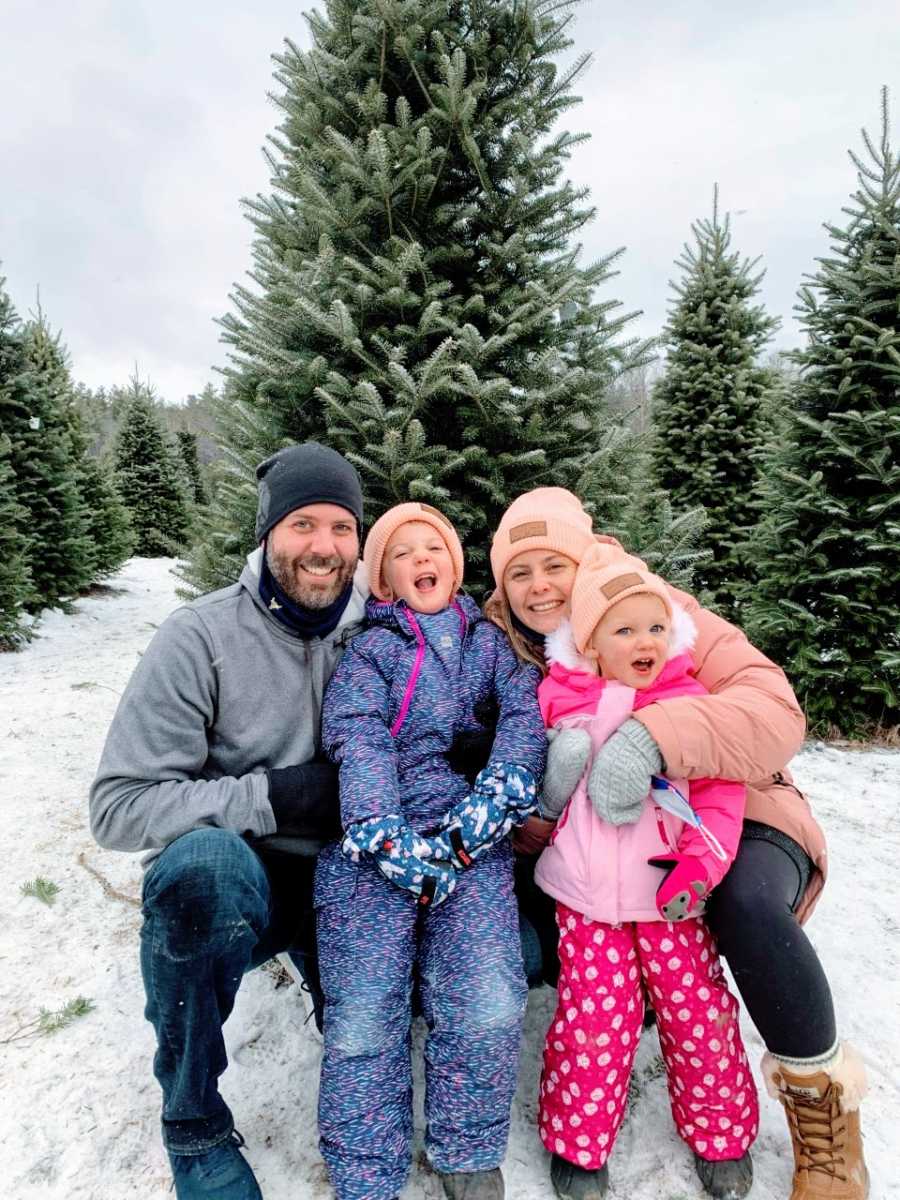 This story was submitted to Love What Matters by Elyse Brady. You can follow her journey on her Instagram and blog. Submit your own story here, and be sure to subscribe to our free email newsletter for our best stories, and YouTube for our best videos.
Read more stories like this:
'I held your little body in my hands, doing CPR with my thumbs. 'God, please take my life and let her live.' The fire engulfed the house. I held back tears.': Firefighter pens emotional ode to victims, 'You were more than just a call'
'Stay calm, keep moving. You're getting out of here.' The firefighter lifted me up. The lights faded, water filling at my feet. Panic set in.': 9/11 survivor thanks firefighter for saving her life, 'I will live each day to its fullest, never in vain of his heroism'
'Firemen will put it out. It'll be okay.' The air was thick with fuel and human remains. I'm not the hero of this story.': Photographer documents ground zero, 'I wasn't there by accident'
'I came home around 2 a.m. Something wasn't right. In a matter of minutes, my carpet was on fire.': Brave woman recounts how she escaped domestic abuse
Do you know someone who could benefit from reading this? SHARE this story on Facebook with family and friends.