"Breast cancer took my Mum's life in 2010, at the age of 55.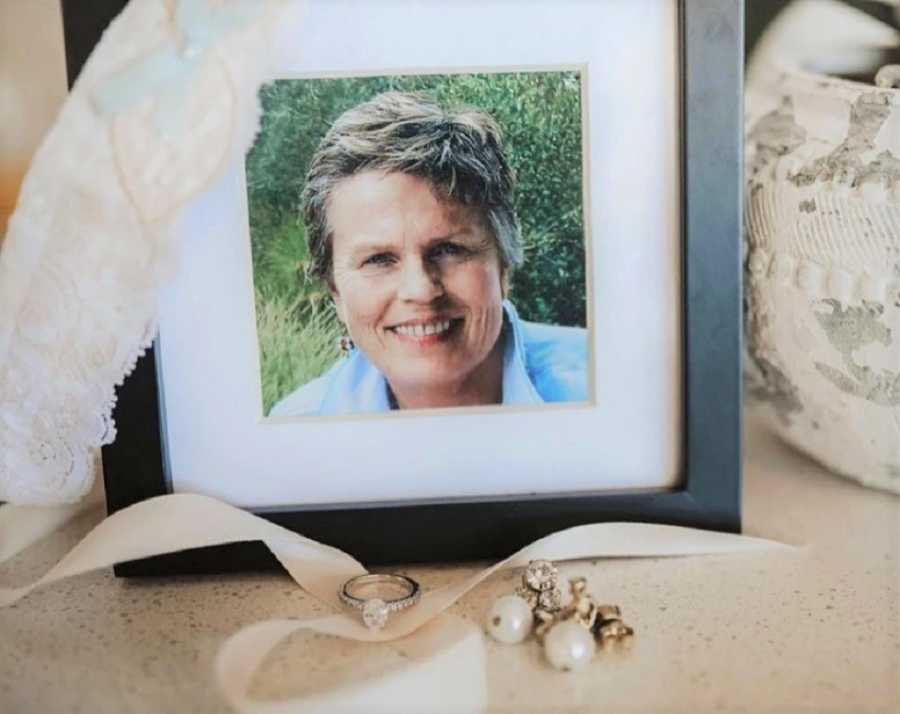 First diagnosed in 2005, while removing her necklace before a shower one morning, my Mum noticed a 'pull in the skin', as she described it, under her left breast. At the time of diagnosis, I was 13 years-old, and I remember the moment she told me – vividly.
I remember her words, 'I have cancer.' I glanced at her, and then looked down, watching her change gears as we drove home.
Stage 3 locally advanced; treatment started immediately – chemotherapy, radiation, and a mastectomy.
Mum was an absolute trooper – wigs and a prosthetic breast became new accessories. Soon she was swapping the wig up for chunky jewelry and colorful glasses to spice up the short hair look.
Remission came, and life returned to some normality. But, chemo and the loss of her breast had stolen an aspect of her spark. Her priority was always her family, and ensuring our lives were impacted as little as possible. I know for a fact, I did little to support or ease her recovery. The 13-year-old me had other priorities – like popularity and boys – and the guilt associated with this will forever haunt me.
2009 came around in a blink of an eye. With it came headaches, nausea, and the odd tumble. She would forget simple everyday tasks, like school pick-up and turning the oven off. Upon reflection, these were symptoms, but in the daily hustle of busy family life, it was just Mum being forgetful.
Multiple hospital visits later, we had the diagnosis of Metastatic Breast Cancer (also known as Secondaries), this time spreading to her liver and spinal fluid. Treatment was instant and severe – brain surgery to remove the damaged area, brain fluid drainage to reduce pressure, and a chemotherapy port implanted into her head so the doctors could access her brain directly – just to name a few. Doctors described it as, 'a fire storm with multiple spot fires, all as important as each other to put out.'
Because of the fluid pressure around her brain, Mum suffered brain damage, resulting in her losing her sight – literally overnight. During this period, Mum spent over 4 months in the hospital, shrunk to half her size, and lost all independence – such as basic eating, communication, and mobility skills.
Upon Mum's return home from the hospital, everything changed. Our house wasn't safe for a person with a visual impairment, which was amplified by the fact Mum was fragile and confused easily. You don't see a hazard until it's too late – an uneven rug corner near a sharp coffee table corner is never a good idea…
She fought, but it kept growing – smarter and smarter every time the doctors looked.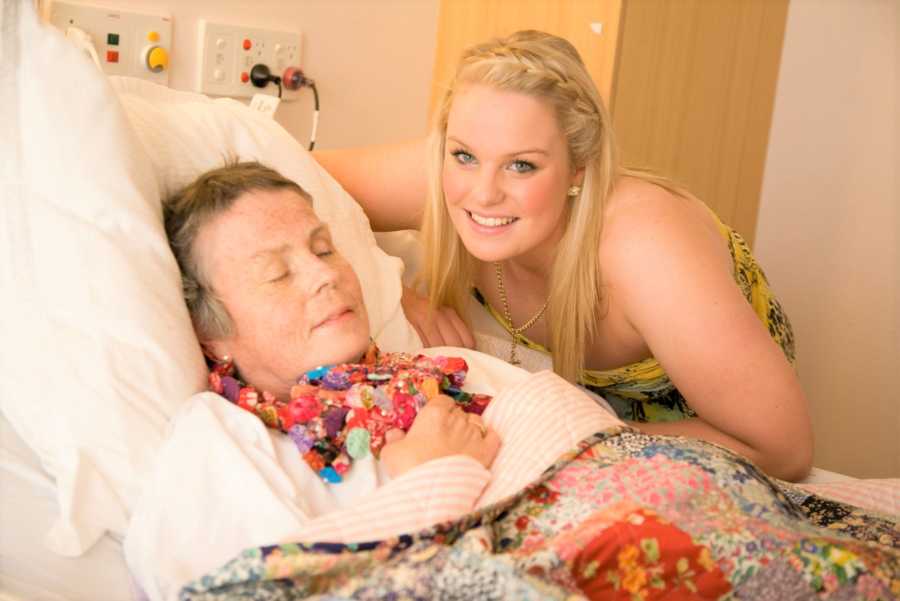 Making the 5-year survival statistic, on May 30th, 2010, I held my Mum's hand as she took her last breath. Surrounded by her family on a cold, rainy Canberra Sunday. Calm and dignified until the very end.
Breast cancer remains the most commonly diagnosed cancer among women, with early detection being the best chance of survival, which is why we need to touch, check, and look at our breasts often.
After losing both my Mum and Dad to cancer by the age of 25, I knew I wanted to use my experiences on life's roller-coaster to help others feel supported through their tough times.
I am very passionate about raising breast awareness – to do everything I possibly can to help beat breast cancer, so no more courageous ladies (or men) die because of it.
The word 'courage' has always been used in my family when describing how to embrace the cards we are dealt, positive or negative; and I wanted this message to form the basis of my community.
Courageous Ladies started with me sharing daily nuggets of positivity and inspiration. Since then, it has grown into a community of women, from all over the world, who celebrate and support themselves and each other. It's a safe place where all women can rumble with their own vulnerability.

For me personally, I want to share my story with the hope it helps others navigate their own life challenges. I want my pain to be purposeful.
Courageous Ladies, you don't need to be an expert – embrace your breasts, boobs, rack, bosoms, titties, jugs, melons, coconuts, knockers, honkers, hooters.
They come in all shapes and sizes! Learn what yours feel and look like, and check both regularly for symptoms like lumps, dimples, discharge, or discoloration. Please remember, in most cases, changes in your breast aren't symptoms of cancer. But, if you do notice a change, go see your doctor!
We all have a breast cancer story, and this is mine.
Together, lets beat this sh*tty disease.
All my Courageous love,
Amanda"
This story was submitted to Love What Matters by Amanda Morton. Submit your own story here and be sure to subscribe to our free email newsletter for our best stories.
Read more stories like this:
'Mommy, I've been scared to say this, but I have a big bump on my chest.' I lifted her shirt. Sheer horror!': 8-year-old girl diagnosed with breast cancer after both parents beat cancer, 'we are a family of fighters'
'Do you think you're dying?' my husband asked. I couldn't even hold my baby. 'I don't know, maybe?': Woman beats breast cancer despite all odds, 'I had one foot in eternity, I felt it'
'I have breast cancer.' I said on the operating table. The nurse wiped my tears. 'I know. And we have you.': Mom diagnosed with breast cancer 6 hours before giving birth to first child, 'This baby saved my life'
Do you know someone who could benefit from reading this? SHARE this story on Facebook with family and friends.