Disclaimer: This story includes descriptions of suicide attempts that may be triggering for some.
"I consider myself to be a survivor. A survivor of mental health. A survivor of mental struggle. A survivor of the deep dark hole known as depression. When asked when did my struggle with my mind started, I always struggle to pinpoint an answer. It seems far too long now at 27 years old, that if I'm being honest, it's all I really know. I am Rebecca, and I live life with moderate social anxiety and depression. Live life? More like just surviving. I am very open, raw, and honest with my journey in the hopes that it will inspire others, push against bullying and stigmatizing mental health, and help open the conversation on suicide to bring awareness and aid in prevention. Thank you for reading my story.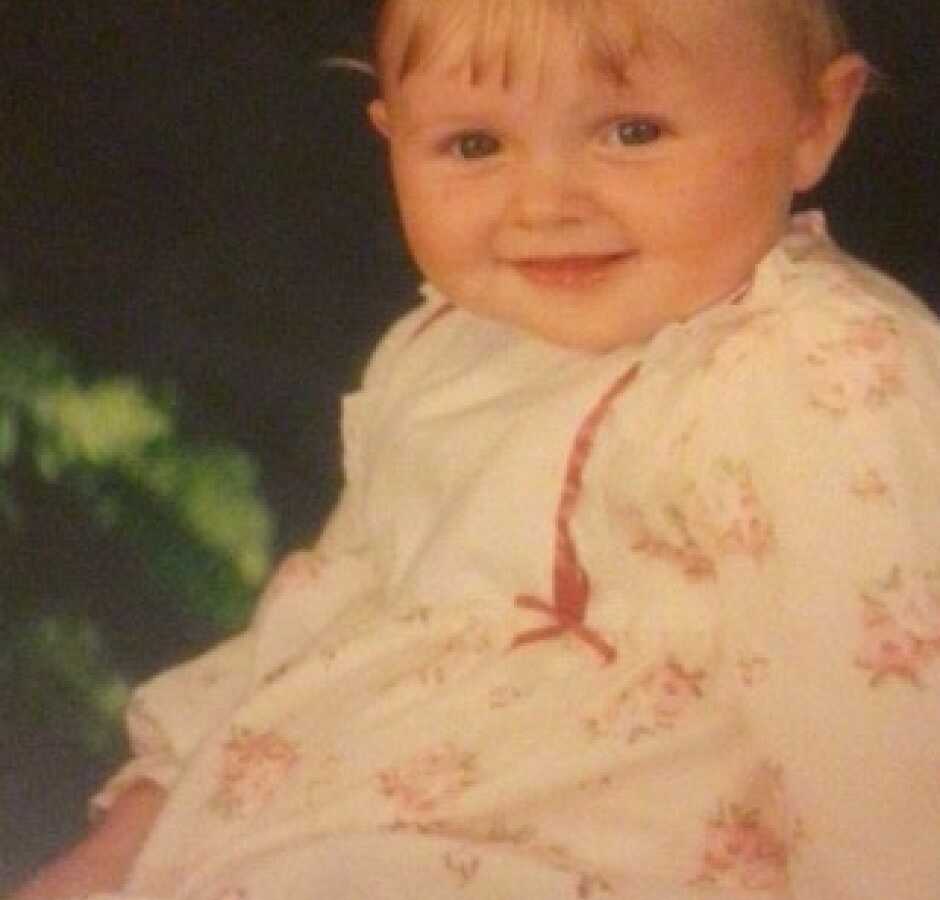 I was a happy-go-lucky kind of girl, shy but knew exactly what I wanted to be when I was older, a model. My joy in life was practicing catwalks down the garden path in the back garden, putting on catwalk shows with my siblings in the garden. It was a happy time for this oldest sister. I knew the mistakes my siblings shouldn't make and guided them, protected them through school. I loved elementary school, the creative side and the science side, and I had some good friends. I suppose you would say this was the happiest time of my life.
Boy, did things change when high school rolled around. I despised the school, absolutely hated it. As I look back, I struggle to understand why I was bullied. I was quiet, I was shy. I never spoke up in class, I kept my head down and got on with it. I was lanky, tall for my age then, and pretty thin. I guess this was sufficient enough to be bullied for. I kept an ever-straight face and largely ignored on-the-surface the taunts. But words can cut deep. When it got overwhelming, I would spend many nights in tears, sobbing. Or I would skip certain classes to avoid the offending girls. The popular girls. Months flew by, and things kept building and building, the thoughts would start to build. 'How can I make it stop?' 'Why me?' soon turned into 'It'll stop if I'm not around' and 'Nothing can hurt you if you are gone from the world.' I thought maybe if I harm myself, I'd feel better, then I would be as ugly as they say. With this, the fantasies in my mind would start.
What would happen if I took one or a few too many paracetamols? What if I climb this railing, and jump into traffic on the dual carriageway? How do you strangle yourself? What if I took this kitchen knife, and stabbed myself? What would be the least messy way to die? All thoughts a 12- to 13-year-old would have. These thoughts and ideations partnered with avoiding lunch canteens, hiding out in the science labs during breaks, skipping classes by locking myself in toilets. I even moved schools, to get away and try to save myself. The bullying continued and progressed to cyberbullying.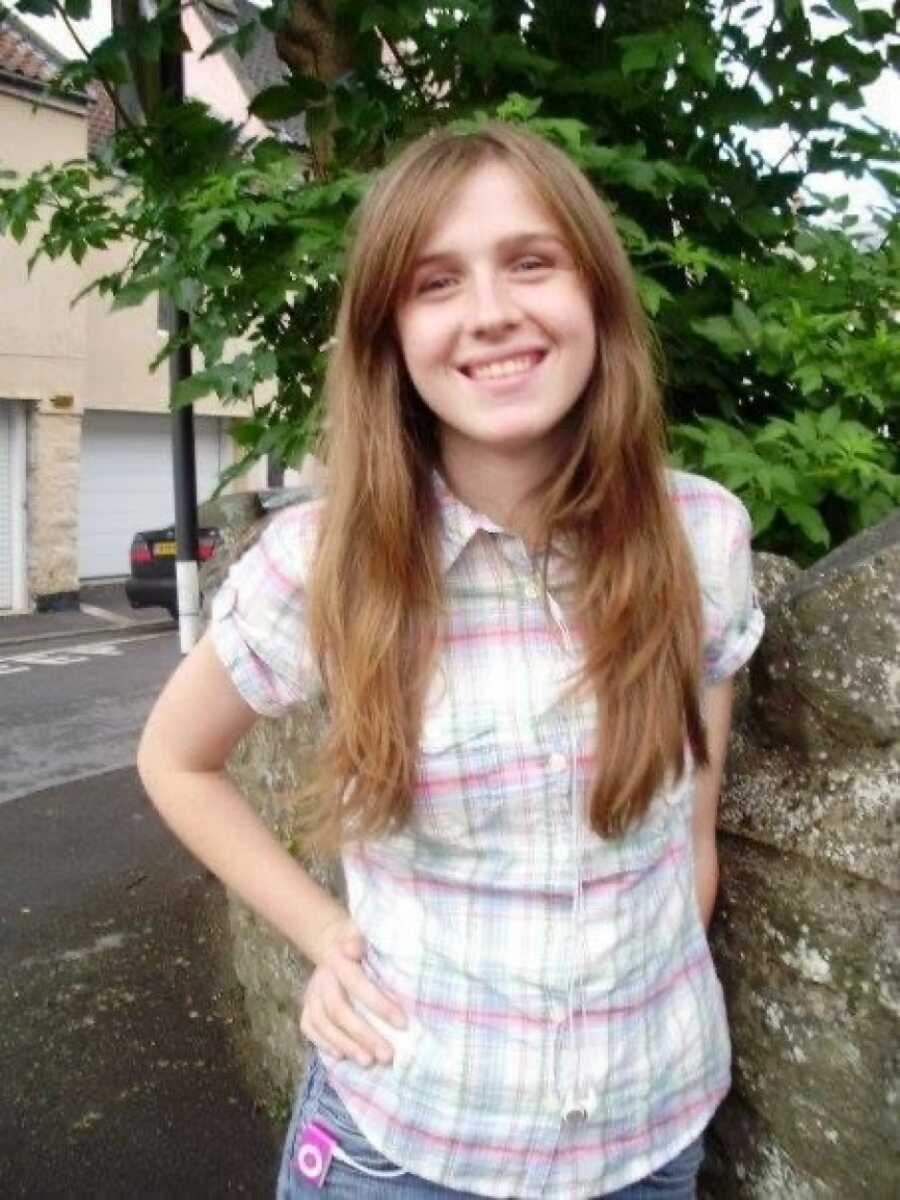 At 15-16 years old, four different times in one year, I attempted to take my own life. One evening, I would take a few more than recommended paracetamols. But then I threw them up instinctively, like my body was saying, 'It's not your time.' I went back to school like normal. On my second attempt, I ran away from home and walked along the local cycle path. Resting and sitting on a bridge, which sat over the dual carriageway, I would hold my hands onto the railings and mentally battle with my head, inside saying, 'Just let me climb. Please let me fall.' Ultimately there was a tad too much foot traffic, with regular cyclists and walkers passing by, though none stopped or engaged with me, as I was clearly having a full breakdown. I felt even more invisible. I sat there for hours before walking the long way home, wishing someone would just take my life for me, thinking it would make my life easier.
The last 2 attempts were the same, if not very similar. Both happened at home, in my bedroom. Both happened after school, usually after a violent threat after school when trying to simply mind my own business and walk home. On different occasions, I would sit on my bed. Now, I didn't have anything in my room I could hang myself off of. But at 15-16, I thought it'd be like going to sleep. So I got a belt (and on the other occasion a scarf) and wrapped it around my neck three times, holding each end. Then I just pulled on them hard. At that moment, as it got tight, and breaths became hard, I was at peace. The suffering and struggle ended as the darkness sank in.
Alas though, I am still here. I survived that evening, but I don't know how. No one found me. My best guess is that when I thought I had gone and I pulled it tight, my grip loosened and it didn't cut any blood flow. My family never knew I attempted, so I know they didn't find me. For the longest time, I have kept this to myself. No one knew, and some of those closest to me still don't know.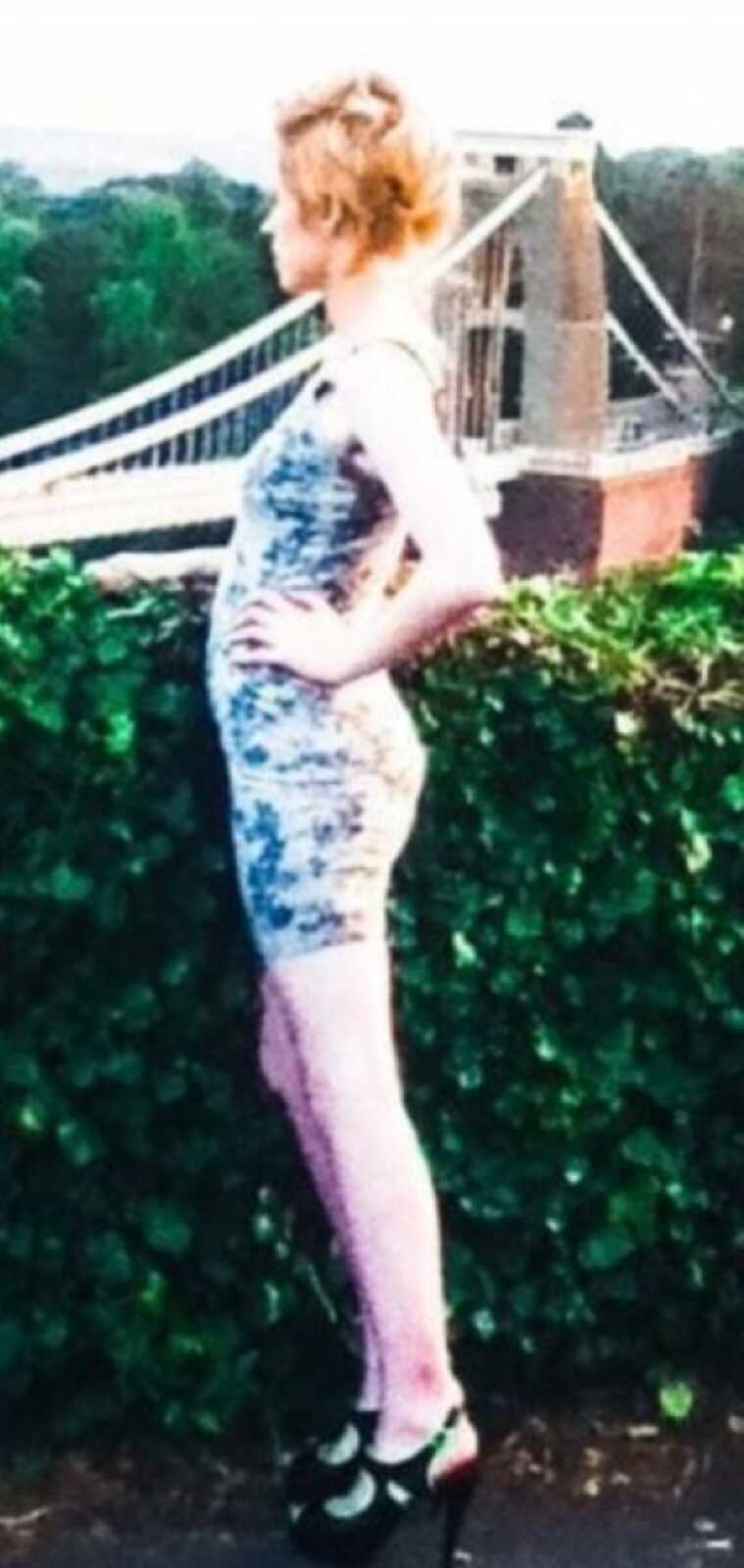 I never did seek any help. I never reached out. I was too scared to admit but also too ashamed that I wasn't successful. At that age, I was still a minor, and I knew if I had told any professional, they would have told my mom. I felt like I was in control for the first time, holding this secret. I still have not talked to the doctors about this detail yet. I have spoken to my doctors about general depression and anxiety though, and they have been great. I also found great help in learning more about my mindset and wellness. I do regret not seeking help sooner.
As I now navigate my 20's, a time meant for fun, adventures, and experiences. I have spent about eighty percent of these years, unhappy, alone, and given the choice in pajamas staying in. It is a rollercoaster ride, but it has inspired me. I have never felt as low to attempt suicide again. I just have to look at my son, who really has changed my life.
I still struggle though; I struggle with educational settings, around other people. This is my social anxiety side, which compliments my struggles in work, although now I am much better at managing this side. So much so, I am studying for a fully online undergraduate degree in Criminal Justice. I also struggle with body confidence, going from the tall, slim teenager to a fuller-bodied, curvy woman. In response to this, I follow more plus-size accounts on social media and have started to dress for my hourglass shape. I also fully embrace my platform and journey in pageantry.
I also remember all the things I would've missed had I been successful in taking my own life. I can drive, I passed my driving test shortly after my 21st birthday. I launched my lifestyle blog RebeccaKLxo at 22 years old, which I enjoy writing. And my biggest achievement by far: at 23, I became a first-time mom to my son, who is the absolute world to me. I went on my first holiday in 2021 to New York City and fell in love with the city, which has opened the wanderlust inside me.
I have found love in pageantry. I started originally to build my confidence as a direct result of the bullying. I started at 18 years old. At 19 years old, I won my first title, Miss United Wales 2014. I absolutely loved representing my hometown in different pageants, before finding my home in Miss Mystic Beauty (MMB), where I competed as Miss Bristol, MMB finalist (and will compete for this 2022 too). My platform, which I am very proud of, is challenging the stigma around suicide's perception and encouraging the conversation on suicide awareness and prevention. Because it's not a shameful thing, and it may just save a life.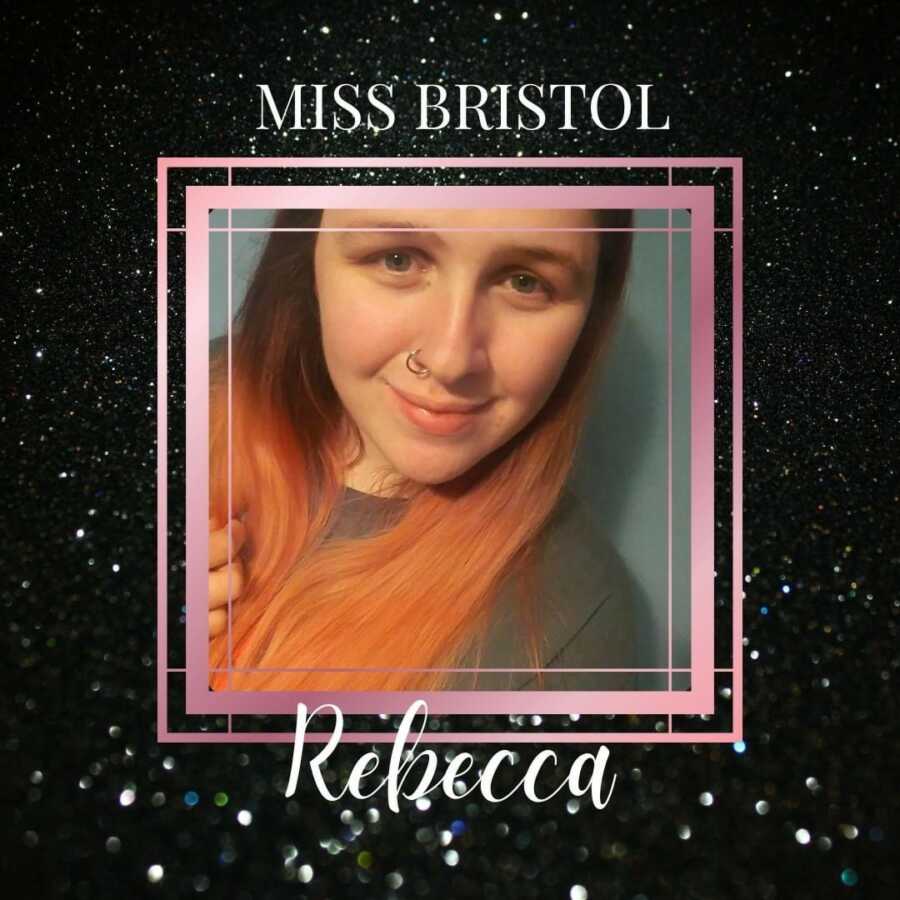 No one should ever feel like it's their only way. It is a permanent solution to a temporary problem. My inboxes and blog are always open for anyone wanting to chat.
I still have social anxiety. I still have depression. I still have suicidal thoughts.
But I am only human.
I manage, I cope, I hold on, I inspire.
I have a long way to go and do not believe I'll ever be full without my struggles, but I continue to make new memories, write for my WordPress blog, explore curvy fashion, and listen to my rock, emo, and pop-punk music (this has been my comfort since I was 14 years old). Emo is not a phase, and it's truly special when music is that comforting blanket. I try to socialize more and get out more, but this will be a long journey. I manage my anxiety medication, which really has made all the difference since opening the discussion with my doctor. I find and attend wellbeing courses and classes to help find new ways of managing. I enjoy my hobbies, and most importantly, I make time for self-care.
For my son and myself and anyone I have inspired to reach out: we got this. I'm in your corner."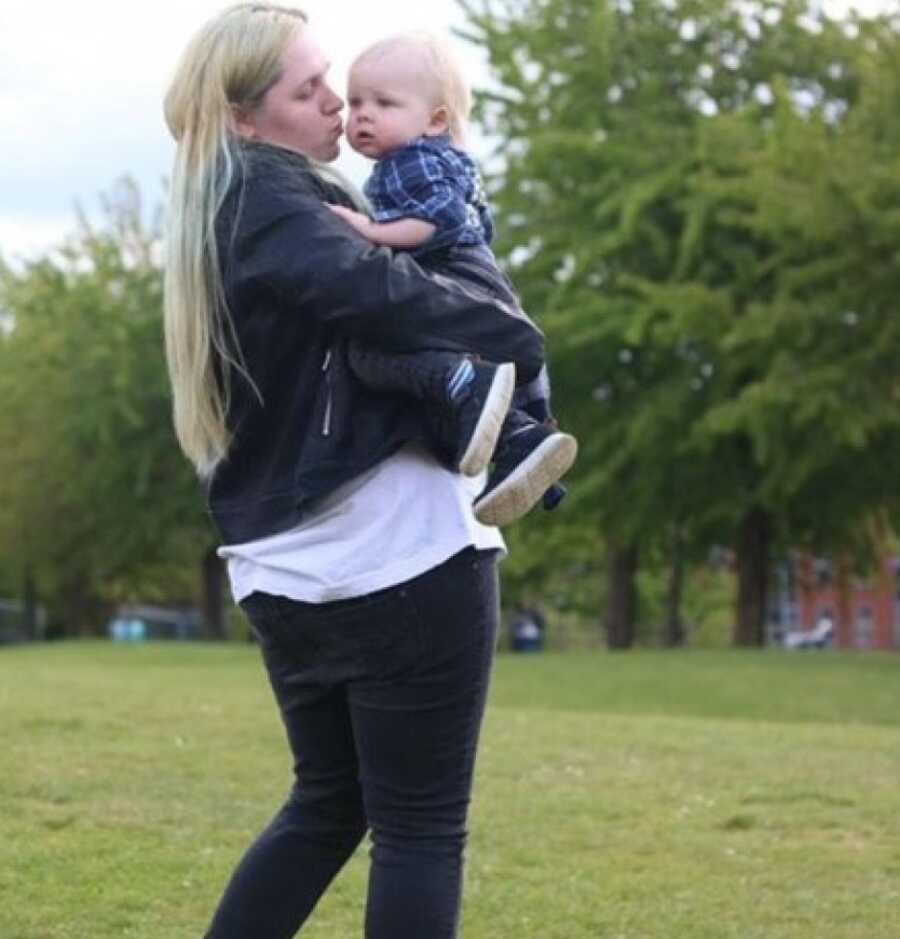 This story was submitted to Love What Matters by Rebecca from Bristol, United Kingdom. You can follow her journey on Facebook, Instagram, Twitter, and her website. Submit your own story here and be sure to subscribe to our free email newsletter for our best stories, and YouTube for our best videos.
Read more stories like this here:
'Crying was NOT associated with boys. 'It looks like you're depressed.' I had to be 'man' of the house.': Man advocates for mental health, 'I finally felt SEEN'
'We think you have depression.' I felt like a freak. What would people say? I thought no one could 'fix' me.': Woman becomes mental health advocate, 'This is my purpose'
'Something special was taken away from me.' My entire world was flipped upside down. I felt like I'd been failed.': Woman shares mental health journey, 'Surrendering is the strongest thing I've done'
'Something's off. I'm married to someone I love. I have a good job. I'm healthy. Things are good.' Until they WEREN'T.': Woman shares divorce, mental health journey, 'Only YOU have control over your destiny'
Do you know someone who could benefit from reading this? SHARE this story on Facebook with family and friends.