"Yesterday I went to a bridal shower pool party and had to leave my Tata Top at home to be respectful of grandparents, buuuut it left me without a swimsuit.
Thankfully my girlfriend had an extra one-piece which was NOT made for someone 34 weeks pregnant.
I'm 99% sure this was more inappropriate.
It turned her gorgeous suit into a wrestling thong slinglet on my preggo bod so I waddled around like this instead. Own it, amiright?
To top it off, there was also a catered Chipotle buffet… I literally ate 12 tacos minimum. No bull.
I went back for fourths.
I also made myself a to-go container that I snuck out when I left and ate in my car.
I had contractions kicking up all day while in my thongkini, and they got closer together by the time I made it home – and I wound up in labor and delivery.
All I could think about was: 'Is this seriously the last bump pic I'll have?' And 'holy crap I am going to poo ALL OVER this hospital if I go into labor because I just ate 9 pounds of Mexican food.'
The nurses asked if I did anything out of the usual during the day and I kept answering 'no,' followed up with my husband whispering, 'Chipotle' every time.
And I really didn't want them to diagnose me with Chipotle intoxication so I silenced him.
Now I'm back home on bed-rest dreaming of burritos and thankful this taco is still cooking.
Maybe it was from the enormous pressure the slinglet put on my lady bits… maybe it was tacos… the world will never know."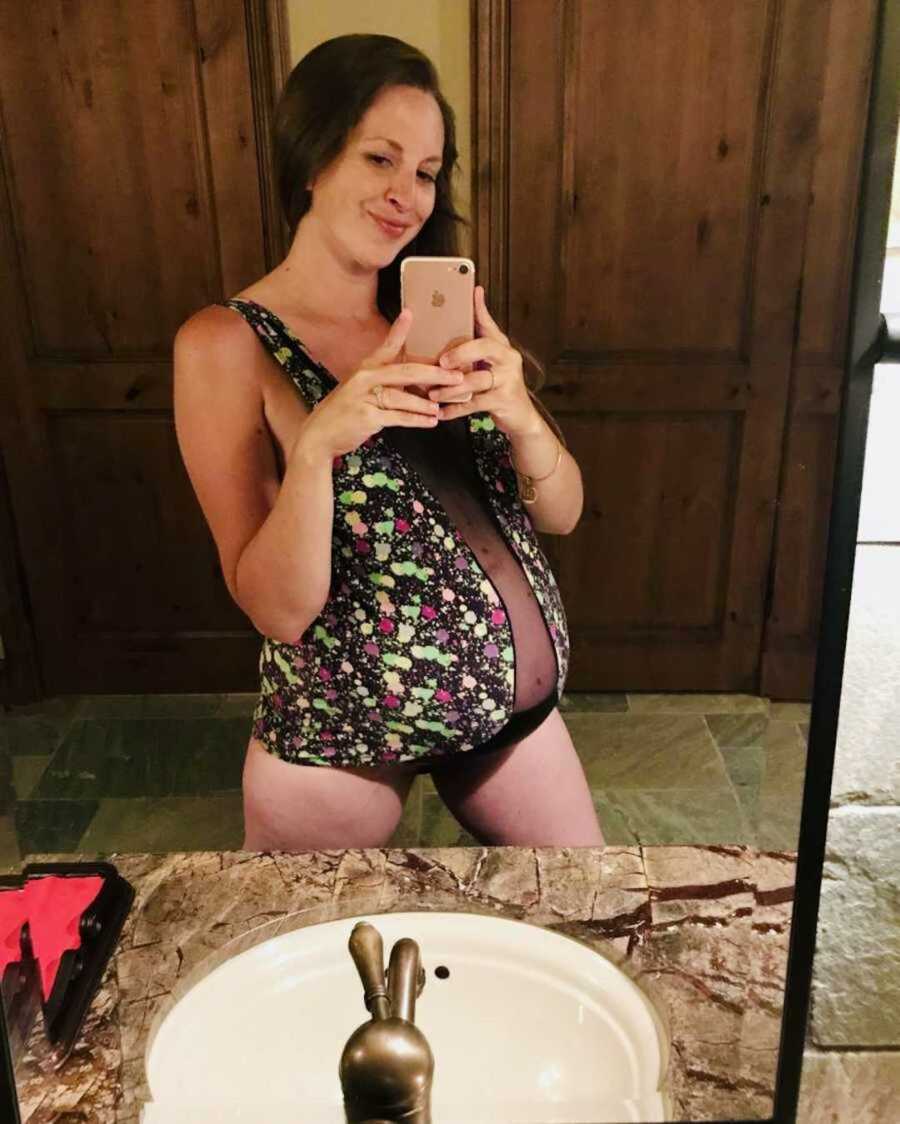 This story was submitted to Love What Matters by Sydney W of Strollin With My Homies. You can follow them on Facebook. Be sure to subscribe to our best stories in our free email newsletter.
Read more from Sydney here:
'My husband is on the floor, eyes closed, moaning, 'Syyydd. I can't see.' Is this a joke. He has a flu symptom that doesn't even exist. Actually I can't. I should leave. Where is this dude's mom.'
'Oh my gosh, that's a dong.': Mom hilariously recounts memorable playground structure
SHARE this story on Facebook to give other moms a good laugh!