"Recently I attended a talk on 'sex after babies.'
I thought it would be making inappropriate jokes about my vagina looking like an angry old man who ate an onion or just giving advice on what to say other than 'I have a headache.'
Never did I think it would make me reflect on my relationship.
I listened to the other panelists talk about their partners, about making time and keeping their love alive. None of those thoughts crossed my mind because for some time, I've been keeping my relationship on the back burner.
This time of our life, with little children, it's really hard. I don't know about you, but I don't kiss my kids goodnight at 7 p.m. and go snuggle up to my husband.
No, I'm washing dishes, tag teaming with him to tend to another glass of water, a cry, a blanket that feels too crunchy. Then after all the housework is done, and admin tasks are completed, I lay in bed and fall asleep exhausted next to an exhausted husband.
The exhaustion of parenting is literally ruining my relationship.
I have not once thought about putting my relationship first. Why would I? My children are priority. I literally kill myself every day for them because I love them. If my son wants me to sleep in bed with him, I get up and I go. All the Sharon's of the world keep telling me, 'they're only little once,' so I'm hanging on to the little moments.
I've read articles that preach about putting your relationship first, otherwise you suffer the dire consequences and I would think, 'whatever.'
But then I listened to these women talking about the way they set time for each other, and my heart sunk.
I realized not only am I not putting my relationship first, I'm putting it WAY last, right at the back of the list of priorities, behind taking a poop alone.
And guess what the prize is to be putting your relationship last?
Insecurity, resentment, anger, fighting. The list goes on.
Putting my relationship last has made me want to pick up my husband's phone and check for other women, it's made me google relationship counselling, it's made us talk about breaking up.
And it hurts, my friends, it hurts.
I sat on a panel about sex after babies to educate other parents, but it was I that was schooled.
The light bulb went off and I realized, I need to put us first.
I realized putting your relationship first doesn't mean your children are last. It means instead of holding onto the anger that exhaustion brings, you're a little kinder. It means not arguing about who gets more sleep (because clearly the man does, am I right ladies? ).
It means instead of saying no when a friend or anybody offers to look after your kids because of mothers' guilt, you say yes, and you go out and posh your man!
It's so easy to let it fall to the wayside, and every relationship should be strong enough to withstand the pressure children bring, but the reality is, they're not.
You can be excellent parents together but freaking hate each other in a relationship together. Why? Because it's neglected.
And I know what you're thinking. Why should you try if he won't?
You shouldn't, but I'll tell you what the second biggest roadblock to a relationship is: unmet expectations.
If both parties do more and expect less, things will be better. One of you has to lead so the other will follow, and if they simply won't, then googling marriage counselors isn't such a bad idea.
But if it does? Great. And your kids will be absolutely fine. If you show your kids you will do every little thing as a priority over yourself and marriage, they won't learn anything for themselves, instead they will learn that marriage makes people unhappy.
If you wait until your kids leave the house to have a relationship, there won't be much of a relationship left to have.
I have been treating my marriage like a joke, and my friends, I've been hit with a hard punchline.
I don't want a roommate, I want a husband. So it's time I started treating him like one."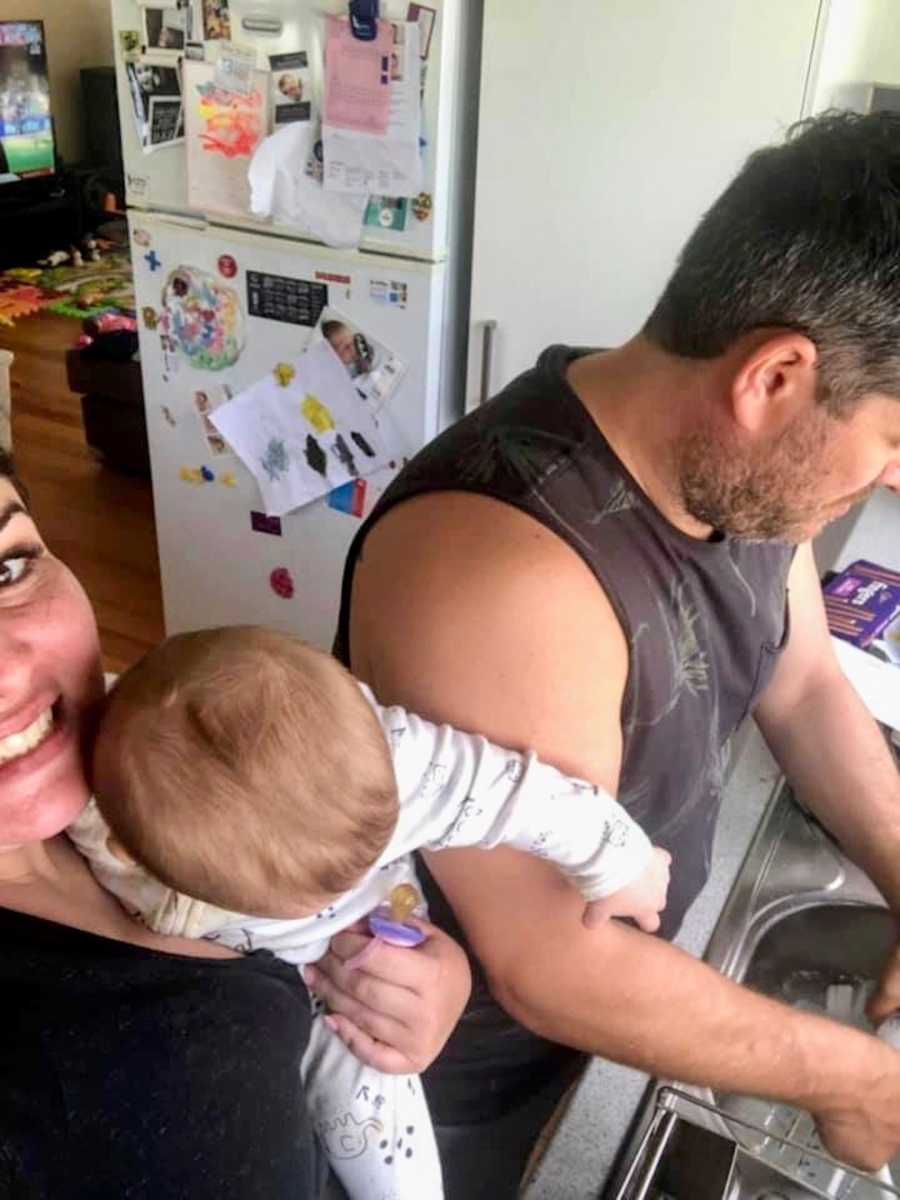 This story was submitted to Love What Matters by Laura Mazza of Mum on the Run, where it originally appeared. Submit your story here, and subscribe to our best love stories here.
Provide beauty and strength for others. SHARE this story on Facebook with your friends and family.