"My name is Brittany. I'm here to share my story about my sweet little miracle baby, Dylan.
I found out I was pregnant with my first baby at at the beginning of February, an unexpected pregnancy. But very wanted. From the second I found out my baby was so loved. At 8 weeks 5 days, I had my first ultrasound and heard my baby's heartbeat for the first time. It was the best feeling in the world.
Shortly after, at a 19-week ultrasound, right before my 24th birthday, my entire world came crashing down.
My ultrasound took FOREVER. I went in to find out the gender of my baby, and it was a day that changed my life forever. The ultrasound tech couldn't tell me what was wrong, she wouldn't even tell me the gender of my baby. She kept making excuses to leave the room. She came back, excused me from my ultrasound and told me everything was good to go. I knew something was wrong, I had seen all of my sisters' ultrasounds before, her babies never looked the way mine did.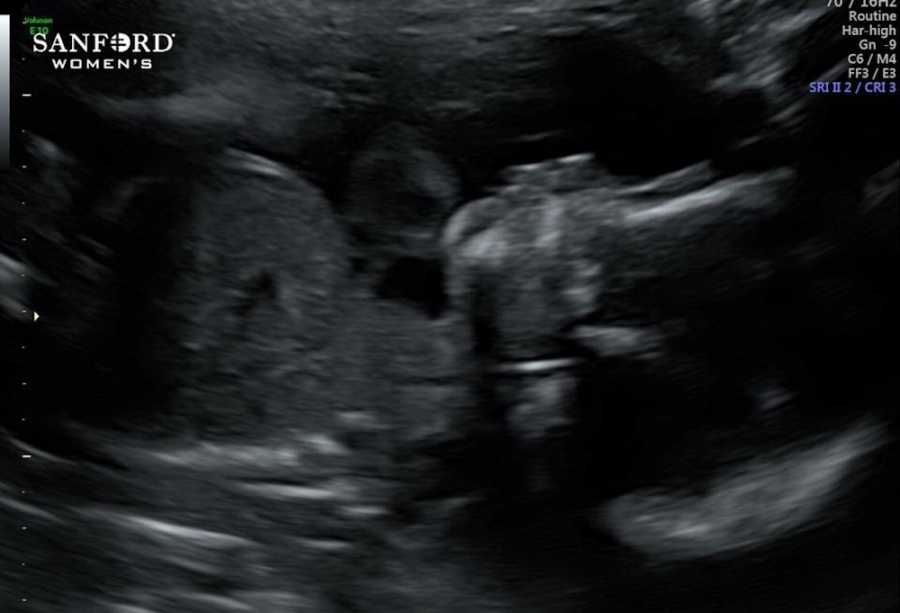 Less than an hour later, I received a phone call from my doctor. She said, 'I'm sorry. There's something wrong with your little girls' chest. You will meet with Maternal-Fetal Medicine Specialist in the morning.' I started bawling, in the middle of a restaurant I was told that my daughter had a heart defect.
The next day, we went to a 5-hour appointment with MFM where it was confirmed, my daughter was the 11th baby in the US, a one in a million. Diagnosed with Ectopia Cordis. Her sternum didn't form, and her heart was floating below her chin. I was asked if I'd like to continue my pregnancy, and that she had less than a 10% chance of making it to delivery. It never crossed my mind to terminate my pregnancy, I continued with an amniocentesis, which came back completely normal.
4 weeks later, we were meeting a team of doctors, a cardiologist, MFM, at Mayo in Rochester. They said they would take my case and deliver my doctor via C- section. The second case to make it to birth.
In our ultrasound in Rochester at 24 weeks, Dylan was diagnosed with partial pentalogy of cantrell, her liver was partially outside.
At 30 weeks, Dylan was diagnosed with complete pentalogy of cantrell, her liver, and bowel, and her heart were out.
At 34 weeks, I noticed my weight gain, I had relocated to Rochester to deliver my baby. The next day, the doctors confirmed the cause for the weight gain. Dylan was diagnosed with Hydrops Fetalis, another fatal diagnosis. Doctors told me she probably wouldn't survive delivery.
Before I knew it, I was being transported for delivery, as I walked down that long hall to the OR there were doctors and nurses lining the hallways, cameras at the end of the hall. I walked into that cold, bright, doctor filled OR. I couldn't believe that this was my life, I kept thinking to myself, this has to be some sort of dream. It felt like something out of a movie.
We delivered urgently the next afternoon. Dylan was born at 3:01 p.m. by a team of 35+ doctors via c-section. Dylan's cardiologist was able to place her heart within her chest, unfortunately, Dylan's lungs were too tiny, and she coded hours after delivery. Dylan was placed on life support. 10 hours later, I finally met my sweet 6-pound 10-ounce, 34-week, miracle baby.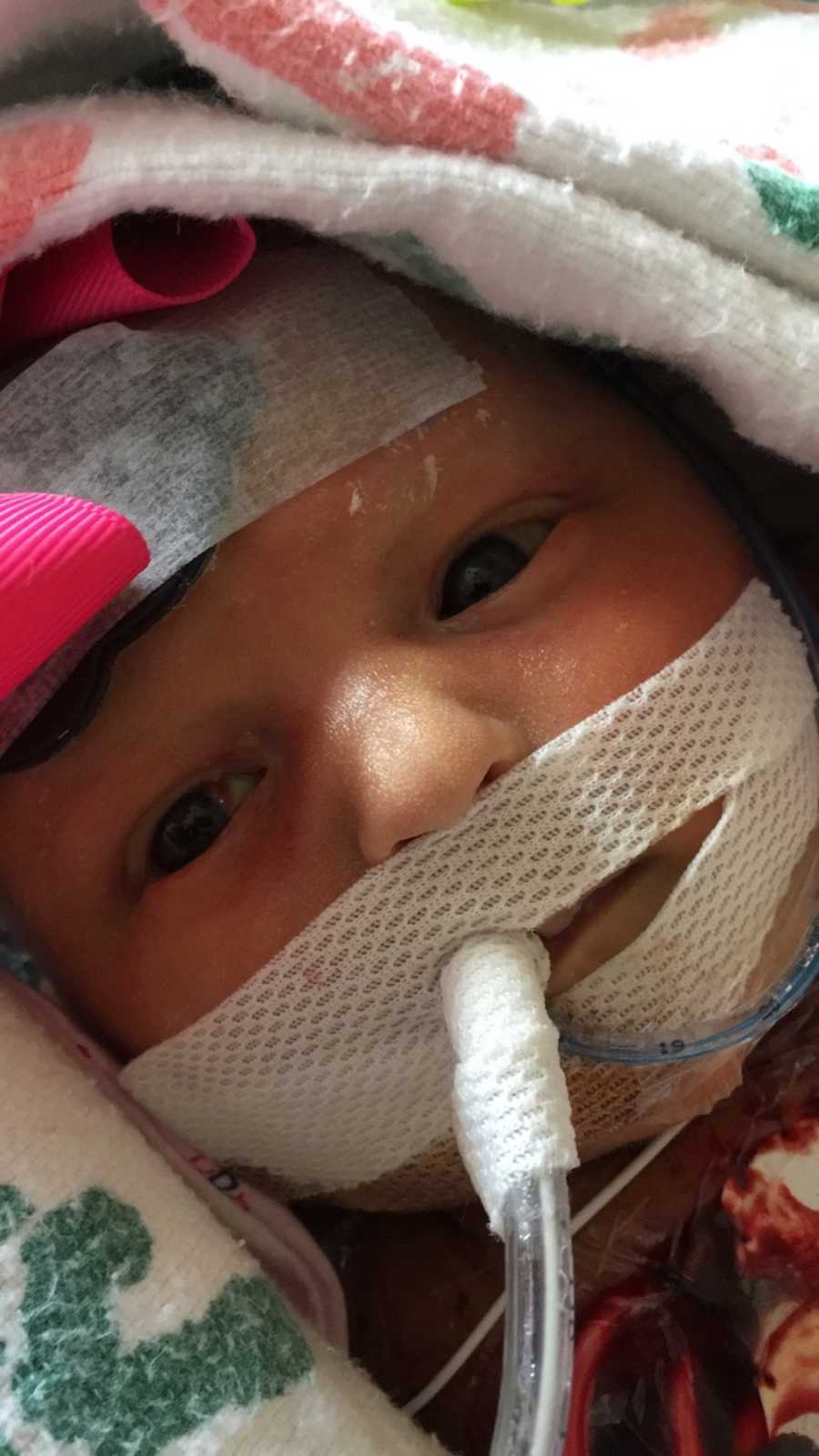 Dylan stayed on ecmo for a number of weeks until the doctors thought her lungs were ready to wean off.
They took Dylan down on September 29th, she accepted the wean and they were going to disconnect for good! As they were taking out her cannulas, Dylan lost a large amount of blood, and again my sweet girl coded. Dylan required blood, and cardiac massage to be brought back. They kept her on ECMO to recover.
The following weekend, the doctors weaned Dylan off of ECMO again. She was finally cannula free!
However, within minutes, my joy turned to sadness as Dylan's numbers started going south, my baby was again, dying right in front of me. Dialysis was taking all of the meds that Dylan needed to survive. She finally stabilized, and I went to the lobby to get some sleep while my aunt Cara stayed with Dylan.
At 1 a.m. that morning, a nurse rushed out to the lobby to get me, Dylan wasn't being ventilated. I went back, doctors and nurses were running back and forth, Dylan was being bagged, the machines were going off continuously. I just stood there, and stared, again knowing I was losing my precious girl.
Dylan's cardiologist arrived at 2 a.m., stabilized Dylan, and was able to keep her off of ECMO. I don't remember much, but I do remember her cardiologist having Lisa (one of my favorite nurses) come out and tell me to take a seat because it was going to be awhile.
Finally, at 4 in the morning I could see her again. The doctor on that night said, 'You really do have a fighter. Her numbers look better than they have all day!'
A few days later, I again had to make a life altering decision. End my baby's life, or give her kidneys a chance?
Dylan became very sick, very quickly. I was sitting beside her bed with her grandpa as her numbers dropped, heart rate was in the 80's. Blood pressure was dipping. I had made the decision to switch to comfort cares. I called the chaplain. He prayed. Dylan's numbers began increasing, her blood pressure went up, her heart rate went up. That was my girl telling me she wasn't ready to say goodbye. I made the decision to place Dylan back on ECMO.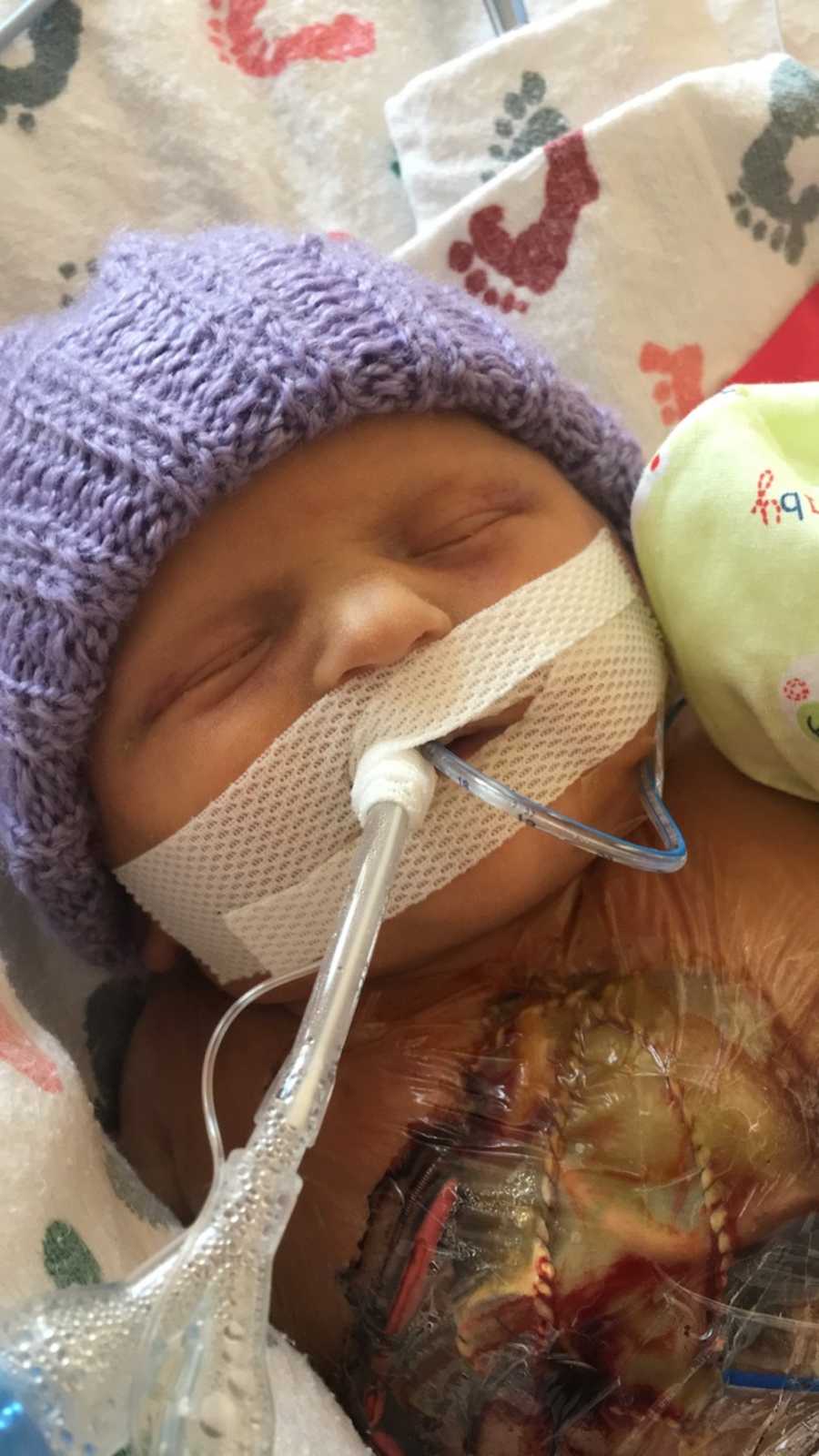 However, Dylan went into renal failure at 44 days old, and it could not be fixed. After battling a stomach rupture, premature lungs, an omphalacele, tetralogy of fallot, ectopia cordis, Dylan's little body just couldn't fight the infection. Her kidneys weren't coming back. What we all hoped wouldn't happen, happened. The infection got within her ECMO cannulas and spread throughout her entire body. Emily told me that I had 2 choices. Take Dylan off of ECMO and she would soon become fluid filled again or turn off ecmo and take out her breathing tube and let her pass peacefully. I stopped her, I didn't want to talk. All I said was, 'Can I hold my baby?' She didn't know that I had never held Dylan before. 42 days without holding her, and my heart was broken, but filled with joy because I finally got to hold her. I don't think I left that room for more than an hour over the next 2 days. I even had nurses feeding me while I cuddled Dylan.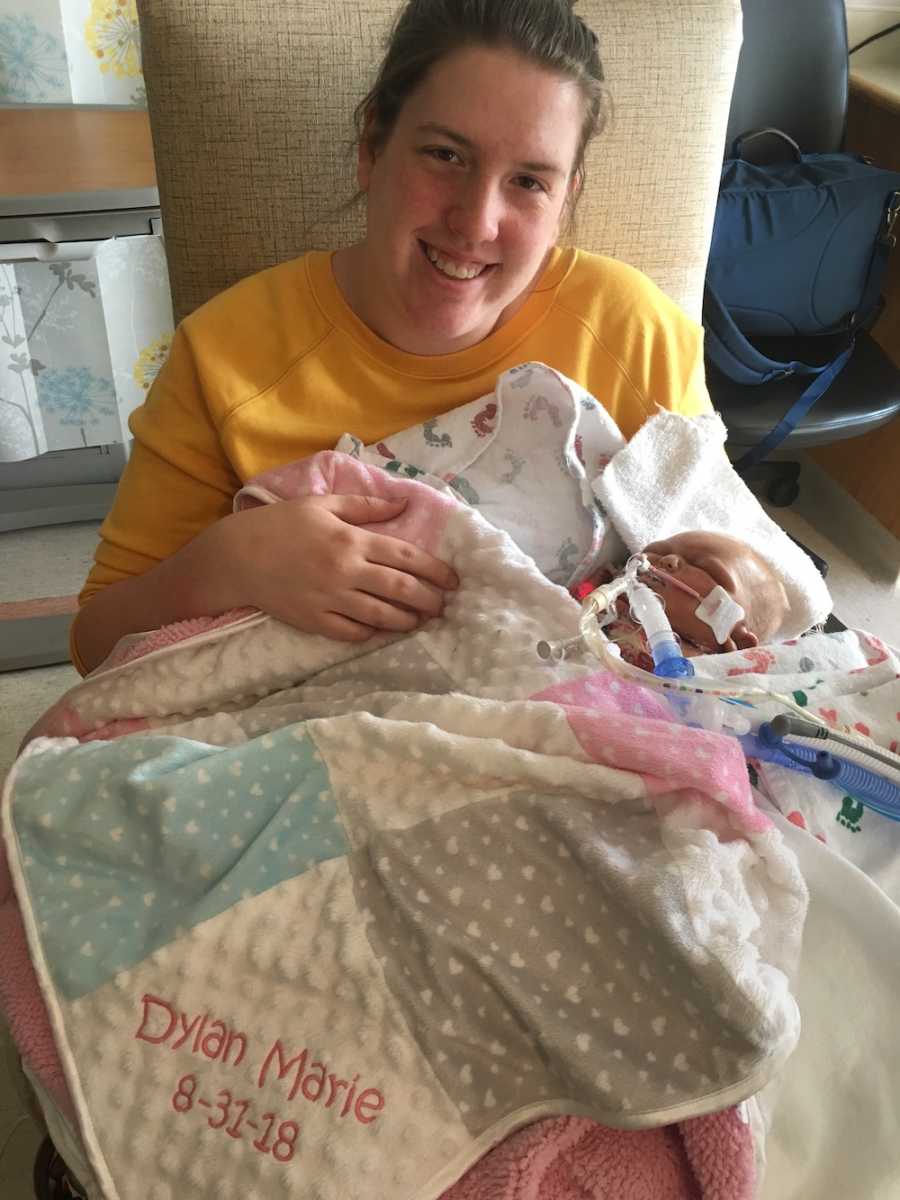 Dylan fought so hard to be here with her family and carrying to term was the best decision I made. I was able to spend 6 weeks and 2 days with my miracle baby. Dylan passed away peacefully in my arms, surrounded by so much love on October 13, 2018.
Dylan changed so many lives, restored so many broken relationships, and melted the hearts of people all around the world, as far as China! I'm forever grateful for the time that I was able to spend with my little Dyl Pickle, and she continues to live on through all of us who love her so dearly."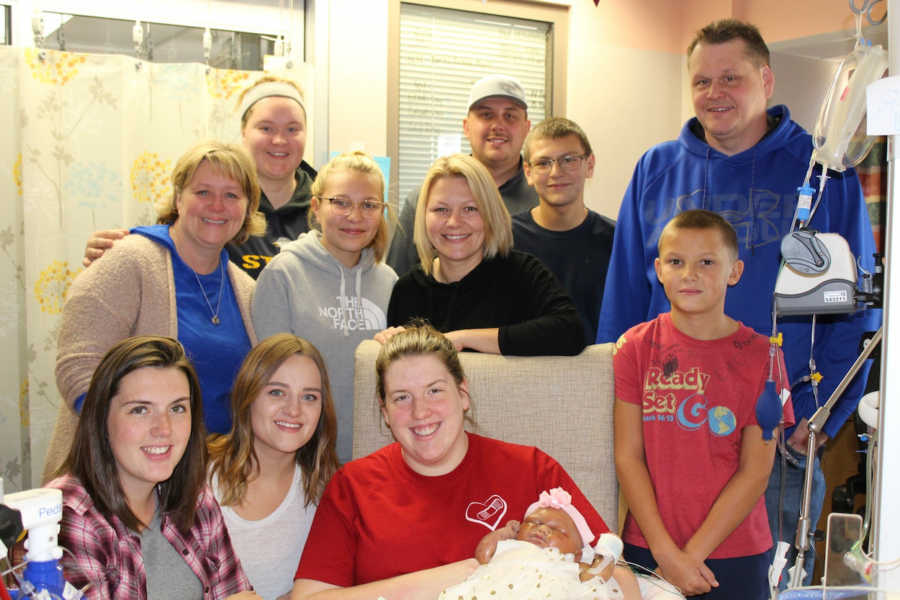 This story was submitted to Love What Matters by Brittany Feller. Submit your story here, and be sure to subscribe to our best love stories here.
SHARE this story on Facebook to encourage others to cherish every moment and love what matters most.