Disclaimer: This story contains explicit details of grief and child loss that may be upsetting to some.
"My wife Samantha and I were married on March 15, 2020 during a blizzard in Mammoth, California on the brink of the Covid-19 pandemic. We barely were able to continue with the wedding and had to change the venue last minute. Everything worked out and it was an incredibly magical event. Exactly two weeks prior we found out Sammie was pregnant. Immediately following our wedding, we came back home to Las Vegas, Nevada due to our honeymoon in Jamaica needing to be postponed because of the world essentially shutting down.
I started working from home most like thousands of others. I also picked up a second job delivering pizzas for Marco's Pizza to save money for our future baby. Sammie continued to work as a nurse all the way up until the day before she went into labor. We found out on May 8, 2020 that we were having a boy. We were both ecstatic about our little family growing. I was so happy and honored the Buenger name would live on. Being able to work from home provided me the unique opportunity to be around more to help my pregnant wife and, in the future, to have more time with our son.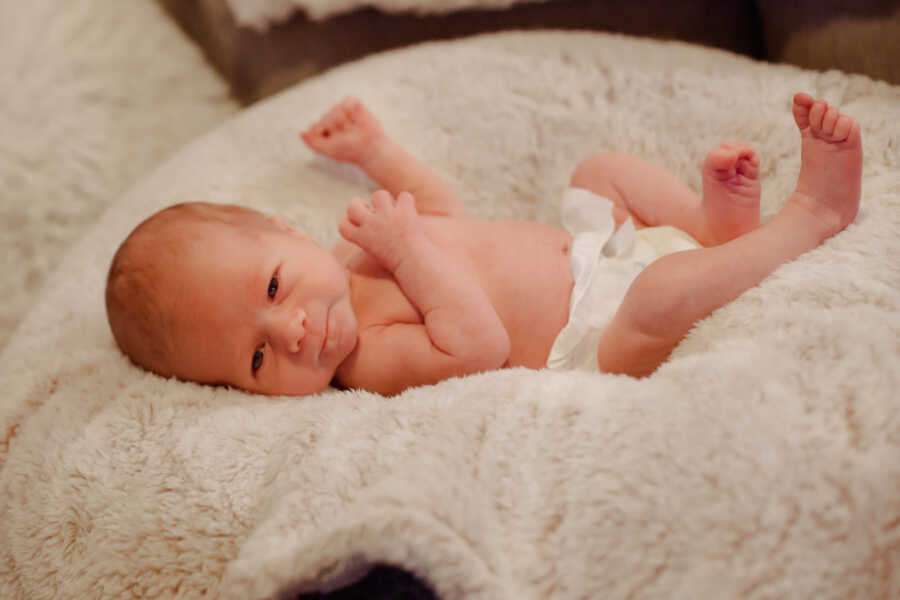 We purchased our first home in early September 2020 and quickly moved in to get the nursery all set up. Sammie's water broke on October 22nd during the 2020 Presidential debate between Donald Trump & Joe Biden. We rushed to the hospital, and after a grueling 36-hour labor, we welcomed our sweet and precious baby boy Cameron Jackson Buenger at 2:51 a.m. He weighed in at 6 pounds 6 oz and was 21 inches long. The feeling of witnessing your child being born is so incredibly amazing. Our lives were instantly changed, and we were both so in love. Our family was complete.
Sammie's Father Marty fell at home and hit his head on a trash can by his chair on December 15, 2020. Just a short 2 weeks later Sammie, her Mother Jacqueline, our son Cameron, and I witnessed Marty take his final breath on a very cold and gloomy day on December 27, 2020. During those 2 weeks, Sammie and I brought our son Cameron over every day to visit with his Grandpa. Marty was 87 years old and had been fighting Parkinson's disease. We were extremely grateful he was able to meet his grandson Cameron and was also able to attend our wedding earlier that same year. I know it meant so much to Sammie to be able to give her dad a grandchild.
To help let Sammie grieve and take some extra time to cope with the passing of her father, I decided to tend to Cameron throughout the entire night so she could get more rest. He was a little bit older than two months at the time and he was just starting to smile and showcase his personality. I was really starting to get the hang of having a newborn and being a Dad. I sincerely enjoyed this special time I had with my son. Little did I know he would be gone soon as well.
My wife's mother Jackie offered to watch our son Cameron overnight on January 5th, which gave Sammie and me the opportunity to go out to dinner and get out of the house. We went to our favorite Sushi restaurant Jenga. We had a wonderful evening enjoying each other's company. This would be the last time we ate at that establishment.
At 2:21 a.m. Sammie's phone woke me up vibrating over and over. I never wake up during the night because I am such a heavy sleeper. I picked up her phone to see who was calling and it was Jackie. I handed the phone to Sammie and said, 'Babe, it is your mom.' Sammie picked up the phone and I will never forget her saying frantically over and over, 'The baby is not breathing.' As we both jumped out of bed in a panic and rushed to put our clothes on, I couldn't help but assume the worst that our baby boy was gone. Jackie had recently relocated after her husband Marty passed away selling their home of 26 years to a high-rise apartment complex a little over a mile down the road from our house. That quick drive over to her complex felt like it took forever.
Upon entering the apartment, I saw Jackie on the hardwood floor conducting CPR on Cameron. He was in his diaper and his body was pale with a grayish color and his lips had a blueish tint to them. I immediately pushed Sammie away to the right of me in an attempt to block her from witnessing the devastating sight. EMTs and several Las Vegas Metro Police Department officers rushed in after us as Jackie had called 911 earlier. They attended to Cameron and told us to wait outside. I will never get that image out of my head, nor will I ever forget that feeling. A few minutes later they came out and let us know our son was gone. He had passed away in his sleep. His cause of death was determined by SIDS, which stands for Sudden Infant Death Syndrome.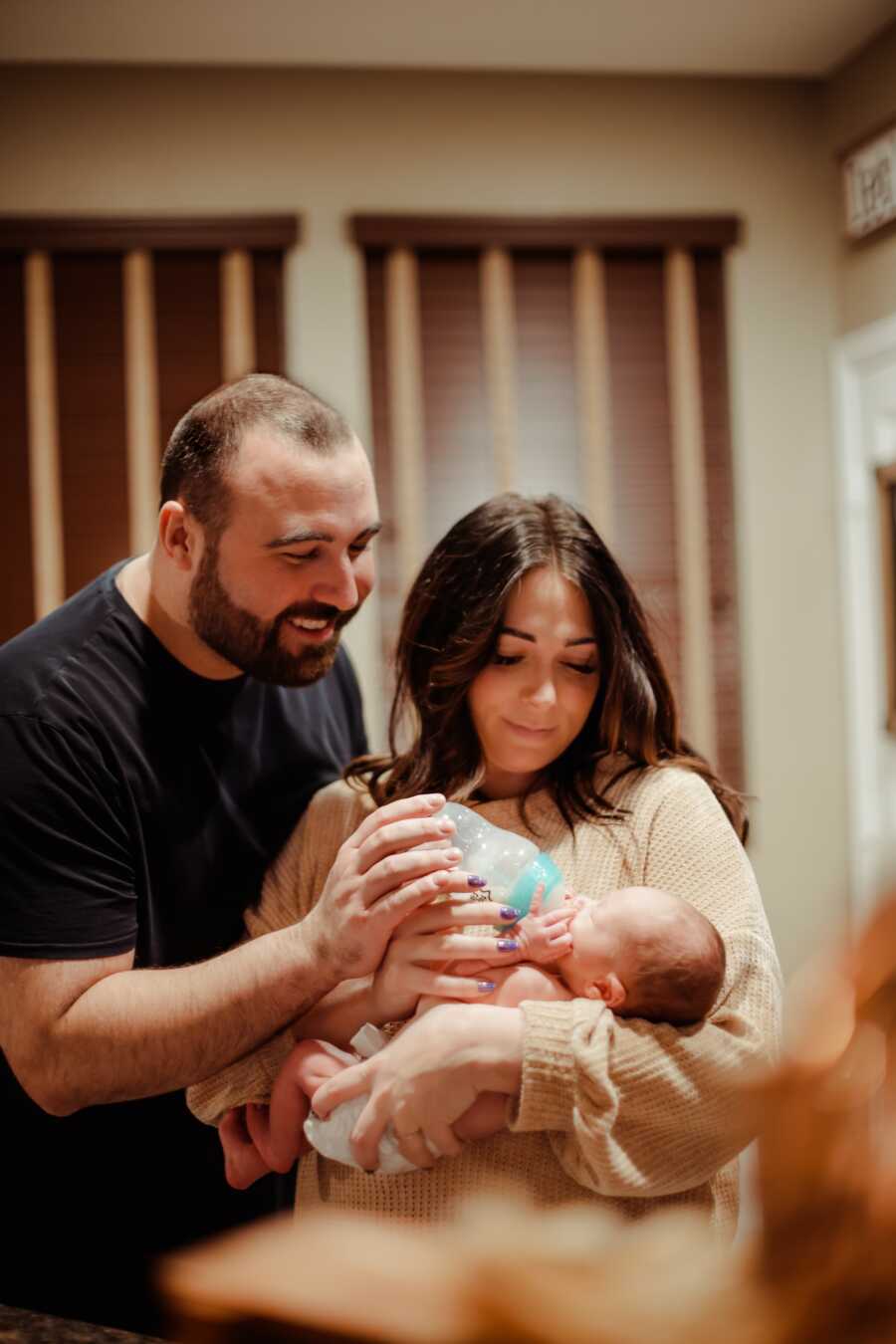 SIDS is the unexplained death, usually during sleep, of a seemingly healthy baby less than a year old. Our world was shattered and came to a standstill as we cried and screamed in the hallway. I couldn't control my anger and started punching and kicking the walls. The officers had to intervene to try to calm me down. I was in disbelief. About an hour or so later after talking with the officers and the coroner I had to make some of the most difficult phone calls ever to my family and boss. My family literally dropped everything and drove from Modesto and Sacramento, CA to Las Vegas, Nevada.
For hours we waited outside crying hysterically while they checked the scene. They even made Jackie reenact everything with a baby doll. It was utterly the worst day imaginable. We had to stand around and wait until the afternoon when they told us we could see him and say our goodbyes. He was cold to the touch and full-body rigor mortis had set in. Even though he was wrapped in a blanket I could still feel his cold and stiff body. That was most definitely not the way I intended seeing my son for the final time would be.
SIDS is a condition future parents hear about, but you never think it will happen to you. Unfortunately, that was not the case for Sammie and me. The next month was a blur. Family and friends were constantly staying with us at our house or trickling in and out. Sammie and I were never left alone for the initial 4-6 weeks after the tragedy. To this day I cannot say thank you enough to my family and our friends who were there for us during our lowest and worst days/nights. My sisters left post-it notes all over our house with positive quotes and reassuring thoughts for us. To this day they are all still up. Also, both of our jobs let us take all the time we needed to properly grieve and did not ever rush us back to return.
My co-workers from Progressive Insurance collected their PTO to donate to me to cover my time out. Sammie's co-workers from Spring Valley Hospital did the same. I have never even heard of that process and did not even know it existed. We are both forever grateful for that as well. Those were the darkest days/nights ever. I remember going into his nursery at night sleeping on the floor just to be closer to him. We have never cried so much collectively in our lives and have never been so vulnerable. Throughout the whole ordeal, the amount of human kindness, empathy, and compassion endured was truly moving and humbling.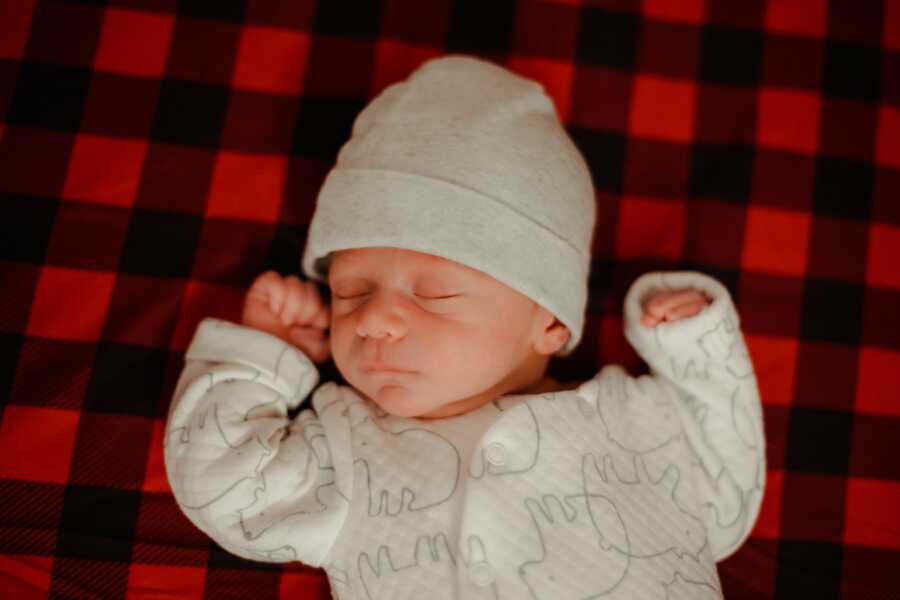 Once our family and friends had left to go back home and things quieted down around the house, we decided to do some traveling. We flew to Clearwater, Orlando and Siesta Key, Florida for about 4 or 5 days for some new scenery. It was pretty much the furthest destination from home while staying in the country, but we couldn't have left the country even if we wanted to due to the travel restrictions from the coronavirus. Upon arriving at the hotel, as we were walking to our room, there was a mural on the wall that said, 'You are exactly where you need to be.'
We knew we had made the correct decision with our destination, and I strongly feel Cam had something to do with that. Other than doing all the touristy things, we both got matching tattoos in honor of our son Cameron. We tried to go out and explore every day but there were times when we could not gather enough strength to leave the hotel room. Being away was healthy for us mentally but once we came back home, we were reminded again of our miserable reality that our son was still gone.
We both went back to work towards the middle or end of February. Going back to our normal routine seemed like the right thing to do in hopes of not getting over our loss but learning how to live with it. I was a few days back to work when I got a call from my Dad that my Uncle had taken his own life. His hip surgery kept getting pushed back and rescheduled due to Covid. From my understanding, the pain was just too much to endure for him. I could not believe what had happened and honestly barely had any emotion or tears left to give. I was so done. Talk about being kicked while you are down.
We went back to my hometown in the central valley of California to visit my family in Modesto and Oakdale. It was the first time being back home since my son had passed. It was extremely difficult on me and was super emotional being there knowing my son should have been there with us. Oakdale is a very small town and while we were out one day, I ran into someone I knew. As they approached luckily my friend was next to me who intervened as I froze up. I left in a rush hyperventilating as I went towards the bathroom. I was not ready to be in a situation like that yet.
On Easter Sunday we found out Sammie was pregnant. We both held each other crying shedding tears of joy, hope, and fearfulness. Although it was amazing news, it scared the hell out of us. Getting pregnant after infant loss is equally exciting as well as terrifying. Those nine months push your mind and psyche to the extreme. All the things you could ever think of going wrong are constantly in your thoughts. It is extremely difficult to be enthusiastic and optimistic for the twins while you are still grieving the loss of your 10-week-old baby. All we kept thinking was Cam and Marty had hand-picked these miracle twins to be sent to us and tried to be as optimistic as possible. A quote I was told to try to ease my mind was, 'Lightning never strikes in the same place twice.' Time will tell if this is true or not.
On November 4, 2021, Rory Wayne Buenger and Reagan Cameron Buenger were born 5 weeks premature, 2 minutes apart, and both 18 inches in length. Two of the most beautiful babies. Our miracle rainbow fraternal twins.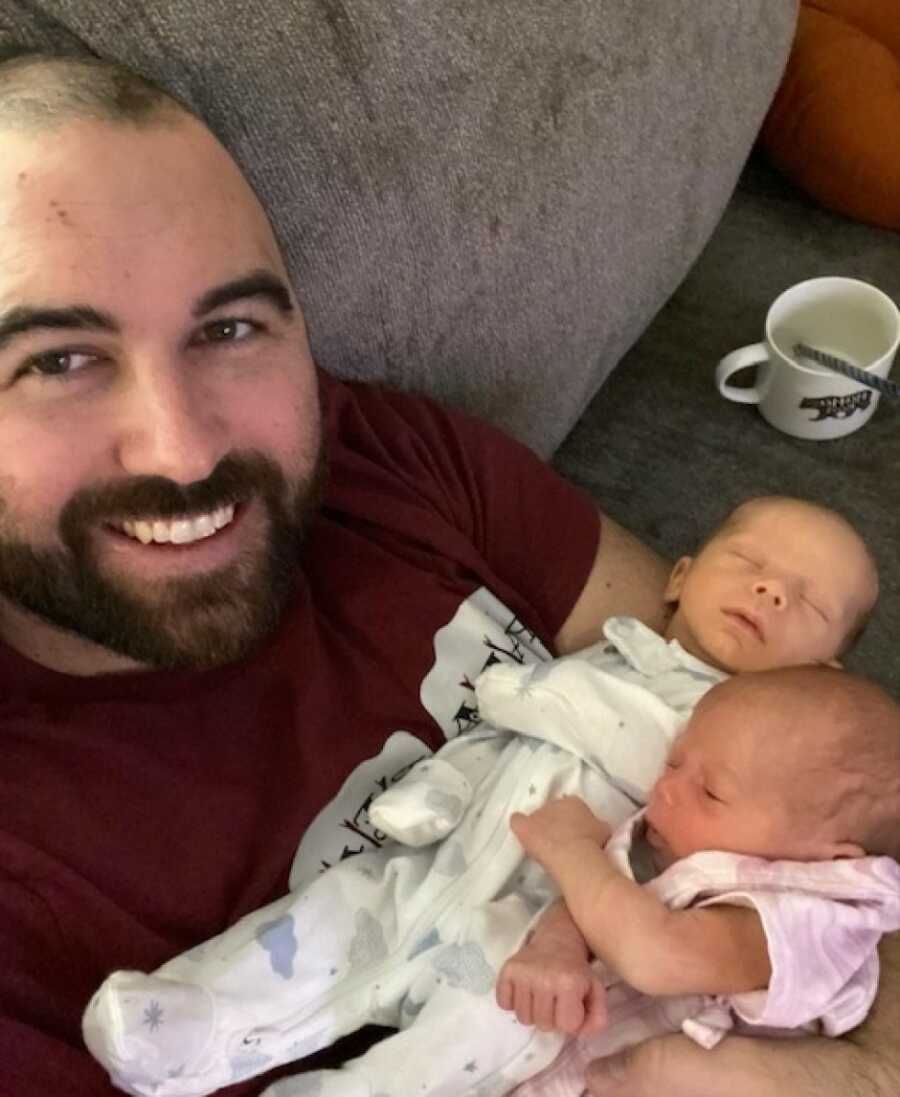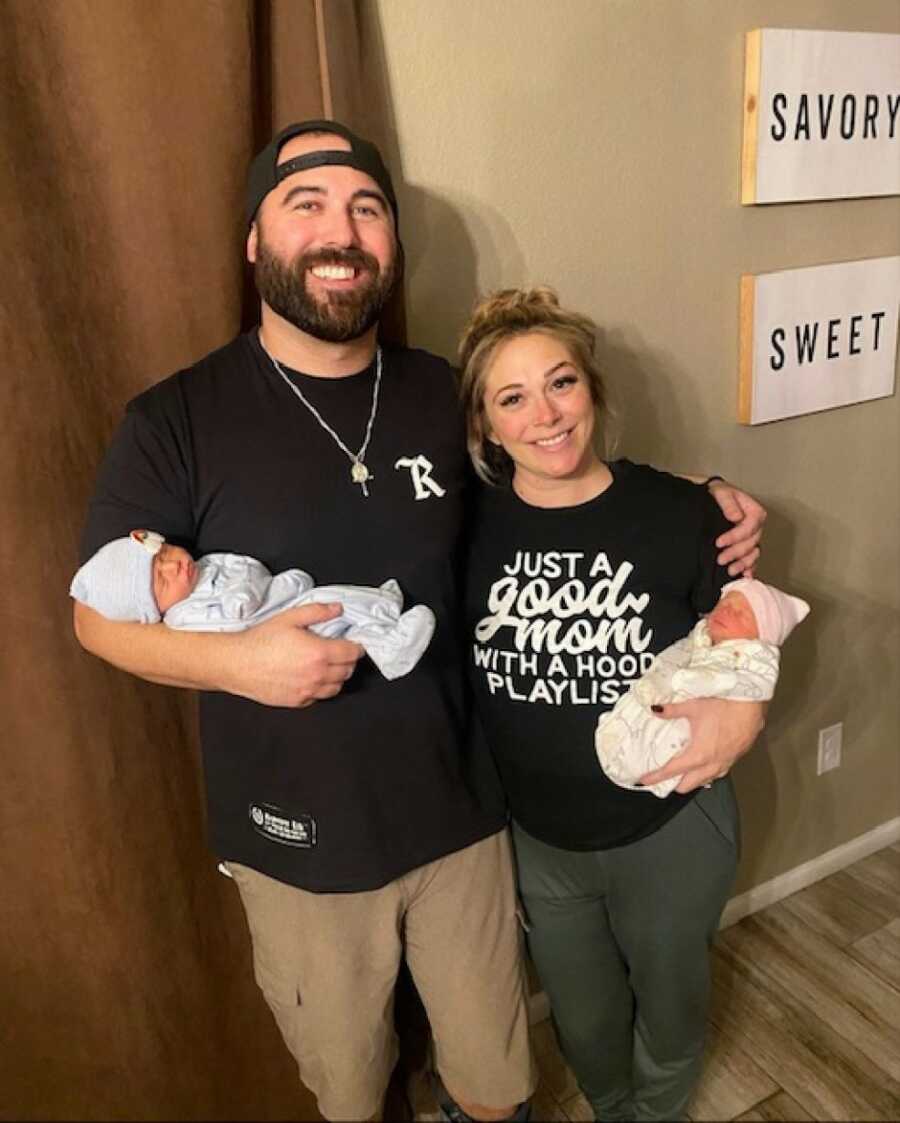 You cannot control what happens during your lifetime, but you can control how you react. Tough times don't last, tough people, do. We choose to honor our son every day, spread awareness, and keep living. We could have simply chosen the easy way out but that is not who we are. The comeback is always greater than the setback. Without the daily support from our friends and family, none of this would have been possible. We are extremely grateful, thankful, blessed, and humbled by the constant outpouring of support from everyone and even strangers.
Our twins just turned 3 months old on 2/4/21. They have brightened up our home again and brought purpose back into our lives. We are so obsessed with them and are soaking up every single minute with them. Life is 10% what happens to you and 90% how you react to it. Never give up. Always remember, 'Through every dark night, there's a bright day after that.'"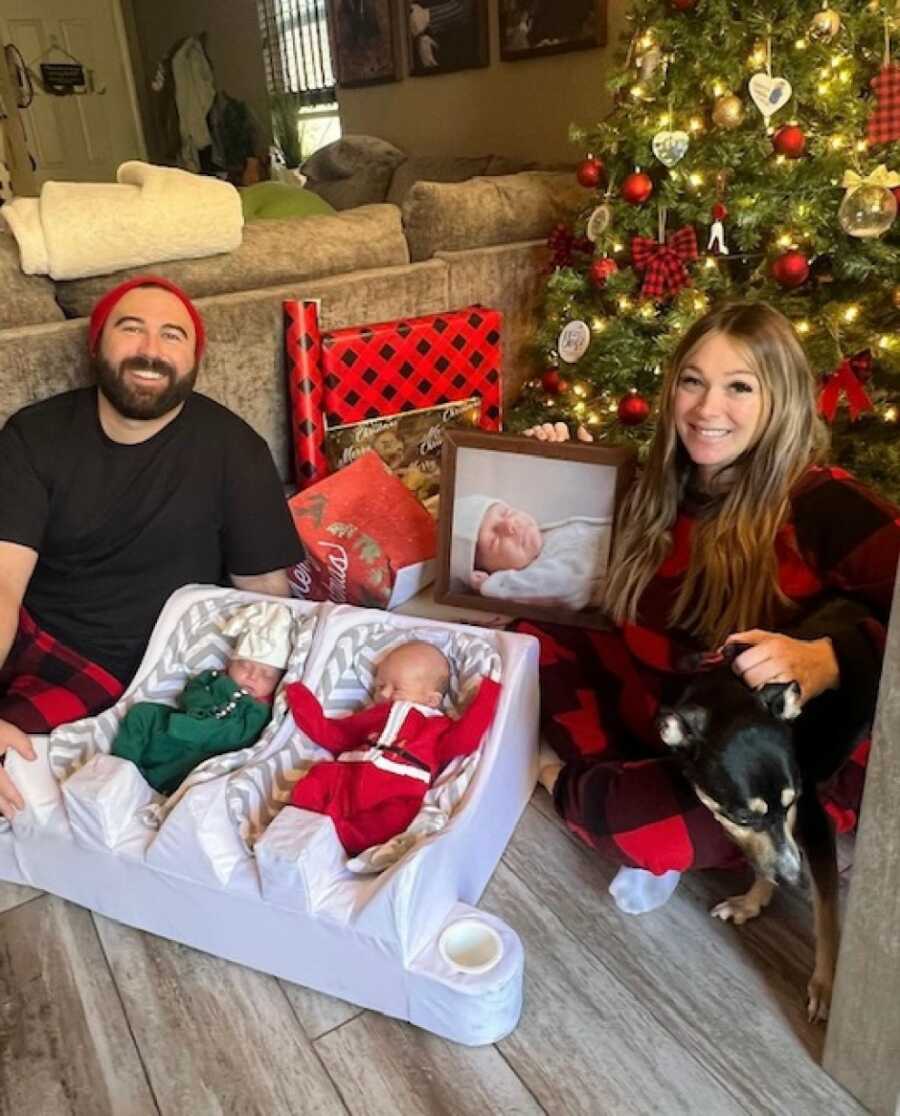 This story was submitted to Love What Matters by Michael Buenger. You can follow his journey on Instagram and website. Submit your own story here and be sure to subscribe to our free email newsletter for our best stories, and YouTube for our best videos.
Read more powerful stories of parents working through child loss:
'I went into my son's room to wake him. I could sense something wasn't right. I remember the pallor of his face as I turned him over. Grey. Porcelain.'
'When we lost her, we lost our way completely. The day she died, my heart didn't break – it disintegrated.': Baby dies of SIDS at daycare; family heals by choosing to 'make the world a kinder, more loving place in her name'
'My son was 4 days away from 8 months old. Never one health concern, happy and brighter than the sun itself. I was in total bliss. Then, just like that, it was gone.'
'The cold room smelt like bleach. It felt so wrong. 'She'll be returned to you in a carboard box.' We dropped to our knees.': Mom loses 10-month-old daughter to SIDS
Do you know someone who could benefit from this story? Please SHARE on Facebook to let them know a community of support is available.