"Unlike other fathers who became expert stylists for their daughters (and sons should it apply), my adventures in hair are quite minimal. And a part of me is embarrassed to admit it!
For whatever reason, I could not get into it. Was it the effect of growing up with three sisters? Did I subconsciously accept my talent limitations? Did it require patience I could not come to muster?
Ultimately, none of that is relevant to telling my story of how hair has brought my daughter and I closer together. And how the coronavirus pandemic has brought everything full circle. As such, I wanted to reflect on a few things.
My daughter and I were cleaning out our basement recently when we came across the mannequin head I bought several years ago to practice different hairstyles. I wanted to be ready to meet each of her hairstyle wishes. However, I think we ended up getting more use out of it as a funny prop than a tool to teach me how to work with long hair.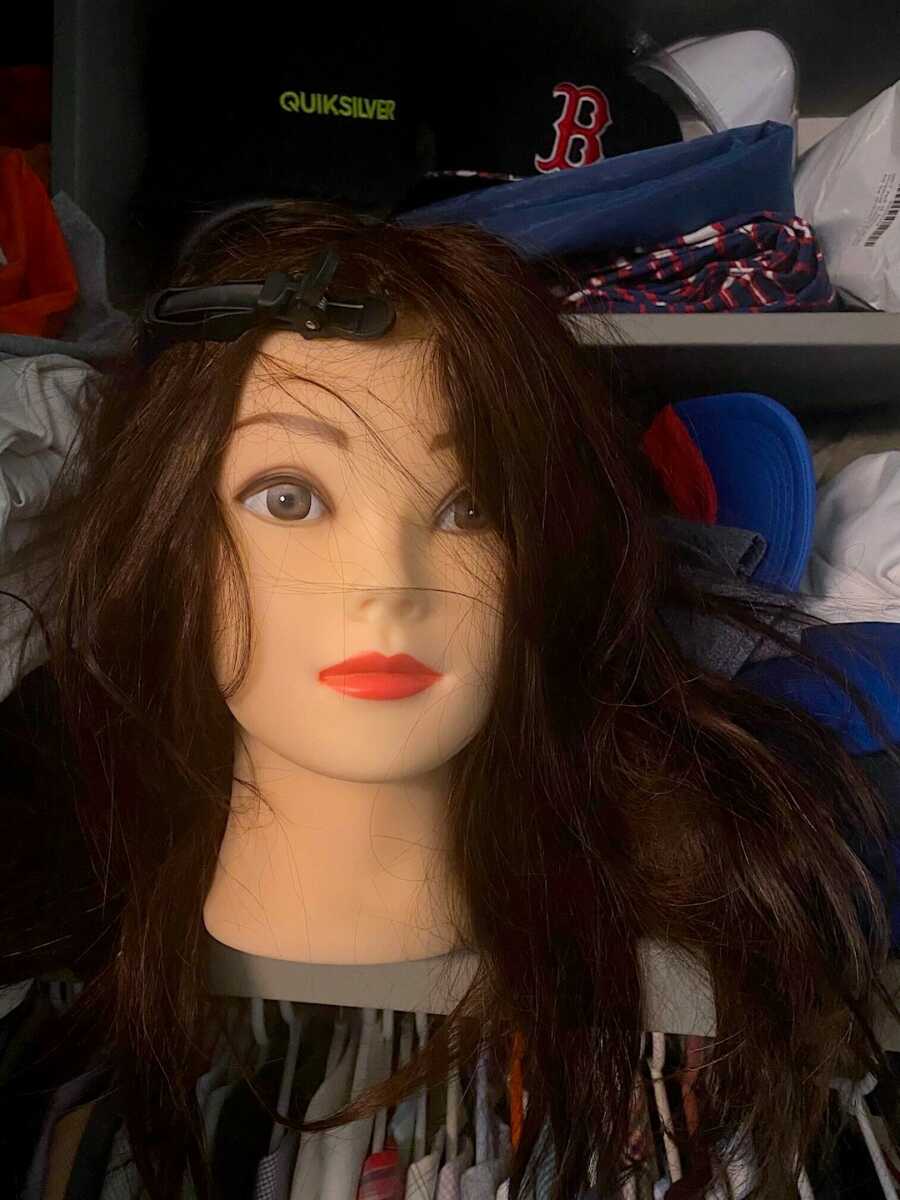 It probably goes without saying but, remember, many men never grow long hair, so it's not typically a proficiency that is mastered. This was about as long as it got for me, and it was very front loaded as you can see, lol.
I pride myself on being able to meet all my daughter's needs and wishes, even the ones that have been traditionally addressed by the mother. I think any parent (especially a single one) should want to broaden their skill set to provide their children what they desire – whether the competency comes natural or not. But hair styling? Just. Can't. Do. It.
It's funny. The older her and I get, the more we couldn't believe how outrageous her hair looked in many of our earlier pictures. Shampoo. Dry. Brush. Done. That was about it. Every once in a while, I would jam a barrette in there or, if she was disappointed with her appearance, she would throw on a headband. Kept it real simple.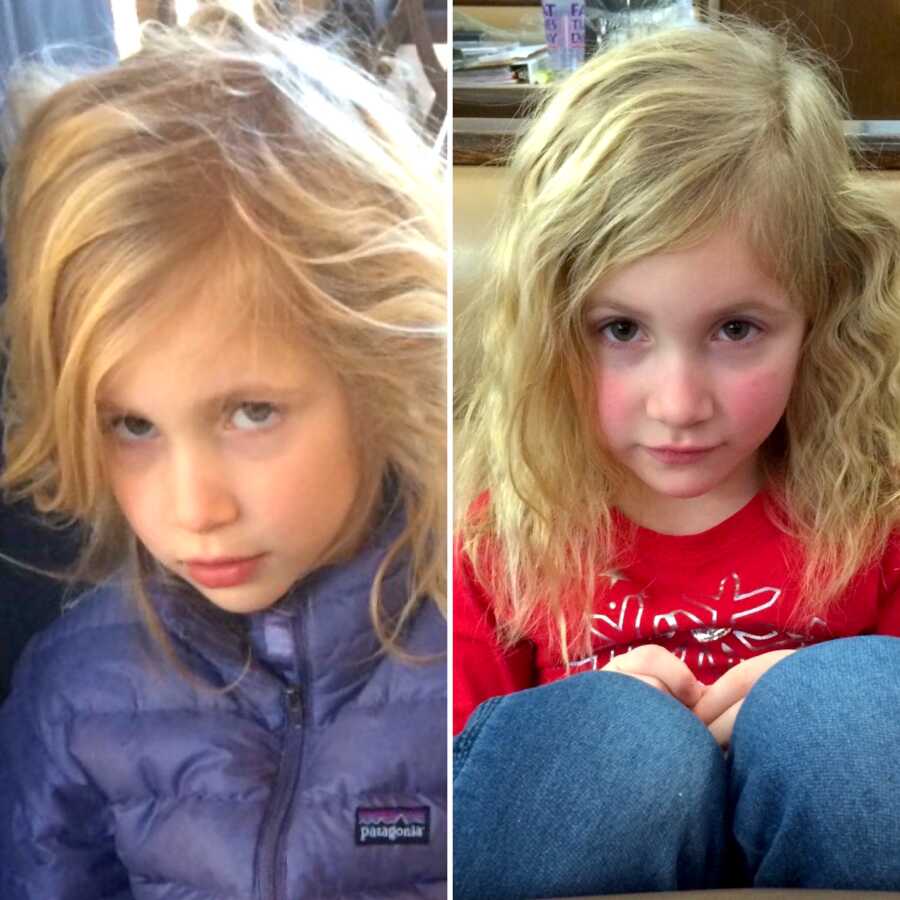 I can vividly recall one time we were on a 4-hour train ride home from New York City and she asked me to braid her hair. I sort of knew the steps but had never done it before. I struggled my way through it and then she asked me to take a picture of it and show her. I'll never forget her cute little voice saying, 'That's really good, Daddy. I'm proud of you.' And that was the first and last time I tried any type of styling. Maybe the memory is so fresh because this was my only real father-daughter hair moment? It was just time to retire. I wanted to go out on top!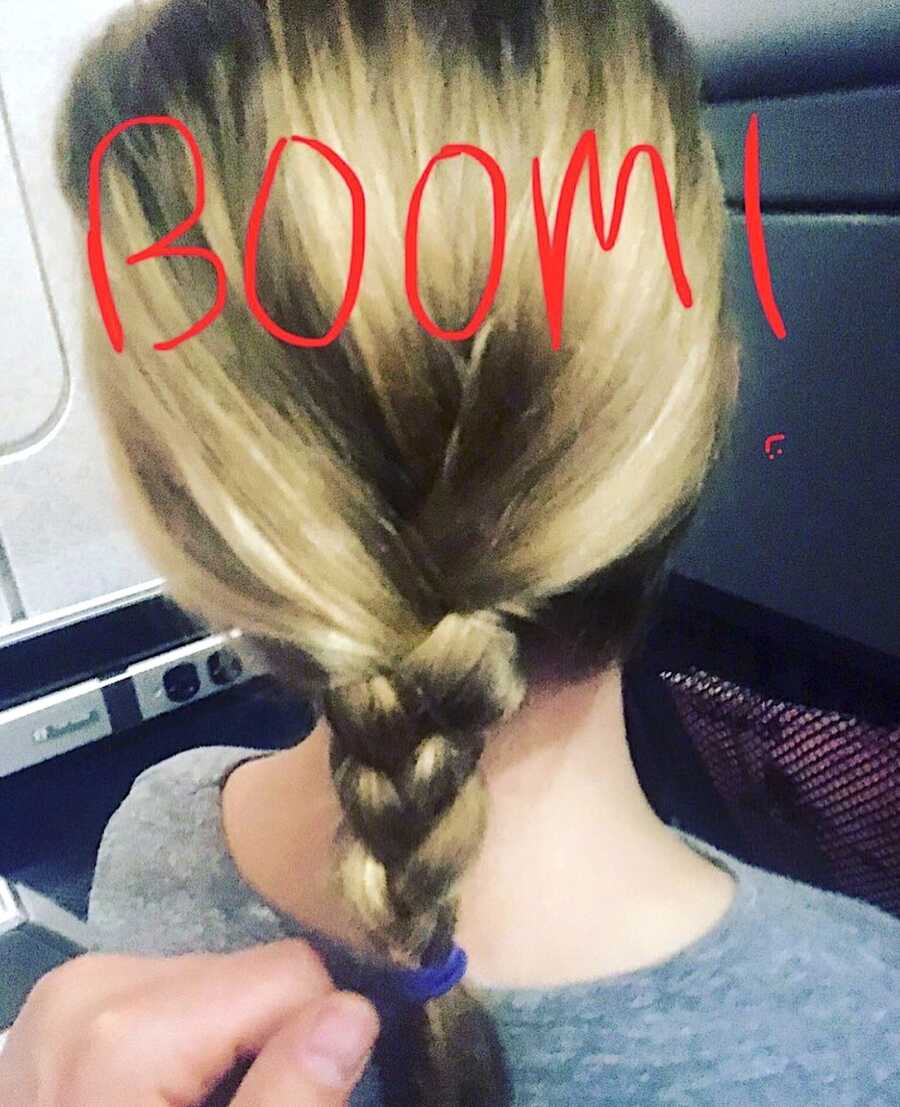 As she got older, getting out of the shower and just letting it dry was not an adequate option anymore. Her mom was doing high pony's and pigtails and fancy braids. Dad was still going with the air dry and 'do-nothing' method. You could tell she was getting frustrated and it started to lead to tears.
Again, a part of me is ashamed to admit it, but I could not motivate to learn. I could put her hair in a medium quality ponytail, but nothing special. My solution was that she needed to learn how to do it herself. Was that selfish? Maybe. Was it encouraging her to be more independent? Probably. Either way, we needed to work our way through this one so the tears of defeat would cease.
So, my solution was this. Ask women. What tips and tricks could I accumulate within my network? I know there is a lot out there on the internet but it's overwhelming. I needed a simple and fast solution that an 8-year-old would be open to. So, I asked. And my community responded. 'Lay upside down on the bed.' 'Hold the hair tie this way.' 'A detangler really helps.' We tried it all until something finally clicked with her. I'll never forget the first time she did it on her own. She was elated, and it was almost as if she appreciated me more for teaching her rather than doing it myself. These are small, but big wins for single dads.
This is just one example of the challenges single parents face. But it's not a big deal. Being the world's greatest hair stylist does not indicate success in a parent-child relationship. They will undoubtedly get frustrated by a split household dynamic, so you have to be prepared to work through it. One of the ways I did this was to become the hair coloring parent. I could brush and massage in some hair dye – I mean how hard is that? She loves it. It's something I don't mind. A little creativity and there you have it, a win-win.
But now for the best part of the story! The real hair magic came from giving her the opportunity to play with mine. Brushing it as a 2-year-old making me 'look pretty,' along with a little lipstick (though most of it never hit the lips…) to really make me shine. When I would go too long without a haircut, she would get excited about squeezing a hair tie into place. It made her laugh so hard!
I feel we have just about outgrown the hair playing days, which is bittersweet as her dad. So, I wanted to go out with a bang! The circumstances of the pandemic helped in this scenario, since my hair is out of control. So, the other day, I let her have one last go at it. The pictures can take us the rest of the way home…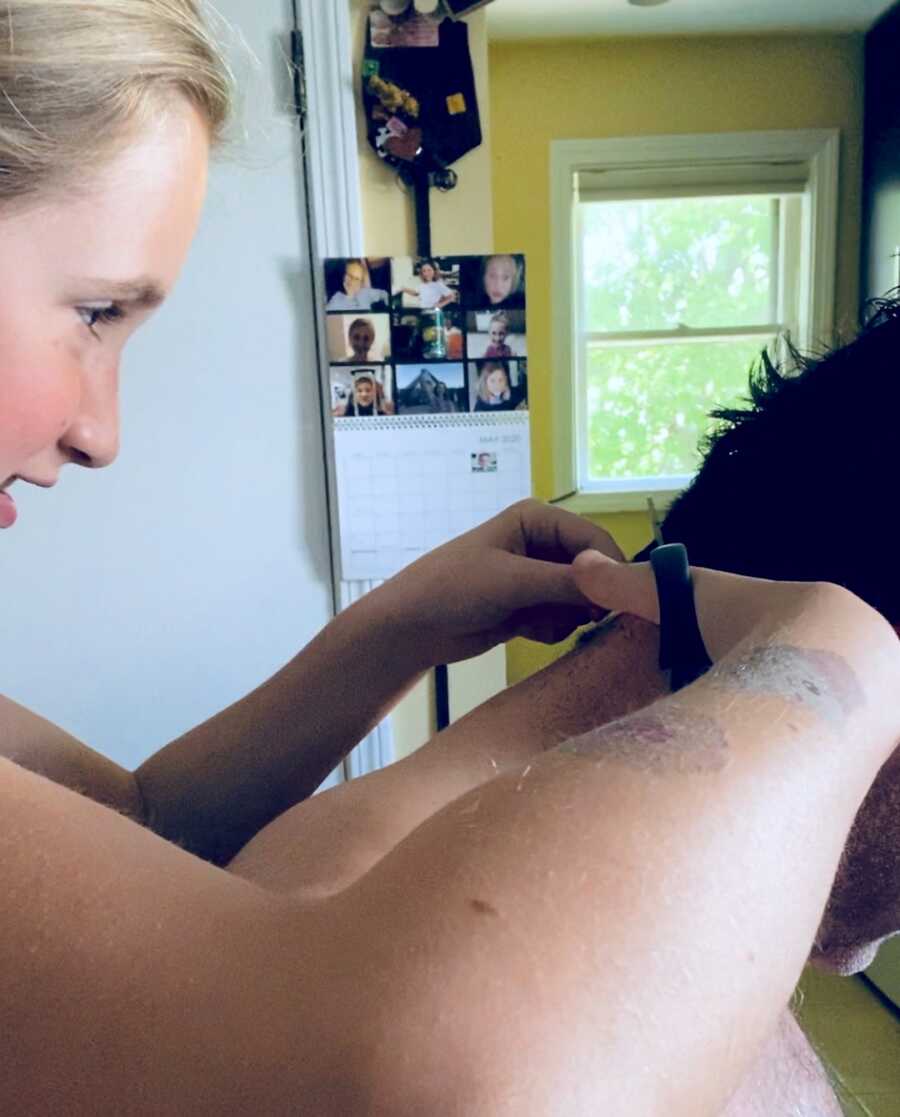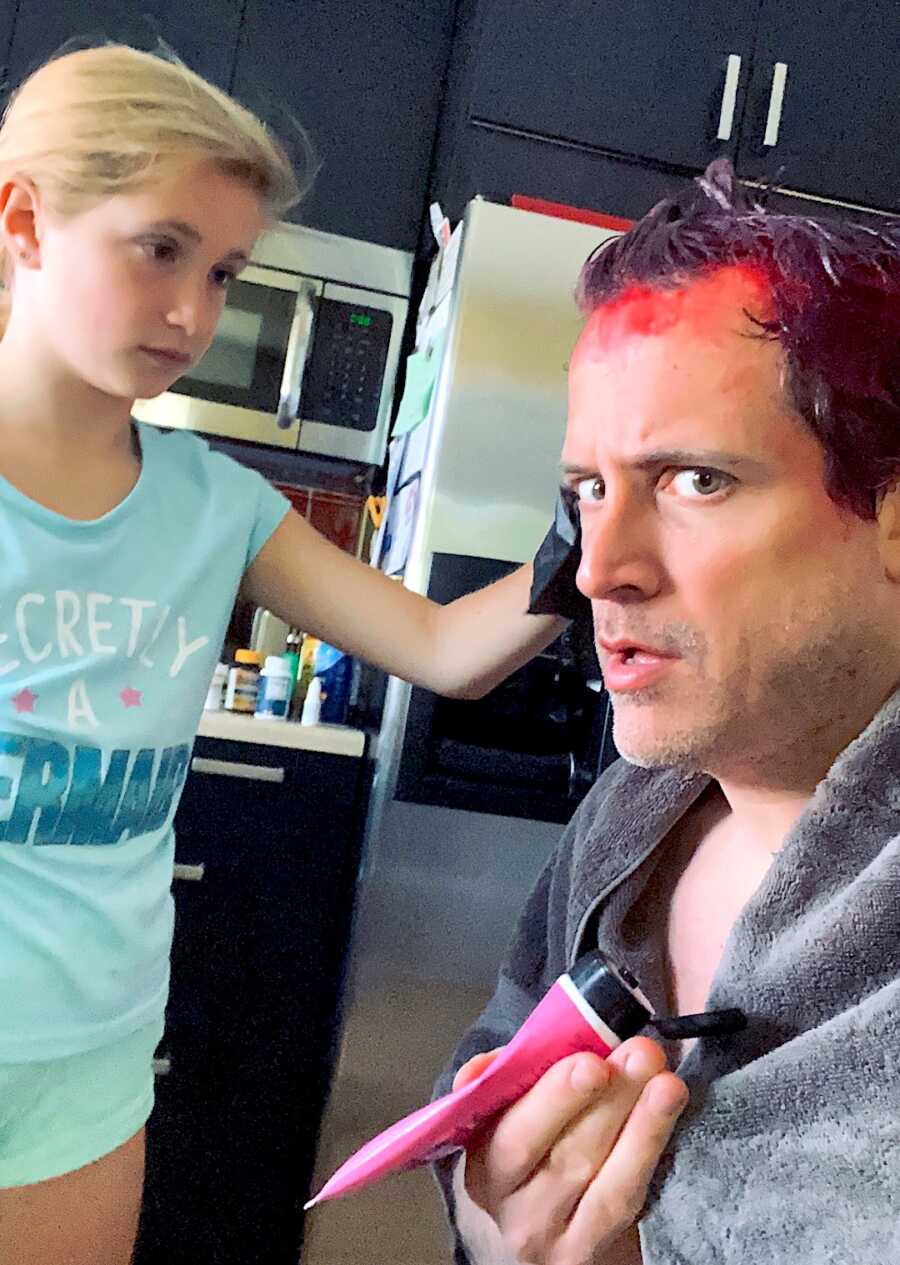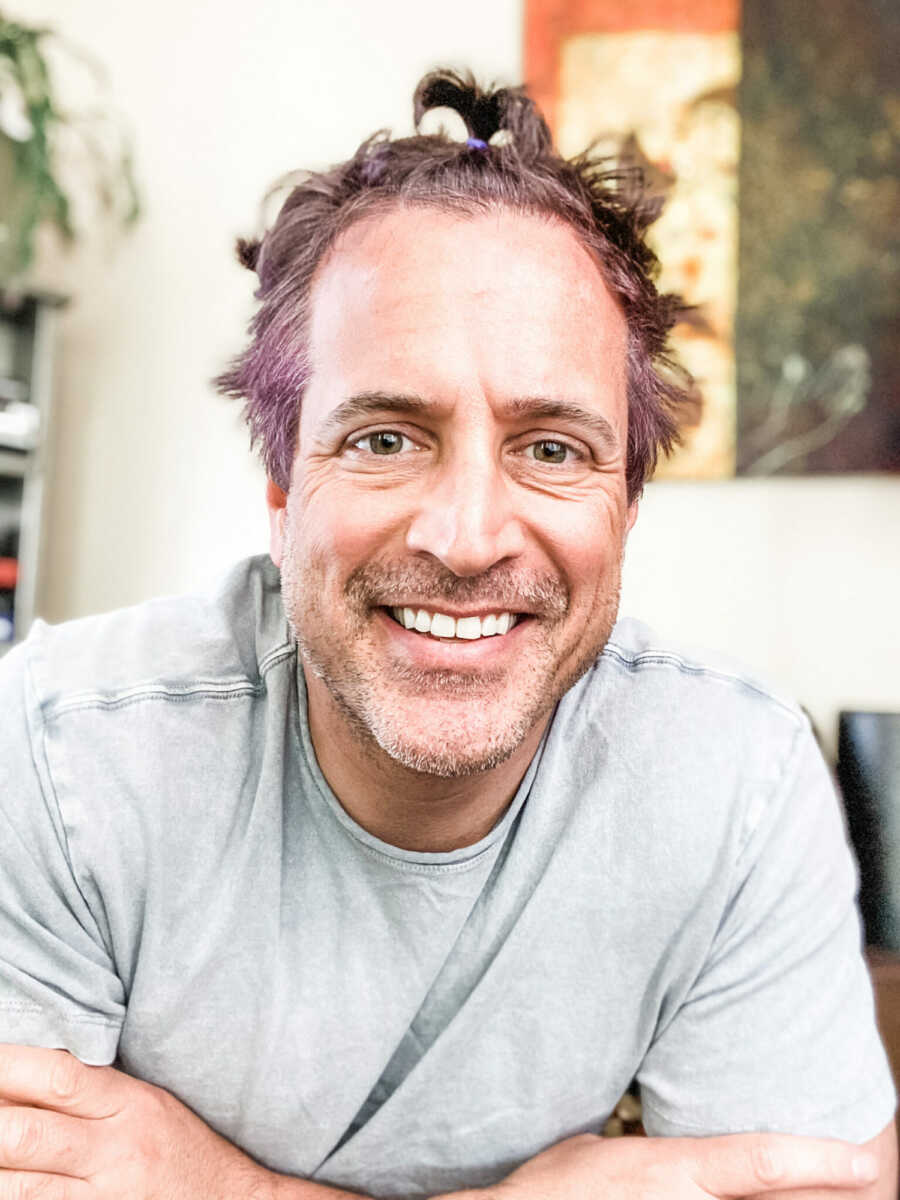 RIP rat tail. Oh, how she hated it. And can't say I blame her!
Moral of the story? Always try to find the positive in everything while you accept you won't be able to do everything 'successfully.' And flip the script if you need to create some magic. In the end, it's all about adding more special moments to your memory bank."
This story was submitted to Love What Matters by Damon D'Arienzo of Massachusetts. You can follow his journey as a single father on Instagram, Facebook, and his website. Do you have a similar experience? We'd like to hear your important journey. Submit your own story here, and be sure to subscribe to our free email newsletter for our best stories.
Read more from Damon here:
'I had to leave. I had to be a single dad to be a better father for my daughter.': Single dad explains his relationship was 'vulnerable, beyond repair,' despite being determined to have a 'strong co-parenting relationship'
'It's not fair,' my daughter said, tears welling up in her eyes. I'll never forget the first holiday I spent without her.': Single dad determined to make splitting holidays work, 'We were together and that's what matters'
'He was more than a friend. He was her protector. The one at school to rescue her from a tough day. I will never forget him.': After daughter loses close friend, dad remembers his legacy, 'He will live on in us'
'What could your excuse possibly be, Dad? You've known about the dance for weeks!': Single father says dads aren't 'showing up' enough, 'I am doing all I can to cherish her'
Provide strength and encouragement for other single parents. SHARE this story on Facebook with your friends and family.