"It wasn't always like this. I was married, young, having fun, then the 3 kids came. Life changed, my priorities changed, our priorities changed, and we grew apart. I soon found myself divorced, financially constrained, and a single dad.
I was very fortunate to end up with primary custody of my children. If you asked me when I started this journey 4 years ago, I would have told you, 'It was a piece of cake.' In retrospect, I had no idea what I was getting myself into. I thought I was perfect and had it all figured out. But I didn't. It took a little bit of time for me to take a step back and realize I was and would make mistakes, whether it was being a father, getting back on the dating scene, or just trying to stay afloat mentally.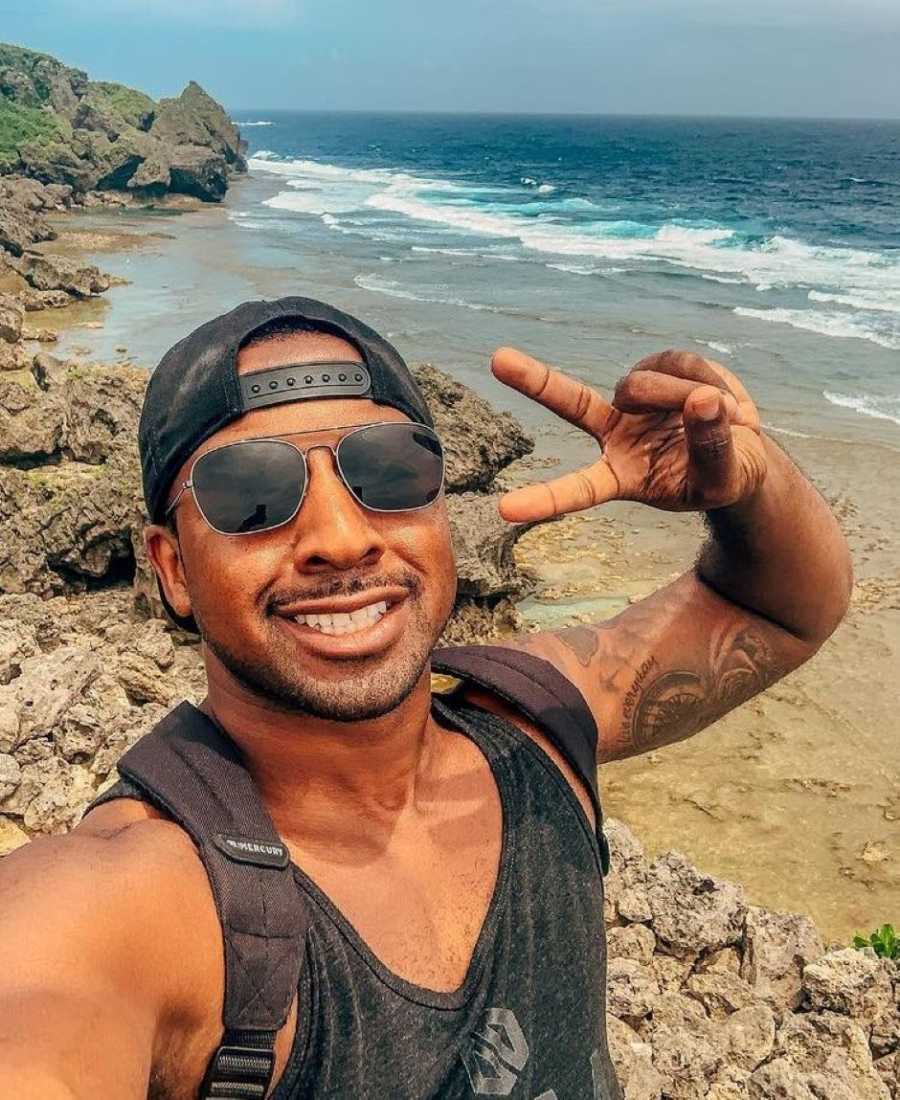 I didn't date much before I married my ex-wife. So I never really had much experience on the dating scene. I recall my coworker convincing me to get on dating apps to explore and see what was out there. Funny story…so, I'm swiping right on everyone and finally match a person. I'm excited but she's not my type. She wants to meet for coffee and thinks I'm cute. I don't know the rules to dating in this new age. So because I match I think I must meet her or at least keep this conversation going until my co-worker explains. That I'm not married to them, I'm not obligated, and it's okay to just tell them in a nice way I would rather not meet.
I began to use the dating site, but the one thing I'm proud of is when I began, my kids never knew; I was able to keep both lives very separate. My good friend Brent would jokingly call me 'Darkwing' (the Disney Cartoon Character) because during the day I was this hero dad balancing being a good father and superhero. But at night, If I had arranged for a babysitter, I was in the streets fighting crime (going to comedy shows, dates, concerts, and bars). On these dates, I would find that women appreciated I was a single dad and my kids were with me the majority of the time. The idea of that is amazing since not many fathers have primary custody, let alone an African American father.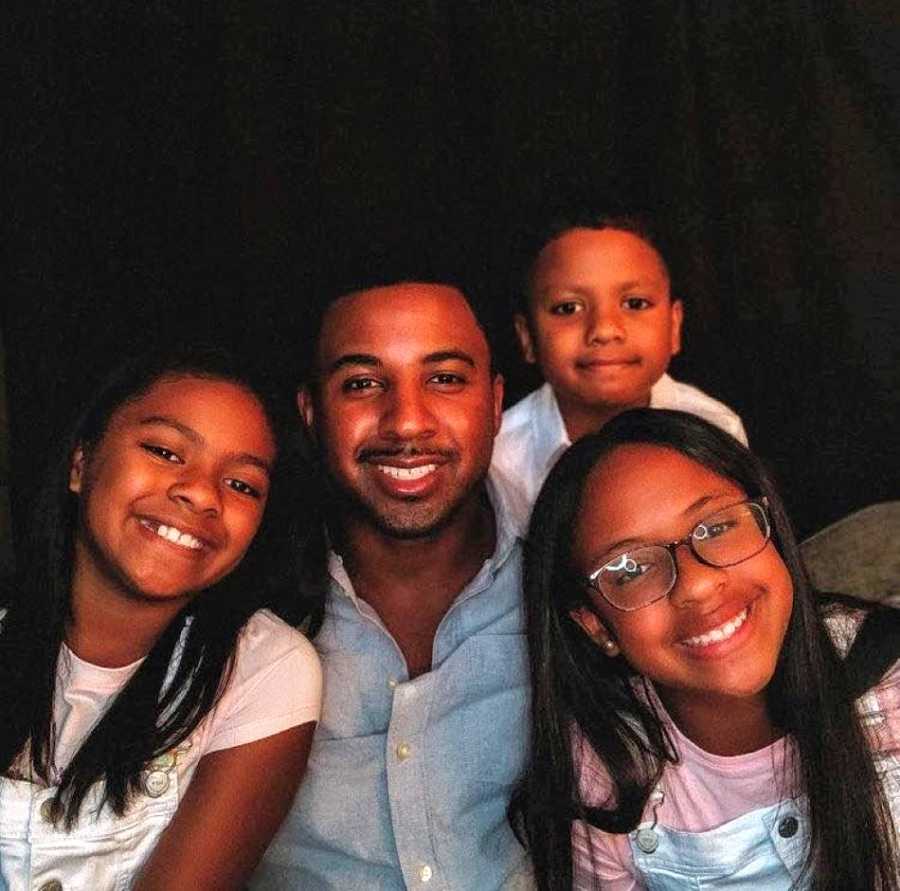 As nice as the initial attention was, reality would set in. See, most men are available at their potential suitors' beck and call because they don't have to worry about finding someone to watch their kids. My issue, similar to most single moms, was if I wanted to see someone I would have to find and pay a babysitter (which wasn't an issue when my ex and I were in the same city due to standard visitation days). But eventually, it became one because the individuals felt I didn't and couldn't make time to see them because to me the kids came first and introducing them to anyone whose intentions were not genuine wasn't optimal. Often any chance of romance would fizzle out quickly because I didn't want them to get attached to anyone whose intentions were not pure.
We were very unstable from 2017 (when my divorce became final) and over the next two years until 2019. The kids lived between 5 different houses and went to 3 different schools and said goodbye to friends constantly. In my head, the last thing they needed was growing attached to a woman who they would view as a mother figure just to have her eventually not be around, too.
Every chance I got, I would take them out of the house and we would go to the beach, trampoline parks, amusement parks, movies – pretty much anywhere I could keep their mind off the divorce or the fact it was just me in the house. Also, mentally it gave us a break from work and school and the complete chaos the rest of the day would have in store for us. Because as soon as I got home, it was time to cook, take baths, comb hair, etc. I was mentally, physically, and spiritually tired. I prayed for some stability in my life, as I was living paycheck to paycheck, still trying to dig myself out of the financial hole the divorce put me in.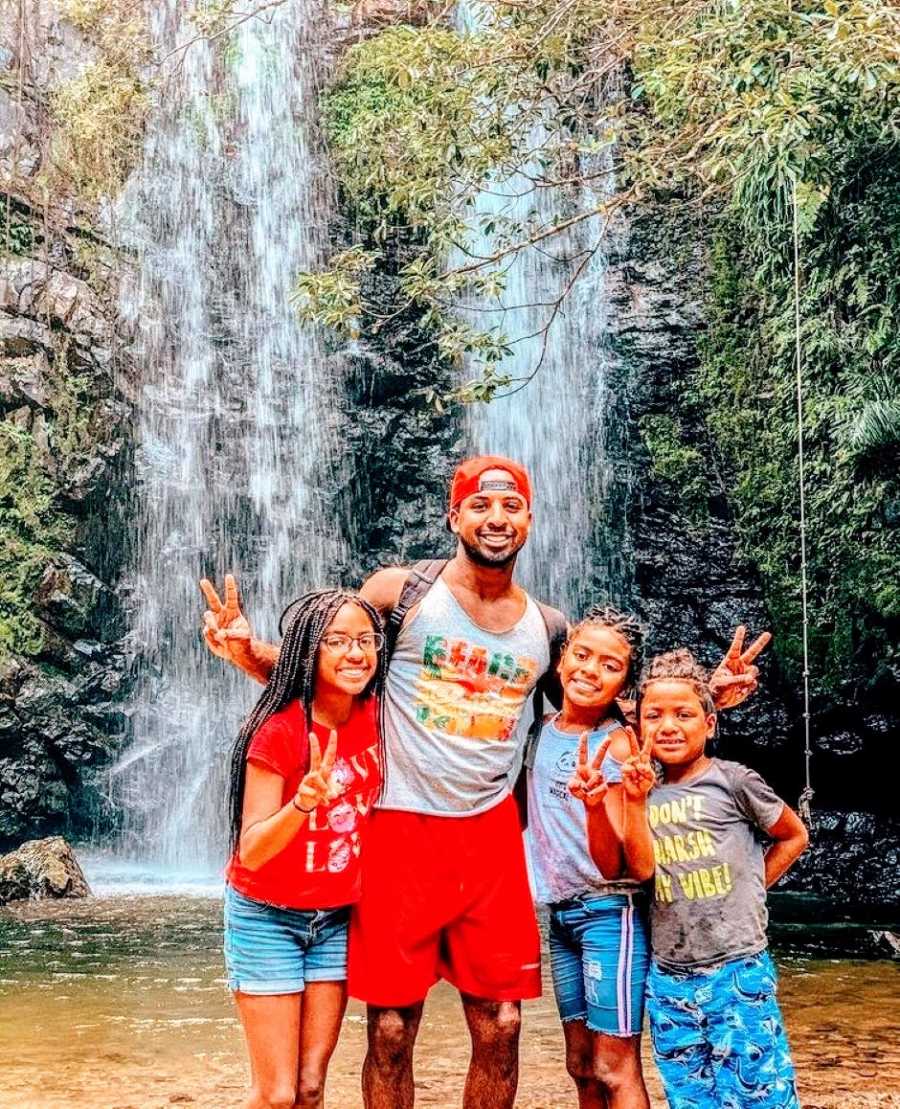 We would get an opportunity for some stability when my job moved me to Okinawa, Japan. We arrived ready to explore the island and travel across Asia. But plans changed quickly, just after a few months of being here. People around the world began to get sick. Then people on our beautiful island began to get sick. There was a worldwide pandemic called Covid-19. This would cause us as a family to stop and deal with all the emotions we never had a chance to process.
Here I was a single dad, trying to manage a work center, be an elite performer, raise 3 kids, date, and now I was being told I have to be a school teacher, too. My older children Jaliyah, 11, and Jakari, 9, didn't want to do homework and didn't understand the online work. I don't know about you, but when I grew up, I didn't do core math. I could look at 10×10 and automatically knew it was 100, but now I'm being told I have to use blocks and add 10+10 multiple times. I grew very frustrated which meant the kids were frustrated. My Google search engine was going to be used for every answer to check because I honestly didn't know all the answers.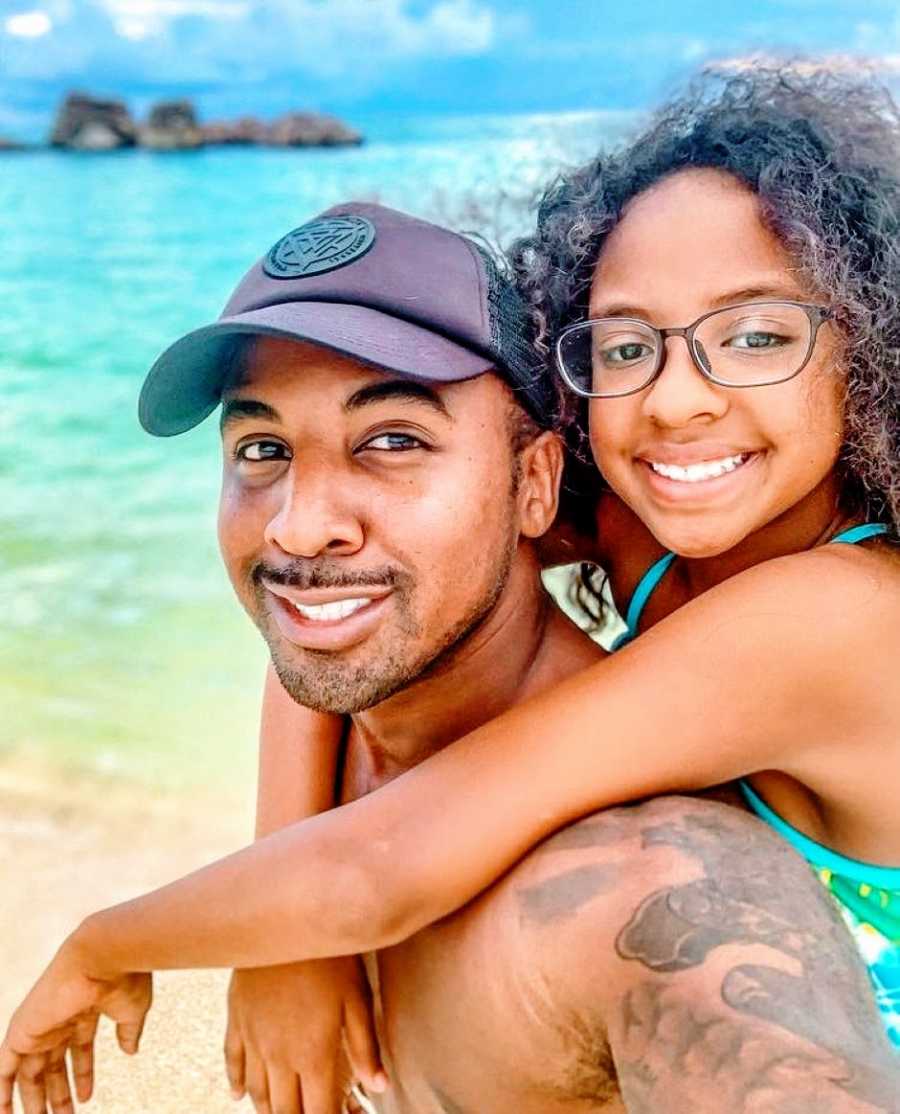 With the kids being home as well, we got an opportunity to finally sit down and get to know each other and express feelings. I didn't even take into account that when I got divorced, I dealt with it. I went to counseling and had people to talk to. But who did the kids get to talk to? Did the kids get to express themselves? Did I take the time to understand how they were coping? I'll be honest – I didn't.
It wasn't until I was watching Keeping Up With the Kardashians and they were at dinner on a Sunday as a family and they would share what their 'peaks and pits' of the day were. This inspired me. It was an exercise that  would help the kids and I recall at least two things that happened in school at work; for better or worse. These conversations allowed each of us a moment to have center stage at dinner with no distractions and be heard. It was these conversations where I learned difficult truths: I wasn't perfect, I wasn't aware my son felt alone at times, my daughter wore my sweaters to school because she felt I was with her hugging her when she was feeling down, and my oldest had anxiety with change.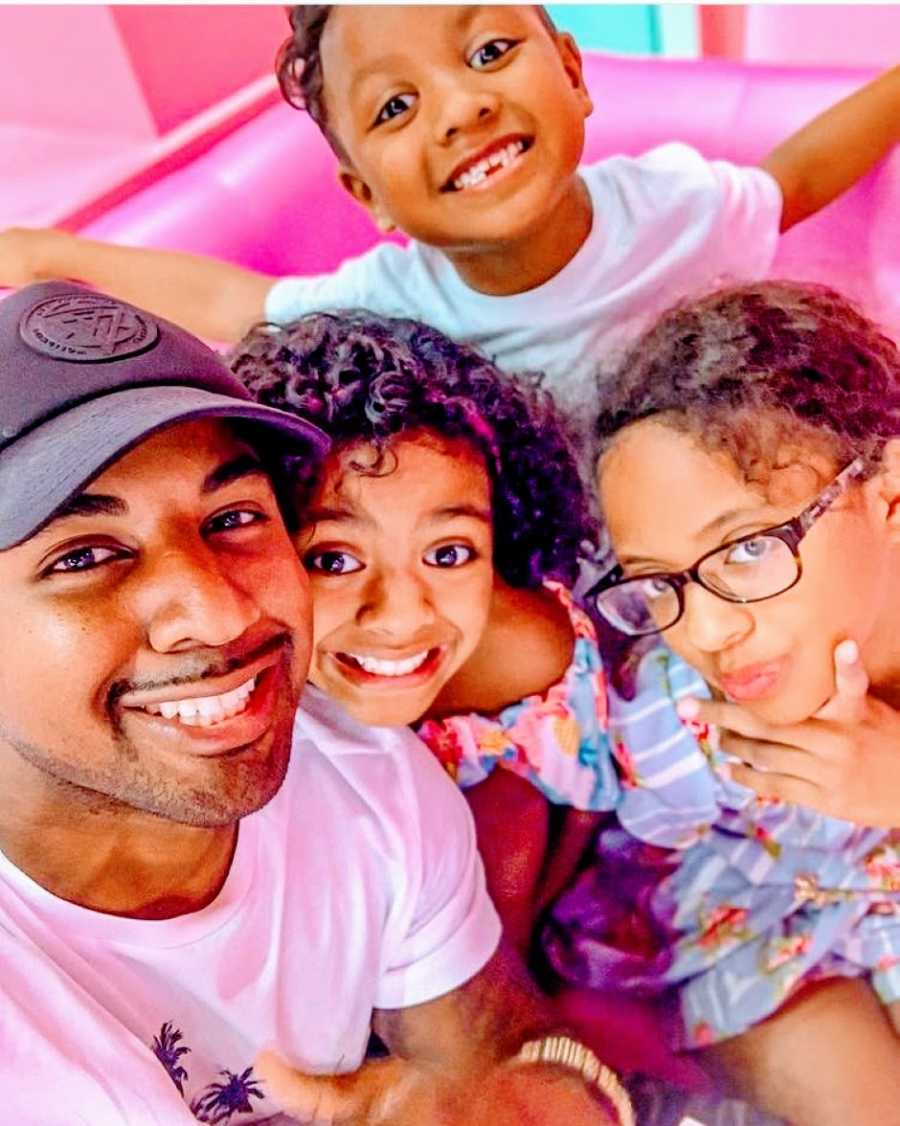 This sounds a lot like what we as adults go through when we go through a divorce or drastic change. I had to understand maybe I wasn't the one they wanted to talk to. After all, I'm Dad. As much open communication as we have, they never talked about the divorce and all the changes because they thought bringing it up would hurt my feelings; they were protecting me just as I was protecting them.
I began to seek help from a psychologist. It was nerve-wracking and strange telling a stranger about your life the first time. It's a huge discussion. But it surely does help you get through what's on your mind. And sometimes it's beneficial to talk to a person who doesn't know you and won't just say, 'Nope, you're right. That person is just dumb, or you don't have to change…' Sometimes, it's better to speak to a person who might say, 'Maybe you should think about how you handled that situation or it's okay if you are sad.' So, eventually the kids and I ended up getting help and talking to a specialist where we were able to express ourselves and talk out our situations. This led us to come closer as a family. We realized together we had a lot of changes and we are not the same people we were 4 years ago.
I learned so much about the kids. My son Jakobe, 6, taught me about every single Pokémon. He watches power rangers at night, but not the new episodes; he watches the early 90s episodes like I did in my childhood and we argue about who's a better ranger. My middle Jakari is a really good drawer and aspiring contortionist. She draws anime characters (I can only draw stick figures). If I'm working out, she's close by yelling 'Daddy, look!' as she's copying her inspiration Sofie Dossi on YouTube.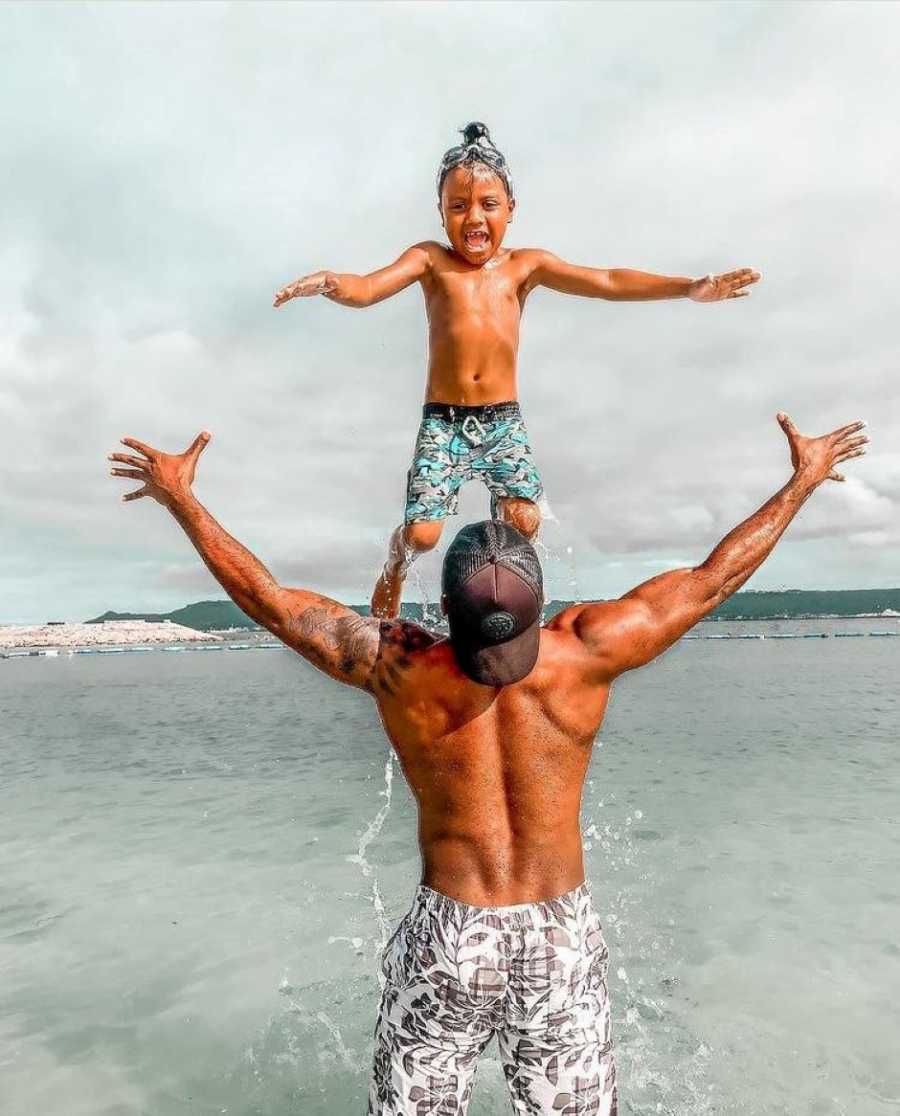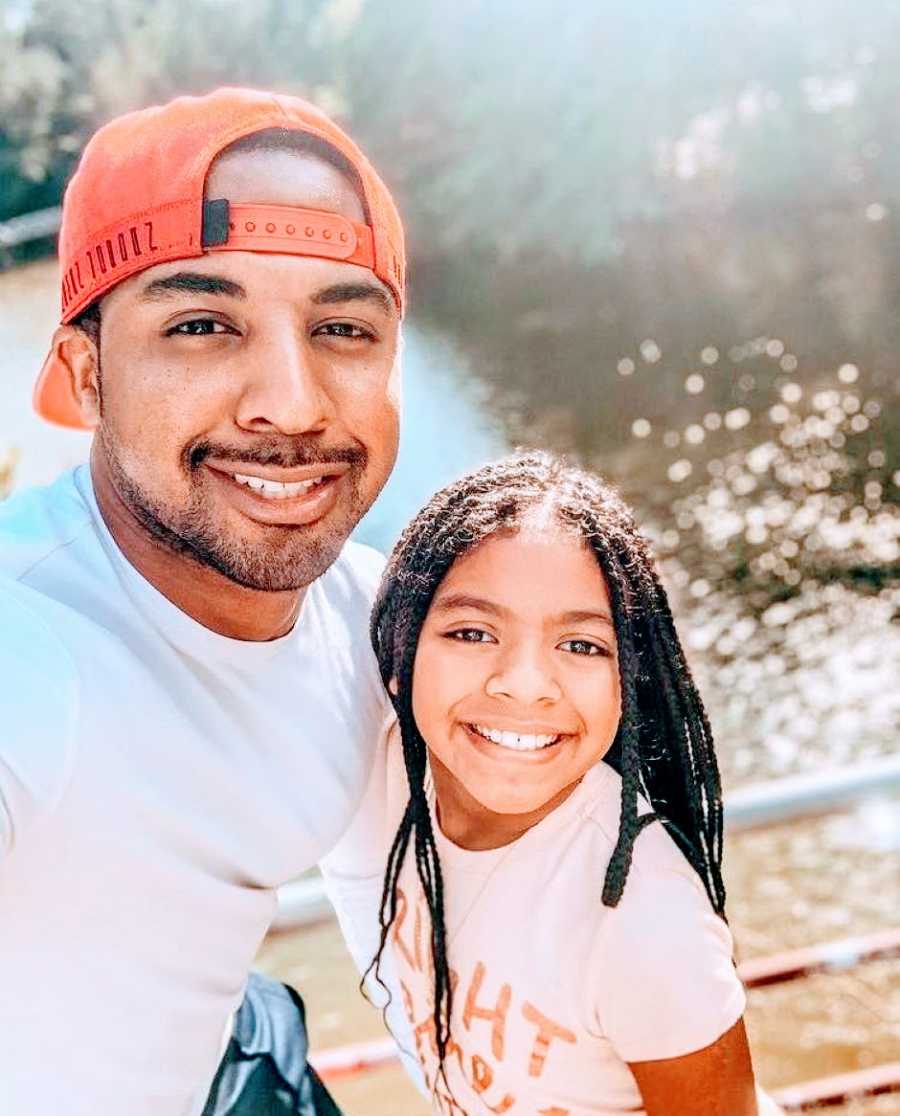 The hardest change was understanding my 11-year-old Jaliyah wasn't a baby anymore. She's a pre-teen. She has her sense of style, so I'm not allowed to pick clothes out  anymore and she might have a crush at times. As a Dad, my first instinct is no crushes, don't look at boys, don't even spell the word boy. But what I've learned is communication is key. Especially with it only being me in my household, I needed her to be able to feel safe and comfortable telling me these things and knowing I won't be mad or judge her. Which was recommended by my single mom friends, that I tend to go to for advice dealing with the girls.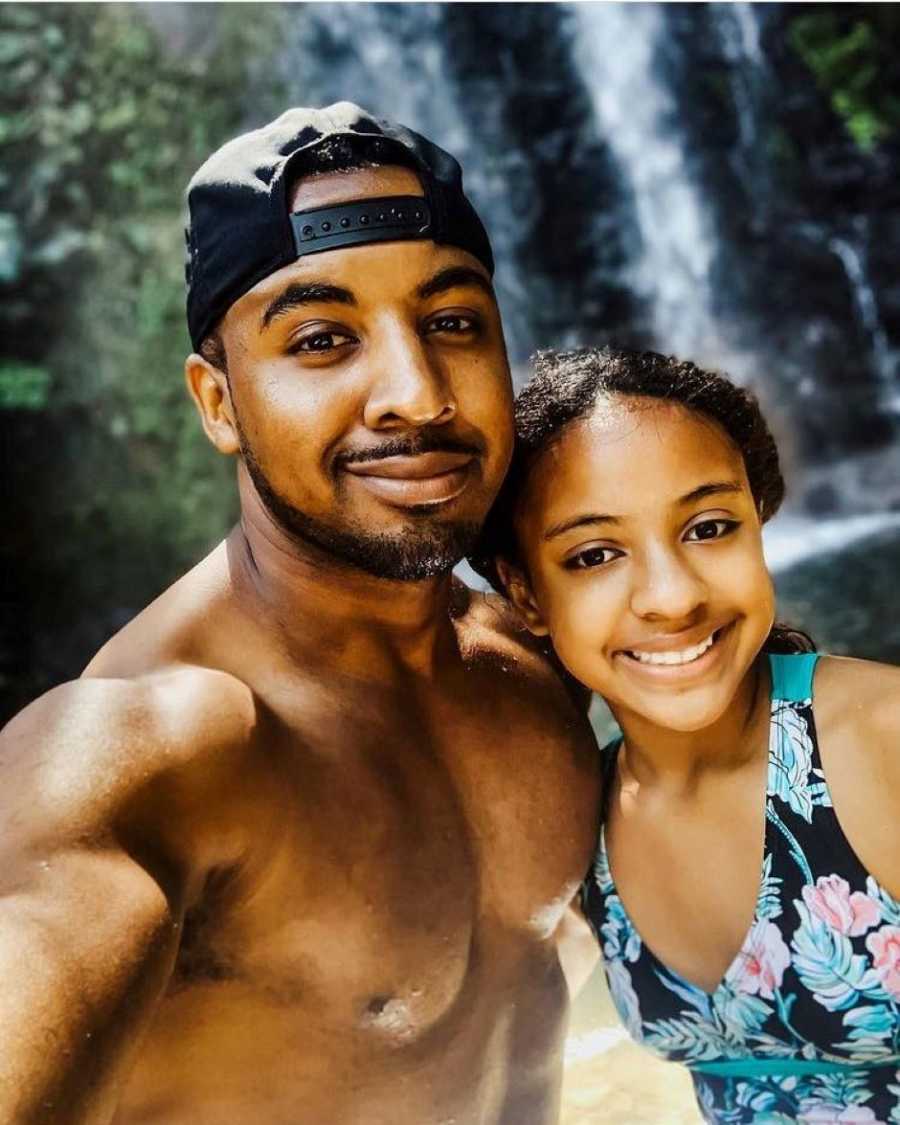 A lot has changed for us. The marriage didn't work, that's okay. I'm a single dad and that's okay. I may not get it right every day and that's okay. I have learned how to appreciate the little things. Some mornings I wake up cold and can't move in my bed because I have two legs draped across my body, no blankets, and hair in my face because all the kids are in my bed. Randomly, my son starts an all-out WWE match in the living room wrestling me while I'm watching a movie. They are getting older, as well as I am. I know these moments won't last forever. Sooner or later they are going to be at malls with their friends, college, and move out of the house. So I value this time. Our family may look different, but the most important thing is that we are together and home is anywhere we are at."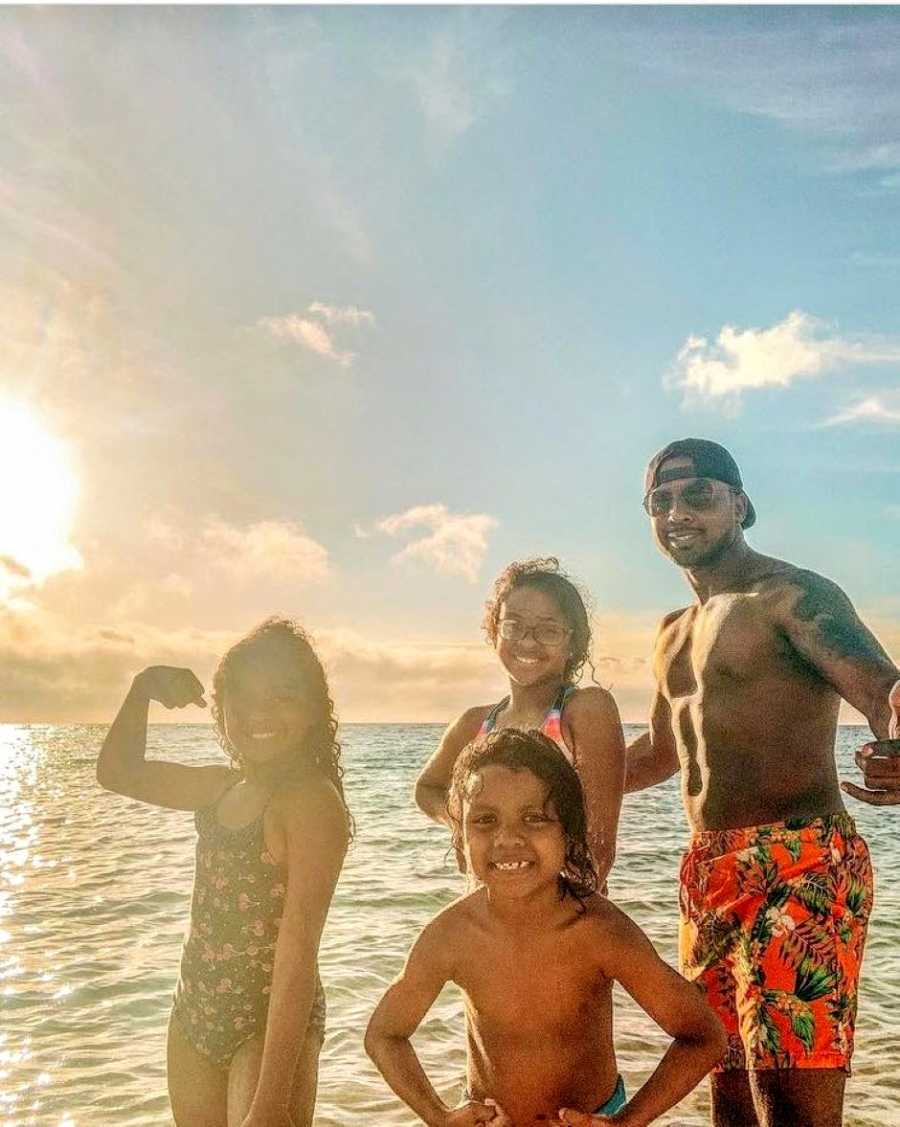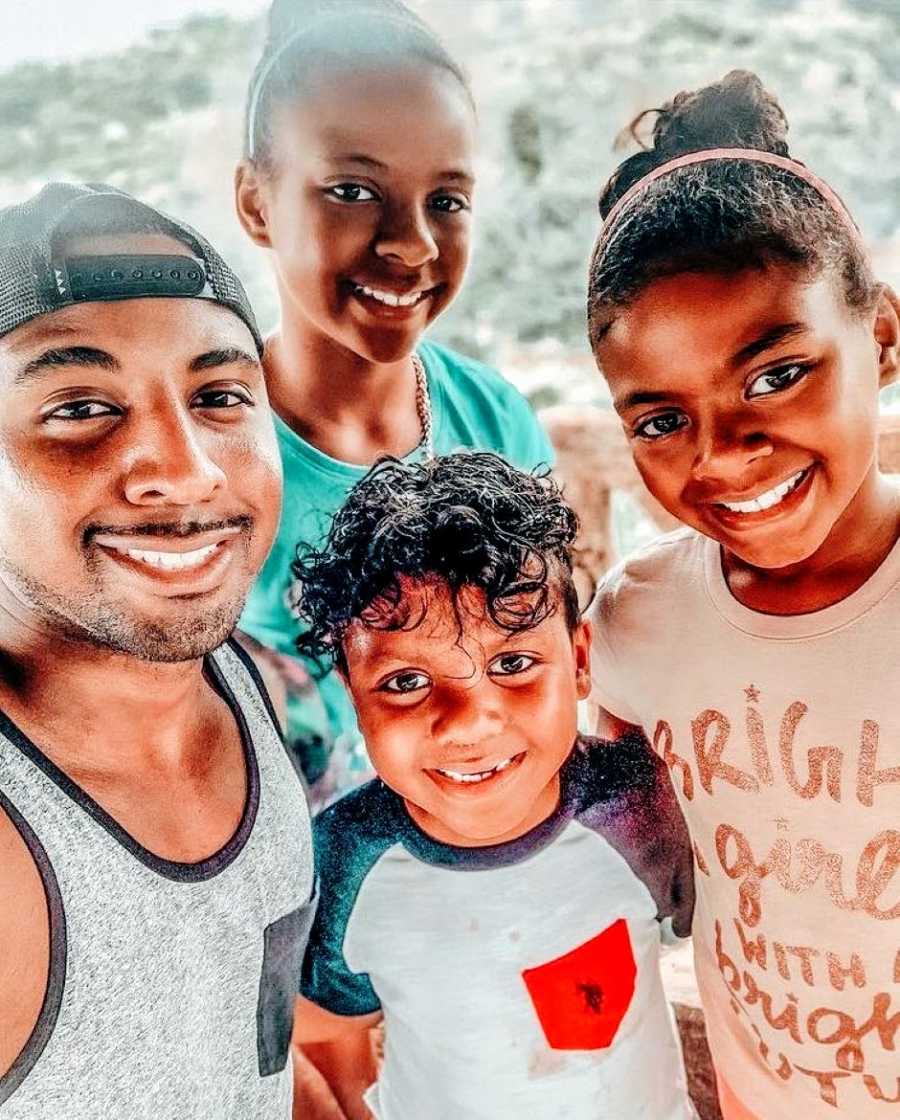 This story was submitted to Love What Matters by Maurice Monroe of Okinawa, Japan. You can follow his journey on Instagram and Twitter. Submit your own story here, and be sure to subscribe to our free email newsletter for our best stories, and YouTube for our best videos.
Read more stories like this here:
'I'm a single dad. It's so hard.' He whispers, 'I don't know how to thank you.' When I got to my car, the tears came flooding.': Woman shares act of kindness for struggling single dad
'I've wanted to be adopted all the time I've been in foster care. This is the best day of my life!' I squeezed his hand. 'It's the best day of mine, too.': Single dad adopts boy from foster care, 'Love defines our family'
'At 11, his adoptive parents abandoned him at a hospital, never to return. 'Mr. Peter, can I call you my Dad?' I began to cry uncontrollably.': Single dad adopts 11-year-old boy from foster care after biological, adoptive family abandon him
'I really love you,' he whispers. He hugs me and smiles as I put him to bed. 'No, buddy. I love you more.': Dad shares touching glimpses of fatherhood, 'I will cherish this job forever'
Do you know someone who could benefit from reading this? SHARE this story on Facebook with family and friends.