"I'll never forget the first major holiday I spent without my daughter. It was Thanksgiving. I skipped traveling home to feast on my mom's cooking with all my loved ones just so I could spend a couple hours with her that morning before she went to her mother's for the main festivities. Within minutes of her leaving, I felt paralyzed with grief and sadness. I wept on and off for hours as I attempted to get control of my emotions. Honestly, I didn't expect it to be so painful. I blamed myself for creating this difficult situation. I no-showed at my friend's Thanksgiving dinner because I was too depressed. I remained in bed all day in a zone of discontent.
Lesson learned. 'Don't be without family on a holiday again,' I told myself. Though, at that time, I don't think I processed what it meant in reality – that it's easier said than done since none of them are local.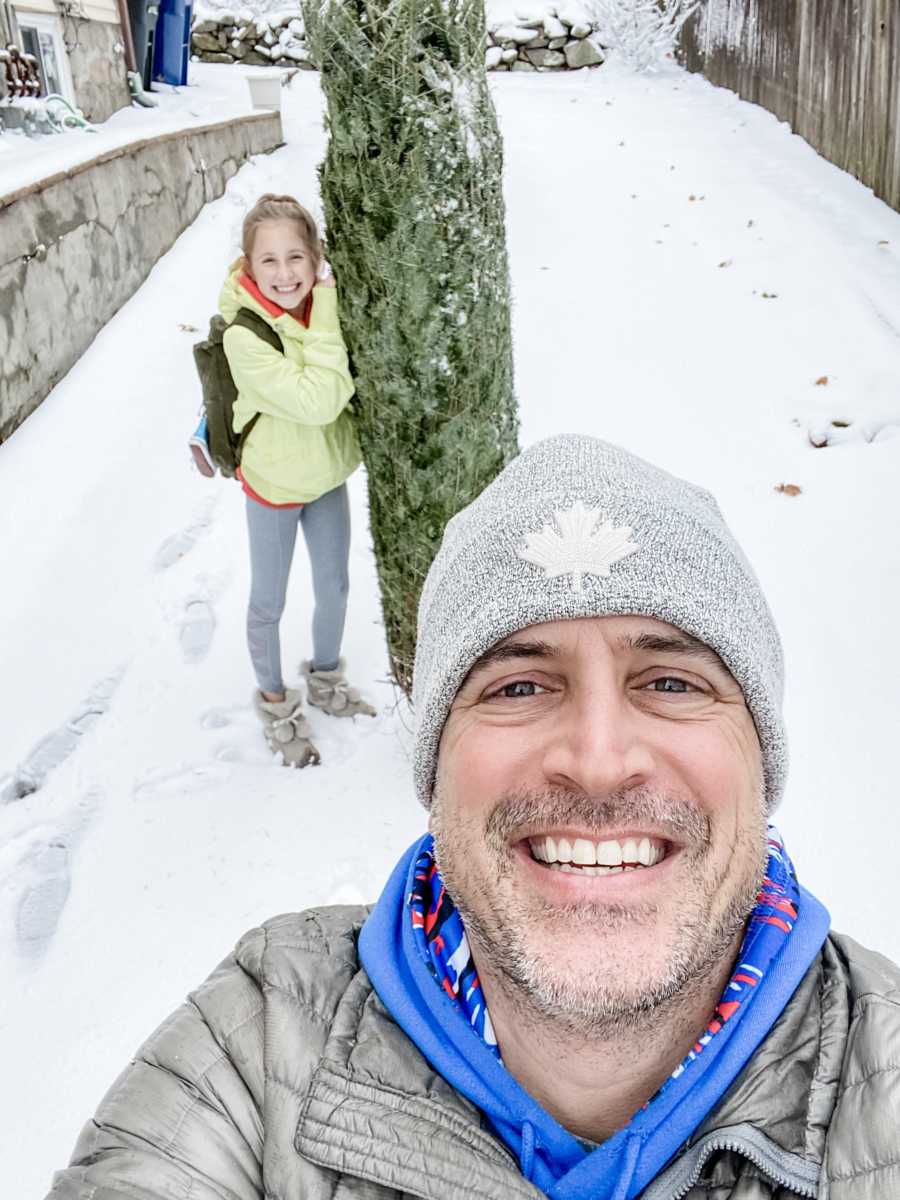 Alternating holidays is one of the hardest things about being in a shared parenting situation. Holidays are special moments in time that elicit feelings of love, thankfulness and celebration and we naturally want to share them with those who mean the most to us.
As a single parent, I've prioritized time with my daughter at the expense of my broader family. Even if I can't be present with her on the actual holiday, I feel more secure being geographically close to her, as silly as that sounds. Maybe it would make her feel more comfortable too, I think, if she knew I was nearby and not hundreds of miles away? This is the thought process of a parent who unconditionally adores his/her child(ren). Everything is rooted in love, sacrifice, difficult choices and compromise.
I struggled as I thought to myself that Thanksgiving day, 'How could I prevent these feelings of sorrow and loneliness for the Christmas holiday as this one has a lot more parts to it?' I was determined to figure out a solution. I had to come up with a plan.
In my family, Christmas Eve is our 'signature' event – my favorite day of the year – being with my entire family and enjoying the same traditions in honor of those who came before us. It's a magical evening and an intimate celebration I swore I would never miss.
But now with my daughter spending every other Christmas Eve with her mother, I had to get creative. For these years, she would be with me on Christmas day but I would be hundreds of miles away. So I reflected on what's most important. Ultimately, I decided that I needed to be with both my daughter and immediate family for this holiday. Could it be done? It had to be.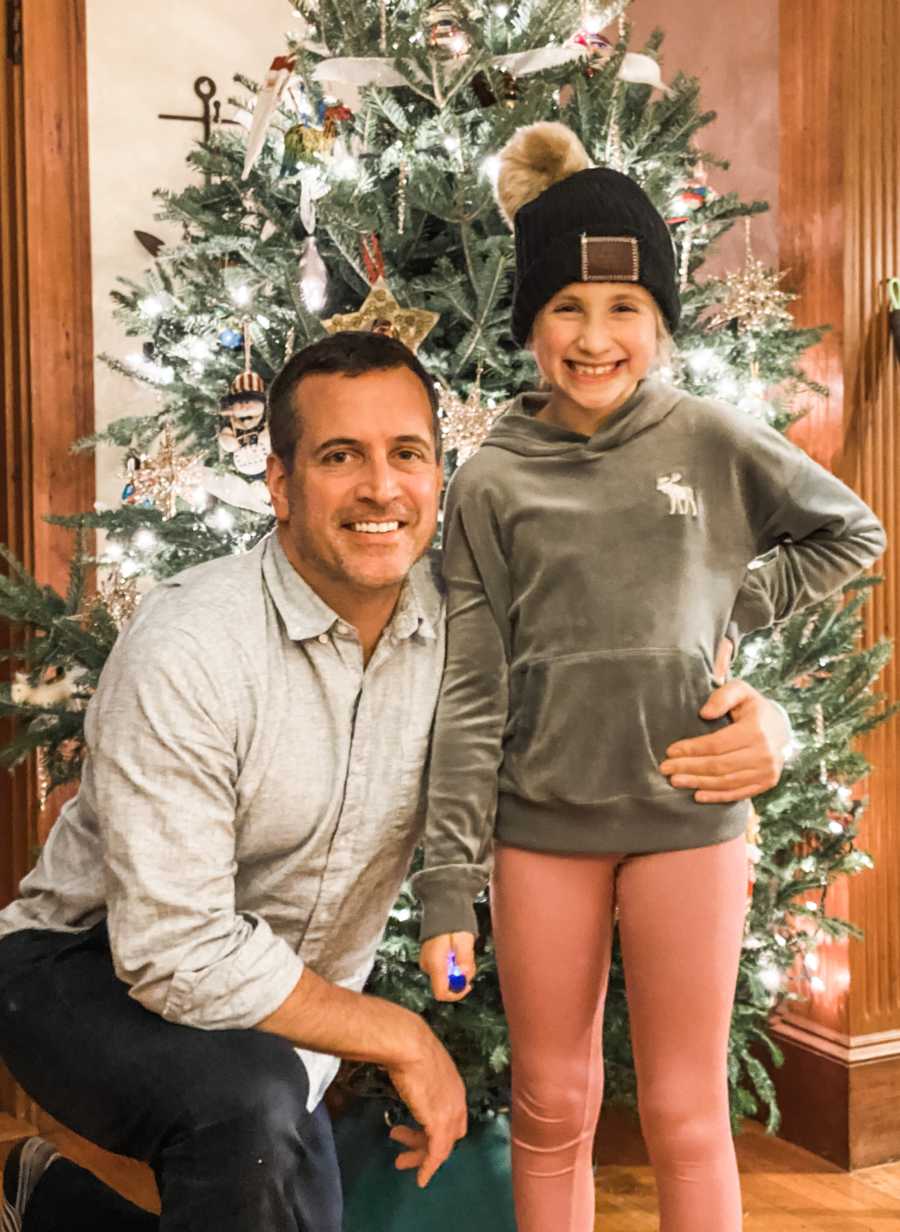 My daughter has openly expressed her anxiety and sadness about having to rotate households for the holidays. 'It's not fair,' she will say to me with tears welling up in her innocent eyes. When this first happened, I realized I had to do whatever was necessary to make her happy. I asked what her requirements were. Her wish was to be able to be at her two homes opening presents on Christmas morning but also seeing her broader family 500+ miles away. I can remember very vividly the fever of the holiday season as a kid and the yearning I had to be around all my loved ones, so I knew how much this meant to her. But I didn't want to miss my favorite night of the year and be without family on Christmas Eve while she was at her mother's. What a predicament!
So this is what we did… I spent the early part of Christmas Eve day with my daughter before she went to her mother's. Then I drove seven hours from Boston, MA, to Rochester, NY, to be with my family for Christmas Eve. Home from midnight mass at 1:30 a.m. then up at 5 a.m. Christmas morning to drive 1.5 hours to the nearest airport (Buffalo, NY) that had direct flights to Boston. Mind you, all while holding my breath that weather wouldn't derail any of this. There was no margin for error.
Upon arriving back home to Boston which I had just left less than 24 hours earlier, I jumped in an Uber and 45 minutes later I met my ex to pick up my daughter. Then the Uber driver drove us 30 minutes to our house. We rushed inside to open presents which I had laid out before I drove home on Christmas Eve. We had just about an hour to spend together in the comfort of our home on Christmas day.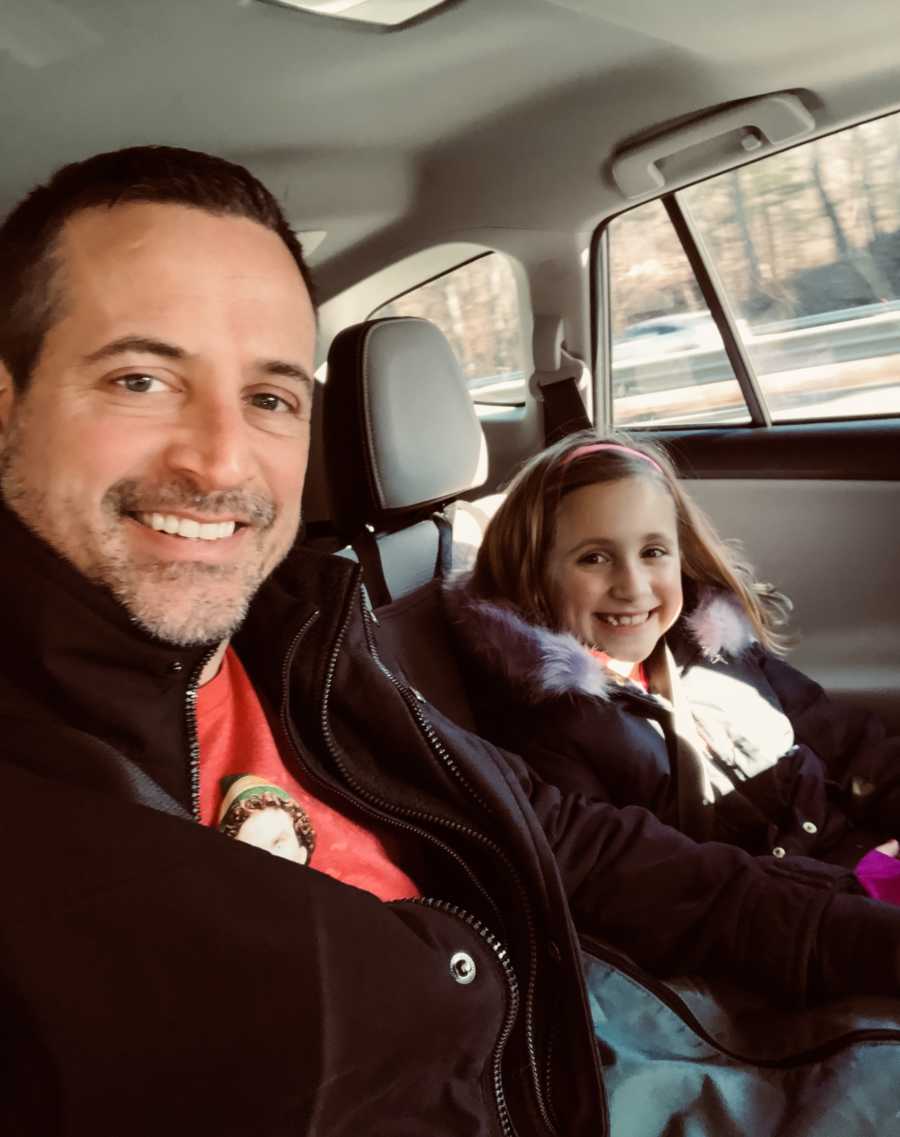 Scarfed down a couple cookies for lunch then ordered another Uber (crossing my fingers something would be available) to take us to the airport. Check-in, boarding and an hour flight later, I was back to Buffalo with my daughter in tow. From there, we drove about an hour to my brother's house where everyone had gathered for Christmas on the account that this was the only option to make it work for us – even though it meant a greater driving distance and other inconveniences (i.e. transporting presents for 20+ people only to bring them back later that night) for them. We arrived at my brother's about 6:30 p.m. and opened gifts and had dinner. Exhausted, but our hearts completely full because the plan had been fully executed and all requirements met!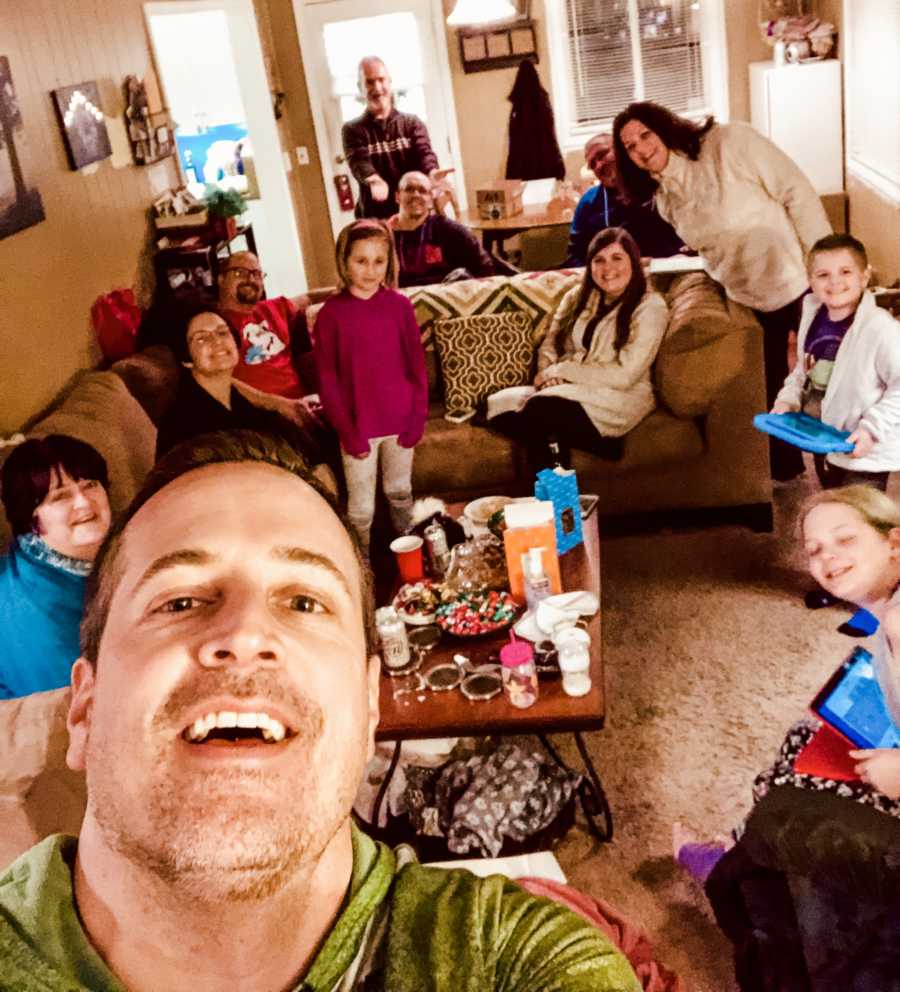 Traveling basically all of Christmas day is tough. But we have fun with it. I wear sleigh bells and an Elf costume. We play with a couple of her new gifts. This first year, I told some JetBlue gate agents and fellow passengers the story of how I wrote a letter to the corporate office asking them to modify their Boston departure time to accommodate our exact travel needs! We relish the excitement of a crazy day of travel to see family and we ride that energy all the way back to western New York.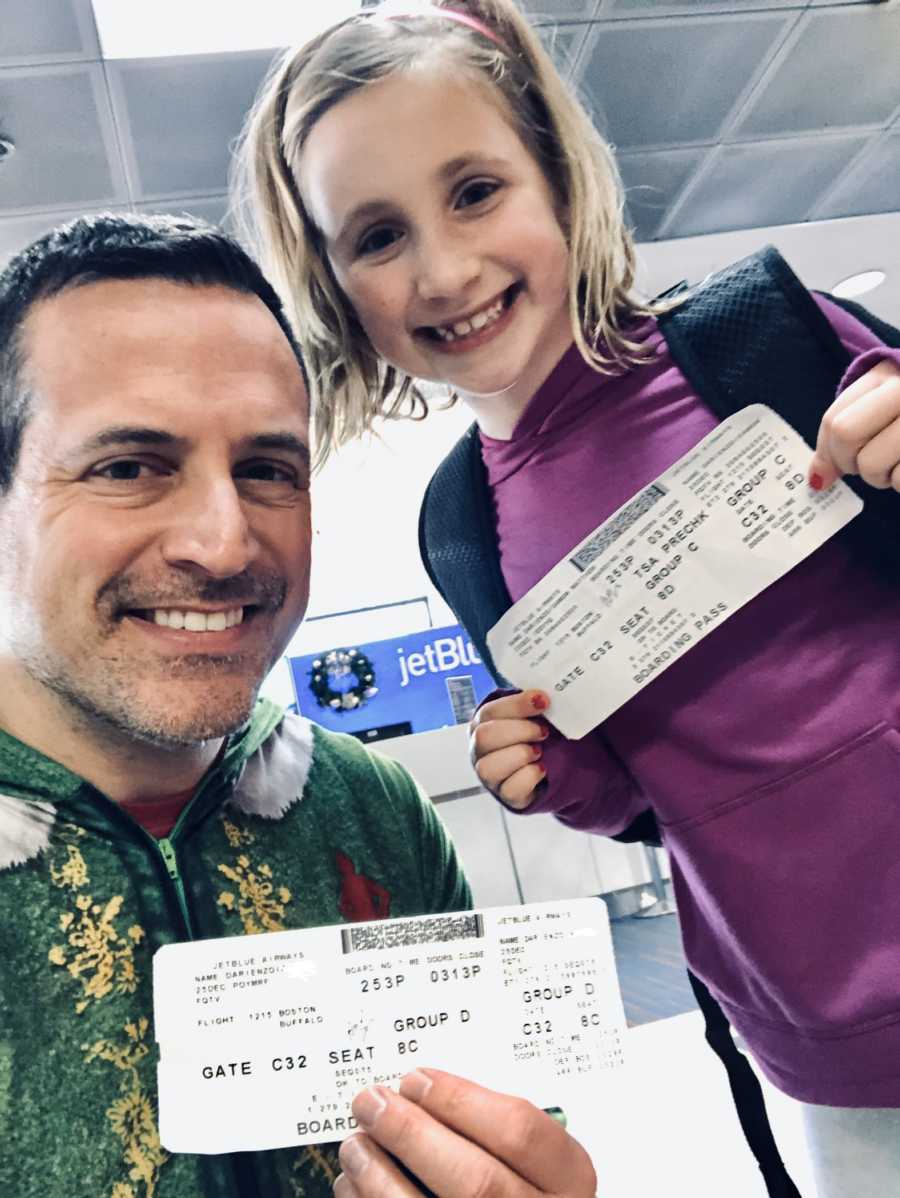 I'll tell you what – I never thought I would be spending ¾ of my Christmas day in a travel status! But, as it should be with any complexity in our lives, you accept the circumstances and find a way to make the best of it. It's in these moments you truly realize just how meaningful 'togetherness' is. I'm happy my daughter loves and appreciates family like I do and admire her willingness and maturity to make sacrifices to make it all come together. And whether we were in a random Uber car or an airport security line, we were together, and that is what the holiday spirit is all about anyways."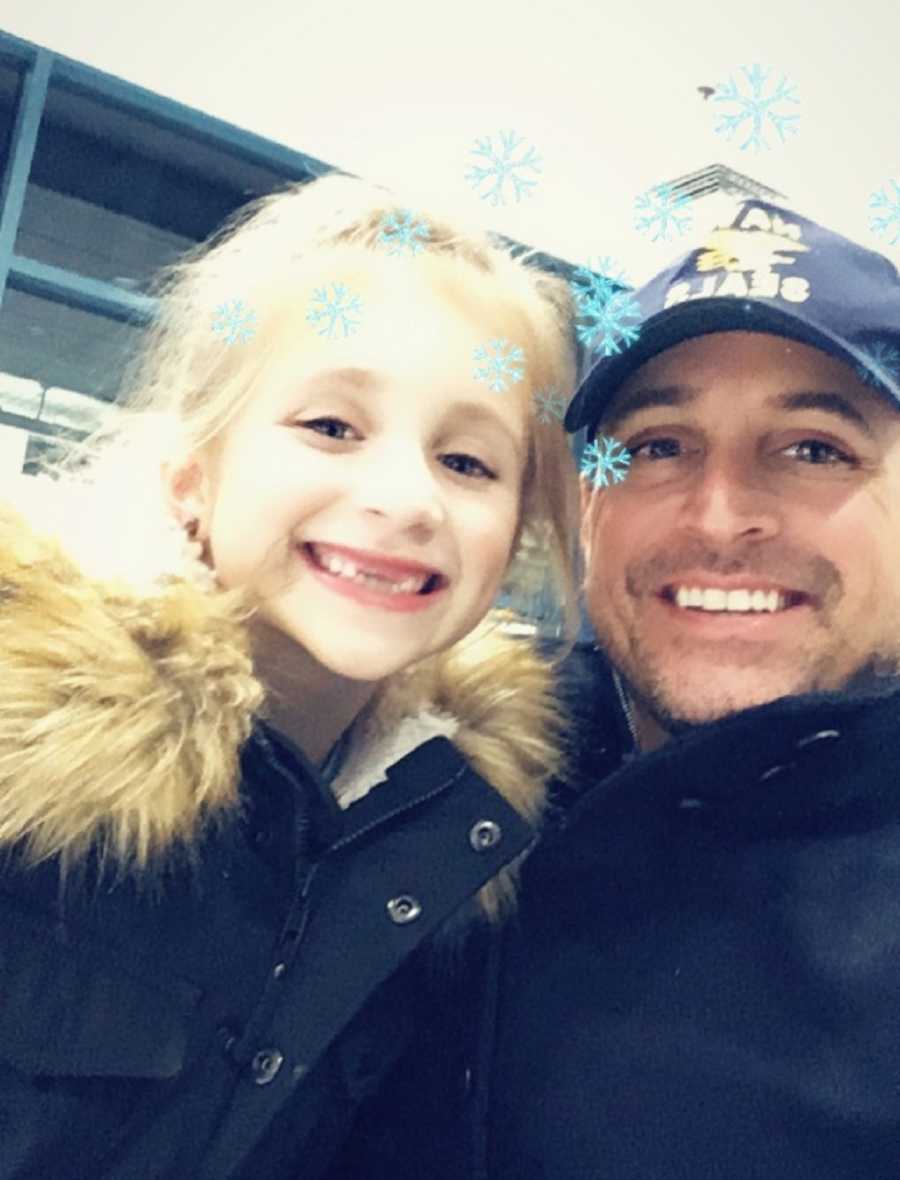 This story was submitted to Love What Matters by Damon D'Arienzo of Massachusetts. You can follow Damon's journey on his website, Instagram and Facebook. Do you have a similar experience? We'd like to hear your important journey. Submit your own story here, and be sure to subscribe to our free email newsletter for our best stories.
Read Damon's powerful backstories on being a single dad:
'I had to leave, I had to be a single dad, to be a better father for my daughter.': Single dad explains his relationship was 'vulnerable, beyond repair,' despite being determined to have a 'strong co-parenting relationship'
'Explain this.' It was printed copies of every text I'd exchanged with my previous girlfriend.': Single dad's harrowing experience dating a narcissist, urges 'even the strong can succumb to the cunningness of this evil'
Provide strength and encouragement for other single parents. SHARE this story on Facebook with your friends and family.