Disclaimer: This article contains mentions of suicide which may be upsetting for some. 
"Some people dread a certain day of the year and others feel stress during a particular week marking an upcoming painful event. I find the month of September seems to be a pretty tough month for me because September is set aside as 'Suicide Prevention Month.' The day that haunts me… the 10th of September, 'World Suicide Prevention Day.' Yes, apparently I was unable to prevent one loss, as my 33-year-old daughter died by suicide.
I notice the pain and heartache in my family a bit more this month. Articles, memes, billboards, books, and stories focusing on mental health, suicide, and emotional pain, help bring awareness and education surrounding this critical issue, causing me to flashback to the moment of realizing Dani is gone forever. Lives lost is the predominant theme, sprinkled in with a life saved, and an occasional story of hope.
This is slowly becoming the norm in September and, as a suicide prevention advocate, this is exactly what my family, 33 Forever, Inc., and those of us who dedicate their lives to ending suicides are striving so hard for. Shouting 'talk about it' and 'break the stigma' from the rooftop, encouraging groups to 'chalk about it' for more awareness, and sharing our story are obvious actions to commemorate this month. 
Rightly so, I vividly remember the very first 'World Suicide Prevention Day' after losing Dani. It was a Monday morning, September 10, 2019. My husband and I woke up after having a somewhat relaxed weekend at our 'happy place' near Lake Erie, knowing it was the first of all the rest of the suicide prevention days we would acknowledge. We made a short video sharing our feelings of the day and encouraging everyone to check on their people. Prior to 2019, I honestly had no idea it was a day set apart from others or that it would affect me so much in the future.
As my 4th World Suicide Prevention Day approaches, it consistently reminds me of the struggles, loss, and the 18 years of sleepless nights I had since Dani's first attempt at the tender age of 15. But, as I now learn about the pain, suffering, and struggles in our own circle of life, with so much sadness relating to depression, anxiety, PTSD and mental health disorders, I can't help but imagine the pain outside of our circle – in your circle – and your extended circle. It is a heartbreaking cycle that must be broken.
If I had someone to talk to during those early years, someone who wouldn't judge or think of Dani (or our family) as 'damaged' because of the acute stigma related to mental health issues, depression, and suicide, I may have talked more about it, felt more secure in my pain, and may have began this crusade a bit earlier. If love could provide an answer to these tragic crises 'our people' are experiencing, there would be fewer hearts hurting and so many of 'our people' feeling a bit less alone. If there is one point I want to make loud and clear, it is to please listen to those you love, to what they are saying and what they are NOT saying. Ask key questions and reach out to help those struggling.
Suicide is, unfortunately, a tangible option for some and a 'Plan B' that may be lurking in the back of 'our peoples' mind. It was lurking in my daughter's mind on February 11, 2019, and I never admitted to myself that it could be there until she was gone.
You may never know how YOUR love and YOUR voice may help prevent someone from a future without their loved one. Suicide Prevention Month, no matter how sad or stressful it can be for me, is worth promoting if it saves just one life. 33 Forever, the nonprofit started in Danielle's honor, and so many other life saving foundations, work to break the stigma of suicide and mental health challenges. It takes so much strength to open up, but I encourage you to do so. Please be aware, get help if your thoughts are unhealthy, and help promote suicide prevention and awareness – not only during September, but always, no matter how uncomfortable it may feel."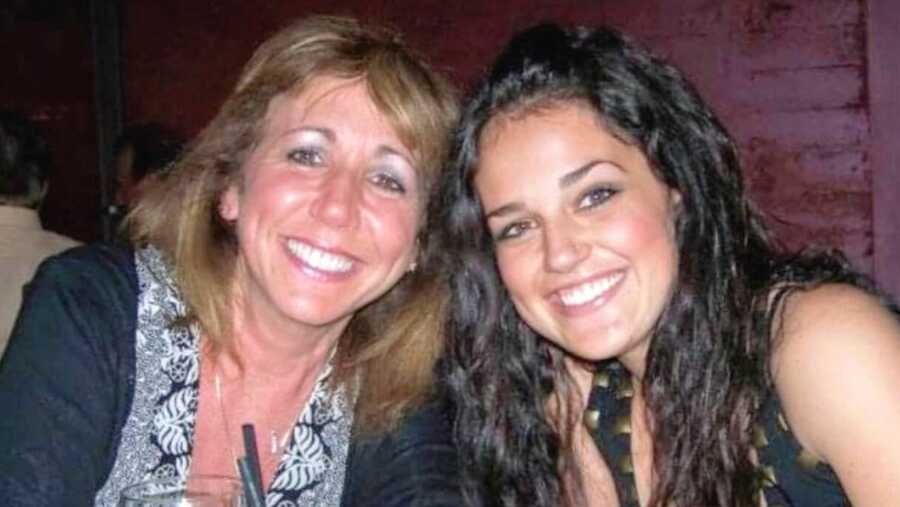 This story was submitted to Love What Matters by Donna Mencini Heck from Mansfield, Ohio. You can follow her journey on Instagram, her blog, Facebook, and her website. Submit your own story here. Be sure to subscribe to our free email newsletter for our best stories, and YouTube for our best videos.
Read more from Donna here:
There Is No Right Or Wrong Way To Grieve; It Looks Different For All Of Us
'How am I today? Terrible, thanks for asking.': Mother candidly shares grief over daughter's suicide
'It was the call that changed the trajectory of my life.': Mom shares new calling after being informed of daughter's suicide
'A suicide is like a pebble thrown in a pond. The waves ripple outward.': Mom details reality of suicide loss, ripple effect of grief
Spread awareness for suicide prevention. SHARE this story on Facebook and Twitter.