"I took my boys to the mall yesterday. It's one of our favorite places to roam.
Our first stop is always the coffee shop where mama gets a coffee and my big boy gets a treat.
'What would you like, baby?'
He usually takes a minute or so peeking through the glass.
'This one. NO, this one! Oh, I want this one, mommy.'
I smile and turn to the folks behind me.
'So sorry.'
'People are waiting, munchkin, we have to hurry.'
Then we take our treat and wander the aisles of the book store.
Stopping every few feet to pull a book off the shelf, exploring the pages, as my big boy shouts with wonder.
I whisper, 'Shh, baby. No shouting please.'
And then I apologize to the people around us.
'I'm sorry.'
I also apologize as my son's little feet take slow steps as we exit the store, holding up the people behind us.
Then again as my son darts off in front of someone in a hurry.
And I apologize one more time when he screams because I refuse to buy a toy car he has two of at home already.
'Oh, I'm so sorry.'
When I'm in public, I'm constantly apologizing for our family.
I'm sorry for the noise. For the slow pace. For the fast pace. For our chaos. For just being us, I guess. I'm sorry.
But yesterday, a grandmother-type woman stopped me in my tracks.
'Sweetie, you do that far too often.'
'Stop apologizing for your family. They're learning. They're exploring. They're simply being kids. And you're doing a great job. Stop saying sorry.'
Wait. She finds us endearing? She doesn't mind our erratic exploration? She has patience for us?
Turns out she was us once.
Turns out most people don't need or want my sorry.
Turns out, I'm the only one who feels I owe people an apology for my kids being kids.
Here's the thing, parents.
Some people will stare and judge and find your traveling circus act a hiccup in their day – but most people get it. Most people see the innocence in your world. Most people see the tired in your eyes. Most people see your efforts and your children's sense of wonder.
Most people really don't want your sorry.
So, unless it's absolutely necessary – stop the sorry.
You'd be surprised how often you're saying in the first place."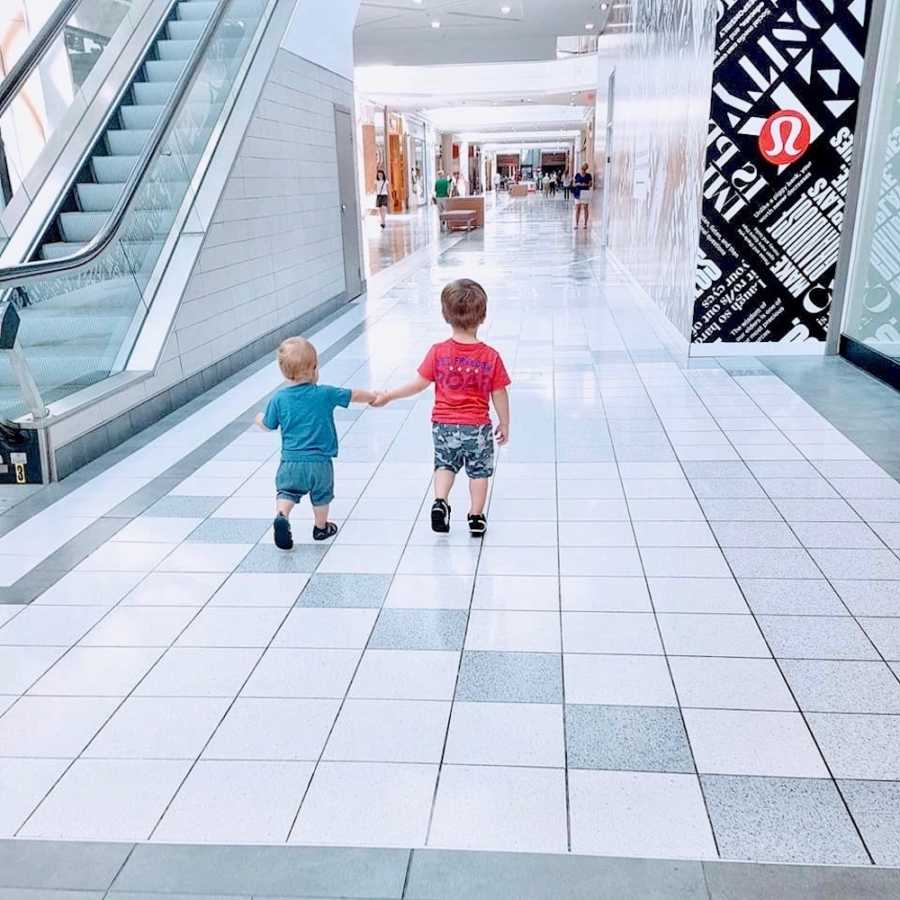 This story was submitted to Love What Matters by Annie Lawton of Grown Up Glamour by Anneliese Lawton. Follow her on Instagram here. The article originally appeared here.  Submit your story here, and be sure to subscribe to our best love stories here.
Read more stories from Annie here: 
'After my boys were born, there were appointments. There were regular pokes and prods. Their well-being was front and center. Then there was me.'
'Poo. Lathered ALL OVER my kid's arms, legs, fingers car seat. It was everywhere. Poomagedon.': Mom hilariously explains her 'hard day' stuck inside 'poop sauna' car
'My husband used to come home to find the girl on the right. A little rouge, a pretty top, a sexy bra. This girl on the right was sassy. This girl on the right was F-U-N.'
Provide beauty and strength for others. SHARE this story on Facebook with your friends and family.