"My name is Carli Grant. I am a mother of 3 (Ryen 7, Amelia 2, Elliot 3 months) out of Southern, New Hampshire. My husband's name is Josh. We have an incredible life together. From traveling to the mountains to frequent trips to the ocean – we are always on the go and creating memories.
As I was pregnant with Elliot, I started to really get into sewing. It started with everything baby: blankets, leggings, hats, bibs, burp cloths. I wanted to branch out, so naturally Amelia became both my model and muse. I was going a bit crazy in the fabric store to make her dresses, so I started repurposing clothes set aside to donate.  Amelia's personality is so silly and adventurous. She's a mini version of daddy with a girly girl twist.  She loves dressing up as her favorite Disney princesses, but you'll also find her begging to climb mountains and go fishing. Josh nourishes her need for adventure by taking us to the mountains, lakes and oceans of New England. I try my best to nourish her inner princess by creating the cute outfits she loves.
Josh has quite the collection of old Oxford shirts, and they were perfect for the next project I had in mind. I made two dresses and realized I would be taken back to a memory of Josh wearing the shirt, and how much emotional value these dresses held. As I was looking for new material in Josh's closet one day – I came across the shirt he wore the day Amelia was born and my eyes got teary just thinking about making it into a dress. As I sewed it, it took me right back to that very day.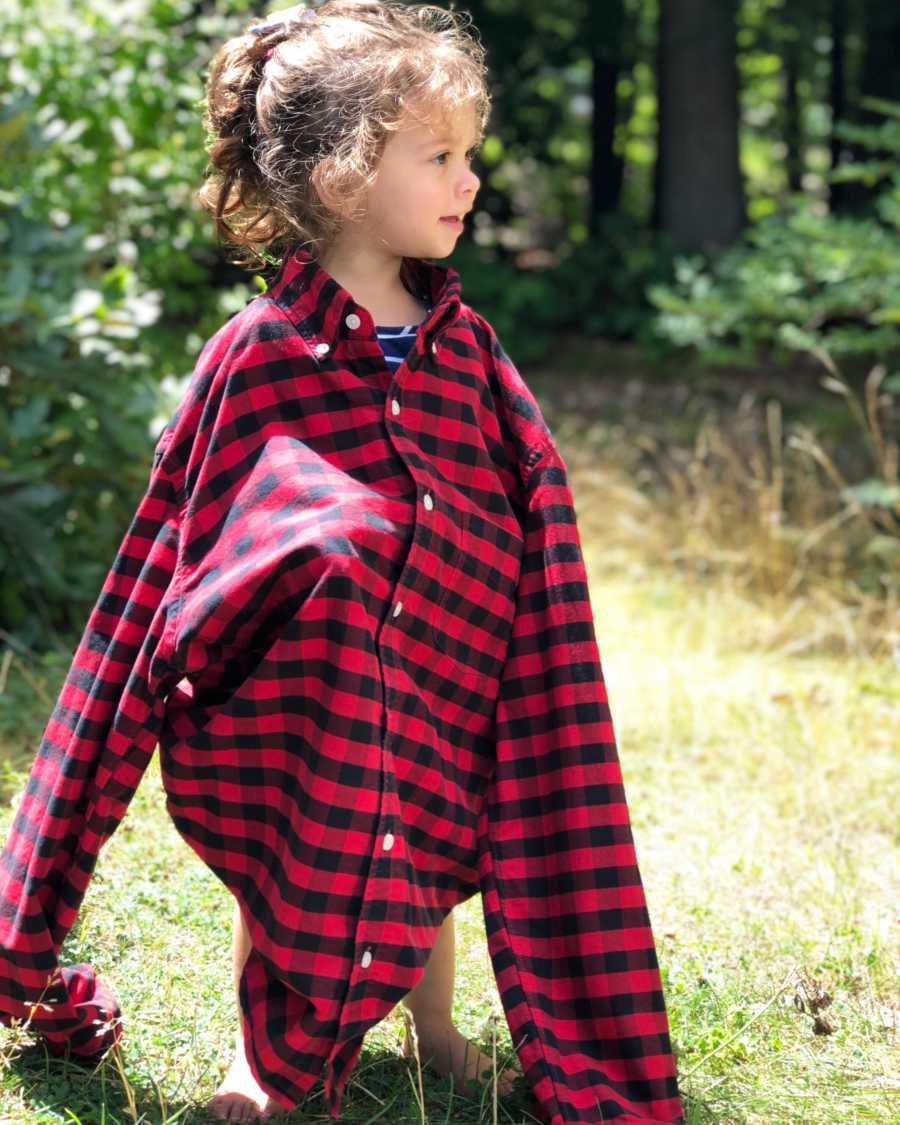 When Josh got home from work – he saw Amelia in the dress. I asked him if he remembered why that shirt was so special.  His whole face change in the realization of the significance of the shirt. He was so thrilled and picked Amelia up for a huge hug and told her why the shirt was so special. Saying, 'The day you were born Daddy was wearing this shirt!' and how 'it's such a pretty dress!" telling her how pretty she looked in it.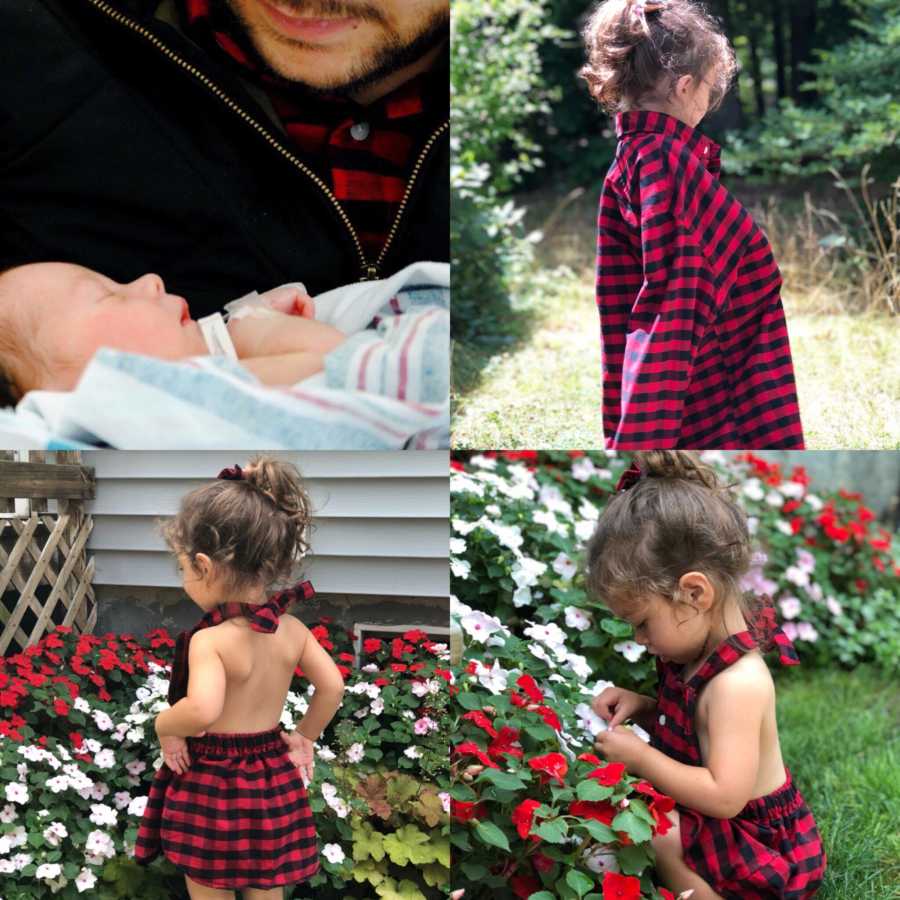 We don't always notice the emotional connection we have to items as we are going through the motions of our days – clothing being one of them. Seeing Amelia in that dress brought us both right back to that day."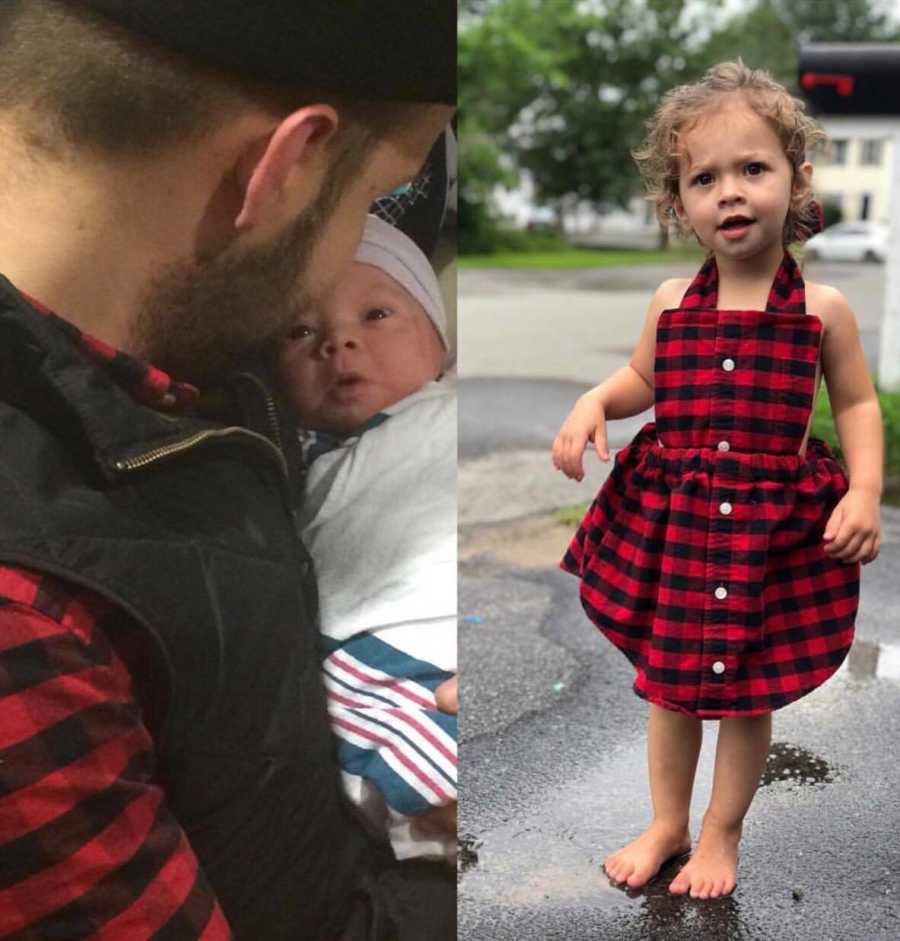 This story was submitted to Love What Matters by Carli Grant of Southern, New Hampshire. You can visit Cali's business Refashioned Memories here. Submit your story here, and subscribe to our best love stories here.
SHARE this beautiful story on Facebook to encourage others to cherish every moment and love what matters most.