"'That's a nice tree, Mama. Nice tree,' my two-year-old squealed happily. She had locked eyes on a 7-footer, artificial, twinkling and multicolored, shining in glory, right there in the middle of Hobby Lobby. She had only just started speaking in sentences, so I was equally enthralled and shocked at her quick adoration. 'It's pretty, Mama, it pretty,' she cooed. I wasn't planning on buying a Christmas tree that week. We didn't need one at all, and it certainly wasn't necessary the week before Halloween. But then, we've never needed Christmas this badly before.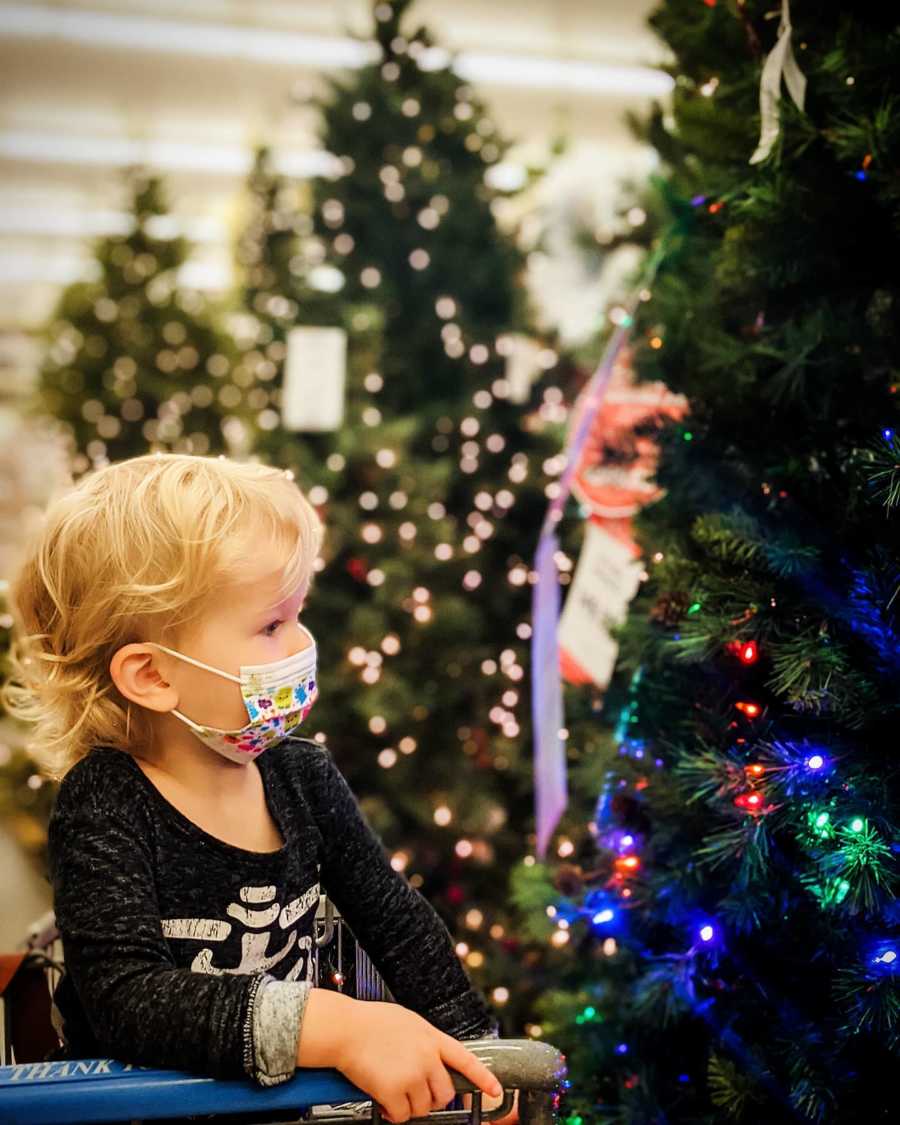 Maybe that's why we were there way before Christmas, actually shopping inside the store, my daughter wanting a Christmas tree. One we didn't need. We needed some paint, maybe some tape. I had resisted even walking to the Christmas section, but man, I'm a sucker for Christmas. Hardly a day past Thanksgiving, my home generally goes from hues of yellow and orange to Jingle all the way, every square inch of the house. I even have special Christmas towels for each bathroom, and I change out all the soap dispensers for Christmas paraphernalia.
I know every Christmas song, I love going to every Christmas service at church, and my daughter and I have Christmas-themed clothes to wear for each day of December. I even have a job at our local church. We love Christmas, maybe even so much it could be considered unhealthy. And it has always been this way. My family went all out every year, the crazy neighbors with too many lights on their houses, the people to take several days to celebrate, that have an annual cookie decorating day in December. We're those crazy people.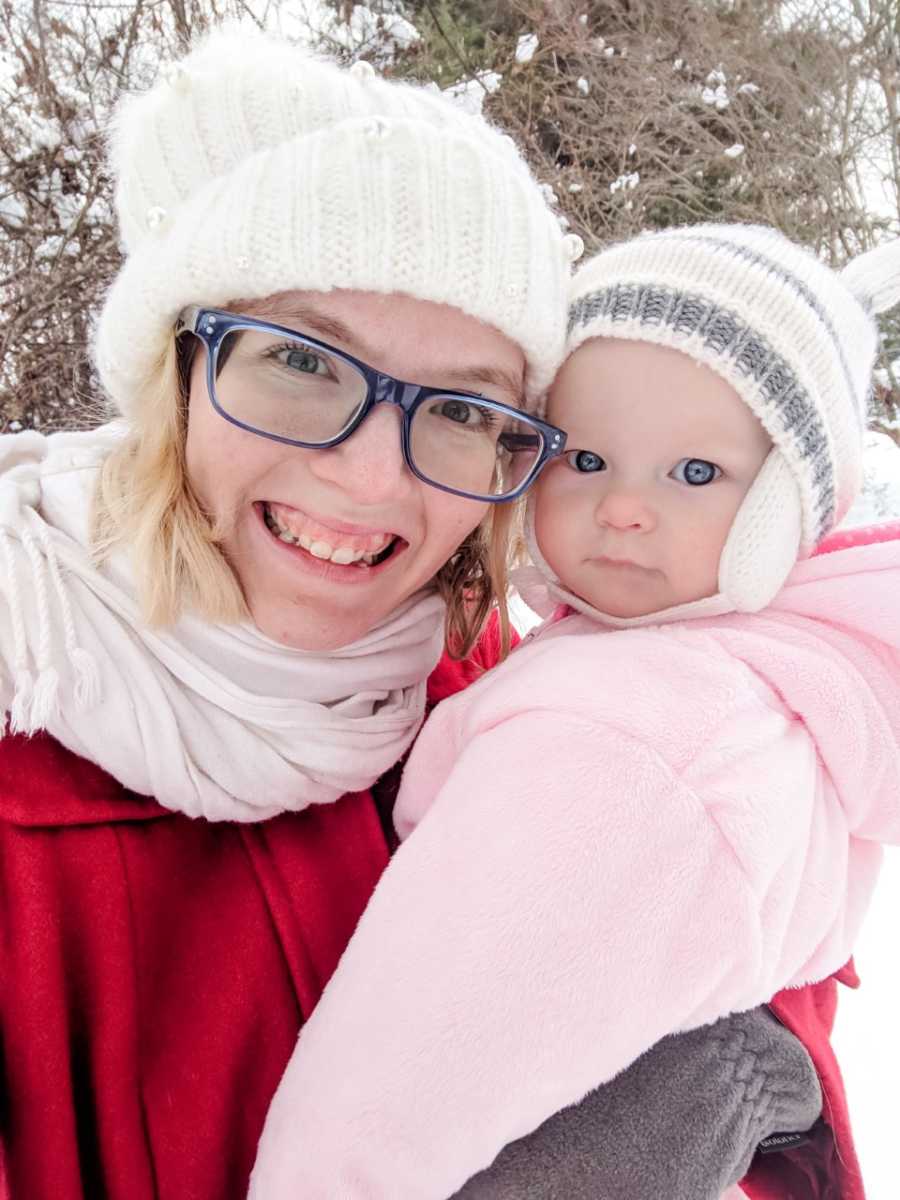 'We don't really need a Christmas tree, Munchkin.' It felt like a test of parenting telling her no, maybe even more when I had to drag her out of the store, kicking and screaming, carrying on because she wanted the chocolate and her 'nice tree' to come home. I know it's just part of the parenting gig, but still.
My name is Megan, and I have a delightful daughter named Kara. She's just two years old, and she embodies sunshine and a little bit of a hurricane. Her entry into this world wasn't an easy one, (posterior baby, sunnyside up, her hand on her face like Supergirl). and each moment seemed like a test in my life I hadn't studied for. Newly married in 2016, high school sweethearts, broke and straight out of college, my sweet husband Tyler and I weren't planning to have any babies for awhile. We always have a plan. We had been together for 7 years by this point, and we had a plan.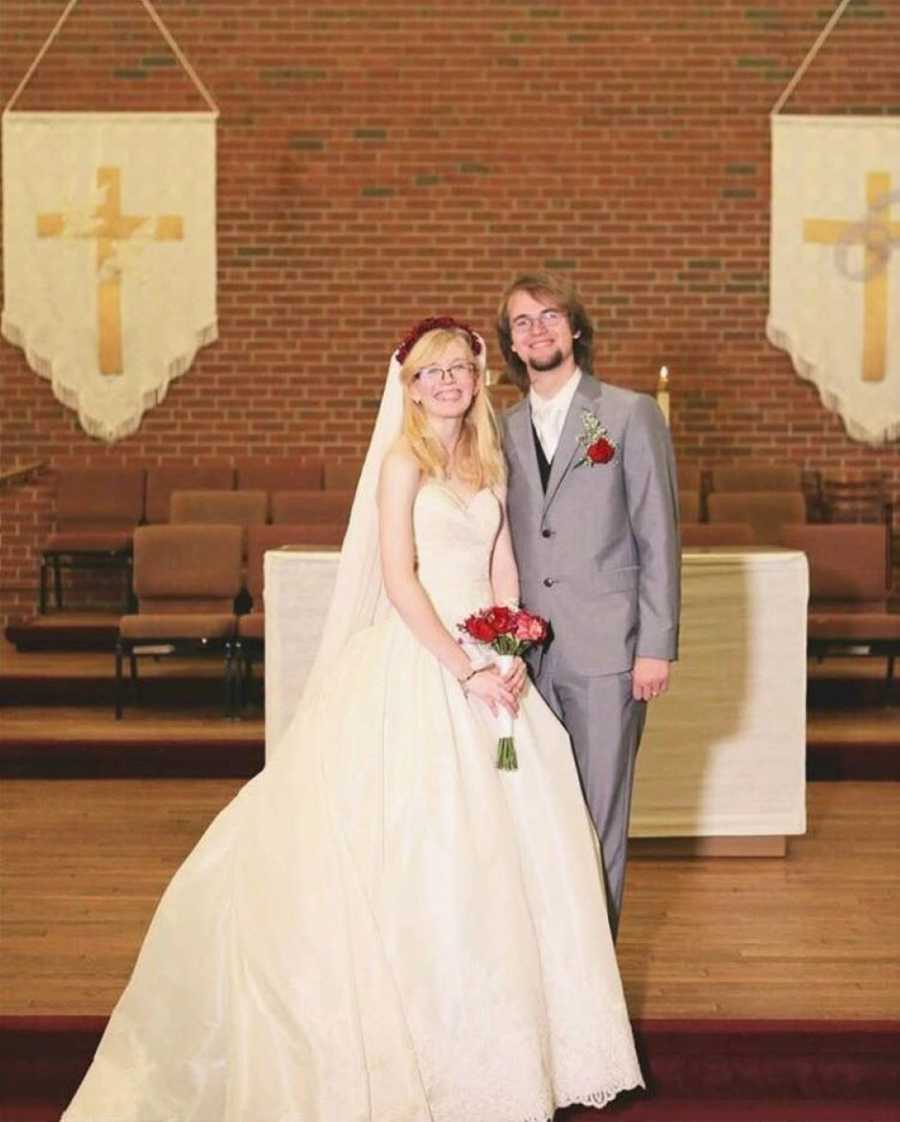 God had other plans when I got a positive pregnancy test in July of 2017, still very much on the pill and living in a small, two-bedroom apartment. What's the saying my mother has always told me? Ah, yes, 'If you want to make God laugh, tell him your plans.' God was laughing. I had the notion to take a test a few minutes before a party we were hosting. I shoved the test in my husband's face so he could also see it was a very clear positive test. So, yeah. A baby wasn't part of the plan. Neither was my high-risk pregnancy, gestational hypertension, hospital stay, or my early induction at 37 weeks. Nor was my traumatic labor, third-degree tear, or my postpartum depression.
None of it was planned, and little of it was easy. But with every step, my little sunshine was my reason for everything. Straight out of college, I was a writer without a purpose. It turns out, I just hadn't met my muse. Her name is Kara, and I happened to have given birth to her. With a great therapist, Instagram, and photography classes, my little family came into 2020 feeling pretty optimistic. We had just moved into our first home, we were healthy, and my husband had just gotten a raise. We put up our Christmas decorations in 2019 optimistic. We were ready this time.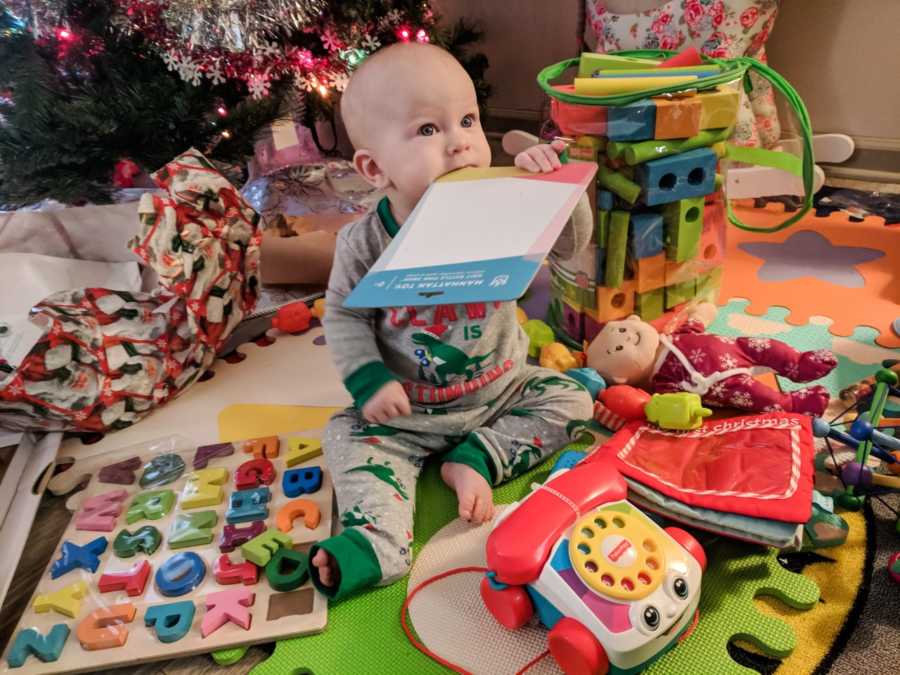 Planning a pregnancy was different. I was charting my cycle. I knew all the things I was supposed to eat, what I shouldn't, I took my prenatal vitamin every day, and I knew when I ovulated. It was a few days before Kara's birthday and I was sure I was pregnant. It was late March. I was so sure, I took the test right there in the Target restroom, too excited to drive home. There was this thing called COVID-19 going around I had started to hear about in the news, but it wasn't a major concern yet in my mind.
'Negative. Well, Kara. Not yet. God's time, not mine, right?' She didn't say anything, too happy with her new toy trains. We left the store, and a few days later had Kara's Frozen-themed birthday party outside. I hung our snowflake Christmas ornaments on every bush and tree in the yard. I was optimistic our state shutdown was temporary, and didn't realize it would be our last big family gathering for months to come. Easter passed, no pregnancy, restrictions still in place, and the weeks would soon drag on to be months of quarantine. My husband started working from home, my work for the church was to remain virtual until further notice, and any semblance of normal went to the wayside.
I could barely keep the days straight, I hesitated to go anywhere, though hardly anywhere was open. We stayed home. My planner would have been dusty, if not for its use in tracking my cycle. We were still trying to get pregnant; it was the end of the spring by now, and when I went to see my OBGYN, he advised this could last awhile, but didn't advise we avoid a pregnancy. We carried on. My life became toddler daze and pregnancy tracker. If not for my mom in my life, coming to my house a few times a week for play dates and movies, I would have lost my mind, our normal support system gone. Social media stressed me, but without it, I felt cut off, like I was living on an island — and it wasn't a tropical one with palm trees, warm sand, and cold drinks. I worked online helping people register to vote, and waited.
In July of 2020 (sure enough), I got a positive pregnancy test. It was so early and it was so faint I (again) shoved the test in my husband's face to look at it to ensure its validity, and made him run to the store for a 'fancy test' I could take the next morning. My due date would be March 19, 2021, just six days shy of Kara's third birthday. It was like Christmas morning. I got up at 5 a.m. to pee on a stick, walking gingerly around the house, like I was sneaking around to peak at Santa Claus. When it said positive, I squealed into my house coat, dancing and singing hallelujah.
I couldn't control my excitement and called the OB office at exactly 8 a.m. They didn't need to see me for well over a month, and I spent those weeks planning what our new lives would look like. 'Kara, we're going to bring a baby home! A real baby!' She smiled in response, 'Baby!' she cheered. We were so happy. And I was starting to feel scared. I was afraid for Tyler and Kara, both with weak lungs and immune systems that didn't take well to upper respiratory viruses. A family member tested positive for the virus around then; the first time it had seemed to hit close to home.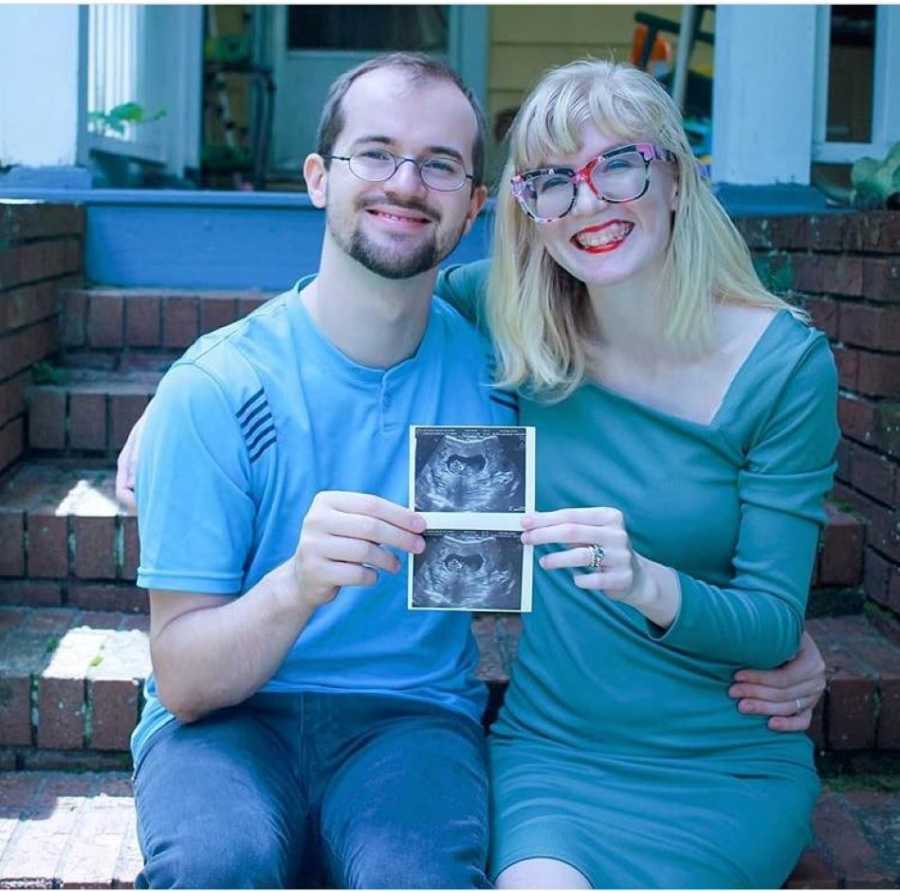 We avoided all events, even socially-distanced ones, and started getting drive-up orders for everything, even groceries. At 8 weeks pregnant, I went to my first prenatal appointment alone. My baby was there, perfect and floating on the screen. 'At least ultrasounds are only done vaginally the first time around,' I joked with the ultrasound technician, 'Just one and done that way!' I made jokes the entire time to ease the tension. I met with my doctor and went on my way. It was weird, but I tried to focus on the fact I was pregnant. Optimistic still.
Two weeks later, I was lying in bed, terribly uncomfortable, tossing and turning in my sleep, when I felt a gush of fluid. I was only ten weeks pregnant. I was afraid I had peed myself, so I went to the bathroom, trying hard not to wake Kara. Tyler was in the next room, working late. I dropped my wet pants and underwear and sat on the toilet, not quite fully awake when I saw blood. There was blood in my underwear, blood on the floor, and more blood each time I wiped.
I stood up and waddled forward, my bloody underwear still around my feet, and hissed my husband's name. I had no words and could only hold up the bloody tissue in my hand. His face lost all color, and as he came to me, he calmly started asking questions: 'Did this just start? How much blood has there been? Are you cramping?' I was. He urged me to call the doctor. My mind, still not quite up to speed, assumed immediately I was having a miscarriage and panicked. It was 2 a.m. If I went to the ER, I assumed I'd have to go alone because of the virus, and thinking there was nothing to be done, the last thing I wanted was to be alone.
'I can't do it. I can't call. It's too early, they won't do anything.' I was still crouched on the toilet, bleeding, sweating, and crying. Tyler insisted. I wrote down my information, afraid I'd forget even my own name, and found the emergency number for the office. I left a message with the answering service, my voice broken and hoarse. A doctor called me back, a woman I didn't know, who gently but urgently said, 'Honey, you need to go to the Emergency Room to get checked out.'
'But what about the virus? Won't I have to go alone?'
'I'm not sure, honestly. You can wait a few hours if you want, but if the bleeding doesn't stop, you need to go. You need to get it checked out.'
I didn't want to go. We sat on the couch, muted, neither of us speaking. I scrolled on my phone, only disheartened by everything I read. The bleeding didn't stop. We got a sitter. I couldn't stop crying on the drive, half from pain, half from the fear of going alone. The winding road was so bleak, the car cold. 'I can't do it alone, baby, I can't!' I cried. Tyler squeezed my hand, 'I'll walk you to the door and I'll have my phone the whole time. You've got this.' I paused for a long moment before entering. Tyler held my hand, a gentle reassurance, and I had my temperature checked at the door. They then turned to check Tyler's. 'You mean, he can come in with me?' I asked, utterly dumbfounded.
'Oh, of course. I mean, it's up to you.' The nurse that checked me in echoed a similar response. 'Look, there's a lot of COVID here, but it's up to you.' Small blessings. Tyler came. They did lab work, ran tests, and did examinations. I left the ER still pregnant, but on bedrest and terrified. The next day I had an ultrasound in the office and more bloodwork. My baby held on strong. I was no longer full of wonder, like the girl on Christmas morning. I went through the motions, drowning, the only reason I got out of bed was my little sunshine. I didn't have work to distract me, I couldn't see my therapist in person, I was on bedrest, and I hadn't seen my best friend in months.
The bleeding was never fully explained — maybe it was a subchorionic hematoma, maybe it was irritation to my cervix, maybe it didn't have a definite reason. The perfect bubble I had created in my mind was shattered. I lived those weeks waiting for the next appointment that would show my baby was still alive. At 12 weeks, I started feeling my baby flutter. It was a touch of hope, the tiniest candle, this baby was fighting to be with us. Kara found Christmas specials then, like Mickey's Twice Upon a Christmas. She watched them on repeat. Weeks passed. We decided to take a rare visit to Hobby Lobby a week before Halloween and she was beyond thrilled to see the Christmas decorations. It was the first year she recognized Santa Claus. She wanted ornaments, colored lights, a dancing Santa, and loved everything. She was in paradise, face mask or no, like she had discovered the greatest thing on the universe. Maybe she had.
When she saw the perfect Christmas tree, she cooed at it, petted its branches, held it. She couldn't stop talking about it, and every time we pushed the cart away to look at something else, she cried and wanted to get back to her 'nice tree.' I wanted it, too. We didn't really need it, but I had hit a point of desperation. The world was on fire, not just mine, but everyone's worlds. I needed Christmas just as badly as my little girl did. Maybe we needed that tree. It didn't take much to convince my husband to buy it the next day. On the drive home, we navigated the date to put up the Christmas decorations. Before Halloween seemed like too much to my husband. 'Christmas music, then?' 'Not yet, Megan.' 'How about gift wrapping, babe?' 'Already?' 'Okay, what about small decorations? They're little trees.' 'I guess that's fine.' He relented to a few small decorations, 'But nothing too crazy.'
Then the day of my anatomy scan rolled around. Except, at just 7:30 a.m., the office called. 'Something came up. The ultrasound tech can't come in today, so we'll have to reschedule your appointment. I'm so sorry, I know you must be disappointed…' Oh. Boy. I rescheduled the appointment for the next day— election day, the day I had been avoiding because of the stress I already felt. I hung up and the tears just started running. I knew it wasn't a big deal, the scan was still happening and nothing was wrong, but it was just the tip of the iceberg to my growing list of fears and anxieties.
Crying, snot dripping down my nose, I told my husband, 'I just want to watch Hallmark movies all day and drink hot chocolate. I just want Christmas. I need Christmas.' So much had happened in the last few months. Illness, cancelled events, difficulties with our pregnancy, postponing preschool, loss, screen exhaustion, a sick dog, and everything occurring on a national scale. I was utterly disgusted, exhausted, and losing hope. So we put up the Christmas tree, Kara's lovely, 'nice tree.' My mom came over to watch Christmas specials and eat cookies.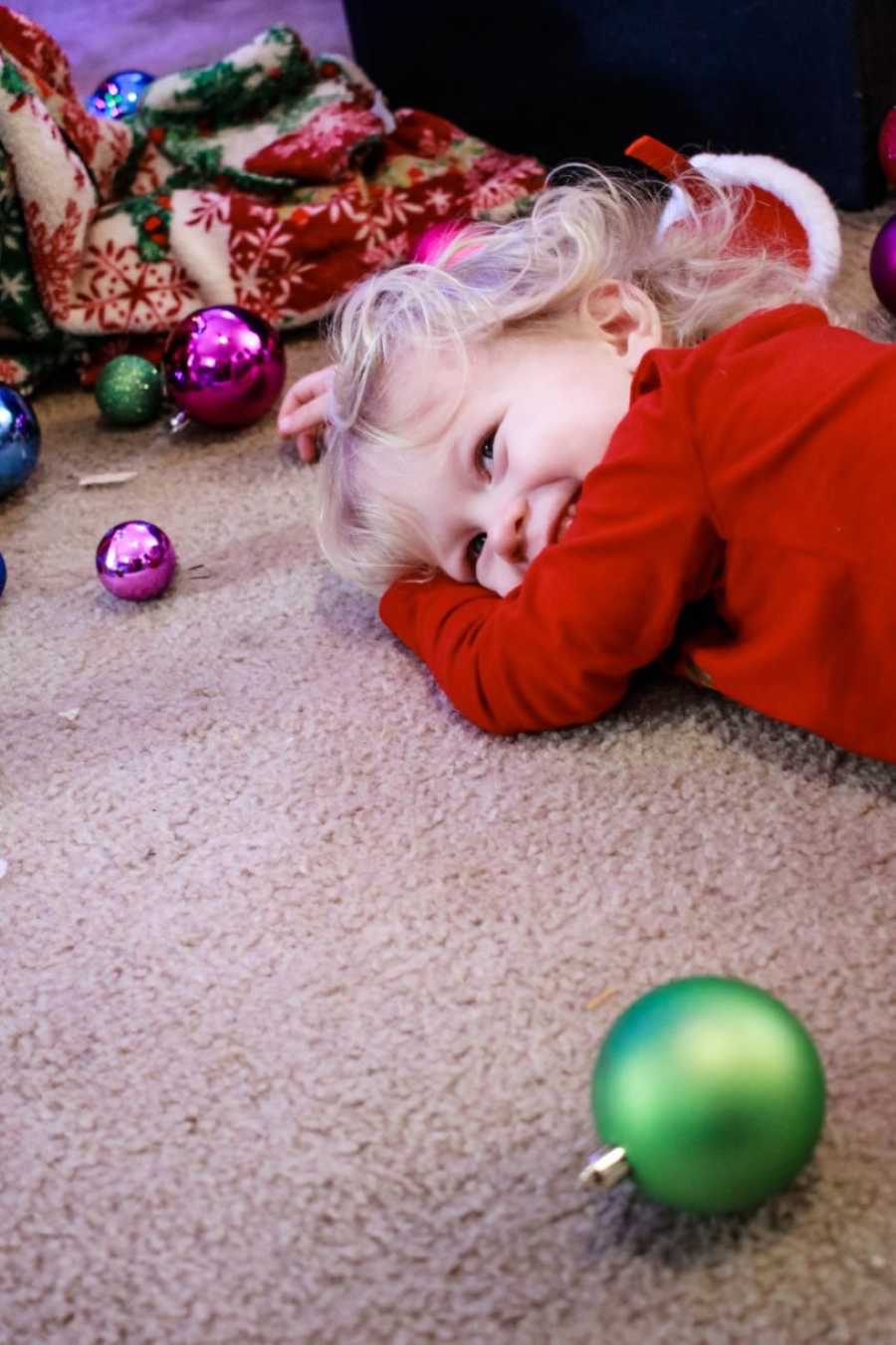 Kara's shirt said 'BRING THE JOY' and it suited her perfectly. Her reaction to the tree lit up in our living room was like she had won the lottery. Like she had been told she could eat nothing but chocolate for the rest of her life. Pure delight. And I'm sure I had the same look on my face the next day, when the ultrasound technician told us our baby was perfect. Healthy brain, healthy heart, and legs spread just the right way to show us a baby boy was on the way. We went home and let Kara decorate her perfect tree. She loved hanging up each individual ornament with care, gently and so not toddler-like. Pure and total magic.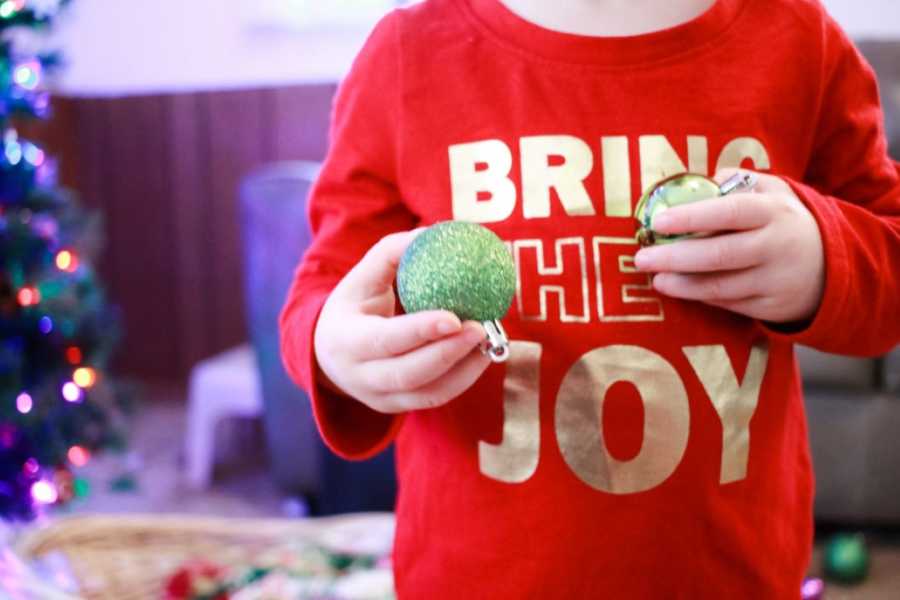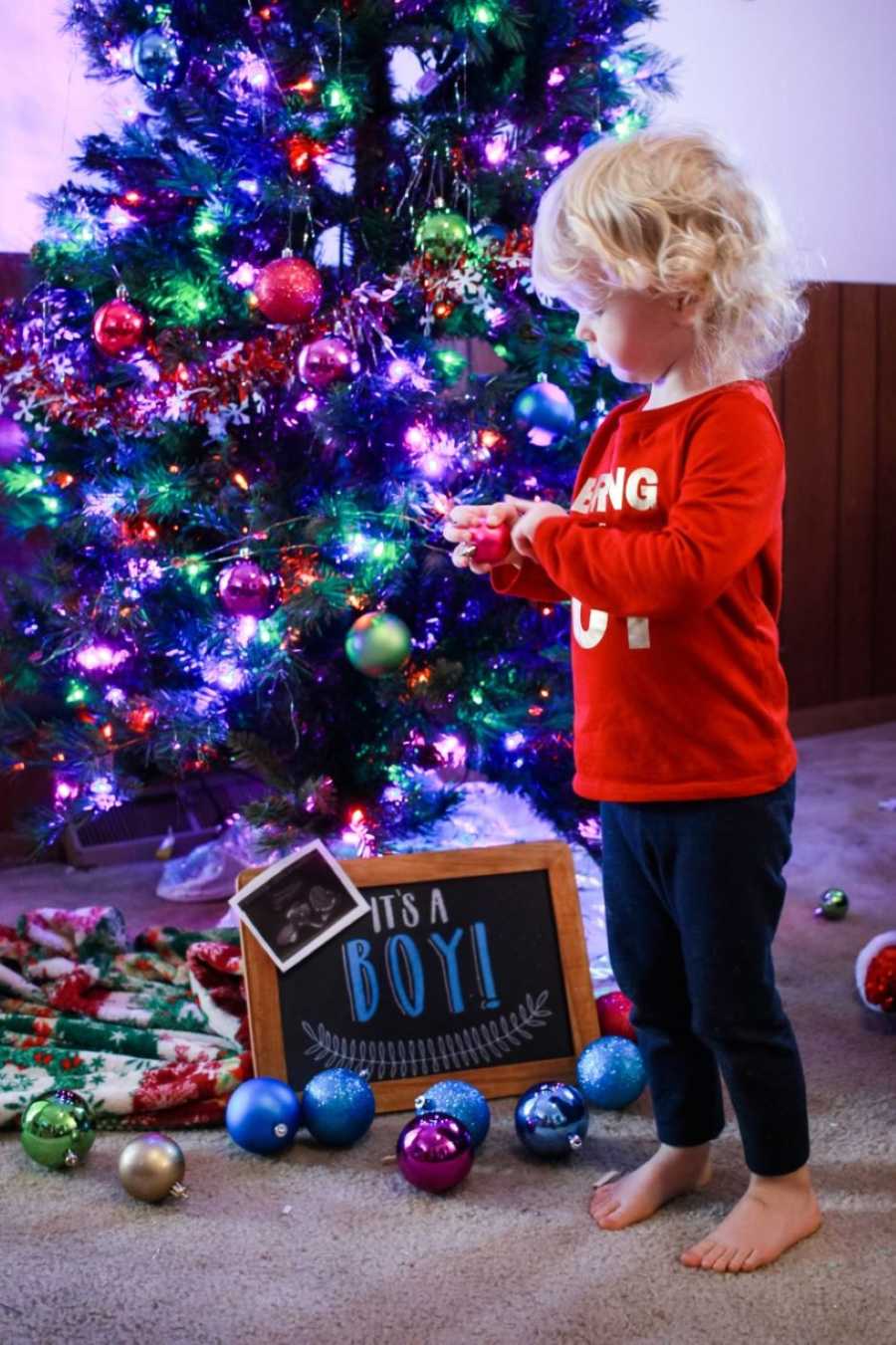 So if you're hesitating on putting up the tree, I'm here to tell you to do it. Do it. The last two months of 2020 might just be a little bit brighter because of twinkling lights, the perfect tree, and Christmas. You won't have any regrets looking at that tree, a perfect reminder for why we fight for what matters. A little bit of Christmas magic."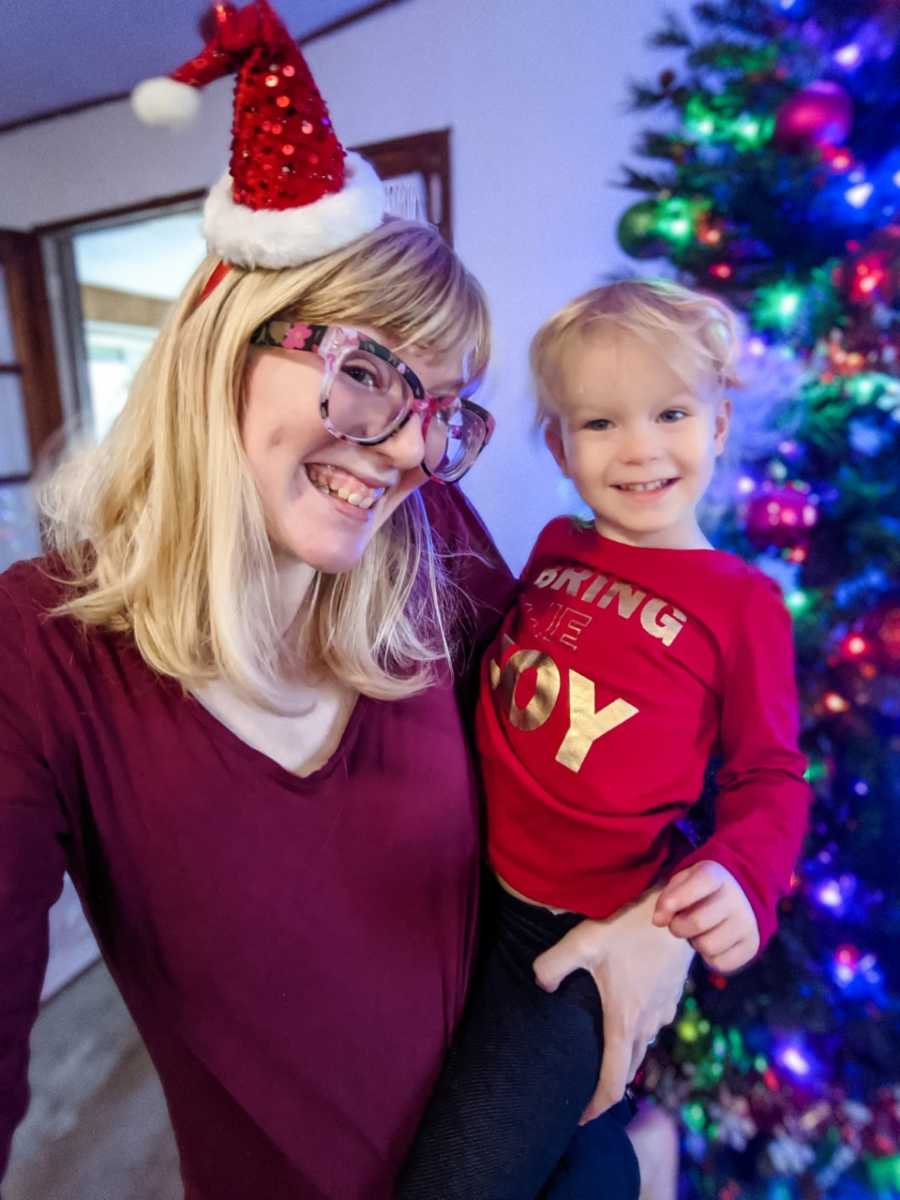 This story was submitted to Love What Matters by Megan Hutson Prestridge of Asheville, NC. You can follow her journey on Instagram and Facebook. Do you have a similar experience? We'd like to hear your important journey. Submit your own story here. Be sure to subscribe to our free email newsletter for our best stories, and YouTube for our best videos.
Read more stories like this:
'There I stood, bawling in a Christmas aisle at Hobby Lobby. 2020 has brought us nothing but hurt and I'm ready for my favorite time of year.' Woman says 'once we choose hope, anything is possible'
'Let's raise our cold coffee mugs for every torn piece of wrapping paper we've picked up in the last 48 hours.': Woman pens appreciation letter to moms who worked hard to make Christmas magical
Provide beauty and strength for others.  SHARE this story on Facebook with friends and family.