"*clears throat*
Ahem. Attention, mamas. Let's raise our coffee mugs (full of cold coffee, of course. 'Cause, hashtag momlife).
For I have a toast to make.
To us.
So mamas, let's raise those cold coffee mugs in celebration of every piece of torn wrapping paper that we've picked up in the last 48 hours (after spending how many hours with that darn paper already, to make the gifts look perfect).
For every piece of cardboard we've folded to fit in a garbage bag (tetris has nothing on a mother trying to fit things into a garbage bag).
For every sore finger caused by every piece of wire that we've undone (You know, those toy wires that require a PhD to remove. Yup. Those.)
Let's raise those cold coffee mugs for all of the months spent thinking about, searching for, and finally finding the most perfect gifts…well, it was all worth it.
Let's raise those cold coffee mugs for the last few weeks spent making lists (that we'd leave at home, again, 'cause hashtag momlife).
All the time spent tracking parcels from Amazon (never watch a pot boil, is that the saying?).
All the time spent making sure that you have all the traditional treats picked up (because if you're not eating Toffifee while opening up gifts, is it even Christmas morning?!). Well, it was all worth it.
Let's raise those cold coffee mugs for all the times we've resisted repositioning the Christmas tree ornaments placed by little hands.
For all the times we've already reorganized the opened gifts under the tree.
For every time we've bit our tongue because our husbands are not helping enough to make the holidays perfect. (Even though we want to do it all ourselves anyway. The struggle? It's real). Well, it was all worth it.
But, mamas, more than anything – let's raise those cold coffee mugs because we'll never get this Christmas again. This one right here, right now. For next year, our little hearts will be another year older, another year wiser.
Slow down, sit down, sip that cold coffee, take a deep breath in, and look at them. Like, really, REALLY look at them. Their little eyes full of magic, their little smiles full of joy…the look that only the days after Christmas Day can bring.
Their little hands playing with the things they've been wishing for since October. Their scrunched up noses at the boxing day family supper when you tell them they need to eat their vegetables if they want a Christmas cookie from the Christmas cookie tin. (You know, the one covered in tacky snowmen, that has somehow become a family heirloom. Go figure.)
Celebrate them, mamas. Celebrate that magic. Celebrate that joy. And tuck away all the little memories and moments you can that'll take your heart to full capacity.
Because one day?
Well, one day you'll be sitting in front of a perfectly manicured tree, with a few pretty sweaters and some bath products underneath it, sipping on a hot coffee… and reminiscing about these memories right here. The ones you are living right at this very moment.
Cheers, mamas. We really are living our best days right now.
Cold coffee and all."
From podcasts to video shows, parenting resources to happy tears – join the Love What Matters community and subscribe on YouTube.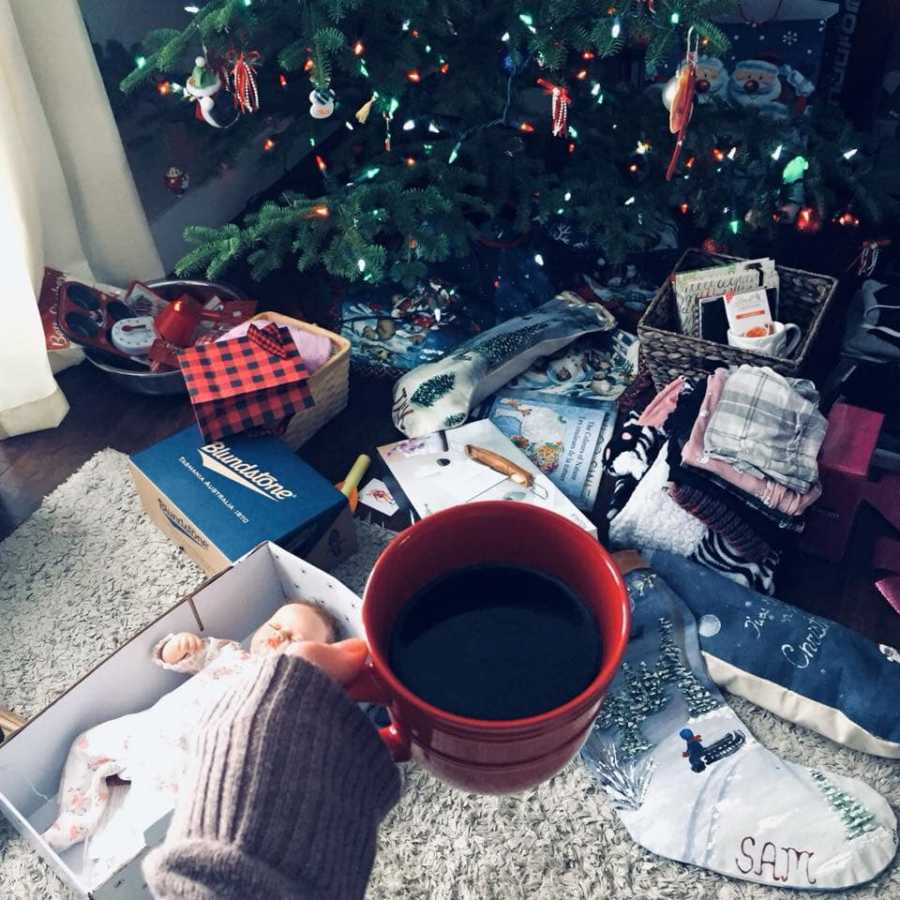 This story was submitted to Love What Matters by Heather Delaney of Love Always, Heather. You can follow her journey on Instagram. Submit your own story here and be sure to subscribe to our free email newsletter for our best stories.
Read more from Heather:
'He doesn't buy flowers or cook romantic meals, but he always pushes the grocery cart.': Woman claims 'love is found' in small gestures, learns to accept husband as is
'Mom, can I talk to you about yesterday?' I no longer wipe tiny bums. I'm grieving the childhood days.': Mom learns to appreciate teen years, 'there is beauty in every season of motherhood'
Do you know someone who could benefit from reading this? SHARE this story on Facebook with family and friends.