"I was born in 1976. My sister was born in 1978. Life wasn't pleasant by any means. I cannot recall much about my biological parents, however, I do recall the horror of my biological father and the fear I felt every time I saw him. He always carried this look of terror in his eyes, the hatred, and the evil. My only goal was to protect my sister from him because I knew that no one else was going to do so.
There came a day when there was a knock on our front door. I wonder who it could be because we never received visitors – our house was a house that was locked with secrets that my biological father wanted to be kept that way.
Standing inside the doorway were two ladies who had stated that they were coming to take us to a new home, a safer home. I was relieved but still questioned how they found out, and now that they did know, my biological father was going to be so much angrier. The next thing I knew we were being lead to the cars, one lady was holding my hand and the other lady was carrying my sister. Unknown to me, we were being placed in different cars. I screamed, 'Where are you taking my sister?!' I was told we would be going to separate homes. My heart shattered, I broke into tears. Why were they doing this? She was all I had.
I sat in the backseat with my eyes filled with tears and my heart broken, I kept watching until the car got so far away I could no longer see her. I believe at this point I finally cried myself to sleep. The next thing I knew we were arriving at my new 'home.' I cannot remember much from this home, just the fact that they seemed to not like me, like I was a burden to them. The only thing I could think during my time while there was my baby sister. I wondered if she had a good family, I prayed they were treating her well. I finally figured out a way to get my answers, I was going to become so 'bad' that they wouldn't want me anymore, and maybe that would bring my sister back to me.
Somehow after a long time of refusing to eat, refusing to follow directions, constantly crying that I needed my sister, it worked! I finally got to see her and it was decided they would place us back together, in a new home. I really hoped we would be somewhere where someone truly loved us. Again this didn't happen. Our foster family was just as mean, the other children that lived there constantly made fun of us. My sister and I were never separated or far from each other, I was the only one that could protect her, I was the only one that could take of her, I was the only one that really loved her.
As time went on in this home, news came one day that we were going to be placed in yet another home. I begged them to keep us together, because there wasn't any way I was going anywhere without her. They did keep us together, we were placed in a home with other children. Some of them were nice, but none of that mattered to me, the only thing that mattered to me was my sister. And I didn't believe that they would keep us, for whatever reason something was wrong with us because no one wanted us.
That is until one day in 1981 when two people came to meet us. I will never forget their smiles, so kind. I just had a feeling in my stomach that again this just wouldn't work. I was now 6 and my sister was 4. Everyone always wants the babies, who want the kids with 'issues?' Well I guess I was wrong for once.
A miracle had occurred. We had been told that these kind people wanted to adopt both of us; although I was scared I was so happy they were keeping us together. I remember arriving at their home, it was huge, and as we got out of the car they were smiling and took our hand and said, 'Welcome home.'
Home wasn't a word I understood, we never had a home. As I walked in, I was shocked with how large and beautiful it was. The first thing I remember seeing was this large, wood burning fireplace. They offered to let us look around, and then they took us up to our bedroom. WOW! It was beautiful; we both had our own bed in the same room that was decorated with Rainbow Bright.
We then went downstairs for dinner, the best meal I think we ever had. I will admit it was awkward, we really didn't know them but they were now our Mom and Dad. And even though I was thankful I was still scared they would get to a point that they really didn't want us. Thankfully that never happened. In January of 1982 our adoption was finalized with a large party with our new family to follow.
As time went by I finally began to feel comfortable, to finally feel loved, to feel wanted, and to feel that I was home. My mom and dad sacrificed so much for us, they truly did want us, and they truly did love us. It always felt that there was never a moment they didn't want us. The feeling of having a mom and dad was the best feeling I could have ever imagined. I'm so grateful for the life that they gave me, the never-ending love and support, always being there no matter how rough life got.
I'm blessed to call them mom and dad. I'm blessed to have walked the path that I did because today I am who I am because of the love and support of my incredible parents.
I always remind them of this: 'Even though you didn't give birth to us, you chose us, and that is even more special.' I look forward to celebrating 37 years of being a family this coming January."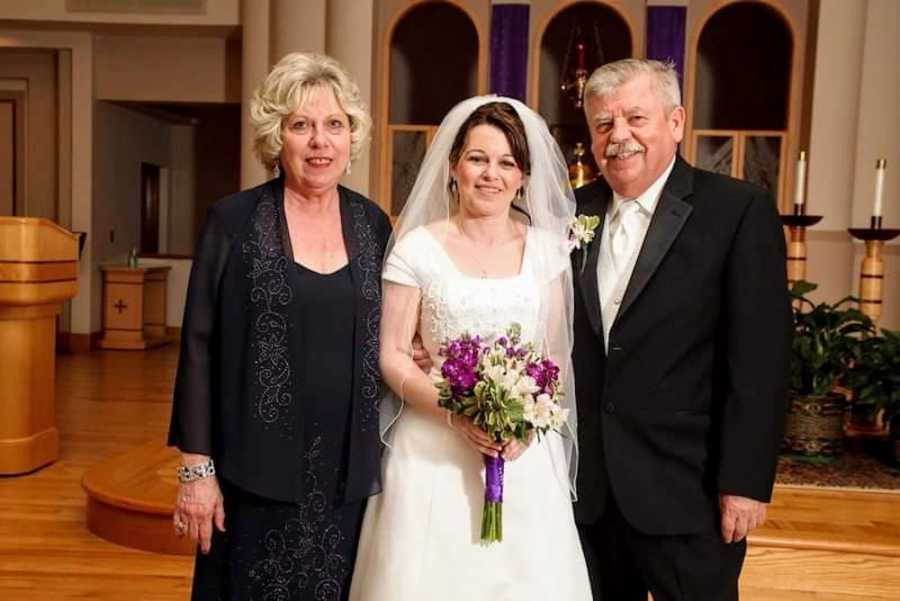 This story was submitted to Love What Matters by Marybeth Summers. Do you have a similar experience? We'd like to hear your important journey. Submit your own story here. Be sure to subscribe to our free email newsletter for our best stories, and YouTube for our best videos.
Read more stories like this:
'I got the call at 6 p.m., left my kids with my husband and drove to her house with my socks crammed into my Birkenstocks.': Mom urges others to 'just show up' when friends need you, 'She didn't need Pinterest, she needed me'
'I whispered to Santa, 'He is blind and autistic and is very interested in Santa.' He said, 'Say no more,' and immediately got down on the floor to greet my little man.': Mom thanks 'Best Santa Ever' for giving son magical holiday experience
'Mrs. Cynthia, I want to have dark skin like you. Why is your skin so dark?' My heart stopped.': Mom urges talking to your children about differences after tender moment with Waffle House employee
Help us show compassion is contagious. SHARE this beautiful story on Facebook with your friends and family.