"I won't share a recent image of her with you because she's not into having her picture taken or her having her photo on the internet, circulating on social media.
I'm not going to share her name with you because she prefers to fly under the radar and doesn't really care for having lots of attention on her.
But I will share with you how impactful she's been and is on my life, and how important she is to me.
I will share that I've never known her to be anything but doting and affectionate.
I will share what a stellar caretaker she's always been and how tending to her kids when we were little and still now, while we're grown, has always been her number one priority.
I will share how, when I was younger, I loved that she occasionally let us have pancakes for dinner.
I will share that she still makes the best chicken wings and fries and every meal she makes could feed an entire army, and there'd still be enough for you to make a take-home platter (which you d–n well better).
I will share that she ran me around town to and from soccer games and practices almost every freakin' day for 13 years.
I will share that she helps me out with my kids when I must run them around town and can't be in two (or three) places at once.
I will share that she's always worked with me to figure out any problem or dilemma I've ever encountered, and still does.
I will share that she always let me 'do me,' whatever it looks like. Even when it looked like homemade clothes, different box-colored hair, and boyfriends every other day. And, even now, when I word vomit my often embarrassing but honest feelings onto a keyboard and send them out into the worldwide web almost daily.
I will share that she was a bridesmaid at my wedding and when I was in my twenties, we got a tattoo together. (Shh! Don't tell her I told you!)
I will share that we talk or text every single day.
I will share that I've always felt loved by her. In the 34 years I've been on this Earth, I've never once questioned my value to this world, my importance to this planet, my undeniably, incomparable inner and outer beauty, or my limitless talents and endless capacity for greatness.
It's only because she, my mother, makes it her life's work to ensure I don't — by supporting me, encouraging me, helping me, listening to me, guiding me, allowing me to fail, hugging and holding me if ever that happened, building me back up, and still 'being there,' even if ever she physically can't.
And now, as if she could be anymore selfless and wonderful, she loves my kids, her grandbabies, in the same manner she continues to love me.
Mothers don't love their children for fame. Mothers don't love their children for the money.
Mothers love their children because nothing in the world feels more gratifying (albeit exhausting) than being a 'home' for the same human from birth till eternity.
Now that I've been a mama for quite some time, I can attest to this.
Now that I've been a mama for nine years, I truly recognize and appreciate everything my mother has and continues to do for me as I attempt to resemble and try to be even half the parent she is to me to my nuggets.
I won't share everything about my mom with you because I want to stay in her good graces (and the tattoo divulgence hopefully didn't take me out of those), but everything about the stellar human she is, sure is both share and praiseworthy.
They say mothers are made, not born, but this mother, my mother, she was born to be one, to be mine, and my brother's and sister's and her talent at it — at loving her kids in just the right way — well, it's made me better at doing the same, and for that — and very much more — I'll forever be grateful."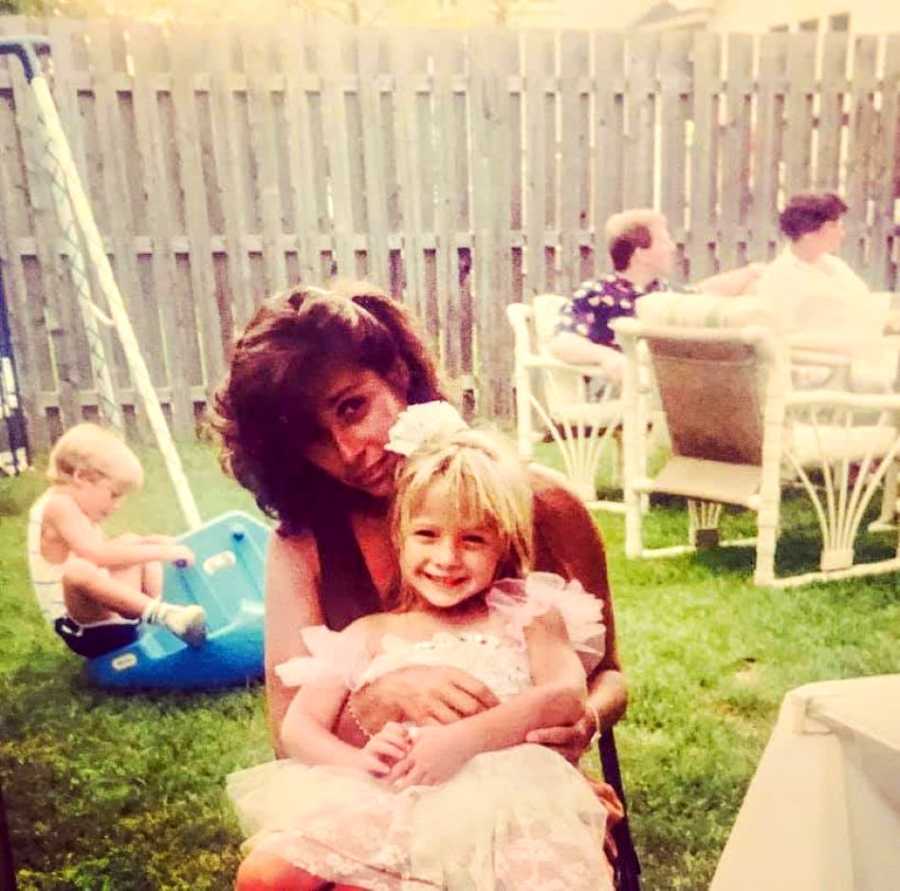 This story was submitted to Love What Matters by Nicole Merritt of Jthreenme. You can follow her on Facebook, her website, or podcast. Submit your own story here. Be sure to subscribe to our free email newsletter for our best stories, and YouTube for our best videos.
Read more from Nicole here:
'Hey friend, I'm coming over. Please don't clean up. Please don't dress up.': Mom doesn't want friend to 'apologize' for being messy, 'don't stress the mess'
'Do your kids know who Greta Thunberg is? Mine don't, and it's my fault.'
'I don't want a tribe because tribes have leaders. There I said it.': Mom explains why she'd rather have 'damn good friends' than a 'tribe'
'Do I send my child to their brick and mortar campus and worry about their physical health EVERY SINGLE DAY?': Mom shares frustrations for fall school re-openings
Provide strength and encouragement for others. SHARE this story on Facebook with your friends and family.