Disclaimer: This story contains details of child loss that may be upsetting to some.
"'I see more than one!' the sonographer said to us at our first ultrasound. We were ecstatic, not only was this our first pregnancy but we were blessed with two. My husband was instantly emotional thinking about the bond our children would have forever, just like the bond he has with his twin. Later that day, my OBGYN called to confirm the news and tell us that we had monochorionic diamniotic (mono-di) twins, which means each twin has its own sac but they share a placenta so therefore sharing the blood supply. This opens the door for potential complications that meant we would need to be seen by a maternal-fetal medicine doctor. To be honest, we did not digest any of the negatives that came with that news, we just started planning for our future family of four. Soon after, we found out we were having boys, identical twin boys who we named Brooks & Bryce.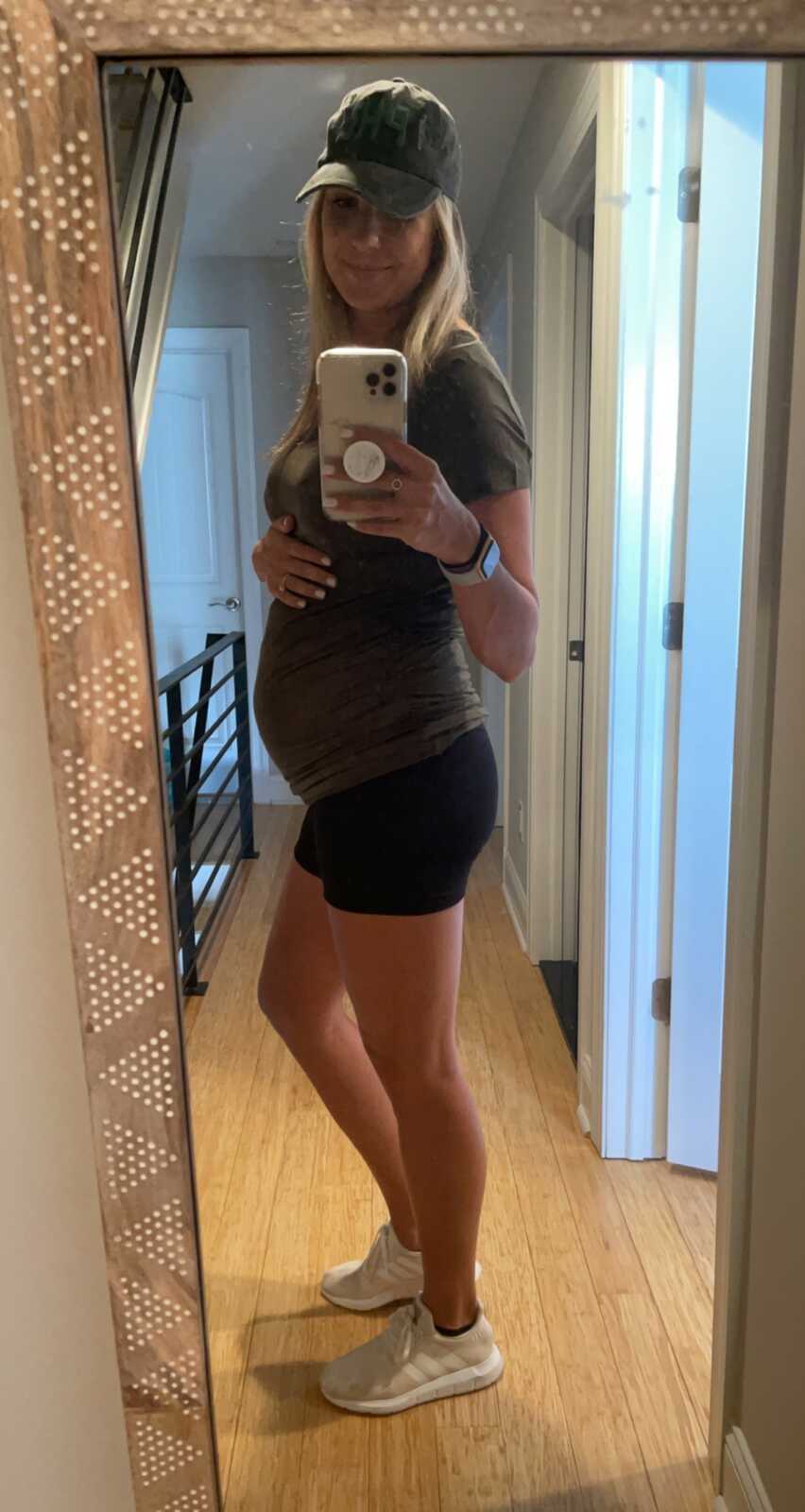 Starting at 14 weeks, my MFM told me we would be monitored every other week to watch for signs of Twin-Twin Transfusion Syndrome (TTTS). I had never heard of TTTS until we were pregnant with mono-di twins. TTTS is a rare, serious condition where abnormal blood vessel connections form in the placenta. This causes one twin to become the donor and the other twin the recipient, meaning the recipient is getting more blood supply than the donor. This causes issues for both the donor and the recipient twin. Not having enough blood supply can lead to restricted growth and organ failure and too much blood supply can lead to heart failure. TTTS happens in 1 out of 10 pregnancies where there is a shared placenta. There are 5 stages of TTTS and it can happen at any time up until birth but it is usually detected around 20 weeks. Depending on how the TTTS progresses there is a laser surgery available once you are in stage 2 that can fuse the abnormal vessels allowing the supply to be evenly distributed again.
At my 18-week appointment, my MFM doctor saw that Brooks had more fluid around him than Bryce (fluid discordance is the first sign of TTTS). She did not seem overly concerned but still decided to transfer us to the Children's Hospital to have the boys checked out. After 6 hours of tests, it was determined that they had fluid discordance due to the shared placenta putting them close to stage 1 of TTTS. Our team of doctors laid out a plan for us and decided to monitor the boys twice a week to keep an eye on any changes that would progress them into stage 1 as TTTS can happen very quickly. As the weeks and appointments went by, the boys remained stable. They were always active and showing off for the sonographer (high fives, muscles, kicks, you name it).
Because the fluid wasn't getting worse and there were no other signs of the disease progressing the doctors said there was nothing to do except watch and keep a close eye on them. At our appointment on November 5th, the boys were doing so well that they would only need monitoring once a week going forward. The doctors said that sometimes the twins work it out all on their own and they felt that was what Brooks & Bryce were doing. Two days later my water broke and on November 8th, 2021, Brooks David and Bryce James were born at 22.5 weeks. We held onto them so fiercely and so in love as they became our guardian angels an hour after birth. My husband and I were shocked, devastated, inconsolable, and had so many questions.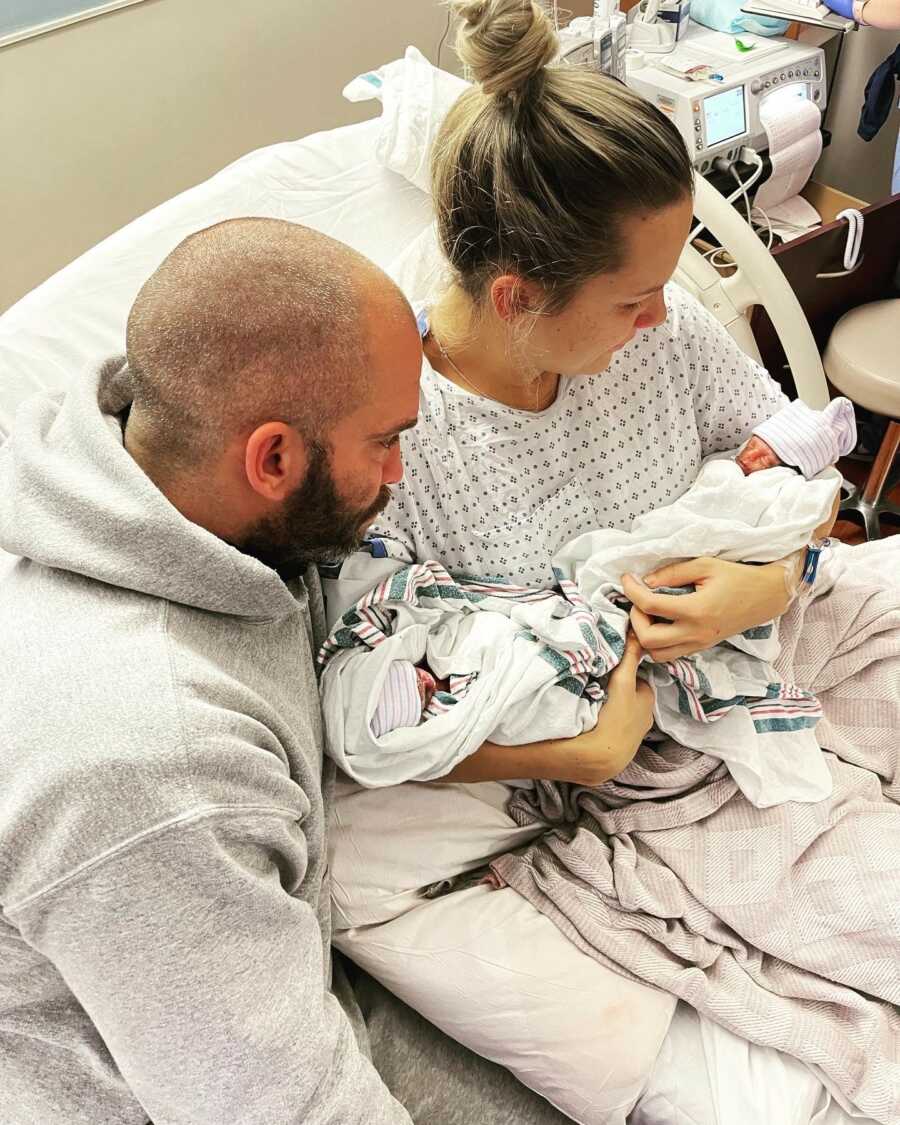 A few hours after my boys were born, I started to hemorrhage losing 1.5 liters of blood in minutes due to retained placenta, so the doctors had to do an emergency D and C. Little did I know, 8 weeks later, they would have to do it again for more retained placenta.
Brooks and  Bryce stayed with us in the hospital until I was released 2 days later. Our families had the opportunity to meet them; they are my parents first grandkids and numbers 3 & 4 for my husbands' parents. I will never forget how unbearable the pain was watching our families meet our angels knowing how different this should have been. Imagine how happy and excited everyone should have been walking into that room where two healthy boys should have been. Regardless of the sadness, seeing our families hold our children and love them so much was exactly what I needed at that moment.
Before we left the hospital, we held our babies one last time and with tears streaming down our faces. In an unfathomable amount of pain, we promised them that we would survive this for them and live every day in their honor. I walked with them to the elevator where we were forced to part ways and could not comprehend how I could be leaving without them. Without those promises, I don't know how I would be here today. Those promises are what keep us going and we intend to keep those promises until we meet our sons again.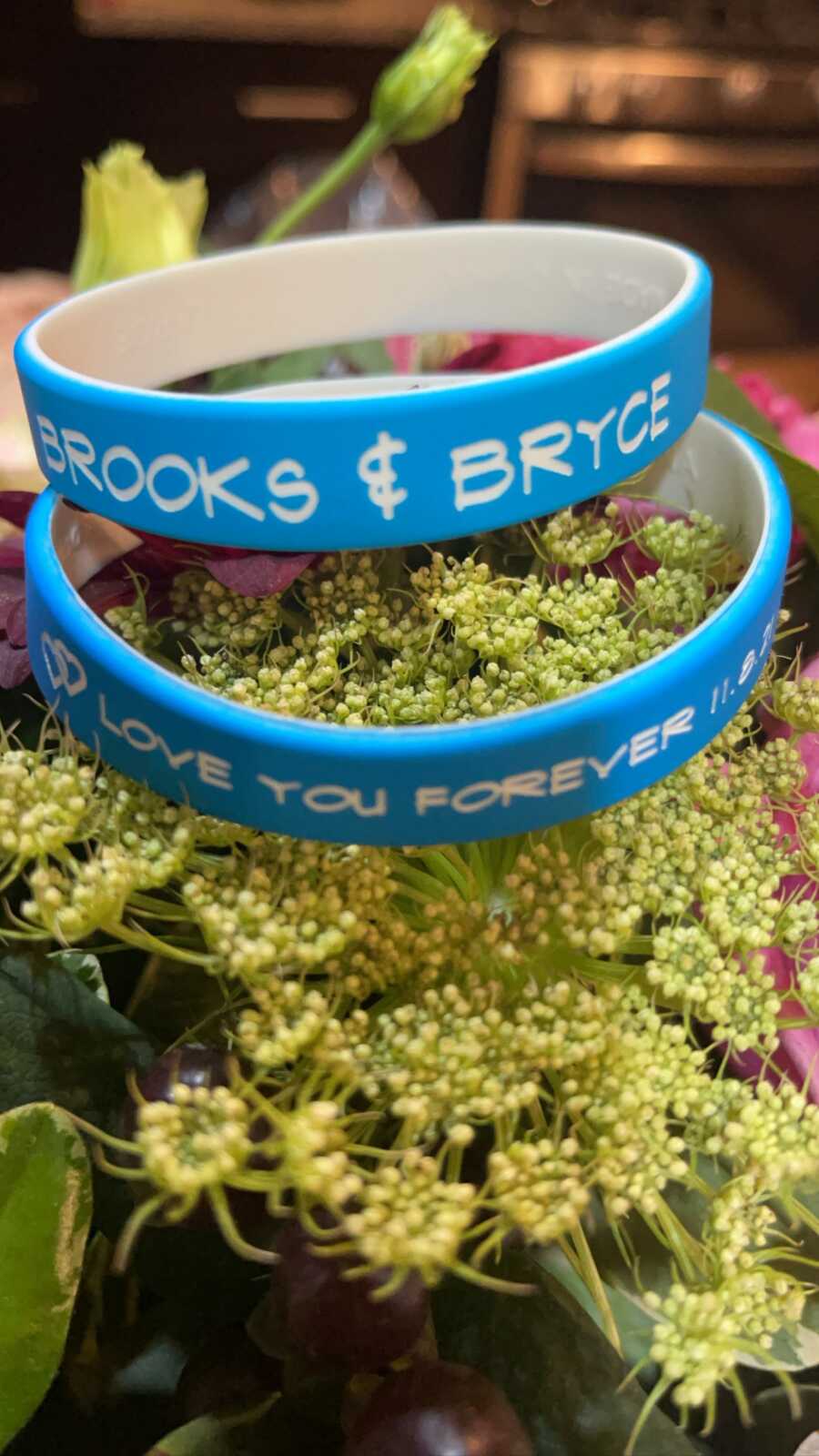 The days to follow were heart-wrenching as we planned their funeral. My husband stepped up as I couldn't even discuss arrangements without collapsing in pain. Even looking at my stomach would throw me into hysteria. Not to mention all the diapers, onesies, car seats, bassinet, strollers, and everything else we had in our house to prepare for our sweet boys' homecoming. Everywhere I turned, something would smack me in the face reminding me that my boys are dead.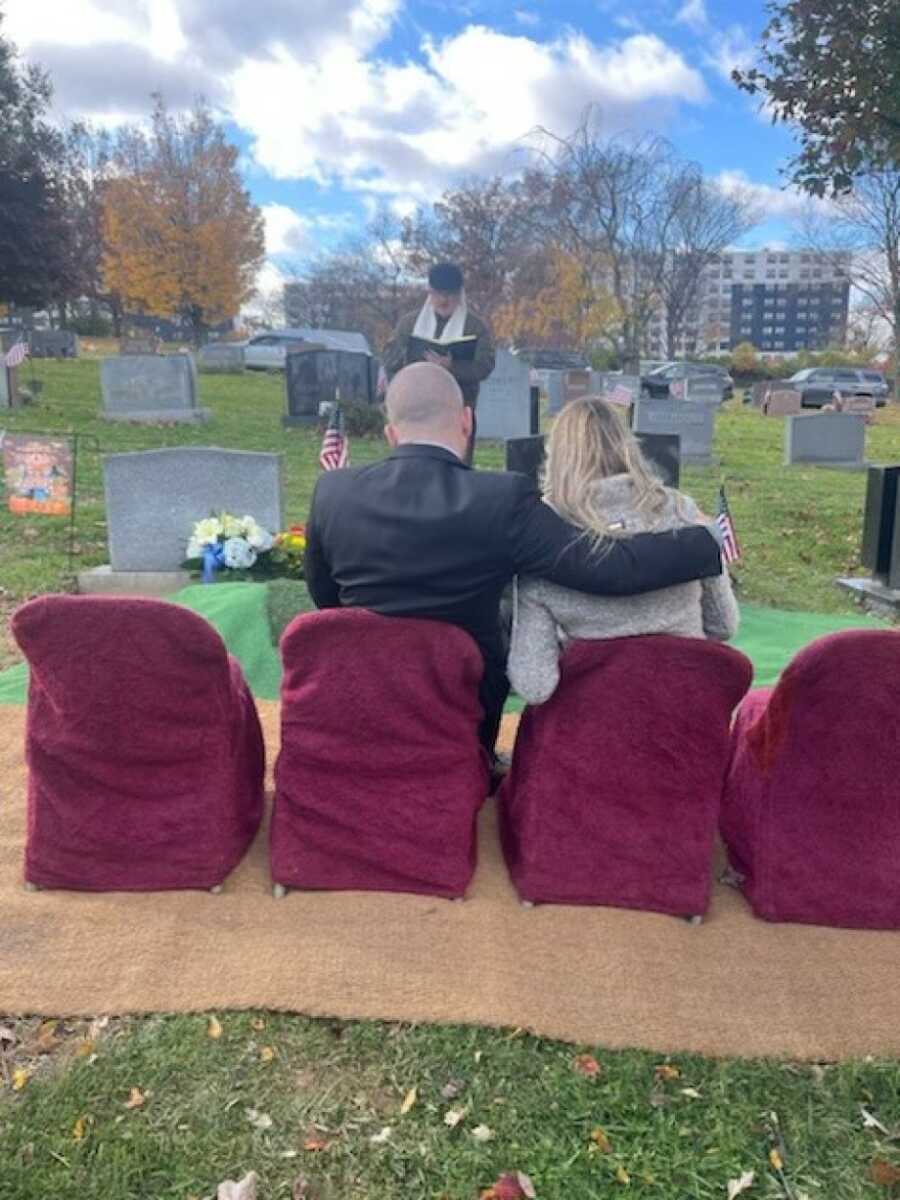 My husband and I were newlyweds, ready to celebrate our 1-year anniversary later in November. I wasn't sure what this would do to us or how we would heal. But between the love for our boys and the love for each other, we have lifted each other up every step of the way. Anytime I think I can't get through it, he reminds me that we just take this one day at a time, and that remains our motto. We feel our emotions and try to be patient with ourselves as there is no end date for grief. We have learned that grief can be spontaneous, sneaky, heavy, constant, and draining. The things that trigger grief are often times surprising, causing the grief to hit you even harder. The worst is the guilt that comes after we have a good day, but we know that is just the grief creeping in. Grief needs to be normalized as it is something we must feel to be able to cope with such tragedy.
We talk about Brooks and Bryce a lot, share our memories of them, say their names, and raise awareness by sharing their lives on social media. Our boys being remembered is our number one priority. Although we feel we are each other's best support, we still joined a grief group through UNITE and see a grief counselor to allow us to process this unimaginable trauma. Losing infants is a lonely experience because it is an out-of-order death that not many can relate to. Through our grief group and social media we have found a community. It is a community we wish we weren't a part of, but a strong community nonetheless that is truly the most supportive.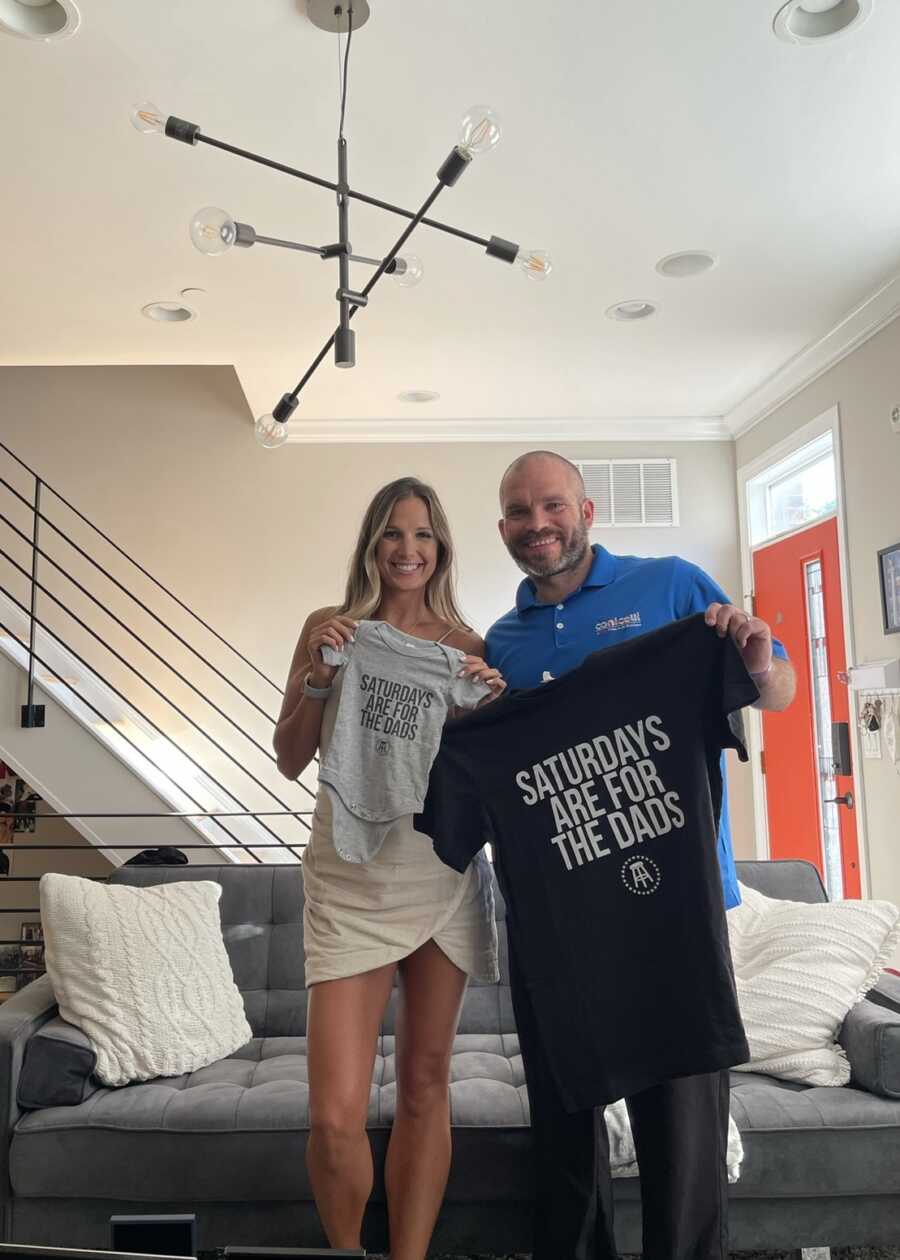 The outpouring of love we received and continue to receive is incredible, especially the number of women (complete strangers to me) willing to talk to me because they can absolutely relate to what I was going through. They know my pain and they want to help. A company called Hope Again Collective, started by a loss mom, made earrings after my son's story and donated all her proceeds to a headstone for Brooks & Bryce. I mean it when I say the support is truly unreal.
The hardest thing about losing someone you love is that the world keeps turning even though they are gone. People have to continue with their lives, go back to work, take vacations, etc., while our world had stopped dead in its tracks. We could not imagine this life without Brooks & Bryce in it. My biggest fear is my boys being forgotten as everyone went back to their lives, but we are so fortunate to be surrounded by an incredible support system, our families and friends have shown up say the least. They have done everything…flown across the country when we needed them most, planned activities to get us out of the house, stocked our refrigerator time and time again, sent all the mementos, checked in constantly, and just always being there. But the most important thing they have done, even after the world had to keep turning, is that they remind us constantly we are loved, our boys are loved and they are never ever being forgotten."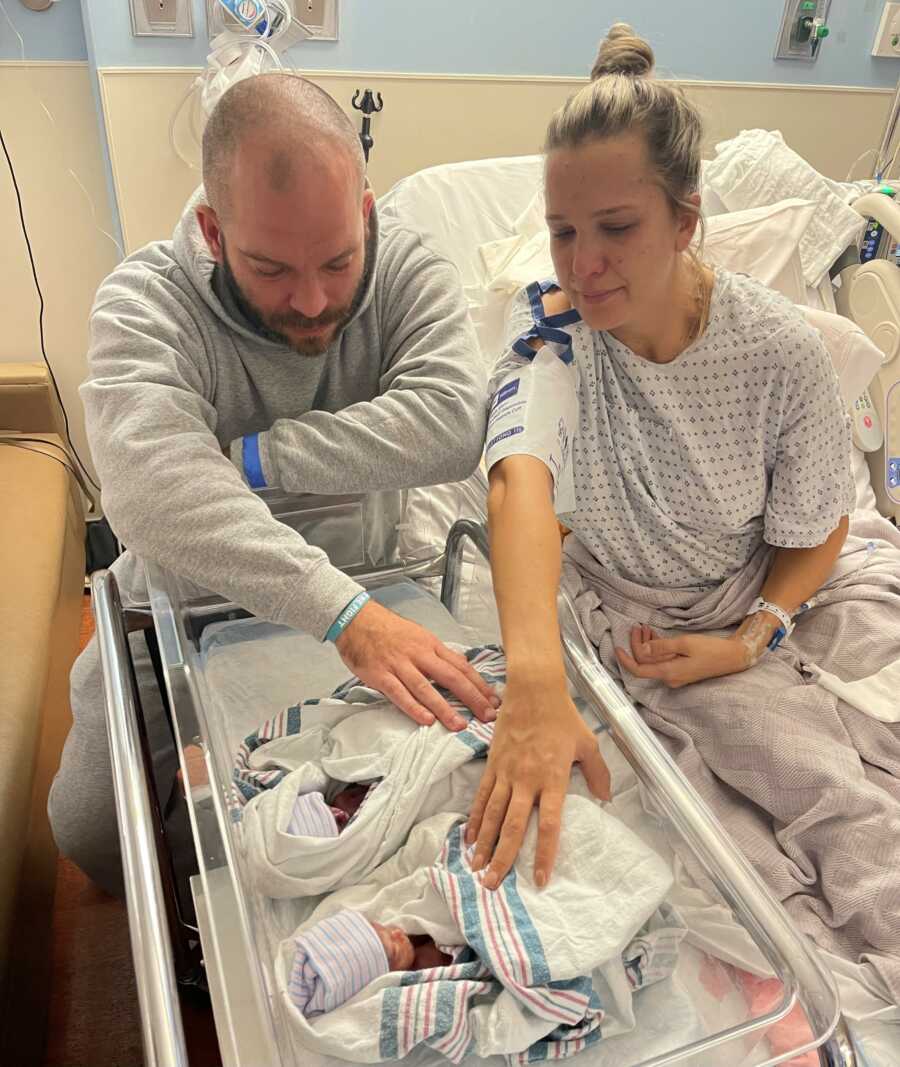 This story was submitted to Love What Matters by Bridget Terpoilli from Philadelphia, PA. You can follow her journey on Instagram. Submit your own story here and be sure to subscribe to our free email newsletter for our best stories, and YouTube for our best videos.
Read more touching stories like this:
'We made eye contact and I immediately knew something was wrong. 'Let me get the doctor.' The doctor said six words no parent EVER wants to hear.': Mom grievously recounts miscarriage, 'We find comfort in knowing she's with Jesus'

'The nurse broke the news over the phone. 'There's no way to do a burial.' My baby was placed in a round, plastic dish and simply sent off somewhere.': Mom of angel baby urges 'miscarriage matters' after hospital negligence
'It doesn't matter if you're white, black, brown, or yellow. If you're healthy or unhealthy. Single, married, or divorced.': Woman urges 'miscarriage does not discriminate'
'He had 'no idea'. I waddled up the driveway with terror of dropping my insides out on the cement.': Woman recounts emotional miscarriage, 'My husband was pale, quiet'
Provide hope for someone struggling. SHARE this story on Facebook with friends and family.