"I'm usually a private person, I don't tell a lot of things to people and keep my business to myself. However, after having my twins, I feel like people could possibly benefit from my story. So, here it begins. I got married when I was 25 to someone I had known all through primary and high school, Stan. After not seeing him for many years, to bumping into him randomly, I knew he was the one. We decided to wait a year after we got married to go overseas and possibly start our very own family. In July of 2017, off we went to Greece. In my head, if you have unprotected sex, you should fall pregnant, right? Well, not always. We started trying in July, and after a few months, I kept thinking…what is going on? Surely this is normal.
Google articles said it can take 6-12 months, so we kept persisting, and each month when I got my period, I would be devastated. Until December. I got my first ever positive pregnancy test in 5 months! Woohoo! Off we went to the doctor to get my blood test, only to reveal I had low levels of the HCG hormone. I was asked to come back 48 hours later to repeat to see if my levels had increased. That night, I started to bleed and knew I was having a miscarriage. After 48 hours, sure enough, my levels had dropped, and they called this a chemical pregnancy. A very early miscarriage, hence why I had felt no pain.
After a miserable day, off we went trying again. Until March, when AGAIN another chemical pregnancy. I remember saying to Stan, 'Something is not right. We need to go get checked.' So we went to the GP. My results all came back perfect! There was nothing wrong with my levels. All should be happening! Still, a few more months of trying and nothing. I demanded to go to a specialist to see if there was something wrong internally. So in July, off I went, and again after many scans and blood tests, for both me and Stan, everything seemed to be PERFECT.
After still not getting pregnant in November, my specialist suggested we go through a procedure called laparoscopy to see if there was an underlying issue or endometriosis. I had a laparoscopy in November, and I remember being in recovery when the Dr. said to me, 'Evelyn, there is nothing wrong. Ovaries and uterus look absolutely normal and perfect. I will be very surprised if you don't fall pregnant.' So, sure enough, I went back to the specialist a week later to get a 'trigger' shot to ensure I would definitely ovulate, and well, the month of December we tried again, and then on New Year's Eve, I bit the bullet. I took a pregnancy test and saw a strong line.
Still not being so hopeful, I went by my day, and by my week, until a week later, I still hadn't had my period. After a couple of blood tests, sure enough, I was pregnant! 48 hours later, I had to repeat to make sure the HCG levels were going up, and so they were. However, my progesterone levels were dropping, which is what causes miscarriages. I had to take some progesterone pessaries to insert 'down there,' which was NOT so comfortable, and this went on for around 8-10 weeks, along with regular check-ups and blood tests just before my 8-week scan! So, I am pregnant, 8 weeks in fact. No morning sickness, and feeling pretty damn good!
Off we go to my OB Dr. Grant Saffer, who worked closely with my specialist, Lynn Burmeister. He was located in her clinic once a week, so I was comfortable in the environment. I knew the staff but was absolutely sh–ting myself in getting the scan. Why? Well, the whole purpose of this scan was to see if there was a heartbeat. After FINALLY falling pregnant, all I wanted was to hear the sound. So, on the bed I am, cold gel on my stomach, and mind you they press pretty hard, Stan sitting opposite of me, and my face fixated on the screen. 'Oh yep, here it is. Can you hear it?' he says. Woohoo! I can hear a heartbeat. I finally start to relax.
'Oh no, wait,' he says…at this point, my heart is racing again. I am about to vomit because I am dreading what he is about to tell me. Is there no heartbeat? Is there an issue? But no, instead he says, 'There are two heartbeats!' I am instantly shaking. CLEARLY! I glance over at Stan, who has turned white and needs a glass of water. He literally walks out of the room towards one of the nurses because he's about to faint! I'm like, WHAT THE! TWINS? AS IF! NO WAY! I was clearly over the moon, but my mind and body just went into complete shock mode. So, I get cleaned up, Stan has a breather outside, and we go and have a chat with my OB as he is now telling me a list of complications with these 'types' of twins.
I had MCDA twins, basically sharing a placenta and separate amniotic sacs. They were measuring a little early at this point, and without him basically saying it, they looked conjoined. This is why the second heartbeat wasn't picked up straight away. I remember him saying in all the 20 years he worked as an OB, he never ever missed a heartbeat. Except for this one time. There was a long list of complications. Lots of testing needed to be done, and I needed to come back in 5 days to rescan and see if the dates would add up a little better. These types of twins can develop TTTS (Twin to twin transfusion syndrome) and also developmental issues.
Leaving his office, I remember Stan and I were just hugging in the elevator. He was scared, and I was scared. We didn't know what the next scan would tell us. Stan did not sleep properly for the next week, and to be honest, I slept pretty well. I think it was due to the hormones because I was SO TIRED! To another level! So we go back, and thankfully, we can clearly see two sacs, and they are not conjoined. They were also measuring at 9 1/2 weeks, so back on track like it was meant to be! I cannot explain how thankful I was at the moment. However, it meant I would have to see a different OB who had more experience in high-risk twin pregnancies.
We left the office for good this time and made an appointment to see Dr. Emily Olive in East Melbourne, at St. Vincent's hospital for a week or so after. In my head, I was feeling some sort of relief, but also nerves because I didn't know this doctor, and also because my pregnancy was now classified as 'high risk.' My first visit with Emily was nerve-racking, but she also made us feel very comfortable. We were told the risks and how I would get scanned every 2 weeks from literally 12 weeks. She also told me the aim was to get me to 35 weeks, but I would most likely give birth anywhere between 30-35 weeks. Well, boy was she right!
Getting fortnightly scans was reassuring. I always felt better knowing I would be getting checked up, and basically had my OB on call if I ever needed anything. Traveling along through my pregnancy, I felt good. No morning sickness, just super tired. I was lucky my head wasn't over the toilet seat, and all I had to worry about was what time is bedtime because I was so exhausted. I still was working up until 19 weeks, when Dr. Olive noticed some fluid around Tia's sac. She told me to immediately take it easy and not do anything major, cut back on some work, and enjoy more couch time. Which is exactly what I did.
I am a beauty therapist, who also works for my dad, so my days became shorter, and by the 22-week mark, I stopped completely. We didn't want to go into early labor, so I became a couch potato. Which honestly, I didn't mind. The 29-week scan came and Dr. Olive noticed something unusual during this scan. There was a lack of blood flow through one of the dopplers. Twin to Twin Transfusion Syndrome was starting. Usually, TTTS happens around 16-24 weeks, but in my case, it happened much later. I was sent to get a steroid shot and a scan from another OB she worked closely with to make sure what she was seeing was correct.
The other OB told me everything looked OK and the steroid shot had worked. The following day, I had another scan, and same thing, everything looked OK. However, the next day, Dr. Olive was not happy. She said to me, 'I need to find you a hospital.' St. Vincent's couldn't deliver me because they didn't take babies 32 weeks under. I went home, my bags were already packed, and I get a phone call telling me I need to go to the Mercy Hospital in Heidelberg where she knew some doctors to assist me with. Fair to say, I freaked out. I didn't want to go to a hospital where I didn't know the doctors, the staff, or anyone, and I was COMPLETELY out of my comfort zone. Dr. Olive also didn't have the right to deliver me at the Mercy. I was heartbroken.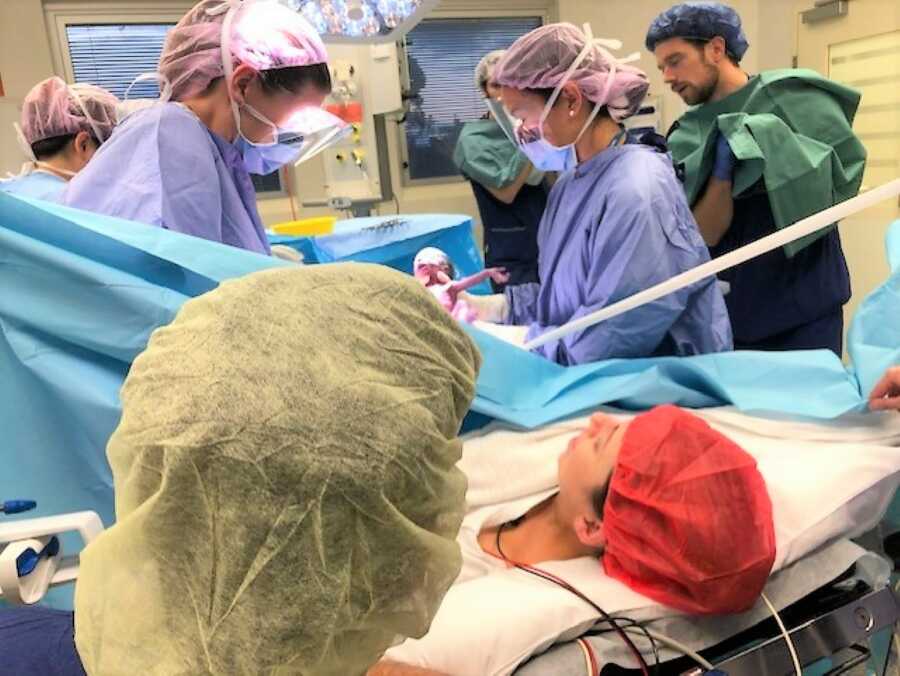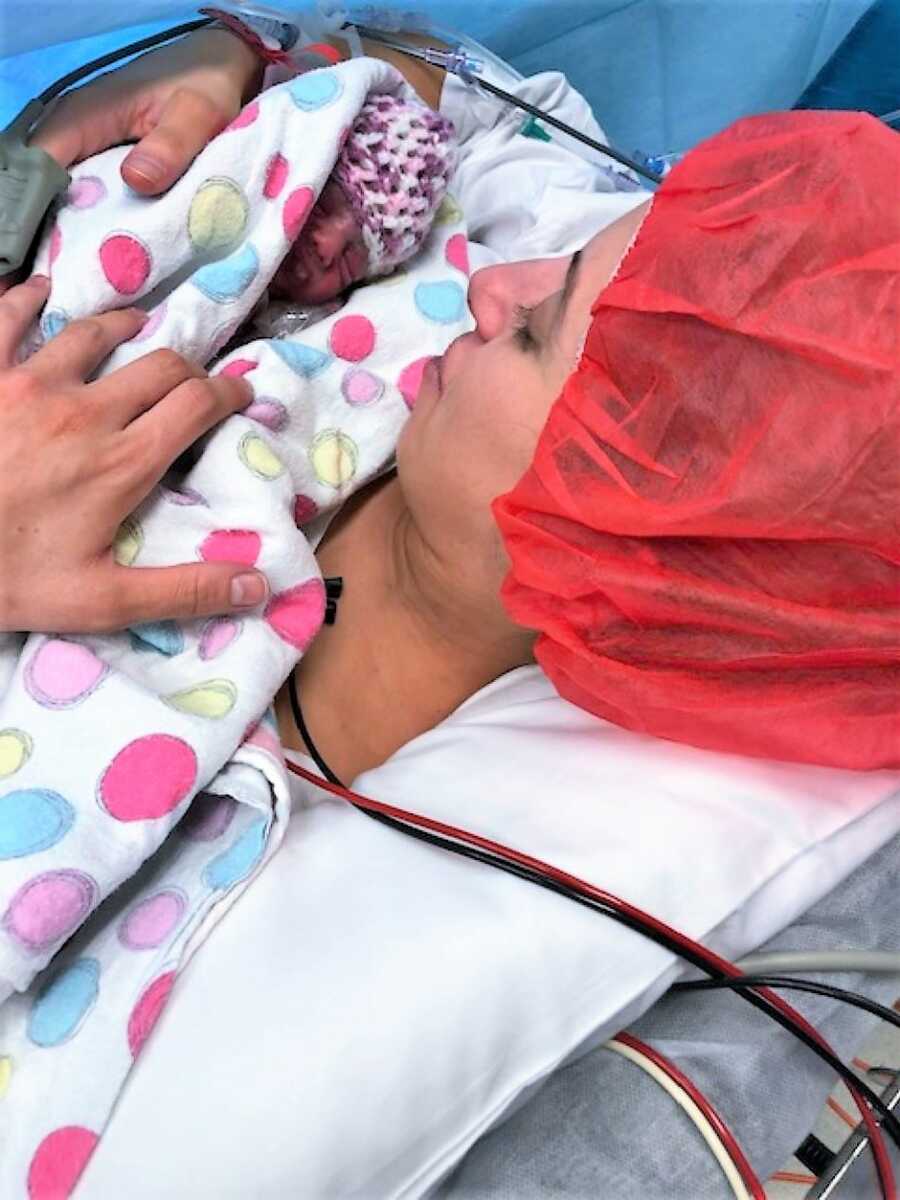 Surely enough, we went to the Mercy, and what a journey it was! Tia and Victoria were born 30 weeks and 3 days on Monday the July 8th, via an emergency C-section and weighing a little over 2 1/2 pounds. I never got the opportunity to hold Tia, she was whisked away straight to the NICU. However, I was fortunate enough to hold Victoria for a couple of seconds. We spent 2 weeks in the NICU and High Dependency Unit at the Mercy, constantly expressing every 2 hours. I was at the hospital by their side for 12-14 hours a day, only to go home and shower, express, and do it all over again.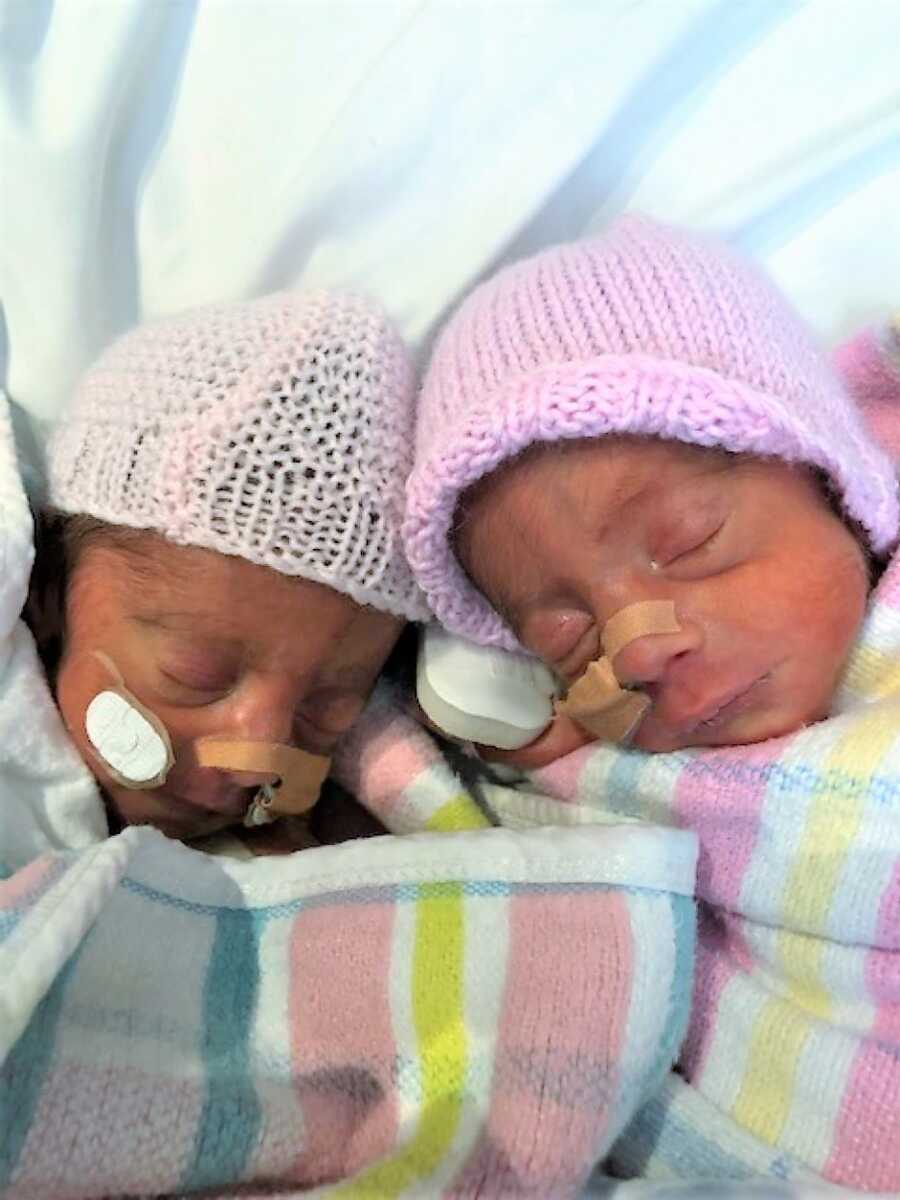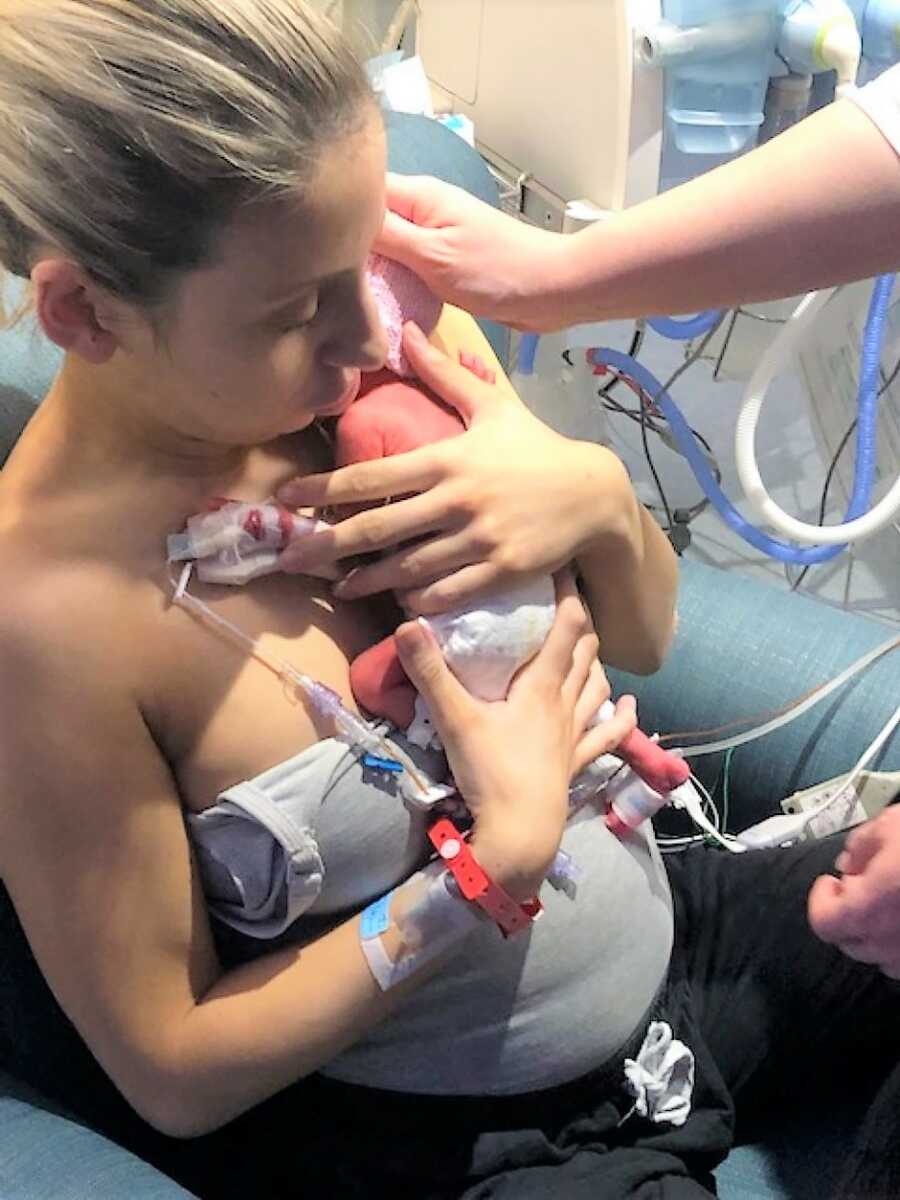 We were then transferred to another hospital, closer to home. We spent 6 weeks at the Sunshine Hospital. Tia became very ill, she had Influenza and Bronchitis. I received a phone call at 4 a.m. and was afraid she was not going to make it. Stan and I drove straight to the hospital and sat with her while she was on breathing support. Victoria had two staphylococcus infections also and was put on antibiotics. Fair to say, these 8 weeks were the hardest of my life. I saw things I never thought I would ever see. I felt helpless many times and felt like I wasn't a mother. It was heartbreaking.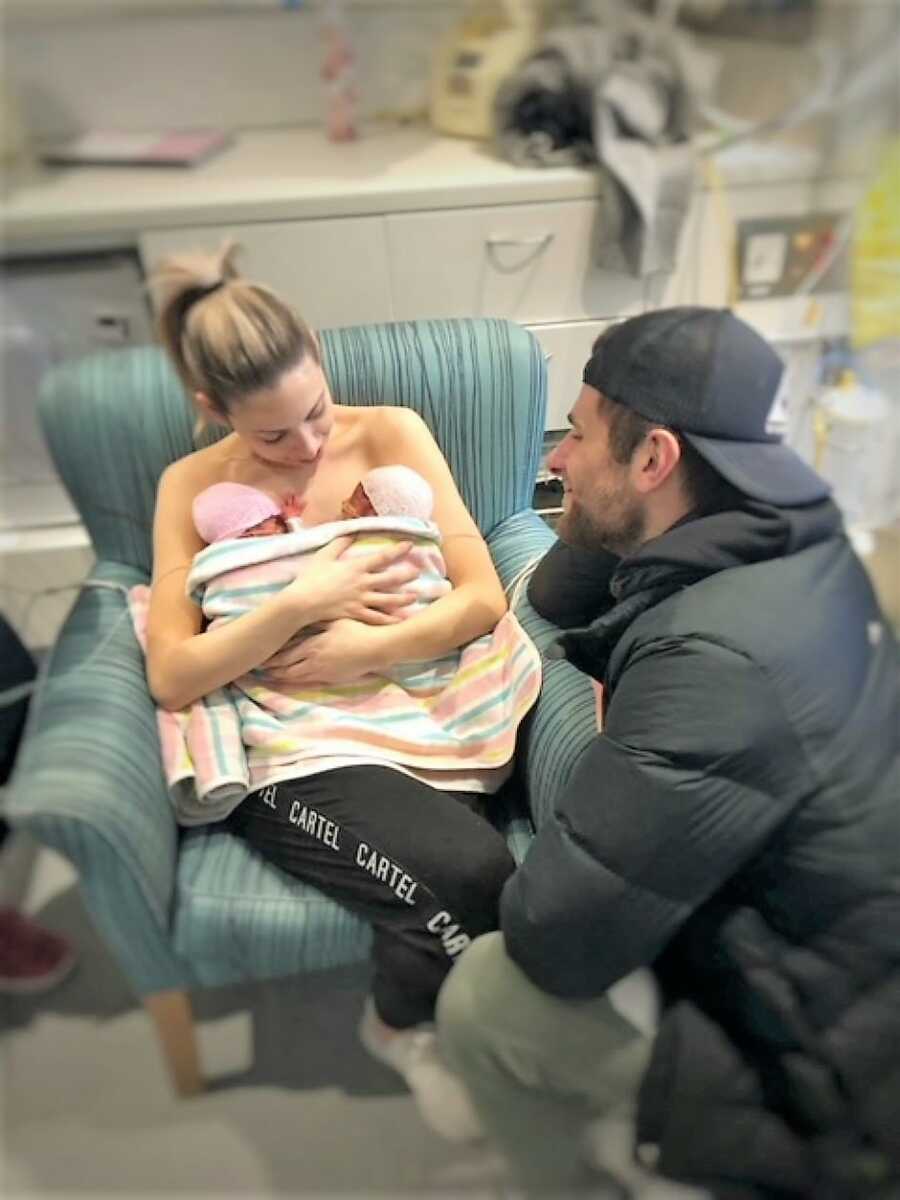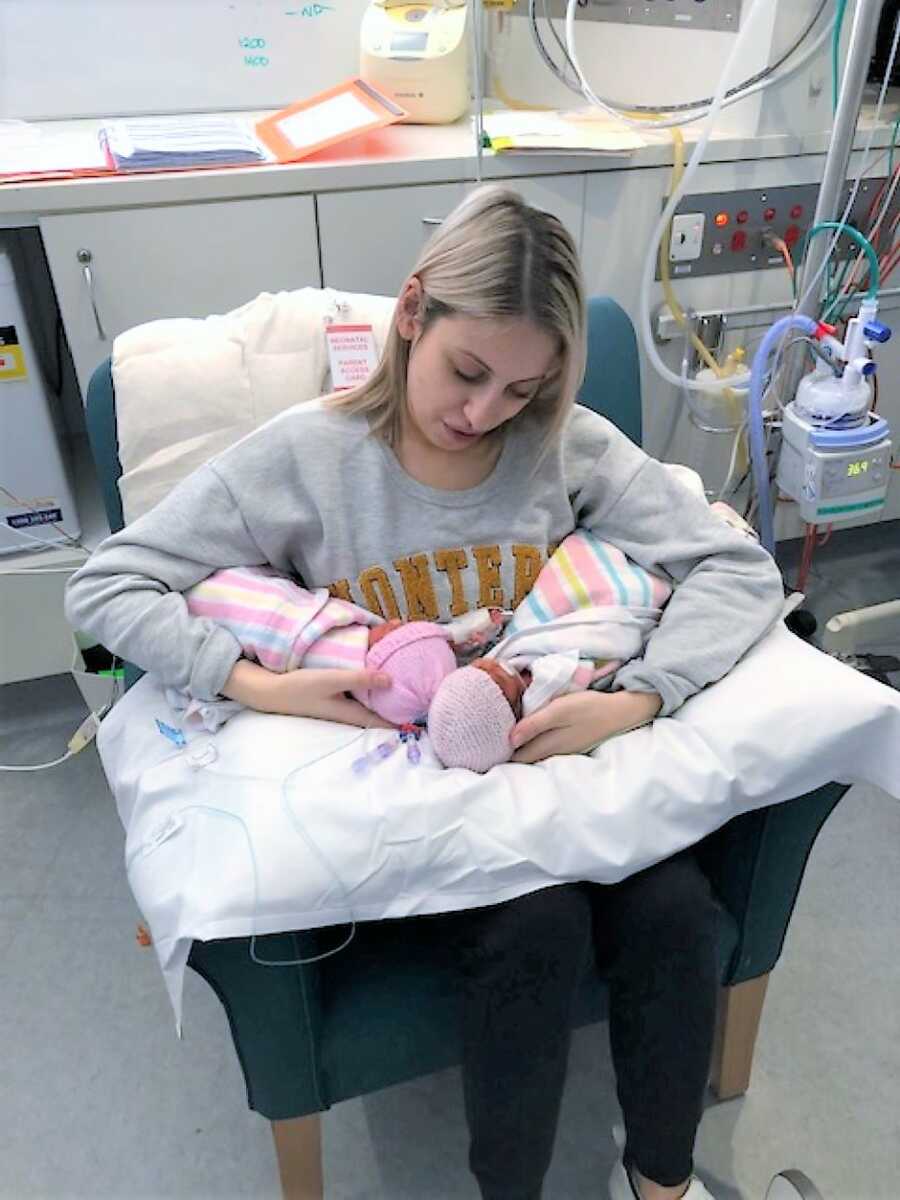 Thankfully, after the chaos settled, the girls began recovering and gaining weight. On September 2nd, we took our baby girls home to start our life as a family. I am so grateful to the hospitals, nurses, and doctors who helped my babies survive. They also helped me more than they would ever know. I am truly grateful. Tia and Victoria are now two sassy 2-and-a-half-year-old girls thriving and obsessed with Peppa Pig!"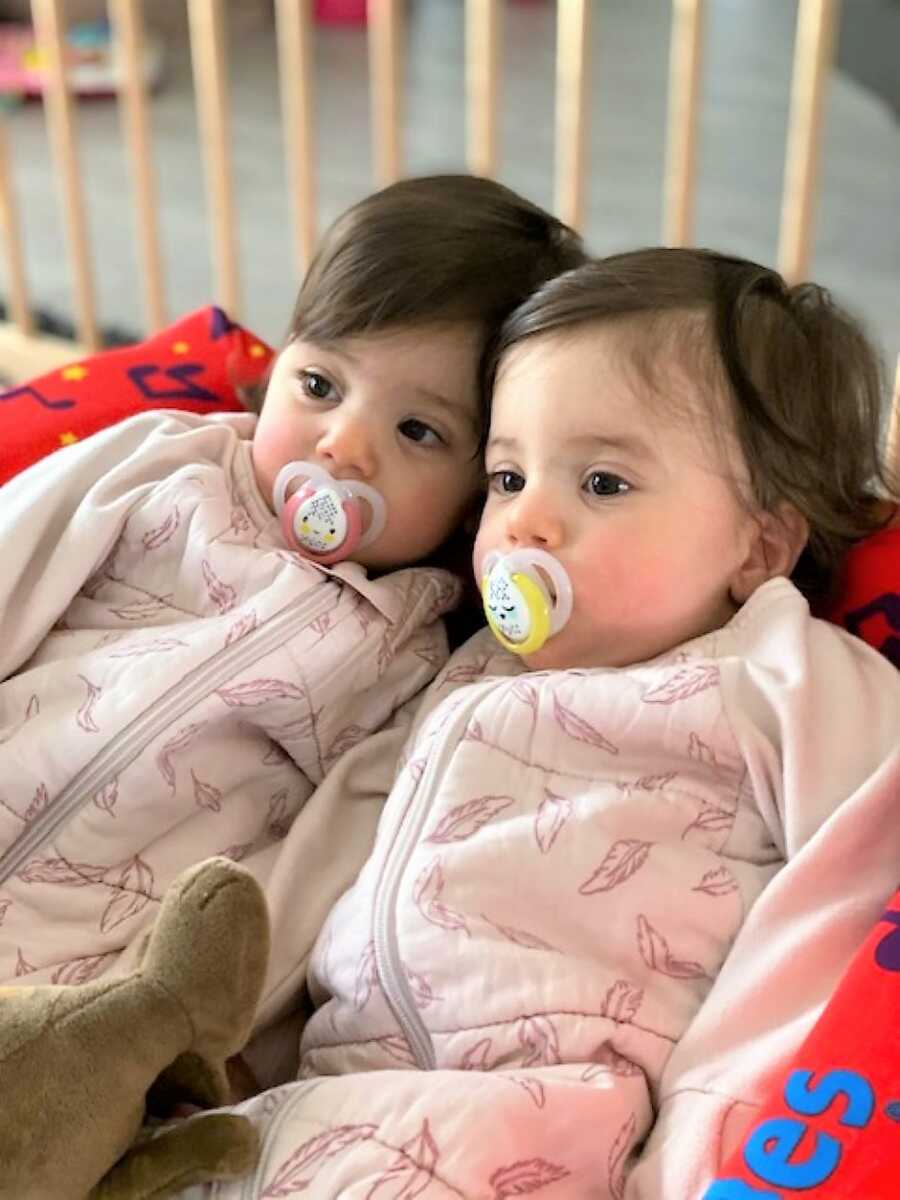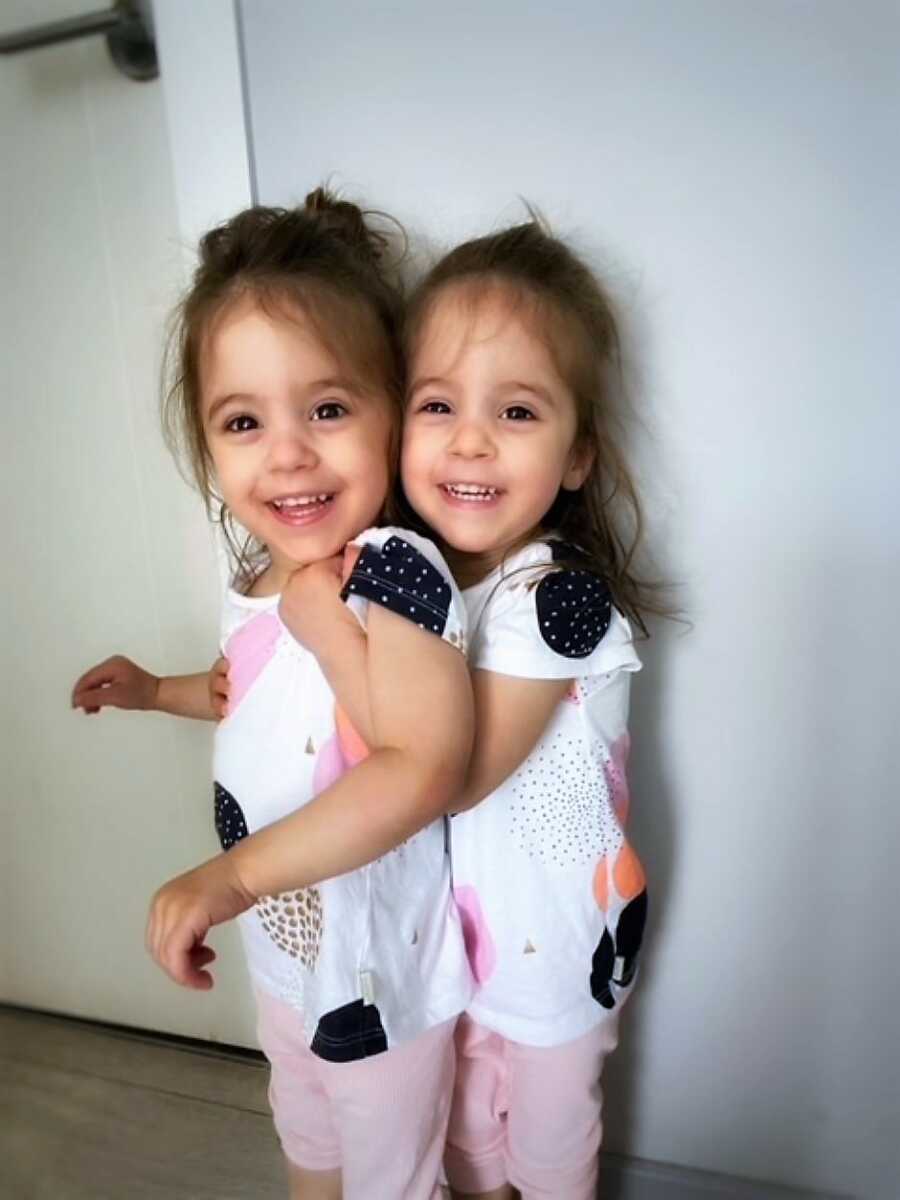 This story was submitted to Love What Matters by Evelyn Rados. Follow her journey on Instagram. Submit your own story here, and be sure to subscribe to our free email newsletter for our best stories, and YouTube for our best videos.
Read more stories like this:
'It's twins.' They needed to perform surgery on my placenta. I saw a little 3D hand on the screen and it broke me.': Woman births sons with TTTS, 'My boys are my miracles'
'Let's get it over with. Your twins will be born and die.' She denied me pain medication. I was banned from seeing them because it was a 'waste of time.': Mom births twin preemies after pressure to let them die, 'They can and WILL thrive
'It's not her, it's him. She isn't leaving.' I sat there, wide-eyed, waiting for them to explain. I thought I was hurting my baby.': Preemie warrior graduates NICU after emotional 67-day stay
'When my water broke, it was all blood. Something was very, very wrong.': Woman and son nearly die in 'traumatic birth' due to undiagnosed pre-eclampsia and HELLP
Provide hope for someone struggling. SHARE this story on Facebook with family and friends.