Trigger Warning: This story contains mention of miscarriage that may be triggering to some.
"'It's not her, it's him. She is not leaving.' Those words will forever ring in my ears when someone asks me about my journey with Crew. That is not the start of my pregnancy but actually the ending. So let's go back to March 2020. I had a miscarriage, something I was all too familiar with. I called my doctor and told them, and they set up a time and date for me to get checked out.
April 28th, I took a pregnancy test thinking something was off. To my shock, it was positive. Was I really going to get my third rainbow baby? Was this actually happening? A lot of me was in shock. I did not believe it and I called my OBGYN right away. Sure enough—there was the tiny little sac and to our surprise, the previous loss was not causing issues with this current pregnancy. Joy and sorrow came on like a wave. I was scared. What if I lost this baby? What if something happened to this one like it did previous babies?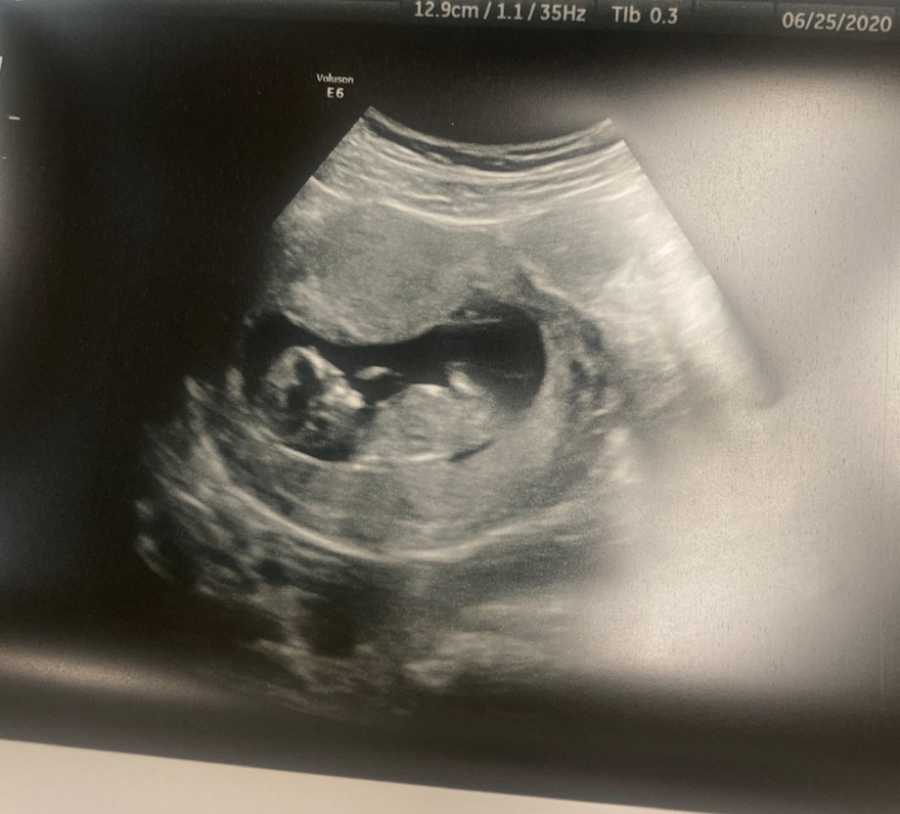 When I am pregnant, I have something called hyperemesis gravidarum, or HG for short. This is severe and persistent nausea and vomiting. It causes me to be high risk, but with covid being so new, this high-risk pregnancy looked so different. Each doctor visit, I was alone. Each ER trip for fluids, I was alone. I spent a lot of my pregnancy, though it was short, at the doctor's office or the ER. This was overly stressful and always worried me though the scans showed the baby was okay, he would end up not okay.
At 16 weeks, Crew looked small. They were concerned about IUGR, which is a growth restriction while in utero. I blamed myself for this, because of the HG and the constant vomiting. I was starting to get depressed because I thought I was hurting my baby. Though HG is not something I could personally control or stop, I blamed myself for them thinking he was small.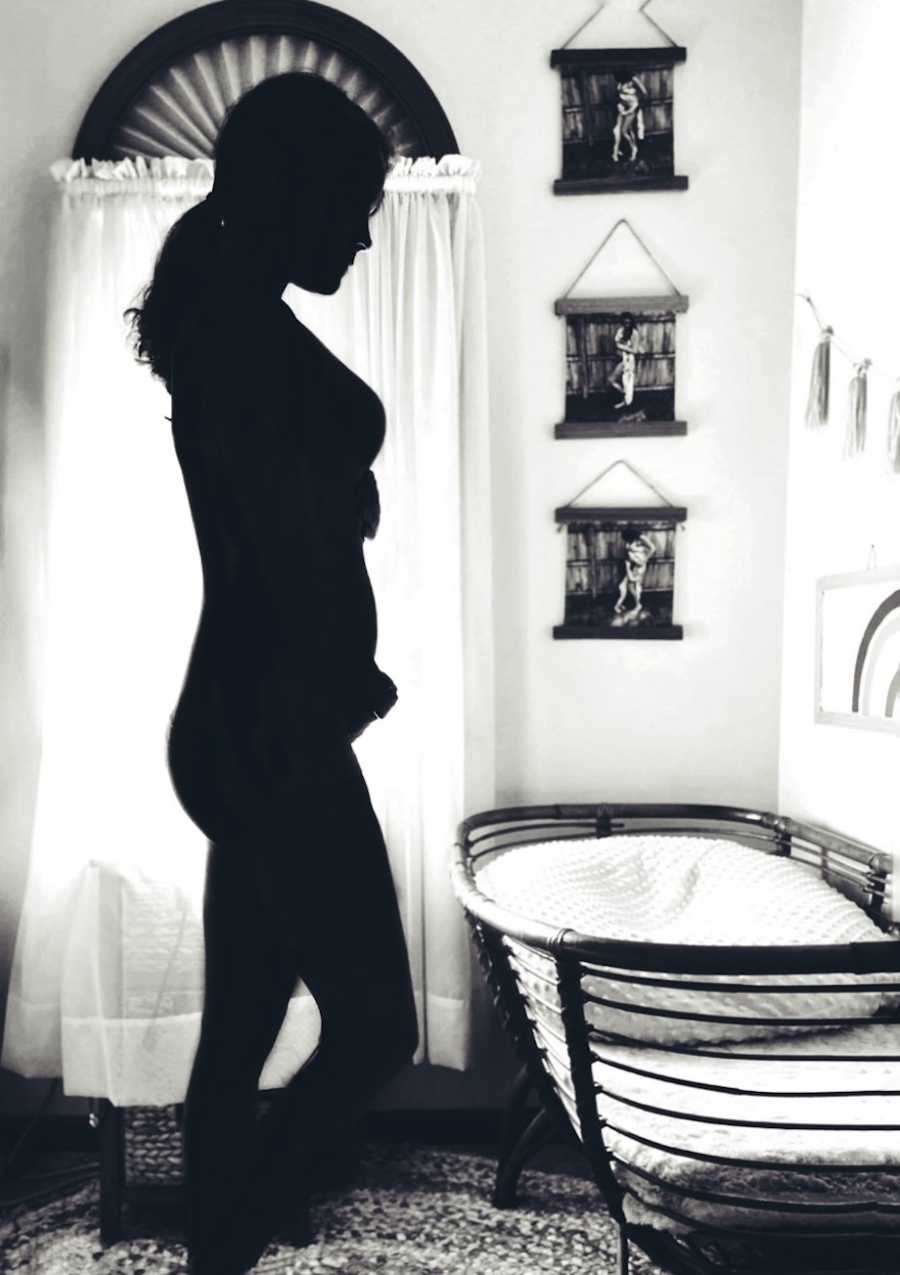 A 20-week scan showed Crew was small, but no IUGR! This was huge and a small rush of relief came when they said they wanted to monitor him but he wasn't smaller than before, so we did not have to worry.
Now, I am not a normal pregnant woman. Due to the HG and genetics, I carry very small, which also means, you cannot tell I am pregnant. So I did not announce to anyone but a small group of friends and my immediate family I was pregnant, with it being during a pandemic, after a loss, and with how sick I was. I did not feel the want to bring on the added stress of everyone knowing I was pregnant.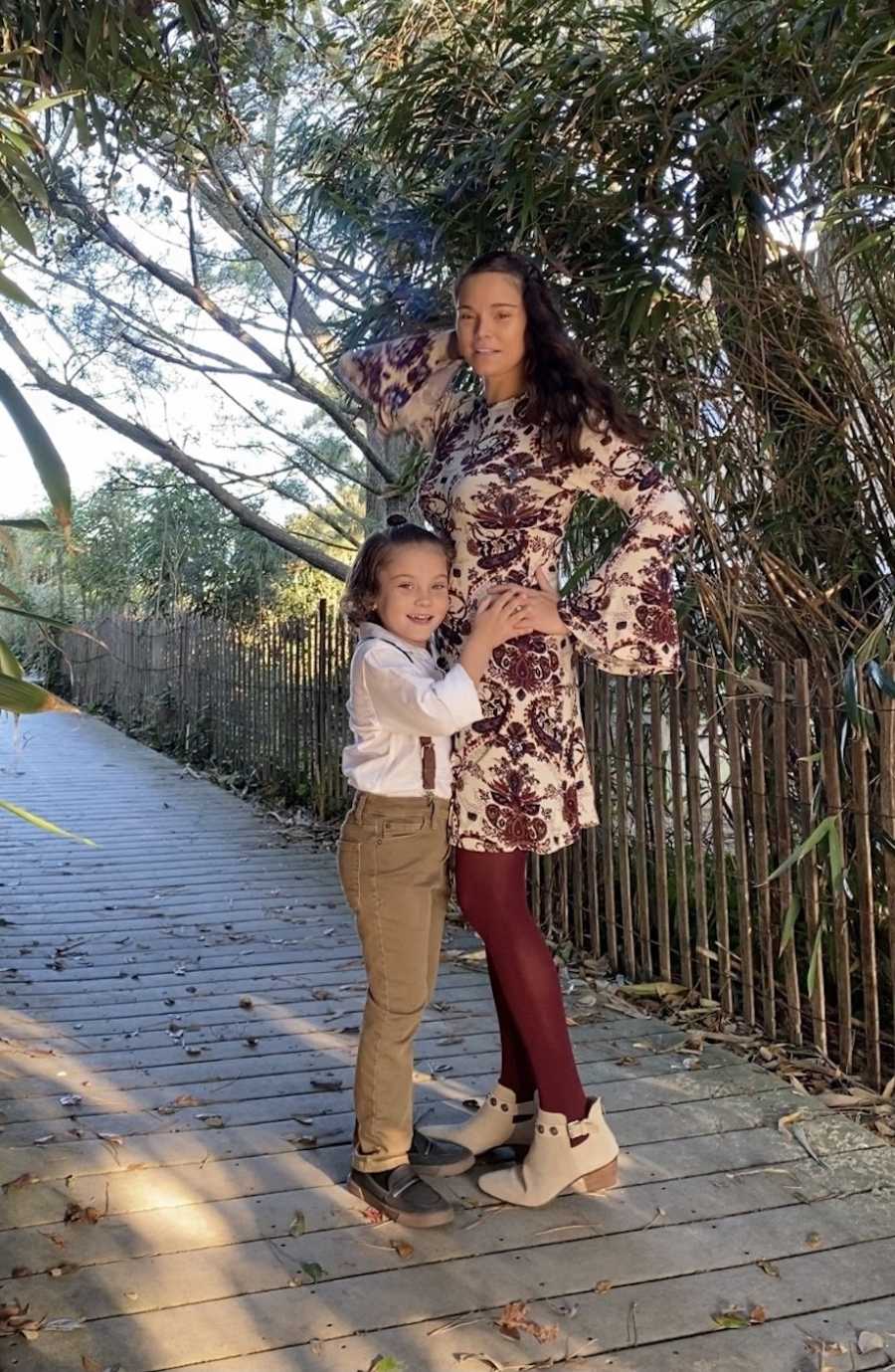 Now we come to the part of pregnancy where it's 'the light at the end of the tunnel' or so you'd think. The third trimester, when the doctor says, 'Your baby is now viable.' It is a heartwarming feeling, and after my second was born at 34 weeks, viability meant so much to me because I knew if I had my baby, he would make it. Little did I know, 'Your baby is term,' is something I would never hear.
September 3, 2020. A day part of me wants to forget but a day I will forever remember. I didn't feel too good. I knew I was dehydrated, so I did what I always do and called my OB's nurse's line just to check if they thought I should go in. Her exact words were, 'If you think something is wrong and you're dehydrated, head on up so they can get at least some fluids in you for a little bit, but if you start to feel better, you don't have to go.' I told my husband I was heading to L&D for fluids and he rolled his eyes at me. Not in a rude way, more so here we go again, and then said, 'Same story, different day? IV fluids and then you'll be home right?' I told him yes, grabbed my normal bag for the hospital with my phone charger and iPad, and then I headed out the door.
L&D is a place I knew all too well and actually, they knew me too! I walked up and the front desk lady turned to a nurse (whom I love) and said, 'Ebony, your skinny friend is here again!' It was a running joke at L&D I was skinny, since I was. They checked me in, got me in a bed, and confirmed I was dehydrated and having some random contractions. They gave me meds to stop the contractions and started fluids. One nurse stayed in the room with me after giving me meds. She turned the monitors away from me and just kept talking with me. Looking back now, I realize she was watching the baby, but at the time, I had no idea what was happening.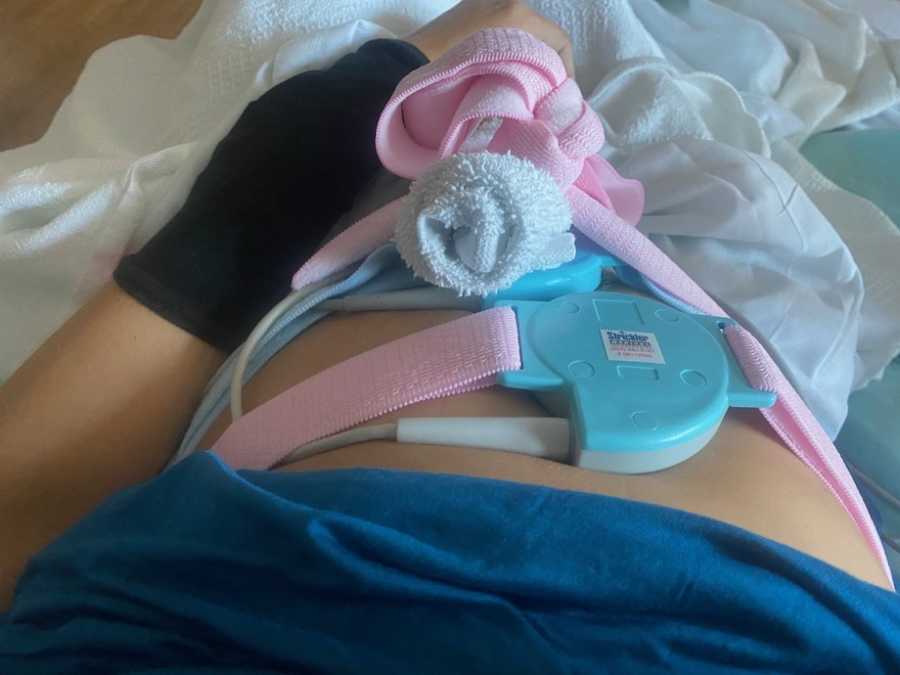 This is when everything changed and those words that changed everything were about to be said. I am tearing up as I write this because it is still so emotional for me and this is something no mom at 26 weeks wants to hear.
The nurse walked out of my room and said, 'It's not her, it's him. She isn't leaving,' and I heard her say it from the other side of my door. I was in shock and just sat there, wide-eyed, waiting for them to explain to me why I wasn't leaving and what the nurse meant. The charge nurse and midwife then came in and explained to me Crew's heart rate was dropping, when it shouldn't be and I had to stay to be monitored further and to have more tests run. My heart dropped. I wanted to cry, I wanted to just scream at them to make my baby okay and make sure he didn't come out right now. I was terrified.
I got checked into a room and had to make a call to my parents to explain everything and to ask for help with my older kids so my husband could come up to the hospital with me. The first day there was boring, honestly. Just a lot of me having to switch positions. Same thing on the second day for the most part, but that afternoon the doctor from my OB came into the room. When a doctor comes in and pulls up a chair to talk to you, it's serious.
She said, 'Now you know what's going on and you know it's not safe for us to let you go home while this is happening right?' I told her of course I understood. She went on to then tell me I would not be leaving until I had the baby, which could be today, tomorrow, or in weeks. This hit me so hard, like a ton of bricks. Just the thought of my 5 and 2-year-old not being able to see me for weeks was heartbreaking.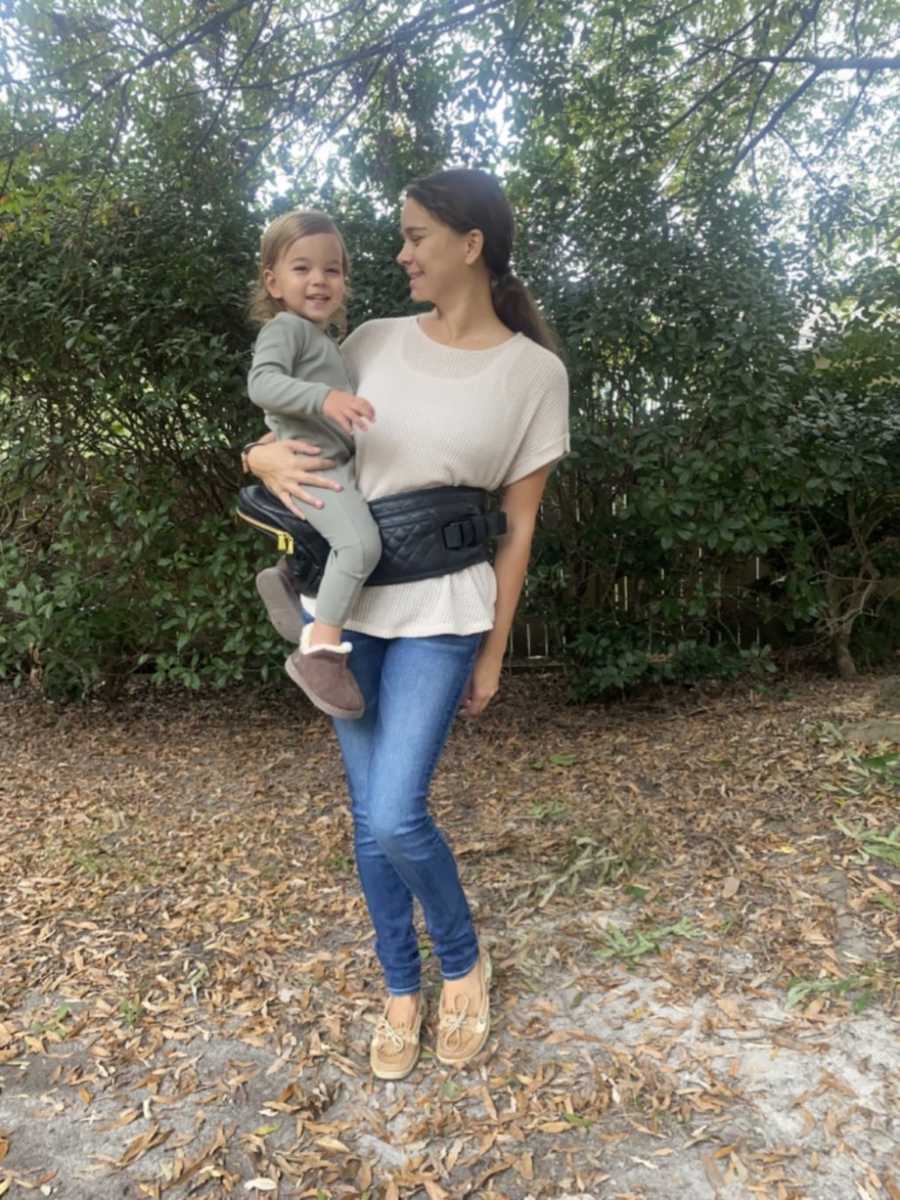 The doctor also offered me a transfer to another hospital, which was directly next to the children's hospital. They would be more tolerant of the heart rate dips and might be able to keep me pregnant longer, but there was no promise of that. I told her, 'No thank you, that's like offering me to eat dinner tomorrow with strangers or have a snack now with my family. I will stay here, with my family!' Being sent to the other hospital meant not my OB caring for me, it meant a strange NICU I had never been to, and it meant being 35 minutes from my house versus 7 minutes. The doctor fully understood and then explained to me it would be a c-section due to everything, and I signed all my papers agreeing to one.
My favorite nurse came on shift at 7 p.m.! She was the nurse who delivered my second son at 34 weeks, so I knew I could trust her. I asked her if she thought I would make it much longer and she said nothing, but her face said everything. Her eyes were concerned. I told her, 'I know you want to say yes but I can tell the answer is no.' She told me, 'Let's just focus on keeping you comfy and getting his HR to stop dropping.'
Then, time stood still but at the same time moved a million miles an hour. This part of my story has actually caused me some PTSD. It is hard to write this part and though you are reading this from the other side of a laptop, computer, tablet, or cell phone and you cannot see me writing it, I am shaking and crying as I type this.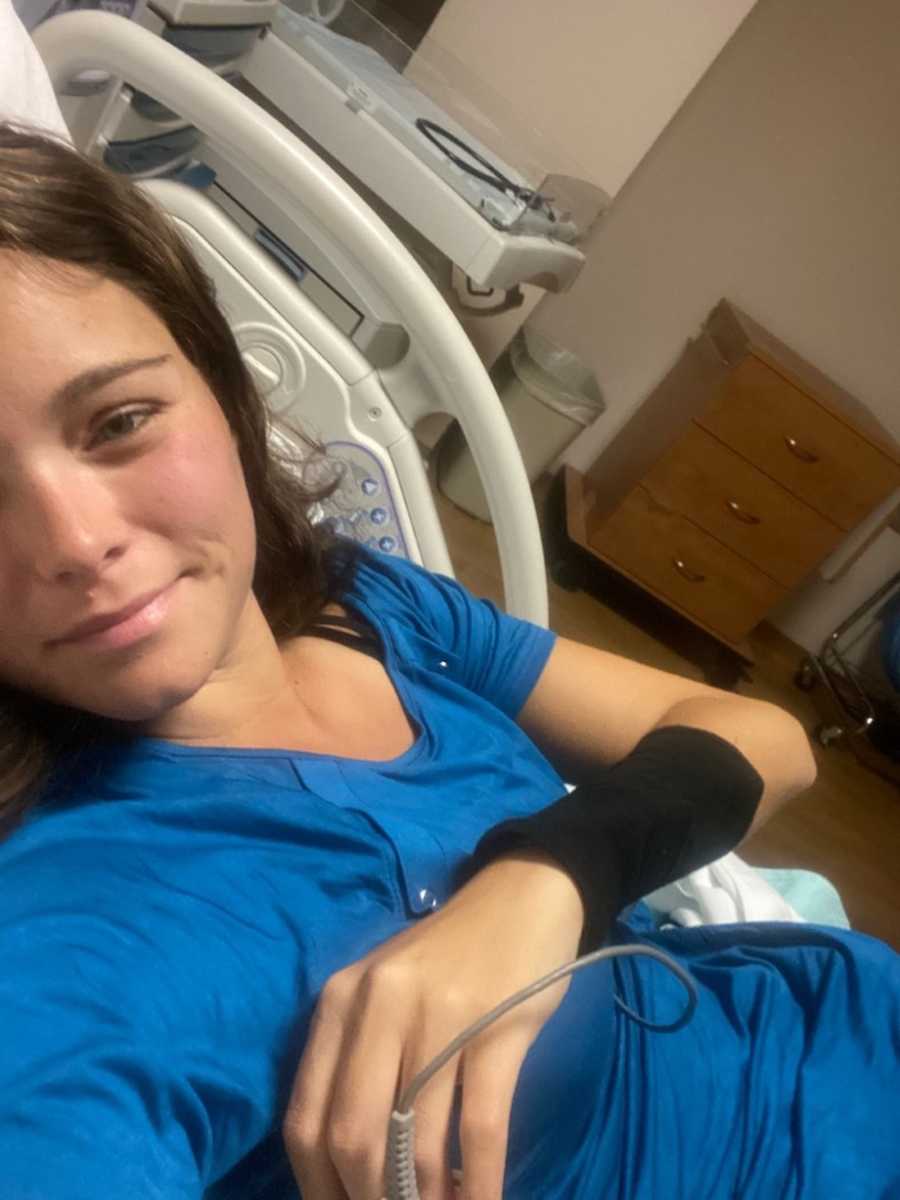 My nurse came running into the room and said, 'He is off the monitor. I called the doctor, she is coming.' What I did not understand is 'off the monitor' meant my baby didn't have a heart rate that was registering. The doctor came running in with the portable ultrasound and the nurses were flying around the room getting me prepped for surgery. The doctor said, 'It's there but it's barely there. We have to go now.'
At 12:01 a.m., I got my husband on the phone, verified my mom was on her way to my house, and the neighbor was sitting with my older kids.
The OR is so cold and so bright. It's not like movies, it's a VERY bright room. They told me to hold still or I had to be put to sleep— so I held still and got a spinal. The OR tech asked me, 'Hey did you feel that?' I giggled because I thought it was a joke and I told him, 'No,' and he said, 'Well good because they already cut you open!' That wasn't what I was expecting but I was happy I did not feel it!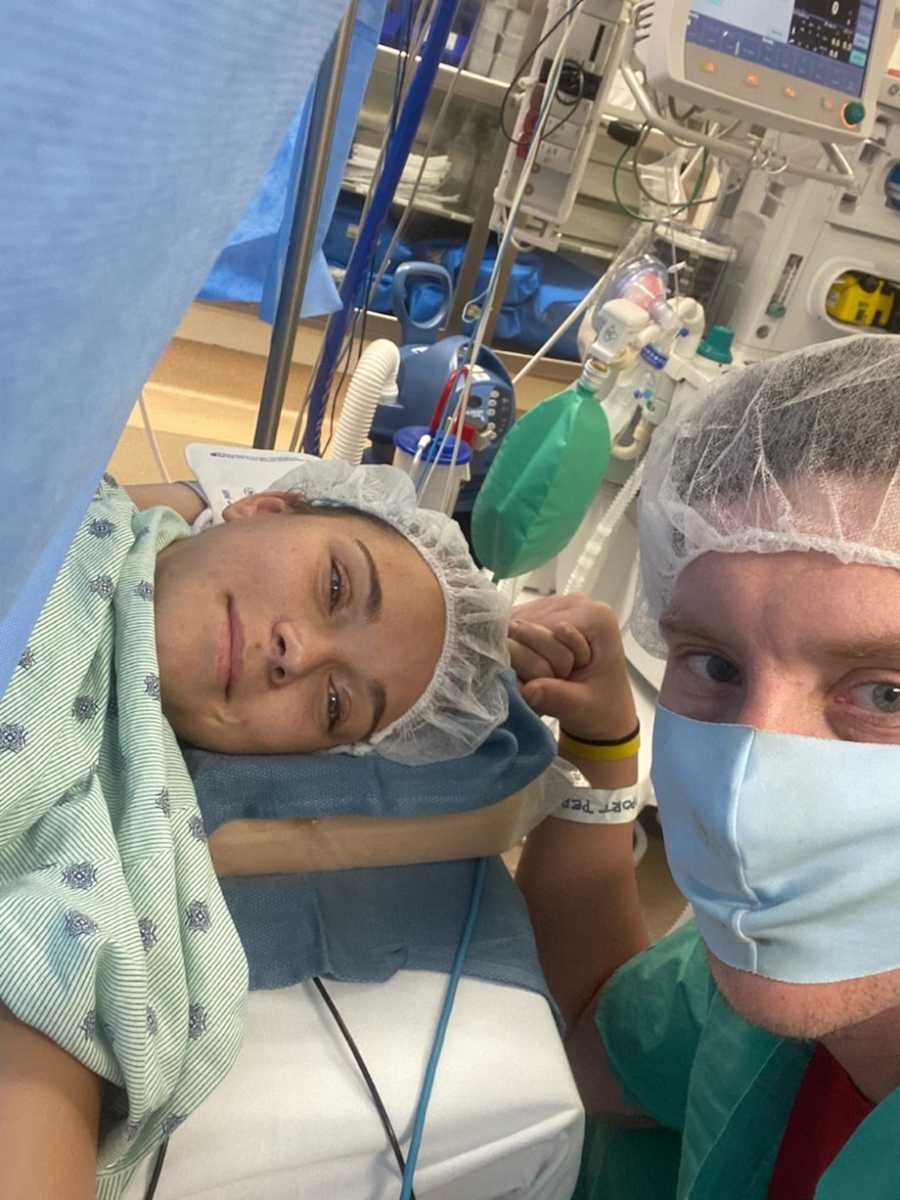 At 12:21 a.m., they got him out. They said he was breathing, but that's really all they told me. At 12:23 a.m., my husband got there. He got to see Crew in the room for a minute before he was taken to the NICU. Recovery from a crash c-section is very painful, but that did not stop me from less than 12 hours later walking to the NICU to see the baby.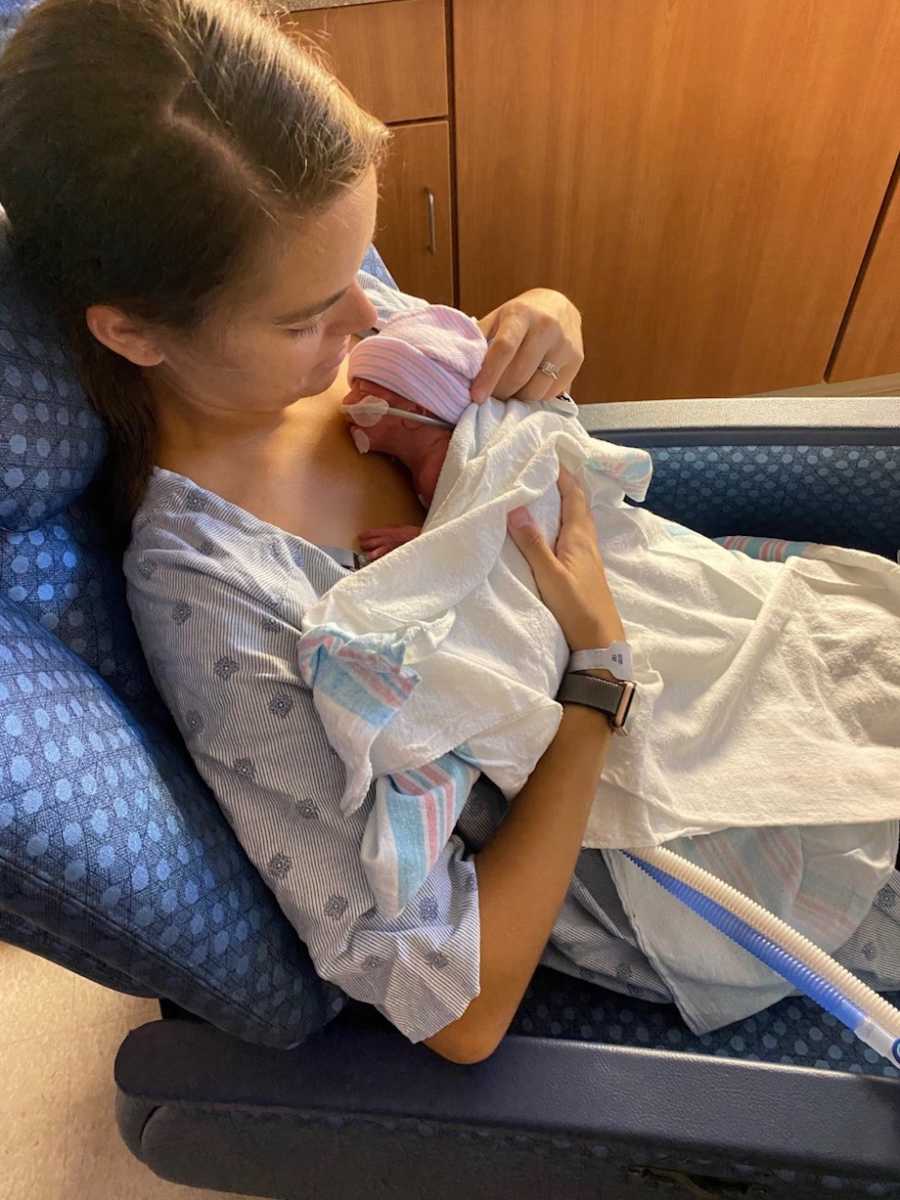 I thought my pregnancy and leading up to his birth was hard and stressful, but it was nothing compared to the NICU stay. I was told, 'In 92 hours, we will see if you can hold him,' and realized for the next unknown amount of days, almost everything regarding your baby is not up to you. It's controlled by doctors and nurses. That is a hard pill to swallow. Seeing my baby with all the wires, hearing all the beeps and the whooshing of oxygen. It was overwhelming. Crew was born at 2 pounds, 7 ounces, and 14.50 inches long at 26 weeks. He was due January 5 and his birthday is October 3.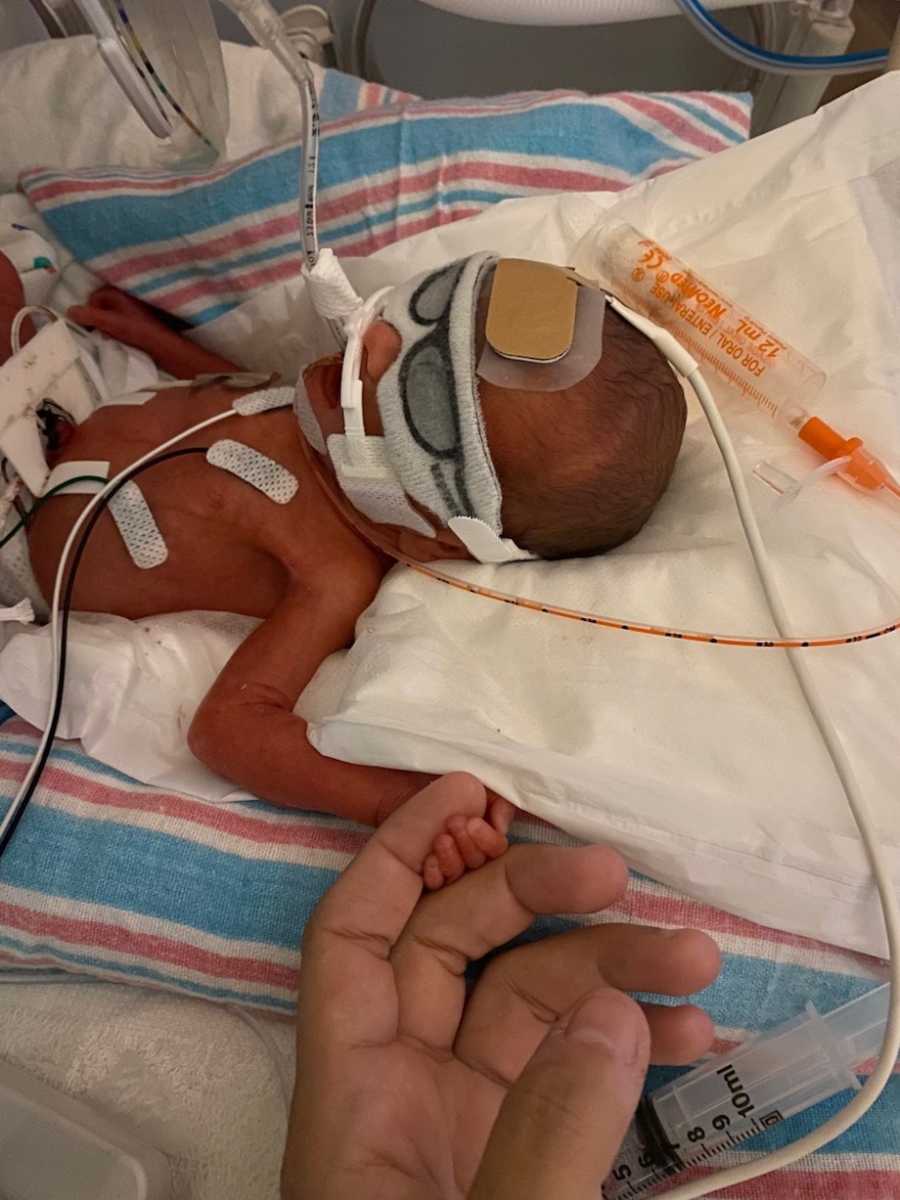 Though our NICU stay was pretty smooth, it was still hard on everyone. I was pumping every 3 hours, attempting to spend time with all three of my kids and take care of the house. But spending time with all three kids meant leaving two of them every single day to head to the NICU. For 67 days straight, I went to the NICU for 2 to 5 hours a day and I still felt like I wasn't doing enough or spending enough time with Crew.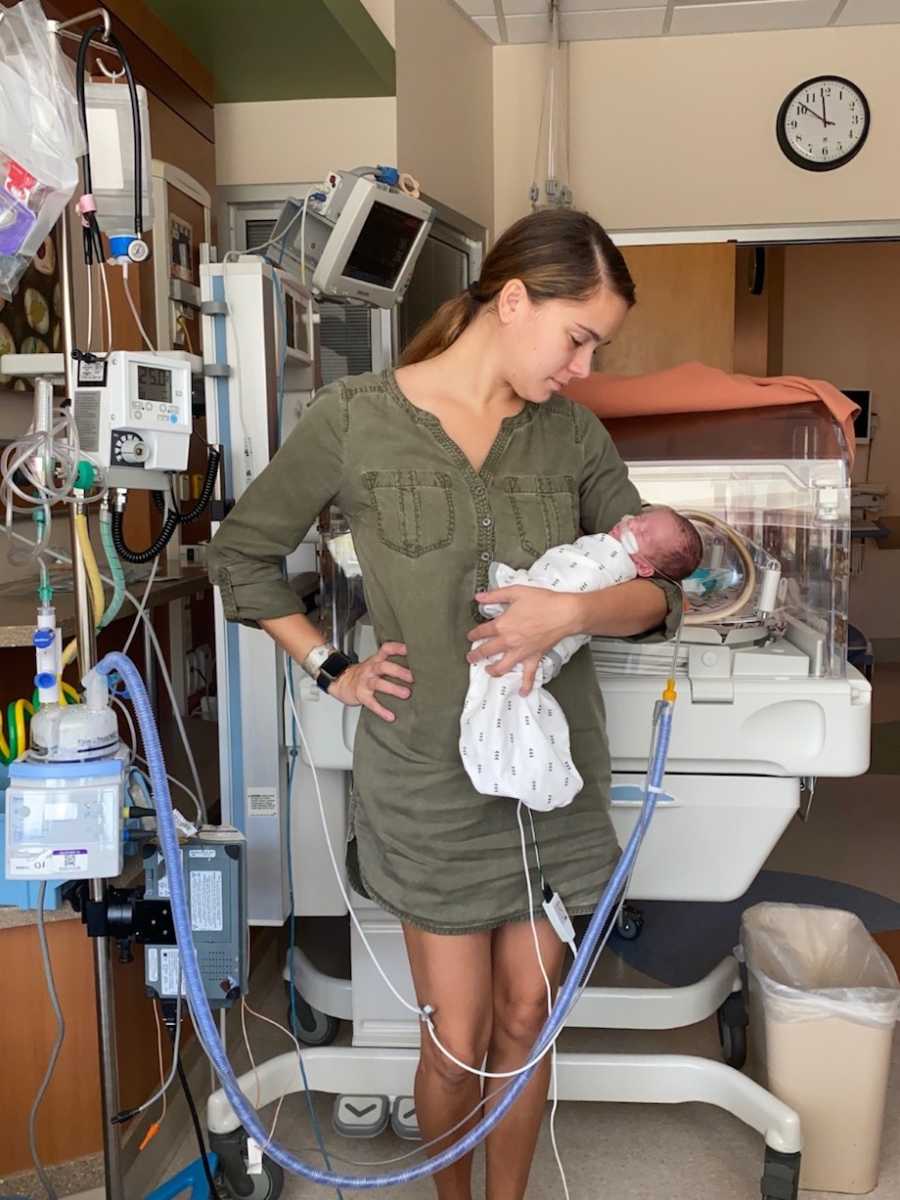 When it was finally time to come home and they said we could go, tears of joy just would not stop coming. During our 67 day stay, my older two kids could not meet their little brother. I was excited to take Crew home but not really excited for me. I was overjoyed my boys could meet their baby brother!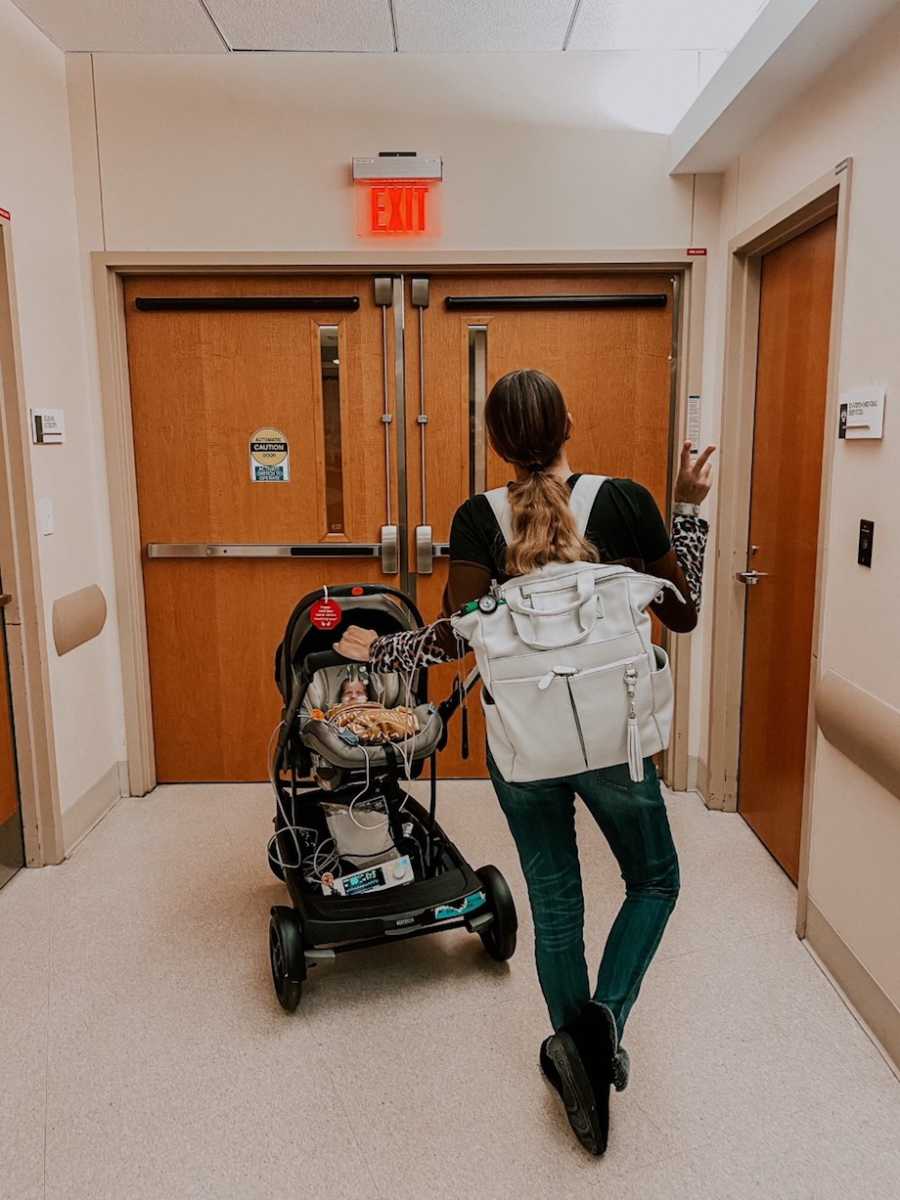 We surprised my at-the-time 5-year-old by having him walk around the couch, not knowing I was there holding the baby. The pure joy in his eyes when he saw the baby brings tears to my eyes just thinking about it. The 2-year-old was not as thrilled at first, but I promise now he is the baby's biggest protector and fan.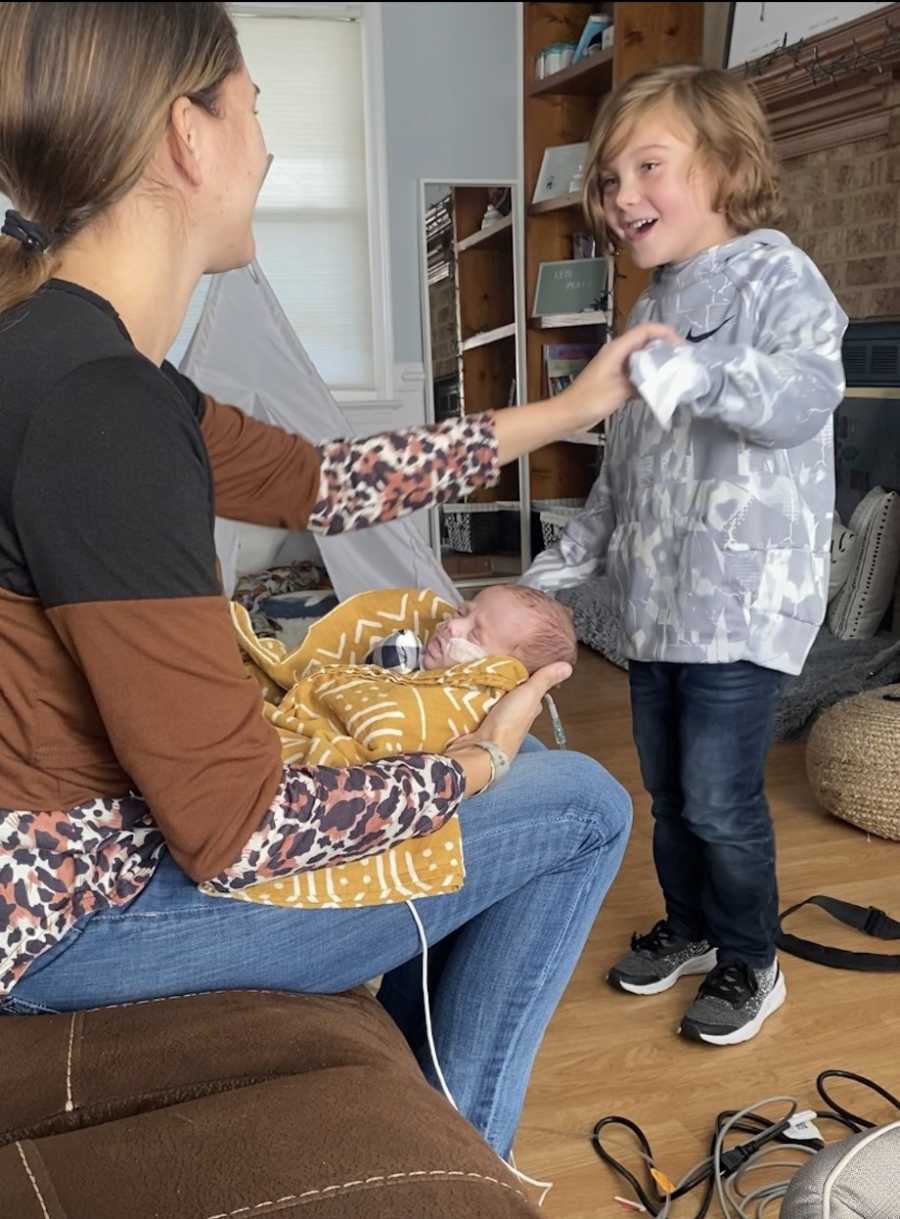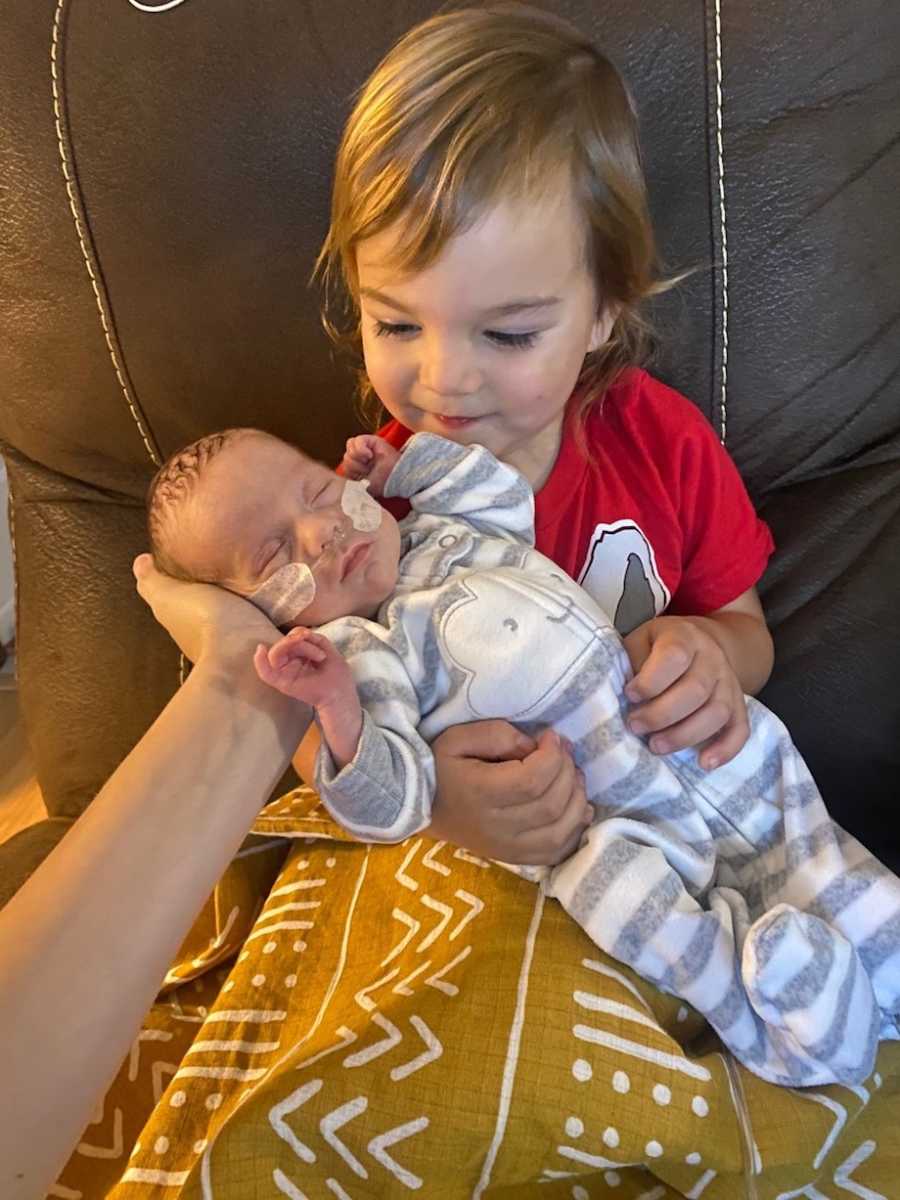 When it comes to the NICU, it's hard. If you're a new NICU mom, reach out to others for support. It is so helpful to have good support while you are in the NICU and it's good to know you are not alone. It's okay to not be okay. As moms, we try to keep it all together for our kids, but when life throws you a curveball like a micro-preemie or any baby in the NICU/special needs, it's okay to need extra help. Don't feel bad for not being okay. That's the biggest thing I want other moms to know.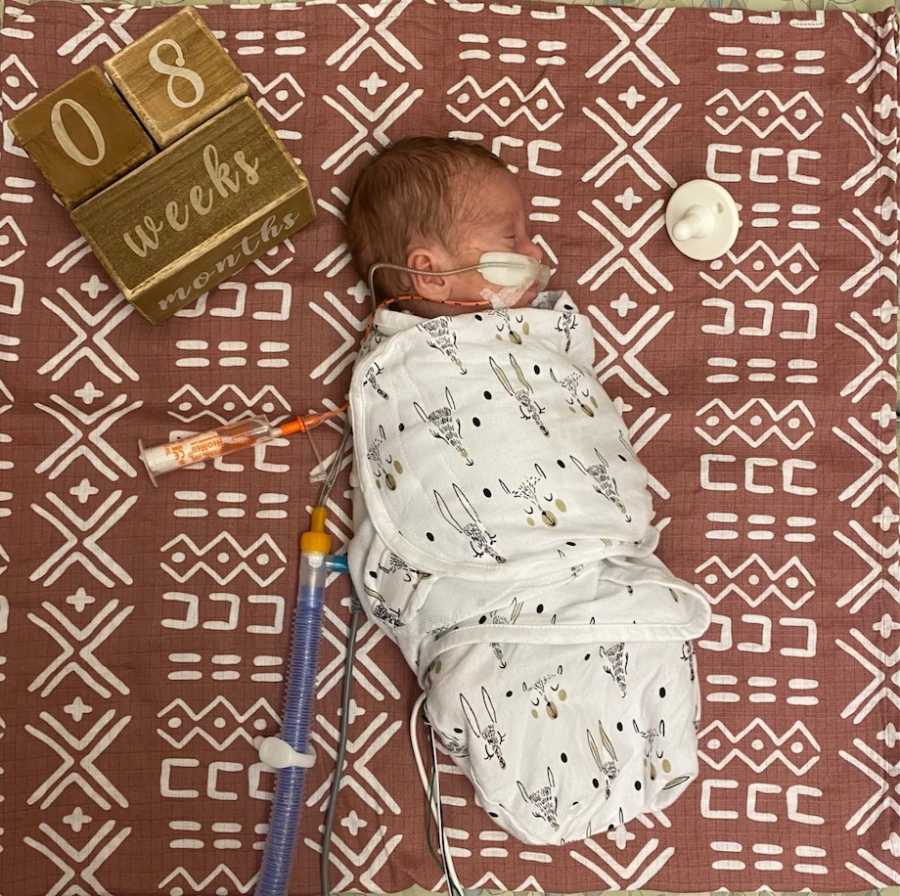 Life now. Crew is 5 months old and 2 months adjusted. We still see all the specialists you can think of and his growth is still monitored. He is doing great. As for me, I have learned how to handle life with three kids while struggling with PPD/PPA and the PTSD of my c-section. Life might be a struggle, but with the love and support from my friends and family. I am getting through it day by day."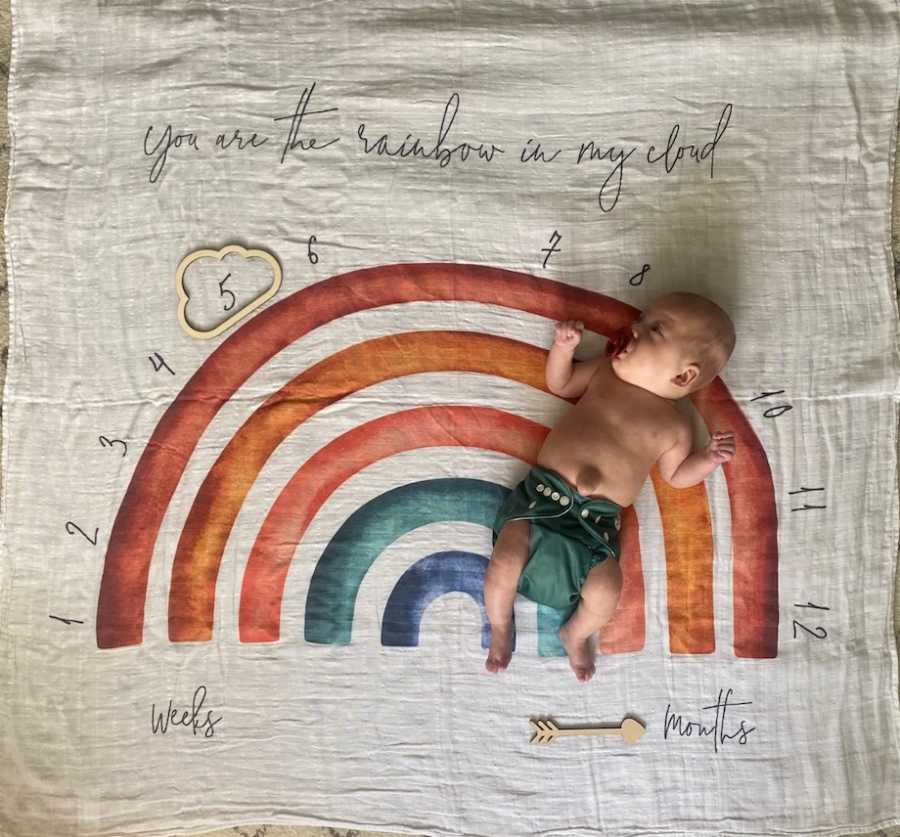 This story was submitted to Love What Matters by Christina, Crew's mom, from Virginia Beach, VA. You can follow their journey on Instagram and Facebook. Do you have a similar experience? We'd like to hear your important journey. Submit your own story here. Be sure to subscribe to our free email newsletter for our best stories, and YouTube for our best videos.
Read more touching stories like this:
'There's nothing left we can do.' My knees went weak when I saw them. Their skin was almost see-through.': Young mom gives birth to twin micro preemies, 'They are thriving'

'I'm going to throw up.' He looked like an unfamiliar creature. Everything I expected went out the window.': Woman gives birth to twin preemies at 24 weeks, 'We knew this would be the greatest fight of our lives'

'I asked the doctor, 'Are you sure they're identical twins? They look nothing alike. I think you guys misdiagnosed them!': Twin mom urges us to celebrate differences, 'Every child has their own unique, extraordinary soul'
'Let's get it over with. Your twins will be born and die.' She denied me pain medication. I was banned from seeing them because it was a 'waste of time.': Mom births twin preemies after pressure to let them die, 'They can and WILL thrive'
Do you know someone who could benefit from reading this? SHARE this story on Facebook with family and friends.