"March 14th, 2021. The previous night I had been out for my cousin's bachelorette party and ended up coming home early due to not feeling the best. I had been having stomach pain on and off again for a week or so, but I just told myself it was period cramps. I ended up calling my mom and she insisted I go to the hospital.
My husband, my mom, and I then went to our local hospital. Because of COVID, only my husband could go back with me. After about an hour of them poking me to get blood, we found out I was three weeks pregnant. We were so surprised but so excited to be welcoming a little one into the family.
Fast forward to July 2021. I had just had my gender reveal party on the 4th of July and we found out our little one was a girl! July 26th, I was 24 weeks along. But I just didn't feel right that night. I started throwing up and started to notice some off-colored discharge. I started to have red flags come up but kept telling myself it was fine and I shouldn't worry.
Well, 4 a.m. rolled around and I was still throwing up. I called my hospital doctor and they told me to come in the morning to get looked at. Around 6 a.m. I threw up again, and this time I was bleeding.
I woke my husband up and off we went to the hospital where I was driving 80 mph, so nervous I was going to lose my baby. This being my first pregnancy, I didn't know what to think. After getting to the hospital, I got checked in. The on-call doctor then came in and examined me.
My husband and I both were not prepared to be told I was 7 cm dilated and would be having an emergency c-section due to my baby being in a breech position, and there was a helicopter on the way to take my baby to the children's hospital an hour and a half away because the small town hospital did not have the equipment to keep her alive.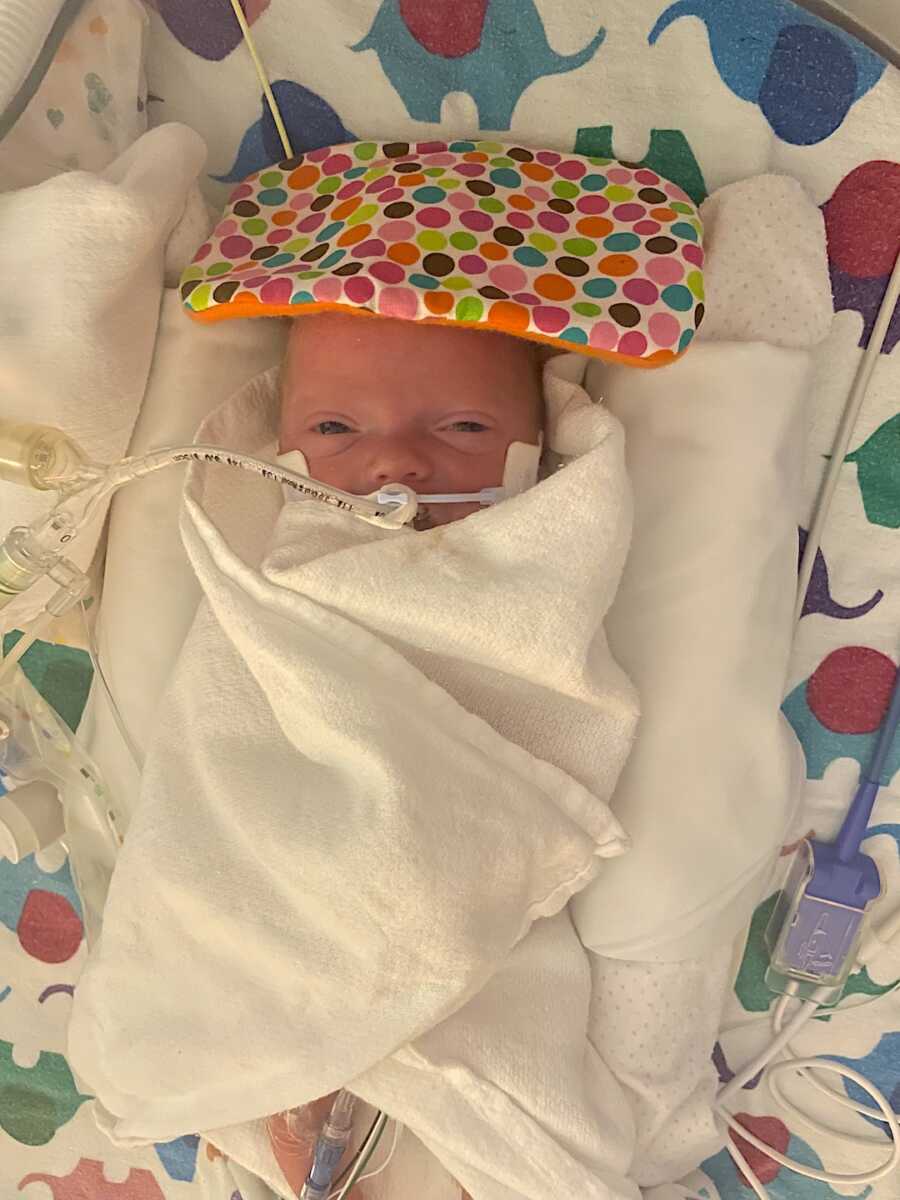 I was given the spinal tap to numb me up and I was taken back for surgery. At 24 weeks gestation, 10:47 a.m., Blakely Marie was born at only 1 lb 3 oz. The team of children's hospital doctors quickly took her and put her into the transport to get her ready for her ride to the children's hospital. I only got to see her for a couple minutes back in my room before they had to take her.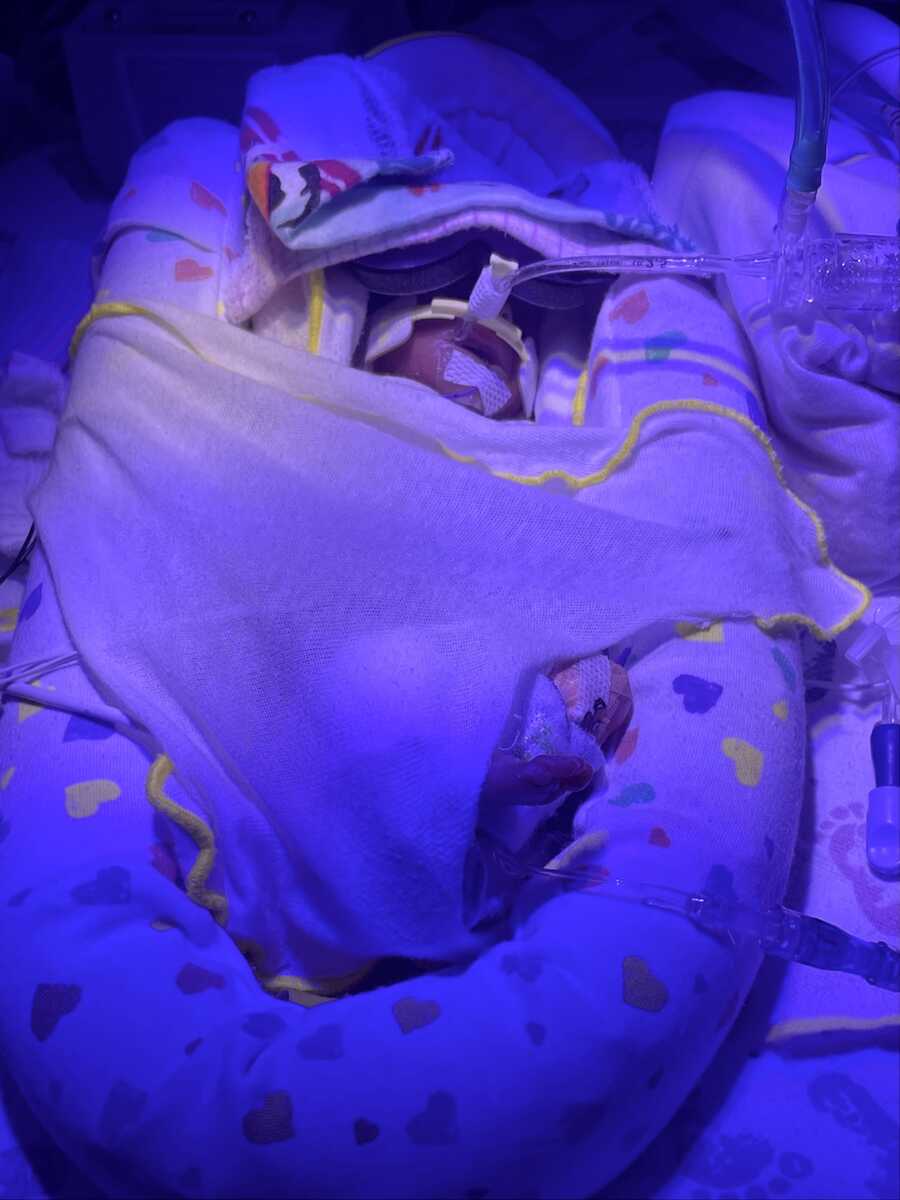 I had to stay overnight to recover from the c-section. I was discharged the next morning and was able to go see my little girl. It was so strange to see her like that, almost not human with see through skin, and so small she'd fit in the palms of our hands.
Our NICU journey has been a crazy rollercoaster ride and I have learned to accept there are good days but there are also bad days. As our favorite nurse says, 'It's three steps forward, one step back.' Blakely was projected to be there until her due date of November 15th. Unfortunately, her lungs still weren't where they should be.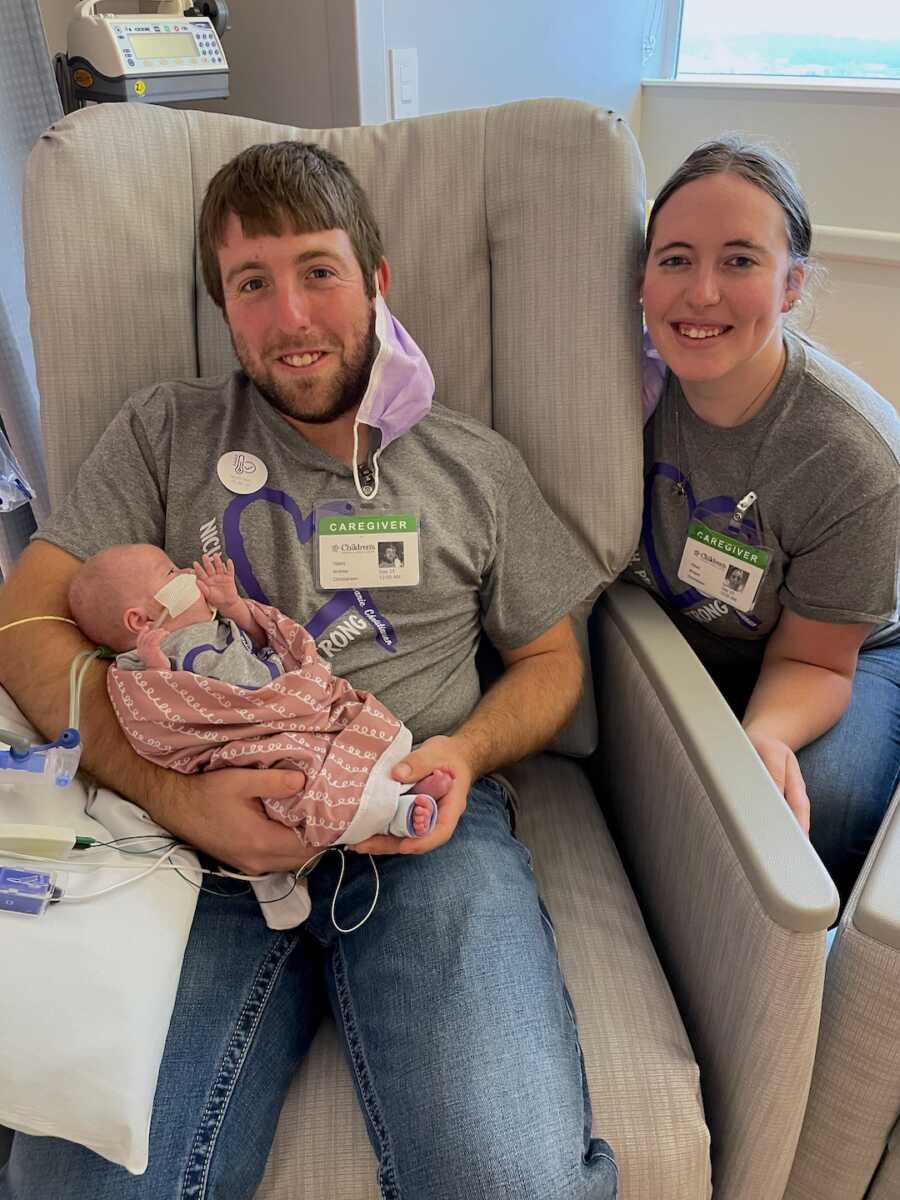 After a couple of attempts to take Blakely's breathing tube out with no improvement, we made the hard decision to move forward with giving Blakely a trach. On December 7th, the surgery took place to put the trach and a G button in to make Blakely more comfortable and help her lungs improve, while also letting her hit milestones.
After the trach was placed and my husband and I were able to hold her for the first time we could tell she was so much more comfortable being able to breathe better.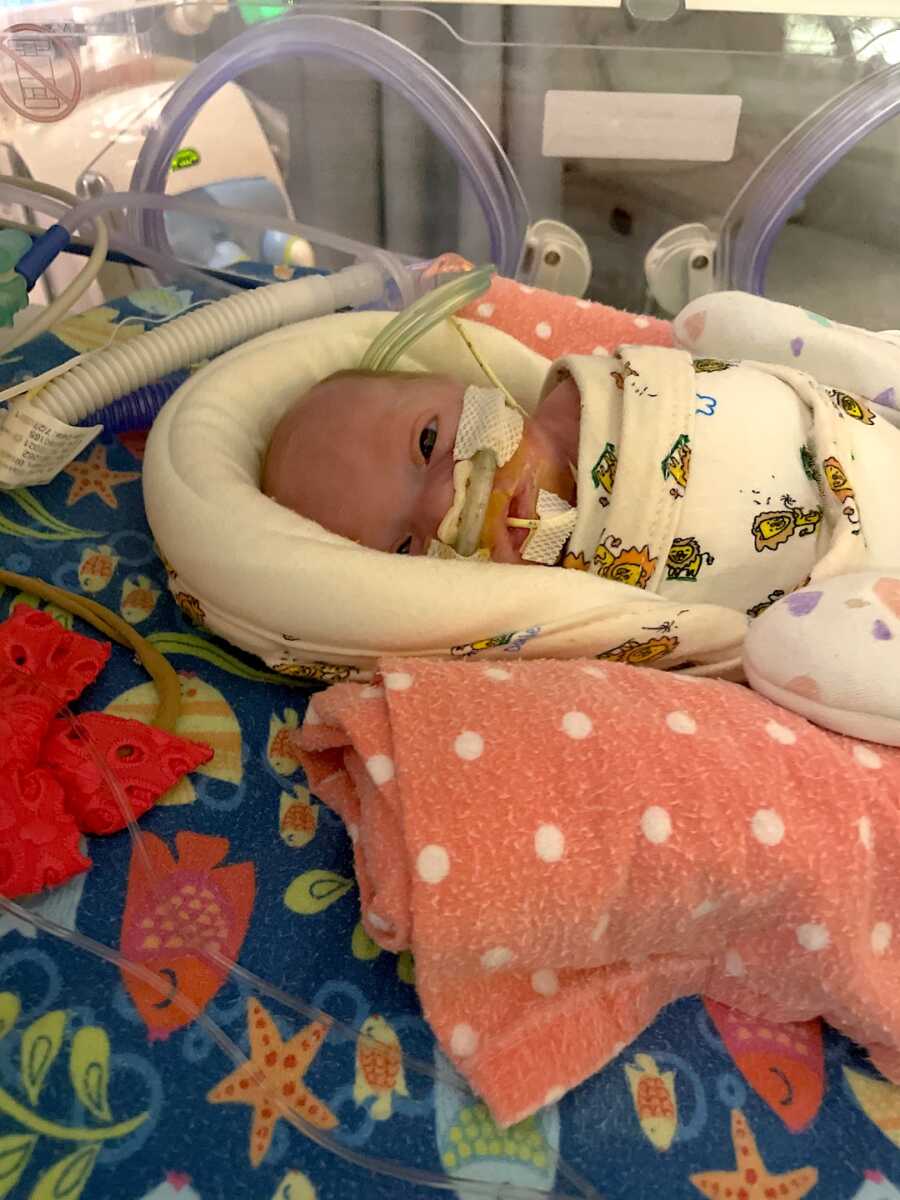 Blakely's NICU journey is far from over. She is still estimated to be in the hospital until February 2022. We are so thankful to every nurse, every doctor and every person who has been there for us. We look forward to the day Blakely will be home and can enjoy her nursery and meet her fur siblings."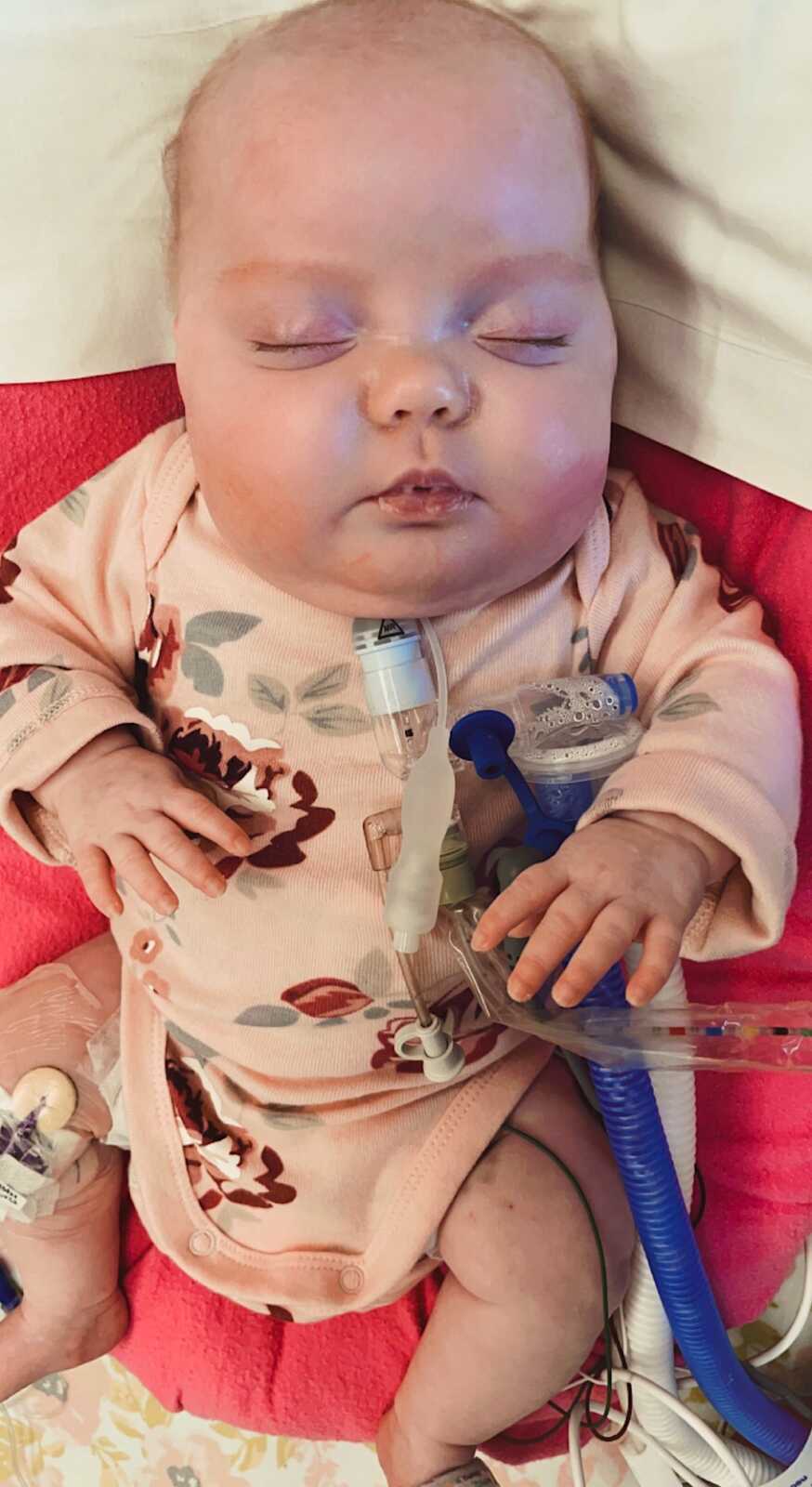 This story was submitted to Love What Matters by Morgan Christiansen. Submit your own story here. Be sure to subscribe to our free email newsletter for our best stories, and YouTube for our best videos.
Read more like this: 
'No matter what you do, don't go home, go straight to the hospital.' Next thing we were hearing, 'It's your baby or your wife.': After 3 angel babies, mom survives Severe HELLP syndrome to birth miracle preemie
'It's not her, it's him. She isn't leaving.' I sat there, wide-eyed, waiting for them to explain. I thought I was hurting my baby.': Preemie warrior graduates NICU after emotional 67-day stay
'I donated 112 GALLONS. It's a high I've never felt before.': Mom donates breast milk to micro preemies, 'Every box I ship brings me joy'
'She simply said, 'He needs us.' He moved in right away. We are his home now.': Family fosters after preemie beat the odds
Do you know someone who could benefit from this story? Please SHARE on Facebook and Instagram to let them know a community of support is available.