"My husband and I have been married for 6 years, and everything we have gone through from the moment we met just feels like such a tangled web of fate and destiny.
I was born and raised in southwest Florida, and my husband, Josh, is from Ontario, Canada. Growing up, we made countless trips to Ontario, as my parents are both Canadian and the majority of my family lives here. Josh was my cousin's childhood friend, but we never happened to meet until they took a road trip to Florida in 2008. We talked everyday after that trip and had a long-distance relationship until I moved up to Canada to be with him fresh out of high school in 2011. We married in April 2014, and had our son, Blake, a year later.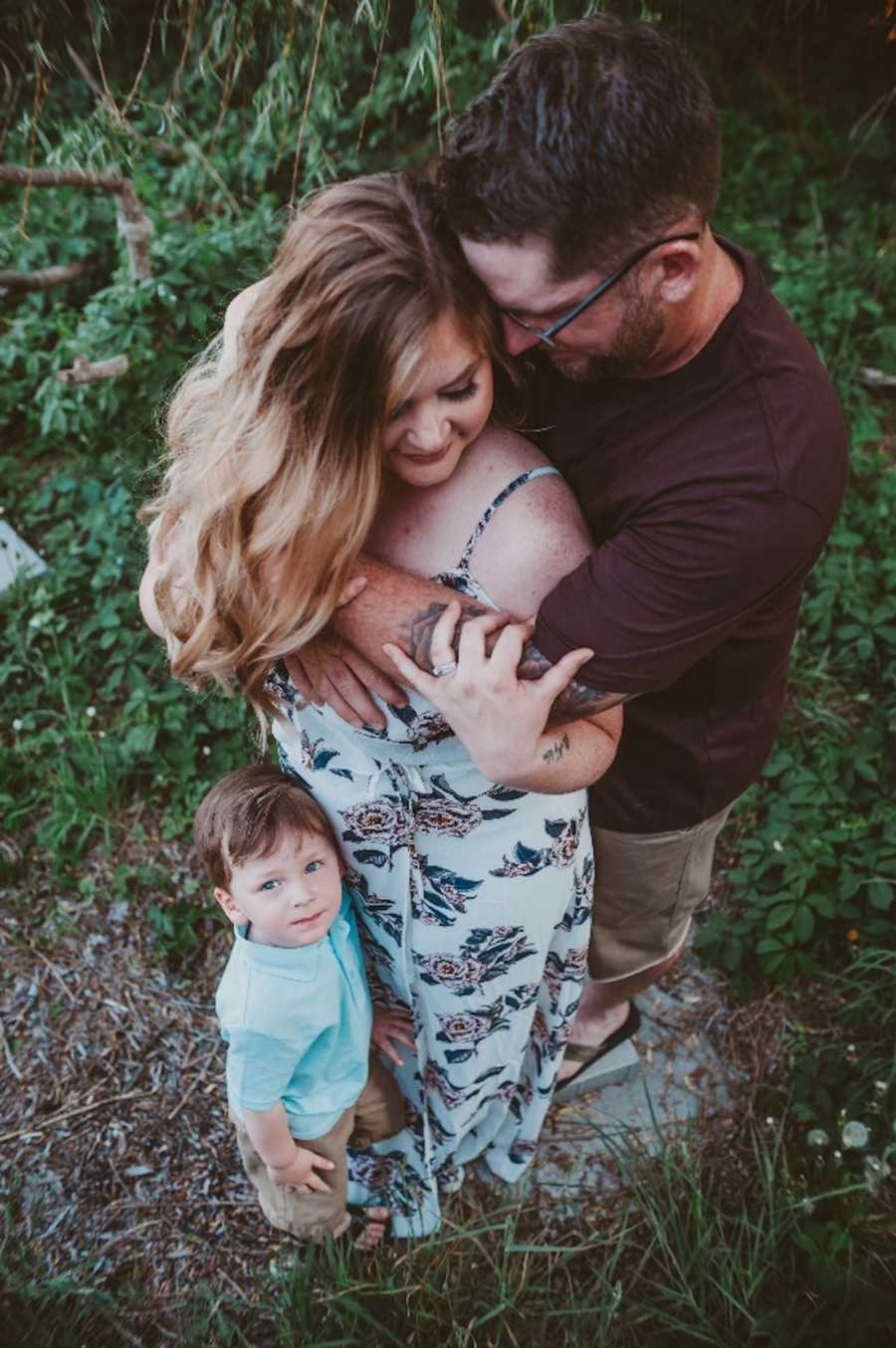 When Blake turned a year old, we decided it was time to try for another baby. I had always dreamed about having children close in age. So, as each of those first few months passed with not even the slightest symptom of pregnancy, I started to worry. 3 months quickly turned into 6 months, then 10 months, then a trip to my doctor. We officially had something no young couple ever dreams of having — an infertility clinic referral. That first appointment held so many emotions, but most of all, I had hope. After all, the doctor was raving about how we are their favorite kind of couple: young, previous spontaneous pregnancy with no medical intervention, no obvious issues in either of our diagnostic tests — it should have been an easy road.
So, with the advice of our doctors and the constraints of our bank account, we started off slow. Month after month, we got nowhere. What they originally said was possible PCOS, turned into an ovulatory dysfunction and then simply unexplained secondary infertility. That was the hardest pill to swallow. I couldn't understand how, at 25 years old, there was no explainable reason my body was not responding to treatment.
I hid how badly I was struggling from basically everyone. I felt such a strong betrayal from my body. I lost a lot of self worth and became embarrassed and uncomfortable with myself because I could not do the one thing that is so fundamental for a woman to do. I remember the feelings of guilt: I failed my husband, he deserved to have another child, he deserved better than a broken woman. And I remember how it felt to finally give up.
The month we actually ended up getting pregnant was going to be our last IUI attempt. It didn't feel any different than any of the other cycles. In fact, I was so sure that the pregnancy test was going to be negative once again that I couldn't bring myself to wait for the result. I left the test with Josh and tried to continue my morning as if my heart wasn't shattering inside. Never once did I think he would walk out of the bathroom holding up a test with two little pink lines. I collapsed into his arms, and we cried the happiest of tears. In that moment, I thought we had just put the hardest chapter of our lives behind us. But in reality, it had only just begun.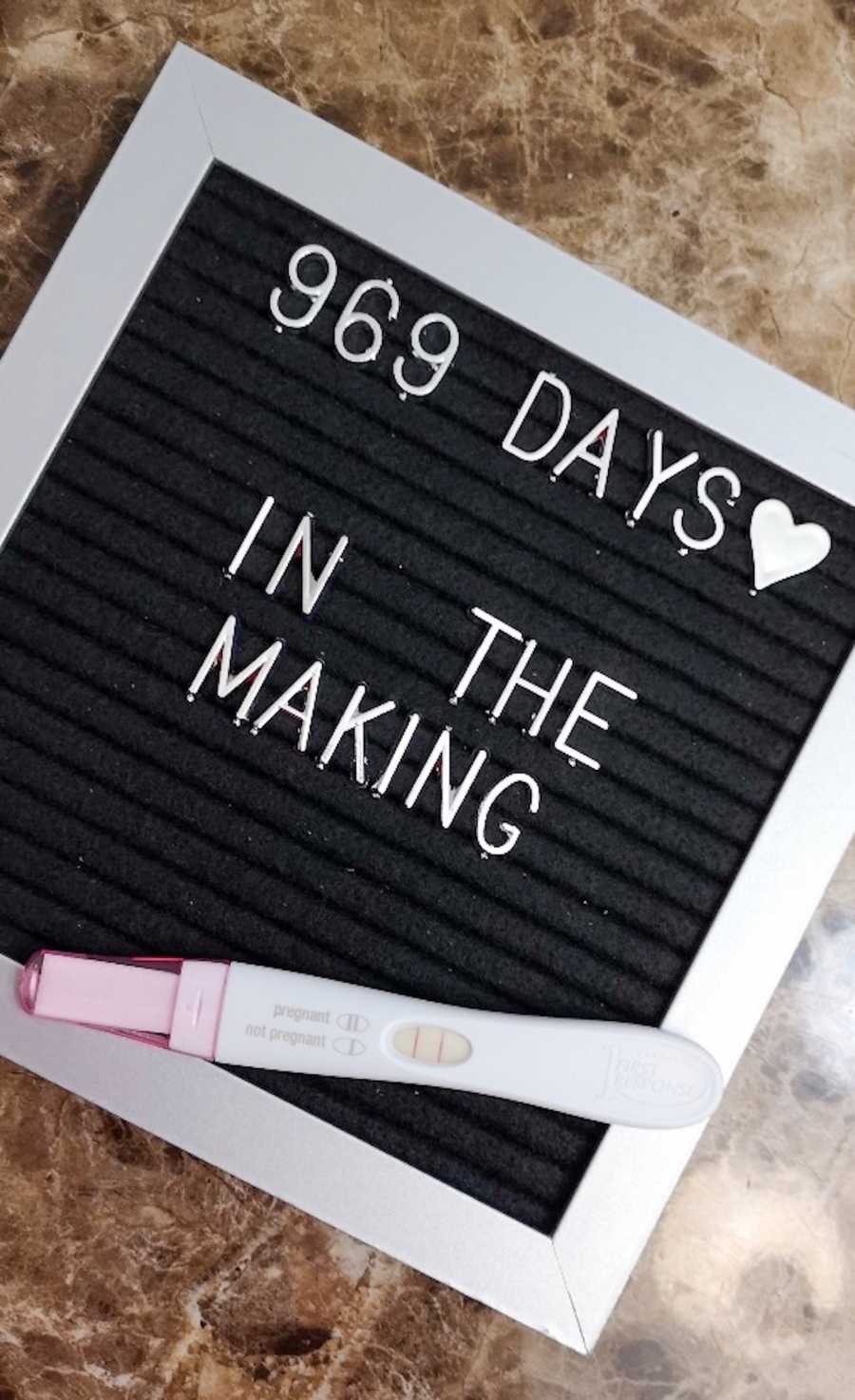 I was ecstatic that we were scheduled for a confirmation ultrasound just 2 weeks later. November 15th, 2008 started out like any other day. I was up early, getting myself and my son ready for work and daycare. I had butterflies knowing that afternoon we'd be getting our first glimpse of a child we waited so long for. I had switched my 9-5 shift for an early morning short shift to accommodate the afternoon appointment, and Josh was set to leave work early so he could come too.
That's what made it even more confusing when, just a couple hours into my shift, my supervisor came to me and said there was an urgent call from Josh to pick up. I knew straight away something was terribly wrong. He kept asking over and over if I had put Kiera, our 6-year-old family dog, in her crate before I left for work. We did of course. But when he told me the post office called and said there was a dead German Shepherd on our doorstep, I fell to my knees.
What happened next is still a blur. I flew home and all I can remember is yelling 'it's not her' through the tears. Josh was already there, and so were the police. I couldn't understand how this was all happening when just 2 hours prior, I put her in her safe place and locked up, just as any other day. The officer would not let us into our home because it was evident someone had broken in. That's when she told us it appeared Kiera had been stabbed to death. Our broken hearts were now completely shattered. She was stabbed 15 times, then thrown outside to die. The attack was completely random and unprovoked by a complete stranger. Nothing was stolen, except for our irreplaceable girl. We were angry, we were confused, and we were devastated.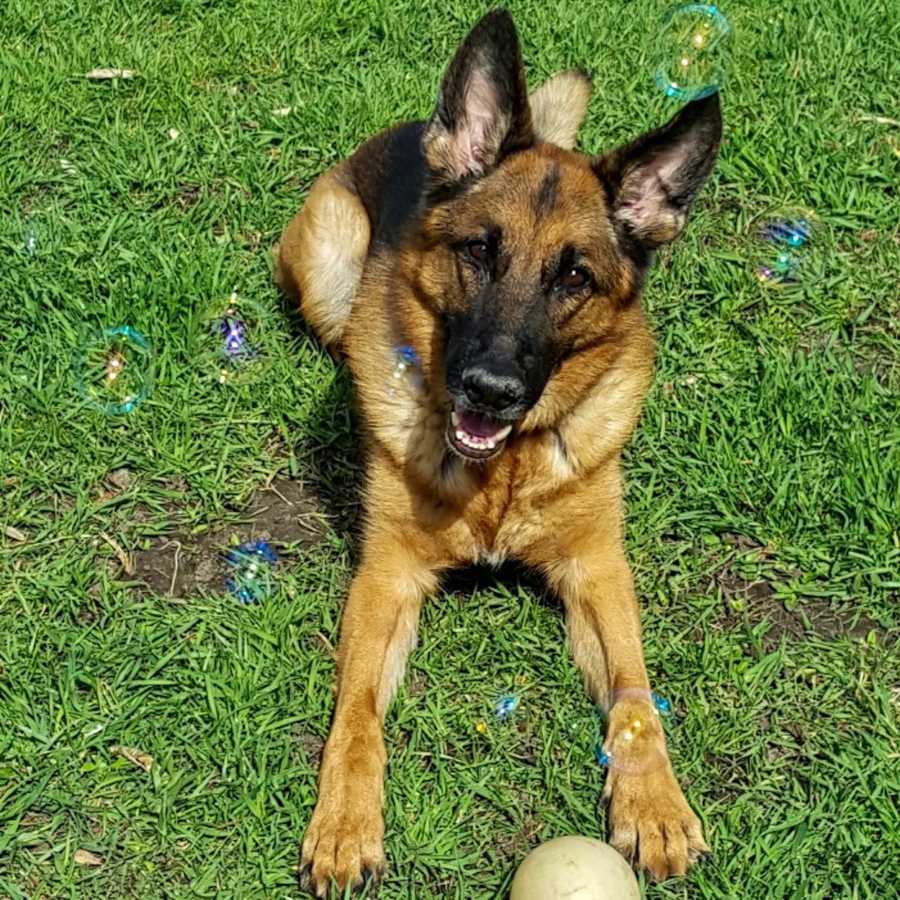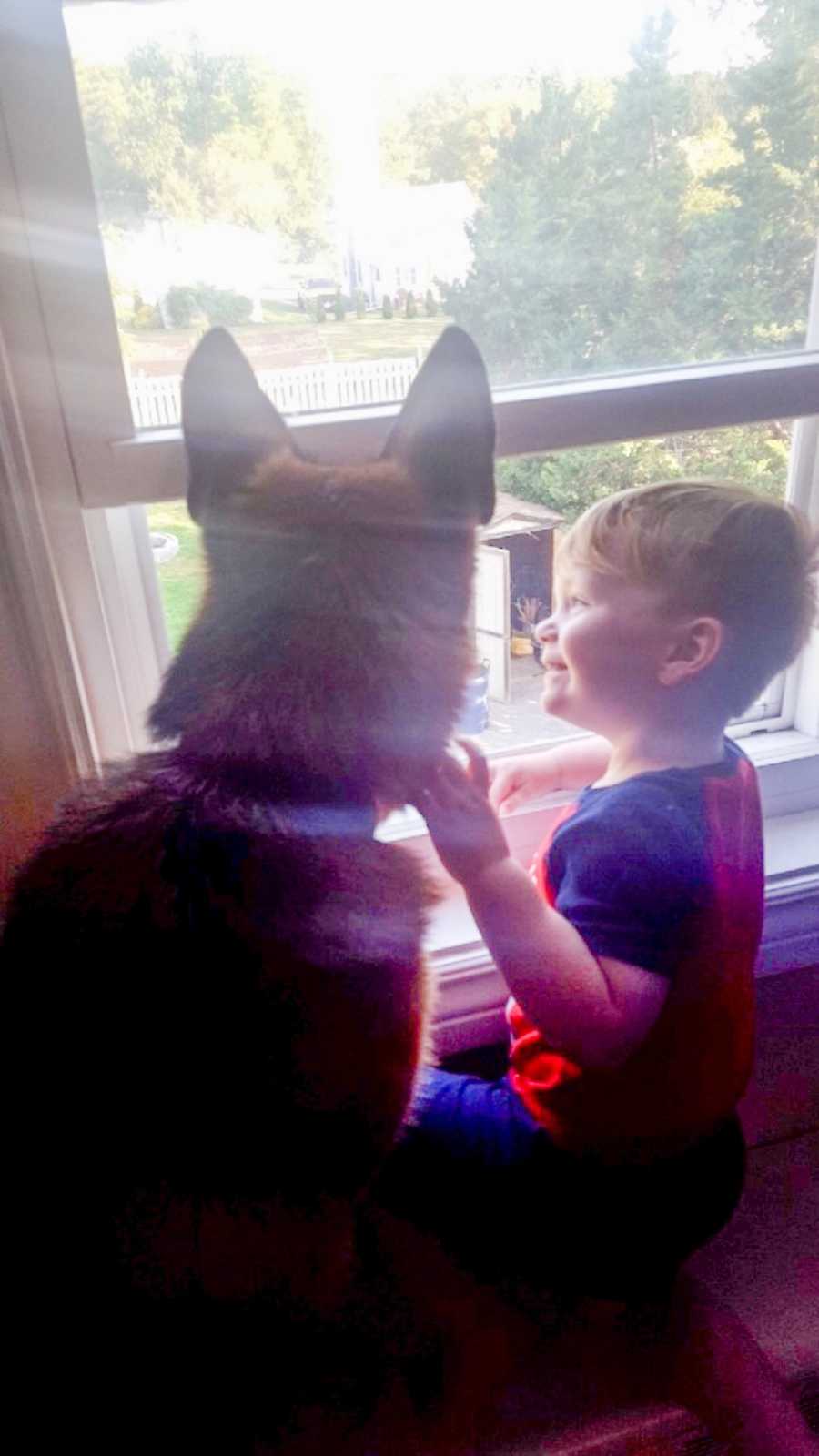 It's hard to believe after the morning we had just endured, but we decided to still go to our ultrasound appointment. We weren't allowed into our home, as it was still an active crime scene, and we needed to buy some time until we could make other arrangements or check into a hotel. I remember as soon as I sat in the waiting room, I began to shake uncontrollably. I was in shock, and I started wondering if this was actually a good idea or not.
Before I had a chance to think about things, we were called back. I remember the ultrasound technician instructing me to relax and her having a hard time steadying the probe because I was shaking so bad. I looked at the screen and saw TWO flickering heartbeats. The tears that were already streaming down my face began to pour out even harder. This was the moment that Josh and I had waited so long for. I should have been crying tears of joy, but instead I was still crying tears over the loss of our first baby, our fur baby.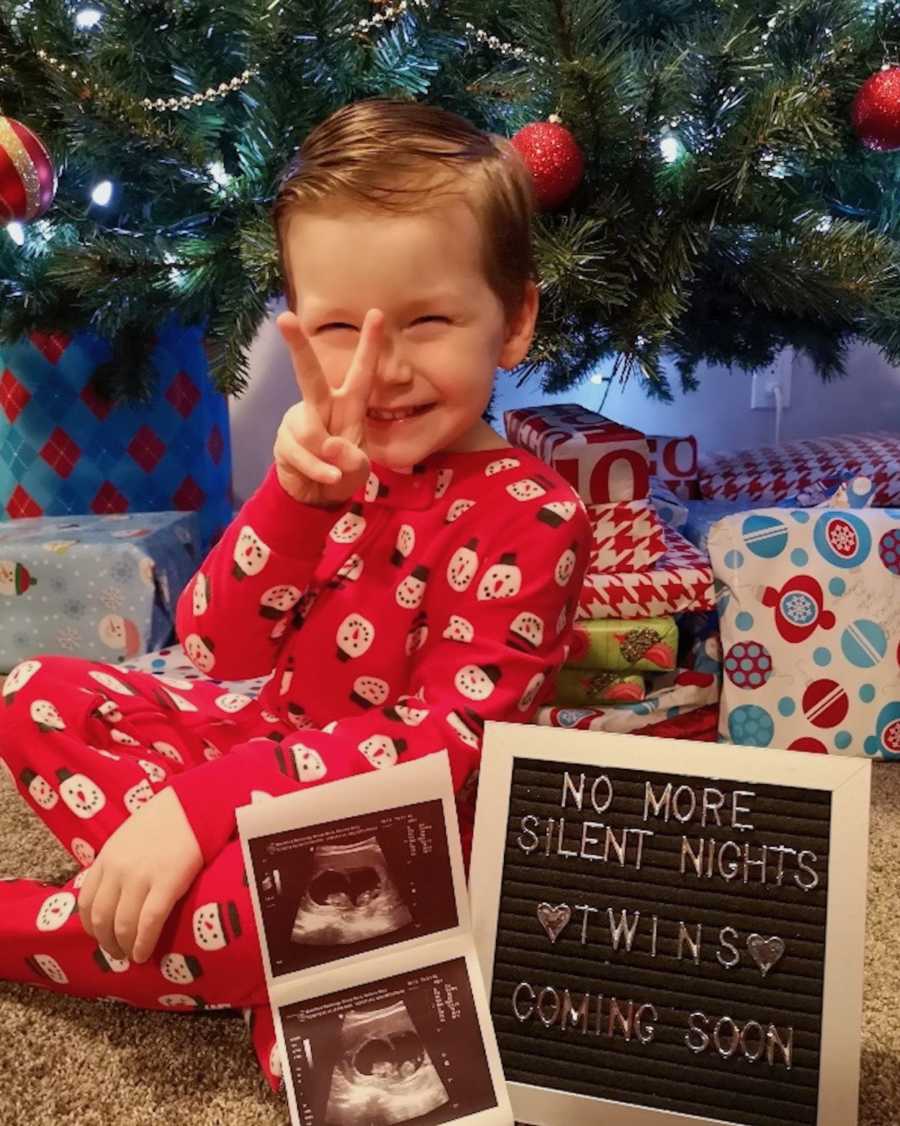 The first 3 months or so of my pregnancy was busy, spent trying to pick up the pieces of our broken life. We were homeless, staying with family and in an Airbnb, for 2 weeks following that day. Then, we got a fresh start in a new home. When things finally started to settle down, we were able to get really excited about the fact that we were welcoming 2 new babies into our family. We were overjoyed to find out that they were fraternal girls, and I was feeling great. I was being watched closely, as I went into preterm labor with Blake at 35 weeks, but everything was looking good.
During our 20-week anatomy scan, baby B was so high under my ribs they couldn't see her face. They sent me for a follow up ultrasound at 25 weeks and the report indicated that baby B had a 'prominent tongue.' My OB wasn't concerned when she told me, and she said she would have another ultrasound scheduled for 2 weeks to see if its still an issue. Although Josh was uneasy about that result, I had to stay positive for my mental health. I stayed off Google and trusted that in 2 weeks time, we would find out more. The 27-week scan came with some relief, as the technician reported that 'neither tongue was seen prominent today.' We exhaled, and continued preparing for the arrival of our little girls.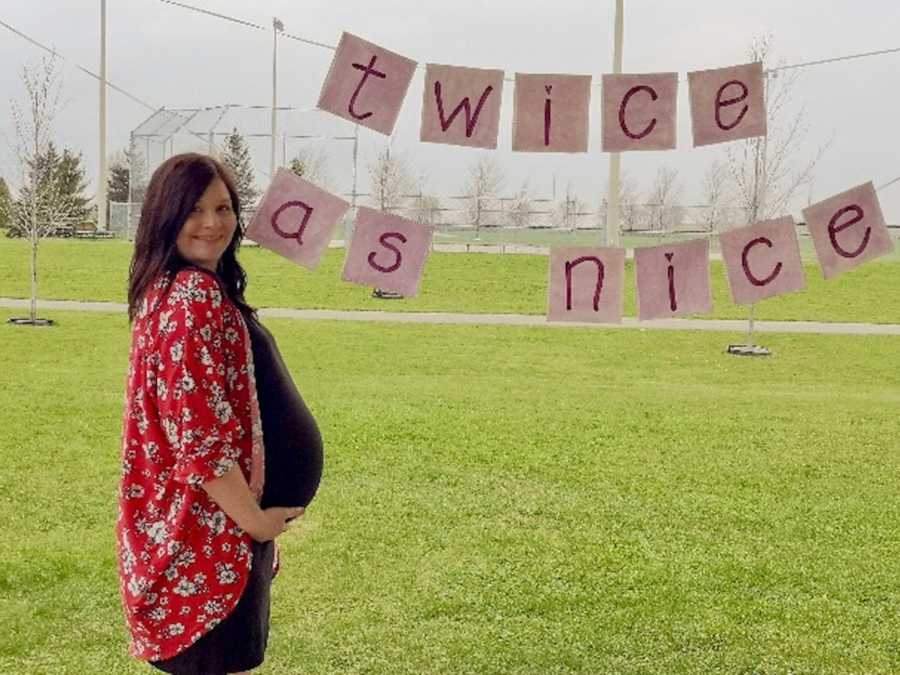 At 4 a.m. on Monday, May 13th 2019, my fears of going into preterm labor came true when my water broke at only 32 weeks. We dropped Blake off at my best friend's house and headed to the nearest city with a level 3 NICU, about an hour away from where we lived.
Things progressed super fast once I was admitted. I planned for an unmedicated birth because when I had Blake, the epidural didn't have time to take effect, so I knew I had already done it once before. They advised I should get an epidural in case there were any complications and an emergency surgery was needed. I agreed, and by 9 a.m. I was being wheeled into the delivery room. The anesthesiologist was trying desperately to get my epidural to take, but for whatever reason, the medication was just not working, I could feel everything once again. Bria was born at 9:32 a.m. and was swiftly whisked away to the NICU. Blair was born breach at 9:35 a.m. and was also taken right to the NICU. My beautiful girls were finally here!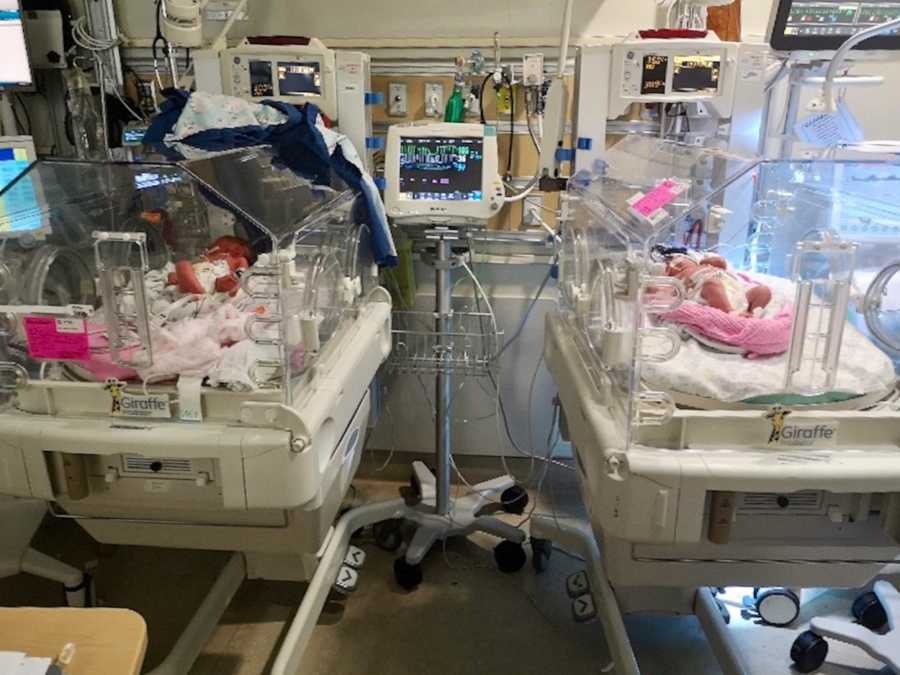 About 15 minutes postpartum, I realized something wasn't quite right. I remember after having Blake, my pain subsided immediately. But I was still experiencing intense contractions. After about 30 minutes my nurse called the doctor back. I was hemorrhaging. I knew it was serious when the doctor wouldn't leave the room. I was in excruciating pain, and I could tell I was losing a lot of blood.
The anesthesiologist returned and got as much pain medicine into me as she safely could, but I still remember blacking out from the pain when the doctor had to manually extract a portion of Blair's placenta that had been torn and left near the top of my uterus. This went on for about 4 hours. It was traumatic and not at all how I pictured the delivery of my girls.
At about 3 p.m. I finally was able to go with Josh to the NICU to meet Bria and Blair. They both needed help breathing but were stable at that point. I spent some time with Bria, then I went to Blair's bedside. The moment I saw her, I knew in my heart. There was that prominent tongue, rolling in and out of her little mouth. I asked her nurse if a doctor had assessed her, and she said yes, everything is looking good. I told her I think something is off and I would like a doctor to come by as soon as possible and I would like to be present during the assessment. Josh and I went back to my room so I could rest, and we spoke very little but it was very evident we both knew something was wrong.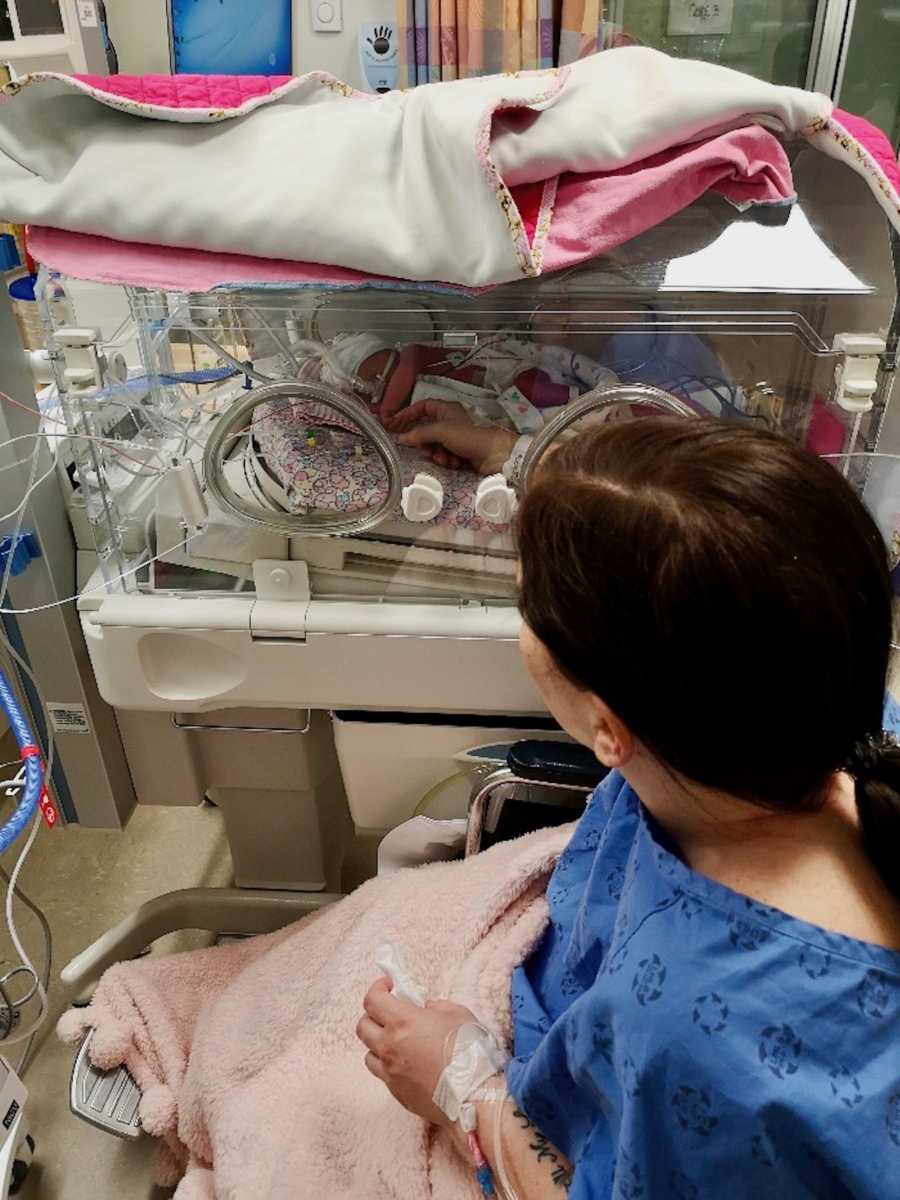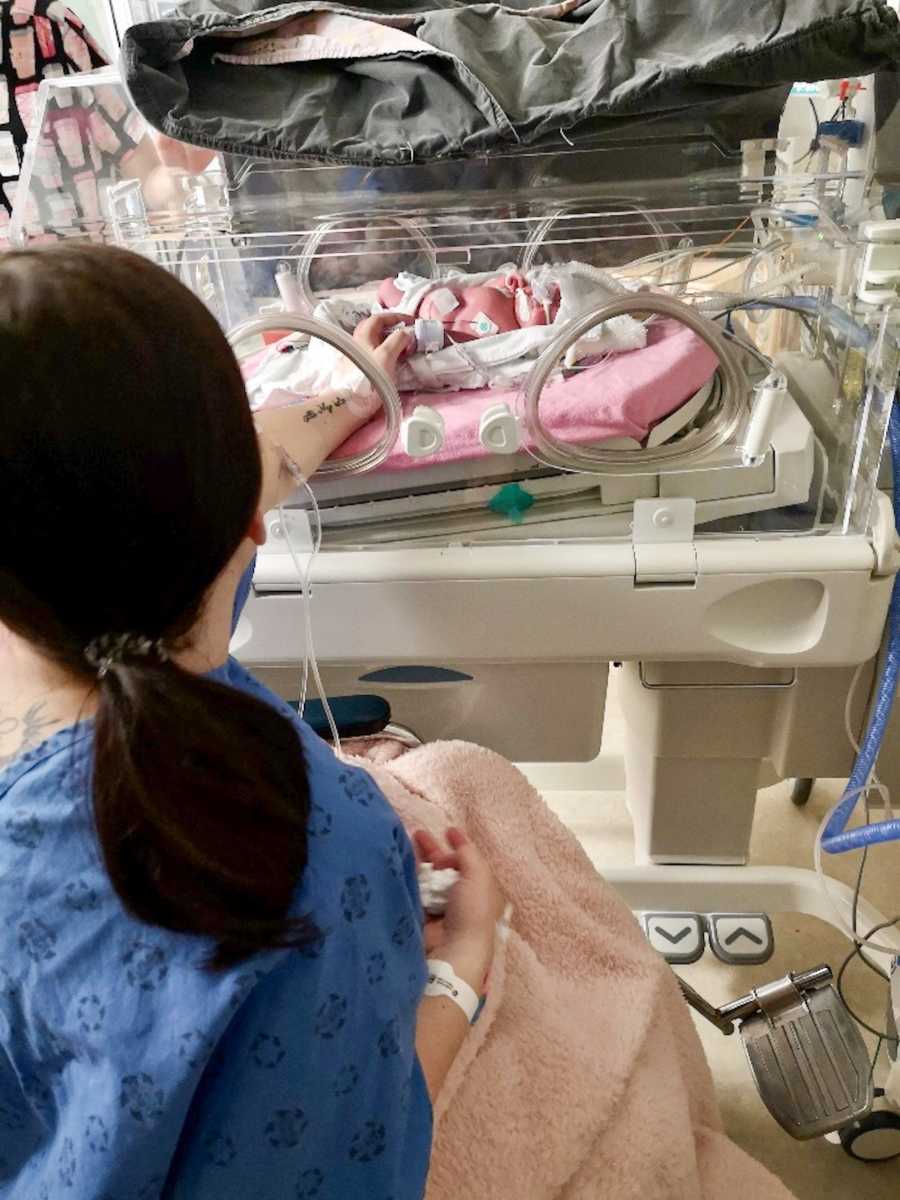 Just minutes after Josh stepped out of the room for an important phone call, Blair's nurse and a neonatologist, Dr. Cheng, came to speak with us and my heart sank. Josh came back in, and Dr. Cheng asked me why I had requested for Blair to be seen. With tears welling in my eyes I replied, 'I think she has Down Syndrome.' She softly replied, 'Blair does have all the markers for Down Syndrome.'
I felt every bit of air leave my lungs, and I was inconsolable. I can remember apologizing over and over to Josh and sobbing that I just wanted her to have a good life. I owe everything to Dr. Cheng that day. She took my hand and told me, 'Blair will have a good life. Do you want to know what I saw when I assessed her? A beautiful baby girl. That's it. She's doing great off of the CPAP. I think you should go down, hold her and see for yourself.'
When they left, Josh took my face in his hands and said, 'She's still our girl.' I was afraid. Afraid of letting go of the perfect picture I had painted in my head. Afraid that I may not love her as much as Blake and Bria. Afraid this was not the life I asked to live. Afraid of admitting that once again, my body had done something wrong. Afraid of how I would tell the people I love. The moment that Blair was placed into my arms every last fear left my heart. Josh was right. She's still our girl. None of that mattered. She was here, and she was perfect.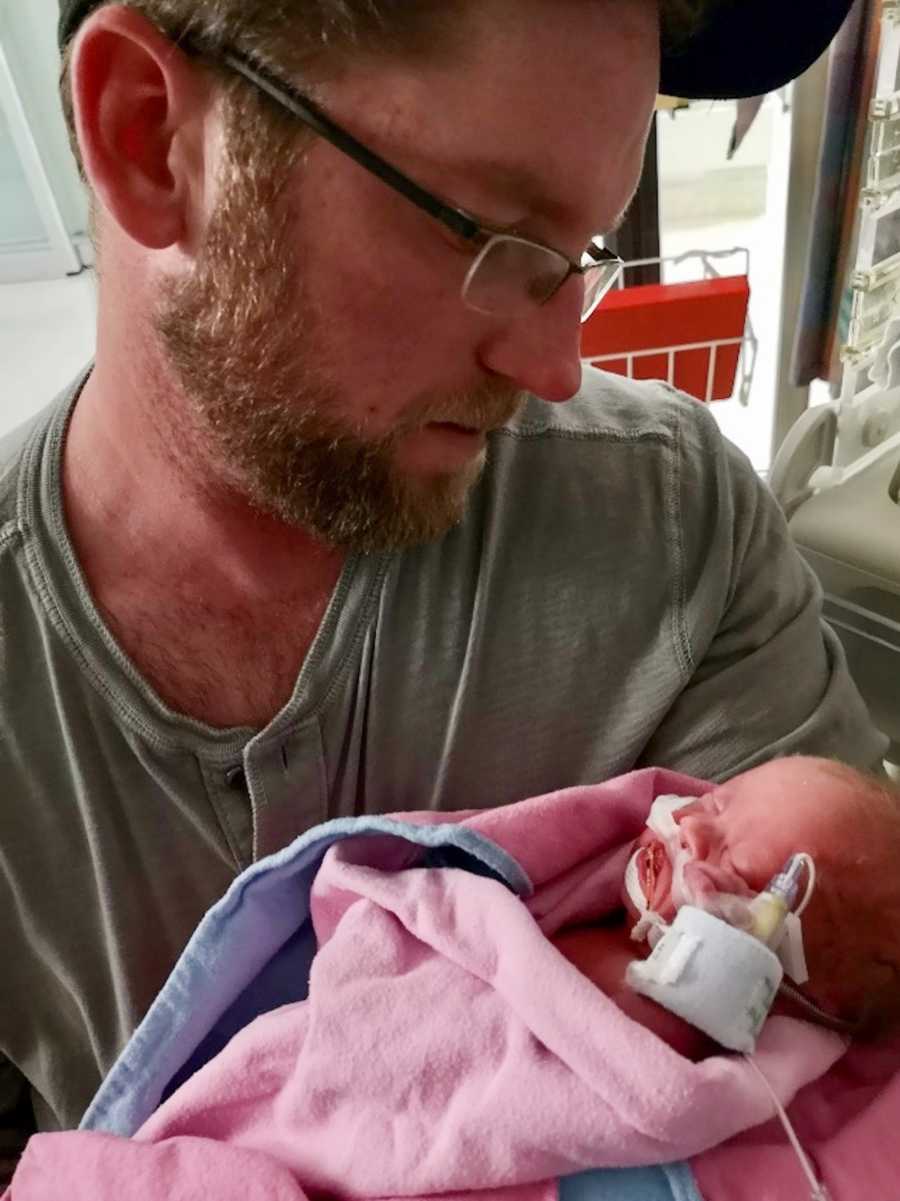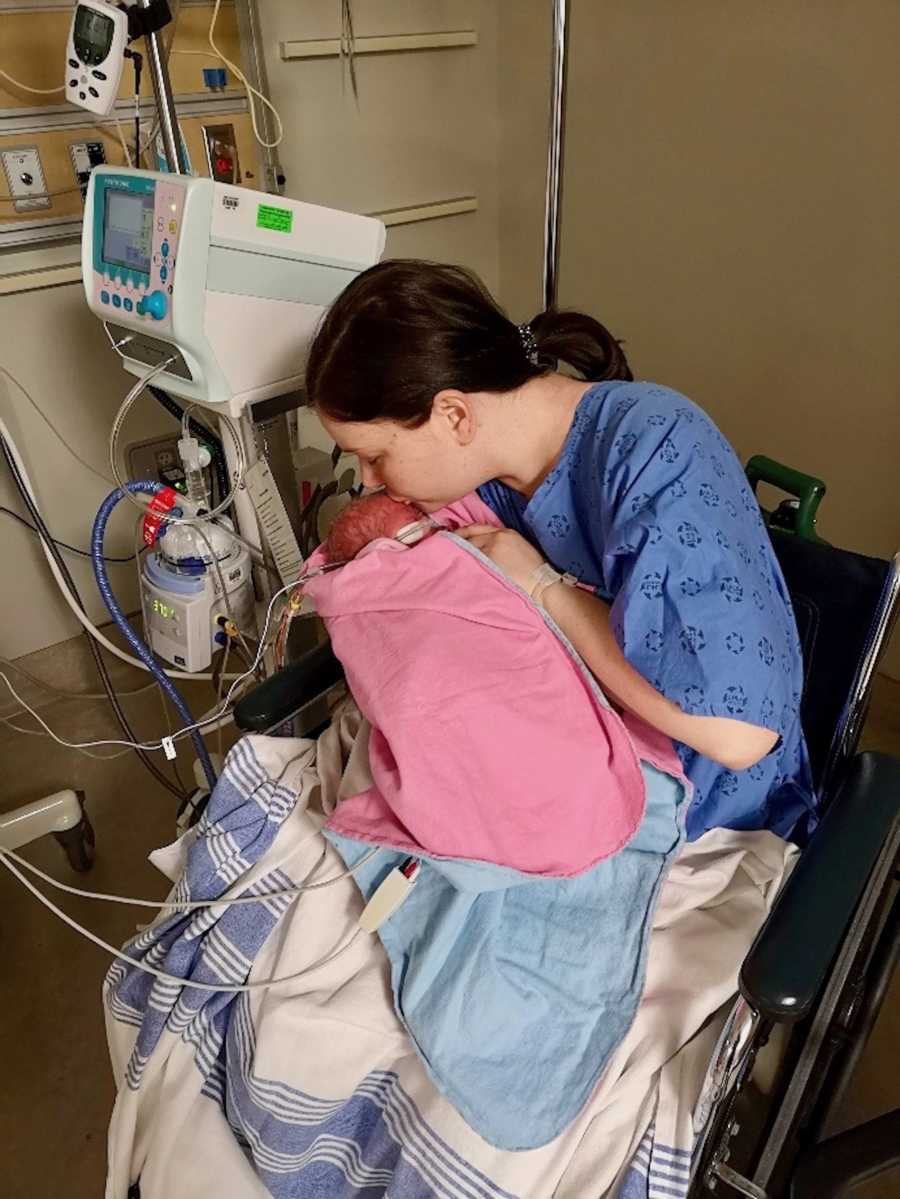 The next 48 hours were a complete blur. It was one terrifying talk after the next. We quickly learned all the medical complications that accompany Down Syndrome, and at 30 hours old, we had to watch Blair get taken away for her first surgery to fix a blockage in her intestines. We also learned she had an AVSD heart defect that would likely need surgical repair. I stayed at the Ronald McDonald house for the duration of their hospitalization. Bria was thriving and was discharged at 19 days old. Blair was working hard to breathe and couldn't eat so she was eventually discharged after 45 days with a NG feeding tube. We were so happy to be home and together as a family of 5.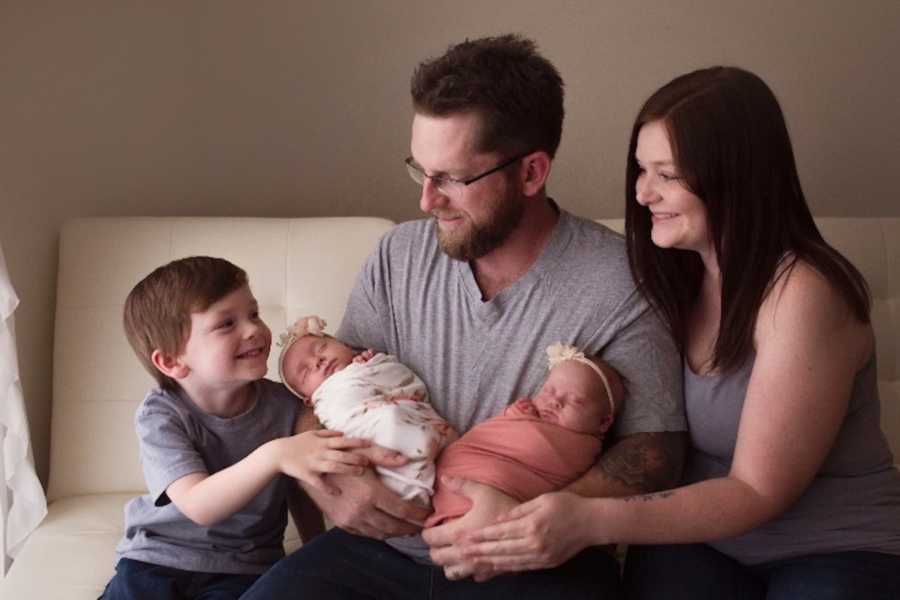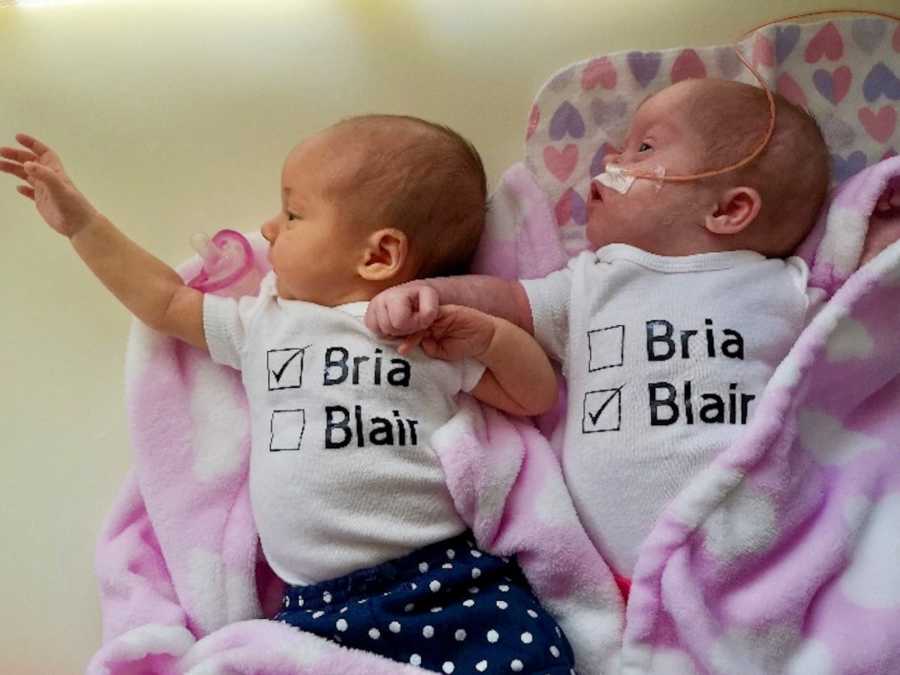 After a month and a half, Blair started going downhill. She was hospitalized the end of August with a pleural effusion (fluid surrounding her lungs), and we found out she was in heart failure. Her cardiologists felt her heart surgery could no longer be postponed. Her open heart surgery on September 25th, 2019 was a success, and she recovered quite quickly. She had her third surgery in November 2019 to upgrade her NG feeding tube to a G tube. Ever since, she has been making great strides in her development.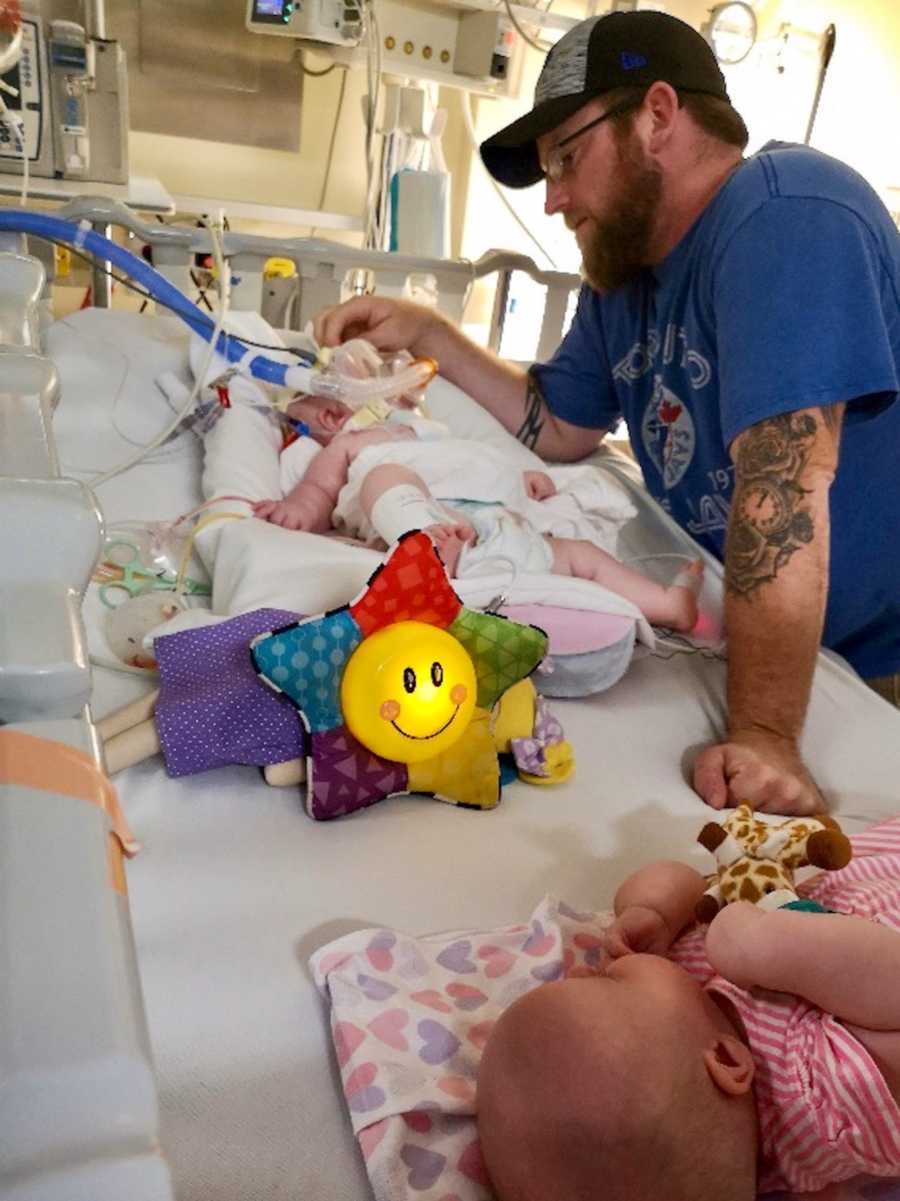 It took me by surprise that working though the emotions of a surprise birth diagnosis after all we had been through was a quick process. From the moment I held her, I accepted her, 47 chromosomes and all. Having a child with Down Syndrome is a blessing in disguise. She brings insurmountable joy to our family. She has opened our hearts to love deeper.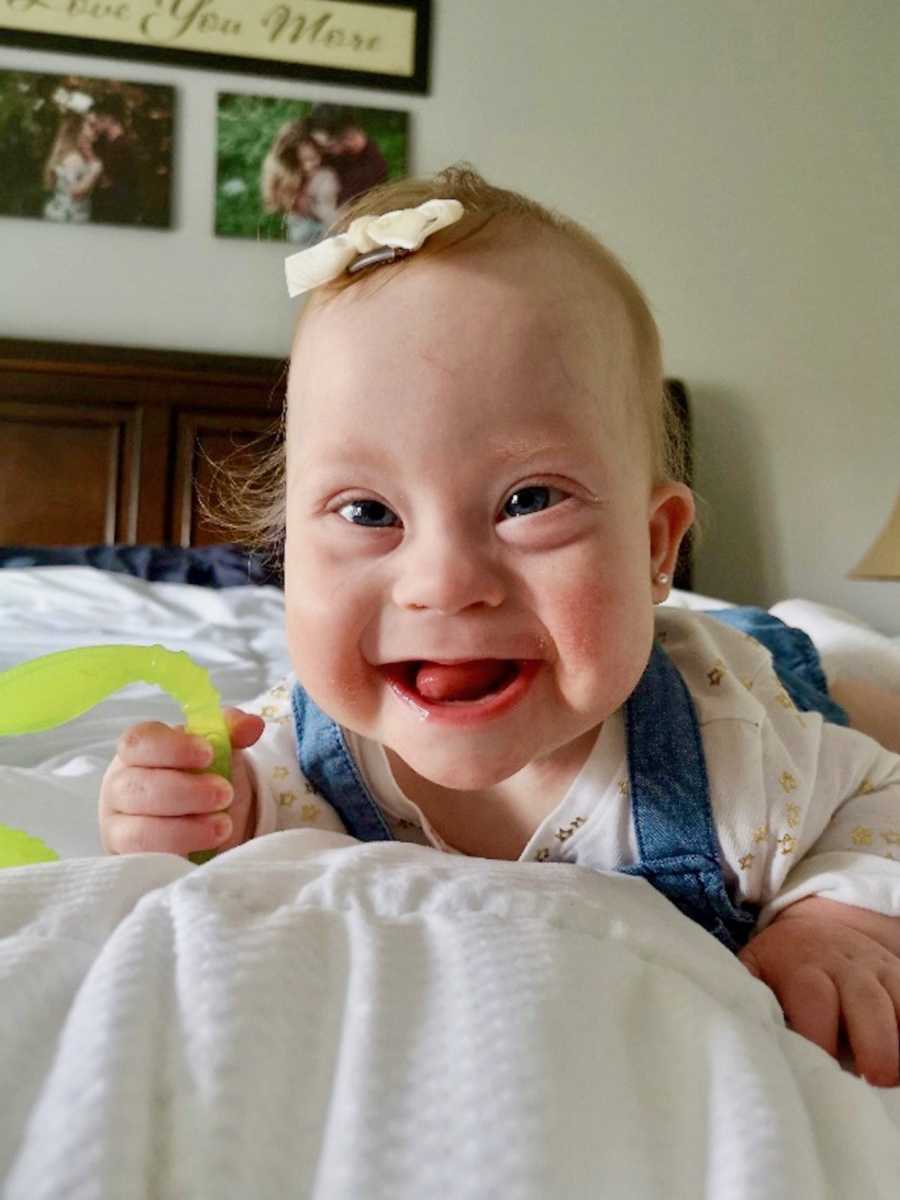 Josh and I often reflect on the journey that led us to where we are today. We are stronger as a couple than we have ever been. We are extremely proud of our extra special family. We know we were always destined to walk this path together and we wouldn't change it for the world. Our hands are full, but our hearts are fuller!"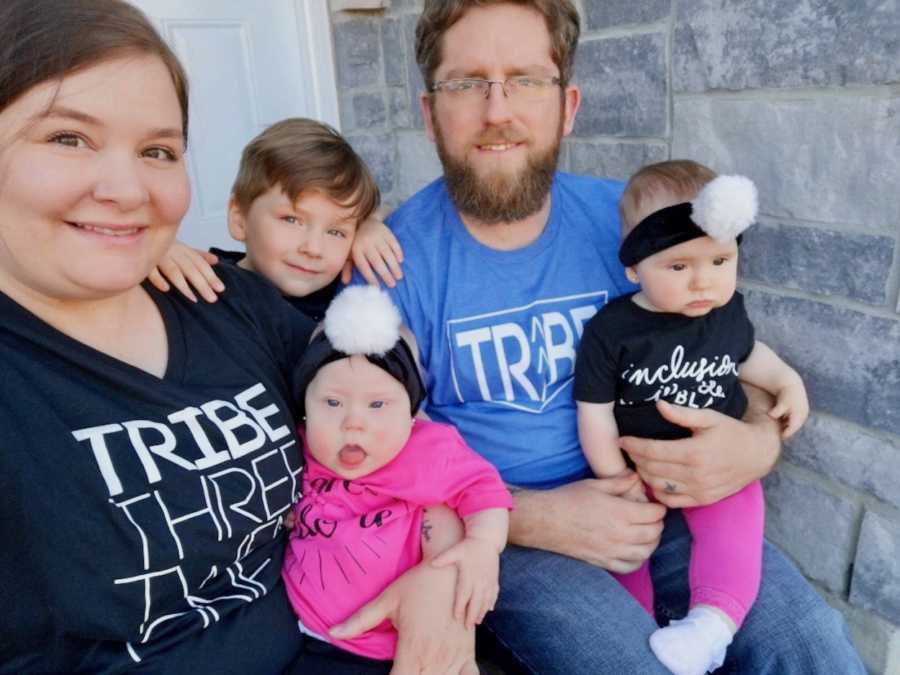 This story was submitted to Love What Matters by Melonie Beck. You can follow their journey on Instagram. Do you have a similar experience? We'd like to hear your important journey. Submit your own story here. Be sure to subscribe to our free email newsletter for our best stories, and YouTube for our best videos.
Read more stories like this:
'She's in heart failure.' I'd most likely never get to meet her. We could deliver our stillborn baby.': Woman gives birth to high risk Down syndrome baby, 'She defies all odds'
'Is he ok?' I was afraid to say the words. I never told a soul about my feelings, not even my husband.': Mom births son with Down syndrome, 'I am so thankful for his perfect 47 chromosomes'
'The nurse handed my daughter back. I instantly noticed her teeny tiny ears. 'Do you think she has IT?' I looked at my husband in fear.': Mom of 3 births baby with down syndrome, 'She is the most amazing human being I've ever met'
Help us show compassion is contagious SHARE this story on Facebook with family and friends.