Disclaimer: This story includes mentions of pregnancy loss and infertility that may be triggering for some.
"Michael and I have been married for six years. Before that, we dated for eight months and had a four-month engagement. When our relationship started to become more serious, we used to take my paddleboard out on Lake Washington and talk about our hopes for the future. During one of those conversations, one of us brought up our desire to adopt. I can't recall who brought it up first, only that the other immediately said, 'Me too.' At that moment, I knew God was working things together and we would adopt in our future.
What I didn't know is that it would be so difficult for us to have biological children. We conceived unexpectedly and early on in our marriage, and that ended up in a loss. It was a later loss, and I needed surgery afterward. I had never heard of miscarriage before and felt totally blindsided. I remember the grief so well, and I felt like I couldn't get out of bed or stop the tears. There were long-time friends in my life who couldn't understand my grief and wanted me to get over it quicker than I felt able. It drove a wedge in our relationships during a time when I already felt so alone.
In time, my desire to become pregnant again grew stronger, in a way I don't quite have words for. Yet, try as we might, we were unable to conceive again. Years passed, and we received an 'unexplained' diagnosis, meaning 'we have no answers for you.' 'This could be making it harder or that, but we can't see a reason why you can't have children.' Yet, it didn't happen.
This unexplainable not being able to conceive, after falling pregnant unexpectedly, consumed me. I couldn't figure out why, and I tend to like to understand things. It filled me with anxiety. What if I wasn't doing something right? And, it made me feel like there was something wrong with me. Why couldn't I do this thing women are meant to do?
We began feeling forgotten by God as those around us went on to have children while we remained childless. We were so looking forward to beginning a new legacy in our family, one where motherhood and fatherhood could be redeemed, growing from the experiences of our childhood.
We sought the help of fertility treatments, which resulted in two more losses, both of which 'should have been' viable pregnancies. The experience of fertility treatments took so much out of us, all the shots and appointments, the time spent feeling crummy, and the emotional toll it took. After our third loss, we decided it was time to circle back to our initial dream of adopting.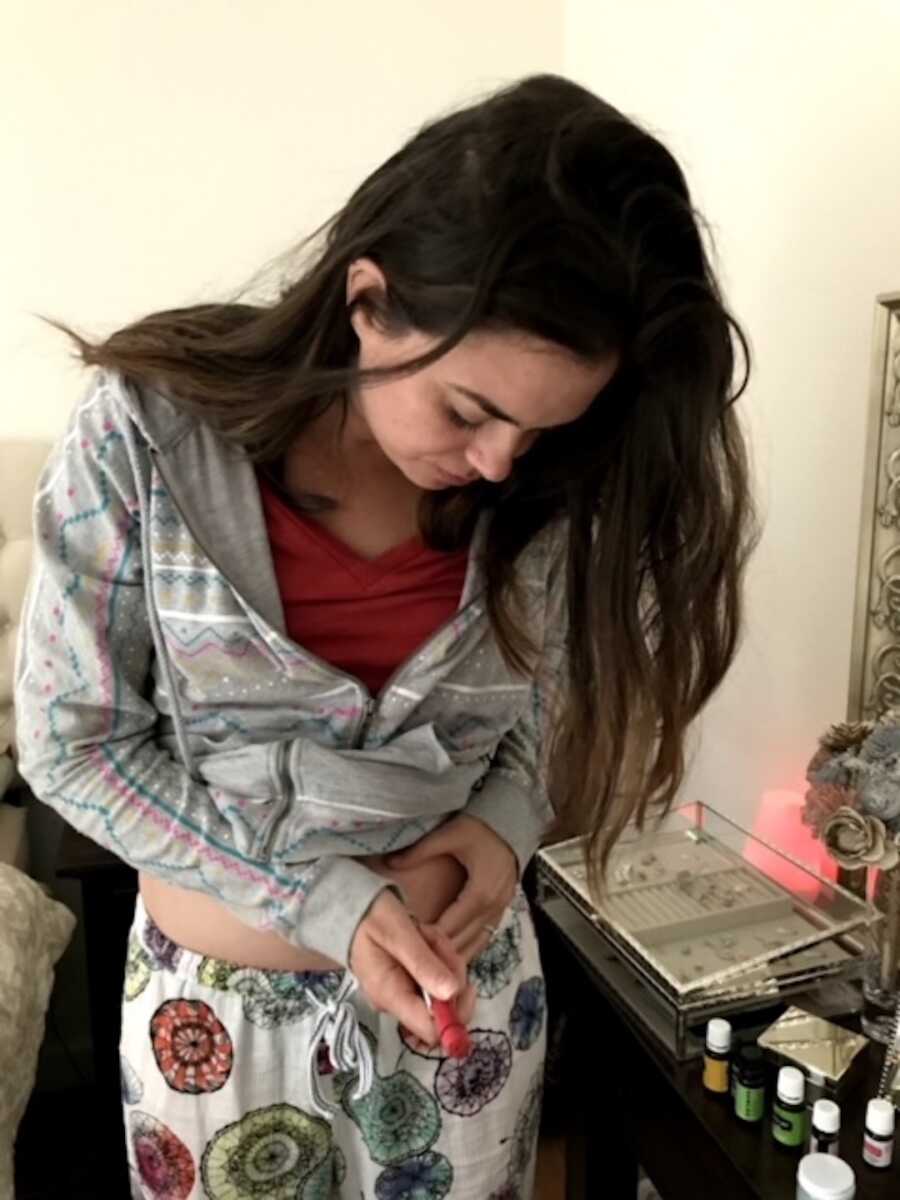 We took a year off before pursuing adoption to reconnect with each other and enjoy the life and many blessings God HAD given us. We decided to focus on what we HAD rather than what we DIDN'T have. It was an incredible year: we grew as individuals. Through hardship, our marriage strengthened in ways it needed to, and we grew rich in community and friendships as we began to surround ourselves with people we wanted to live life with.
Adoption proved to be more difficult than we imagined. Yes, the paperwork is time-consuming, but more so, there are so many unknowns, risks, and again…waiting. During our wait to be chosen, we experienced a handful of 'you didn't get chosen' experiences, and while I knew that just meant this wasn't our story, it was hard not to feel the rejection. Doubts crept in, and I was beginning to wonder if this was going to happen for us, if we would ever become parents.
Then suddenly, we got THE email. The one where the expectant mama chose our family's profile. I still remember the uncontainable JOY we felt when we were chosen! Our profile wasn't just going off into a black hole abyss, we were seen and chosen!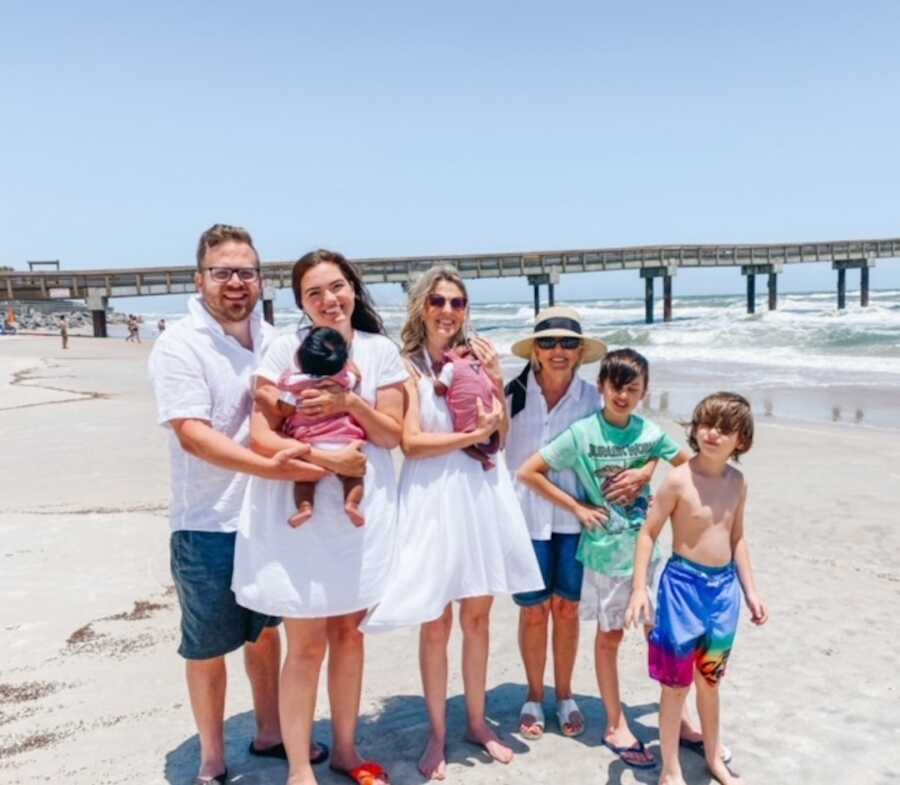 Our story doesn't have a happy ending just yet, but keep reading.
We spoke to our expectant mama. Our conversations with her were sporadic, but when we did talk, things felt promising. We learned about her, she joked with us asking if we were ready for sleepless nights, and our connection with her grew. Shortly after, we flew across the country to Jacksonville, Florida to meet her before her due date.
Each time we were supposed to meet with our expectant mama, she had a family tragedy. We were totally gutted for her when her father passed, and then when her son was shot, and our entire community was praying.
Finally, we were on our way to our lawyer's office to meet her, and we got a call. She wasn't coming. Our lawyer had confirmed with the hospital: she had already had the baby a month prior. This was intent to defraud.
Friends, in that moment, I can imagine myself falling into a puddle on the floor, but that's not what happened. What did happen is that we were flooded with overwhelming peace unlike anything I've ever experienced. In the midst of this tragic moment, these words just kept pressing on my heart: 'GOD ISN'T FINISHED.' We packed up our belongings and flew back home, empty-handed. We wrote our friends and family sharing the news, asking them to forgive her, to keep the faith.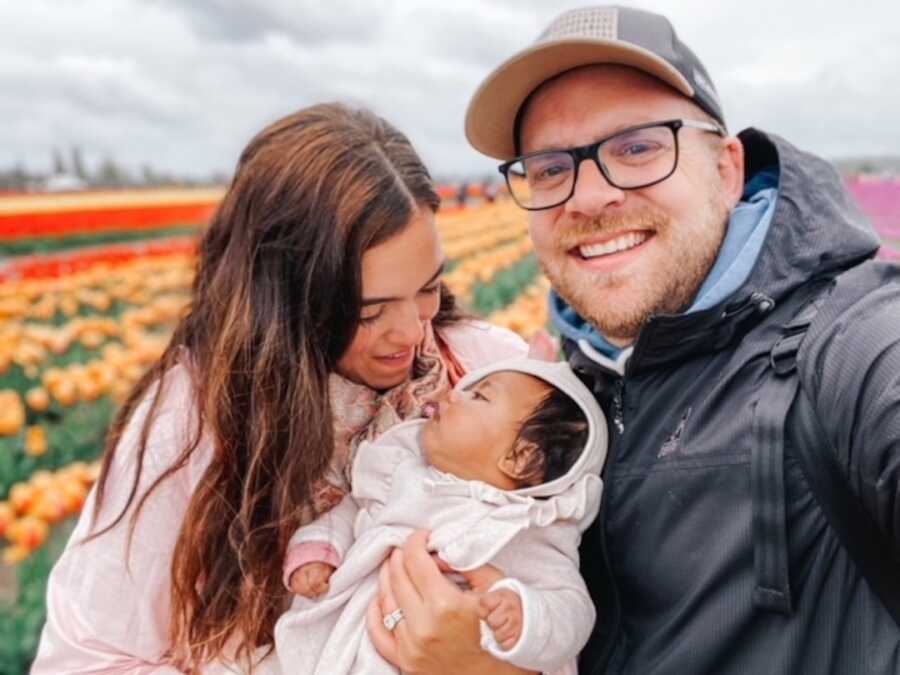 I can describe the weeks that followed as nothing but a faith-perfecting season. Rather than being shaken, our faith grew. Our peace grew. We leaned into God's promises, claiming them in our own lives. We sought Him first and everything else faded into the distance. He says He works it out for good friends, and He does. We were closer to Him than ever before.
And then…
A month later, it was finally our time. And I can only describe this season as better than I could have ever imagined.
We got THE email again: we had been chosen! This time, our hearts were more guarded, and yet we had more peace. We got to FaceTime with our expectant mama, who we now call Mama M, and friends, it was a connection straight from heaven. I will never forget the moment our caseworker asked her, 'Do you have any other questions for them?' Mama M looked at her and then at us, and said, 'I know that they're the ones.' I felt her words in my very soul, and tears sprinkled my cheeks, and I was fanning them dry with my hand, and then…she did the same! The beauty of adoption…this was it.
We quickly flew to Utah to meet Mama M for dinner before she went into labor, and not only did we get to share a meal with her, but her daughter and mom ended up coming too! While definitely nerve-wracking for us all no doubt, it was so very special to break bread with them. A moment etched into our minds and hearts forever.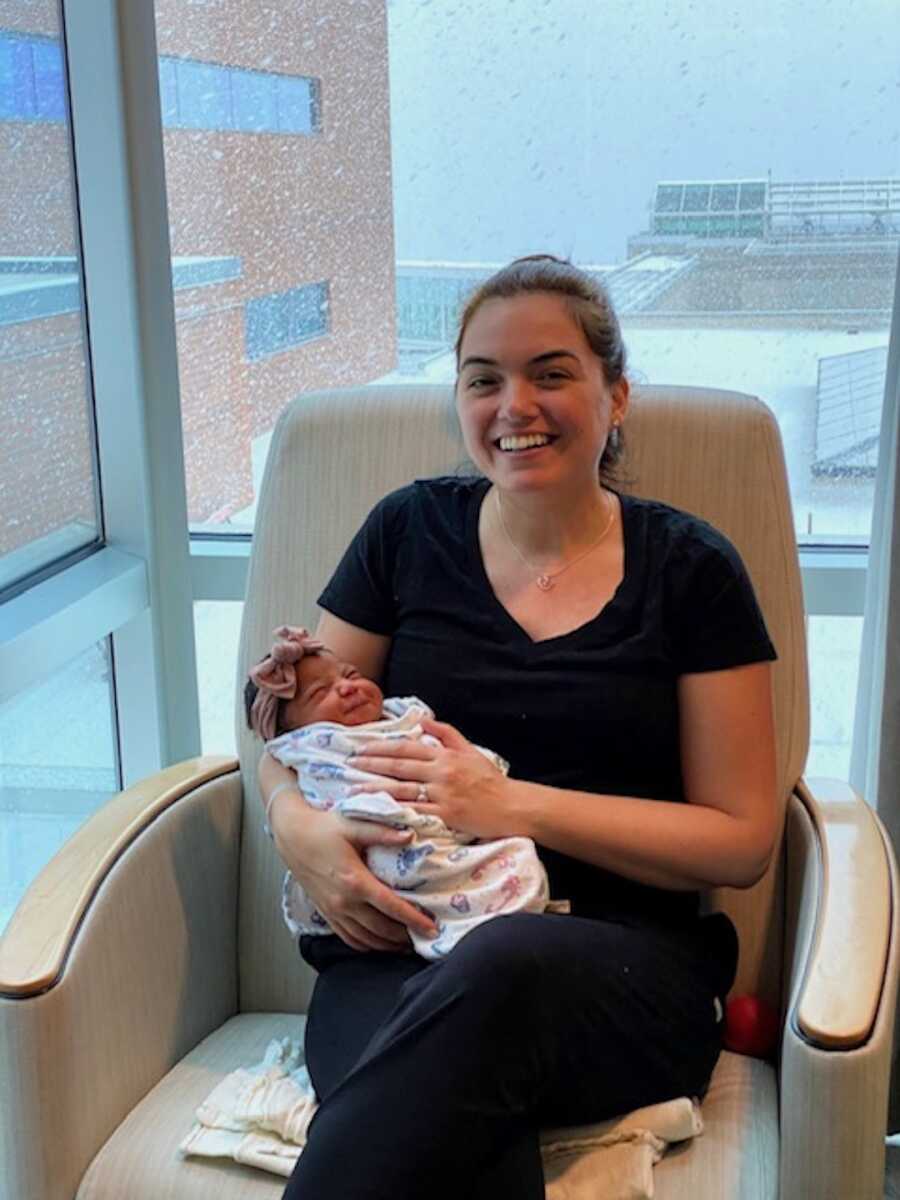 The next day Mama M went into labor, and we were told due to COVID-19 restrictions, we weren't going to be able to meet the baby until Mama was discharged and they left the hospital even if Mama M did choose to go through with her adoption plan. We knew she would likely have a C-section, and that this could be up to five days. So, we prayed. And then, we got a call. The nursing staff met and made an exception for us, they gave us a private room, and the best one in the place no less!
Baby girl came, and we cared for her for two days while Mama M recovered, holding her in our arms as we watched the snow fall outside the window of our room, full of gratitude. We thanked God for this long-awaited moment. We knew Mama M may still decide to parent, yet we already loved this precious baby so much. This in-between moment is so very stretching. And then, after what felt like an eternity of holding our breath, but was really just a few days, Mama M signed her consent for adoption. We were flooded with joy, yet also more than anything, in that moment, I remember considering Mama M.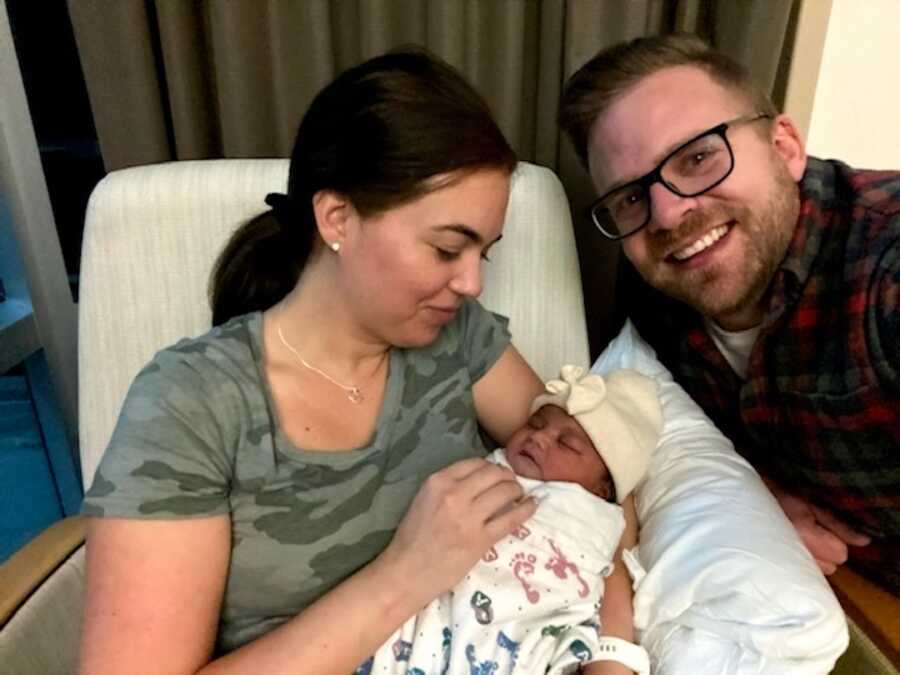 She didn't get much time with baby girl, who we named Malina, prior to signing papers, so we gave them the rest of the time in the hospital together. I'm not saying this wasn't hard, friends: we were feeling separation anxiety, and I even cried! But my goodness, it was good, and we would not have had it any other way. And without us asking, Mama M sent her back to us every night. It was like a beautiful gift to each other.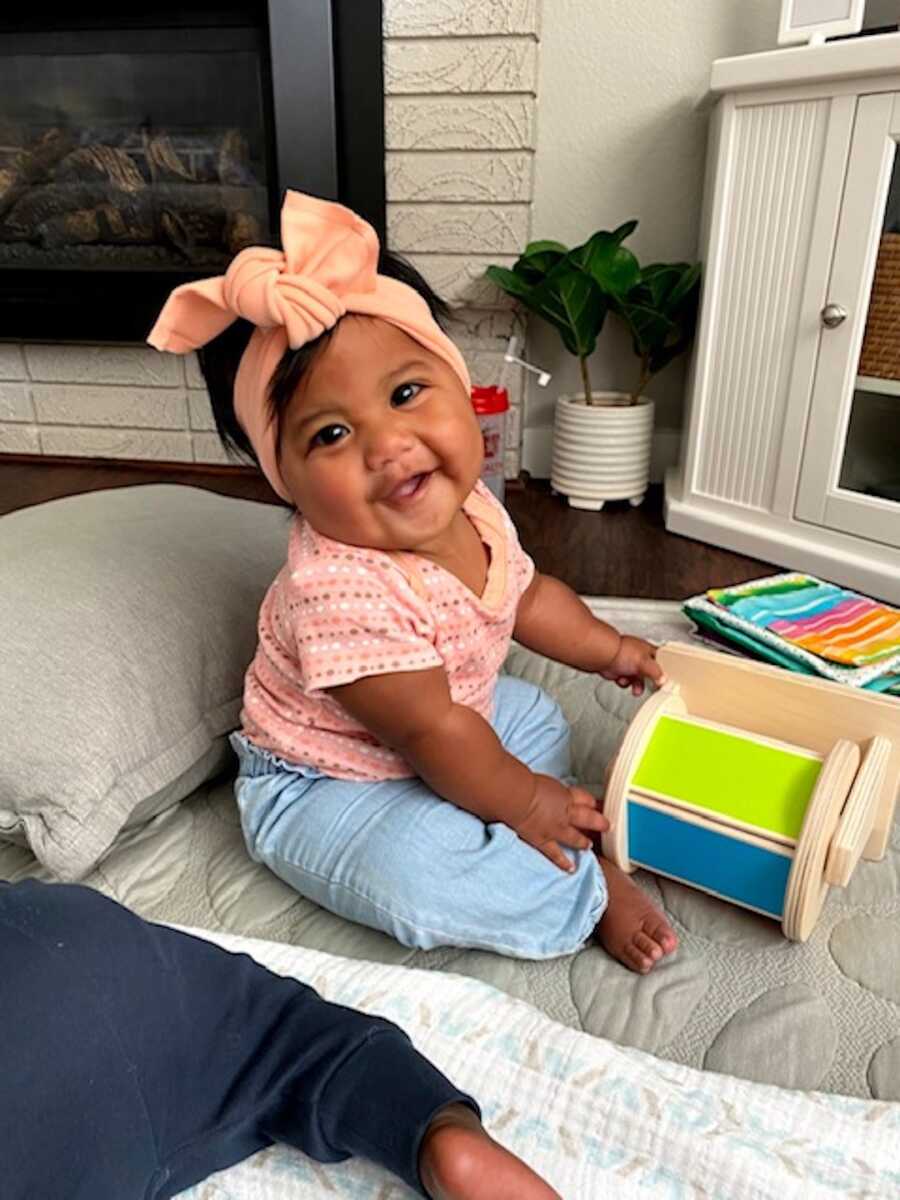 We all walked out of the hospital together upon discharge, another moment etched into my heart forever. We gave Mama M a necklace with a heart and three pearls, representing Malina, her birth family, and us—all connected. They crowned us with shell jewelry from their island, welcoming us into their culture. I don't know if I've ever felt so honored, and I will cherish these heirlooms and that moment forever.
5 years, 3 miscarriages, 3 surgeries, 2 failed infertility treatments, and 1 failed adoption.
And she's here. Malina Anna Mays. Born on 2/2/21, in our arms just under a year since we started the adoption process.
And she's absolutely perfect! We welcome every midnight feeding, cherish every snuggle, and capture every single moment with hearts full of gratitude. We love her endlessly, more than life itself, and she immediately claimed us as hers too.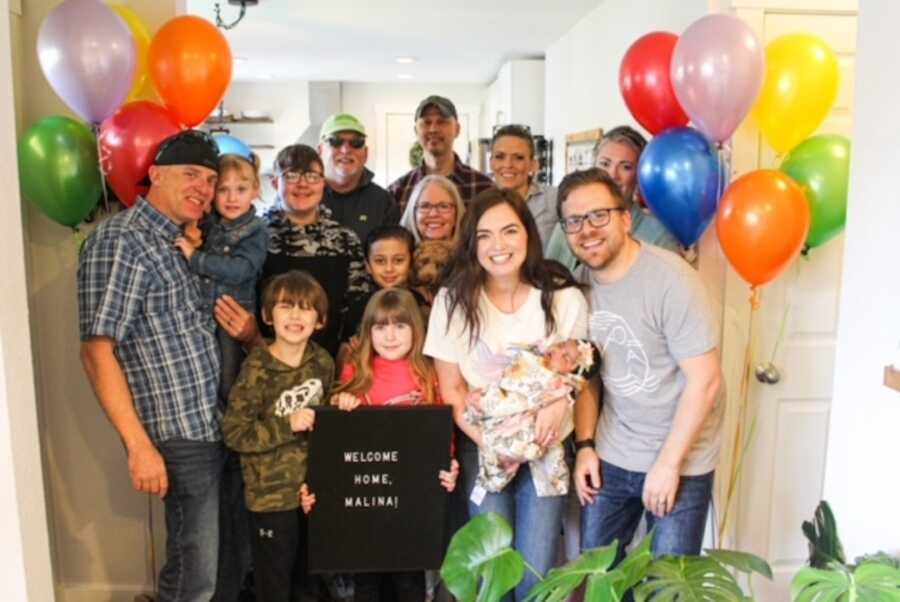 AND then just three months later…we got the sweetest surprise. A DOUBLE blessing.
The same agency we experienced our adoption disruption through thought of us and reached out.
A baby boy had born in Florida and was currently in cradle care, and his birth mama wanted a loving forever home for him. She specifically wanted a family who had experienced an adoption disruption, and our story really resonated with her.
I remember telling my husband and both of us feeling a surge of excitement, like God was moving. We prayed about it, and in faith decided we would leave the door open and say yes to the opportunity if chosen, as we did not want to close a door God may be opening.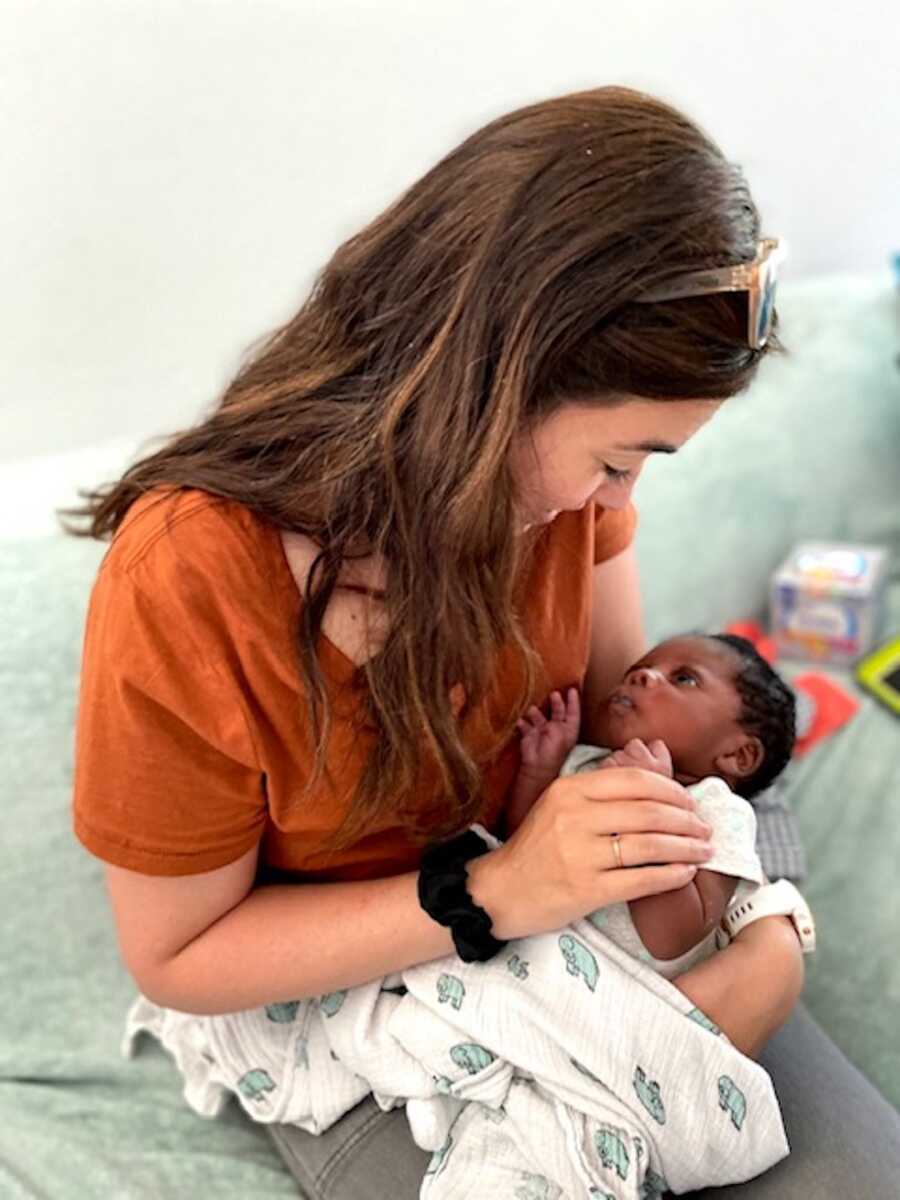 We reached out to our lawyer, social worker, and agency we adopted our daughter through to ensure we could move forward—and everyone said YES.
And sure enough, his birth mama, Mama N, chose us. She said she knew we were the ones upon reading our profile and hearing our story, and the fact that we continued to say yes after all we had experienced spoke volumes to her about our character. I'll never forget this conversation with her and how her words lifted our very spirits and encouraged us so much.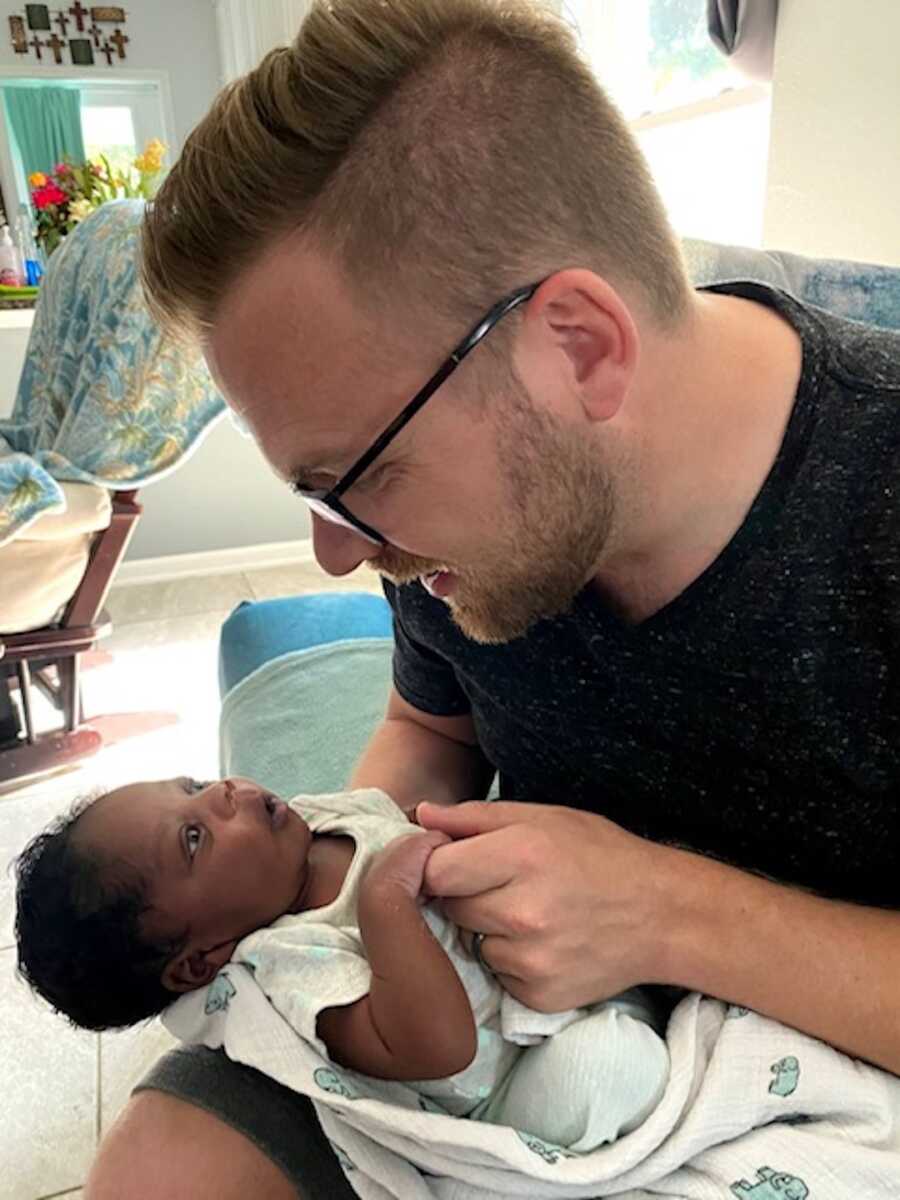 Both of our children's birth mothers are remarkable women who we will always love and respect so much.
We needed to renew our home study, and our social worker helped us do this within DAYS. Everything came back in record time. After pulling the funds we had left, we still needed $20,000. We reached out to our (small) church to ask if they wanted to help us financially to bring him home. They said, 'We want to give the $20,000.' We were floored. Tears of overwhelming gratitude. I have never so tangibly seen God moving in my life.
There were so many moments of wondering if we were absolutely crazy! And yes, I think we are. But you know what, sometimes that's what faith looks like. And I believe God needed to grow our faith so we could say yes to what He had in store.
Days later, we got on a plane and flew across the country to meet Mama N and our son, who we named Fynn. Some of our family came with us to help us care for our new babies while we stayed in Florida waiting out the ICPC (Interstate Compact on the Placement of Children) process until we could come home. What a joyous double portion for our entire family, after years and years of so many prayers. It was a precious time spent together, basking in the sunshine and soaking up God's goodness.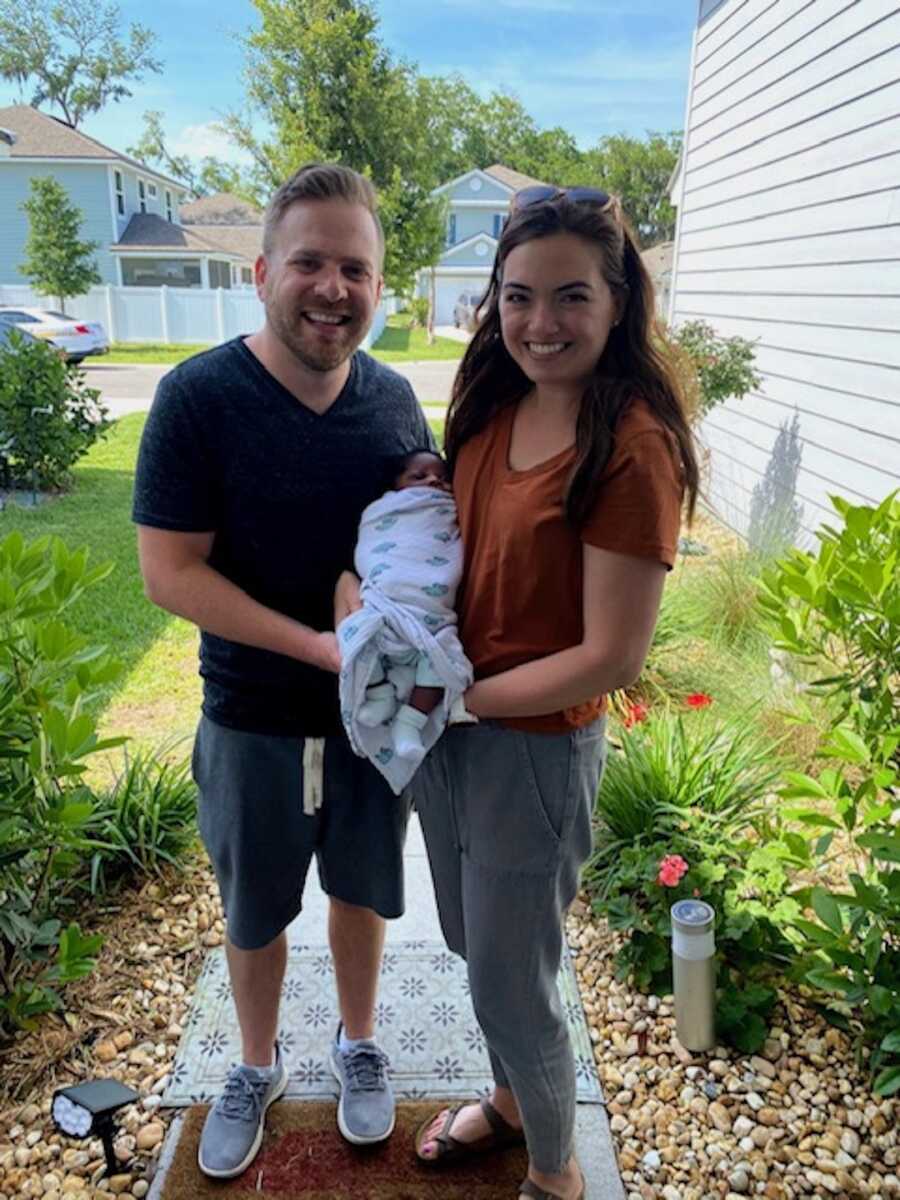 Fynn is the most perfect, sweetest baby boy, and we could not love him more or imagine our family without him. His smile and laugh light up our lives and fill us with insurmountable joy. His snuggles and presence exude peace.
It is so sweet to see Malina and Fynn interact together, holding hands and kissing cheeks. We are so glad they have each other and hope they'll grow up to always have each other's backs and be the best of friends.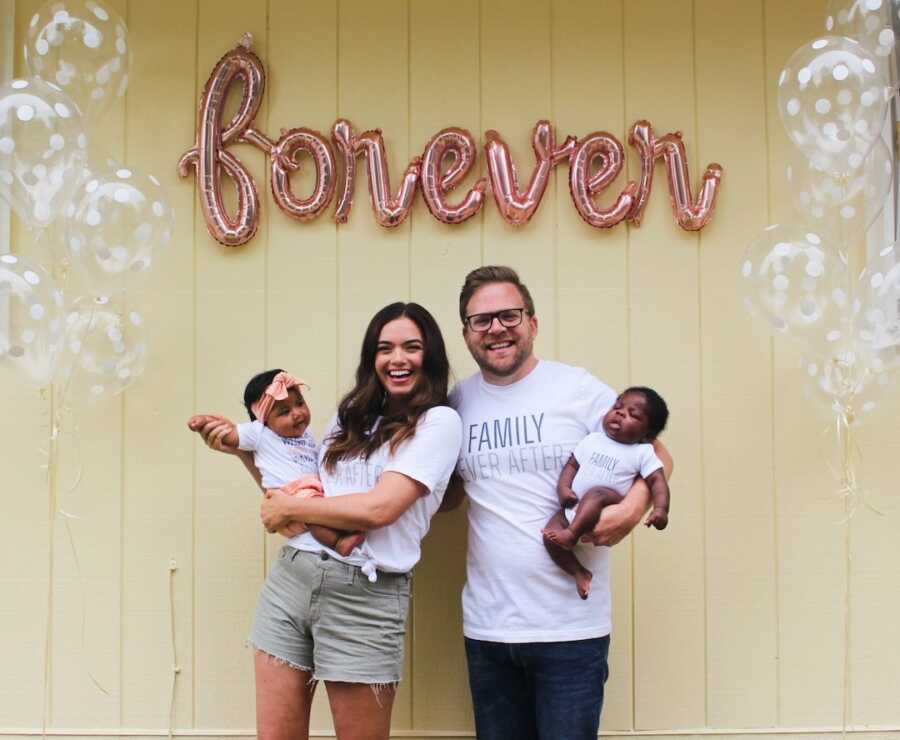 With two young infants, our hands are full, but our hearts are overflowing. We've never known such deep love or joy as we do now. Each smile, each laugh—a treasure. Malina and Fynn are our most precious gifts.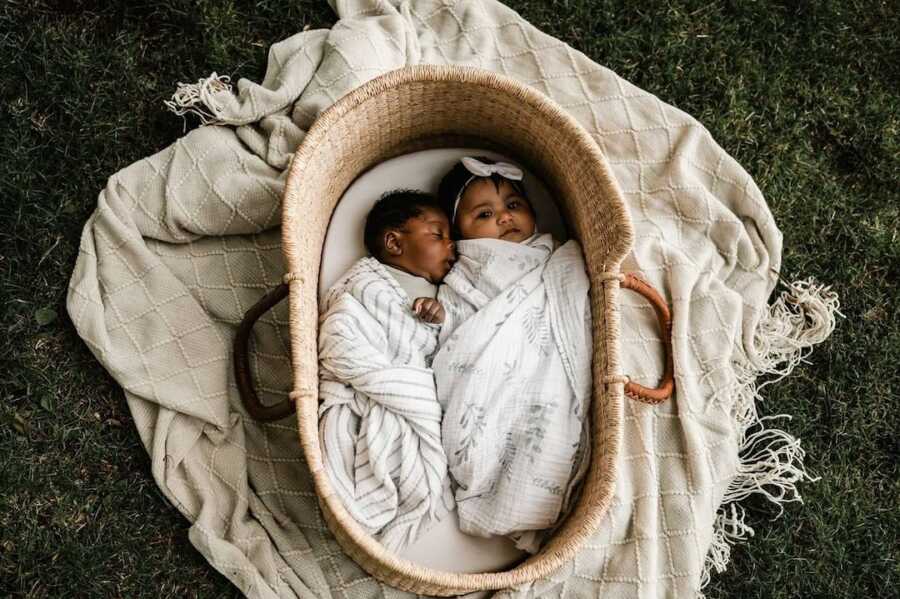 In all those years of waiting and feeling like God had forgotten us, He hadn't. He was working everything together for our good and His glory. We see that so clearly now. If only we could go back in time and lean into Him more, trusting Him amidst the wait, the silence, and the 'not yet.' Focus on Him more and our problem less. Choose His will for our lives over even our deepest desires. He is ENOUGH.
What we can do, is remember His goodness and faithfulness moving forward in times of uncertainty. We hope our story encourages others to do the same."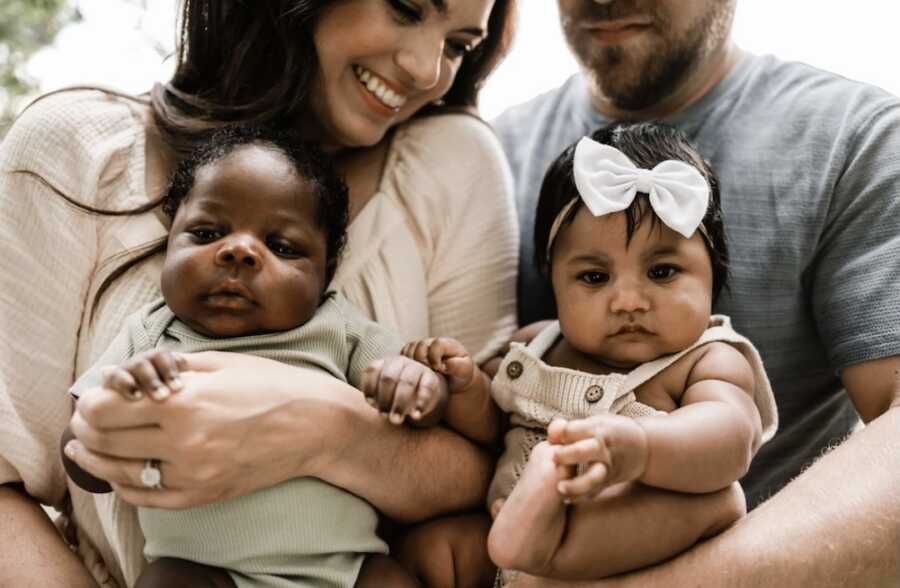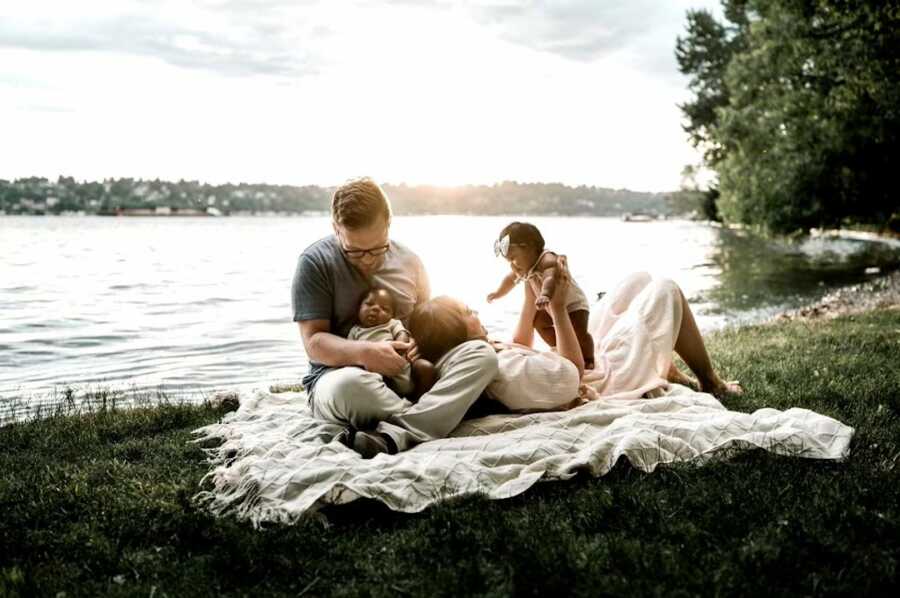 This story was submitted to Love What Matters by Meagan Mays of Kirkland, WA. You can follow her journey on  Instagram. Submit your own story here, and be sure to subscribe to our free email newsletter for our best stories, and YouTube for our best videos.
Read more stories about adoption:
'The adoption lawyer said, 'See you in a couple years!' We both said, 'No!! This is it!' Our family of 6 was complete, or so we thought.': Couple adopt daughter's sister from foster care, 'She is the piece we didn't know we were missing'
'You need a closed adoption.' My mom was adamant. Suddenly, the world turned upside down. She'd kept the secret for 35 years.': Adoptive mom finds lost long sister, 'It was divine intervention'
'You need to place our child for adoption.' How could he ask me to do that? I was totally alone.': Birth mom becomes part of son's adoptive family, 'The moments we share are priceless'
Do you know someone who could benefit from this story? SHARE this story on Facebook to let others know a community of support is available.