"Adoption is a topic rarely discussed by all sides. You hear about the joy of a couple finally having the chance at a family through the miracle of adoption. However, the pain and the struggles when faced with the realization you are unable to care for your baby are rarely discussed. The tears, the constant back and forth. Can I raise this child? The loneliness, the fear, the depression, the love. Birth mothers are all but forgotten. A side note to the overwhelming joy adoption brings.
Unlike the stereotypical high school teen who accidentally got pregnant, the typical birth mom is in her twenties. She is currently attending or has completed some sort of college. Often these women are single or divorced and already have one or more children, but are unable to support another.
These women make the decision to place their child for adoption not as a way to get rid of the child or dodge the responsibility of parenting. They do it as a way to give their child a different, and hopefully better, life. They make this difficult decision out of unconditional love.
That was me. I was 24 years old, attending college at the University of Iowa, working two jobs, barely able to make ends meet. I was in an unstable relationship with a man from my Intermediate Spanish class. That morning, I woke up in his bed, a day late. I walked to the K-Mart down the road and bought a pregnancy test. As he woke up for the day, I was peeing on a stick in his bathroom. Waiting. Positive.
We had dreams of keeping our child. We spent the next two weeks trying to glue back together our relationship by removing the shards of deceit and anger chipping away at us from the months before. We still fell apart after those two weeks. We had dinner one night, not long after we broke up, and he said, 'You need to place our child for adoption.'
I went home that night after having dinner with him and I was mad, more like I was pissed. How could he ask me to do that? I could never imagine giving away my child. Over the next week, I thought about what he said. He was right. Neither of us was in an emotionally stable place. We both harbored so much pain and anger from the past eight months of our self-destructive relationship. We would turn into those vindictive co-parents. The ones who constantly fight, who can't be in the same room together.
That emotional trauma alone was a reason to save our child from parents like us. Not to mention, I didn't have a license or a car. I had no family or financial support. I was totally alone. Neither of us was able to provide a proper life for a child. At two months pregnant, I got the number for a local adoption agency from my mom.
I picked my son's parents when I was six months pregnant, Kristen and Brian. I spoke to them on the phone a week later. When I was eight months pregnant, the couple and I spent two days deciding on a name for him: Leo. He was a week late, and I was in labor for 24 hours. Leo came into this world during my finals week at 6:36 a.m. on December 6, 2012. Kristen held him first. That was my decision. I wanted him to have an instant connection with his parents. They went back home to Ohio one week later.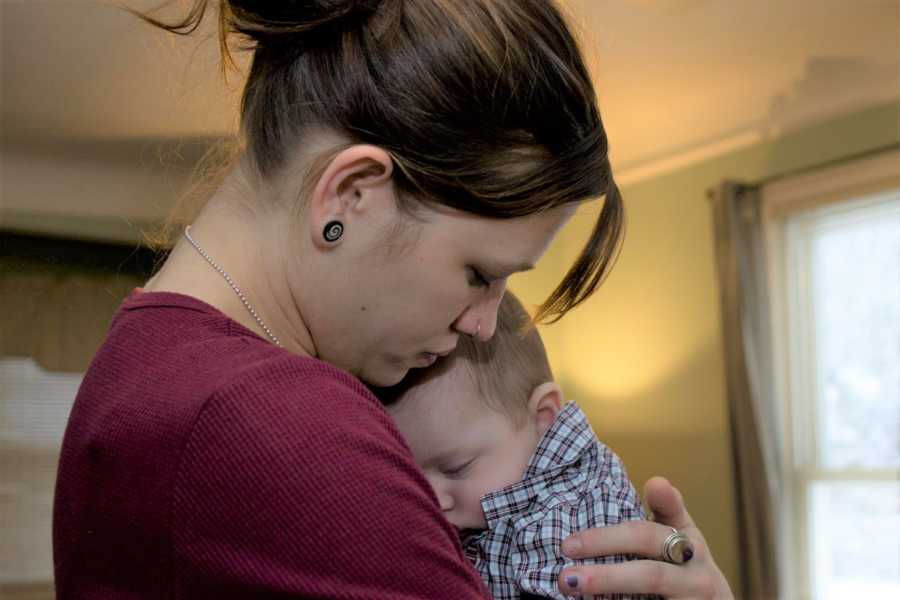 Years have passed since his birth. Almost a decade of building this unconventionally blended family. From total strangers, we have grown into friends and then into family too. Kristen and Brian have been amazing parents to our son. Since day one, they have sent me email updates, home videos, photos, etc. It's hard to know in the beginning how the relationship will unfold and develop.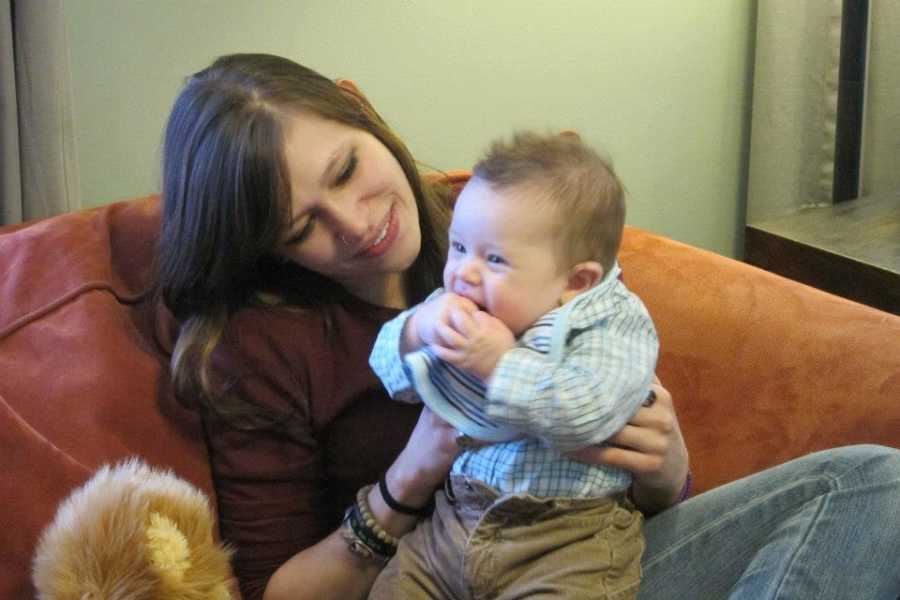 There are insecurities on both sides of adoption. For birth moms, it's the fear of losing contact with your child. Fear of not being kept up to date or not getting your yearly visits. I was always worried about how our relationship would be when Leo was old enough to know who I was. I think a lot of birth moms have a fear of losing that connection with their child.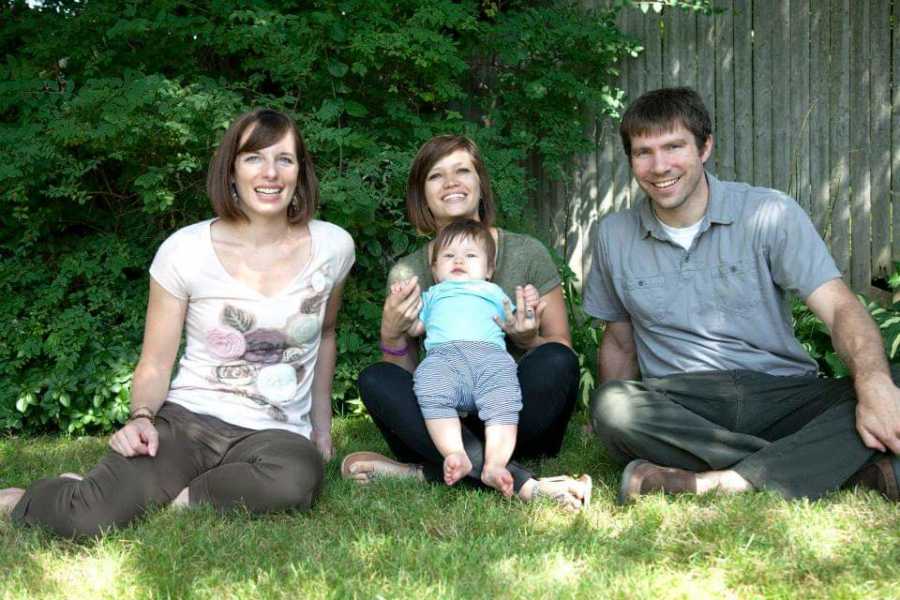 I remember my heart sinking the first time Leo called Kristen 'Mom' and called out to her when he got hurt and needed comfort. I had to remind myself this is part of what I gave up when I placed Leo with different parents. I knew this decision was going to be difficult and this went along with that realization. I thought, 'It's okay if he doesn't call me mom. At least I get to be in his life.'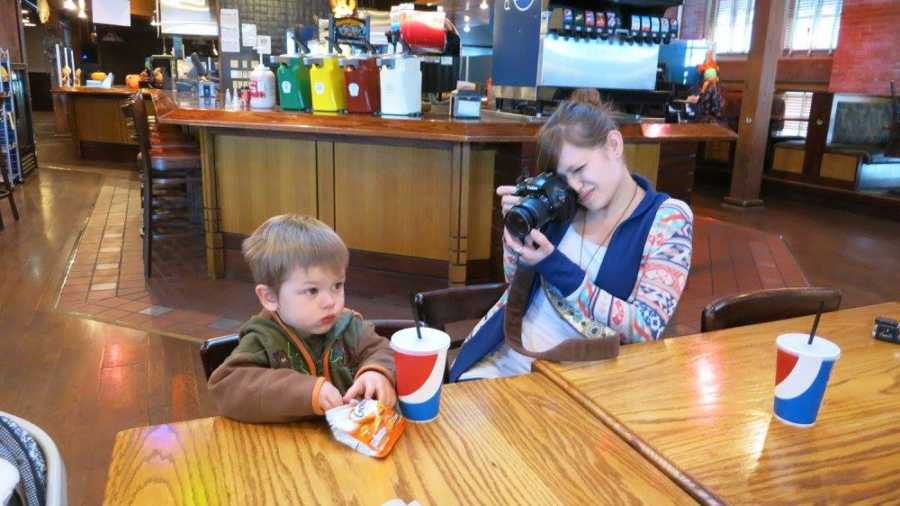 I also remember my heart soaring the first time my Leo called me 'Mom.' He doesn't do it often but when he does, it is the most beautiful and magical moment. To have my son understand who I am while feeling close and connected enough to want to call me Mom is amazing.
When I started dating my partner, Taylor, in 2018, Leo and his parents opened their arms and their home to both of us, allowing us both to visit last fall for a weekend. The moments we share with one another are priceless.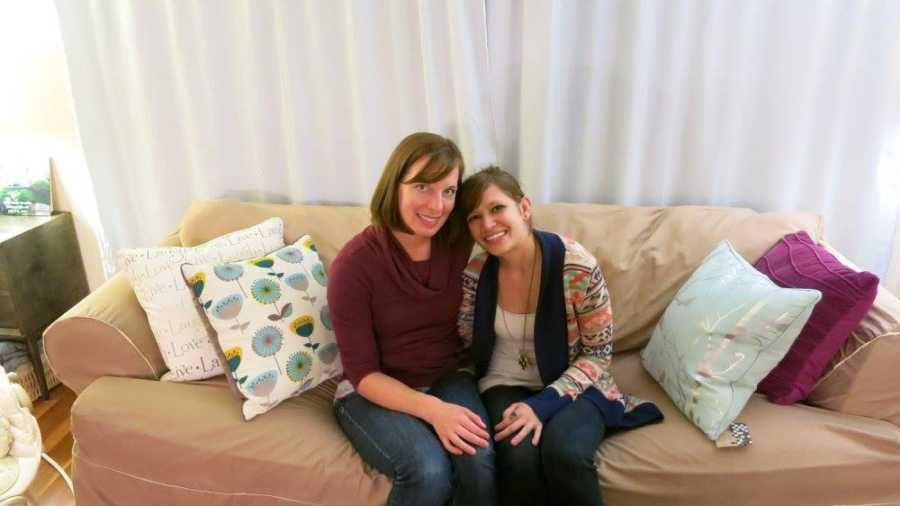 A couple of years ago, Leo started really getting into Pokemon. When my partner and I went to visit them in Ohio, I decided to download Pokemon Go! on my phone for him. We took Leo out around the local college campus for a few hours a day to catch Pokemon. It formed a connection between Leo and me that is all our own. Now I send him screenshots of all the new Pokemon I catch and we video chat about the new cards he gets. Whenever we are visiting one another, we go out around town and catch Pokemon together.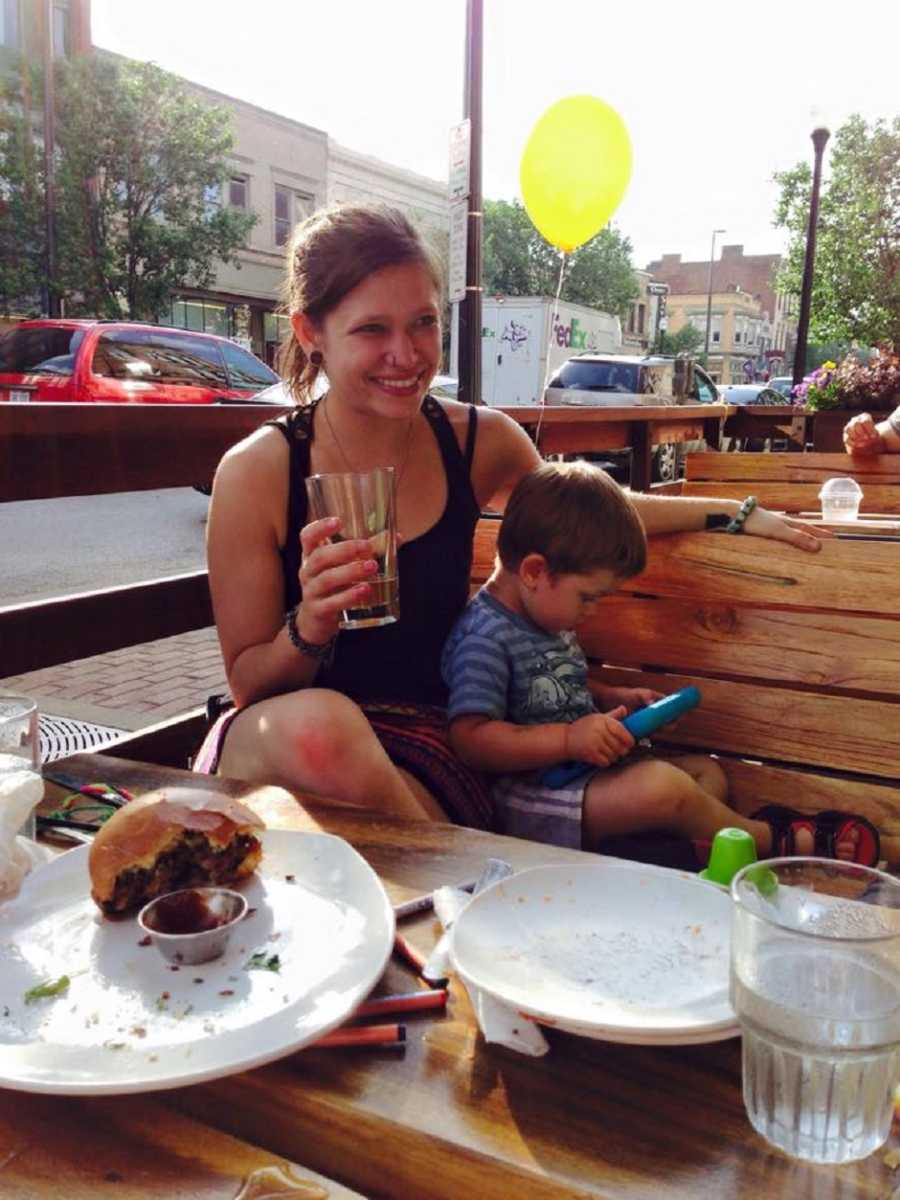 I was always worried about how our relationship would be when Leo was old enough to know who I was. I think a lot of birth moms have a fear of losing that connection with their child. However, it's been a blessing to watch my son bond with his parents. I am incredibly grateful I have gotten the opportunity to watch their family grow from two to three to five. Now Leo has two younger sisters who each add their own magic to the family dynamic. I love visiting them and watching them all grow up.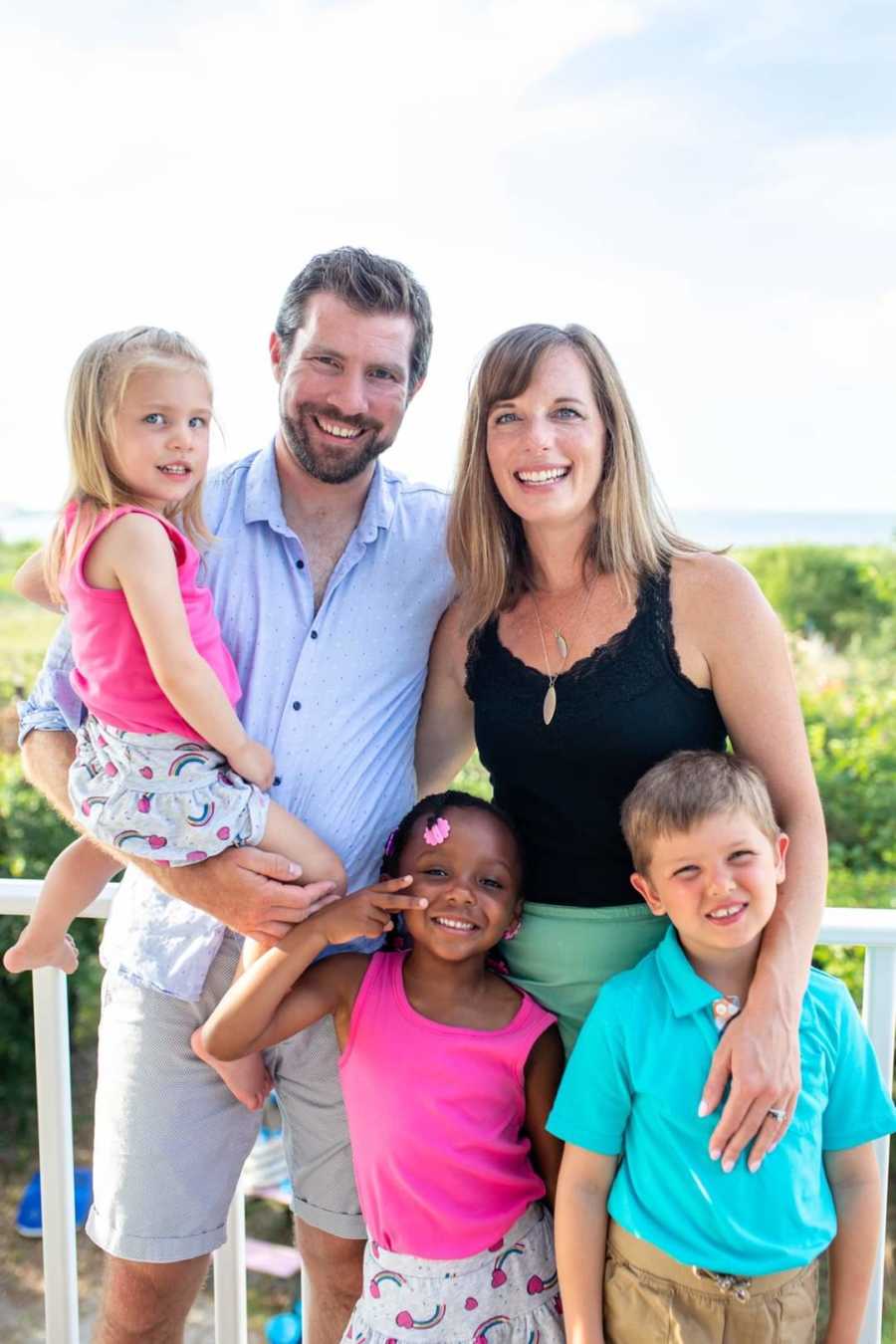 Adoption isn't always endless happiness, especially not for the birth mom. Adoption can be hard. Adoption can hurt, but it can also be a blessing. A gift I gave to a couple who wanted to start a family. A gift the couple gave to me, providing for and raising my baby. The gift I get every day as I am included in their lives. The gift of every single video chat spent with my son. We spend every moment understanding one another, growing together, and loving each other unconditionally. That's truly what family is all about."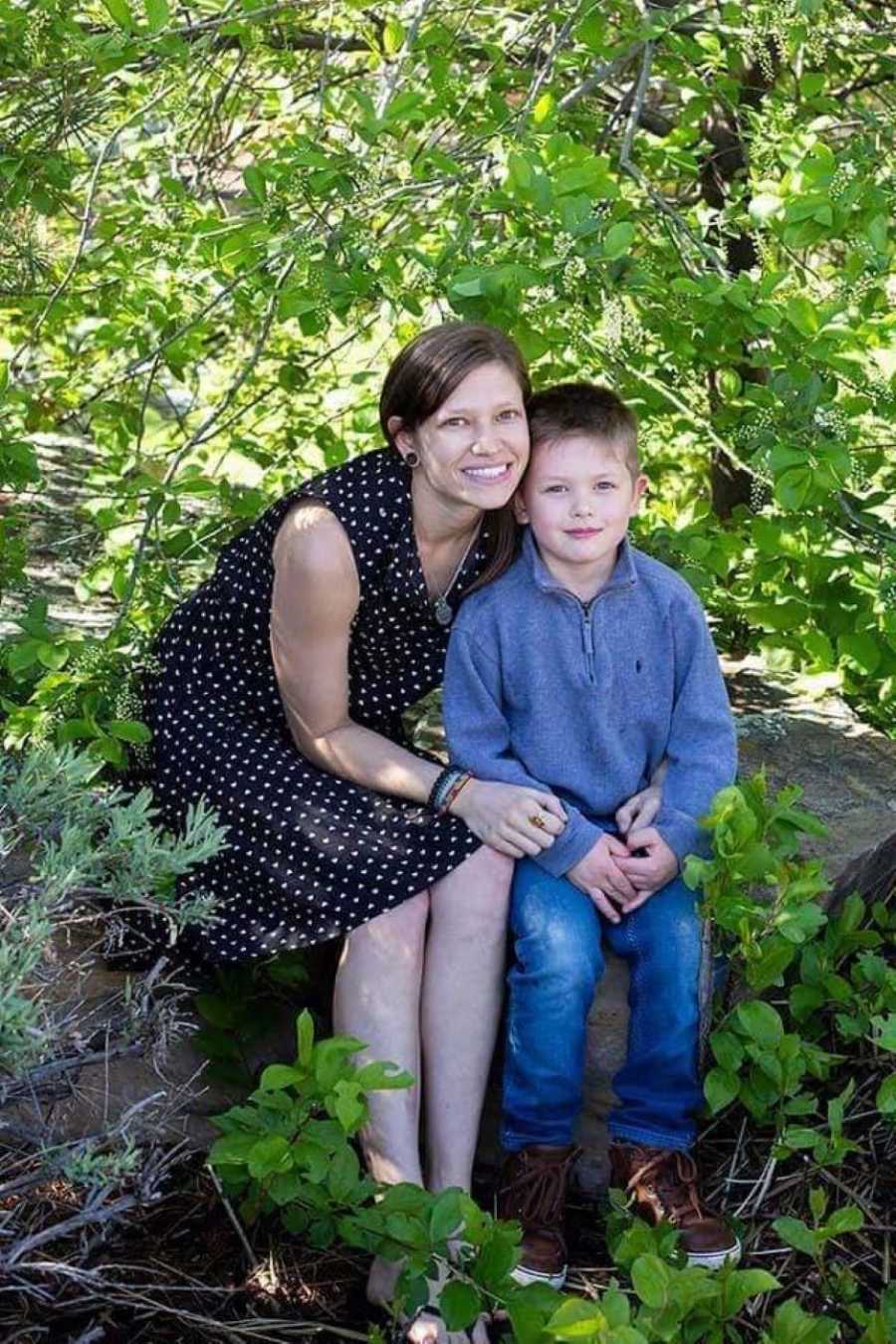 This story was submitted to Love What Matters by Callie Mitchell. You can follow her journey on Instagram and Facebook. Do you have a similar experience? We'd like to hear your important journey. Submit your own story here. Be sure to subscribe to our free email newsletter for our best stories, and YouTube for our best videos.
Read more touching stories like this: 
'The nurse came in and said, 'Her new parents are ready for her.' Only 15, I kissed her soft baby cheek, and placed her into the arms of her mama.': Teen mom embarks on 'beautiful' open adoption journey, 'I couldn't have picked better parents'
'I just want you to know, we are the family who adopted your son.' She hadn't gone a single day without thinking about him. 'Can you be here in 2 weeks?!': Adopted boy surprised with biological mom, now part of beautiful open adoption
Do you know someone who could benefit from reading this? SHARE this story on Facebook with family and friends.