"Our kids are so much more than how the world might measure them.
Numbers and letters cannot measure what is in our kids' hearts.
And they barely scratch the surface of what is in their brains.
Numbers and letters cannot measure empathy or the ability to get lost in a book.
They cannot measure problem-solving or how a child supports a friend who fell down on the playground.
They cannot measure the love they have that will drive them to change the world with their connections.
They cannot measure their creativity or the beauty of their voices.
They cannot measure their prowess on the athletic field or their sense of wonder while they walk through the forest.
They cannot measure their curiosity or the way they welcome others to sit at their lunch table.
They are a small glimpse into how they were able to sit and answer questions at a table in their classroom. But I bet if you asked their teacher, you would get so much more than this glimpse.
So when the numbers and letters claim a child has fallen behind, I also need to remind you to ask…behind what?
I've never seen humans in real life line up according to how well they can do math or answer some questions about what they read.
Here's the thing. There is no behind. Behind is a flat-out lie.
Our kids are all just where they are. And we can rest easy in knowing the sum of their strengths and weaknesses adds up to them being exactly who they are supposed to be in this world.
Let's never forget to look at the whole of our children.
And in looking at them, we need to be the ones who hold onto the wonder of all the ways they are fearfully and wonderfully made by our Lord above.
We cannot measure their hearts and their souls…but oh, if we could, the beauty found there would bring us to our actual knees.
So we will work to teach them math and reading and science and all the things. But we will remember it is not a race…because not one of us has actually arrived. We are all still learning and growing and we have nothing but time.
Numbers are not the boss of us. And they are not the measure of our people.
Let us be the first to tell them all the ways they matter to the world just exactly as they are today."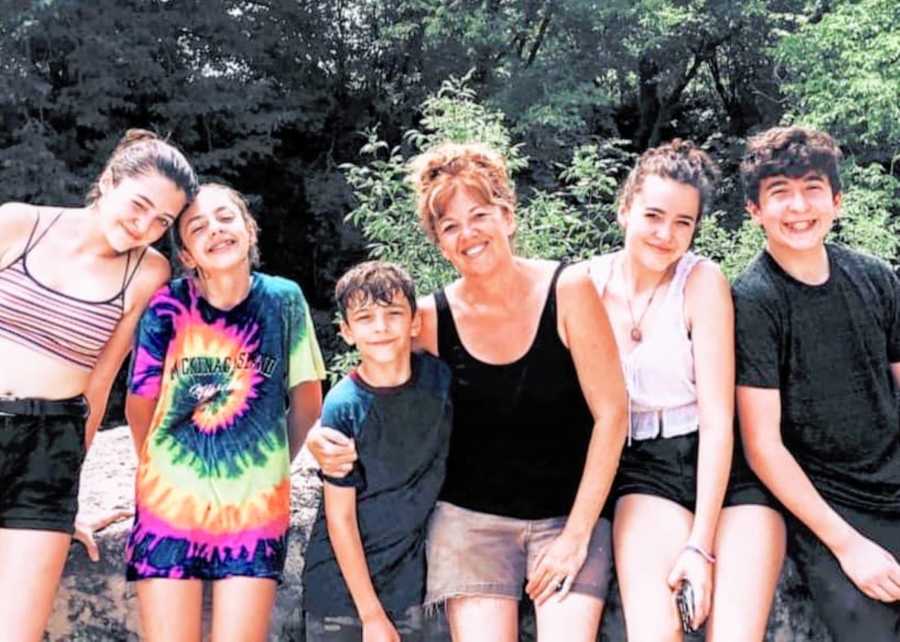 This story was submitted to Love What Matters by Hiding in the Closet with Coffee by Amy Betters-Midtvedt. Follow Amy on Instagram here. Submit your own story here. Be sure to subscribe to our free email newsletter for our best stories, and YouTube for our best videos.
Read more stories from Amy here:
'The plan came out for school next year. The younger two simply said, 'What are my friends doing?': Thinking about back to school, Mom says, 'Ask your friends how they're doing instead'
'I've been an educator for years. I work for an amazing district. Yet, I have no clue what to do for my own kids. I'm struggling.': Mom says, 'Let's teach kids lessons about life'
'They used to line up to watch me leave. 'Don't forget to beep and wave!' they'd yell, 5 little faces pressed up against the glass.': Mom realizes she's now alone as it's her children who are leaving
'We couldn't possibly have known. There was so much more ahead of us.': Woman reminisces on being a clueless new mother, 'You'll all be OK because you already know the secret, how to love this baby'
Do you know someone who could benefit from this story? SHARE on Facebook or Twitter.