"New parents… you can't possibly know.
And that's the best thing in the world.
I just found this picture behind another photo in a frame and I've unearthed a memory. I see young me about 3 weeks into my mom journey and I couldn't possibly have known.
And I'm glad I didn't.
I was working so hard and was so consumed with figuring out this tiny creature. I'm smiling and behind that smile I remember being so worried about how I'd feed her during church that day. It seemed impossible. Maybe because of those crazy bib overalls.
I'm not a planner.
And there was always so much to think about…
Was she eating enough?
Why didn't she sleep?
What was I supposed to do with her when she was awake? She would just look at me…like now what?
Was she happy?
Seriously, shouldn't she sleep more?
The first day we brought her home no joke we couldn't even figure out what to do with her when we ate. So we put her in the center of the table and just looked at her over supper.
We couldn't possibly have known.
There was so much more ahead of us.
We couldn't have known how it would be to eventually leave her with someone else while we went back out into the world. How we would have fun with part of ourselves while the other part counted the minutes until we were with her again. We were forever changed.
Or how amazing it would be to hear her first word. How we would keep a running list and gloat over it as if no child had learned to speak before.
Or how hard it would be to send her off to her first day of school… how I would watch the clock and worry over if she'd made friends or had enough to eat or had maybe been a little sassy.
Or how I would wake up over and over worrying when she was on her first sleepover (OK all sleepovers to this day, I like my people in their own beds) wondering if she was cold or homesick or safe.
Or how we would watch in amazement as she walked onto the stage for the first time, taking her talents from our living room into the actual world…how she had become this whole separate person.
Or how we'd send her to middle school and then high school as she grew as tall as us and began this whole life we were only watching, suddenly on the sidelines cheering her on but no longer playing in the game.
Or how we'd bury the pit in our stomachs and hand over the car keys. And that we'd survive a crash (or two).
Or how we'd start to prepare our hearts for her leaving us to go into the world, even as that does not seem like it will really happen.
Or how we'd leave her behind after moving all her favorite things and her very own self to a new home to start new adventures.
Because we can't know how that will feel.
Just like we couldn't possibly have known the love we had for this tiny baby would do nothing but grow right along with her.
All we could handle was wrapping our minds around this gift and keeping her alive.
And that's pretty much still true today.
But I've learned it's what is right in front of you that matters. We can't possibly know what is coming next. And worrying about it or trying to predict it can steal the joy of what is right in front of us.
I look at young me and in addition to wanting to tell her to lose those horrible bib overalls, I want to tell her it's OK.
Your baby will eat. You'll not only figure out how to feed her in church but also pretty much anywhere.
You'll even survive her future attempts to go vegan. It will be a whole thing.
And someday all she'll do is sleep… you'll actually have to pry her from her bed.
And this journey you're on will be so much fun. There will be bumps but you'll all be OK.
Because you already know the secret. It's the only thing you really need to know.
You know how to love this baby… this child… this crazy teenager.
You know love. And because of that so does she.
You've got this mama… even when you feel like you don't. Because you have love and that love will see you through all of it."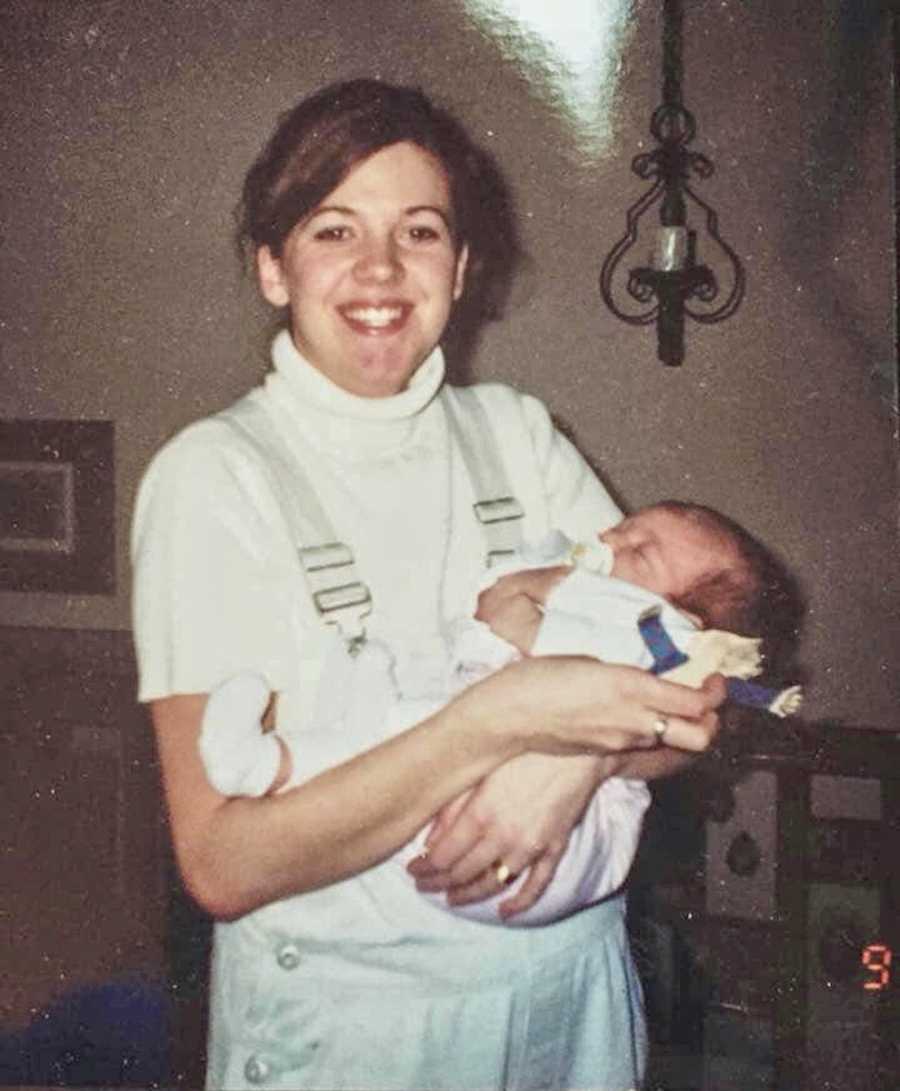 This story was submitted to Love What Matters by Hiding in the Closet with Coffee by Amy Betters-Midtvedt. The article originally appeared here. Follow Amy on Instagram here. Do you have a similar experience? We'd like to hear your important journey. Submit your own story here. Be sure to subscribe to our free email newsletter for our best stories, and YouTube for our best videos.
Read ore stories like this: 
'I got the call at 6 p.m., left my kids with my husband and drove to her house with my socks crammed into my Birkenstocks.': Mom urges others to 'just show up' when friends need you, 'She didn't need Pinterest, she needed me'
Read more from Amy here: 
'He's the kid who never listens the first time. Or even the tenth. His heart breaks because he's not always sure why what he's doing is so wrong. But he needs you to hear him.'
'5 kids? You know how this happens, don't you? Did you have all 5 on purpose?': Mother of 5 children says despite the struggles, 'these kids still run to hug me when I get home'
'This is what your knight in shining armor looks like in your 40s.'
'You know mom, teachers should never be mean like that. It's so bad.': Mom shocked by young son's 'super tender heart' after revealing her teacher bullied her
Do you know someone who could benefit from this story? SHARE on Facebook or Twitter.