"I've been an educator for over 20 years. I have degrees in both regular education and special education. I have a master's degree in administration and curriculum and instruction. I work for an amazing school district where my kids also go to school. I know how hard they are working to keep our kids safe next year.
And yet, I have zero clue what to do for my own kids next year.
If you are struggling, I am right there with you.
This decision is deeply personal for each and every one of us, as we try to figure out what our acceptable risk is.
I've somehow managed to block out thinking about my own kids until now. Like so many educators and administrators, all of my energy has been going into how we keep the students and staff safe next year. How do we still provide an education worthy of our students with all the barriers we now face?
So. Many. Questions.
So. Few. Answers.
We mostly all just have guesses.
Because it's a pandemic people. We might not want this to be happening. We might have decided we are just done. We might be sick and tired of the whole thing.
And yet, the pandemic seems to not care about any of that. It just continues onward. I could spend all my energy trying to figure out if the numbers are going to get better or worse. What on Earth does any of it mean anyway? But, I have a limited amount of energy, and spending it on pandemic predictions isn't really getting me anywhere.
So, it's time to stop endlessly worrying about the details we have no control over… Will there be masks or social distancing? Recess or online schooling or some weird schedule that is hard for us to figure out? And instead, we can teach our kids.
We can teach our kids to be flexible and to know they can handle whatever might come.
We can teach our kids to be resilient and to be able to struggle through obstacles they didn't see coming.
We can teach our kids to be patient even when they really, really want things to be different.
We can teach our kids to have grace for others who might see things differently than they do.
We can teach our kids to listen and to discern the truth when so many different voices demand their attention.
We can teach our kids it's OK to be sad and grieve the things they have lost.
We can teach our kids sometimes life will not go the way we want, and we can find joy anyway.
We can teach our kids, through all this madness, God is just as big and sovereign as ever, and He is right there by their sides through all the things.
We can teach our kids now so they are prepared, not only for whatever this next school year brings, but also, whatever this LIFE will bring.
We need to prepare our kids to live in a world that is broken and unpredictable and will never be perfect.
We need to prepare our kids to love others in this world, and never let them forget they have the gift of rejoicing in the next.
We might have messed up crisis schooling friends, and I swear our kids will be none the worse for it.
But let's knock it out of the park on teaching our kids the lessons about living life.
Let's put our energy into what really matters."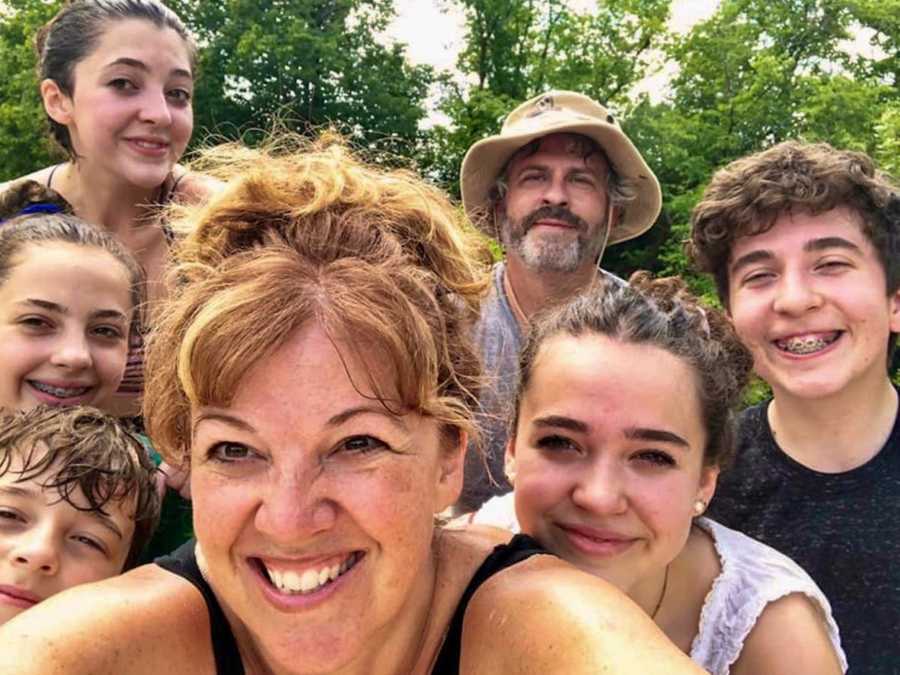 This story was submitted to Love What Matters by Hiding in the Closet with Coffee by Amy Betters-Midtvedt. Follow Amy on Instagram here. Do you have a similar experience? We'd like to hear your important journey. Submit your own story here. Be sure to subscribe to our free email newsletter for our best stories, and YouTube for our best videos.
Read more from Amy here: 
'Today I wore a mask to Target with lipstick underneath. It's automatic, and I keep forgetting about the mask.': Woman says she is wearing a mask to protect others, 'It is not living in fear, it is siding with science'
'They used to line up to watch me leave. 'Don't forget to beep and wave!' they'd yell, 5 little faces pressed up against the glass.': Mom realizes she's now alone as it's her children who are leaving
'He's the kid who never listens the first time. Or even the tenth. His heart breaks because he's not always sure why what he's doing is so wrong. But he needs you to hear him.'
'5 kids? You know how this happens, don't you? Did you have all 5 on purpose?': Mother of 5 children says despite the struggles, 'these kids still run to hug me when I get home'
'This is what your knight in shining armor looks like in your 40s.'
Do you know someone who could benefit from this story? SHARE on Facebook or Twitter.