"I'm just so stinkin' proud of this guy. We're having to isolate because of having a newborn, and it's just been Steven and I up against our three kiddos, since day one home from the hospital. Steven was thrown into working from home, and I was still needing to keep up with our Etsy shop, Circle and Square decor. I couldn't do maternity leave, since I run the shop, so I needed to make sure everything was running smoothly.
Sleeping when the baby sleeps just wasn't an option for me. Normally, we'd have extra help at the house to keep up with dishes, laundry, etc… but this time, we couldn't because it was recommended we only have our immediate family, due to COVID. We also couldn't have our kiddos go over to their friends' houses for play dates, to get their wiggles out or give us a break. Basically, I felt completely overwhelmed and exhausted.
Enter Steven. While I was recovering, he got up with all three kiddos every morning, and he would let me sleep in until I woke up… which a handful of times was NOON y'all. He did that for like two weeks straight, and still does it when Mel gives me a crazy night.
He had to take a work call one morning, and told the older gentlemen on the phone, 'Oh, hold on. We just had a baby, and I'm watching her. Let me grab my wife really quick.' While he came upstairs to get me up, the guys didn't realize Steven could still hear them. They were saying, 'Where is his wife? What is she doing? Why is he watching the baby?' and talking about how strange it was.
Do you want to know what my favorite part of this story is? It's the way Steven told it to me. He laughed and said, 'Well duh, it's my baby too.' He was totally blown away at their reaction, thinking how absurd it was they'd say something like that.
I love this man. His example of fatherhood can't be beat. I'm thankful everyday that he's the father of our little bunch. He puts the kids to bed every stinkin' night, so I can start work early. He tells the best stories, plays all the games, makes yummy dinners for us all, went happily to parenting classes with me, wipes a loooottttt of butts, and the list goes on.
I'm grateful and proud I'm living in a time where the culture is slowly shifting — where men are stepping up to the plate and becoming more involved in their kid's lives. I love you Steven, and I'm incredibly proud of you. The world would be such a better place by knowing you."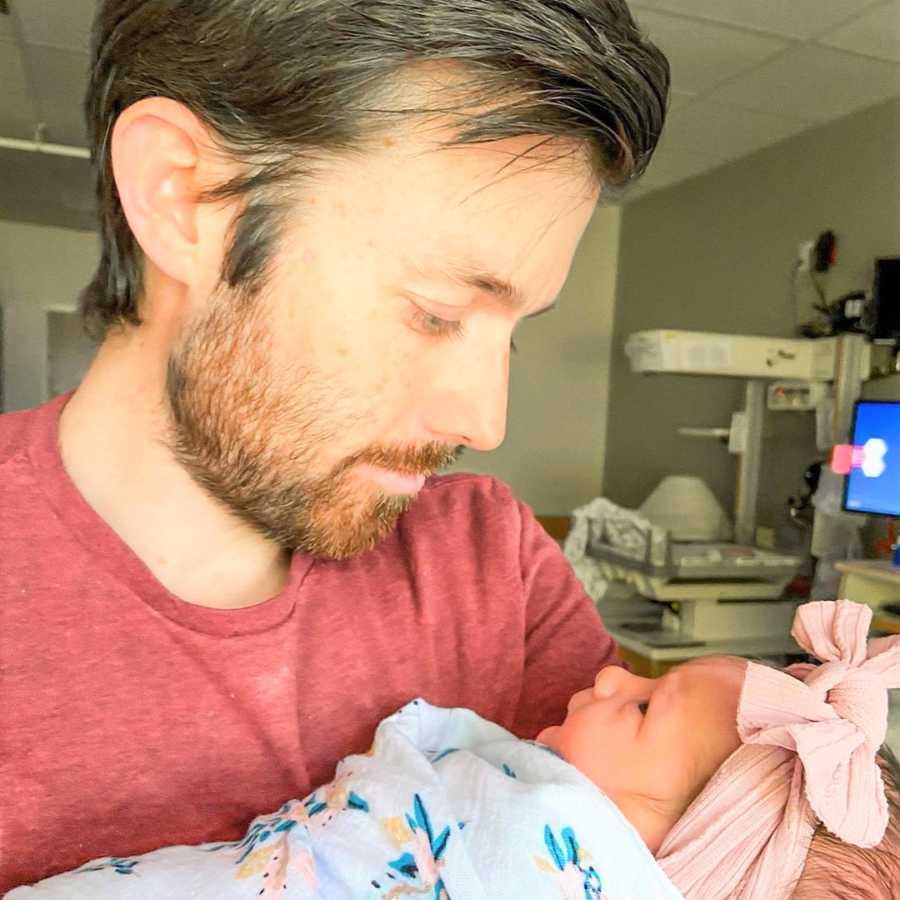 This story was submitted to Love What Matters by Celeste of Circle & Square Decor. It originally appeared on her Instagram. Be sure to subscribe to our best stories in our free newsletter here.
Read more stories like this:
'This man worked a 13-hour day in 90-degree weather, walked through the door and said, 'I'm home. What can I do to help?': Woman pens love note to husband, 'I'm raising our boys to be just like him'
'A man who sits in the trenches with you and never leaves. I'd like to see that on a Tinder profile.': Woman pens appreciation letter to husband who 'never gave up hope'
SHARE this story on Facebook to encourage others to cherish every moment and love what matters most.