"2020…the craziest year of my life.
March 14th. We head to one of our favorite places, the brewery, for the start of St. Paddy's Day Weekend. We're walking down to the Biergarten and as our song ('It All Started with a Beer', because of course it did) starts playing over the loud speaker, the man I love got down on one knee and asked me to be his wife. Of course, it was a no-brainer: YES. He makes me laugh so hard I cry, he keeps a smile on my face even when I don't want to smile, he dances around the kitchen with me, he infuriates me when he leaves his shoes in the middle of the floor and he's been by my side every step of the way when I don't know many people who would stick around. I don't know what I would do without him. He's my person and I'm so glad our paths crossed.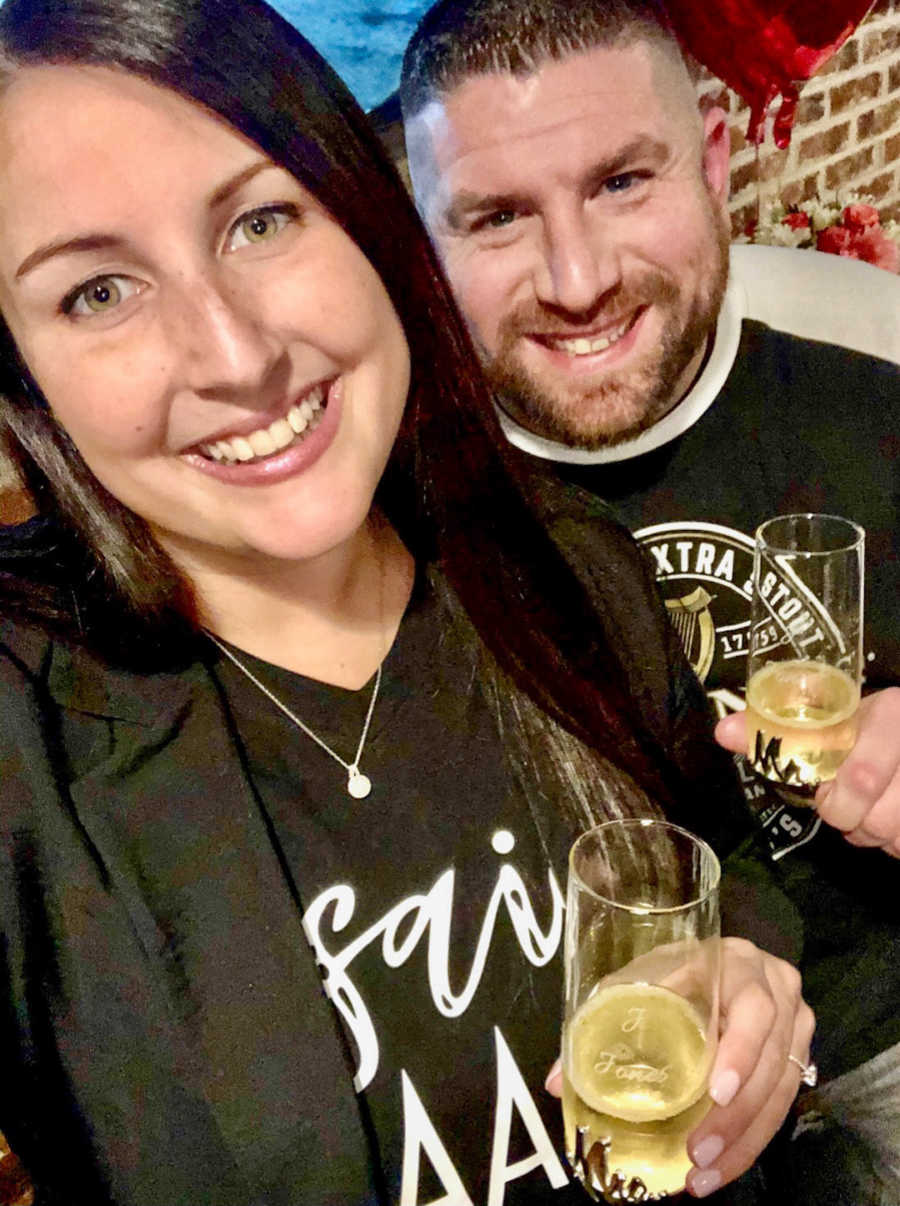 March 15th. We finally get to go out and celebrate our engagement by ourselves. It's one of the best nights we've had in a long time. Cold beers and espresso martinis, laughs, and lots of love. The big COVID shut down. I'm home from work, he's working from home, and I'm not feeling like myself. I have Achalasia: a rare swallowing disease which affects the esophagus and also causes me to get aspiration pneumonia multiple times a year.
March 23rd. I start coughing up blood and it's hard to breathe. My Apple Watch is saying my resting heart rate is 157. It's never happened before, so obviously it's concerning. My fiancé brings me to the MelroseWakefield Emergency Department where he has to drop me off (because of the new COVID policies), and this was the last time I saw anyone in my family for 68 LONG DAYS. The short story: I was intubated, my lung collapsed, my health was rapidly declining, and it wasn't looking good. My fiancé, my dad, and my mom made the decision to have me transferred via Med Flight Ground to Tufts Medical Center in Boston, and no one knew if I would even make the ride there.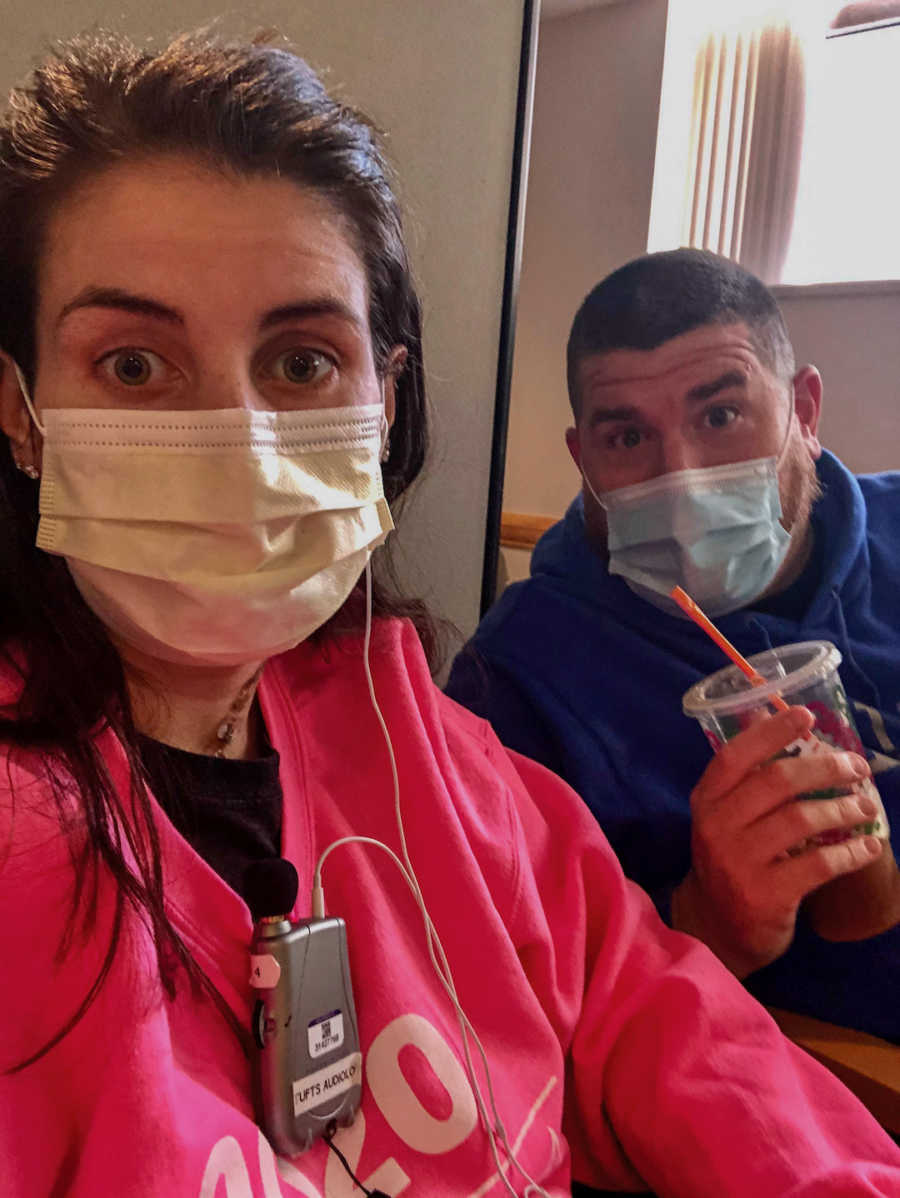 I made it. My family said it was the longest 20 minutes of their lives. I was met by three doctors who quickly brought me in for a CT scan, where it was discovered I had a perforated esophagus in multiple locations, and one perforation had attached itself to my lung, so all of the bad food and toxins in my body were draining in there. I was immediately brought in for surgery; I was intubated and put on ECMO to try and give my body time to heal, and I made it through.
Flash forward—I wake up and it's April. APRIL. Where did the time go? What happened and where am I? My body is well enough to come off of ECMO and to be extubated. I have no muscle strength, I can barely move in bed, and I have a g-tube to give my body the nutrients it needs to keep pushing forward. I still can't see my family, but I have my 'nurse mom' and she's helping me get through it. I'm getting better…So we thought.
My health starts to rapidly decline yet again. My sats were low, I was coughing up blood, and I had to be intubated and put back on ECMO. My body wasn't ready and needed more time to heal. I'm sedated but not enough to not understand what's going on around me. I'm fully aware I have machines keeping me alive and I'm scared. I still haven't seen any family except for a FaceTime call, and thank God for that, because I don't know what I would have done without any communication with my family at all. I'm having nightmares, panic attacks. I want my dad to hold my hand and my mom to rub my head and my fiancé to kiss my forehead. I need my support system like I've never needed them before.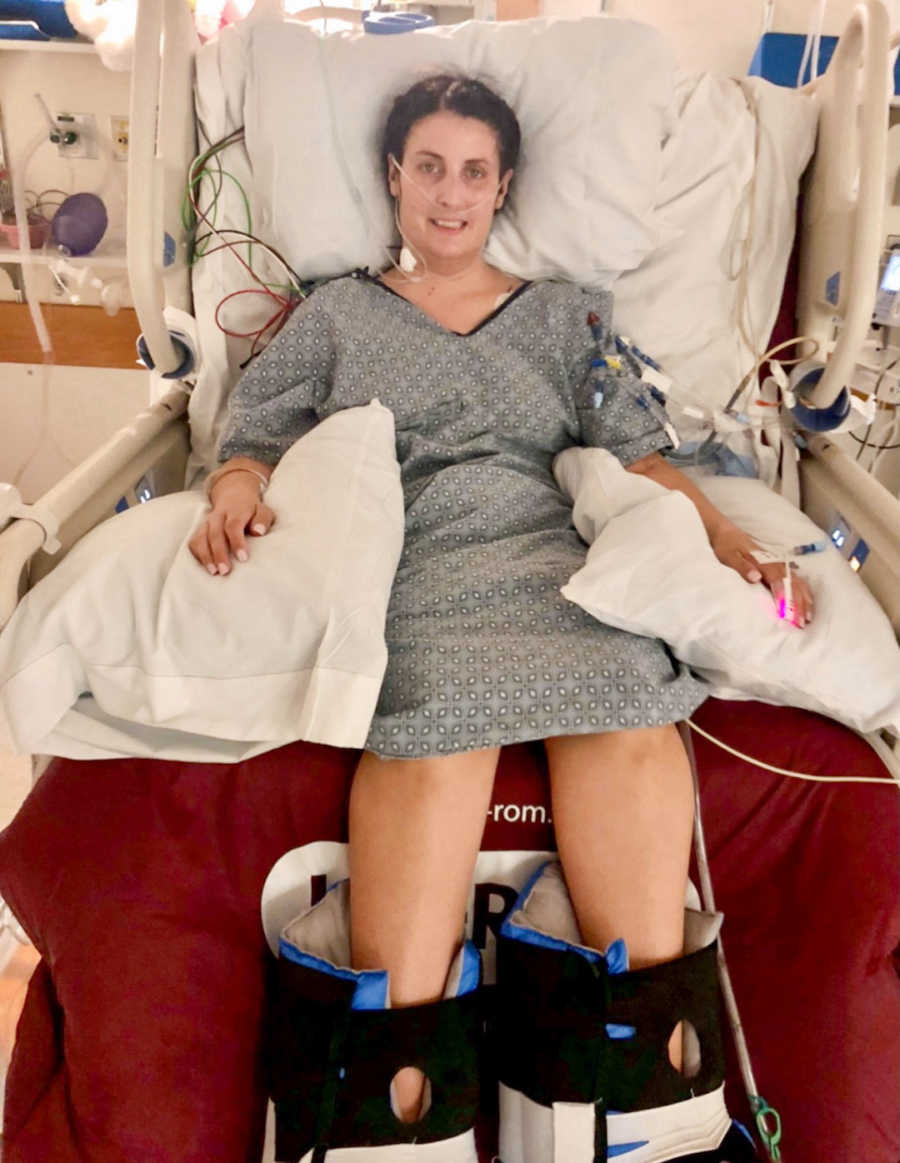 It's the beginning of May and I'm well enough to come off these machines again. My body is so de-conditioned I can barely move. I'm determined. I'm in the surgical ICU still, but I'm getting out of there. I'm going to rehab. I'm going to be with my family…it's now the middle of May and I get the green light from the doctors to be put in a wheelchair and go outside for the first time since March to feel the sun on my face and have my entire family do a drive-by to say hi. I have every emotion going through my head, but I'm alive and I'm pushing through.
May 20th. I get to rehab. I am pushing myself harder than I've ever pushed myself in my life. I want to go home to my fiancé. SIX days later, I have enough strength to at least walk around, go to the bathroom on my own, and get picked up from rehab. My fiancé picks me up with flowers and it feels like an awkward first date. Neither of us knows what to say, but we're just so happy. May…June…July…August. I rehab at home. Visiting nurses, PT, OT, and the support from my family, friends who have become family, and nurses from the ICU still checking in on me from Tufts. I am getting my strength back, slowly but surely, and I'm feeling more like myself—physically and mentally.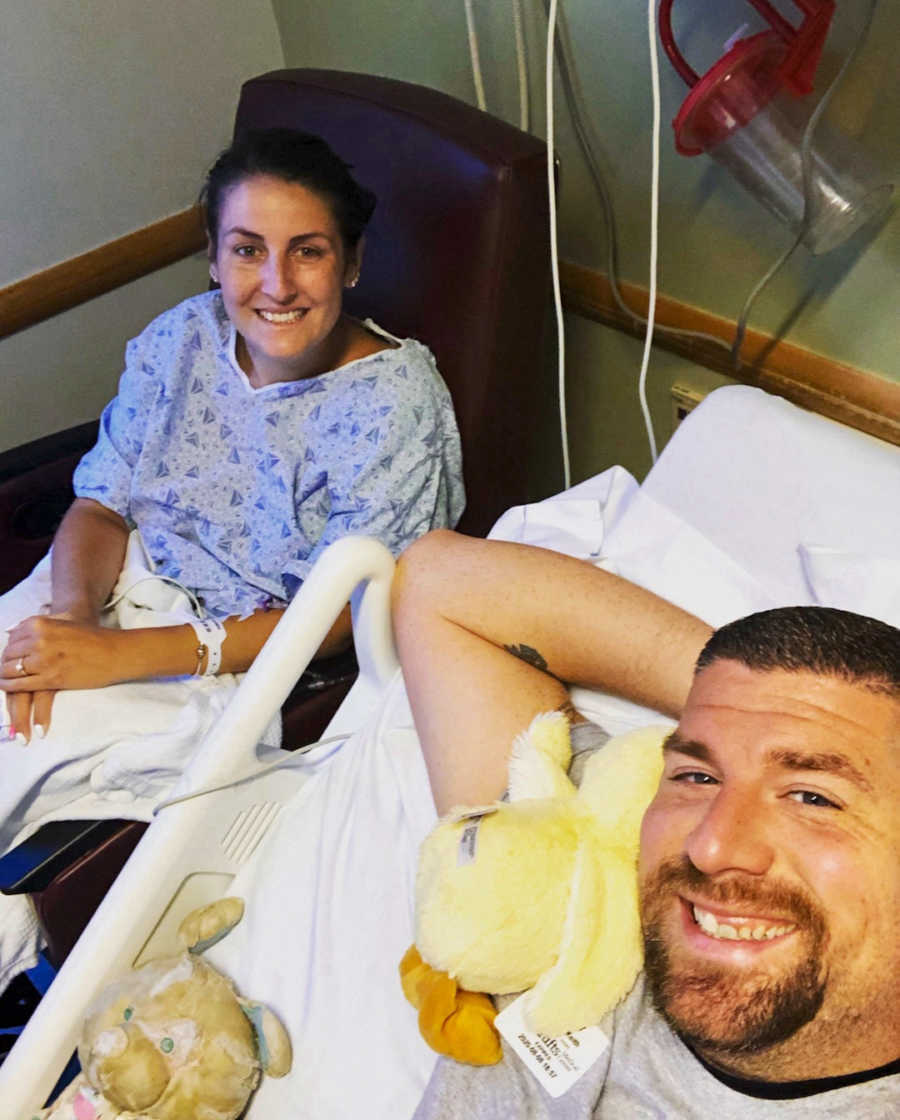 August 20th. I'm home, coughing up blood, and I'm scared. It's happening again. Back to Tufts I go. Another long story short: my lung is bleeding. They're trying to fix it, and they do. They tell my dad and my fiancé everything went well and they're about to wake me up. Now, I don't know any of this, as I'm intubated for the procedure, but a few minutes after this a code blue is called. It's me. My surgeon is scared—he doesn't sugarcoat it. I coded for 11 minutes. I'm reintubated and put BACK on ECMO to give me the best chance I have at survival, but no one knows what my mental capacity is going to be after this. They're letting my family members come in two at a time to see me. No one knows if I'm going to be okay or not, but I'm responding to treatment.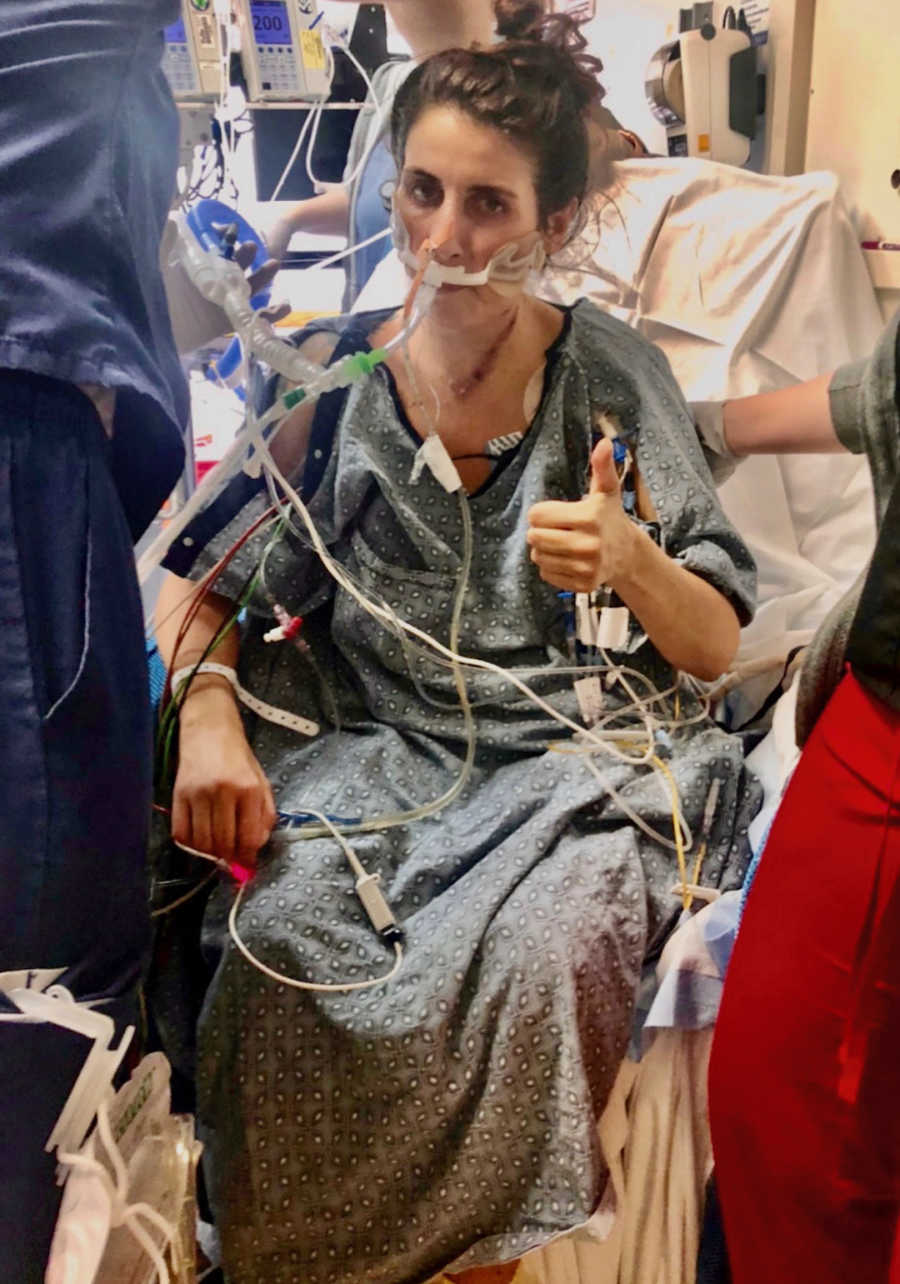 It's now September 3rd. I'm off EMCO but I'm still intubated, and I've lost all this time AGAIN. My sats are finally good enough to come off of the breathing machine, but my body is de-conditioned again and I can barely move. I'm determined. I'm here. I'm alive. I'm pissed. I'm happy. I'm sad. I'm scared. How did I make it through this again? Why me? On September 14th I get to go home. I'm well enough to convince my surgeon and the SICU doctor that, for my mental health, I need to go home to be rehabbed.
I have a walker, I can barely move around, but I'm moving—pushing myself every day with the encouragement from my fiancé, my parents, and everyone else around me who loves me. I'm here and I'm fighting. Now is the time to work. Due to the Achalasia, I need to have my esophagus removed soon, and in order to do that I need to be strong. Stronger than I've ever been before. The devil whispered, 'You can't withstand this storm.' Well, you know what I say to that? I AM THE STORM. I will keep pushing and I will keep fighting.
October 21st. I wake up coughing up blood and head into the Tufts emergency room. My doctor meets me and considers a lobectomy, and I'm admitted to the SICU for observation. Nothing happens. My labs, x-rays, and CT scans are as picture-perfect as they're going to be for me. The next morning we all decide I can go home. Surgery for a lobectomy and esophagectomy are scheduled for Wednesday—as long as nothing pressing comes up in the meantime.
Five days. I need to make it five days without the slightest hiccup to get to surgery day—a 12-hour surgery, I might add. My birthday is in four days. Four days until I turn 28 years old, and the thing which has given me my toughest trials may be over with. Out of my body forever and be able to rehab and move on with my life. Plan a wedding. Have kitchen dance parties. Spend time with my family and my best friends. Be as normal of a 28-year-old as I'm ever going to be. THIS is my fight song.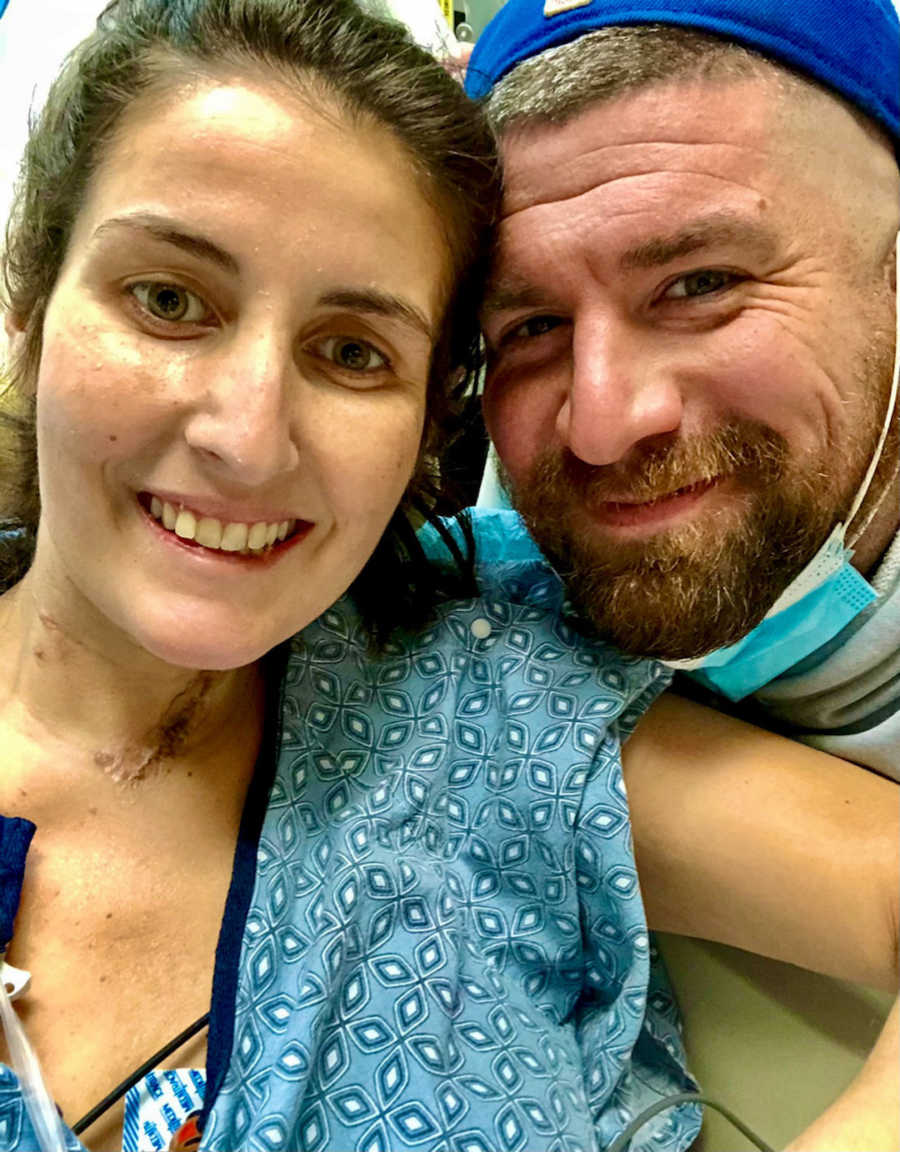 Well, it's October 25th and I'm back in the SICU at Tufts after coughing up a lot of blood, having difficulty breathing, and a long ambulance ride. If I can stay stable I will make it to my planned surgery and it won't be so emergent. Tomorrow is my 28th birthday and I'll be celebrating with my Tufts family—which at this point, we're just as close. We just have to be patient and go with the flow, hoping there are no more bumps in the road. ADAPT. OVERCOME. CONQUER.
Well, we hit bumps. And we hit HARD. The whole lower lobe of my lung is out and it's finally stopped bleeding since March. I don't know it, but my doctor also removed my esophagus and my stomach was pulled up to make a new one—not that it was easy, because nothing in my life is easy, but I have battle scars to show my strength. One week post-op and I need to remember it's okay to not be so far advanced. I've been extubated but I still have my chest tubes. I'm walking around the hallways with a walker and becoming a bit more independent. I failed my swallow test yesterday which means I'm still aspirating into my lungs, which also means the only thing I can think about is water. Water. Ice-cold water. Get it out of my head. It's all I want. Chest tubes are out! I'm moving in the right direction. I'm still sore, but nothing some Tylenol can't fix. I've been moved out of the SICU and onto a regular floor.
November 16. Another swallow test. This time it goes well and I'm cleared for liquids, as long as I keep my head to my chest when I swallow so I don't aspirate into my lungs. I emailed my doctor to tell him (even though I know he already got the results) and he comes right in, asking what flavor Popsicle I wanted (since the only question I've been asking him since April was when can I have a Popsicle). We did it. This is the home stretch. A couple more days to work out the kinks and I'm free. The SICU, the PACU, the CCU, the CTU, the CCTs, the nurses, the residents, the ECMO team, the respiratory team, the physical therapists, and so many more I'm sure I'm forgetting. Everyone came together to help me make it through this. This is my Tufts family.
I don't know where I'd be without a doctor like mine. He literally pulled me back from the brink of death so many times I can't help but be grateful for everything he has done. I know it's not over yet. And I still need to rehab and get better and this will all be a learning curve, but this is where I'm at and this is where I've been. I'm here, and I'm fighting. This is it. The storm—that's me; and I kicked her *ss every time."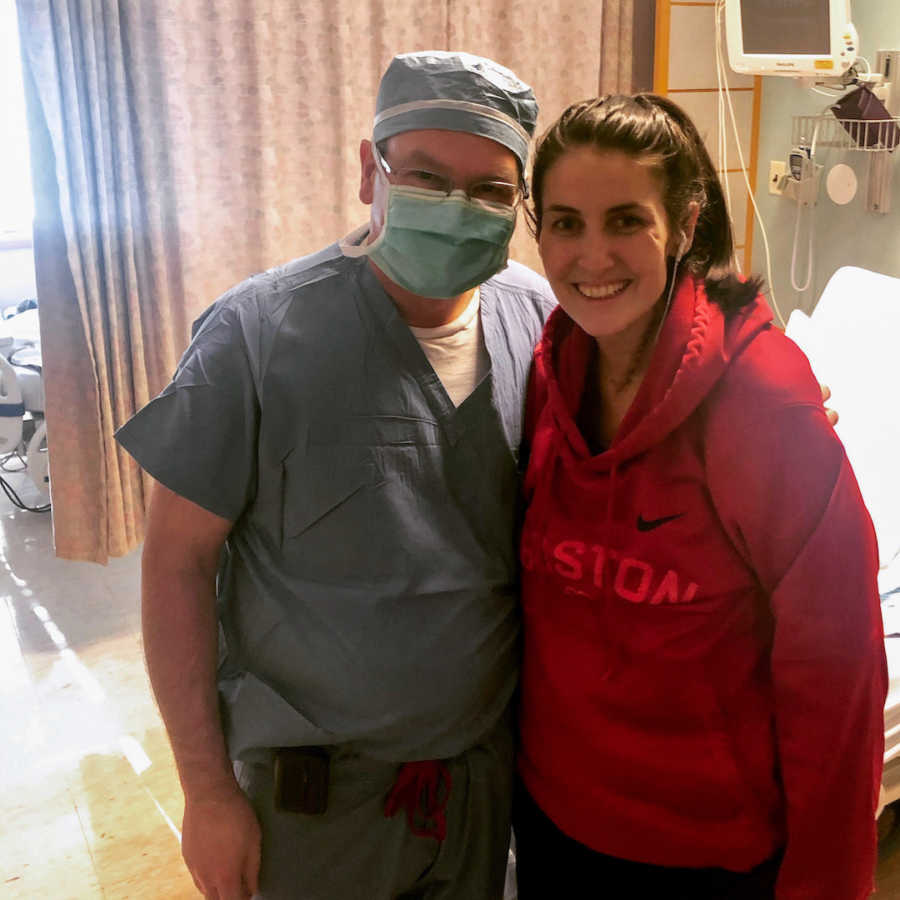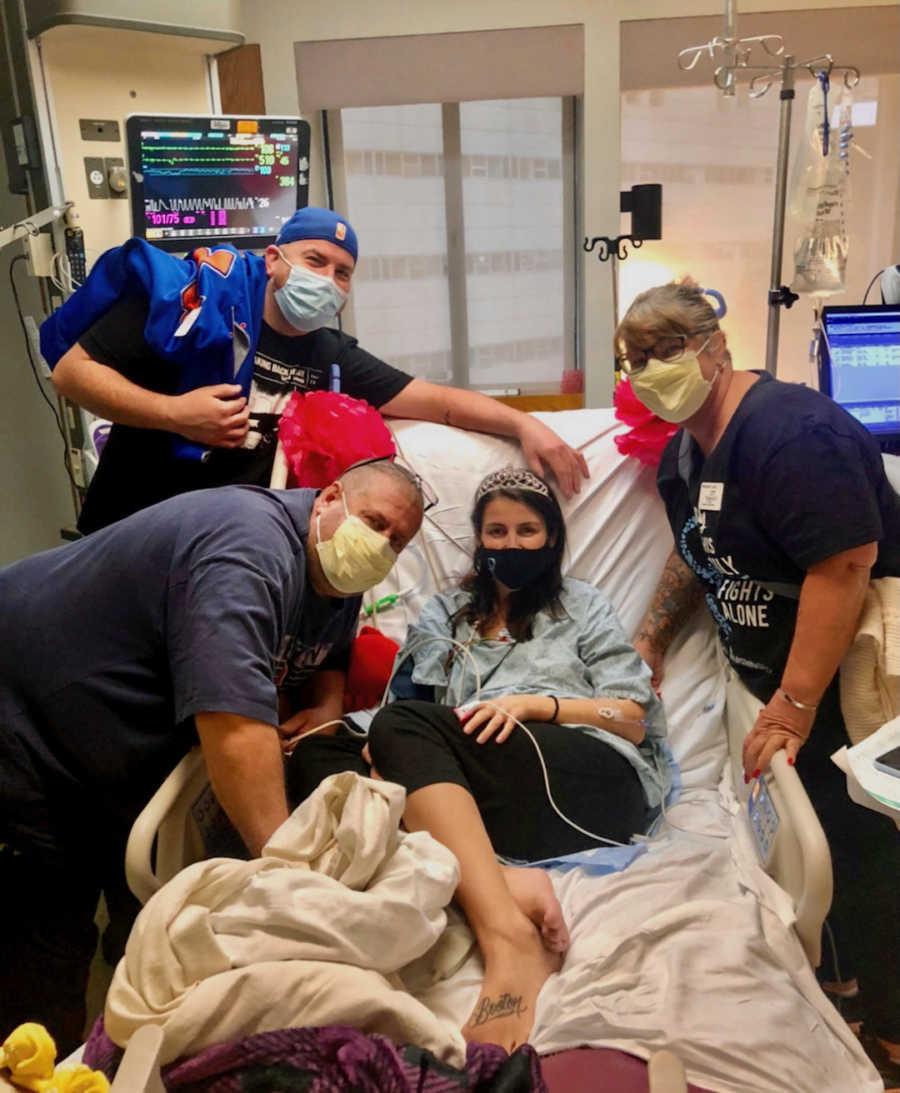 This story was submitted to Love What Matters by Kimberly Bachard. Submit your own story here, and be sure to subscribe to our free email newsletter for our best stories, and YouTube for our best videos.
Read more stories like this:
'My daughter called me from a party. 'Mom, I'm violently throwing up. I swear I'm not drinking.' She went from asymptomatic to waking up at 3:00 p.m. every day.': Mom details daughter's journey with COVID-19
'We tested positive for coronavirus. We let our guard down. I failed.': Family gets COVID-19, 'Stay safe and vigilant'
'I'm not scared of getting the virus. I probably won't die,' they say. I survived, and now I'm battling post-viral syndrome.': Woman diagnosed with Myalgic Encephalomyelitis after COVID-19 recovery
Show your love for the essential workers around the world. SHARE this story on Facebook with family and friends.