Disclaimer: This story contains details of loss and grief which may be upsetting for some. 
"I was already praying for a miracle on the day I learned my husband had died. I had spent the last two weeks back home on Maui helping my dad fight his second bout with throat cancer. Two weeks earlier, I brought our boys with me to Maui to help my family navigate these tricky waters. The situation at home was going from bad to worse, and I opened my eyes on that windy morning, praying there might be some good news on the horizon. I almost didn't have the energy to get it, but by the grace of something higher than human will, I answered my husband's FaceTime as I ran out the door to take my dad to his chemo and radiation appointments. He teased me for always moving his stuff and told our boys and me how much he missed us.
Looking back, I am so happy I answered because that was the last time I'd ever see him. That day was already one of the worst of my life. On top of being in the midst of the trickiest part of my dad's treatment, my stepmom was also in the hospital and deteriorating fast, their landlord was getting ready to start legal proceedings to evict them amid a housing crisis on the island, and here I was with two boys under five, trying to hold it all together. I shared some gallows humor with my dad after we got a call from the doctor that imparted even more bad news. I told my dad, 'If things keep worsening, they will eventually have to start getting better.' Little did I know, my husband was taking his final breath 2,000 miles away at that very moment.
Life With Joey
Nine years before the events of that day, I moved to California from New York City. I worked at a job I loved, but was burnt out on the demands of the metropolis. I grew up in Hawaii, so I thought I needed to be able to see the Pacific Ocean to find balance in how I approached work and rest. I was right; California immediately welcomed me, and I quickly became interested in getting out and meeting people. Almost on a whim, I signed up for Match.com. It was entirely out of character for me to try online dating, but the saltwater in my hair and the sun-kissed tan I quickly developed made me feel ready to try new things. A week after signing up, I got a message from a handsome Italian named Joe.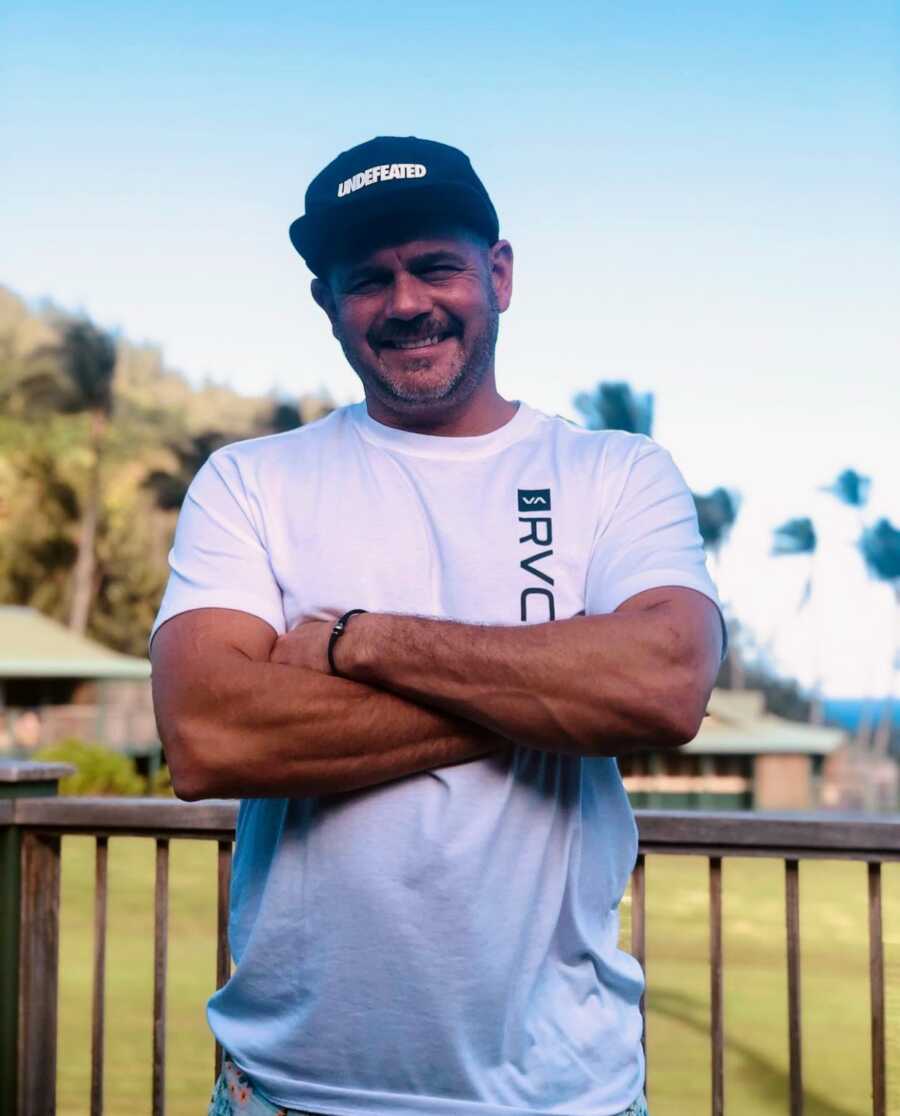 When I saw him, my heart jumped. Most of my potential 'matches' were, for lack of a better word, underwhelming. I feel lucky I had some perfectly respectable and polite encounters conversing with gentlemen on Match, but no one made me look twice until I saw Joe with his 100,000-watt smile and Mets hat. After our first date, all the love-at-first-sight clichés kicked in, and we were inseparable. There was truly no one in the world I would rather be with, and everything was better when he was around. He won me over with his sense of humor and the fact we couldn't walk down the street without someone yelling his name. 'Joey! Long time no see!' It was like walking down the street with a celebrity or the Mayor.
Joey proposed on the 9th hole at the Park Hyatt Aviara golf course about six months after we met. It didn't feel fast; it felt like we had spent lifetimes waiting for that moment. Like we had been searching endlessly and had finally found each other. We had a small, intimate wedding back home on Maui at the Lavender Farm in Kula. The wind was high on that day, too; right as we said our vows, the wind crescendoed and foretold a meeting of fate, a coming together of two destinies.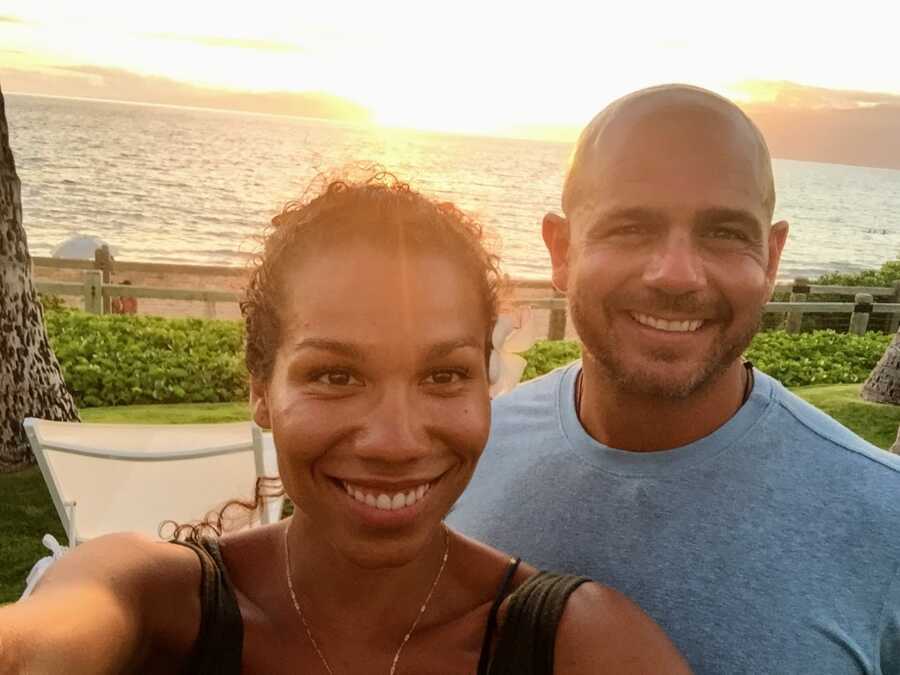 We became parents to two boys shortly after, and Joe was the most attentive and loving father anyone could hope to have. He told me on our first date he knew ever since he was a boy he wanted to be a father, and every minute we got to spend together as a family of four was a testament to that knowing. Our lives were simple and filled with laughter. Joey was an expert at impressions, and you always knew a good laugh was at hand when he had to stand up from wherever he was sitting to use his whole body to tell the story. I've never felt more at home than when we were together, so losing him was indeed like losing the place I belonged.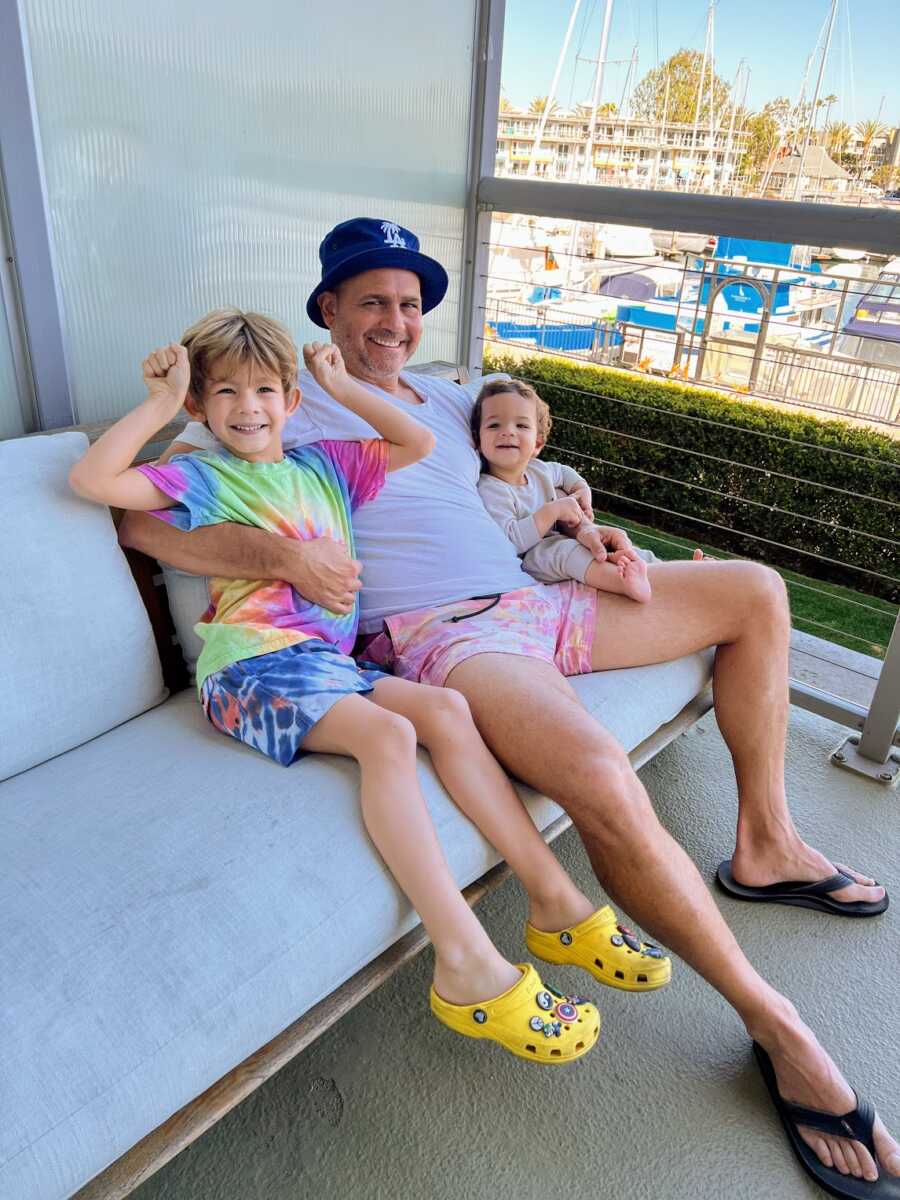 Devastating News
I got a text message from a number I didn't recognize as I was driving my dad back to his house after his treatment. The message read, 'It's Richard, please call me.' I had to think if I even knew a Richard, but I remembered my husband had recently been hiking with his friend and realized it must be him. At that moment, I knew something was wrong, but because I was so immersed in my dad's needs, I chose to reason it aside and think how many Richards there were in the world. After getting my dad home safe, I called the number from the text. 'Joie, are you sitting down?'
Click.
The call dropped. My heart and my mind went in exactly opposite directions at lightning speed. I thought, 'Surely everything is okay. Maybe Joey had an accident, and Richard is calling to tell me he's in the hospital.' But my heart knew the worst had happened. My heart knew I'd never be the same. My heart knew our boys would face the challenge of growing up without a father. My heart knew the gusts of strong wind and rainbows I had seen everywhere over the last several days were warnings the next few minutes would teach me the meaning of anguish.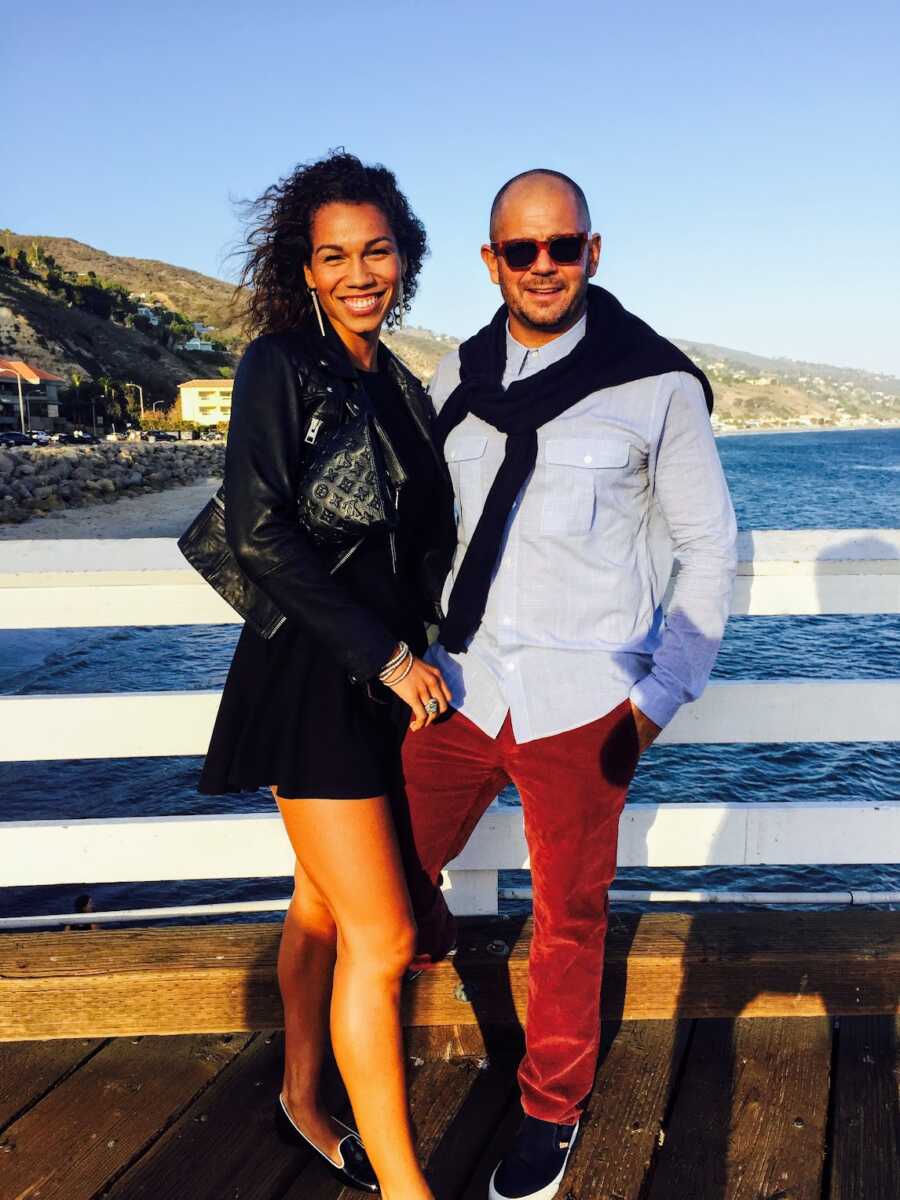 Joe died after a sudden heart attack while hiking. Within minutes, he crossed the barrier between worlds, surrounded by the beauty of the Santa Monica mountains. The immediate aftermath of his death meant dropping my role as caretaker to my dad and heading back to California to manage the task we all spend our lives trying not to think about. My husband and I are Buddhist, and the impermanence of life and the inevitability of death is something we often would ponder. He loved to explain human existence as just as fleeting and delicate as a rainbow, beautiful but not inherently existent.
For this reason, he would always stop in awe whenever he saw a rainbow. But conceptually understanding impermanence and experiencing the sudden loss of a loved one are two vastly different things. I couldn't eat or sleep for weeks. I had to entrust the care of our two boys to friends and family, so I could find a way to move forward. Every day I expected him to walk in the door. The question I asked myself, and still frequently ask myself, was, 'How am I supposed to do this? How am I supposed to live without you?' The answer to that impossible question isn't concrete. It comes in the whispers of the wind. It comes in seeing my five-year-old run and play with his new friends at the park. It comes in little moments of kindness from strangers.
Coping With Grief
Despite losing my best friend, and the father of my children, I am acutely aware of all the blessings in my life. The tsunami of friends and family that rallied around my boys and me was overwhelming. After planning Joe's memorial celebration, it became clear I couldn't go on living in California. The absence of him in our home was too significant. I knew it was time to bring our boys back to Maui, something we had always imagined we would do as a family when the time was right. I spent the next month in packing mode, often pushing my grief aside to get the impossible task of moving across the ocean over with.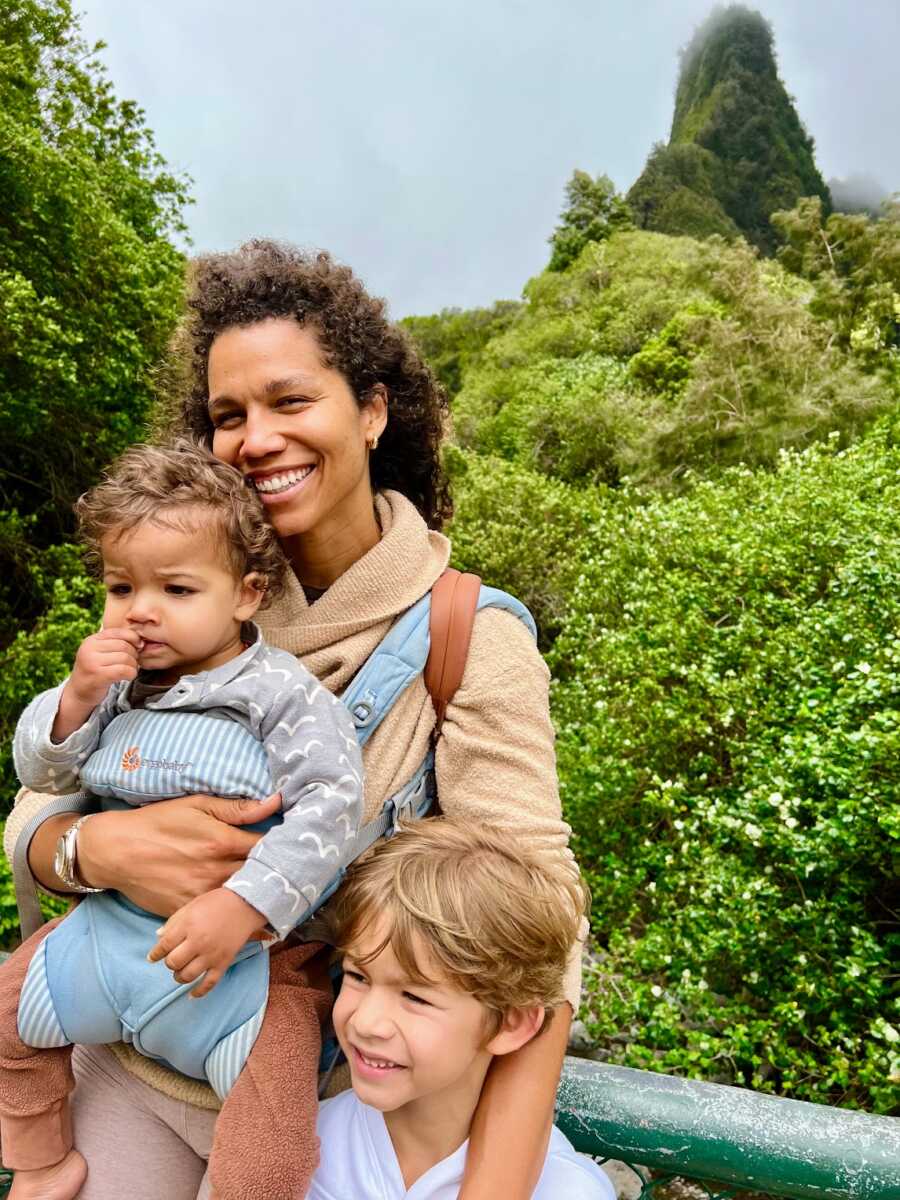 I always say it, but grief is like having roll-over minutes. You have to feel it, or else it'll store up to be felt later. I learned this early on, but I had to find time to schedule feeling my grief. As a mom with two young kids, it became paramount I demonstrate how to handle our feelings while simultaneously not losing myself to my grief. I knew I had to be strong for them, and in this way, I feel I honor my husband. I feel the best of him was transferred to me, and now I am not just me. I am both of us. One of the funny things that happened was I started to love the things he loved. I remember going through his belongings and feeling so depleted with sadness. I'd pick up a t-shirt and totally break down into pieces.
But a funny thing happened when I found his golf clubs. I didn't feel sad; I felt excited. I thought that these clubs had to be put to use. My husband loved golf, and we always mused about being out on the golf course as a family when the boys were old enough. I knew it was important for him to share this love of the game with his boys, and one of the ways I've channeled my grief is into doing precisely that. I had never played golf before he died, but when I am swinging his golf clubs, I feel close to him, and I feel him close to me. It calms my anxiety about how we will get by, and I feel like I can be present with him and our boys.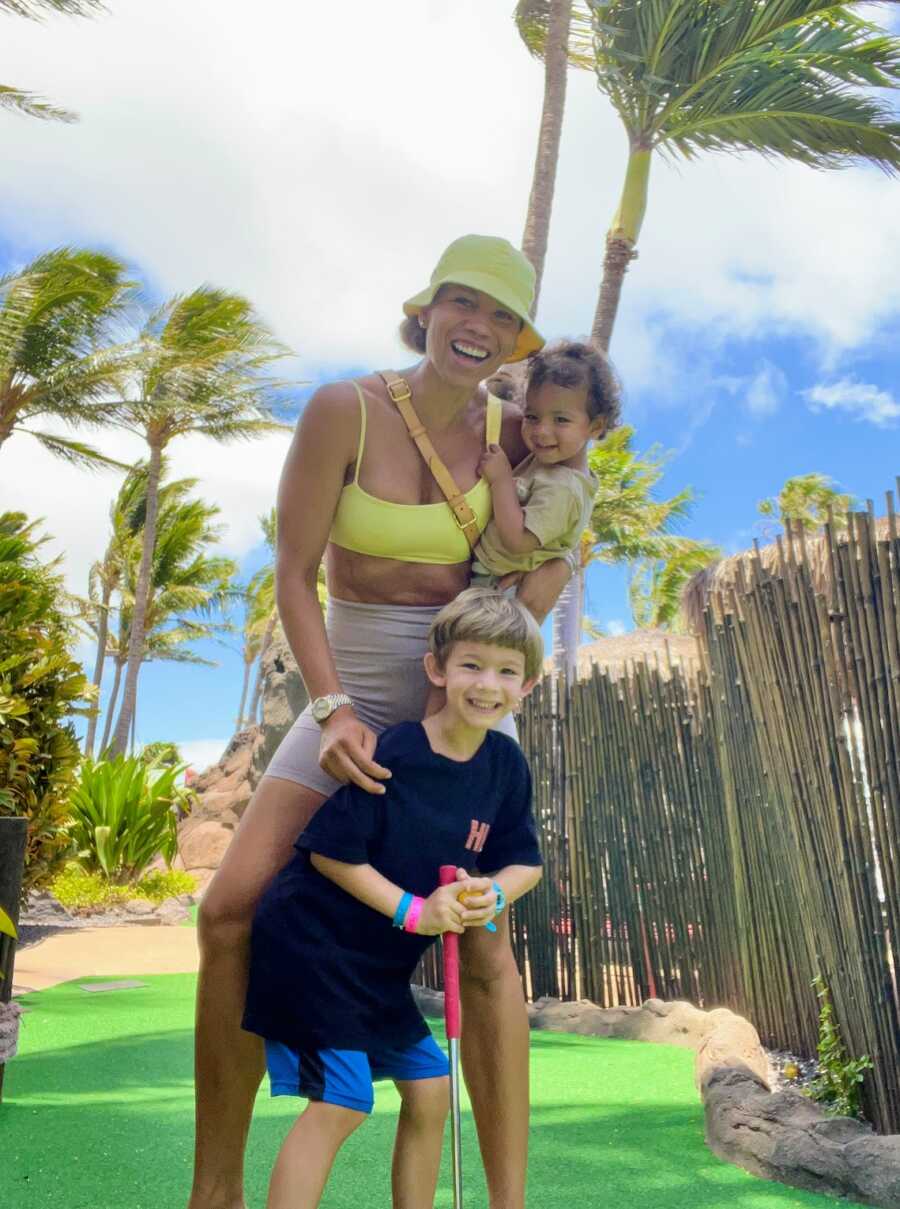 Death Is Not The End
Not long after we landed on Maui, I had a moment of utter despair. The commotion of planning and packing was done, and it was just the future ahead of us. Soon after we arrived back home, my dad lost his battle with cancer. One night, after the boys went to sleep, I screamed and cried, demanding some sign, comfort, anything that could let me know we would be alright. That night I dreamt of an old tourist attraction here on Maui called The Sugar Cane Train. It hasn't been in operation in years, but Joe appeared in my dream to tell me he wanted to take our older son for a train ride. The next day we were driving home from the golf range when my son spotted a rainbow.
'Mommy, look! Daddy sent a rainbow!'  Since I was driving, I couldn't stare at it in awe like my husband used to, so I did my best to take a quick picture of it to look at later.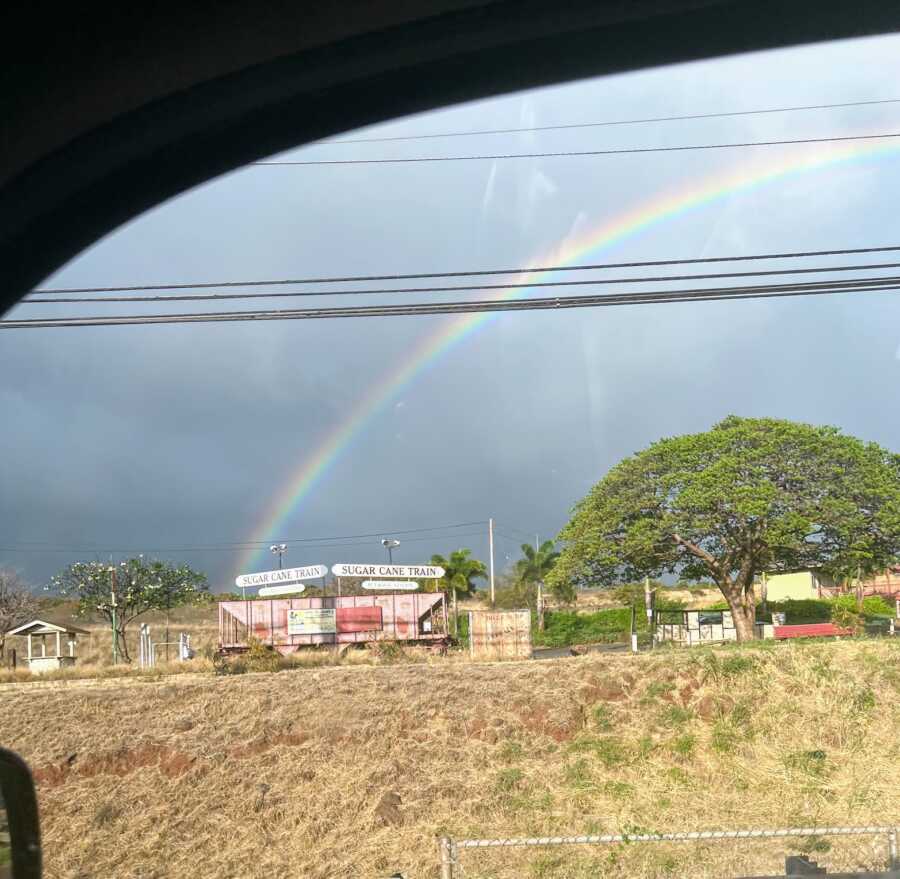 When I got home, I looked at the picture and almost fainted. At the end of the rainbow was the old Sugar Cane Train sign. I didn't even realize we passed it when I took the picture. Moments like these tell me death isn't an ending at all. I am still very much in love with my husband. Our relationship has changed from a physical one to a spiritual one. And while those moments of pain, of losing what once was, are often still with me, I know we will be alright. And what's more, deep in my heart, I know we will meet him again."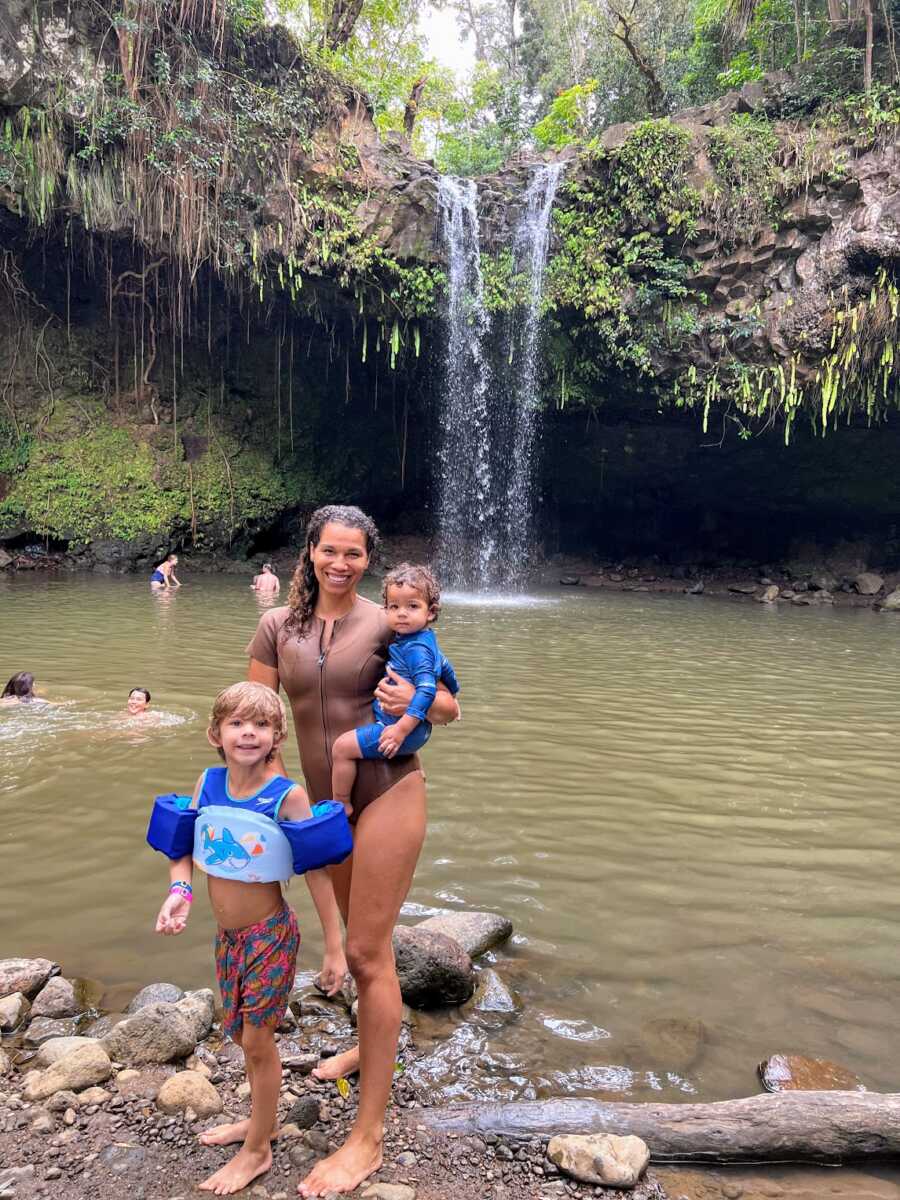 This story was submitted to Love What Matters by Joie Lee Ruggiero of Maui, Hawaii. You can follow her journey on Instagram and her family golf instagram. Submit your own story here. Be sure to subscribe to our free email newsletter for our best stories, and YouTube for our best videos.
Read more stories like this:
Grieving Girlfriend Raises Over $15k For Brain Cancer Research With DIY Jewelry After Losing Partner To Tumor
'My son was born at 1:05 p.m., the exact same time as his father's death.': Grieving spouse shares powerful journey of love and loss
'I didn't just lose my husband, Vienna's father, or my best friend. I lost parts of myself.': Young widow shares raw grief over loss of life she imagined
'I vowed to love you until death do us part. But it seems that wasn't exactly the truth.': Young widow rethinks vows on wedding anniversary
Please SHARE this story on Facebook to encourage others to cherish every moment and love what matters most.