"'I'm sorry, but your son has profound hearing loss.' I sat there, holding my six-week-old son in my arms, looking at the sensors placed carefully on his head. Those sensors hadn't picked up any brain wave frequencies that would normally indicate sound waves being picked up. The sound was introduced to him via strategically placed ear pieces placed in his ear canal that were pushing sound into it. My husband and I sat there in complete silence. Even though we had a sneaking suspicion that something was off, we never would have imagined our son had never been able to hear us.
Just weeks earlier, we brought our son into the world to join his proud big brother. He came nearly right on time at nearly eight pounds of pure cuteness. He had been admitted to the NICU unit, where he started displaying significant signs of labored breathing. The next two weeks was a roller coaster. The first night he was taken to the NICU, my husband was home with our oldest son. I couldn't get a hold of him, and I was frantically trying to reach him. I was fortunate to have my sister-in-law working in the NICU with my son, so I had the comfort of family caring for my son. She actually walked me down to see him shortly after he was admitted. The sight of him brought me to tears. Our son had gone from a healthy newborn to a baby now incubated with a breathing mask and feeding tube. Doctors didn't know what was causing his distress, but it was clear something was wrong.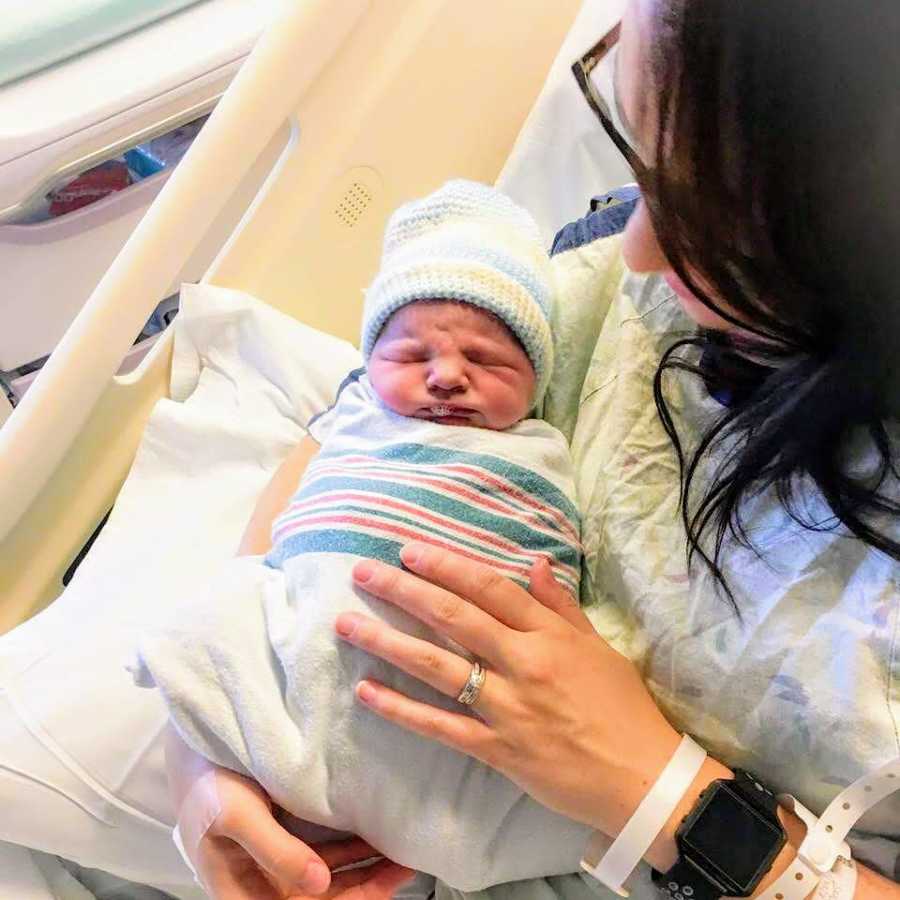 I was finally able to reach my husband around 5 in the morning. My mother and father-in-law were already on their way to our house, so my husband quickly showered so he could head to the hospital as soon as they arrived at our house. It was after 7 a.m. before my husband showed up, and he was brought to tears seeing our son incubated and hooked up the multiple machines. Our doctors were able to rule out meningitis, with the help of a spinal tap at one day old, and were able to determine that he had a pneumonia.
I had been battling a really bad cold, so the doctors suspected he got sick from me, but they also said he had some other unidentified virus. For nearly two weeks, they battled the viruses, and slowly, Beckett got better. The day we were to leave, Beckett underwent his second hearing screen. The first one he received the day he was born, he failed one side, but our doctors assured us it was due to his being sick. He failed both sides before we left for home. Again, our doctors said it was because he had been sick, and his ears would clear once he was completely healthy again.
We didn't give much thought to it at first. After all, we didn't have a history of hearing loss, so why would we worry that our son did? We scheduled a follow-up hearing screen for a few weeks later at a hearing center. We sat in the small room as they hooked him up to sensors. He slept peacefully in my lap. The hearing devices were placed in his ears, and the audiologist started sending sounds through the ear piece into his ear. Nothing.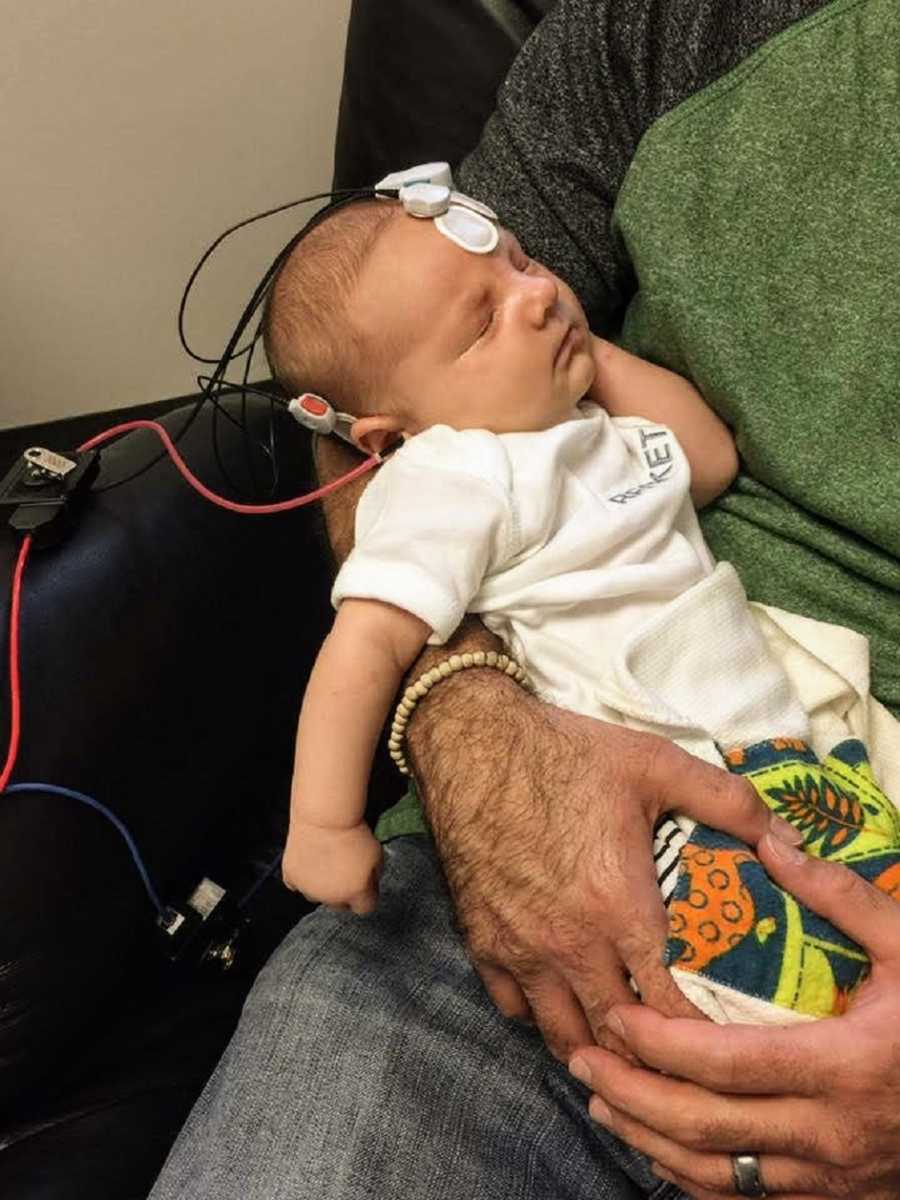 Beckett continued sleeping peacefully even when the sound was turned up, the sound waves increased and the frequency went higher and higher. Nothing. We figured out pretty early that something was wrong. Before we even began the test, the doctor told us he'd probably be fine. She had been told his medical history, and claimed his hearing issues could still be a result of built-up fluid behind his ear drum. She checked. There was no fluid in his ear. Our son had profound hearing loss.
I remember looking at the chart showing where our son's hearing loss registered on it. Basically, we were told our son could only hear the sound of a jet engine if he was right next to it. My husband and I were devasted. We did not know how to navigate this journey. We got home after the appointment, and we cried. We were angry. We were so incredibly sad. What was even more devastating was that early on during this journey, we were told our son's hearing loss could have been because of the medicine he was on while in the NICU. A certain medication, gentamicin, can cause hearing loss if not properly administered.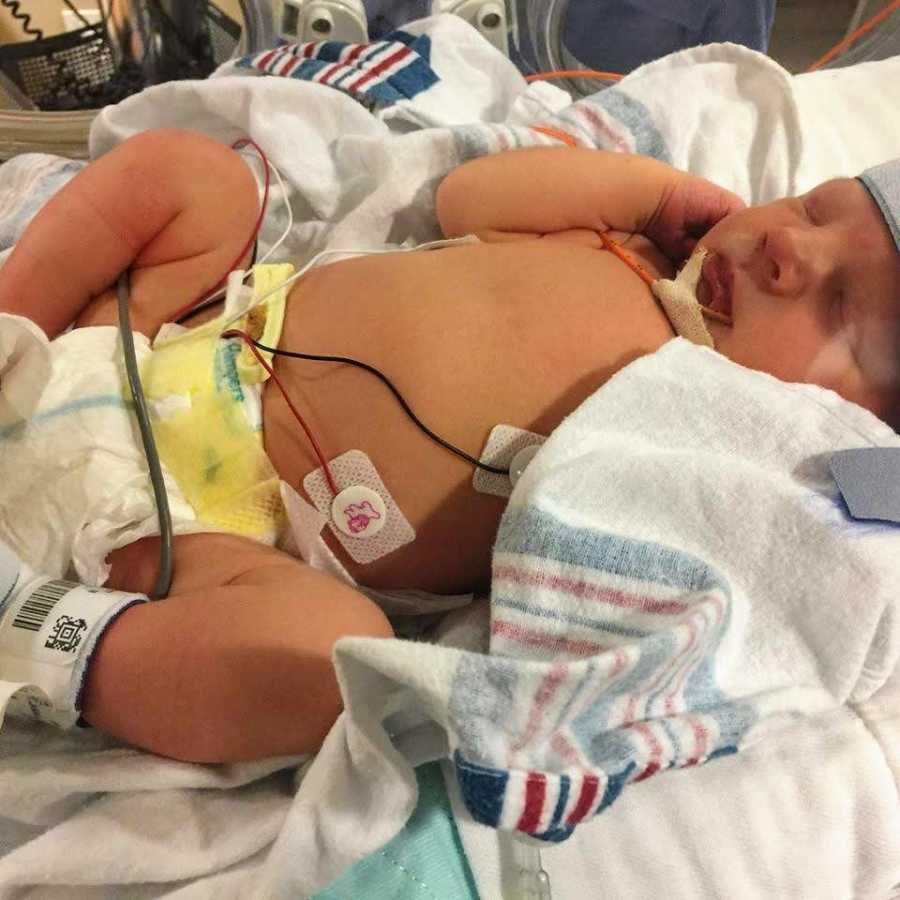 For weeks, we were under the impression that the medication had robbed our son of his hearing. We prayed it was all a huge mistake, and that our little boy would be able to hear us soon. We received a referral to attend one of the best doctors in the country, yet even when we met with them and had a hearing test done there, it was confirmed that our son was deaf. They informed us that our son would not be able to hear unless he underwent cochlear implant surgery, which he was a candidate for.
At this point, we underwent genetic testing to see if Beckett's hearing loss was due to genetics. The results of the gene sequencing showed that Beckett had two compound heterozygous pathogenic variants, c. 35delG (p.Gly12Valfs*2) and c.229T>C (p.Trp77Arg) detected in GJB2 in his DNA. That means my husband Jason has one of these genes and I have the other. Imagine hearing that news! We had no history of deafness or hearing loss, this this was a complete shock. Jason had one of these genes and I have the other and once they're combined, they cause deafness for children at or shortly following birth. Truly opposite genes attracted in our case. This also means that 25% of the children Jason and I have together will be deaf. 25%.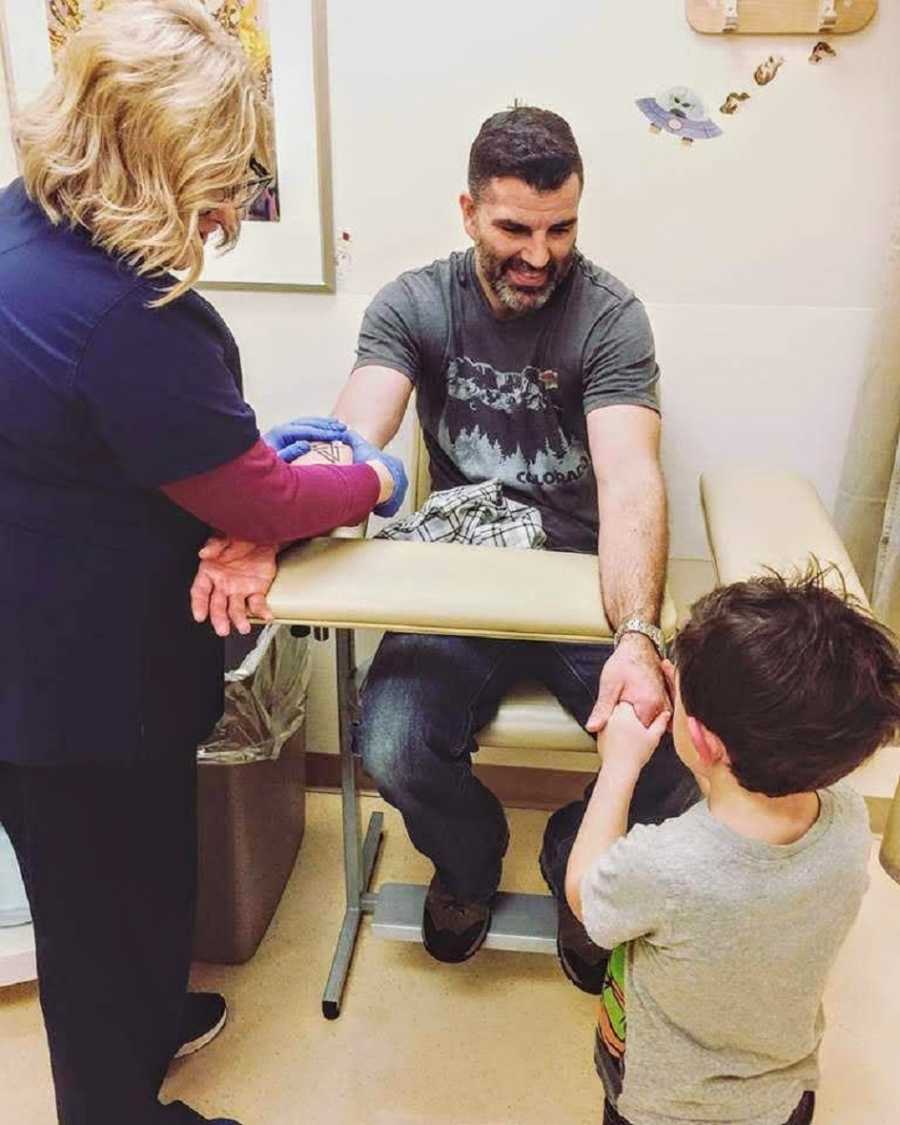 The next few weeks flew by as additional tests were done. Beckett was fitted for hearing aids at four months, and even though they wouldn't likely help him, it would help his brain know that sound was normal. Meaning, any little bit of sound the hearing aids were able to transmit, would help stimulate cochlea.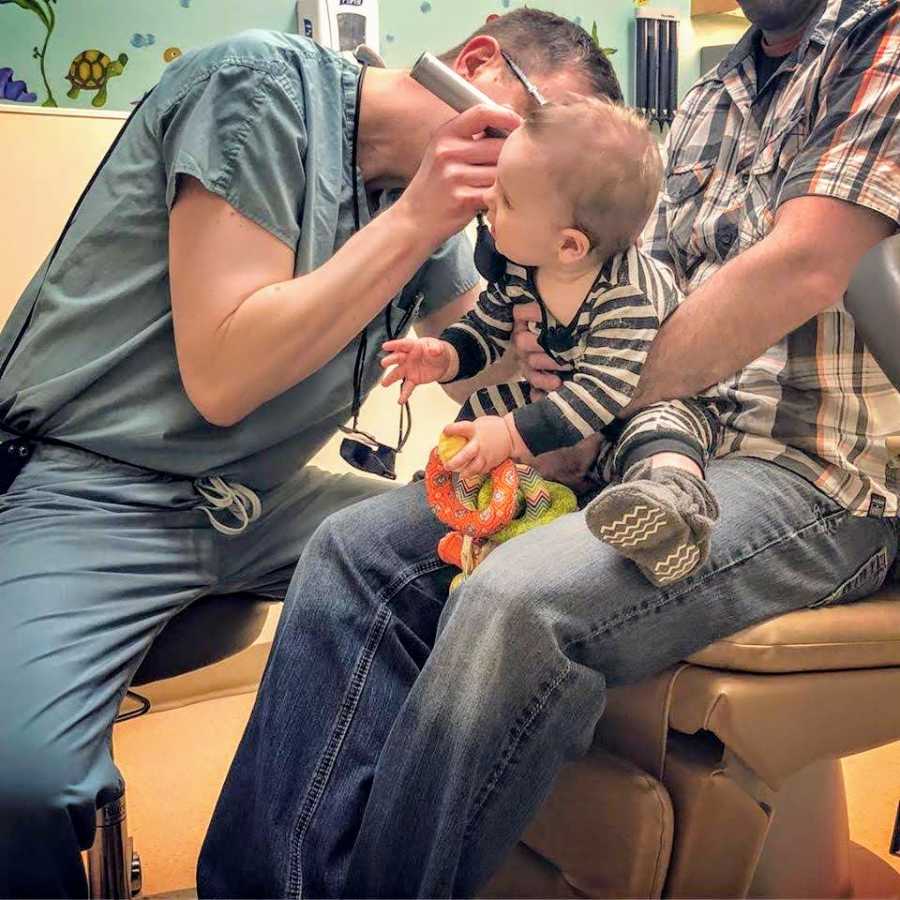 He did fairly well with hearing aids, and even though it was suggested to us that they wouldn't help him hear, we held onto hope. We didn't treat Beckett as though he was deaf. We talked to him like he could hear us.
After meeting with the specialists, Beckett underwent a sedated MRI to ensure his ears were formed correctly. If they were, he would be able to undergo cochlear implant surgery. That day was awful. The nurses couldn't find a vein that would hold an IV, so I watched my little baby get poked and prodded for what seemed like hours as he cried. I almost asked them to stop, but I knew the MRI was so important. Once they finally got the IV in and gave him the sedation medication, he fell asleep quickly. Once they wheeled him out, I lost it.
I cried because I was so sad for him. In the few months he had been here, he had been through so much, and I felt helpless. The MRI results came back normal, so we then met with the specialists again to discuss his surgery. In the state of Michigan, surgeons cannot do cochlear implant surgery on children until they are at least one year old. The main reason behind this is because of insurance companies. Basically, they won't cover the surgery until the patient is at least one. Beckett's surgery was slated for the day after his first birthday.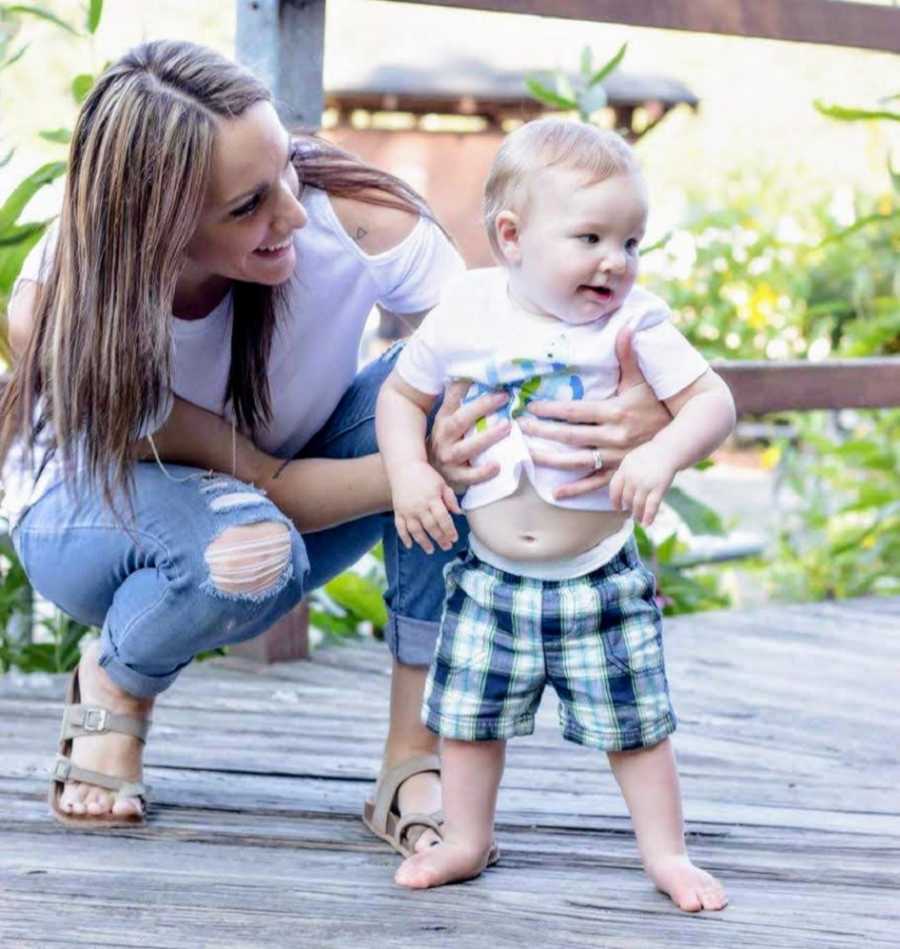 We prayed about it, even questioned our decision. I received hurtful messages from sign language interpreters and deaf individuals chastising me for making the decision to put my son through surgery in order to hear. The messages were littered with anger, with nasty words critizing my parenting even claiming that I was playing God by wanting to give my son the gift of sound. It was so difficult. But, again, I prayed. In our hearts, my husband and I felt that wanting our son to be able to hear us tell him 'I love you' was not a selfish thing. So, on August 30th 2018, our son underwent a 5-hour surgery.
The morning of his surgery, we cried, we prayed, and we, again, questioned our decision. Again, we agreed it was best for our son. We drove the 2 hours to Mott's Children's Hospital in Ann Arbor to have one of the best surgeons perform our son's surgery. While prepping Beckett for surgery, Jason and I were allowed to be with him. We saw the medicine kicking in and laughed as he got sillier and sillier. When it came time to wheel him back, I nearly lost it. My son was about to undergo a 5-hour surgery where it involved them cutting behind his ears, and quite frankly this absolutely terrified me. As Jason and I walked out to the lobby, we caught one more glimpse of him being wheeled away, staring back at us. My heart had never ached more in that moment.
We sat out in the waiting area for what seemed like forever, preoccupying our minds as Beckett was in surgery. Occasionally, we'd received a surgery update from the surgeon on a pager we were given. I'd be lying if I said we didn't break down multiple times as we waited, but when we finally received a message from the surgeon asking to speak with us, we basically ran to his office.
The surgery was a success. We only had to wait a few minutes before Beckett woke up, and I cried holding him in my arms. His little head was wrapped in bandages, and although the night was rough as he was unable to get comfortable, he was back to his normal bubbly little self the next day. We were released that afternoon, and our activation date was slated for a few weeks later.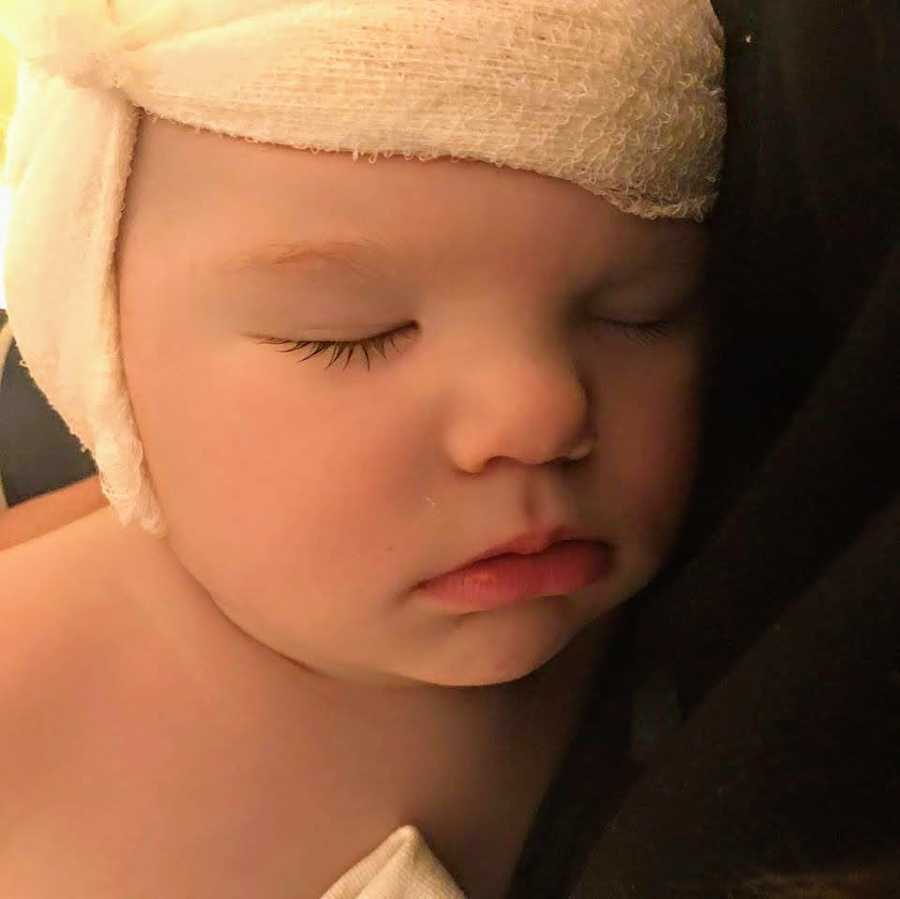 We continued to put on the hearing aids, but we were so excited for activation date. Once the day was finally here, we again drove two hours to the rehabilitation hearing center through Mott's Children's Hospital. We had been there a few times previously to order the cochlear implants, and we arrived with all of that technology with us. Activation was not what I expected.
Truth be told, I was incredibly discouraged. I've seen the videos of the children hearing for the first time, and their little faces lit up and soon they were smiling. Beckett responded to sound, but in my opinion, it was out of fear. If you think about it, Beckett hadn't heard for the first 13 months of his life, and suddenly BAM, he was suddenly hearing and he didn't know what it was. I cried on the way home, if I'm being honest.
The whole situation had been overwhelming, but fortunately early on during our journey we were paired with KRESA (Kalamazoo Regional Educational Service Agency), the local intermediate school district with an early intervention program, here in our home city. We were matched with wonderful deaf educators who work with Beckett. Our coach, Ronda, a teacher consultant for the deaf and hard of hearing, works with Beckett twice a week to help him understand what he is hearing and help him to interpret it.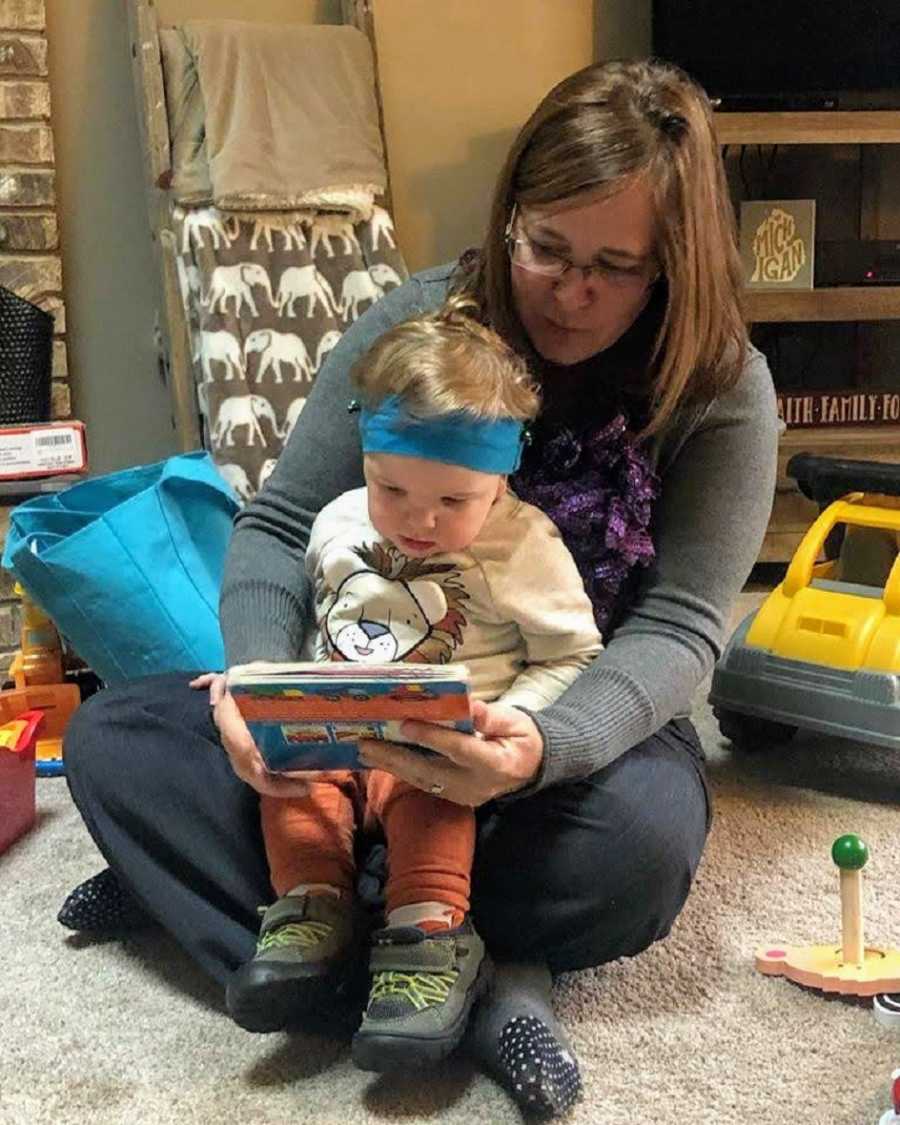 In the 14 months since his activation, we have seen a huge increase in his ability to understand spoken language. He is close to his hearing peers in language, and although he is still slightly behind in his speech, he has only been hearing for a little over a year. We are so thankful for the support of Ronda for playing an intricate part in his continued success. Most people wouldn't even think Beckett was deaf because he is so responsive.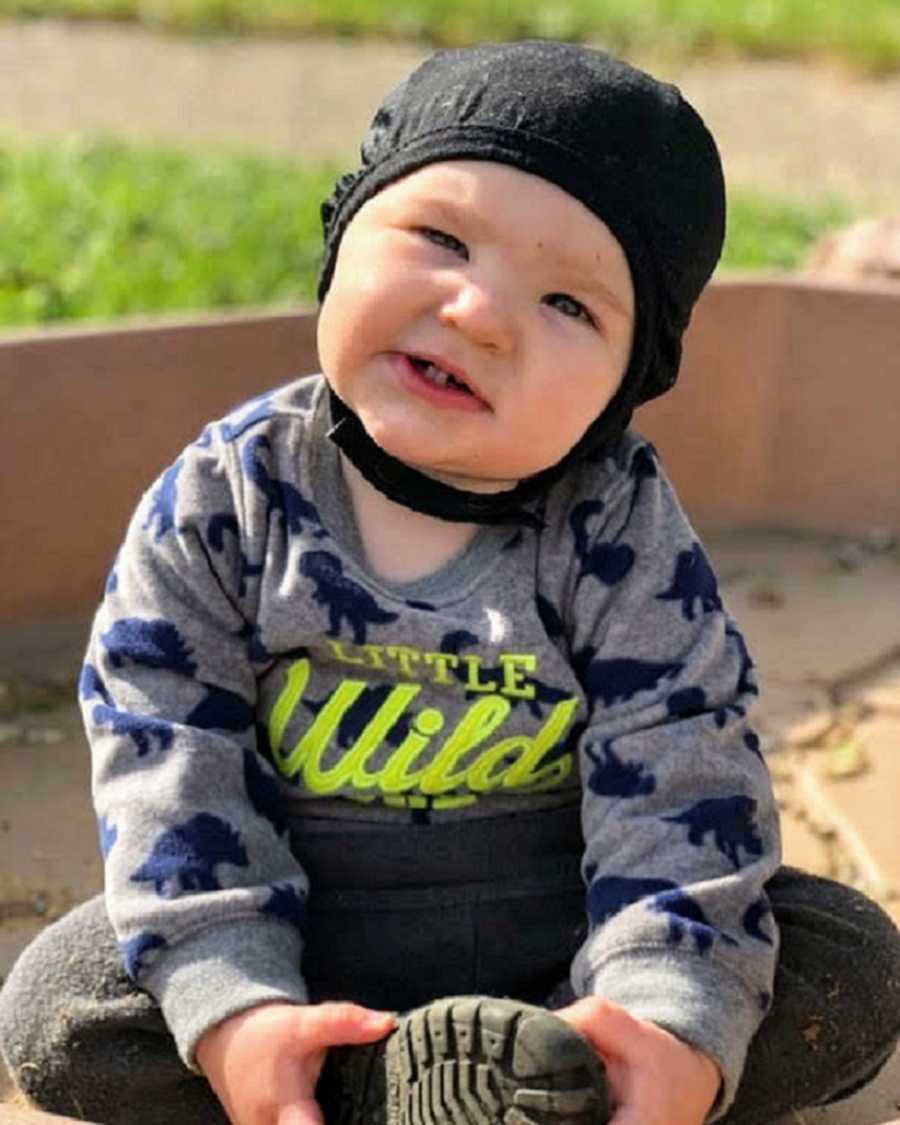 He's doing incredible, and we are so happy we decided to go through with the surgery. There are no words to describe the pure joy on his face the first time he played in water. Cochlear America, the manufacturer of our son's cochlear implants, have designed an aqua device so that children, like my son, can enjoy the sounds of water, because without waterproof devices, he wouldn't be able to swim, play in sprinklers, or dance around in the rain.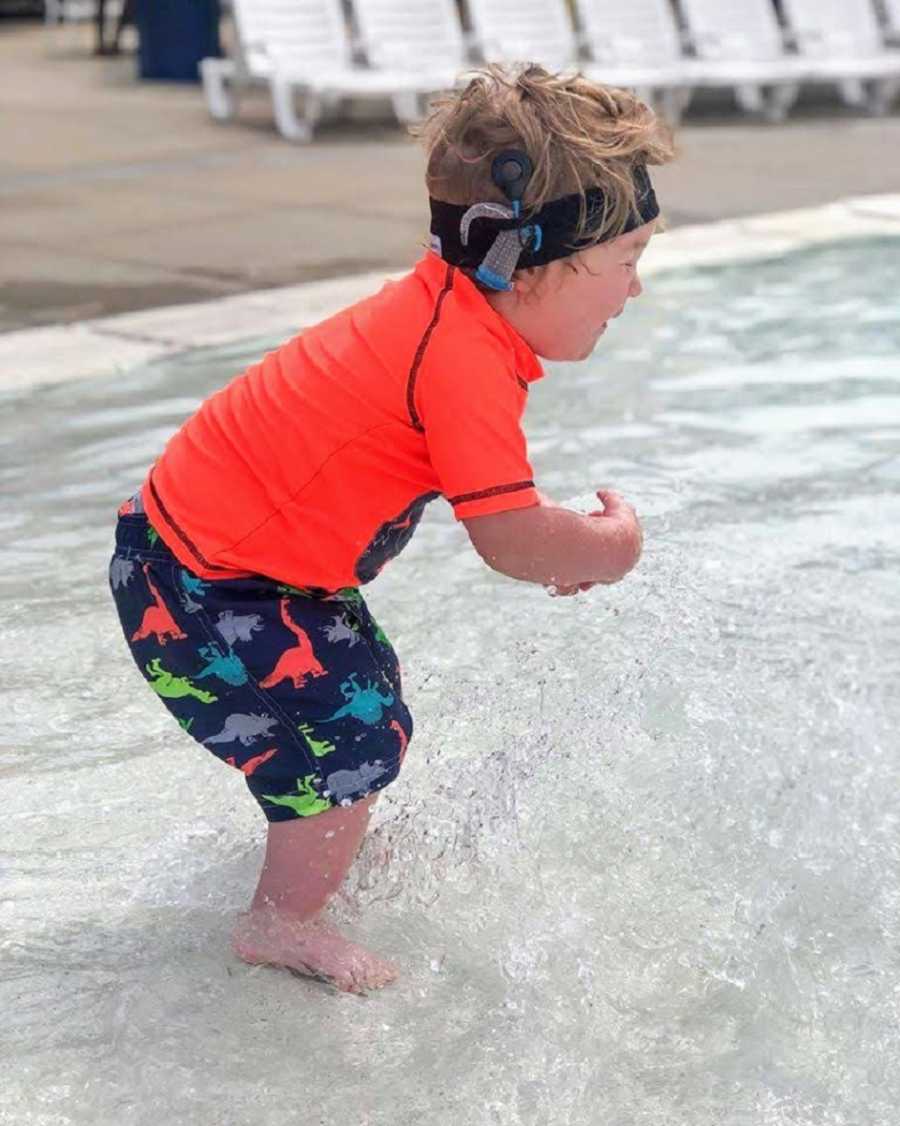 As a mother of a deaf child, there are many challenges we face. Our son experiences hearing fatigue, which is because his brain has to work 10x harder to interpret the sound that is being transmitted. When he gets mad, he throws his 'ears' at us. He doesn't typically sleep with his implants on, so there are times at night he wakes up in a panic, which pulls on my heart strings, because I can only imagine the fear of being down two senses at night: sound and vision because of it being dark.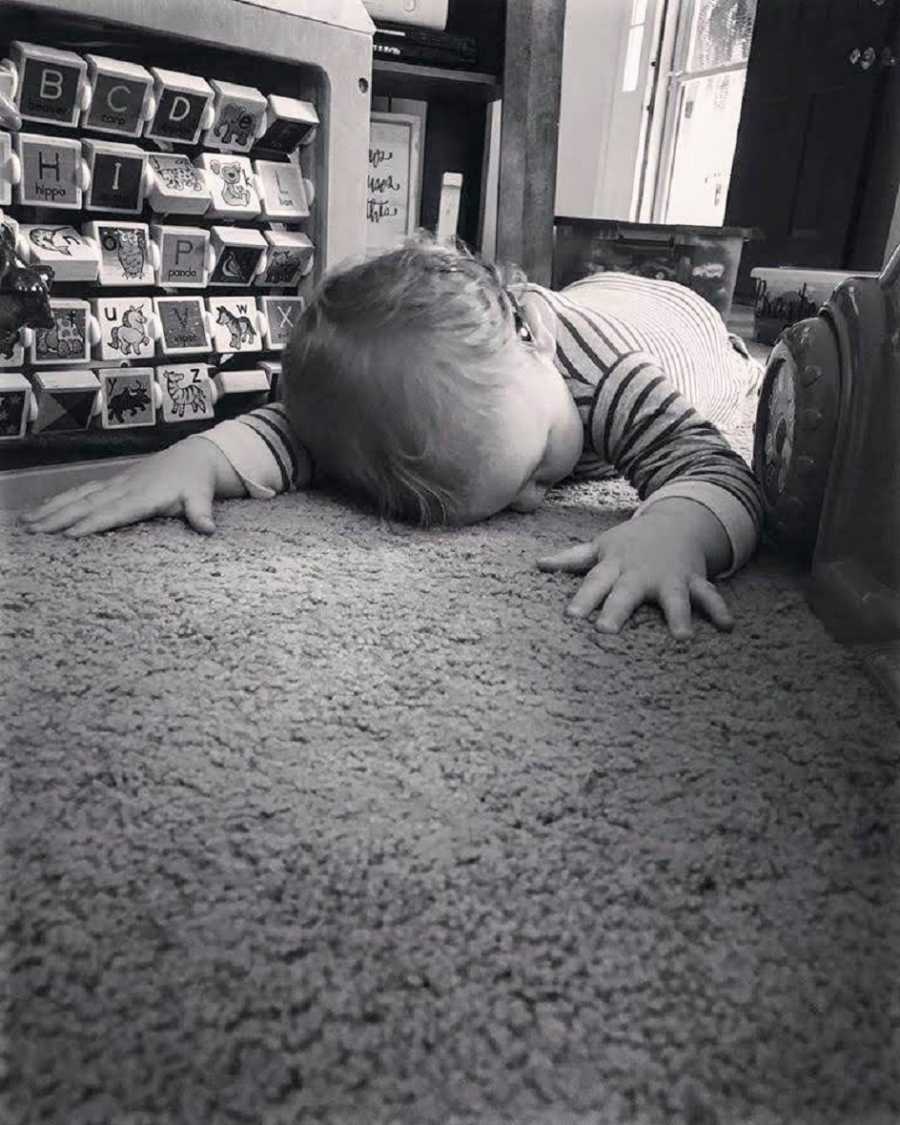 People mistake him for being a girl because he wears a headband that holds his implants in. His daycare is extra diligent to make sure he keeps them on throughout the day, and there have been times that his cochlear implants have been misplaced or lost. I have even been mom-shamed for being a working mom of a child with a hearing disability, but with all of those things aside, we are so blessed with what his disability has blessed us with. We have an incredible support system who advocates for our son, who encourages him, who works to better understand his disability. His daycare allows his therapist to come there, and even works with him with sign language. We are doing our best to support him through sign language and spoken language.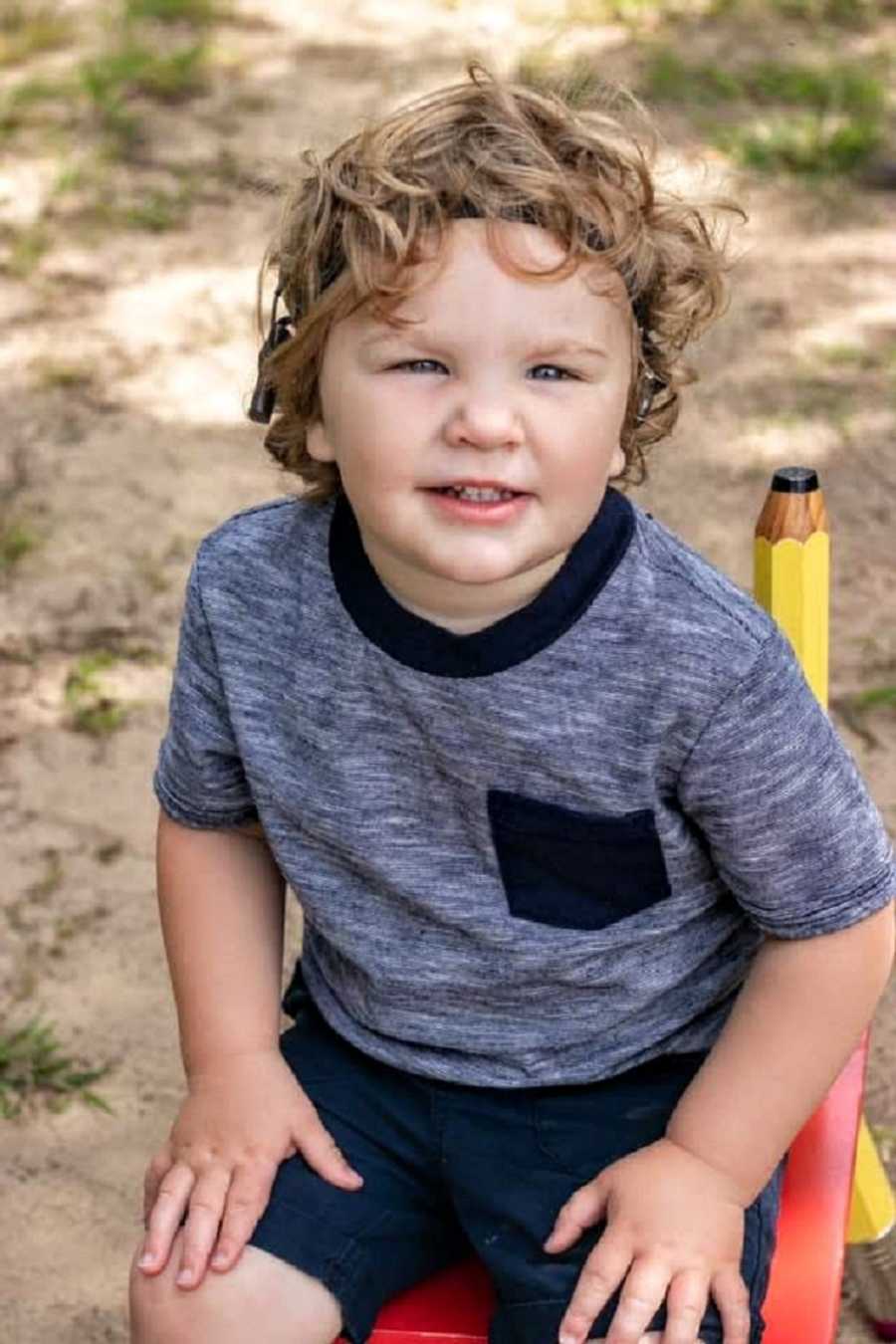 Beckett might be deaf, but he is also incredible. It's truly remarkable to see his excitement when he hears something for the first time or says a new word. Being a mother of a deaf child is truly amazing, and it's my hope that others who find themselves in a similar situation with a loved one understand how truly special they are."
From podcasts to video shows, parenting resources to happy tears – join the Love What Matters community and subscribe on YouTube.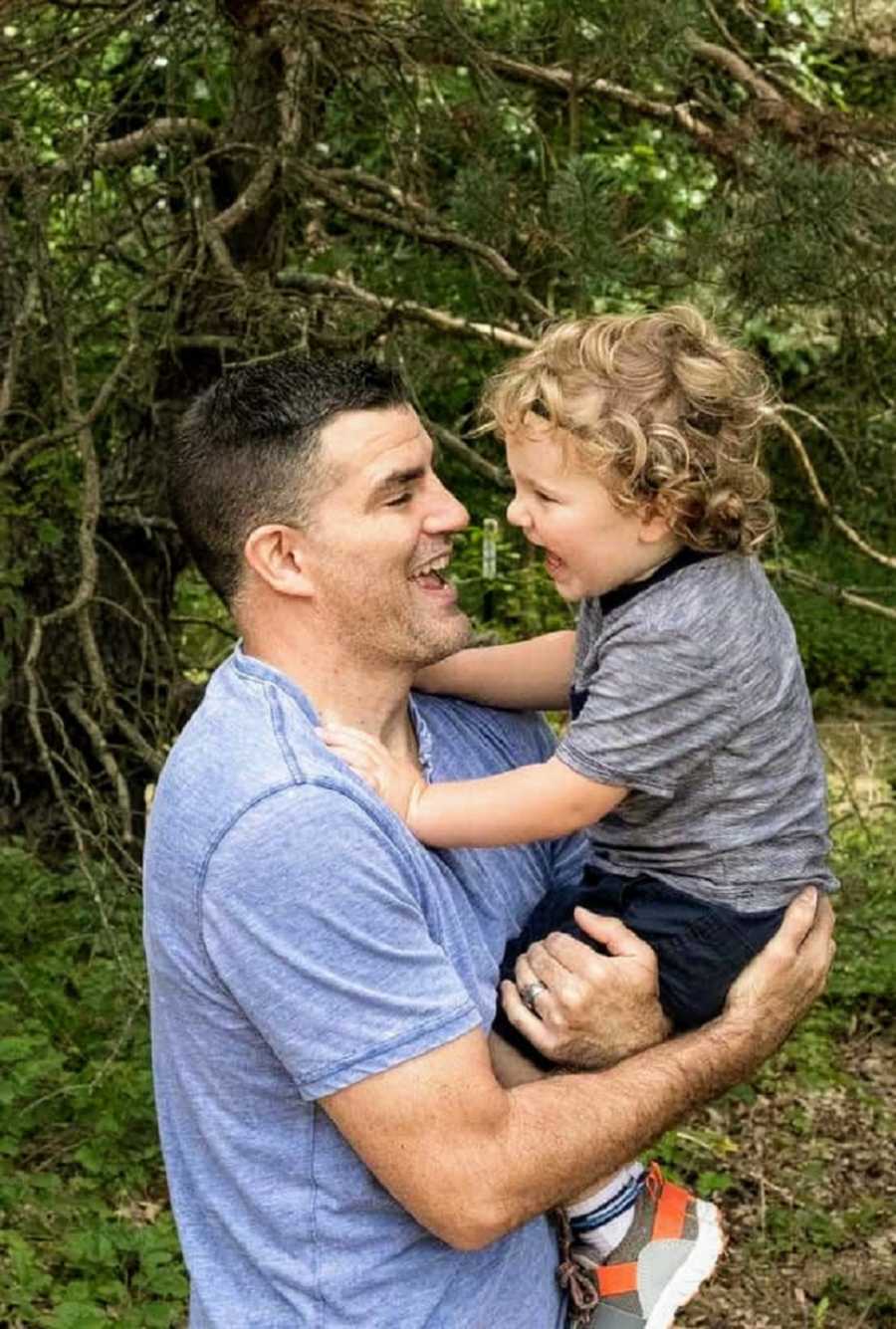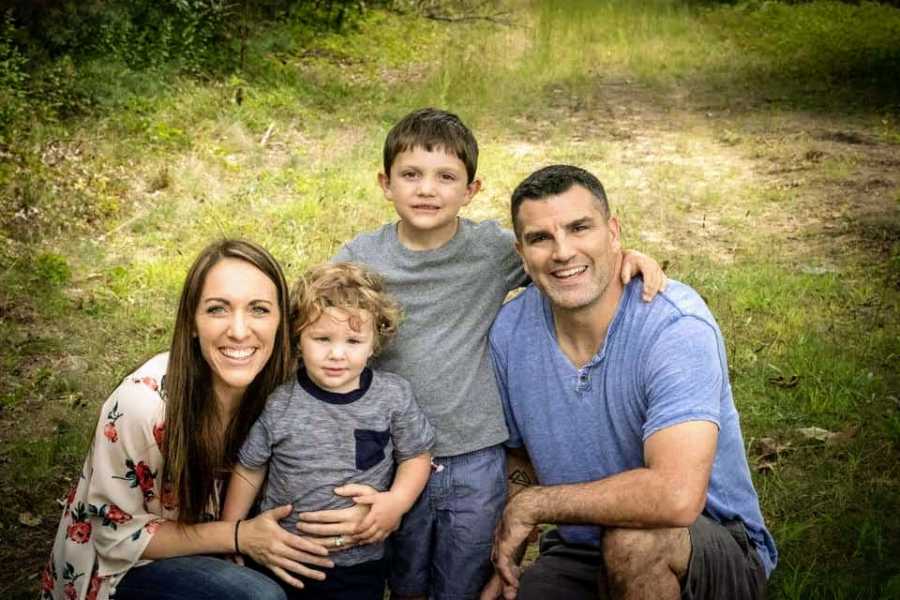 This story was submitted to Love What Matters by Danielle Jones. You can follow her journey on her blog. Submit your own story here, and be sure to subscribe to our free email newsletter for our best stories.
Read more from Danielle:
'What are the chances lightning strikes twice?' Then I got the news. 'Ashley…I have cancer, too.': Twins battle breast cancer simultaneously, 'we found strength in each other'
'Danielle. You're, like, really pregnant!' I had JUST miscarried. How could I get pregnant TWICE?!': Woman conceives 2 children naturally after infertility, donates remaining embryos to help another family birth twins
Do you know someone who could benefit from this? SHARE this story on Facebook wtih family and friends.