Disney Cruise Line's newest ship, the Disney Wish, will take its maiden voyage in June 2022. But in the meantime, Walt Disney Imagineering has been hard at work designing the ship with one word in mind: Enchantment.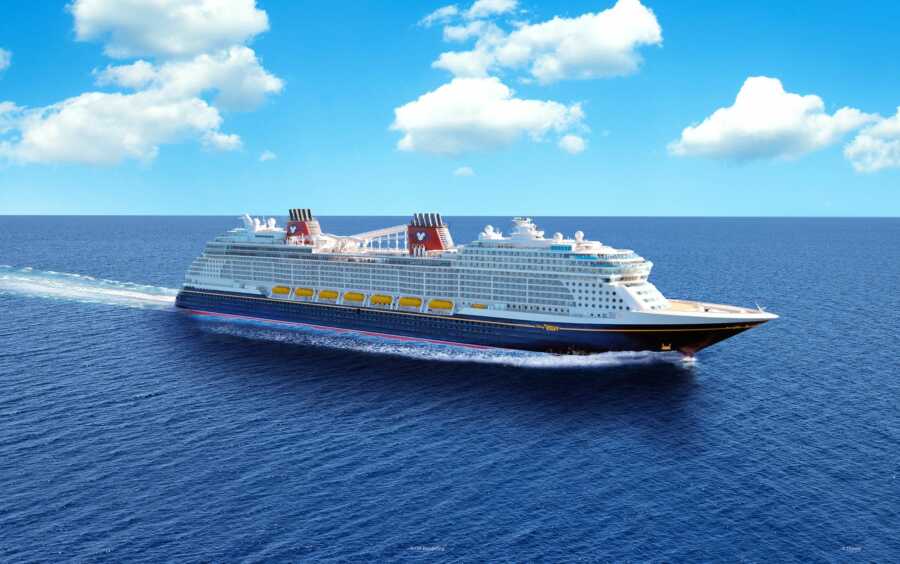 At a recent preview of the ship's coming experiences for families, Love What Matters got a first look at the innovations that will take the Wish a step above its sister ships, the Disney Magic, Wonder, Dream and Fantasy.
In short, the ship will be a castle on the seas, themed with gothic architecture and stories of beloved Disney princesses. A 5'8" statue of Cinderella will greet guests in the ship's "grand hall," a renamed version of the classic cruise ship atrium, and Rapunzel will appear on the stern of the ship. In perhaps the most magical display of girl power, Captain Minnie will adorn the ship's bow.
"Enchantment is about unlocking the wonder in everything we do and experience," said Laura Cabo, a creative executive at Walt Disney Imagineering. "The Disney Wish will be a place where families really do get to wish upon a star."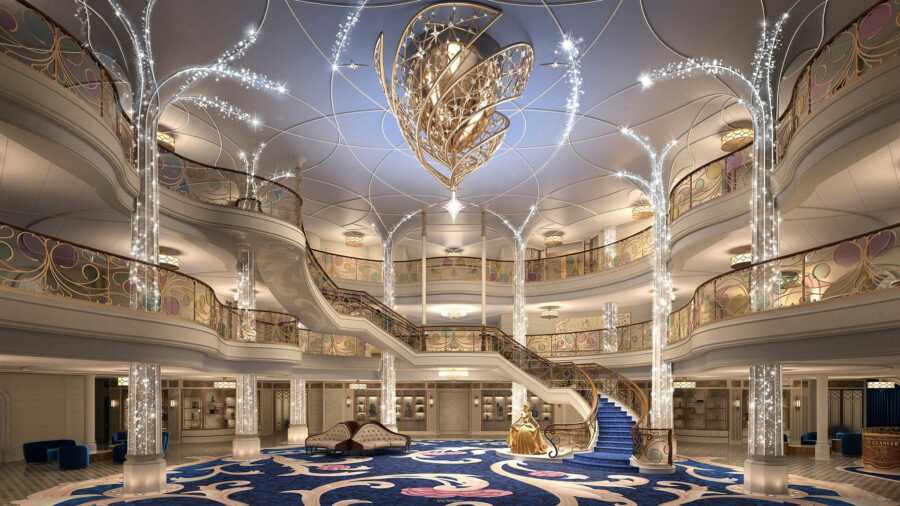 All castles, woodland creatures, and glass slippers aside, Cabo says the Disney Wish is being optimized throughout for maximum guest fun. With smaller, more intimate venues and restaurants, Disney Cruise Line's first outdoor spa area, and even a slide that takes kids from the sign-in area for the ship's kids-only space straight into the Oceaneer's Club, there will be something for everyone on DCL's fifth ship.
These newly-released details on experiences families can expect on board the Disney Wish are just some of the exciting attractions planned for the new ship.
The Aquamouse
Fans of "The Wonderful World of Mickey Mouse" animated shorts rejoice! Disney's very first "attraction at sea" will be the Aquamouse, a 760-foot water slide themed around everyone's favorite pair of mice.
Guests will begin their journey by boarding a two-seater ride vehicle and ascending a conveyor belt tunnel where they'll be shown one of two animated shorts starring Mickey and Minnie. While viewing the silly storylines, more than 60 water features will squirt guests, bringing the story to life.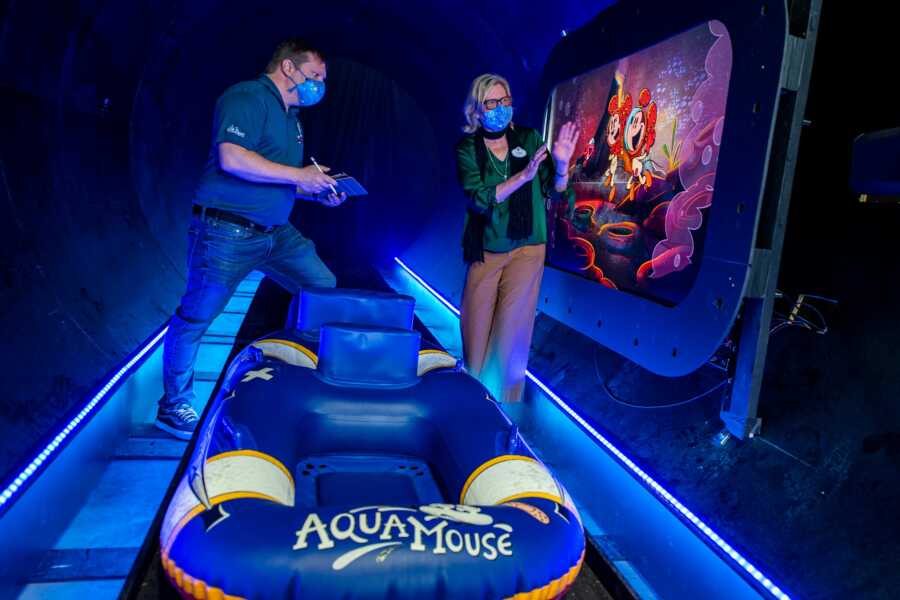 Next, it's time to blast out of the tunnel and zip around enclosed tubes that wind through the upper decks of the ship, offering lighting effects in some areas and stunning ocean views in others. Speed blasters then propel guests into the finale, where they'll get a special send-off from Mickey and Minnie before heading off to explore the rest of the ship, or ride the magical slide again.
Be on the lookout for Disney Easter eggs during the cartoon clips, as well as other Disney characters like Donald, Goofy and Chip and Dale, who may make brief appearances as you ride to the top of the slide.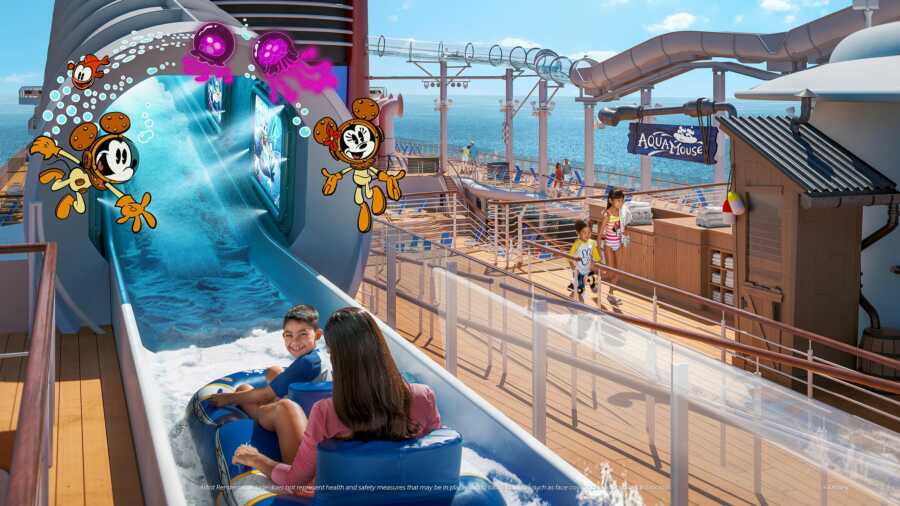 Star Wars: Hyperspace Lounge
Designed as a "yacht-class spaceship," this lounge takes guests on a space-jumping tour of the Star Wars galaxy via a 20-foot screen that switches between iconic locations like Tatooine, Batuu, and Mustafar while showcasing famous spaceships and locations from the Star Wars films.
The virtual window into the Star Wars galaxy will take approximately 45 minutes to scroll through all locations, changing locales every 7-10 minutes, and will serve galactic concoctions and interactive tasting experiences for guests to enjoy while being transported into a galaxy far far away from the sea.
While the interactive experience will be adults-only in the evenings, kids will be able to experience the stunning views with their family during daytime hours.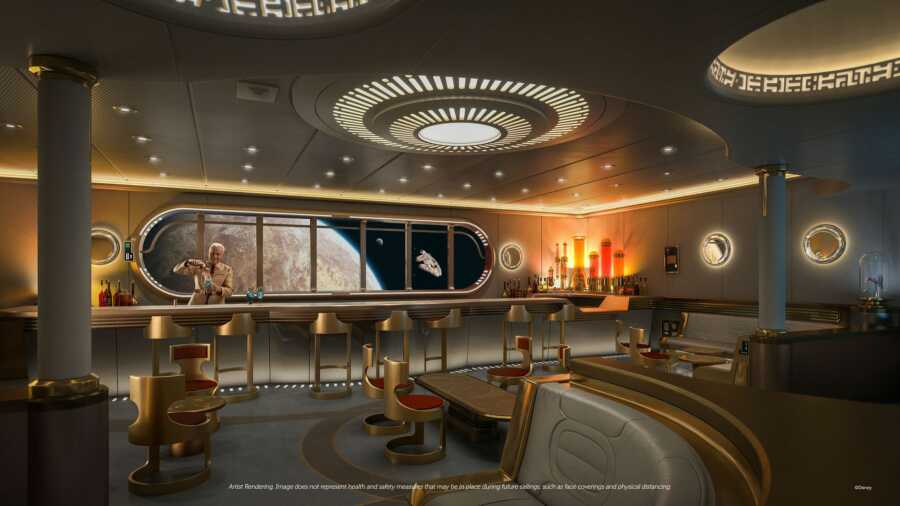 Worlds of Marvel
Calling all superhero fans! In this first-ever Marvel cinematic dining adventure, guests will play an important role in an Avengers mission that unfolds around them while they share dinner together.
An upgraded "dinner and a show" concept, guests will need to help Ant-Man and Wasp deal with an unexpected villain who shows up during their presentation on the Quantum Core, technology that can shrink and grow targets with the press of a button, trying to take the Pym Tech for their own evil plans.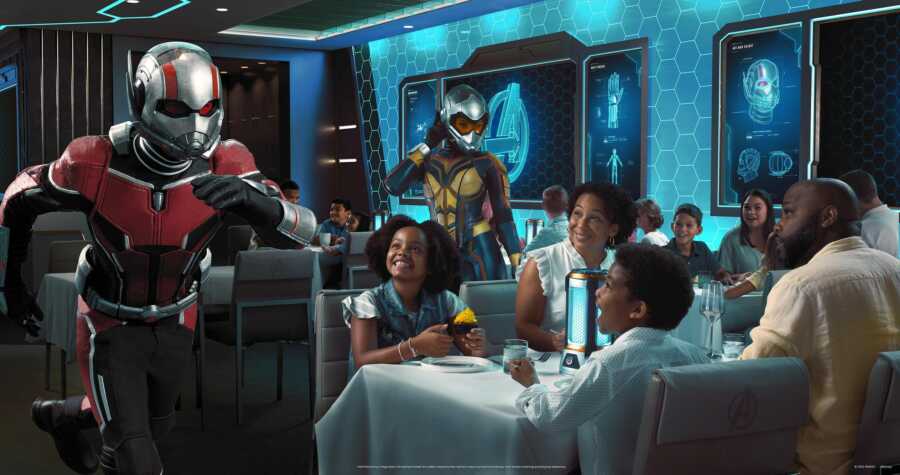 Worlds of Marvel will be part of guests' rotational dining, one of three restaurants available to families each evening of their cruise, and will serve dishes inspired by places within the Marvel Cinematic Universe like Wakanda and New York City.
Further details about the Wish's other two rotational dining restaurants, 1923, an immersive dining experience focused on Disney animation and named for the year Walt Disney Studios was founded and the Arendelle: A Frozen Dining Adventure, have yet to be released.
Disney Uncharted Adventure
This interactive experience on board the Disney Wish is designed to get families to work together while exploring everywhere from the bow of the ship to the stars above it.
"With Disney Uncharted Adventure, we're literally putting the power in our guests' hands to become the heroes of a grand adventure that can only be done on a Disney cruise," said Davey Feder, the software product manager for Walt Disney Imagineering, of the game, in which guests complete missions to gather pieces of a broken wishing star that have fallen from the sky and scattered throughout the ship.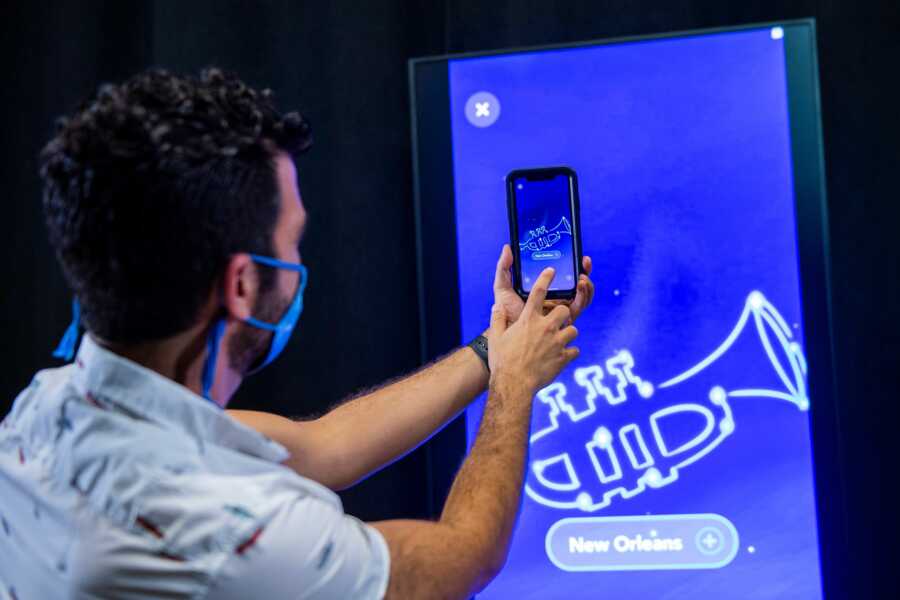 Through the Play Disney Parks App, guests will work with Captain Minnie Mouse and Mickey Mouse to turn their phones into magic spy glasses that unlock adventures in the worlds of Moana, Tiana, Peter Pan, Nemo and more.
And, the magic starts before families even set sail: Minnie and Mickey will get guests ready for their adventure with pre-cruise messages to help them be ready to play and explore as soon as they board the Wish.
Whether families are teaming up with Moana to guide canoes beyond the reef or helping Tiana create the perfect gumbo, the adventure is designed to get guests to explore the ship, creating a bit of magic together as they go.
The game culminates in a gathering of all guests together in an entertainment venue on board of the ship, where they'll need to battle together against an infamous Disney villain to help Minnie and Mickey restore the wishing star back to its place in the sky.
This article was written exclusively for Love What Matters by Terri Peters. Have an amazing story of your own to share? Submit it here, and be sure to subscribe to our free email newsletter for our best stories.
Read more from Terri here:
3 Brand-New Disney World Experiences Worth Adding To Your Must-Do List
Disney's Latest Film 'Turning Red' May Feature A Character With Type 1 Diabetes, And Parents Are Very Excited About It
This Third-Grader Just Dropped A 'Summer Bop,' And It Should Totally Be Your New Anthem
'We couldn't think of a better forever home.': Old Navy gifts mannequin dog to 5-year-old boy with autism
Do you know any Disney fanatics who could benefit from reading this? SHARE this story on Facebook with family and friends.