The photo above is a screenshot from the official teaser trailer for 'Turning Red' released by Pixar on July 13, 2021.
There's a new Pixar film entering the world in Spring 2022 and it's generating buzz across the internet.
But it's parents of kids who have diabetes who may be cheering the loudest for Turning Red, a film about a young girl who turns into a giant red panda when she gets too excited.
In a trailer for the film released earlier this month, a background character seen in a classroom setting appears to be wearing a continuous glucose monitor (CGM), leaving parents within the diabetic community optimistic about seeing a child who has the condition portrayed on screen.
Allison Exmeyer's 12-year-old daughter, Enzie, was diagnosed with Type 1 diabetes in 2019. Exmeyer, who lives in Indiana, says it means more to her to see a character like this in the Pixar film than she can explain.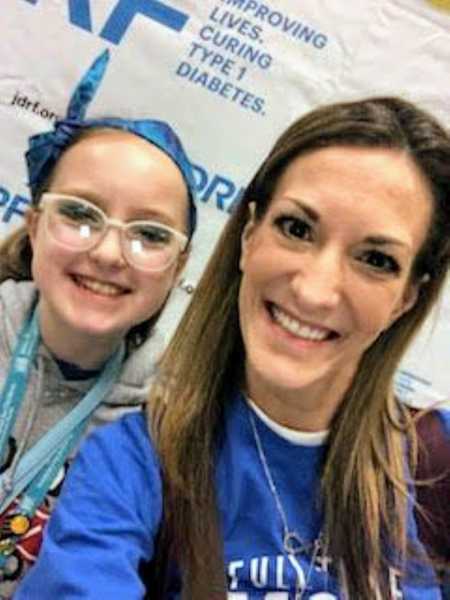 "Enzie is just like any other preteen. She just wears an insulin pump and a CGM," Exmeyer told Love What Matters. "Type 1 diabetes is often misunderstood and confused with Type 2 diabetes, which isn't even close to the same thing… some people think a changed diet will cure my daughter, but it most definitely will not."
"I definitely was emotional the first time I watched the movie trailer for Turning Red," Exmeyer continued. "It was people like her being noticed on the big screen. It's inclusion. It's amazing."
Walt Disney Studios was unable to confirm whether or not the character in the trailer is diabetic or speak about the character's role in the upcoming film; still, parents like Courtney Jorgensen, who lives in Maryland, are hopeful.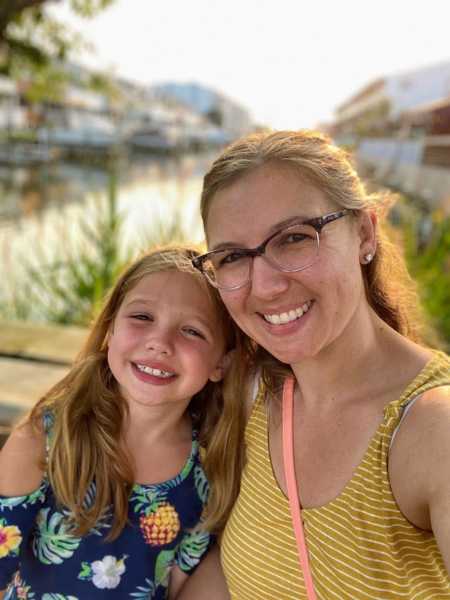 Both Jorgensen and her 9-year-old daughter, Audrey, have Type 1 diabetes.
"There are so many children with it, yet it still seems like so many people don't know much about it," Jorgensen explained. "Growing up, I didn't know a single person who was diabetic—until my sister was diagnosed."
Twitter users have also taken to the social media app to share their excitement about the character.
"A great example for our little ones with diabetes," wrote one user.
❤️ Hi, @Pixar, great detail in the trailer for your new film #TurningRed. The girl wearing a device on her arm that monitors blood sugar and a pump for insulin. A great example for our little ones with diabetes ❤️#DT1 pic.twitter.com/PtnAMiWfEx

— Marc Alonso (@MARC_intosh) July 16, 2021
"You can clearly see the infusion set or CGM on her arm," wrote another. "(My daughter) is so happy."
Well look that! @pixar new movie #TurningRed has a character with #Type1Diabetes. You can clearly see the infusion set or CGM on her arm. Chloe is so happy! This movie is also set in @cityoftoronto #the6ix pic.twitter.com/raxVDD16gz

— Conrad Pow (@powconrad) July 16, 2021
And what do Jorgenson and Exmeyer's daughters think about the possible addition of a character who has diabetes to the Pixar universe?
"We saw the little clip a couple weeks ago and I showed my daughter," said Jorgensen. "She said, 'Was that a Dexcom?' which is the CGM she wears, and I said, 'It looks like a type of CGM, what do you think?'" She said, "Wow, that's so cool!"
"It's really cool to know my autoimmune disease is getting awareness in a Pixar movie," Enzie Exmeyer said. "I feel like other kids that are like me are going to be as happy as I am to see this because there's somebody just like us."
Watch the trailer for Turning Red below:
This article was written exclusively for Love What Matters by Terri Peters. Have an amazing story to share? Submit it here, and be sure to subscribe to our free email newsletter for our best stories.
Read more from Terri here:
This Third-Grader Just Dropped A 'Summer Bop,' And It Should Totally Be Your New Anthem
Read more about Type 1 Diabetes here:
'Can I go to the nurse's office?' I was dizzy, ready to faint. My teacher turned to me and said, 'Absolutely not. Sit down.' She didn't believe me.': Young woman recounts journey with Type 1 Diabetes
'My sister called. 'Rachel is thirsty. I think she has heat exhaustion.' She stopped breathing. I was on the phone as they started CPR.': Mom loses daughter to undiagnosed Type 1 Diabetes
'My eyes! Something is wrong with my eyes!' He throws down his backpack, screams, and slumps onto the bench.': Mom to son with Type 1 Diabetes claims 'no one can prepare you for this'
Do you know someone who could benefit from reading this? SHARE this story on Facebook with family and friends.