If you've yet to find your summer 2021 anthem, 9-year-old DJ Morris has you covered.
DJ, who just completed third grade, recently dropped his first-ever music video on YouTube, and it's a total summer bop.
But the video would never have come about were it not for DJ's hard work during the last school year. DJ's parents, Brandon and Charaya Morris, say they made a deal with their son early in the year: if he made the honor roll, they'd help him record his very own music video.
'DJ's seen a lot of old school R&B—like Bobby Brown videos—and those were always a bunch of adults,' Brandon Morris told Love What Matters, 'but when he saw kids doing music videos about a year or two ago on YouTube, he wanted to do his own.'
A former music producer, Brandon knew he had the skills to make his son's dream happen. So when DJ did make the honor roll, Brandon was ready to go to work to make his son's dream come true.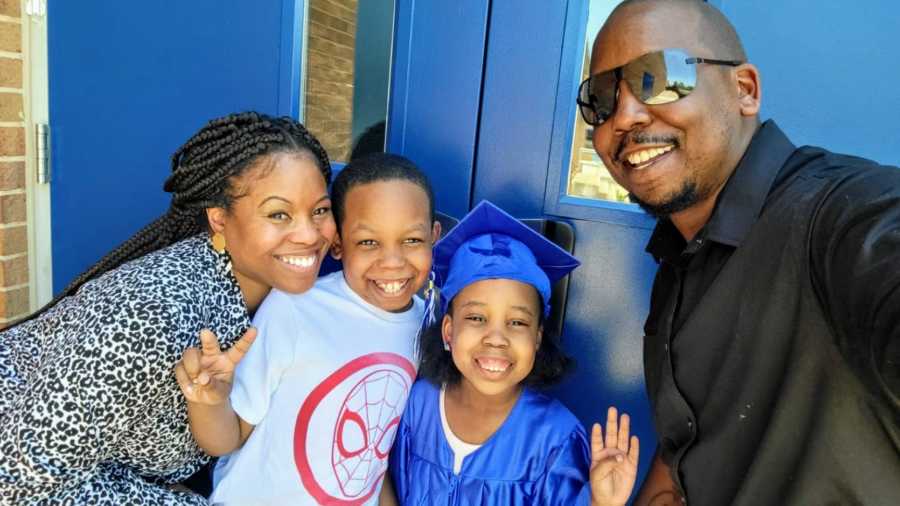 After picking out a beat Brandon describes as 'poppy and upbeat,' the dad of two began asking his son questions about what he was most excited for this summer.
'The concept of all the lyrics are from his brain, I just made it rhyme,' he explained.
The duo enlisted the help of everyone from DJ's younger sister, Janaya, 6, to friends DJ knew from his church to help with the filming of the video, which is a bright and cheerful clip that shows kids dancing, kicking a giant soccer ball, singing and playing water games while they celebrate the arrival of summer vacation.
'Everybody lets party, who's ready for the summertime? School's over and the outside is calling it's the summertime,' DJ sings in the video. 'Good vibes going all around and the 'rona cases keep going down. It's a party when you step outside 'cause it's summertime.'
Brandon and Charaya say they're proud of their son for achieving such good grades this year. And, seeing DJ's dream become a reality was an emotional moment for the Baltimore, Maryland couple.
'This (school year) was a really weird time for the kids because they were not able to go to school (due to COVID-19) and virtual school was not fun for them,' said Charaya. 'I wanted to encourage them to like school or to at least excel in the way I knew that they could.'
What did Charaya think when she saw the final video?
'I was really emotional,' she admitted. 'To actually see it all come together made me cry. For it to be something that he earned and worked hard for, I was really proud of him as his mom.'
DJ, who goes by Lil Syxx in his music video, says his parents get the 'number one parent award' for helping him live out his musical fantasies.
The soon-to-be fourth grader also says he chose to sing and rap about the ordinary parts of summer, rather than elaborate trips and planned activities, on purpose.
'I'm really happy about summer and most people were just focusing on vacation,' said DJ, 'but there's a lot more to summer than just vacation, so I thought why not make a song about summer that's not just vacations.'
Brandon says his favorite part about sharing the video-making experience with his son is the fun his entire family had creating the upbeat song.
'I felt like for Charaya and I, it allowed us to be kids again,' Brandon said. 'So much music out there today is very adult-themed and adult-driven. This took me to a place where music was fun to do and it was innocent and cool. It wasn't kiddy bopper where it was corny, it was actually solid fun and well done.'
'The boy can sing and he likes to rap. Seeing him live out something that was a dream of his was amazing for me.'
This article was written exclusively for Love What Matters by Terri Peters. Have an amazing story to share? Submit it here, and be sure to subscribe to our free email newsletter for our best stories.
Read more stories like this here:
'I rushed over to apologize. 'He's fine,' she said in a quiet voice. I swallowed my tears. She showed me my son is not a nuisance, but a gift.': Special needs mom shares stranger's act of kindness
'To my child who gets dragged from place to place because of your siblings, I have guilt. We go to THEIR play spaces, sports, summer camp pickups. And you are constantly waiting.': Mom apologizes to her 'drag-along child'
'She looked up at me and said, 'Can I help him?' Shopping carts were scattered everywhere throughout the parking lot. She was irritated.': Little girl shares act of kindness for Walmart employee
'I asked Audonte what he wanted for his birthday. 'Just some cupcakes.' Every day, he's at the park by himself.': Mom shares act of kindness for wandering boy at park, 'It takes a village'
Spread the cuteness. SHARE this story on Facebook with family and friends.