Whenever Heath Harlow shops at Old Navy with his mom, Rebecca Harlow, the 5-year-old (who has autism) always stops to say hello to Magic, the iconic Old Navy dog mannequin who usually hangs out in a display at the front of the store.
"When we go into Old Navy, Heath makes a straight shot for Magic and gives him a big hug," Rebecca Harlow told Love What Matters. "He likes to sit on the display steps next to him—he often doesn't acknowledge or is very anxious around dogs and people, so it is very endearing and encouraging to see him engage with Magic."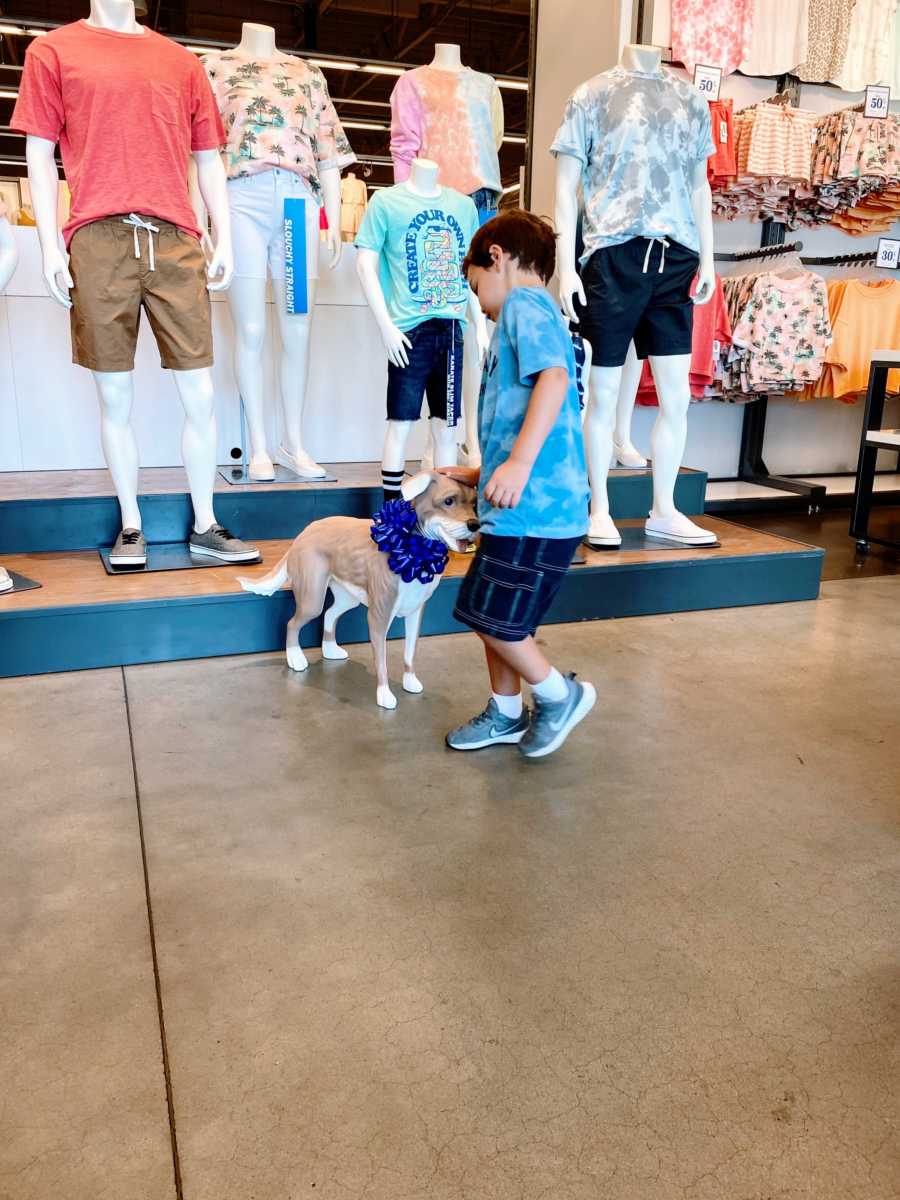 But on a recent trip, Harlow noticed the mannequin was not on display. "I could feel Heath's anxiety mounting," she said. "I knew what was coming and a familiar feeling of wanting to help and protect him crept in. Heath's distress started to escalate as he looked for his friend, shouting out to him as he ran."
Harlow soon approached an Old Navy employee asking if Magic had been moved to another part of the store. The employee confirmed Magic had been moved behind the scenes and was not on display that day.
"I thanked her and explained that Heath was unusually upset because of his autism," Harlow recalled. "She later found me and discreetly let me know they had put Magic back up front so Heath could see him on his way out. He was so overjoyed and relieved to see the familiar kind doggy face."
After the incident, Harlow took to Facebook, thanking Old Navy for helping her son out in what could have been a tough situation.
"On days of sadness or rigidity or feelings that are just too big for his little body and mind, it's moments like these that my heart explodes to see his happiness,' she wrote in the post. 'So thank you, Old Navy employee, for bringing happiness to a little boy who has a hard time in this world."
After her post went viral, Old Navy contacted Harlow asking if she would help them surprise Heath with his very own Magic mannequin. On July 30th, Harlow brought her son back to her local Old Navy where employees presented Heath with a Magic mannequin to take home.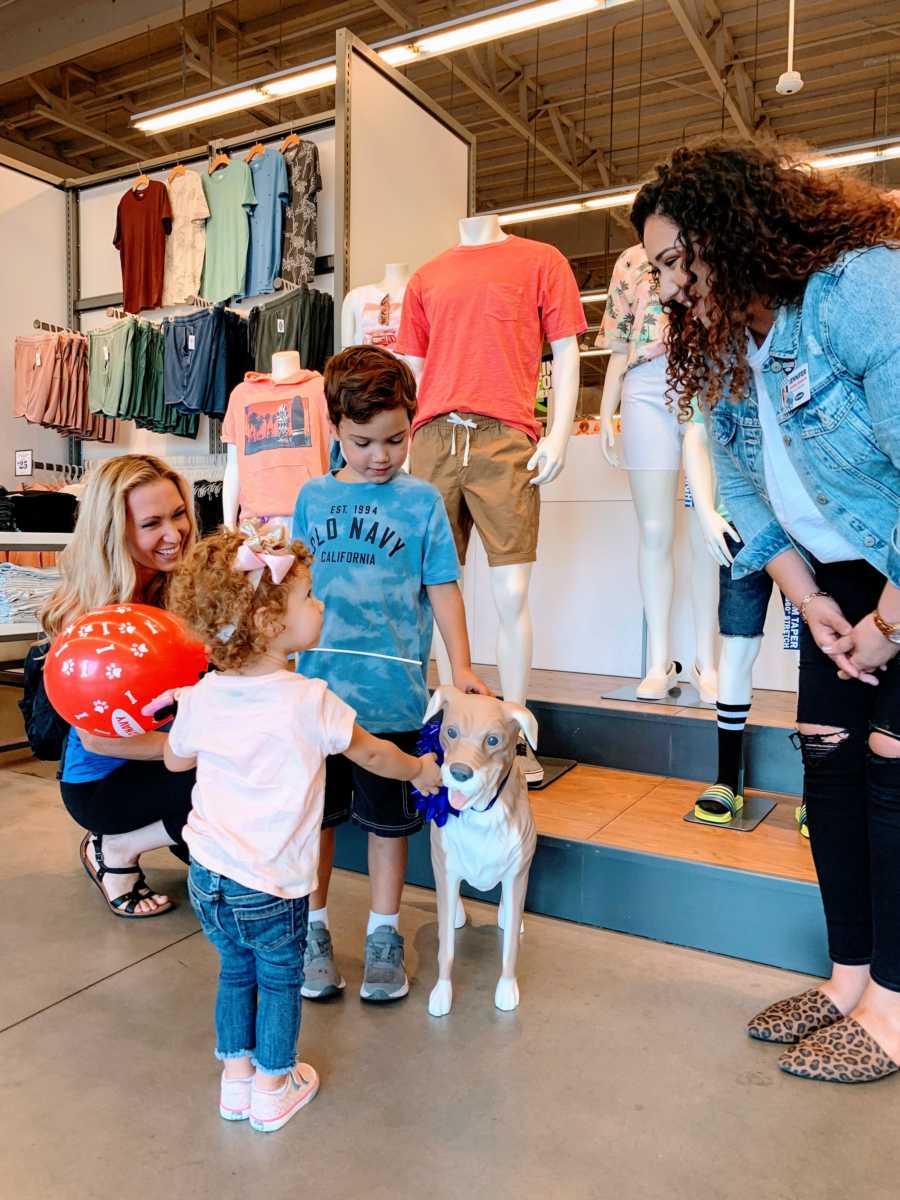 An Old Navy spokesperson told Love What Matters that as a business, it's important to them to do more than just sell clothing. "We were touched by Heath's sweet story," they said. "We couldn't think of a better forever home for our buddy Magic the dog and hope he continues to bring magic into this special little boy's life."
Harlow says Heath and his 19-month-old sister, Hazel, both love having the Magic statue in their home, where it rests near the fireplace in their California living room. The mom of two says she shared Heath's story to help bring awareness to how kids who have autism see and react to the world around them.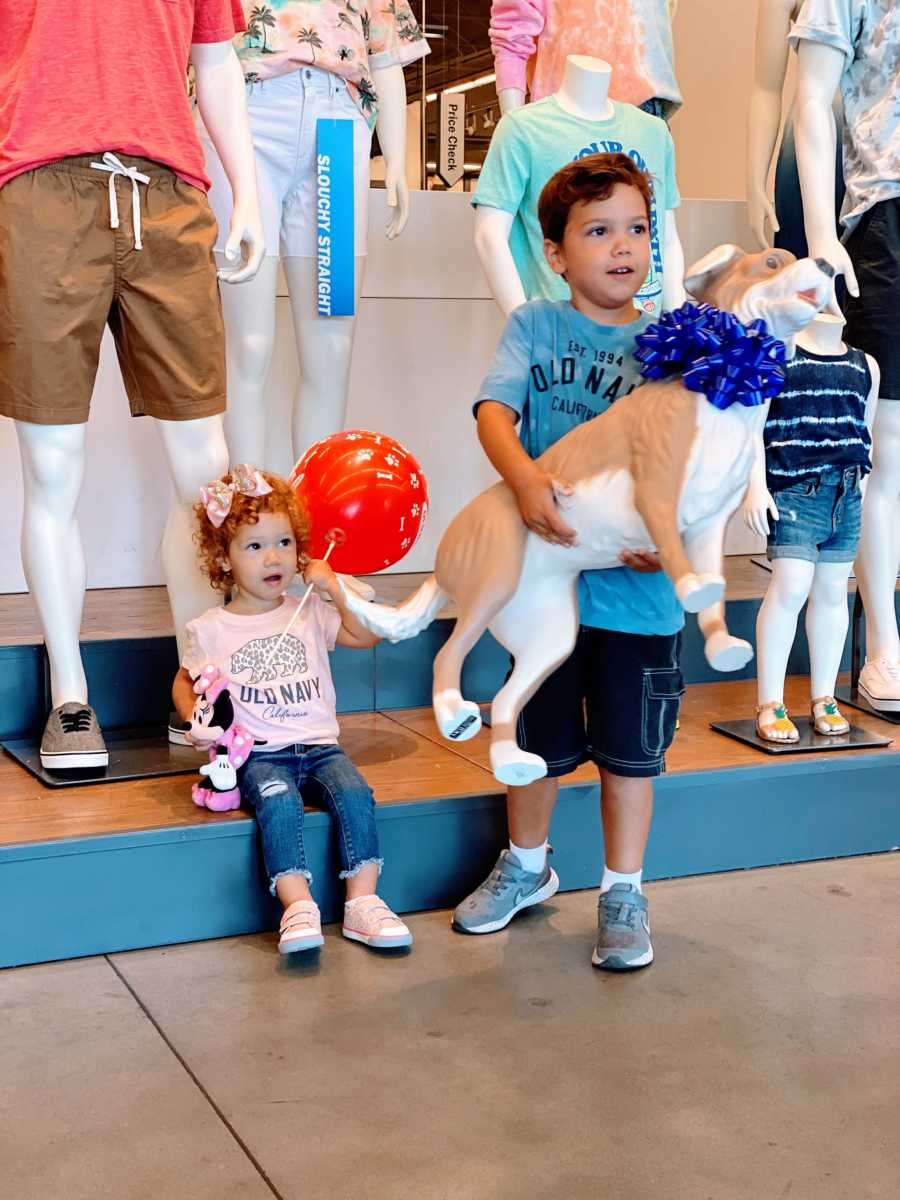 "I hope he can grow up in a world that is understanding of his unique mind and build a supportive community for him to thrive in," she explained. "This seemingly small act of kindness renews my faith in people and gives me so much hope for him in our world."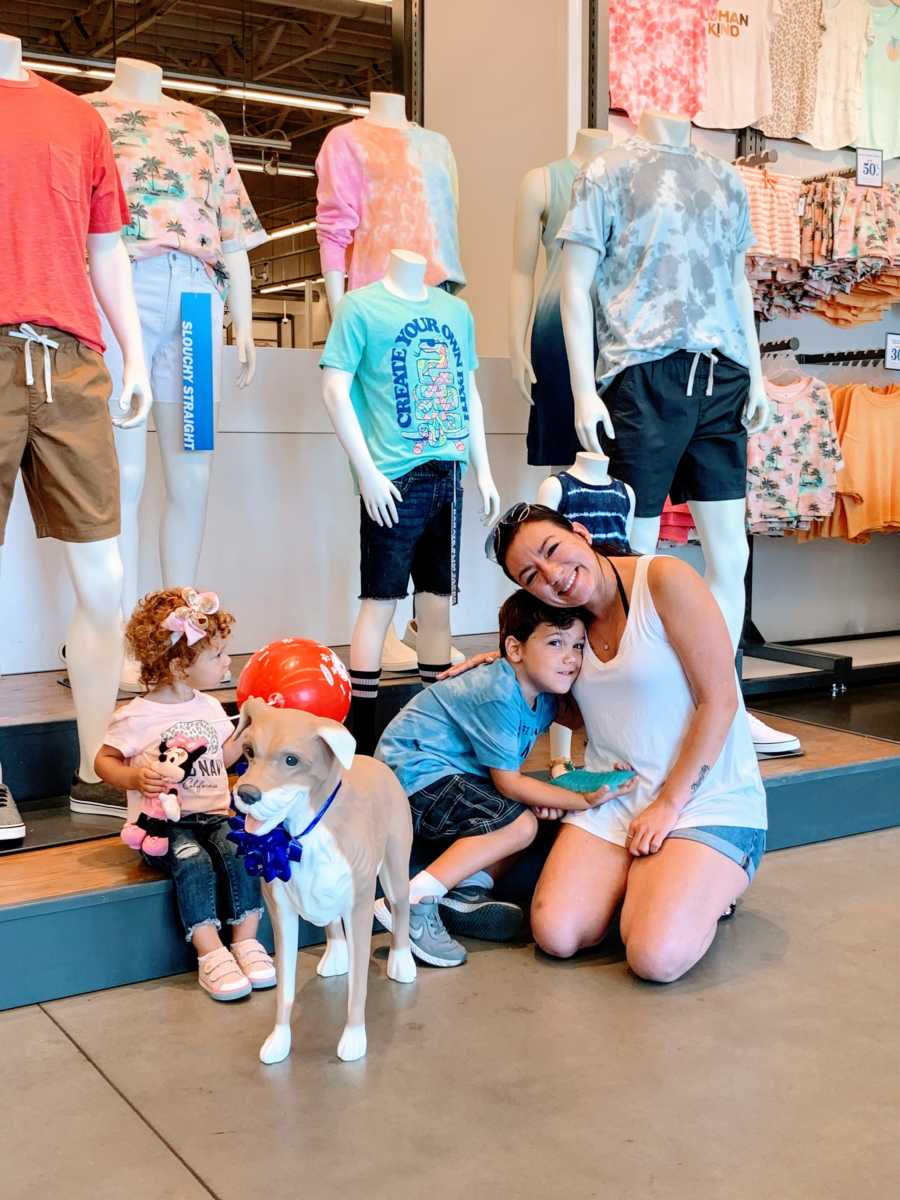 This article was written exclusively for Love What Matters by Terri Peters. Have an amazing story to share? Submit it here, and be sure to subscribe to our free email newsletter for our best stories.
Read more from Terri here:
3 Brand-New Disney World Experiences Worth Adding To Your Must-Do List
Disney's Latest Film 'Turning Red' May Feature A Character With Type 1 Diabetes, And Parents Are Very Excited About It
This Third-Grader Just Dropped A 'Summer Bop,' And It Should Totally Be Your New Anthem
Read more stories like this here:
'I looked down with tears in my eyes as I absorbed my son's kicks. Suddenly, I felt a hand on my shoulder. 'How can I help?': Special needs mom details 'unbelievable' act of kindness
Help us show compassion is contagious. SHARE this beautiful story on Facebook with your friends and family.