"I think everyone can agree that 2020 was a difficult year. On top of a global pandemic, I heard the words I had hoped to never hear, 'Your cancer is back.' I was first diagnosed with cervical cancer in 2017 after a routine Pap smear. I had a radical hysterectomy and was given the all clear, no further treatment was needed. It all happened so quickly I barely had time to process it. At the time, my daughter was 6 and my son was 4, so I really didn't tell them anything. I just said something was wrong in my belly so I had to have surgery.
The months went by and I was getting my regular check ups every 3 months, then every 6. Everything was coming back fine every time. I was moving on, trying to live a healthy life. My chance of recurrence for stage 1a2 cervical cancer was low, around 10%. I was starting to feel confident it was all behind me.
Fast forward to 2020. I had several diverticulitis attacks, and nothing seemed to be happening. The pain was unbearable and they landed me in the hospital twice. The doctors felt the best option was surgery to remove the affected area of the colon. We had to wait until I healed from the attack to try to avoid colostomy. All I could think was, 'I can't wait to get this surgery over with so I can get back to living my life!' I had no idea how the surgery would change the course of my life forever.
I had the surgery in August 2020 and all went well. The surgeon ended up removing my left ovary because it was stuck to my colon with scar tissue. Two days after the surgery, the surgeon came into my hospital room to see me. 'The pathologist found cancer on your ovary.' My mind started racing, a million thoughts going through my head. How is this possible? Cervical cancer doesn't typically metastasize to the ovary. Was this a second cancer? The ovary is out now, so maybe I am fine.
I immediately contacted my oncologist so he could review the report. The pathologist listed it as a type of ovarian cancer. He didn't feel it was right, and sent the slides to his pathologist for a second opinion. Another week of waiting and wondering what was happening. Finally he called me on the evening of August 27, 2020. 'There is a malignancy and it appears to be a recurrence of cervical cancer. Your cancer is back.'
The following weeks were met with appointments and scans to determine where else the cancer was. Scans showed there was lymph node involvement, and I later found out there was also cancer on the omentum. There was also a nodule on my lung, but it was too small to determine if it was involved and too small to biopsy. So I was now at least stage 3, possibly stage 4 if the lung was involved. In September, I began high dose chemotherapy every 3 weeks. My hair was going to fall out and I was going to be sick, so I had to tell my kids the whole truth.
They were now 9 and 7. I told them I had cancer and that I had to get medicine to help. I told them I was going to be fine, because I am strong and I am a fighter. They handled it with so much grace and maturity. They watched me as my hair fell out and I shaved my head. My son said, 'Well, now we can put the windows down in the car and your hair won't get messed up!' They watched me every 3 weeks, unable to get out of bed, unable to eat, and just completely miserable.
At this time they were also starting a new school year during unprecedented times. Thankfully, our district managed to come up with a 5-day plan, but here they were, going to school with a mask on and unable to really connect with anyone. All while so much was happening at home. I knew it was affecting them and did my best to talk to them about it, but they always put on a brave face. I let their teachers know, so if they had trouble in school they could let me know.
I did my best to be normal when I was feeling well. We celebrated Thanksgiving and Christmas, we celebrated their birthdays. As things opened up more, we went places. My daughter continued with dance and my son with taekwondo. They competed and my son earned his black belt. They were absolute rock stars in how they handled things. I completed treatment but unfortunately, the cancer was not gone. All of my tumors were smaller, but at this point my treatment became palliative. I began maintenance treatment in March 2021 to try to prevent the tumors from growing or spreading.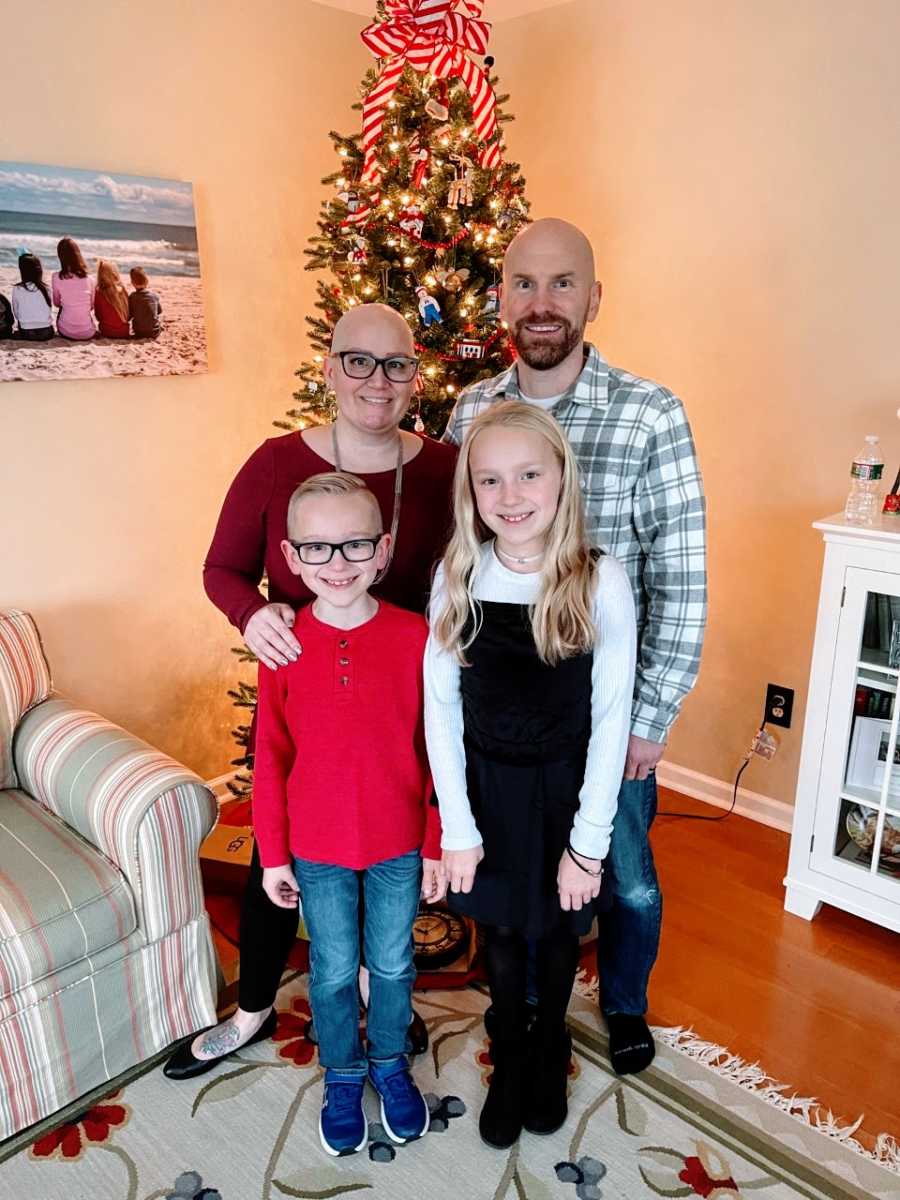 In late April I began having pain. I went to my GP with a suspected gallbladder attack and was diagnosed with acute cholecystitis. I had an infection but no stones. I notified my oncologist, who wanted me to see a surgeon. They determined my gallbladder needed to come out, but it's not as simple as it would be for a non-cancer patient. The maintenance drug I am on can cause surgical healing issues and bleeding. So, they had to put off surgery for several weeks until it was safe. In that time, I tried antibiotics and had a drain placed with no relief. They did the surgery earlier than planned, and following the surgery I also had some complications.
In the month of May and early June, I spent most every day in pain and I had 3 hospitalizations. I was hospitalized two hours away so my family couldn't visit me. This was when I really saw it start to affect the kids. During treatment, I was never hospitalized. I was always home. Even if I wasn't feeling good, I was there to ask about their day, hug them, and kiss them goodnight. But now I was suddenly away more than I was home, available only on FaceTime. My son must have started talking about things at school and on the bus. His teacher called to tell me he was sharing that he missed me and was so excited each time I came home, but wanted me to know it wasn't affecting his behavior or schoolwork. I was just so happy he had a place he felt he could talk about it.
After my third hospitalization, I came home in the middle of the day. I was able to surprise them by meeting them at the bus and it was such a wonderful reunion! But the next day, I got the surprise of my life. I was getting my son off the bus, and he handed me a pink folder and flowers. He said, 'This is from all the kids on my bus, mom!' He had the biggest smile on his face. His amazing bus driver, Mrs. Hammonds, planned and arranged the whole thing.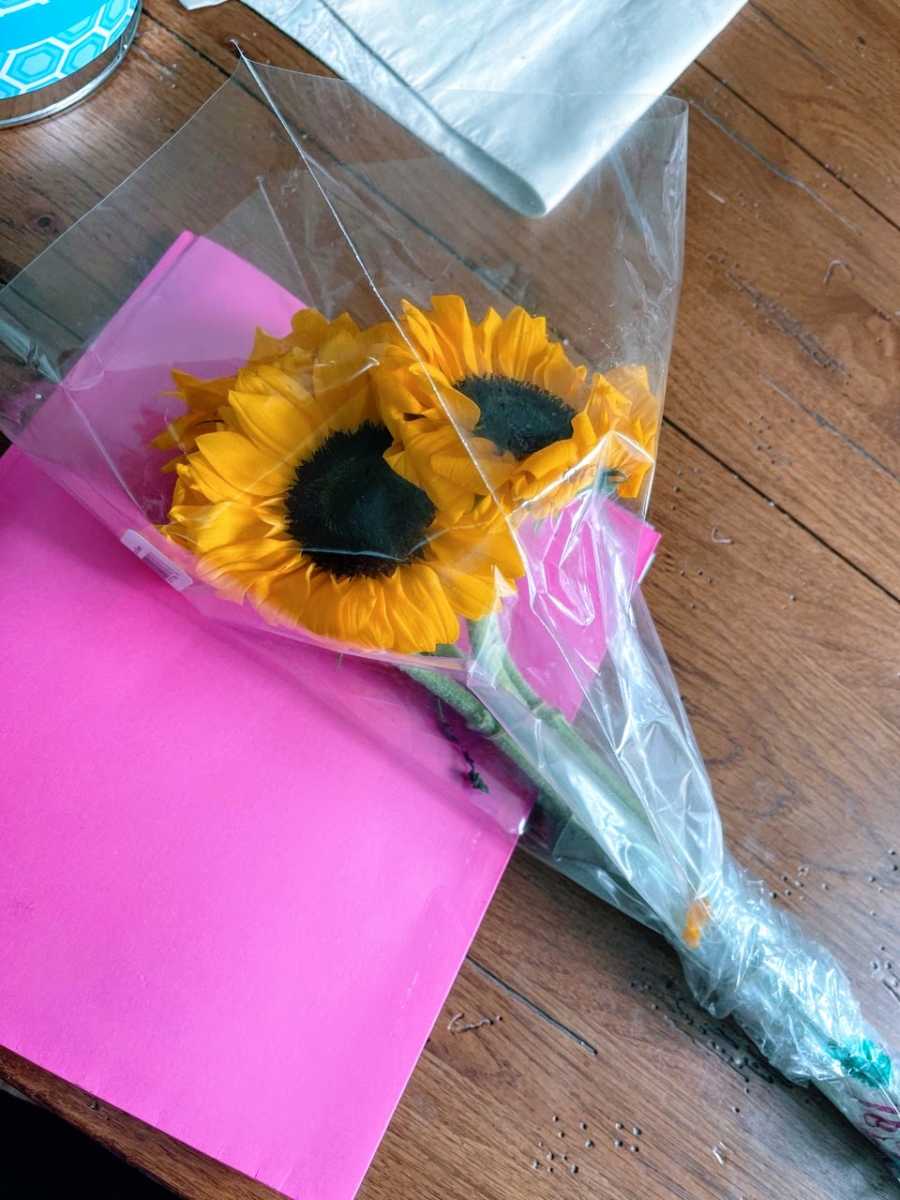 My son had been talking about how much he missed me each time I went to the hospital. Mrs. Hammonds asked all of the kids on the bus to make me a get well picture. She put all the pictures into a folder in their own individual plastic cover. It was beautiful! An entire book of beautiful drawings from 1st and 2nd graders that I had only ever waved to from the street. And Mrs. Hammonds included a handwritten card and got beautiful sunflowers to give me. I sobbed as I looked through each and every picture and read their words. It's one of the most beautiful gifts I've ever received. My son was so excited and so proud to show me. This gift made him feel special, and that was the most important thing.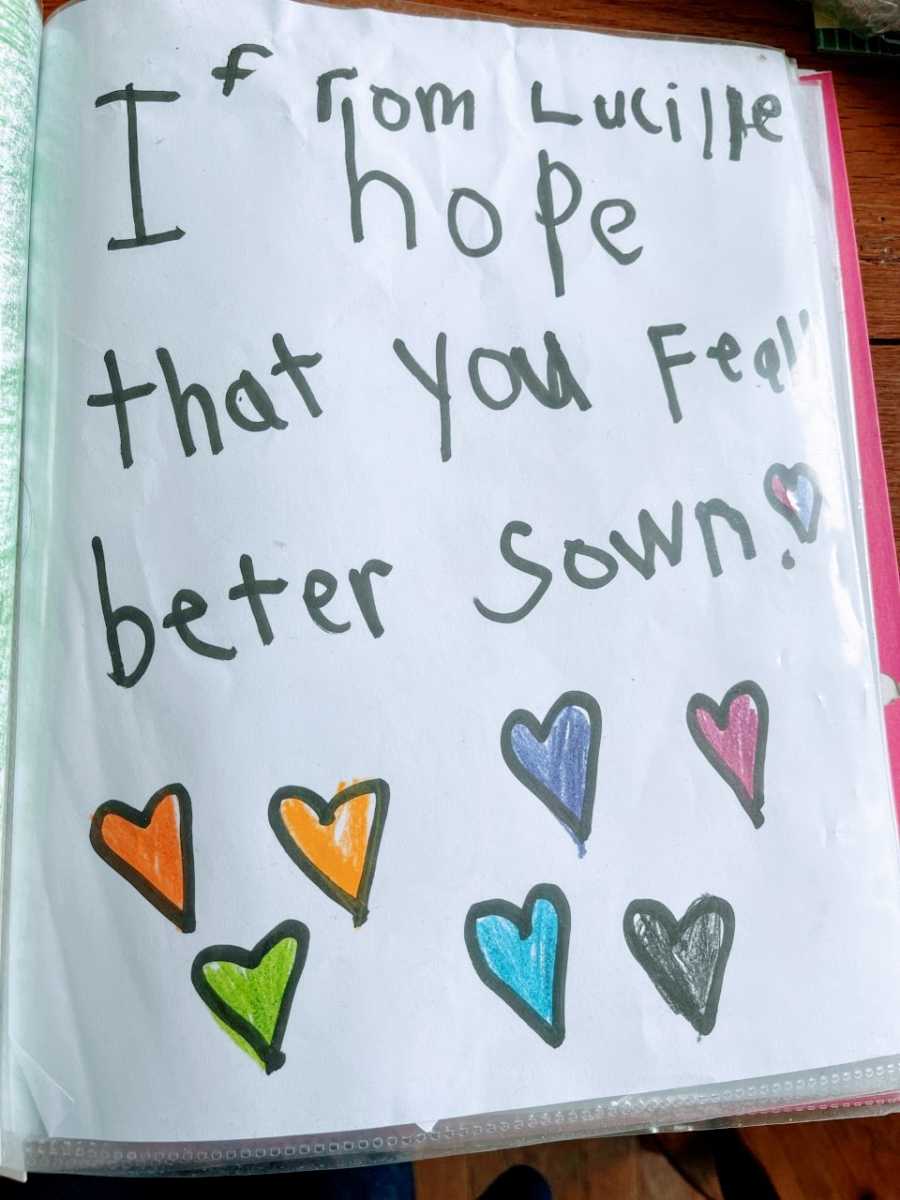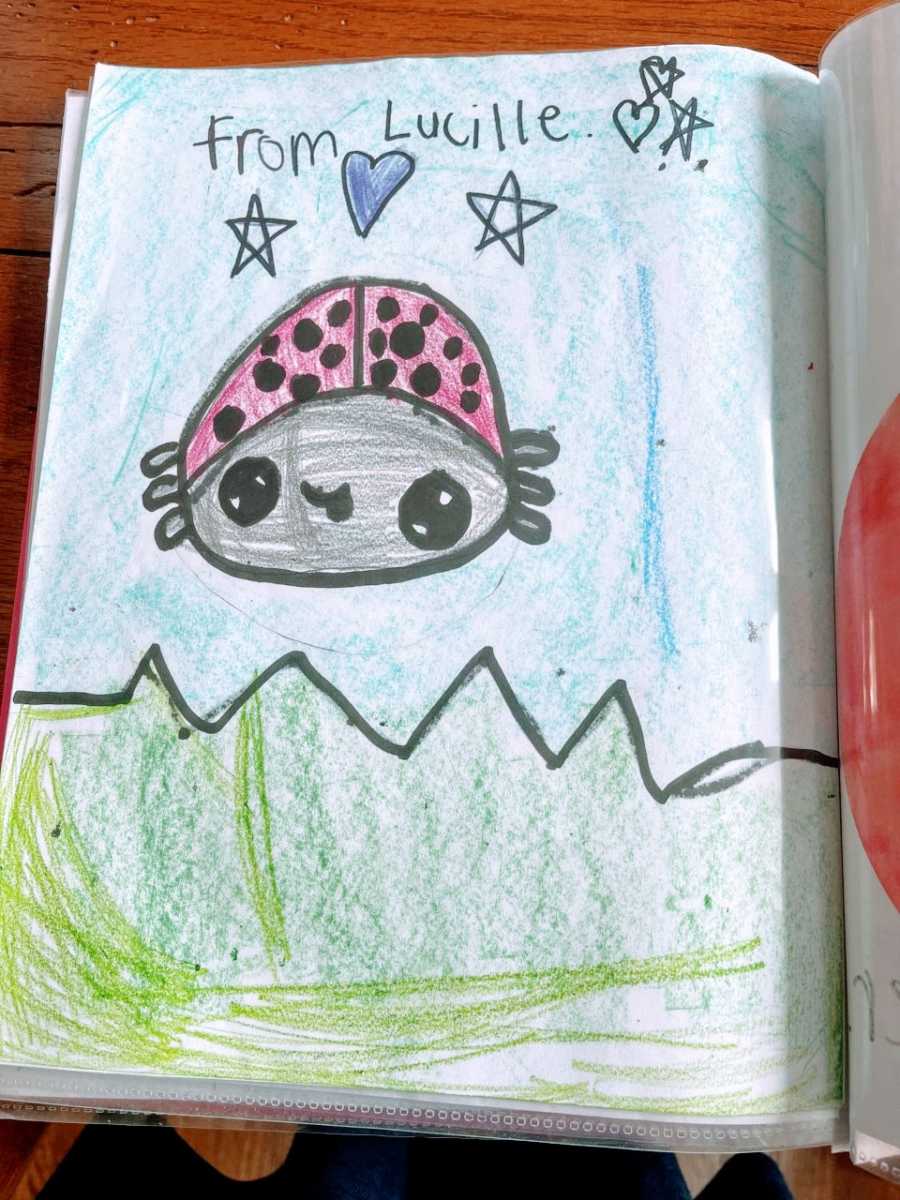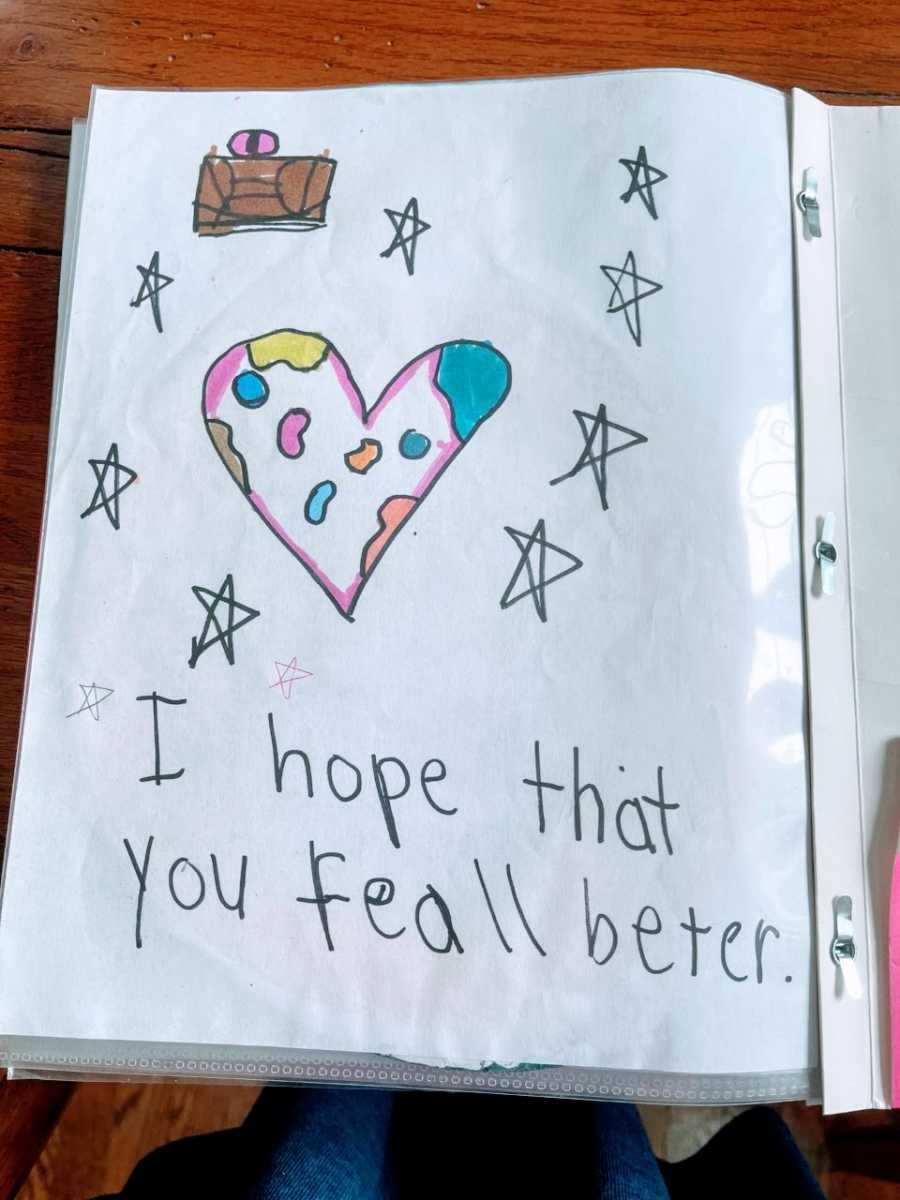 Bus drivers are so often overlooked and don't get the recognition they deserve. Mrs. Hammonds went above and beyond to make my son and me feel so special and loved. For that, I cannot thank her enough. I will be forever grateful that my son was a part of bus #171. I don't know what the future holds, but I know I have a lot of fight left in me. And I know fighting is so much easier when you have people like Mrs. Hammonds there for your family."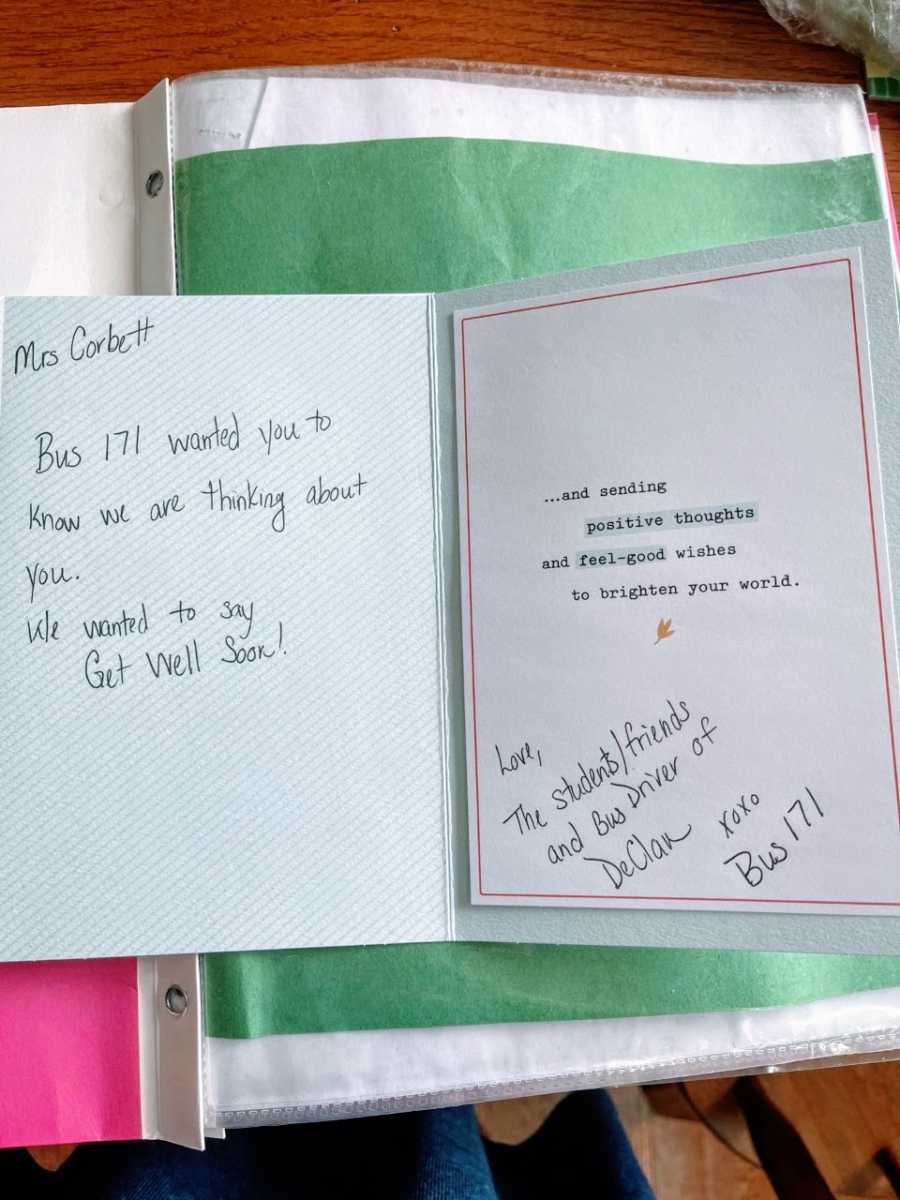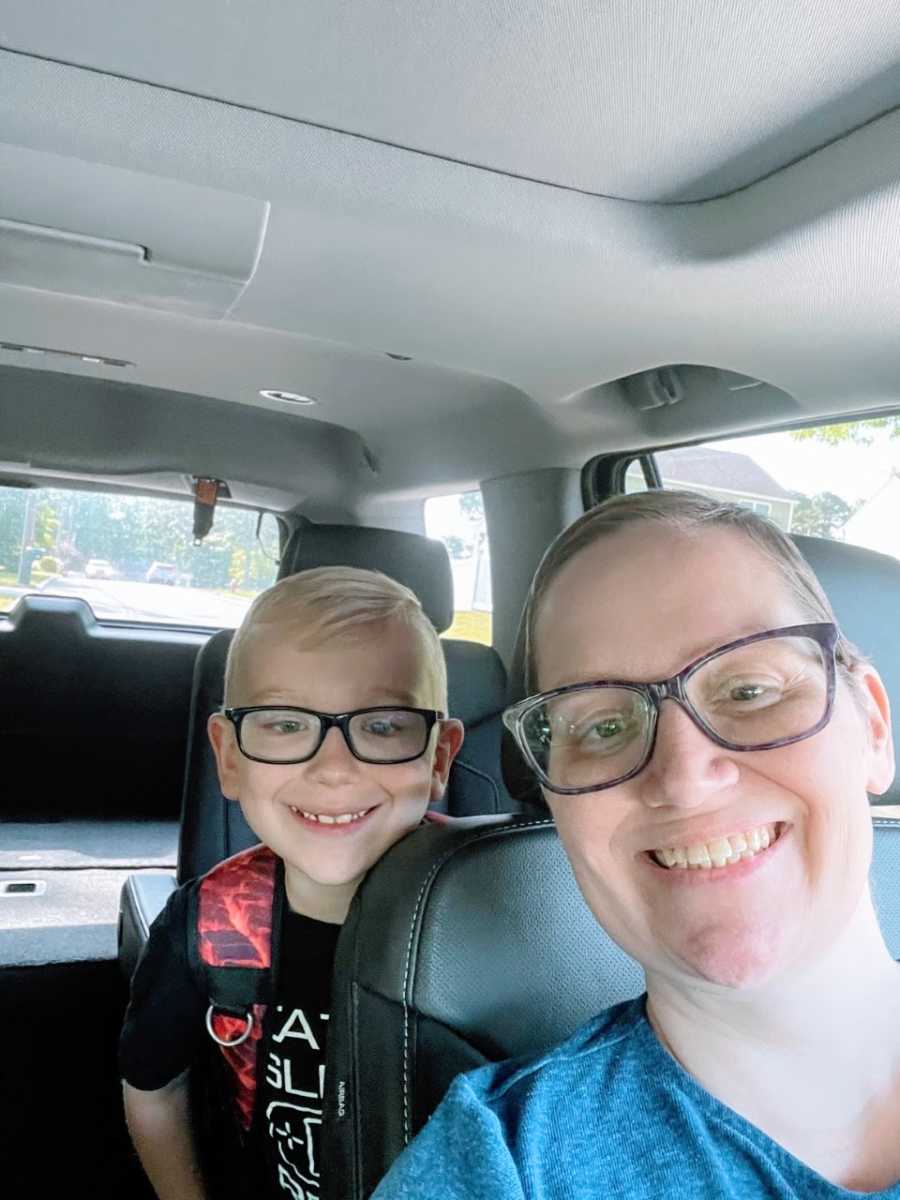 This story was submitted to Love What Matters by Amy Corbett of Manahawkin, NJ. Do you have a similar experience? We'd like to hear your important journey. Submit your own story here. Be sure to subscribe to our free email newsletter for our best stories, and YouTube for our best videos.
Read more stories like this here:
'I asked Audonte what he wanted for his birthday. 'Just some cupcakes.' Every day, he's at the park by himself.': Mom shares act of kindness for wandering boy at park, 'It takes a village'
'Late-night milk run, huh?' I was standing in front of a tired momma in Target just before closing. 'Go get that precious baby to bed. I got you.': Woman shares act of kindness for stranger
'With three kids crying, I realized I left my purse at home in the McDonald's drive thru. 'I am so sorry, I have to cancel that order.': Woman in tears after employee's act of kindness
'I rushed over to apologize. 'He's fine,' she said in a quiet voice. I swallowed my tears. She showed me my son is not a nuisance, but a gift.': Special needs mom shares stranger's act of kindness
Help us show compassion is contagious. SHARE this story on Facebook with family and friends.