"May 28, 2012 – Memorial Day. Three Navy Submariners stopped at a Starbucks to get some coffee after marching in a Memorial Day parade for a small town outside of base in Kittery, ME.
A quirky, middle-aged man approached, thanked them for their service and gave them some free coffee. He said he was a local Pastor and, 'You'll probably never see me again, but I just wanted to go out of my way to say thanks!' and then went on his way. The sailors went back to their car only to find that it wouldn't start. They called a tow truck and one of the sailors, Chaz, decided to go back to talk to the guy who had approached him earlier. 'Hey, so you're a local pastor? Where is your church? I've been looking for one since I was stationed here.' They talked for a few minutes and went their separate ways.
Fast forward to that Sunday morning, Chaz walked into church. A woman was standing on the stage leading worship and saw him walk in. Her jaw just about dropped. Wow, was he handsome! She was the pastor's daughter, that woman was me… and so our story began.
After the service, my parents invited Chaz and his friend over to their house for lunch, which happened to be their first home-cooked meal in months. I clearly remember Chaz sitting on the front porch of my parents' house playing guitar while all of us sang songs we grew up listening to. His voice was dreamy, and he had this sparkle in his eyes, but I found out he was five years younger than me. I was 27 and lived on my own, ready to settle down and start a family, so I didn't give it much thought other than 'he's a great guy.' We all had a really great day, and from that point on, weekly Sunday afternoon lunches with my family was a regular thing.
Chaz really connected with my family and friends and plugged into church. He joined our worship team, which meant we saw each other several times each week. We became really good friends and hung out a lot, and as much as I kept trying to deny it, I was really developing feelings for him. People would ask us all the time, 'When are you two getting together?!' I would brush it off, knowing it just wasn't going to happen. But, it was crazy how many people saw the chemistry we had. We couldn't go anywhere without someone mentioning it. Months and months went by and the feelings got stronger. He was scheduled to be re-stationed in San Diego in a few months, and I just couldn't muster up the strength to approach him about my feelings. I thought he felt the same way, but he always talked about how he was excited to go back home to California and wasn't ready to settle down.
I couldn't bear the thought of telling him my feelings, only to have him shoot them down. But regardless of how I felt, he was leaving and every day that went by was a reminder how our time together was dwindling, and it shook me to my core. I couldn't imagine this man who I had grown to love, not being a part of my forever. I had fallen in love with his character, his heart, and everything about him, but at the same time I wanted to know he felt the same way about me and wished he would just tell me. I kind of left it at 'that' for a while, and struggled through the thoughts of being just weeks away from him leaving to a place 3,000 miles away.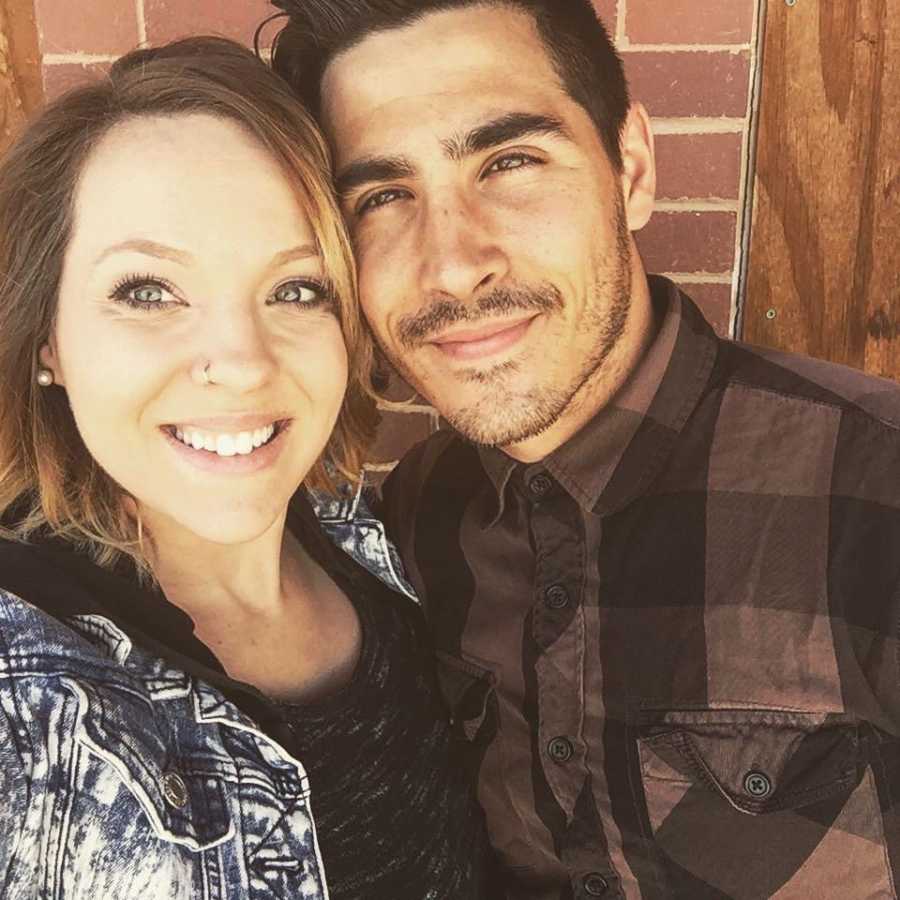 Finally, one Sunday afternoon at our family lunch, I was talking to one of my best friends on our front porch (she knew where my heart was and all the details) and I started crying. Chaz must have come out on the porch and seen me crying because a few minutes later when I was alone again, he came out to ask me if I was okay. I told him I was, and then all of a sudden my heart took over and I said, 'Screw it. No, I'm not okay. I'm tired of pretending like there isn't something between us.' Chaz swallowed hard, knowing what I was saying, but I guess hoping I wasn't 'going there.' He asked, 'Between who?' I said, 'Between us. I'm tired of pretending there's nothing there when you can cut the tension in the air with a knife. We can't keep doing this.'
Chaz immediately softened, knowing that I was 'going there,' and this was it. It was time to talk. We went for a walk and ended up in his car where we talked for over an hour. I didn't want to scare him, but the adrenaline running through me kept me honest and ready to share exactly where my heart was. I told him how I felt (without telling him I loved him. Come on, I didn't want to scare the guy away), and I told him I loved everything about him. His heart, his character, his love for God, and the way he treated my family. I told him there wasn't anyone else I could picture myself with, and I would wait for him if he needed time. He was leaving, and I wasn't going to let that be an obstacle. I ran my mouth for a bit longer, basically just telling him I would go to the ends of the earth for him. We had been amazing friends for over a year at this point and had really gotten to know each other the best way possible.
I knew I loved him, and I wanted him to know without using those exact words. I finally let him talk and he shared his mutual feelings and his fears of a long distance relationship, moving across country in two weeks, and not being sure if he was ready to 'settle down' anytime soon. He shared how much he loved my family and didn't want to mess it up if things didn't work out for us. It was just all so uncertain because we had such a good thing going. We both decided to take some time (a couple days since he was leaving so soon) to really think and pray about it before we make such a huge decision.
Days later, Chaz texted me and said, 'Hey, let's talk.' I knew this was it. Ultimately, the decision was pretty much in his hands. I knew where I stood, and I made it very clear to him days earlier. He knew I would go to the ends of the earth for him, he knew I would wait years, and he knew I wouldn't pressure him to feel any sort of way for me. The ball was in his court and I was eager to know if there was going to be an 'us.' We met at a Starbucks; this is where our story began, and this is where he was going to tell me 'yes' or 'no.' We sat down, and he began to tell me all the reasons why it 'wouldn't work' and why we should just stay friends. I was crushed. I did everything I could to avoid sobbing right there in the middle of Starbucks. I know a few tears fell, but I mustered up the strength to let him say what he needed to say.
After he spoke I flat out said, 'I just don't understand how we both feel this way, and how we both prayed about it, and have come to different answers.' I started to cry, and in the MIDDLE of my sentence, he got up and said, 'I'll be right back,' and walked out. I'm sitting there wondering what the heck just happened. Why did he interrupt me in the middle of pouring my heart out and just leave? He was gone for about five minutes and I was so confused. When he came back, all he said was, 'Can we just go to the car to talk?' I had no idea what had happened and what he was about to say next, but we got in his car and he immediately said, 'Let's do this. Let's give us a try.' I said, 'What?! What just happened?!' Apparently, he had called my brother-in-law, who had become his best friend over this year and a half and said, 'I think I'm making the biggest mistake of my life. I just told her no.' I guess all it took to change his mind was my brother in law saying, 'Dude!'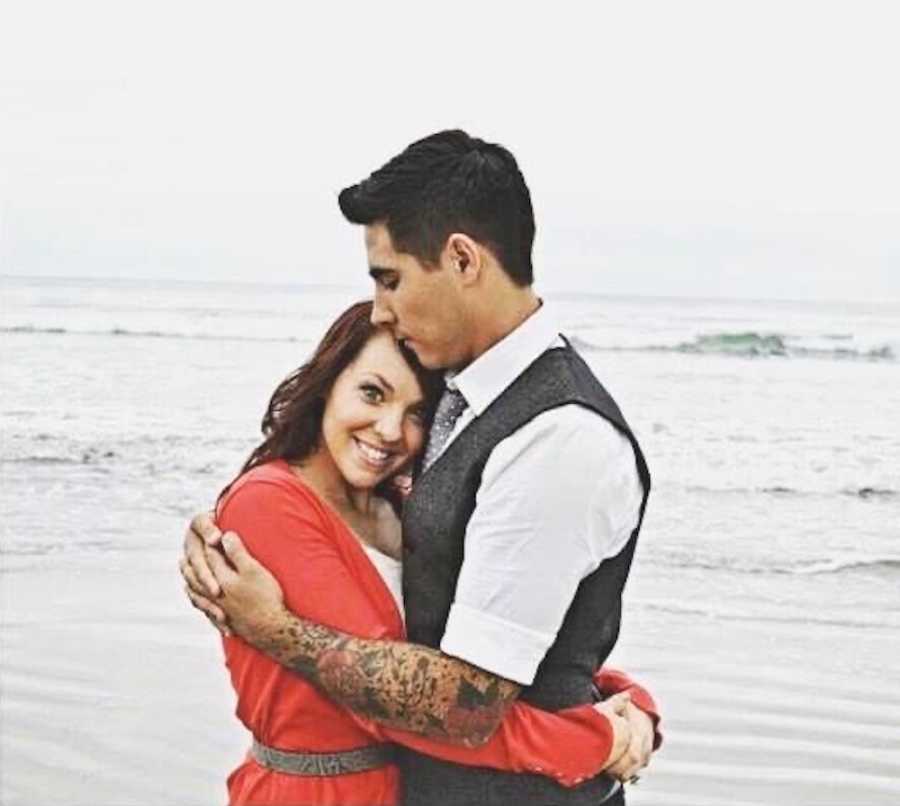 This was August of 2013. The last two weeks Chaz was in town were some of the best times of my life. We made so many memories and crammed in all we could before he left. I wasn't ready to say, 'See you soon,' but I knew it was just for a little while.
That September, the USS PASADENA departed and headed for the beautiful city of San Diego. This was a month and a half journey, and being on a submarine, email was our only form of communication, which was very limited. We had such a beautiful foundation of friendship starting this relationship out, and it is what kept us going when we were separated. I couldn't wait to see him again. That November, I surprised him for homecoming and was on the pier when his submarine pulled into port. What a beautiful, incredible memory that was. One I will never forget.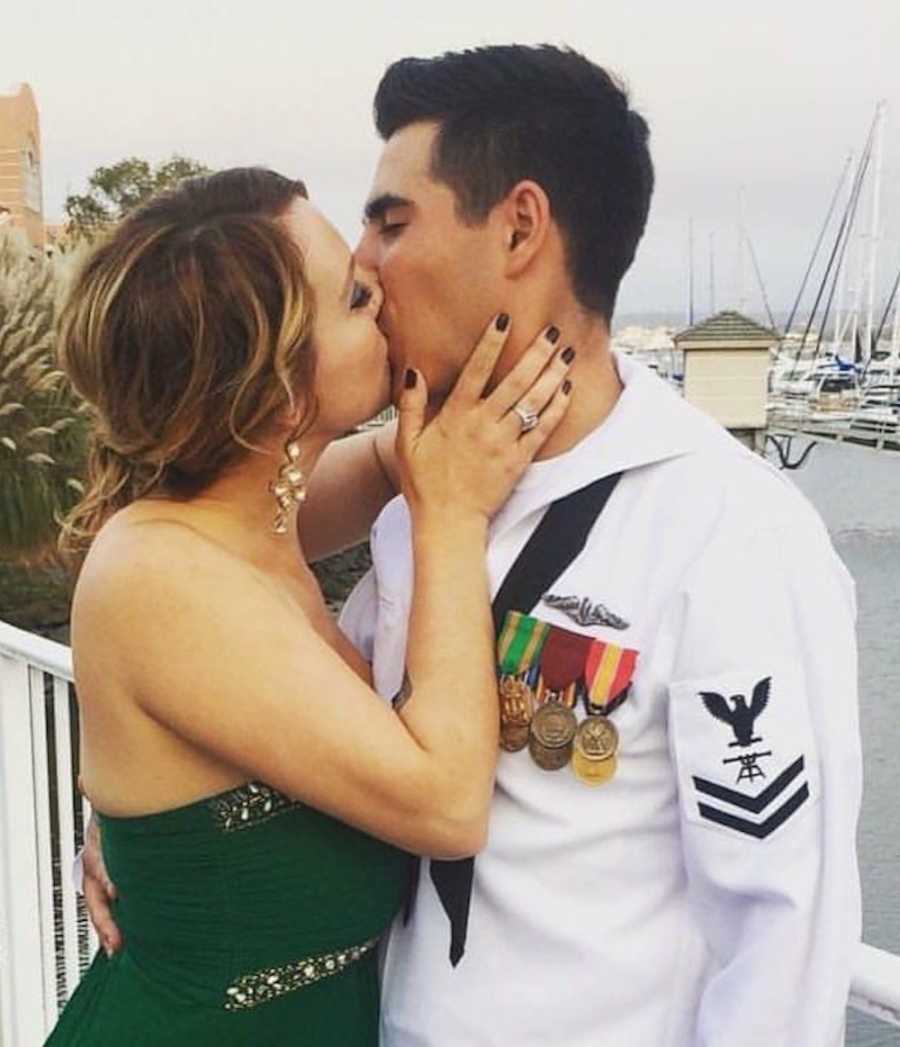 Later that month we took a road trip to northern California and I met his amazing family in person. One of those days, we took a trip to beautiful, historic Glass Beach in Fort Bragg, California, and he surprised me when he got down on one knee with this beautiful ring and asked me to marry him. I said yes, a hundred times. To this day, that is the best 'YES' I've ever said. I would do it over again a million times more.
We got married on the beach in San Diego that following February (2014) with some close family and friends. My dad married us. The Pastor who met this sailor at a Starbucks less than two years earlier. The one who went out of his way to 'thank a veteran.'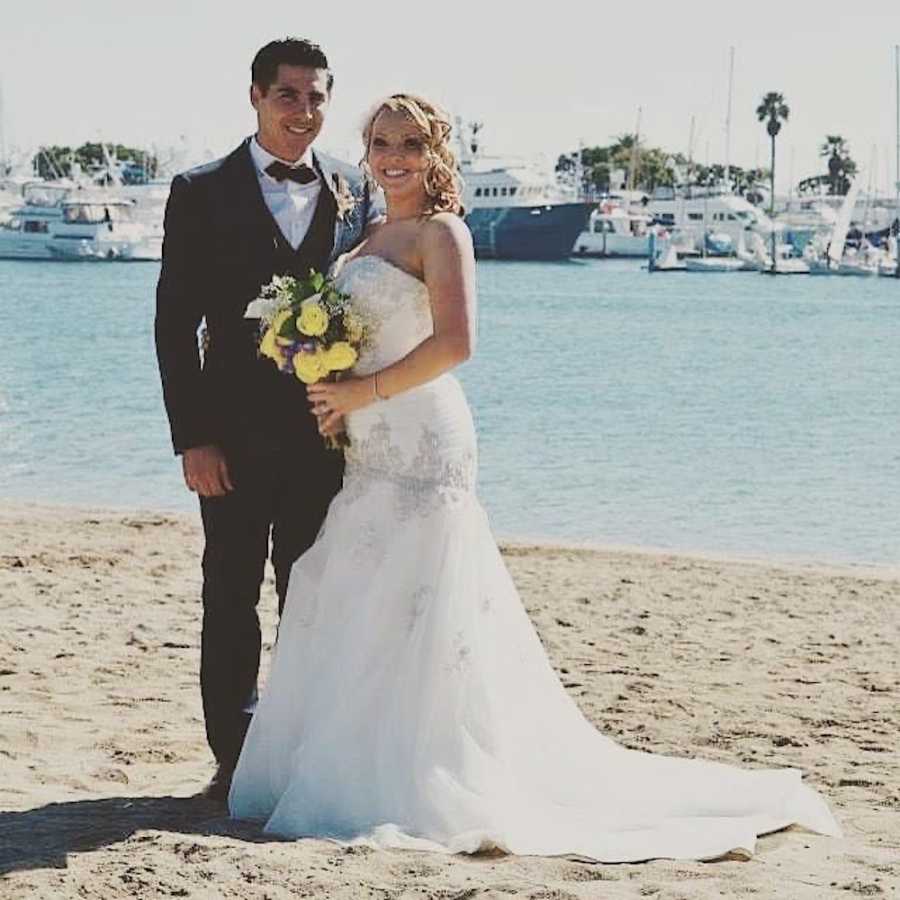 Chaz left a week later for one of his first underways. I knew when I married him military life wouldn't be easy, but there was no one else in this world who would wait for him like I would. I was there every single time his submarine pulled back into port from a deployment or underway. Whether he was gone for three days or six months, I was there. When we shared our feelings earlier that fall, before we pledged our loved together, I told him I would wait for him… and I kept my promise.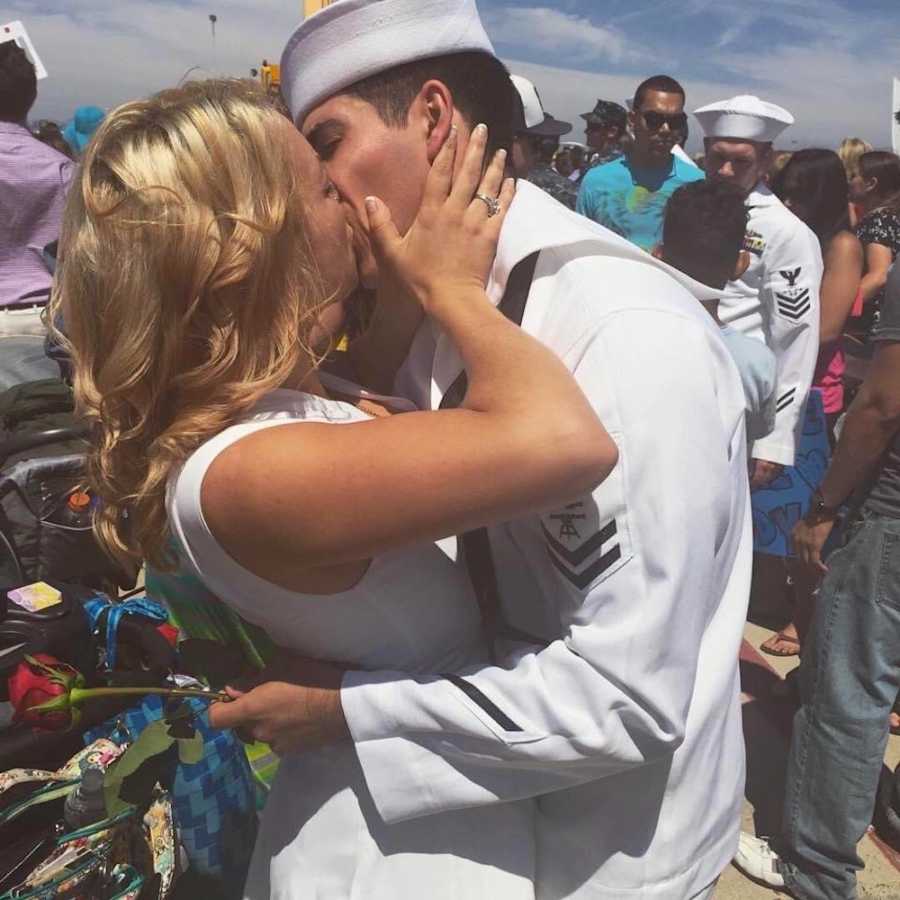 We had a larger ceremony the following August with friends and family from the east coast. It was so special! Earlier that year my dad took me to that exact same Starbucks where he met Chaz and gave me money to buy my wedding dress. It was such a precious moment with my dad. The day he met Chaz, he never imagined it would literally change his life. He never saw him as his son-in-law, never thought about how he would give him three beautiful grandchildren and how he would be a part of our lives forever. He just grew up 'patriotic,' and knew how important it was to go out of his way to thank someone for their service. It just goes to show you, you never know what a simple act of kindness can do, how it can affect the rest of your life or someone else's. The next time you hold the door for someone, flash a smile, or pay for someone's coffee, you could literally be changing their life (and yours!).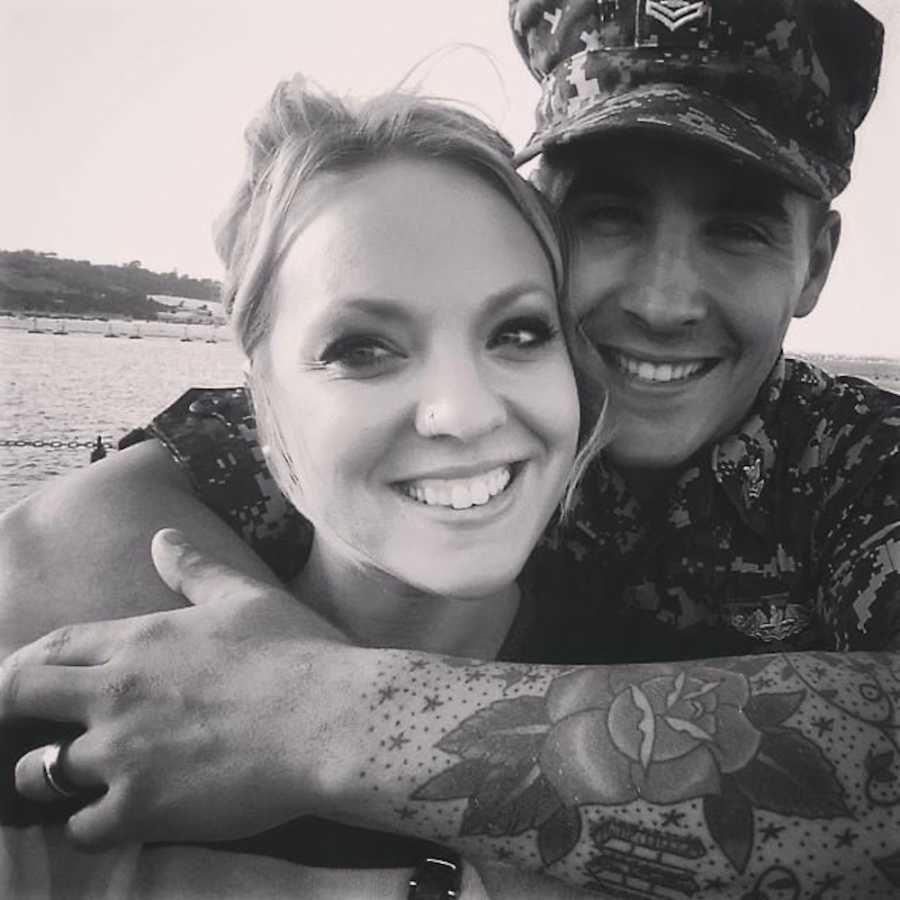 We spent two years in San Diego, and Chaz finished out his time with the Navy in Rhode Island, completing 8 years as a First Class Fire Control Technician. We've been through a lot together, but it has made our love stronger than ever. We have three beautiful children. Finley (age 4), Charlotte (age 2) , and Ezra (1 month).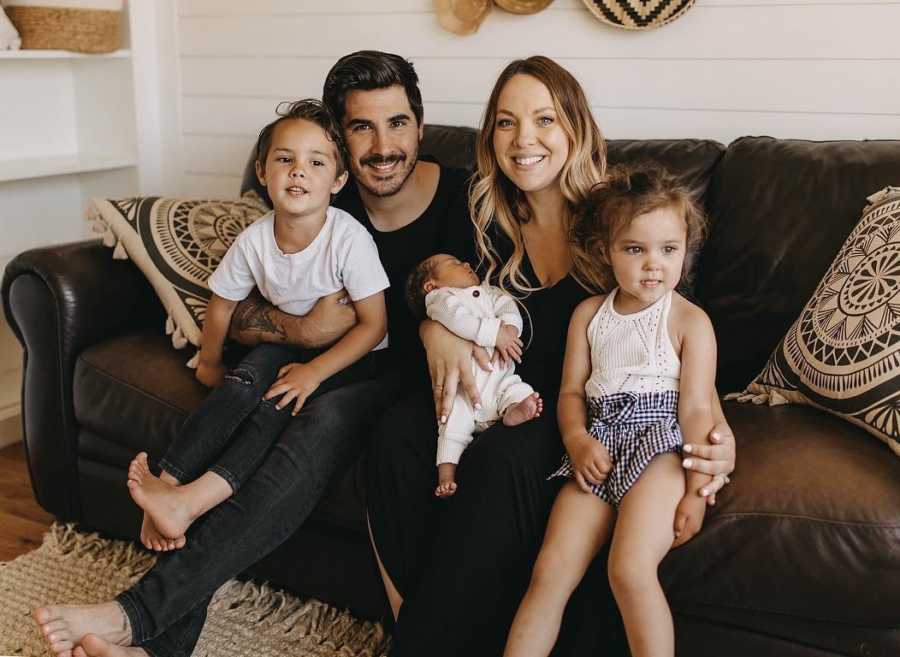 I can't imagine my life without him, and I'm so glad he said, 'Let's do this.' Look at us now!"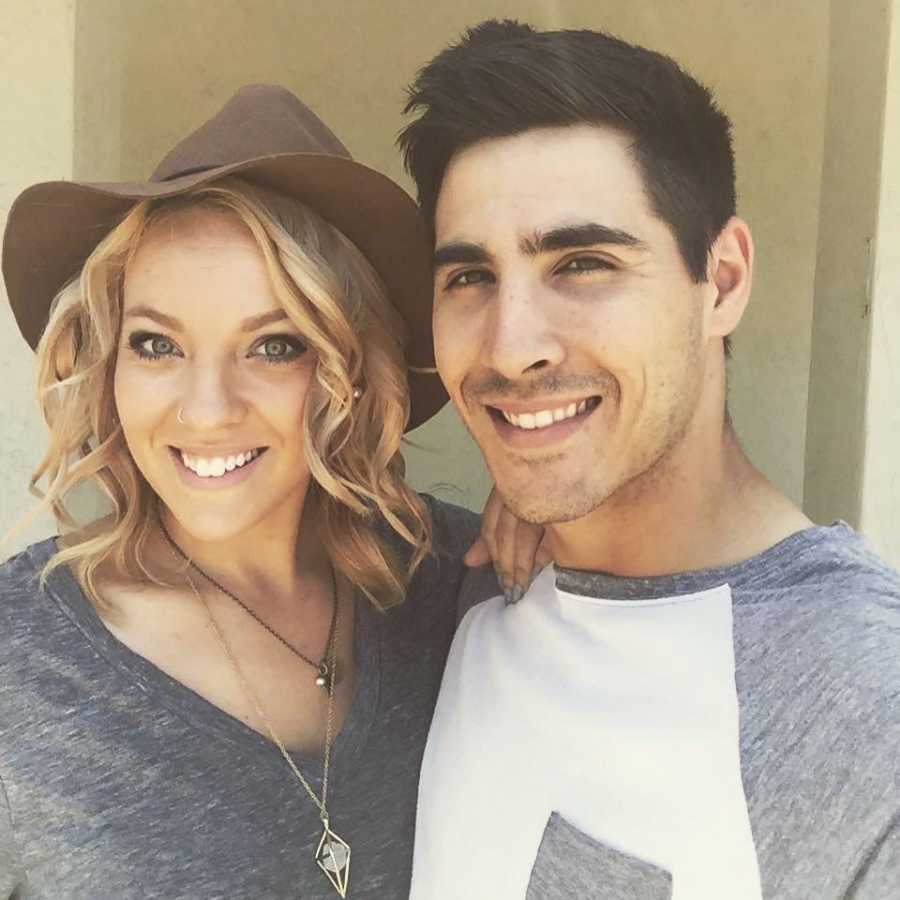 This story was submitted to Love What Mattersby Christina Chevalier of Cranston, Rhode Island. You can follow her journey on Instagram. Submit your own story here and be sure to subscribe to our free email newsletter for our best stories, and YouTube for our best videos.
Read more beautiful stories about true love here:
'I'm just meeting a friend,' I told myself. We'd met in an chat room, only chatted for 10 minutes, and decided it was time to meet in person.': Woman recounts her journey to meeting her soulmate
'I'd ask you out if you weren't wearing that wedding ring.' Newly single, it was the first day of the rest of my life. I had to act swiftly.': Woman divorces after 22-year marriage, finds soulmate in Kmart 
Please SHARE this story on Facebook and Instagram to encourage others to cherish every moment and love what matters most.